Hello friends, it's mid-November, which means we do spend more time inside (at least if we live in the Northern Hemisphere), we cook more at home, and maybe… we feel more creative, right? At least I do. We also crave tasty food that brings comfort and warmth into our lives. Can we have all that and continue to eat healthy, nutritionally dense food throughout the holiday season? In my opinion, not only is it possible, but you will be surprised at how easy and fun it is to continue to eat healthy even during holidays and stressful times. The recipes in this holiday recipe round-up guide are all lectin-free, gluten-free, and sugar-free.
Eating healthy during the holidays
Someone was asking the other day if this is a good time of the year to switch to a healthy diet. It's a valid concern that I would consider, too. The holidays are those occasions when we allow ourselves even more indulgences than usual. Plus, the stress levels are a little higher now than usual, and that might increase cravings for unhealthy foods. That's exactly why sticking to a healthy diet now is more important than ever. I hope this holiday guide will help you navigate the holiday season.
In addition to the recipes in the post below, scroll down to the end for more suggestions: photos and links. And don't forget, my book – The Living Well Without Lectins Cookbook – is available everywhere books are sold. It is full of healthy and nutritious recipes that can help you build a healthy holiday menu, regardless of whether you are on a lectin-free diet. It's just delicious, vibrant, tasty food that is also gluten-free, sugar-free, and nasties-free.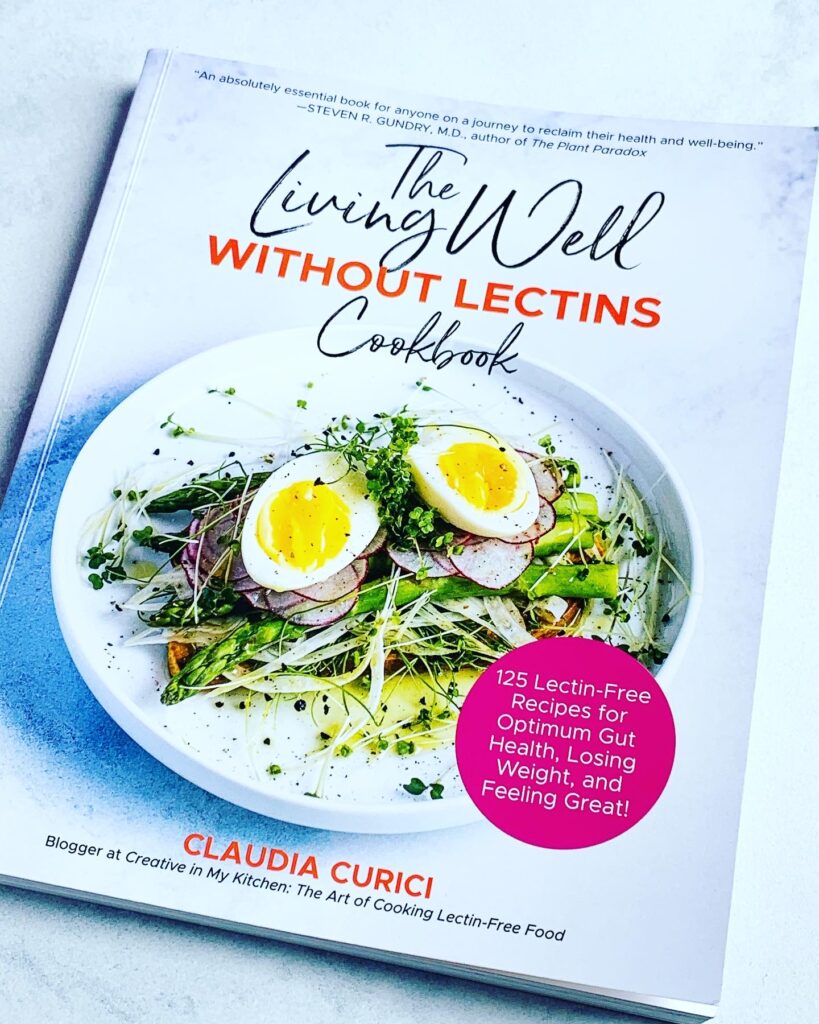 Enjoy home cooking
I hope this will help you create healthy meals, which you and your close family and friends can enjoy and be grateful for. Home cooking is not only healthier, but it is also meditative, it keeps you active and burns quite some calories. A quick reminder about the importance of home cooking in our life:
Home cooking is more than just the physical food you are preparing in the comfort of your own home. It's also about the act of creating authentic nourishment; the time, effort and love that go into home cooking makes this a supreme act of self care and nourishment and impacts your health in a multitude of ways, ways we can't even imagine.
Holiday reminders
Double the joy of cooking and sharing holiday meals by nourishing yourself, friends, and family with healthy, vibrant food.
Anything you love and are used to eating for the holidays has a healthier, more nutritious, and even tastier version.
You want to feel good, vibrant, full of energy, and free of pain before, during, and after eating a holiday feast.
Food is important, but it's not everything. Add other elements to socialize during holidays: outdoor activities, short trips in nature, sports competitions, watching movies, playing games, visiting museums, reading, dancing—whatever you and your guests are able to do, given the circumstances. Connecting with nature is now more important than ever.
Less is more. If you cook a lot of food, you will feel like you have to eat a lot. Buy better quality produce and ingredients, cook less, and focus on creating healthy, tasty, and good-looking meals rather than a lot of food just because of tradition.
Holiday meals tend to be different shades of brown. Try making them more vibrant by adding colorful seasonal vegetables and fruits, raw and minimally cooked.
Treat yourself with the best olive oil. I recommend Gundry MD Chefs Select Organic Extra Virgin Olive Oil for the healthy base of all your meals, and Gundry Polyphenol Pearls for an exquisite final touch. It's like eating the caviar of olive oils.
Eat mindfully. Be grateful for the food you have, chew slowly, and sit down when you eat.
Fill your table and plates with vibrant vegetables; add a good amount of healthy fats and a little good quality animal protein. If you are still hungry, eat more vegetables and healthy fats. Enjoy your healthy, plant paradox approved desserts.
Don't forget to drink plenty of water! Stop preferably thirty minutes before meals and start again thirty minutes after meals.
Be happy for other people enjoying their favorite foods, even if not compliant. Unless someone asks for my help with diet or something specific about food, I will not discuss it at the table. Everyone has their own journey and we have to respect that. Change comes when a person is ready.
Have some lectin shield on hand. If you have to eat something you are not sure is compliant, better be safe than sorry. Take two lectin shields 30 minutes before a meal, but don't use it as an excuse to eat anything and everything.
If you are invited somewhere, ask the host if you can bring some of your favorite foods with you or offer to prepare some of them. Don't be shy and never apologize for your food choices, the same way you will not judge anyone for theirs.
Do the best you can, with what you have! Happy Holidays.

Happy and peaceful holidays, and don't forget to be creative, in your kitchen or elsewhere.
Holiday Recipes Round-Up
The Appetizers
Sharing appetizers is a great way to gather with your family and friends and nibble on healthy food. Chips and dips are the perfect vehicles for that, but not the traditional ones. Here are a few ideas for healthy dips and spreads:
ARTICHOKE DIP. Use frozen artichoke hearts. Cook them in the oven for about 20 minutes at 350°F (177°C), with extra virgin olive oil, a few garlic cloves, salt, and pepper. Add them to a food processor, add some of the roasted garlic if you like, and pulse until creamy. Add extra virgin olive oil and process again.
ARTICHOKE-OLIVE TAPENADE. Do the same as above, but add a mix of olives to the food processor.
CAULIFLOWER TAHINI DIP. Roast cauliflower with garlic and extra virgin olive oil. Mix in a food processor with a couple of tablespoons tahini, extra virgin olive oil, a squeeze of lemon, 1/2 teaspoon (2.5 ml) cumin or more to taste. Add some of the roasted garlic if you like. You can also add some grated Parmigiano Reggiano.
Or, check below the recipe of one of my favorite dips ever: Swiss Chard Tahini Dip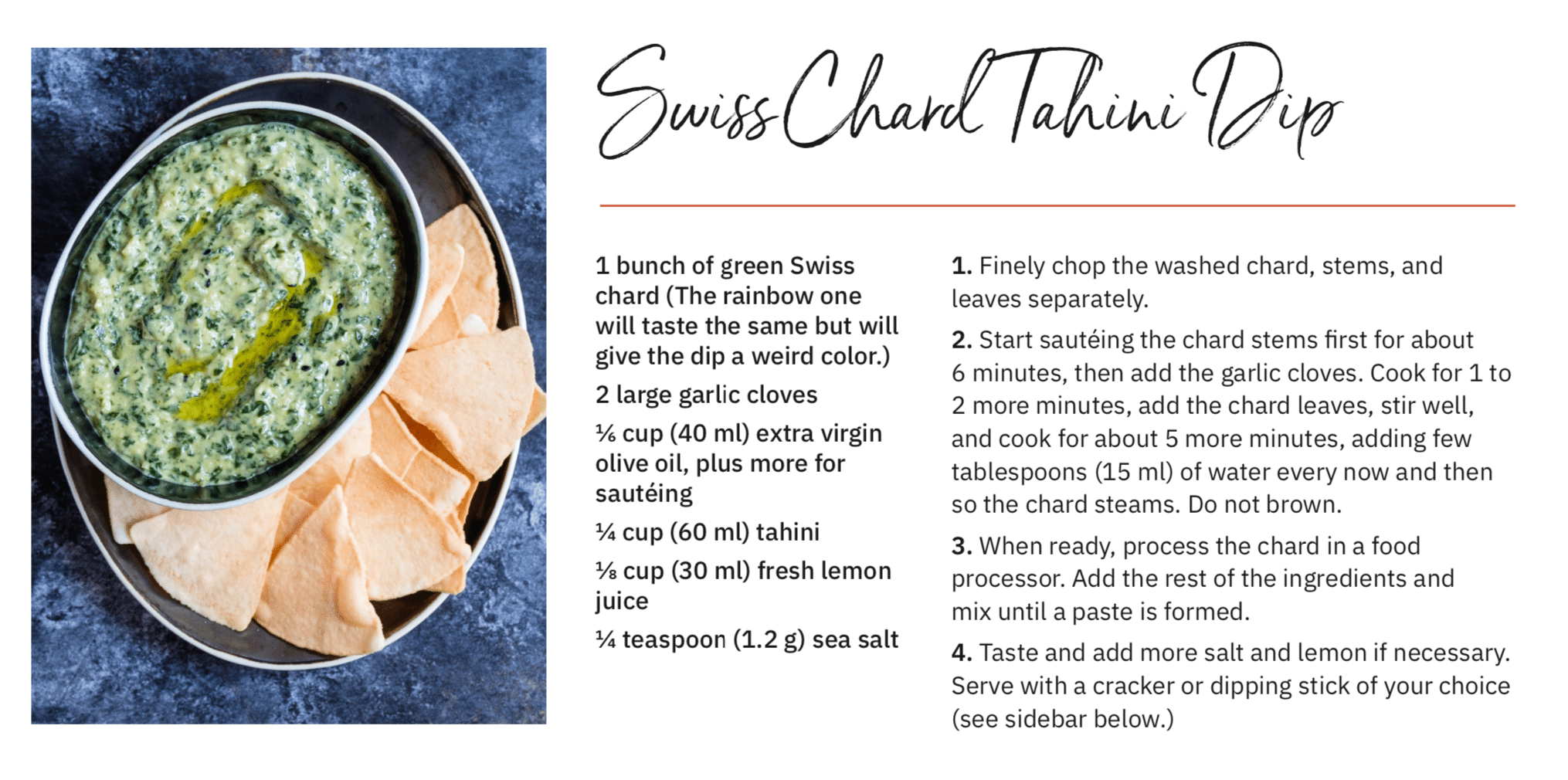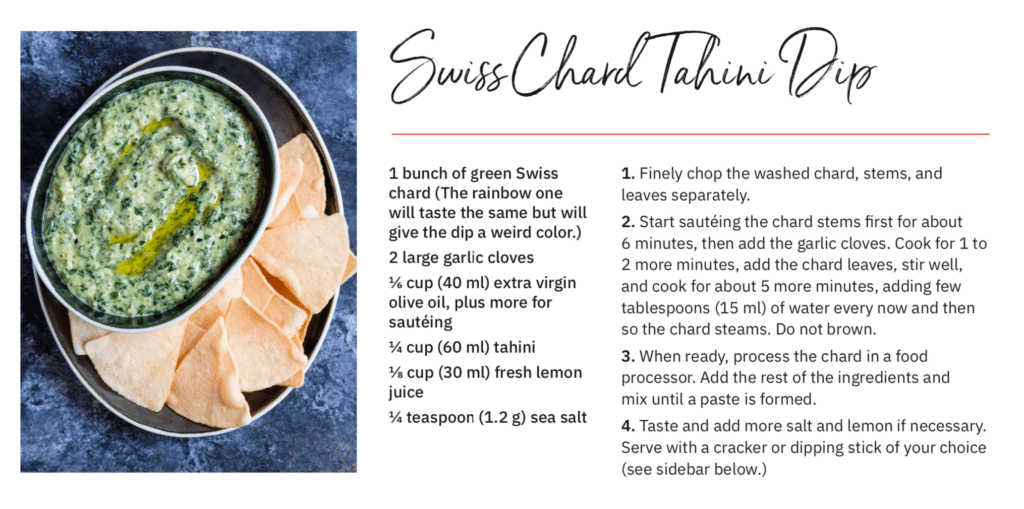 Ideas for Healthy Crackers and Sticks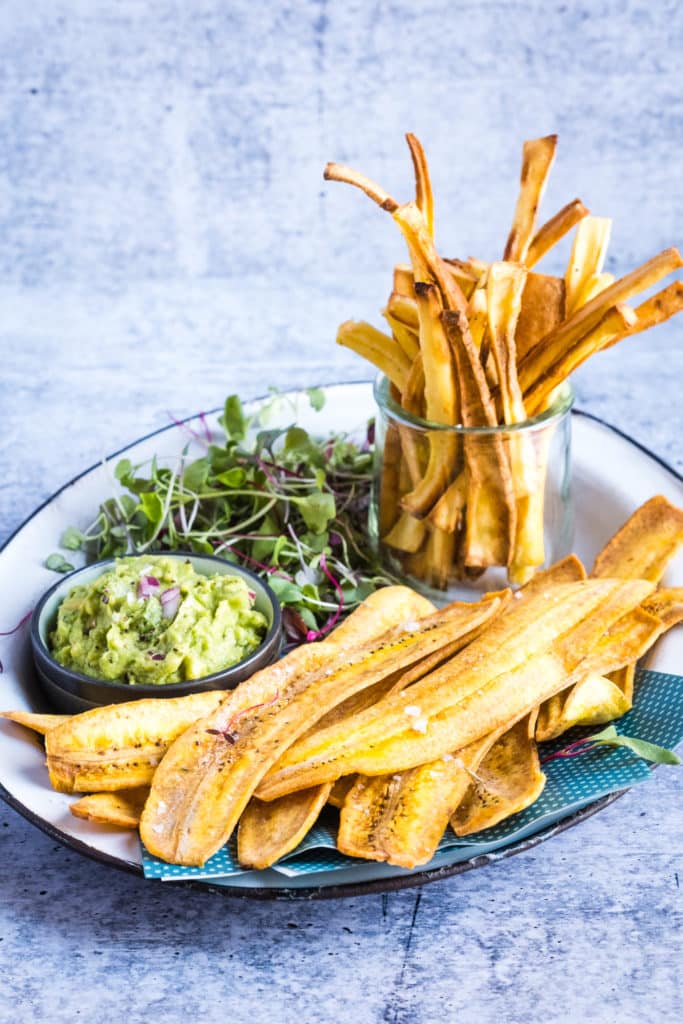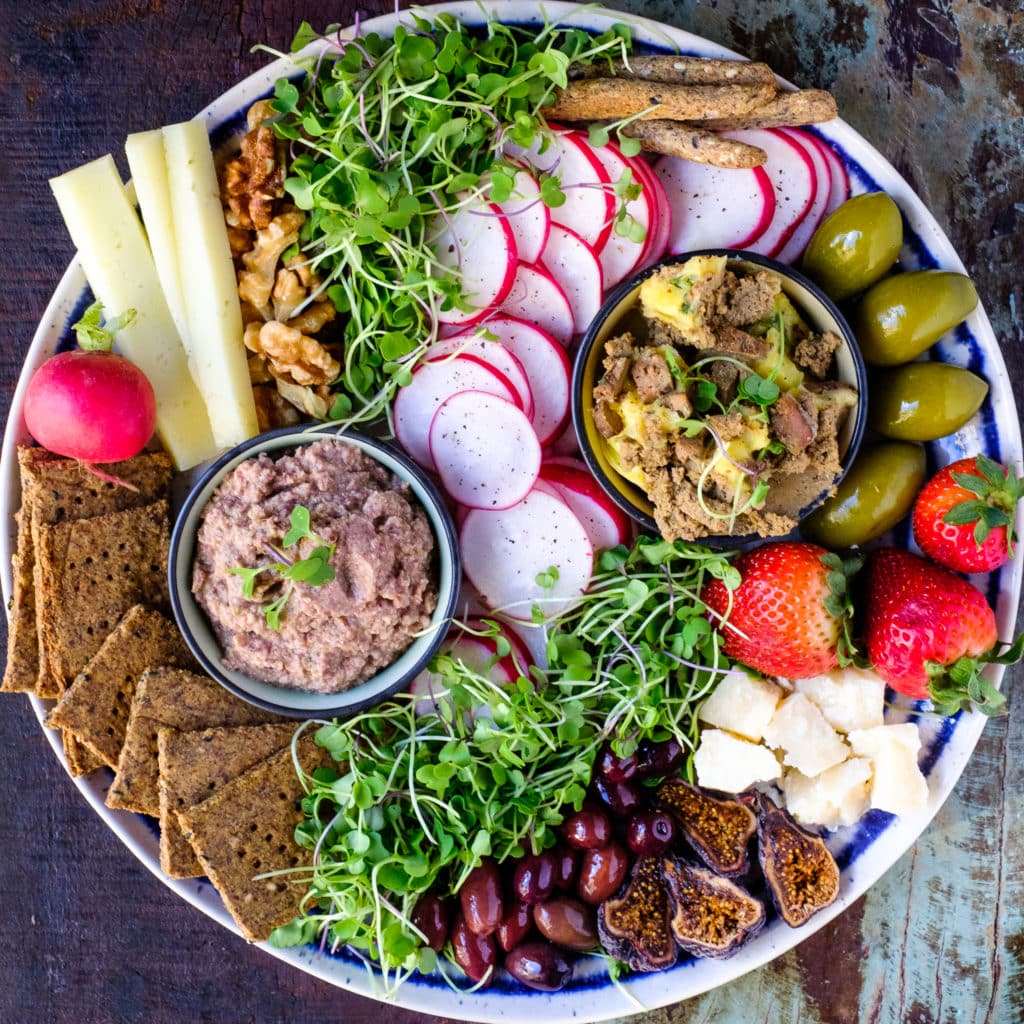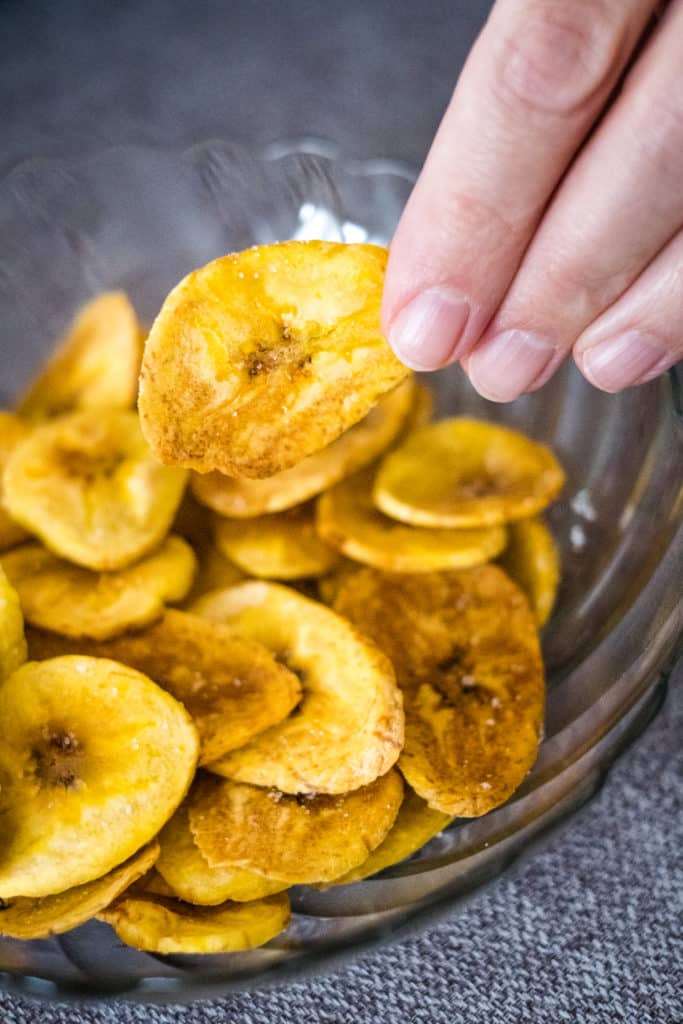 RAW VEGETABLE STICKS: carrots, celery, radishes, kohlrabi, Belgian endives, Romaine lettuce hearts
GREEN PLANTAIN CHIPS: You can find some approved brands in stores, such as Terra and Barnana, but making them at home is also very easy. Start by slicing green plantain as thin as possible, preferably using a mandolin. Transfer them to a sheet pan, preferably stainless steel, and generously cover them with coconut oil (the more coconut oil you use, the better the result). Preheat an oven to 350°F (177°C). Arrange the slices on the baking dish so they don't overlap, and bake for about 20 minutes or until crispy and golden brown. To get crispy chips, don't use parchment paper.
One of my favorite and super easy-to-make crackers recipes is Almond Flax Vegan Crackers with Zaatar Spices. And if you have my book, the most delicious crackers recipe and one of the blog's readers' favorites is Sweet Potato Crackers, on page 50.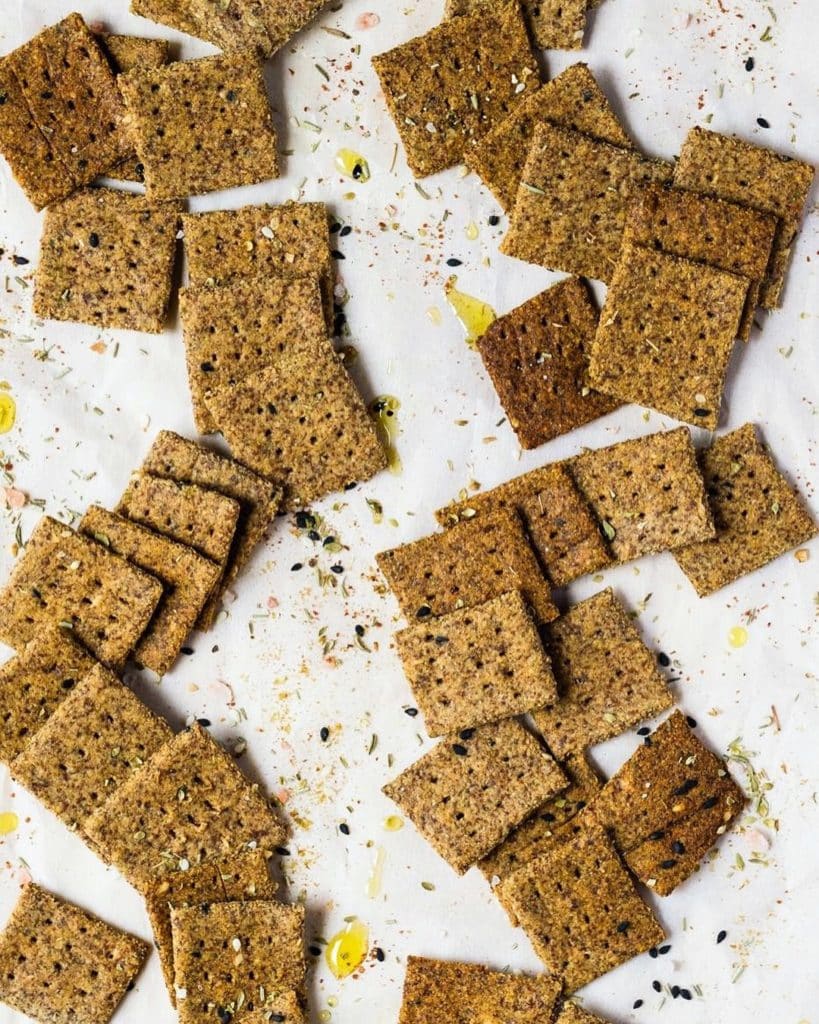 If you celebrate Hanukkah, I promise you these will be delicious: Lectin-Free Latkes with Homemade Apple Sauce. And even if you don't, try them. You will not regret it.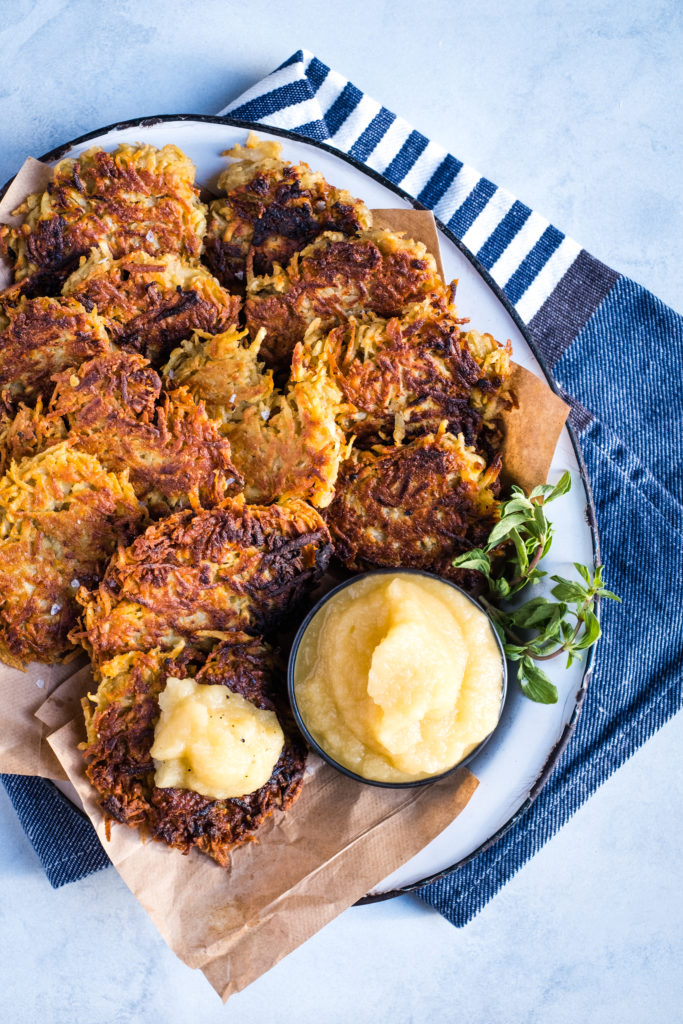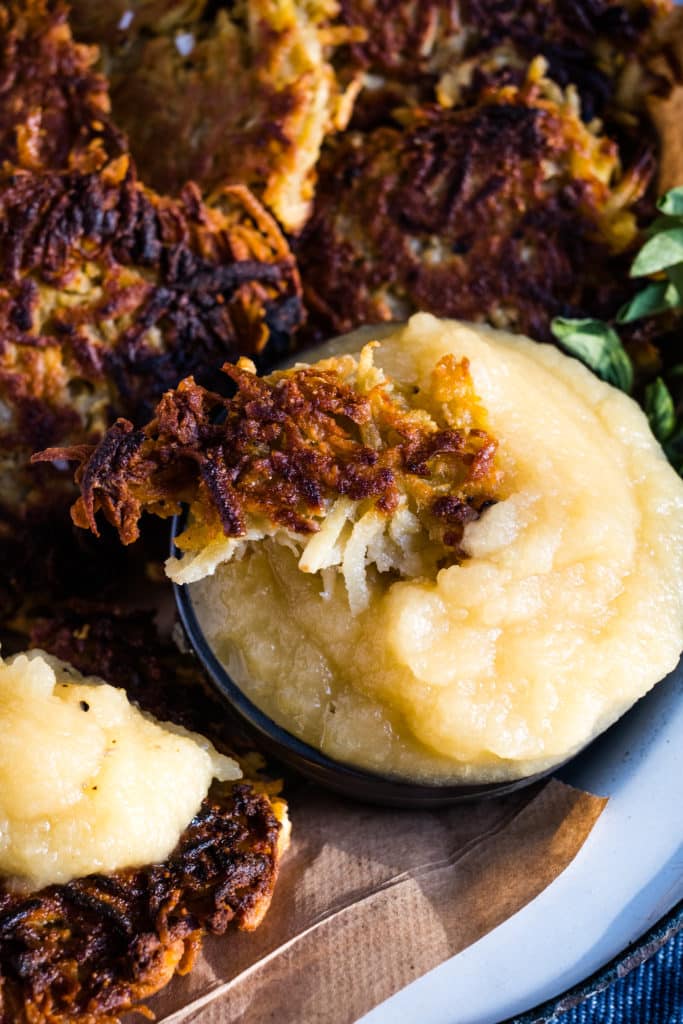 The Protein
If you are not vegetarian, your options are likely turkey, chicken, duck, pork roast, or beef roast. Whatever you choose, I'm sure you don't need a recipe from me. But you might need a reminder to choose the best quality poultry or meat you can get.
With beef, it's simple, as it's quite easy to find 100% grass-fed beef, also labeled grass-fed and grass-finished. Pork is not as easy, but you can find local farms selling heritage, pastured pork.
When it comes to poultry, especially turkey and duck, it's quite hard to find high-quality meat, as many farms do not raise birds on pastures or they give supplemental feed made of corn and soy. Your best bet is finding local farms that raise ducks and turkeys sustainably and responsibly. Even if not completely lectin-free, they are a good option for a healthy holiday menu. For more information on lectin-light chicken, check this article.
And when it comes to making a roast type of dish, my go-to online resource is Jamie Oliver. I made lamb, duck, turkey, pork, and beef following his recipes, and I never failed. They are easy to follow and so flavorful. And here it is a rare photo with me and my food; this was our turkey in 2017, almost a year before I started the plant paradox diet. The bird was pretty compliant (a Jamie Oliver recipe and the best bird I could find), but the rest not so much. On the left is a lectin-free chicken from Pasture Steps, one of the rare places where you can find truly lectin-free chickens. There are always lots of herbs going under the skin, citrus, herbs, spices inside the carcass, and lots of veggies on the bottom to make the gravy.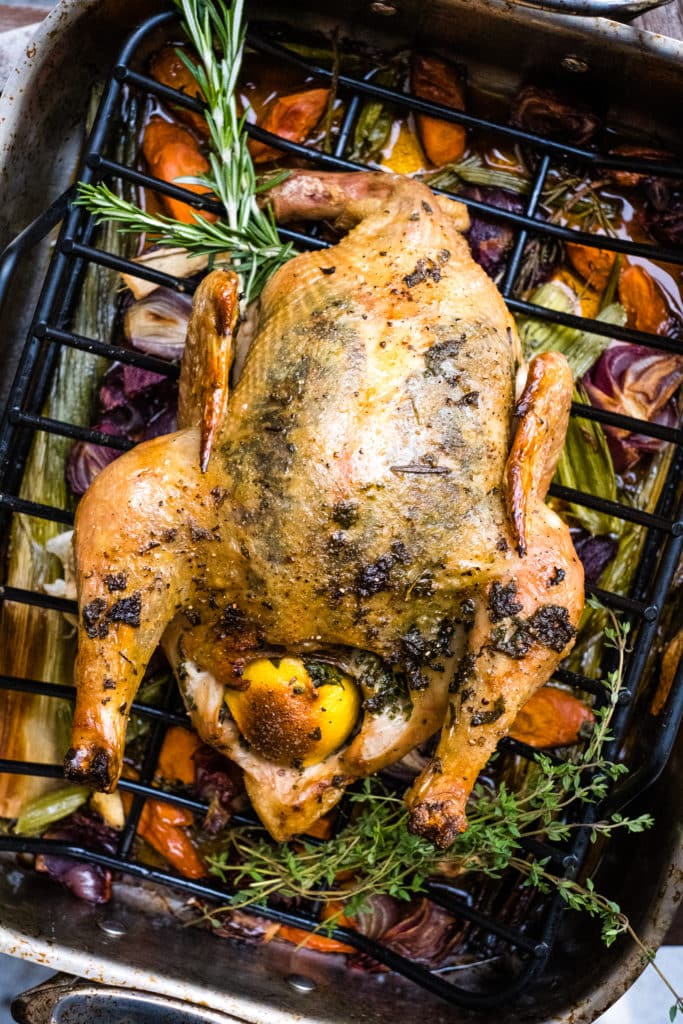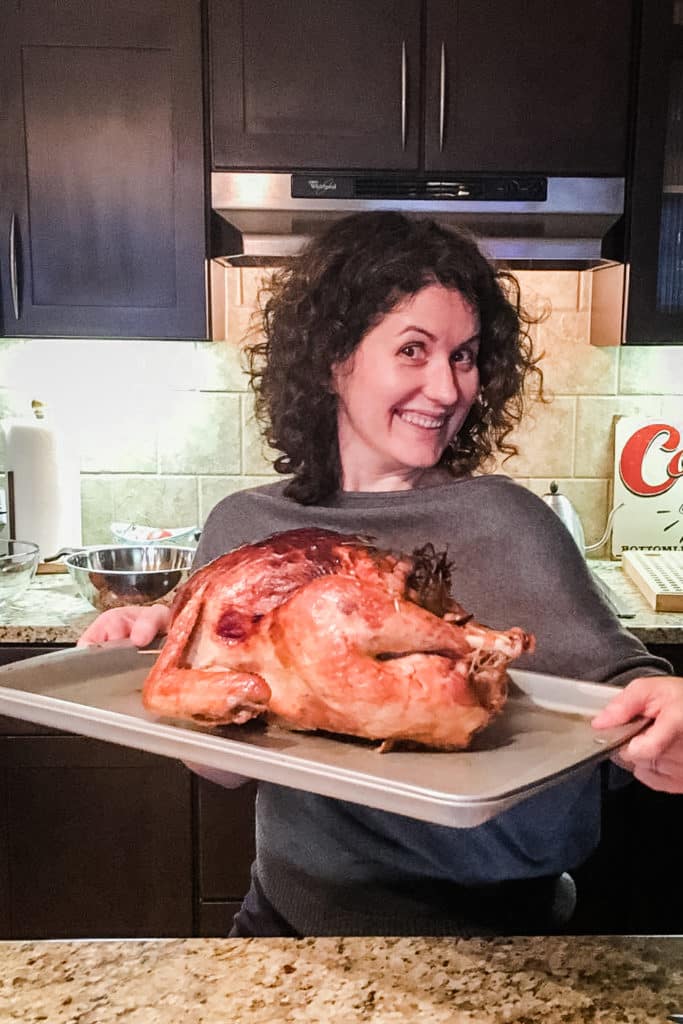 For some less conventional ideas, if you are on a budget or want to keep it simple but still have a festival of flavors and colors, try the Roasted Za'atar Chicken Platter with Sweet Potato Salad or the Orange Chicken with Brussel Sprouts and Cranberry Sauce.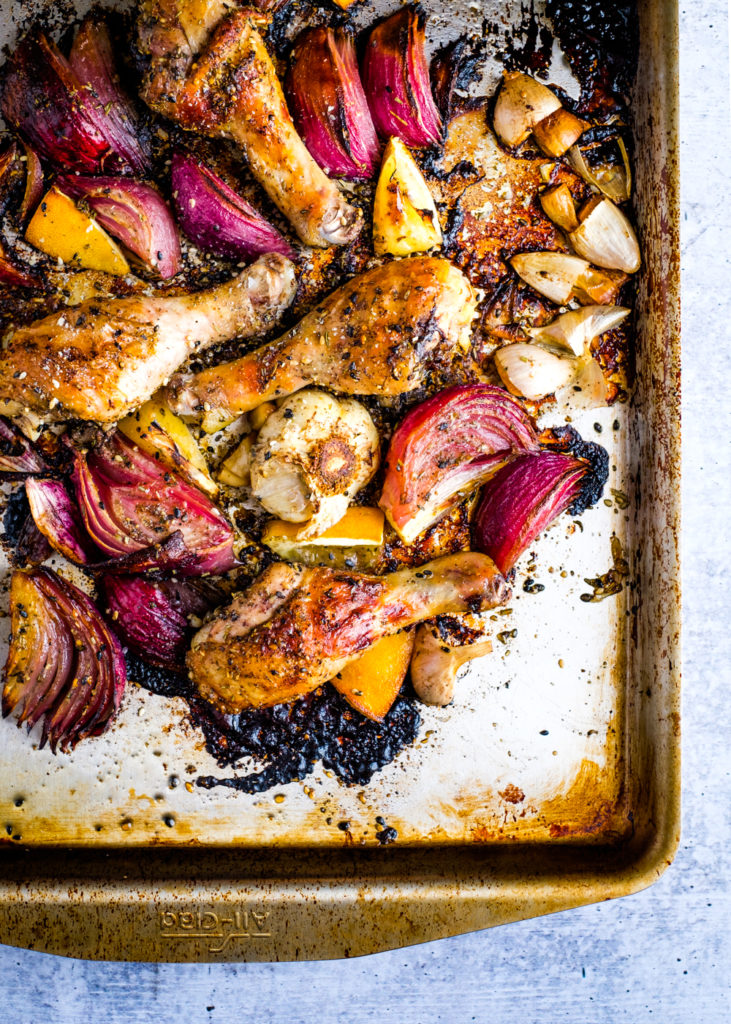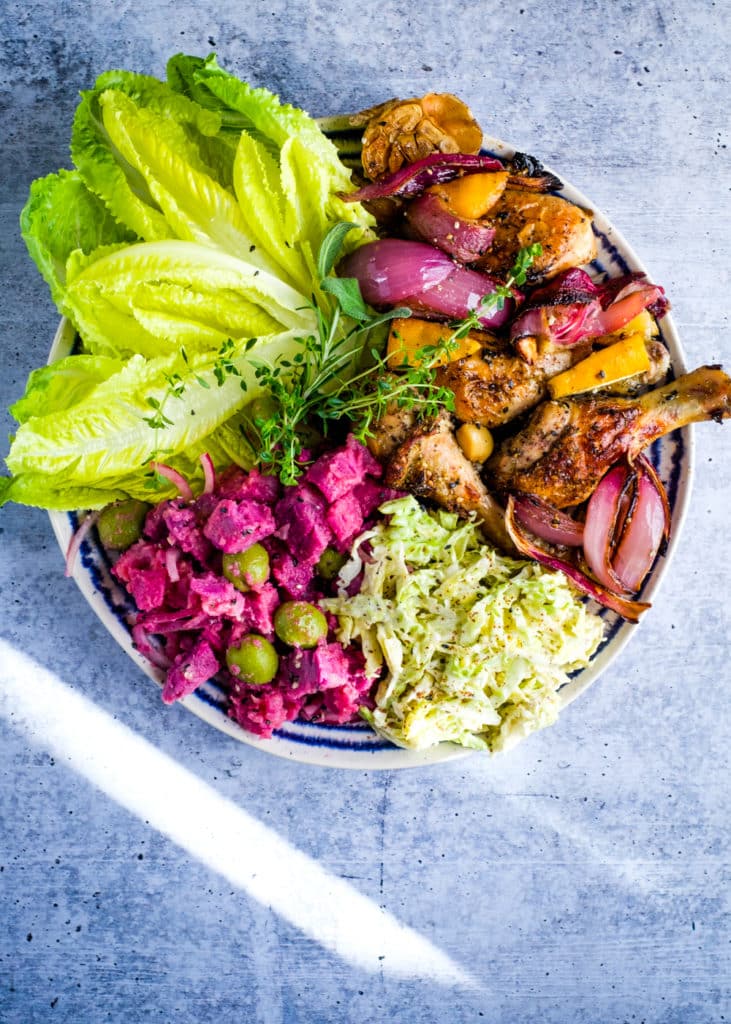 Maybe you want to stick to a pescatarian diet during holidays? Try the Salmon Avocado Tartare. It looks perfect, it's easy to put together and it will make an impression.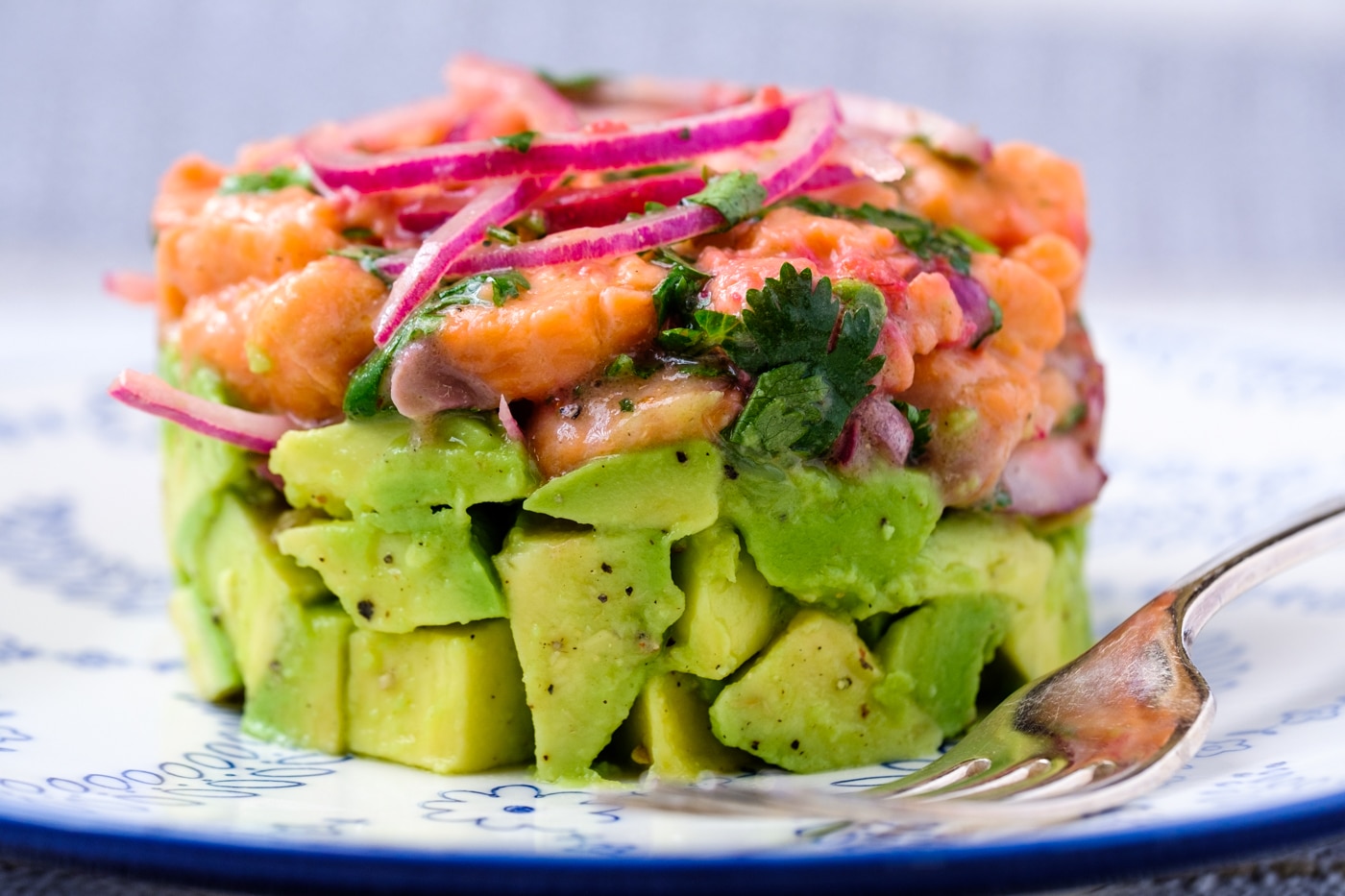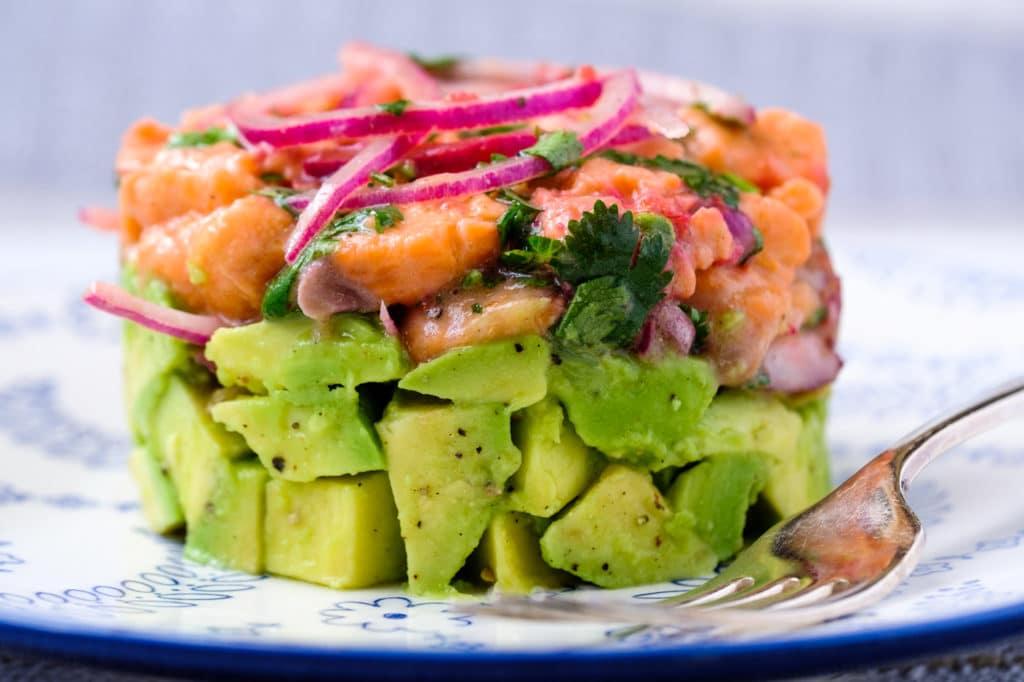 The Gravy
When you cook a bird or any type of meat for that matter, use a roaster type of pan (this is my favorite) with a lot of vegetables at the bottom of it (see the photo above, on the left). I recommend onions, garlic, carrots, parsnip, mushrooms, celery, fennel, and leeks, plus a few sprigs of thyme, rosemary, salt, pepper, and extra virgin olive oil. If the vegetables get dry, add a little bit of water or stock.
The drippings from the meat will create the perfect base for your gravy. When the meat is cooked, strain the liquid from the tray and discard the vegetables, squeezing as much of the vegetable juices as possible to get the maximum flavor. Add the liquid to a saucepan and simmer until reduced. Or, if you don't have a lot of liquid, add more stock or even wine. Thicken with arrowroot powder by dissolving the arrowroot first in cold water to avoid clumps. Add spices to your liking.
The Hearty Dish
I don't know about you, but I love hearty, warm dishes in the winter. Sometimes we even make them for New Year's Eve or Christmas. They are tasty, healthy, and convenient – especially if made in a pressure cooker.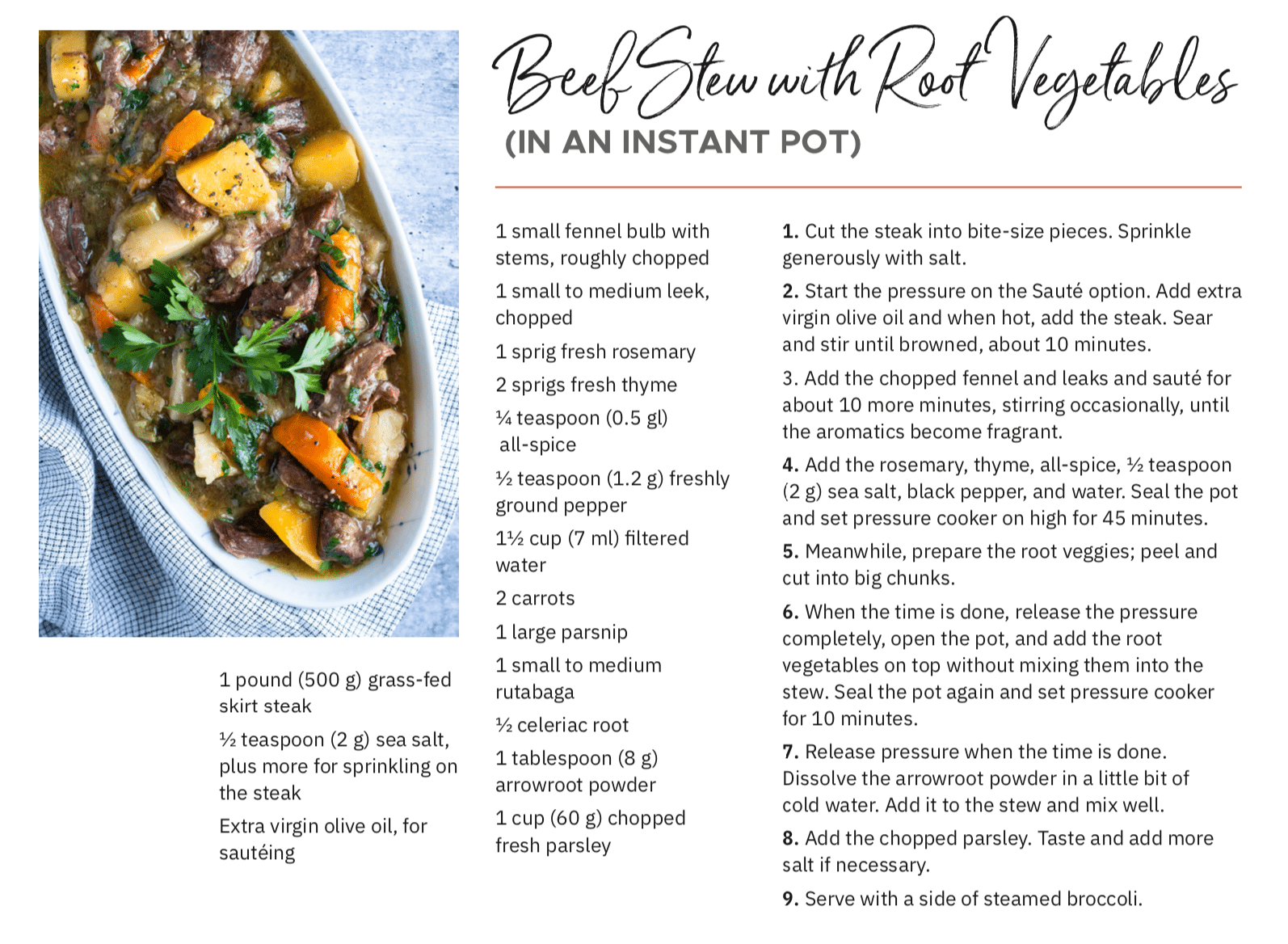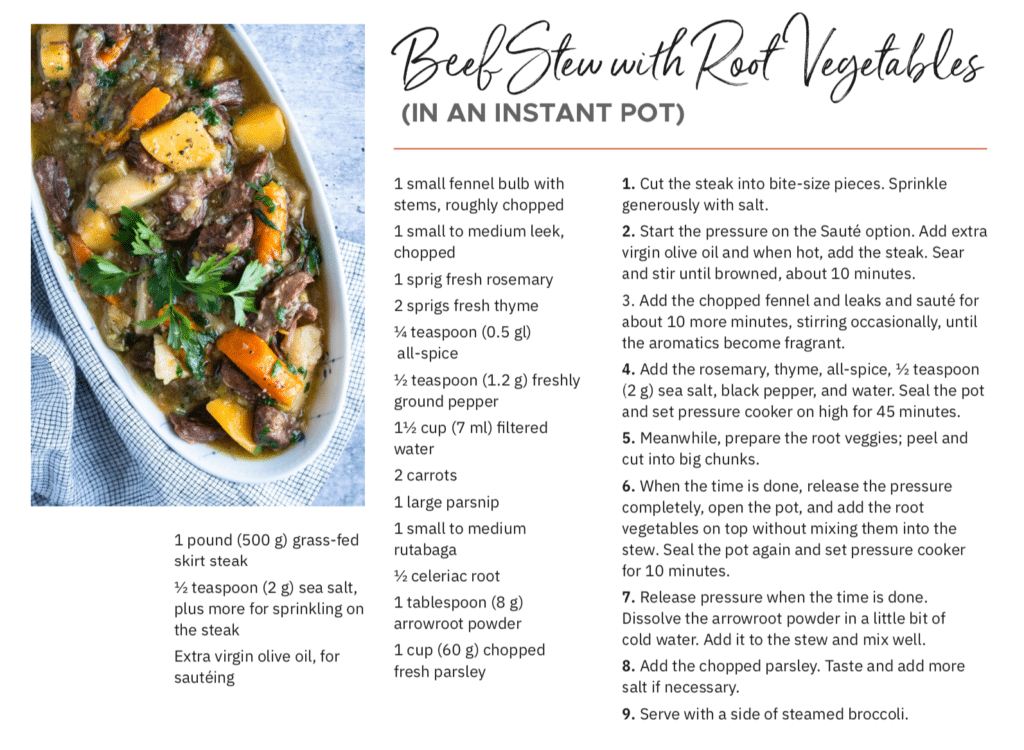 Lectin-Free Boeuf Bourguignon is another option, it takes more patience and time, but the result is all worth it. It's a healthy meal full of flavors that looks so pretty, too.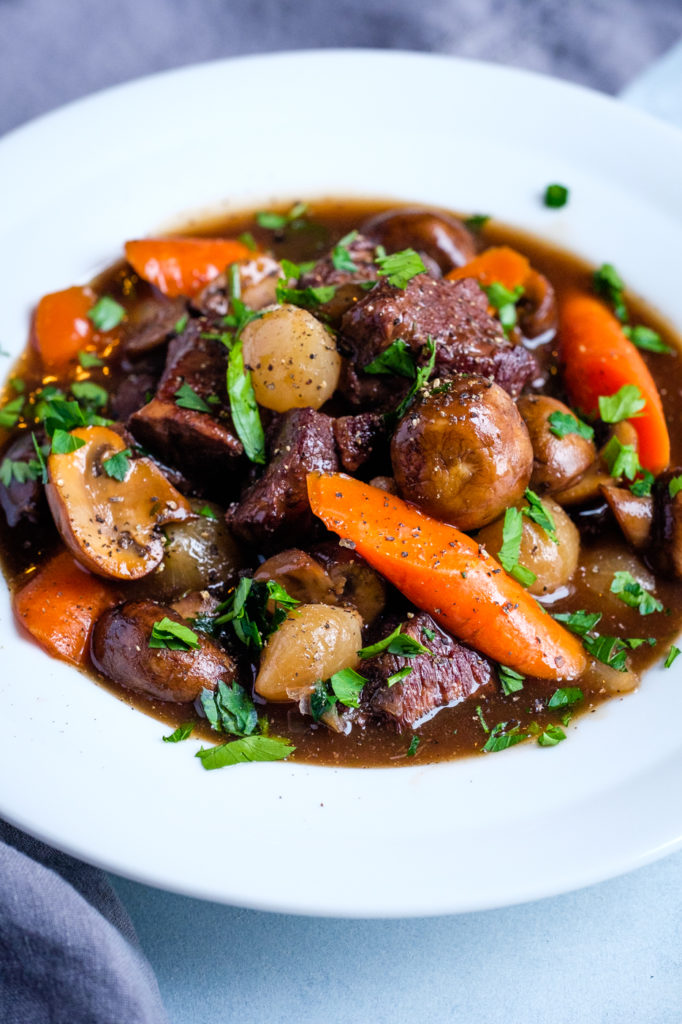 Or check this Lectin-Free Chicken Pot Pie, not only it looks festive but is incredibly flavourful and of course, healthy.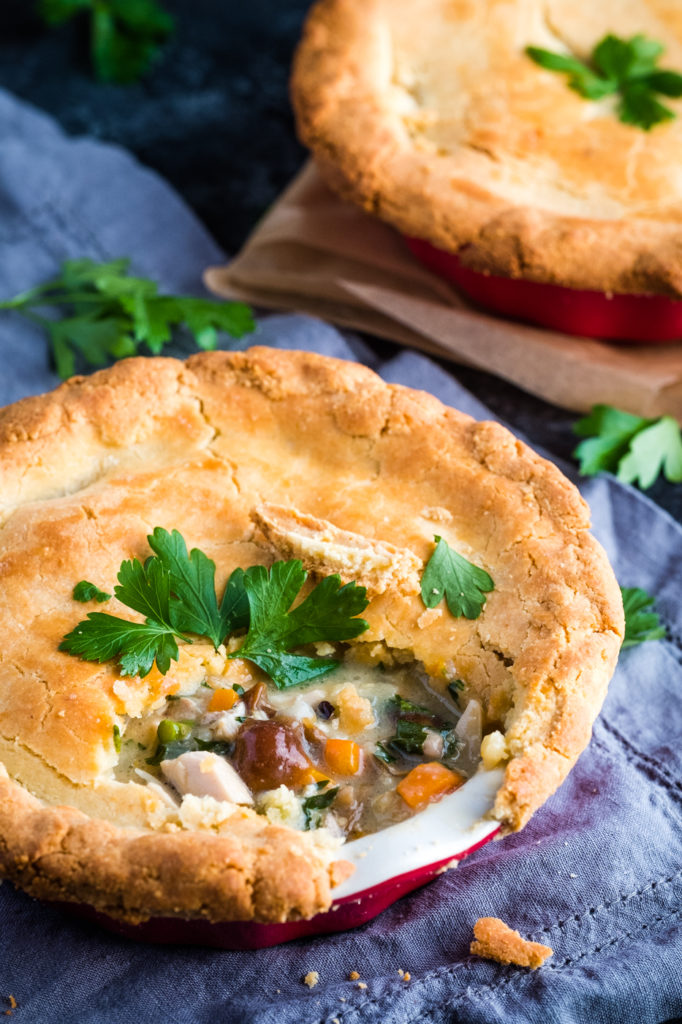 The Mash
Who doesn't love mashed potatoes? Since a lectin-free feast would not include regular potatoes (at least not on Phase 2 of the plant paradox program), you can replace them with cauliflower, sweet potatoes, taro root, rutabaga, or parsnips. Boil or steam them until fork-tender, mash in a food processor or with an immersion blender, add extra virgin olive oil, salt and pepper to taste.
If you eat dairy, you can add a little butter or organic heavy cream. Nut milk would work too, but for something similar in texture to heavy cream, try the unsweetened non-dairy coffee creamer Nut Pods or simple coconut cream if you don't have access to Nut Pods. Spices like all-spice and nutmeg or fresh herbs like rosemary and thyme will add more depth of flavor and vibrance.
You can experiment with any combination, but these are my suggestions, tried and tested:
Cauliflower, parsnip, and celeriac
Cauliflower, carrot, and/or parsnip
Parsnips and chestnuts
Cauliflower and sweet potato
Sweet potato and rutabaga
Get the Celeriac Parsnip Puree with Horseradish and Thyme recipe in my cookbook – The Living Well Without Lectins Cookbook – page 185 and the Purple Sweet Potato Puree HERE.
Try this delicious mashed cauliflower, celeriac, and parsnip.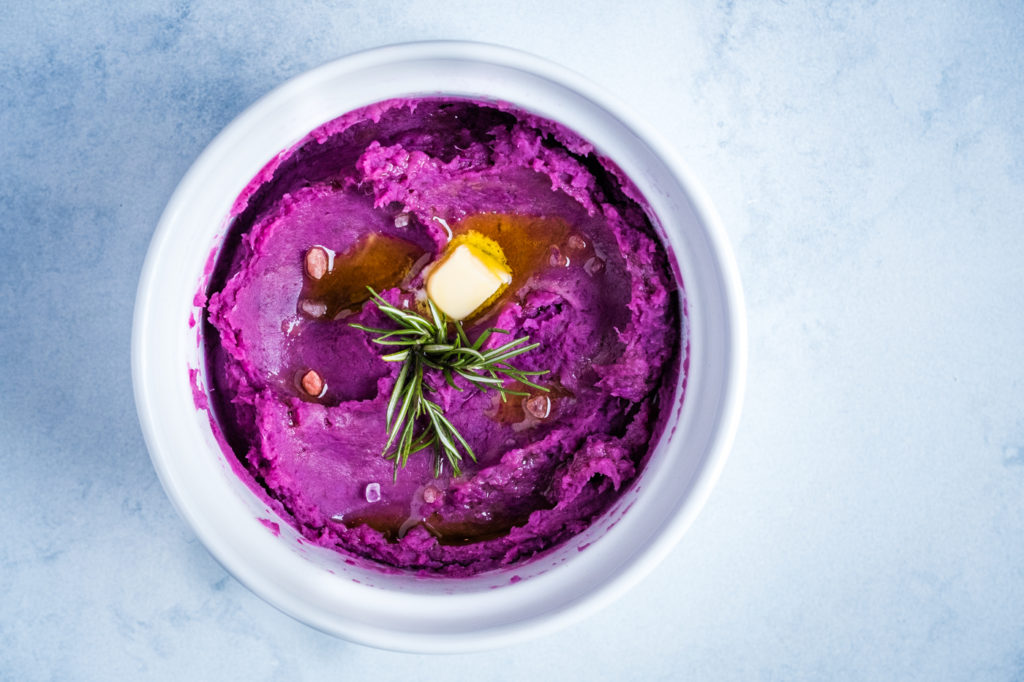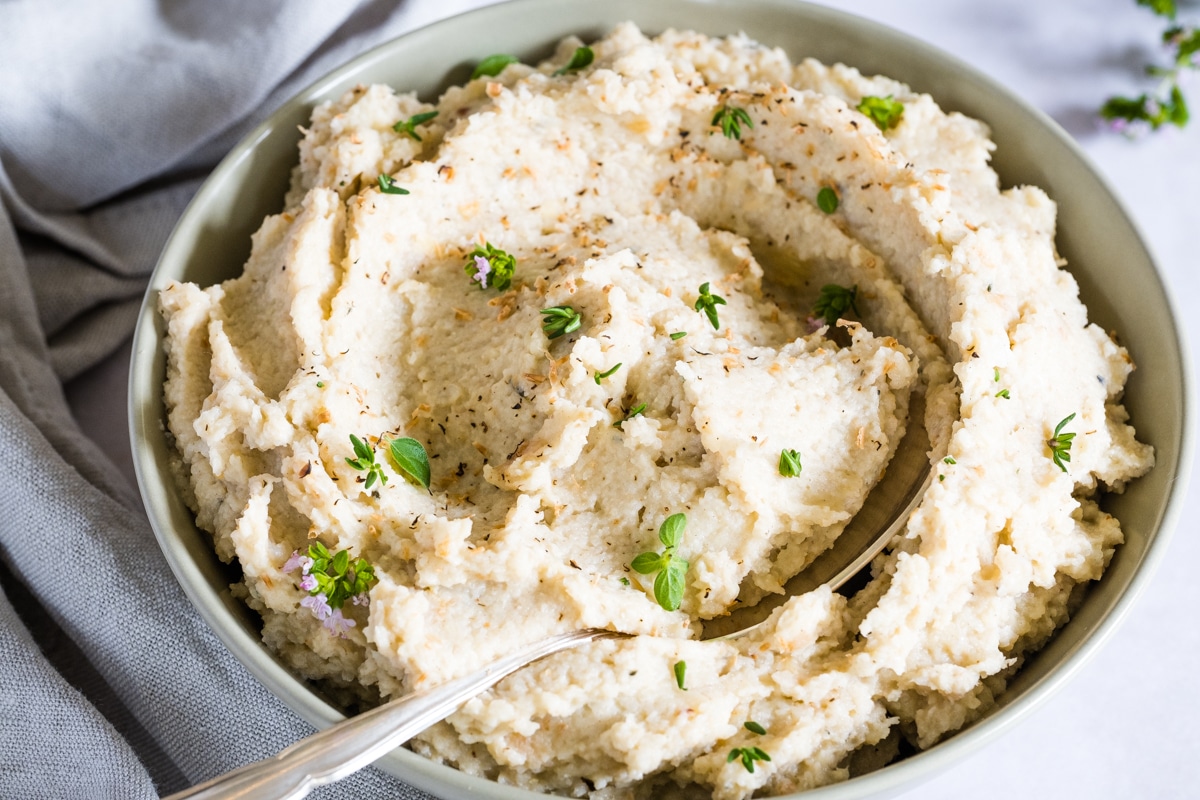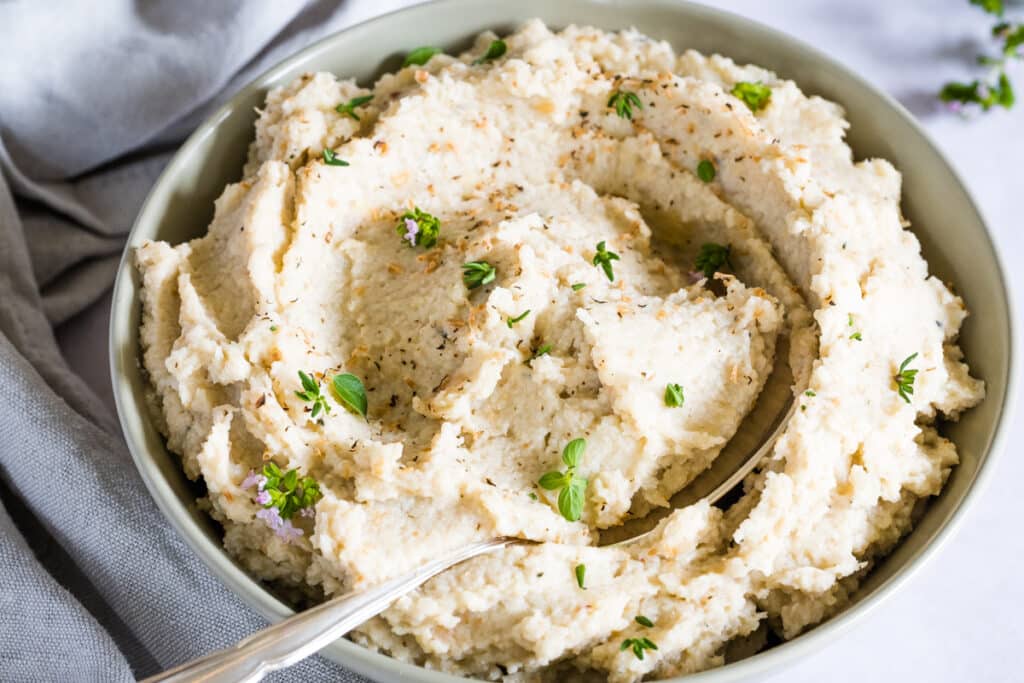 Can I use real potatoes just for the holidays?
If you are in phase 3 of the plant paradox program, you can cook your potatoes in a pressure cooker, let them cool completely, preferably overnight, and reheat them to make a compliant mash using the regular potatoes. The best is to eat potatoes after they are cooled and reheated; this way, they will provide more resistant starch and less sugar.
The Stuffing
Traditional stuffing is made with bread and has little nutritional value while being a carb and lectin bomb. Try this millet stuffing recipe instead; it makes for a nutritious side dish to your holiday feast. With all the vegetables and fresh herbs, this stuffing has similar flavors to the traditional one, but it is much healthier.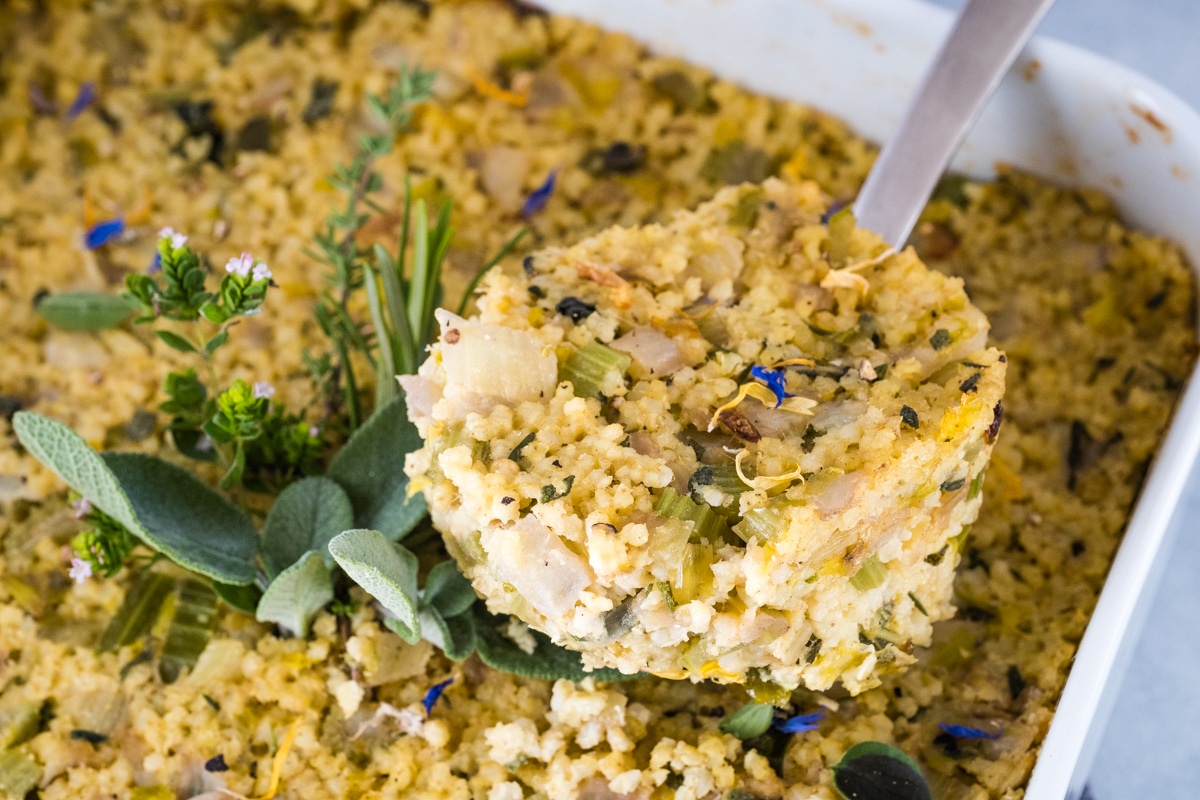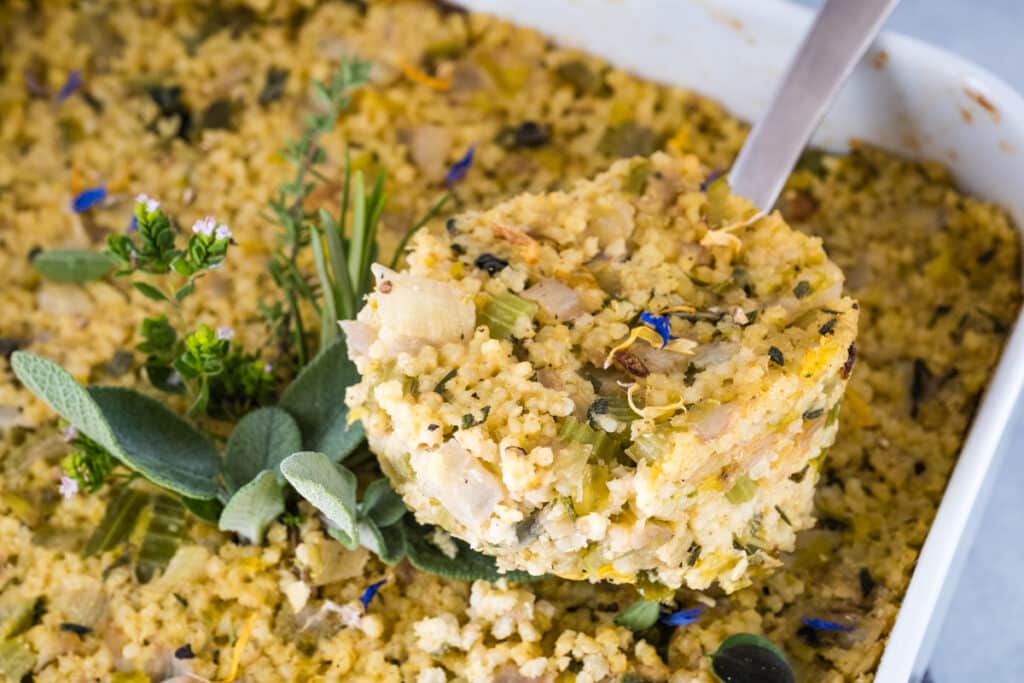 The Veggies
The veggies should be the star of the show. All colors, textures, and flavors. Check out my Vegetarian and Vegan categories on the website; you will find plenty of ideas for side dishes for holidays. For warm sides, I would love Sauteed Swiss Chard and Cauliflower Gratin with Pecans and Caramelized Leeks.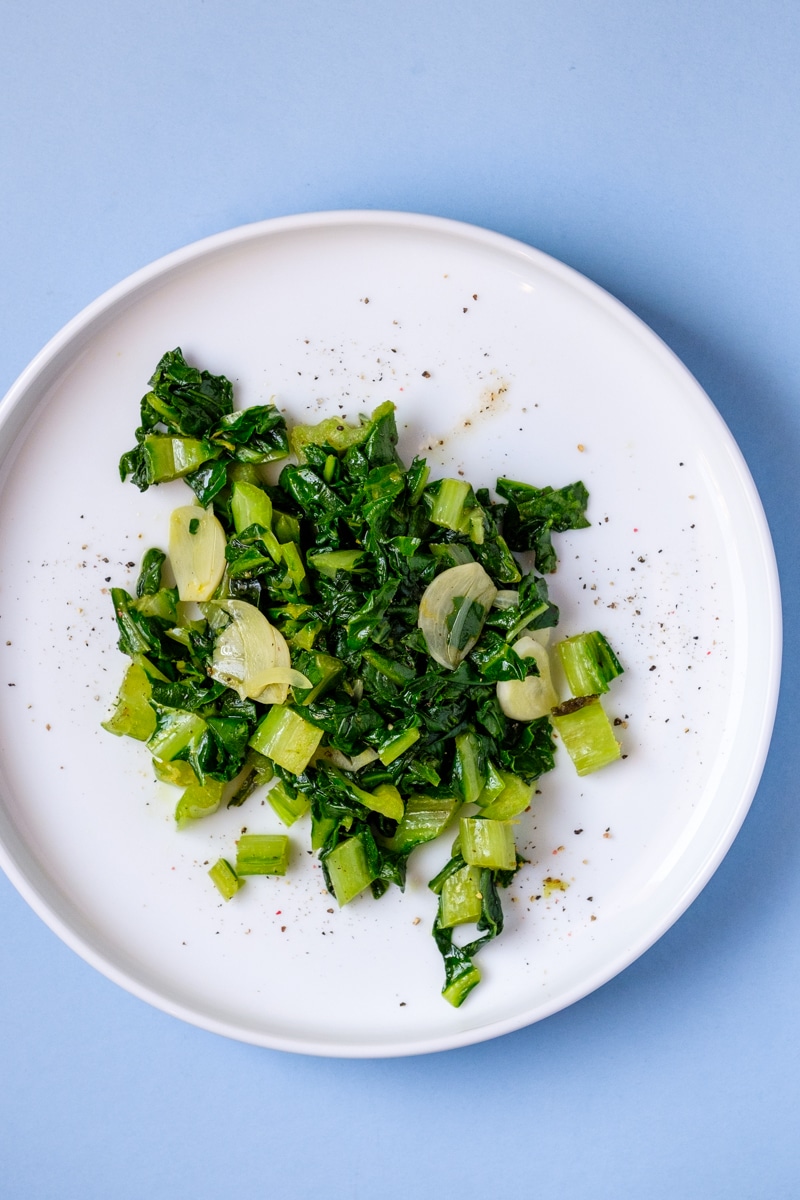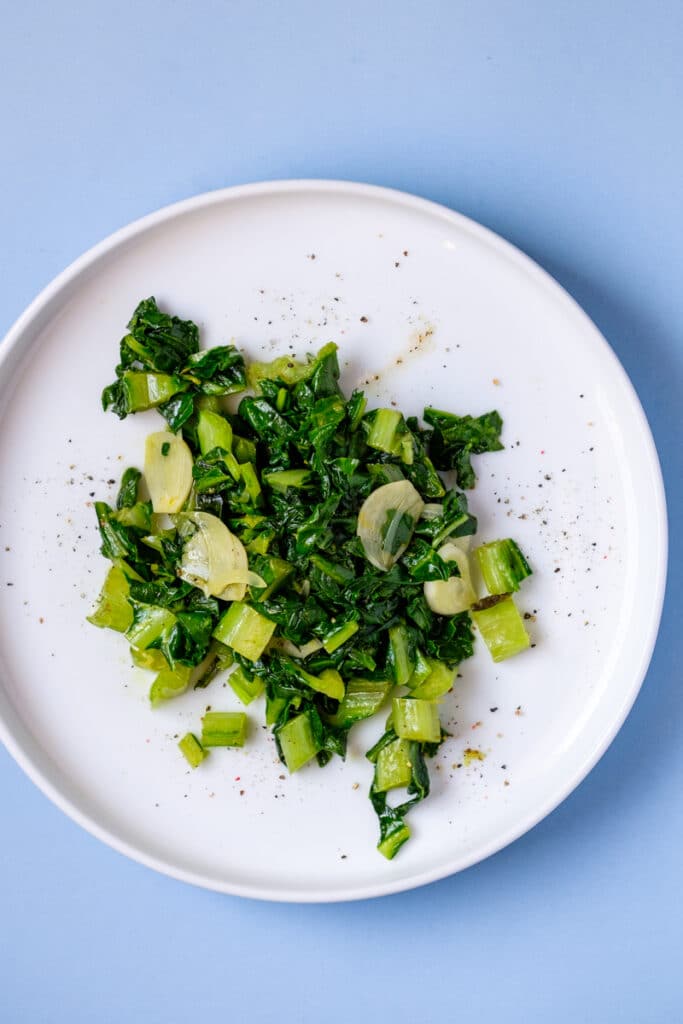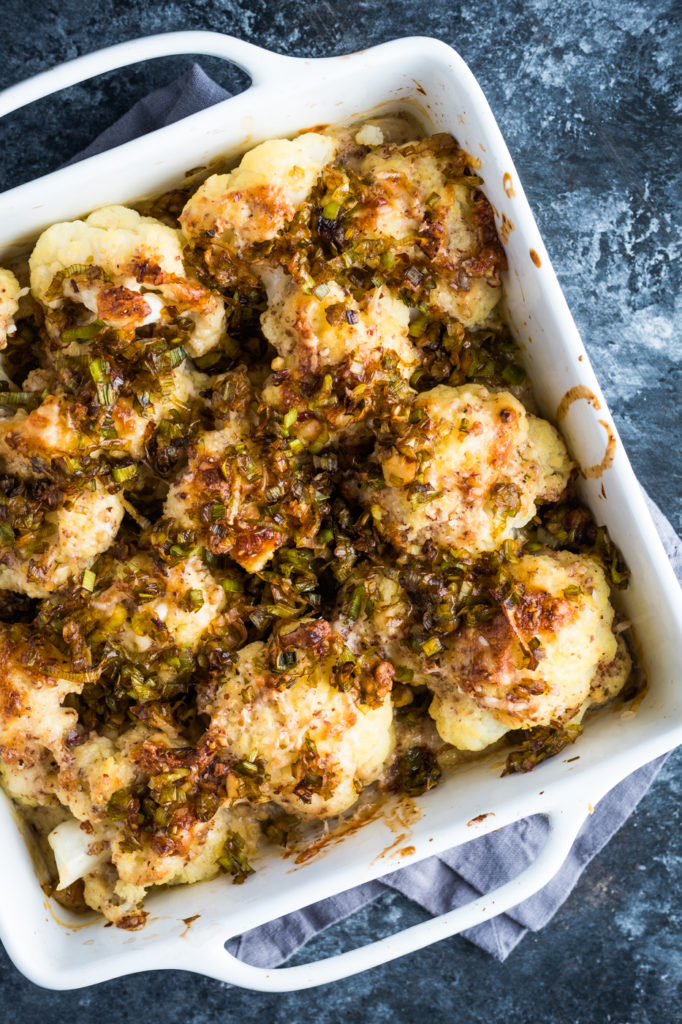 In a nutshell:
• Have as many vegetables as possible on the table
• Have different colored vegetables
• Cook them minimally to preserve nutritional value, energy, and vibrance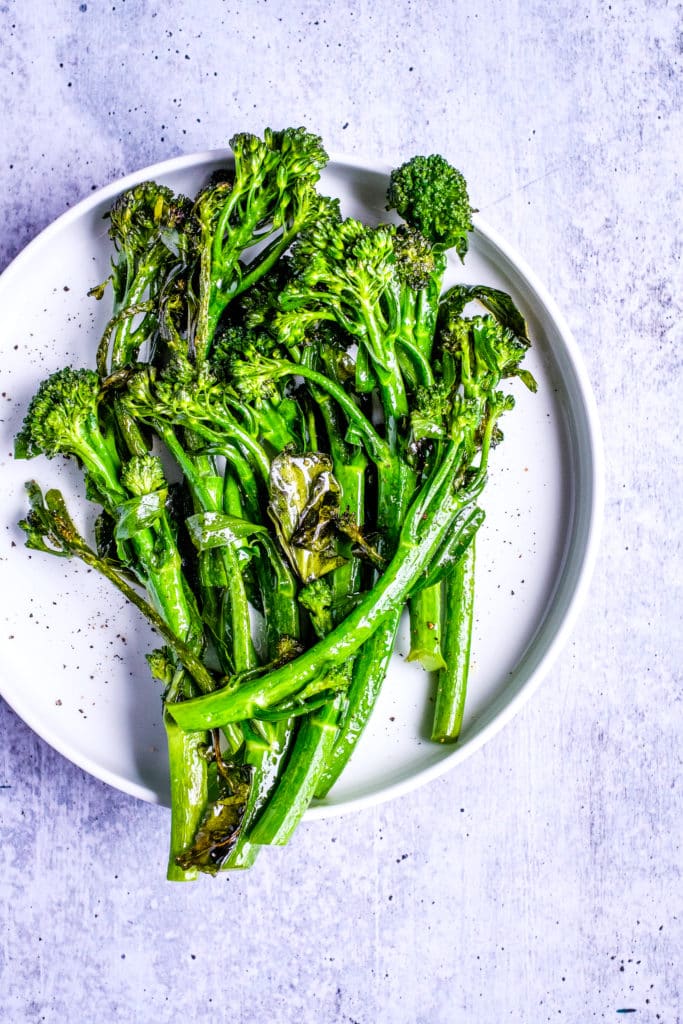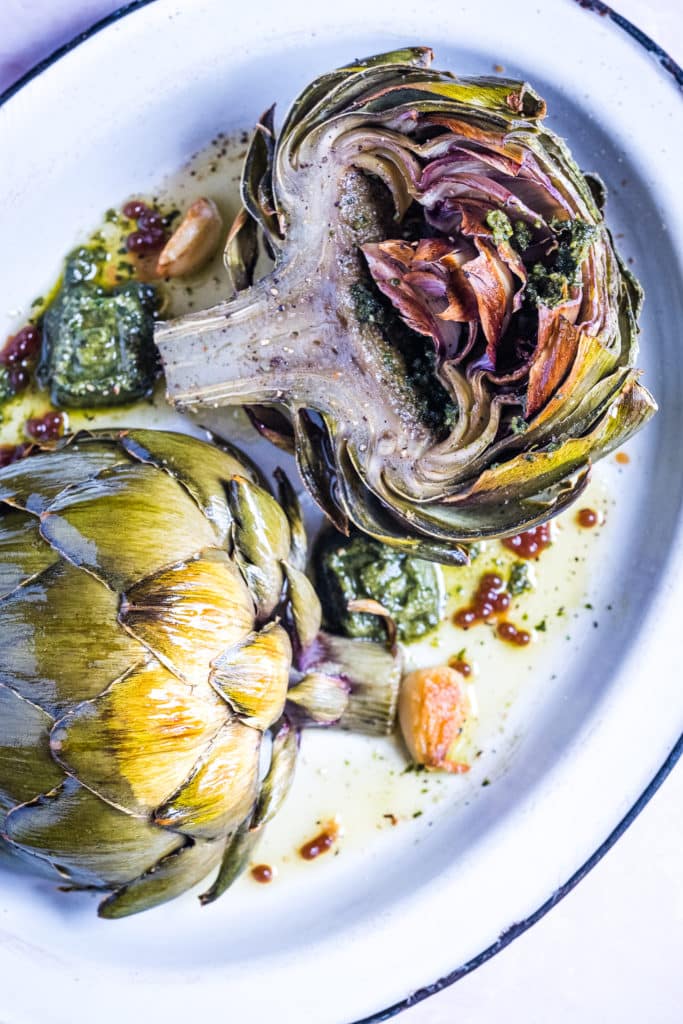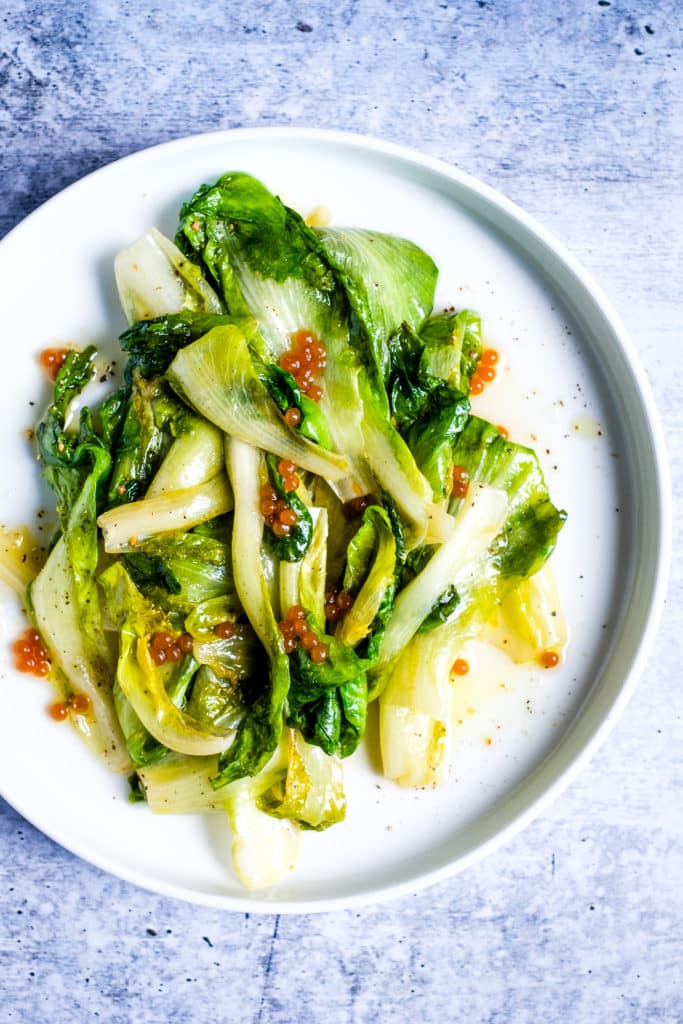 Steaming and sautéing are great for broccoli, broccolini, boy Choy, and all the leafy greens
Braising is great for cabbage
Some vegetables shine when used raw: kohlrabi, carrots, beets, jicama, and even cabbage
Some vegetables need the oven treatment (unless you steam or boil them to make the mash): the roots such as rutabaga, parsnip, turnips, taro, and sweet potatoes of all kinds.
Are you vegan?
If you are vegan, I have a few suggestions. I absolutely love artichokes, and if you find them in your local stores, I have one recipe in my cookbook and one on the website: Baked Artichokes with Hazelnuts and Olive Pesto.
Or try this lectin-light Roasted Cabbage With Crispy Chickpeas and Tahini Sauce. Of course, if you are vegan I'm sure you have your own recipe for Whole Roasted Cauliflower with Pesto, but if you don't, here it is. Vegan or not, this is always a winner.
And I have two more options for you: Mini Bella Mushrooms Stuffed with Almond Ricotta and Oregano and Thyme Roasted Mushrooms with Millet Polenta. Both look festive and are delicious.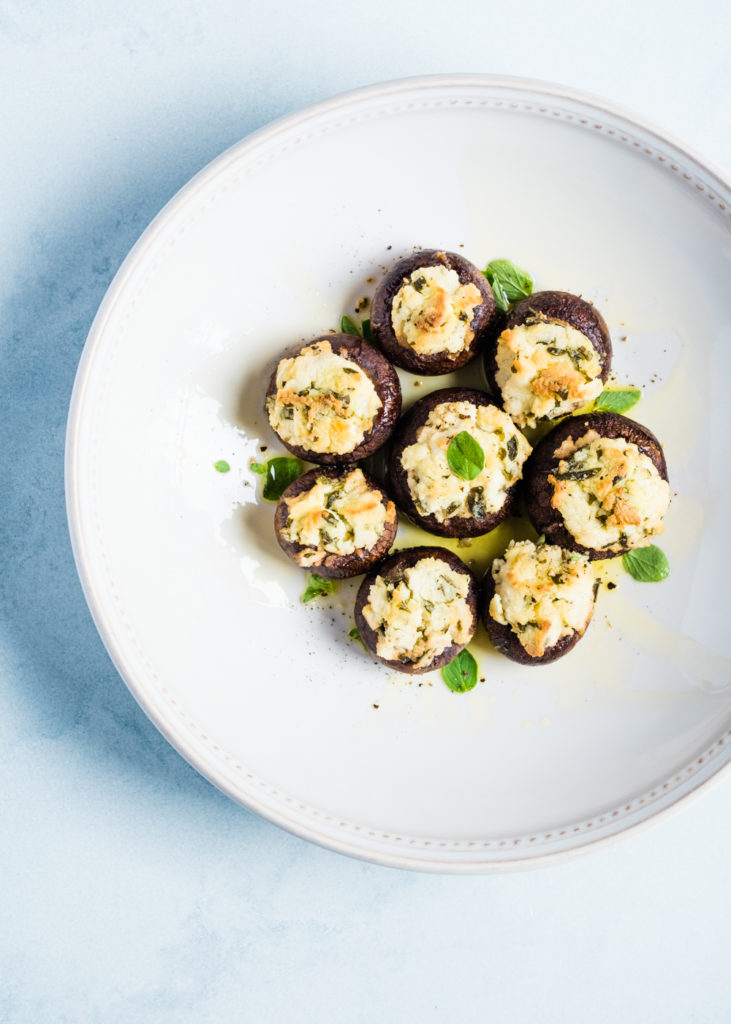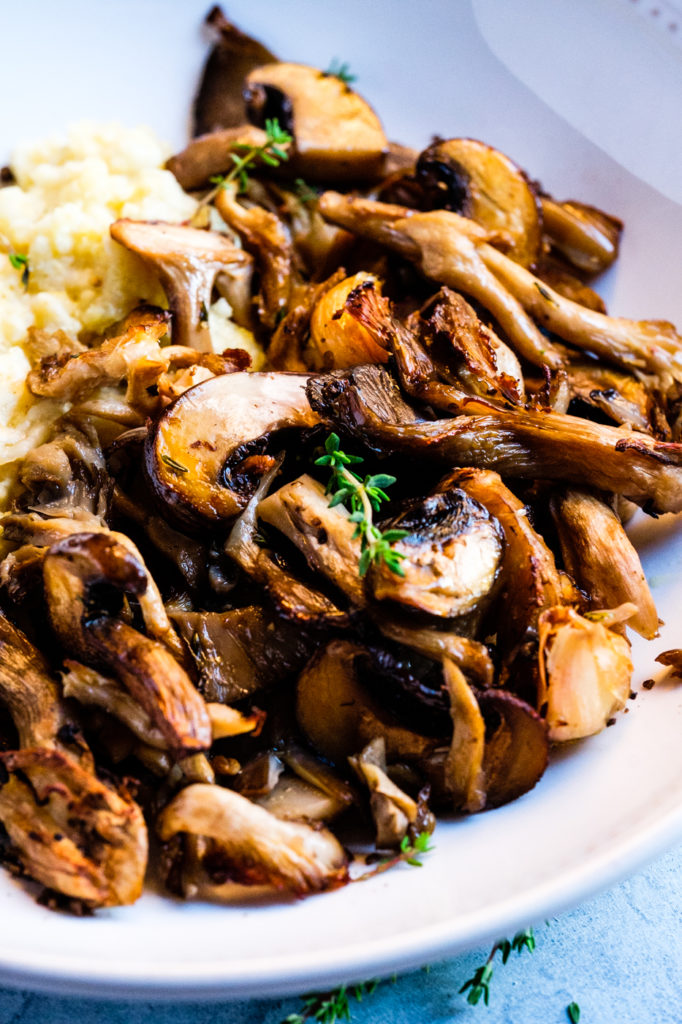 The Green Bean Casserole
Honestly, I've never been a fan of green beans, so they have been out of my radar for a long time. Someone asked me a few days ago if I have a green bean recipe. Green beans have to be pressure cooked to be compliant, which means they will get too soft for my taste.
But someone just reminded me I have a recipe on the website that is quite similar to a green bean casserole and is much healthier. It's also vegan. So my suggestion for a veggie casserole, similar to a green bean casserole, is this: Creamy Casserole with Asparagus, Cauliflower Rice and Broccoli Slaw.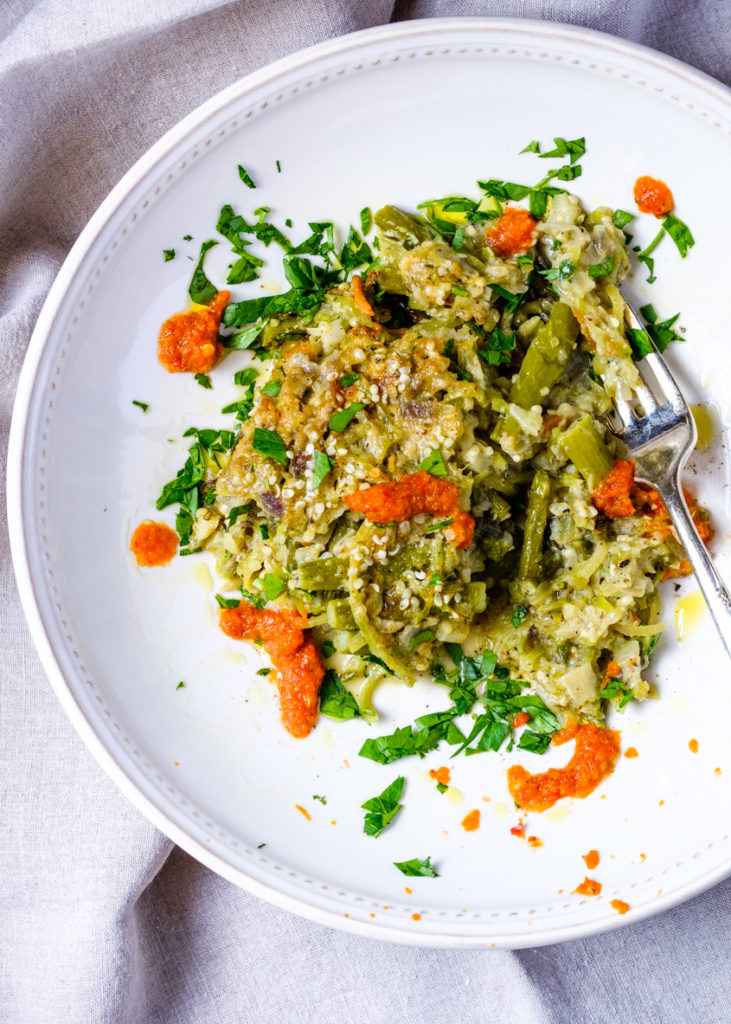 The Green Salad
No holiday meal is complete without a vibrant green salad. You probably have your own preferences, but if you are looking for inspiration, try this Middle Eastern-inspired arugula and sumac salad if you are looking for something vibrant, nutritious, and easy to digest. I love arugula because it has anti-histamine properties and might balance out other dishes higher in histamines. I won't give you quantities—make it to your taste and as big as you need.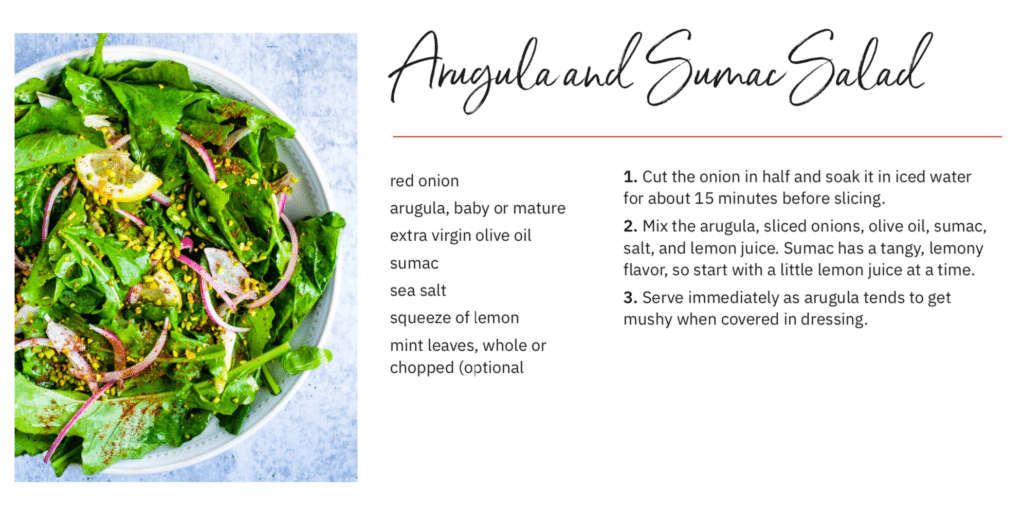 The Winter Slaw
Most people know how to make the slaw, but here is a new suggestion. Instead of just using cabbage and carrots, I challenge you to use celery root, carrots, and red cabbage. Not only will this combination make a vibrant and colorful slaw, but it will also add so much more nutrition and earthy flavors to your holiday meal.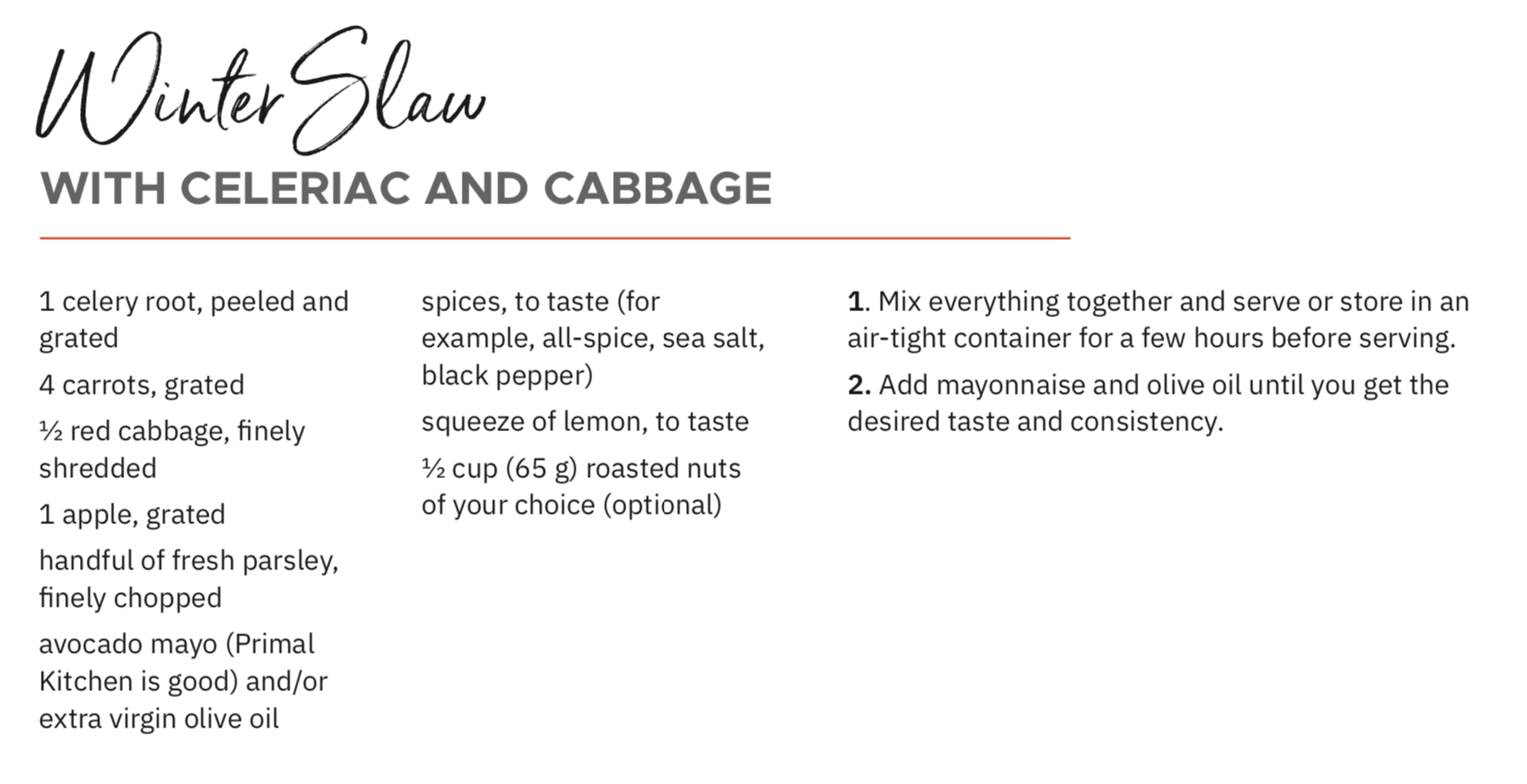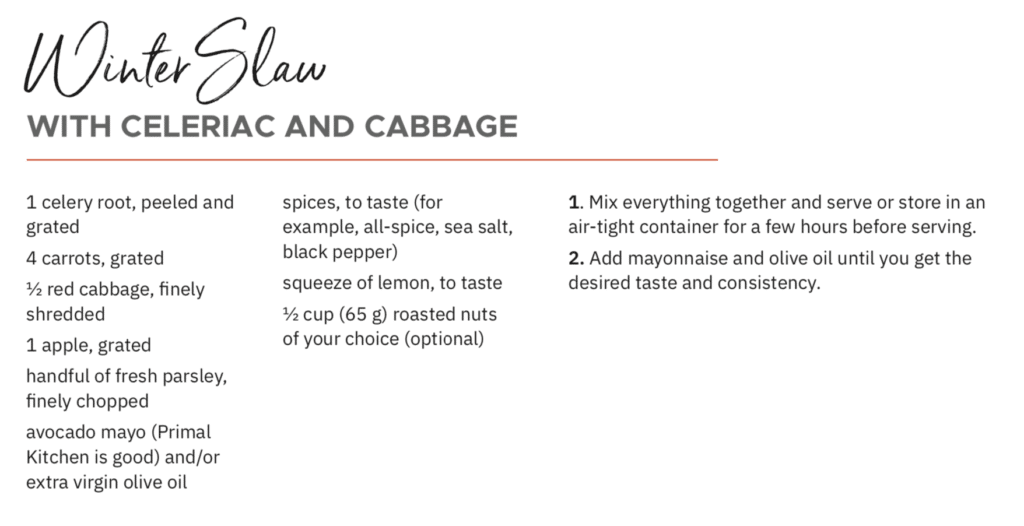 And for a more traditional slaw but also with a twist, check out Nigella's New Orleans Coleslaw Made Lectin-Free, on the website.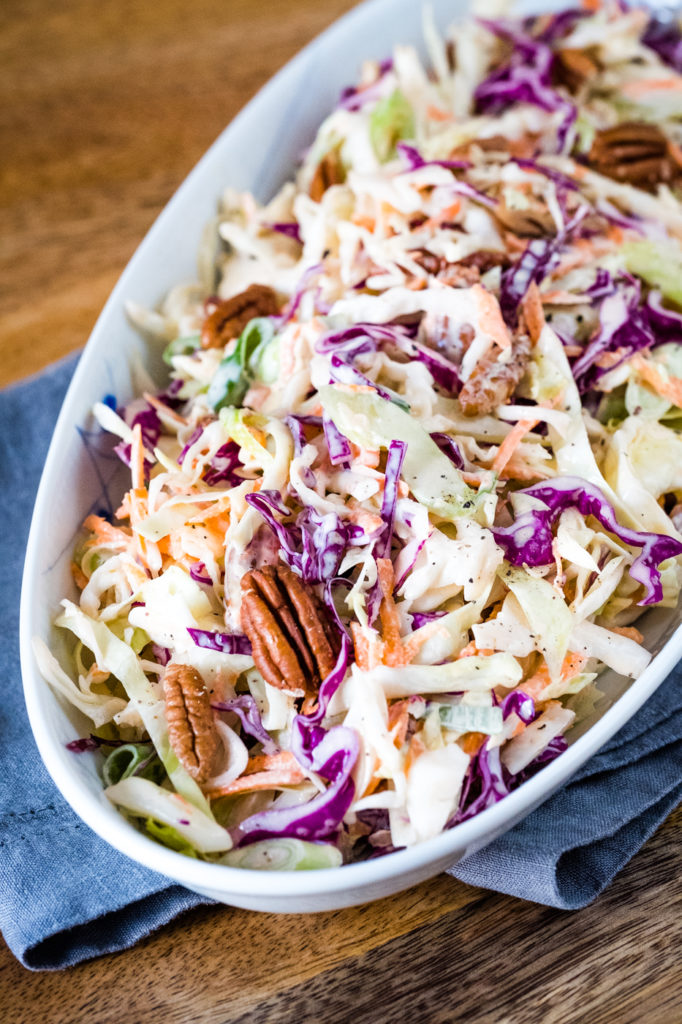 The Cranberry Sauce
Cranberry sauce is just another source of added sugar and other additives if you buy it ready-made. Making the sauce at home is actually super easy, using fresh or frozen cranberries (but not the dry ones) and an approved sweetener. I prefer the monk fruit sweetener, golden in general but especially for this cranberry sauce.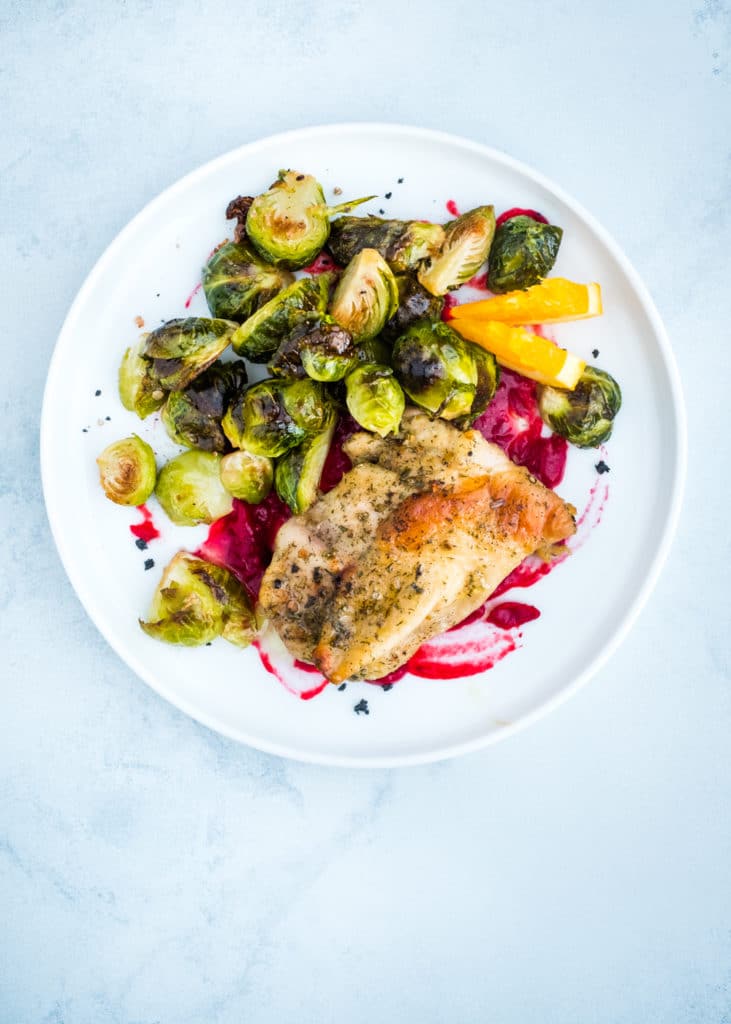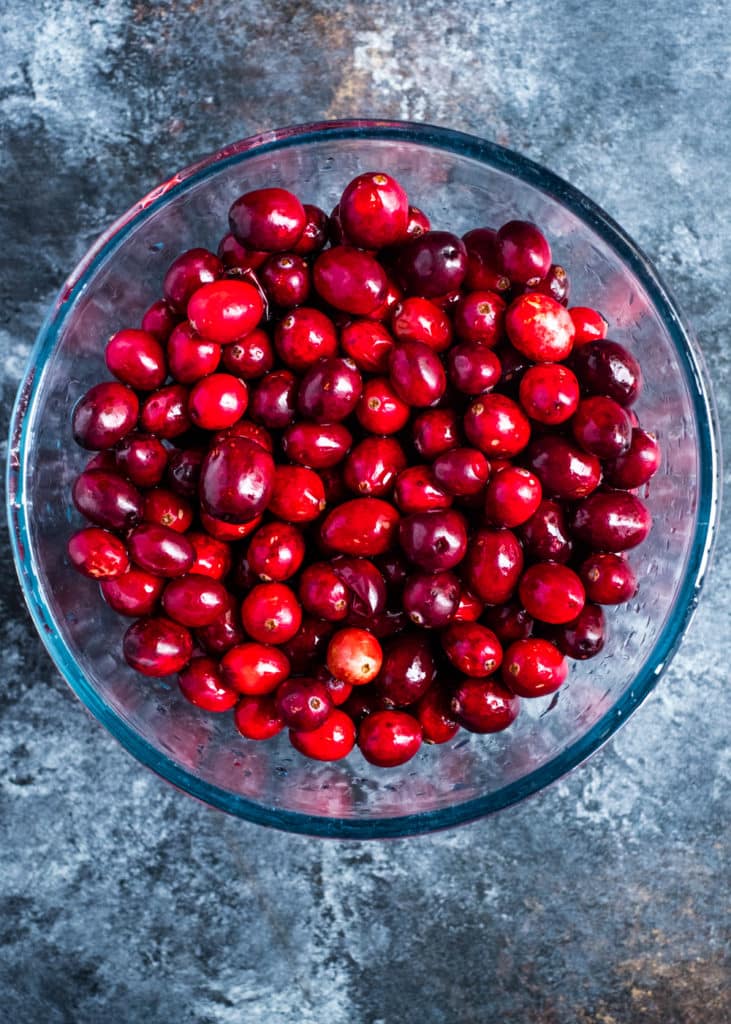 Cranberry Sauce will elevate all your poultry dishes. Spread it on the plate as the base of your dish, add a portion of roasted chicken, duck, or turkey and some veggies such as Brussels sprouts. Garnish with citrus. This is such a simple way to serve a healthy, delicious, and vibrant holiday meal. Check out the Orange Chicken with Brussels Sprouts and Cranberry Sauce recipe on the website for more details.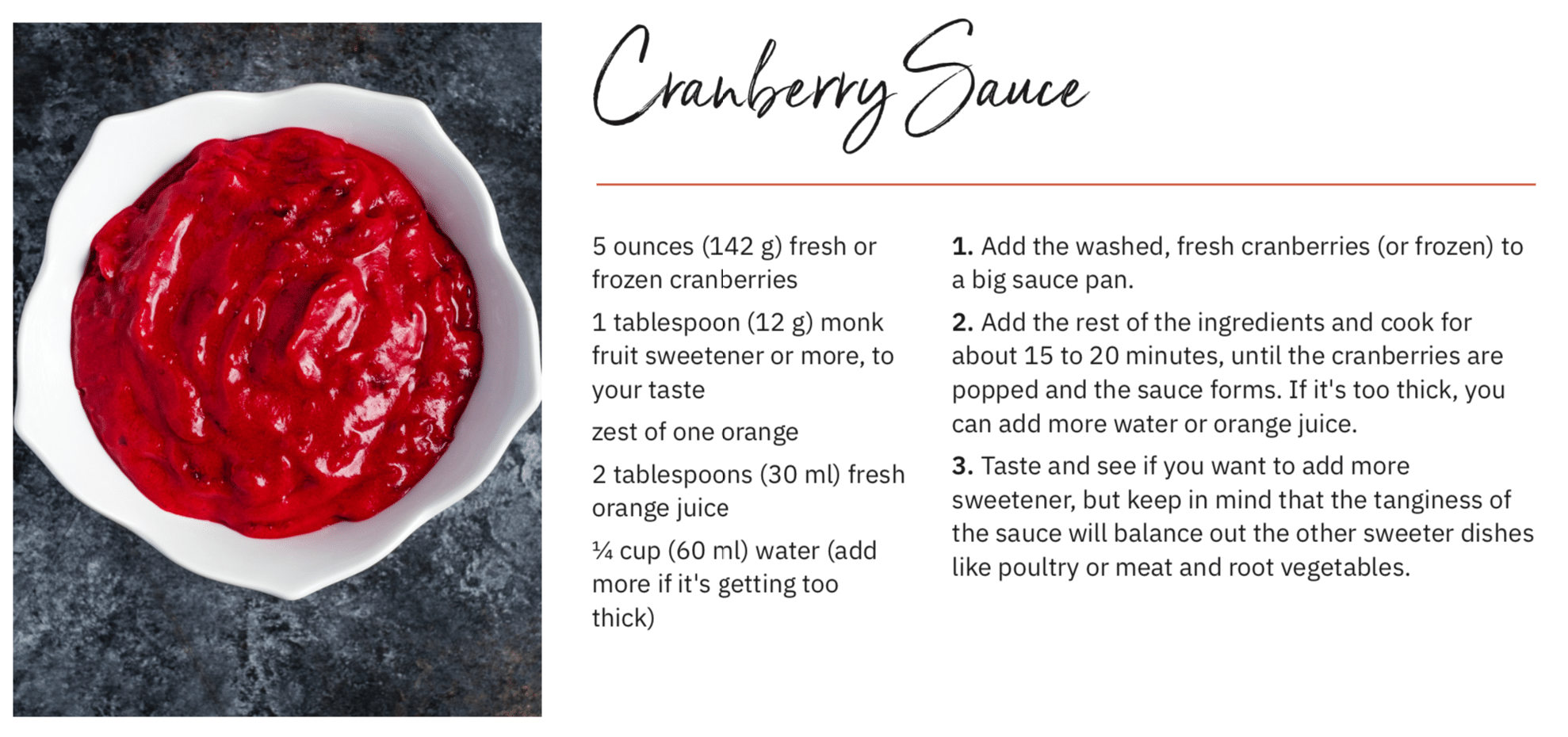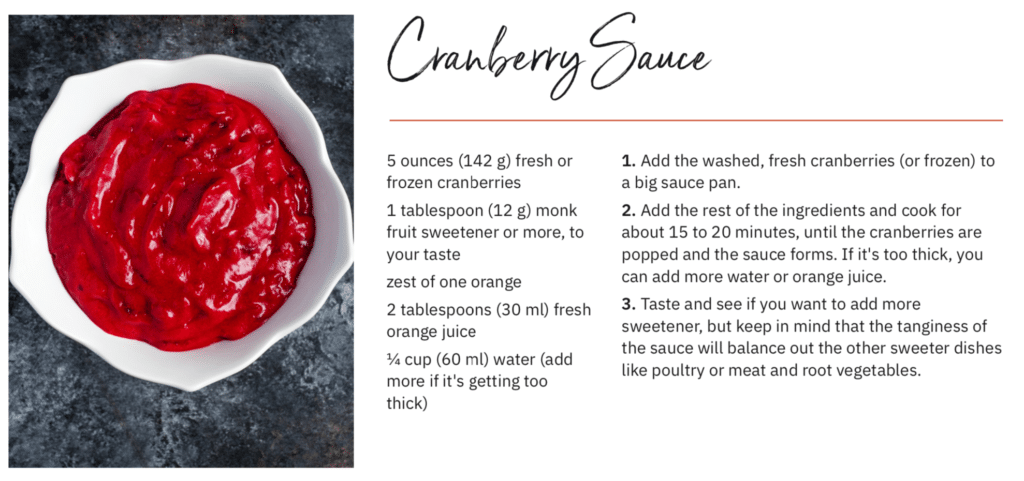 Drinks
Since I barely drink anything but water, I almost forgot this part! It is your choice if you drink alcohol or not, but if you do, stick to small quantities of high-altitude red wines, champagne, and dark liquor. Drink plenty of water to stay hydrated and, if you want something fancier, make flavored water with winter flavors like citrus.
Pumpkin Spice Latte
But I do have an awesomely delicious warm drink for you: Pumpkin Spice Latte. It's so easy to make and it will warm you up and bring your holiday hygge up a notch.
These are the ingredients for one latte:
1 espresso (you can make it double if you want something strong)
2 tablespoons coconut cream
1/2 cup hemp milk
1/2 teaspoon hazelnut butter
1 heaping tablespoon baked sweet potato, or more if you want a creamier and thicker texture
1/2 teaspoon honey (or use a plant paradox phase 2 compliant sweetener, such as inulin powder, monk fruit or yacon syrup and adapt to your desired sweetness)
a tiny bit of vanilla
pumpkin pie spice mix to your taste or cinnamon and a pinch of nutmeg
Again, spice it to your taste. I don't add much because all these spices are high in histamine and I'm careful with that part.
Mix all in a blender – very easy to make in a NutriBullet – and serve. If you want the drink to be hot, warm up the coconut cream, hemp milk and potato before adding to the blender. You can warm them together in a saucepan, it doesn't matter if the potato is clumpy, it will all get mixed in the blender.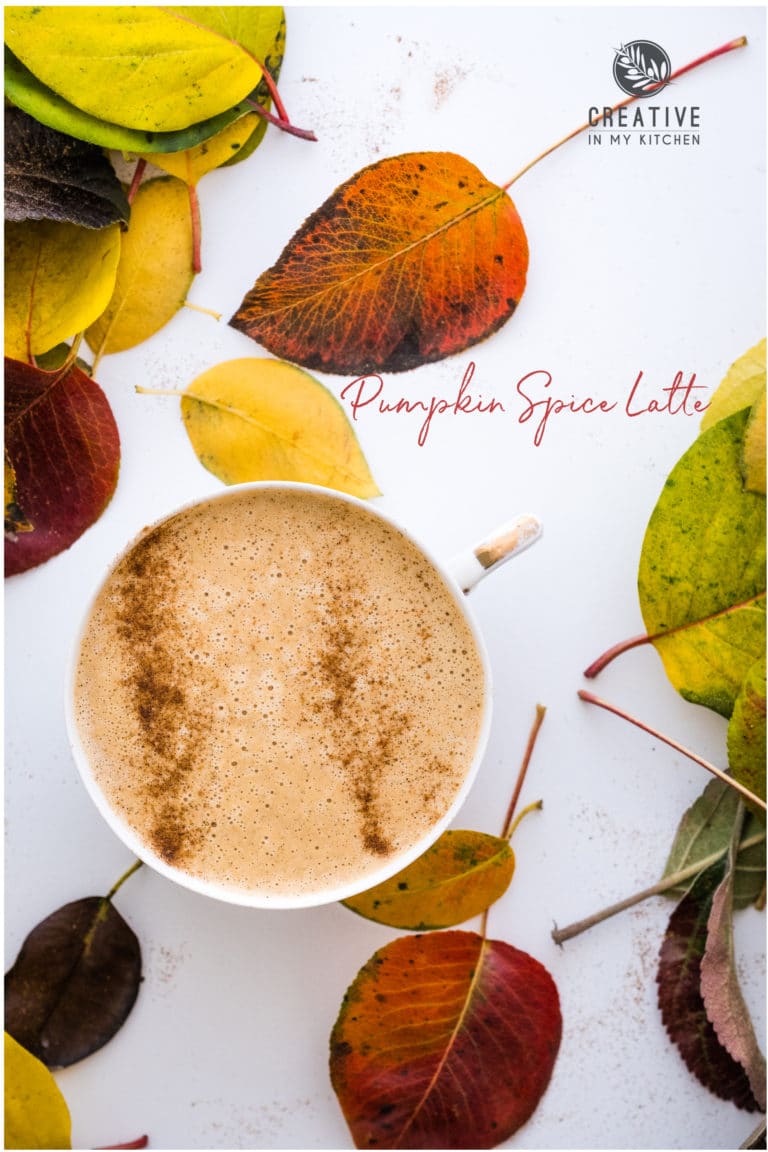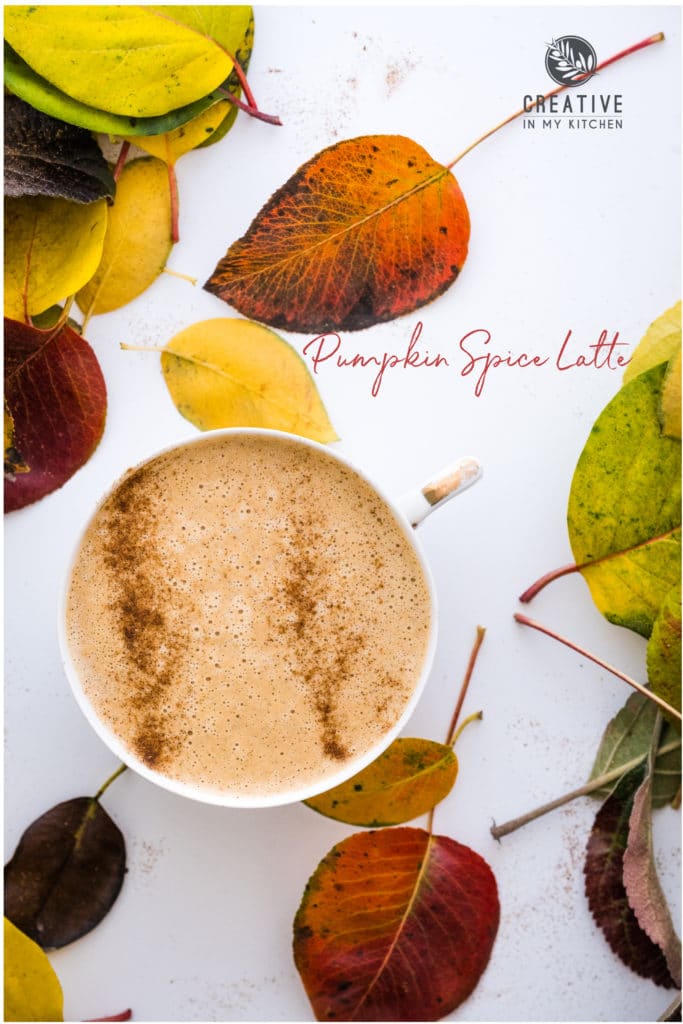 The Pies and Sweet Treats
I have to be honest: I love sweet treats, and they are even better when shared with friends and family. After more than four years of living lectin-light, sweet treats are the last thing I'm worried about because I know we can make desserts that taste as good, or even better than traditional ones – and they are not unhealthy.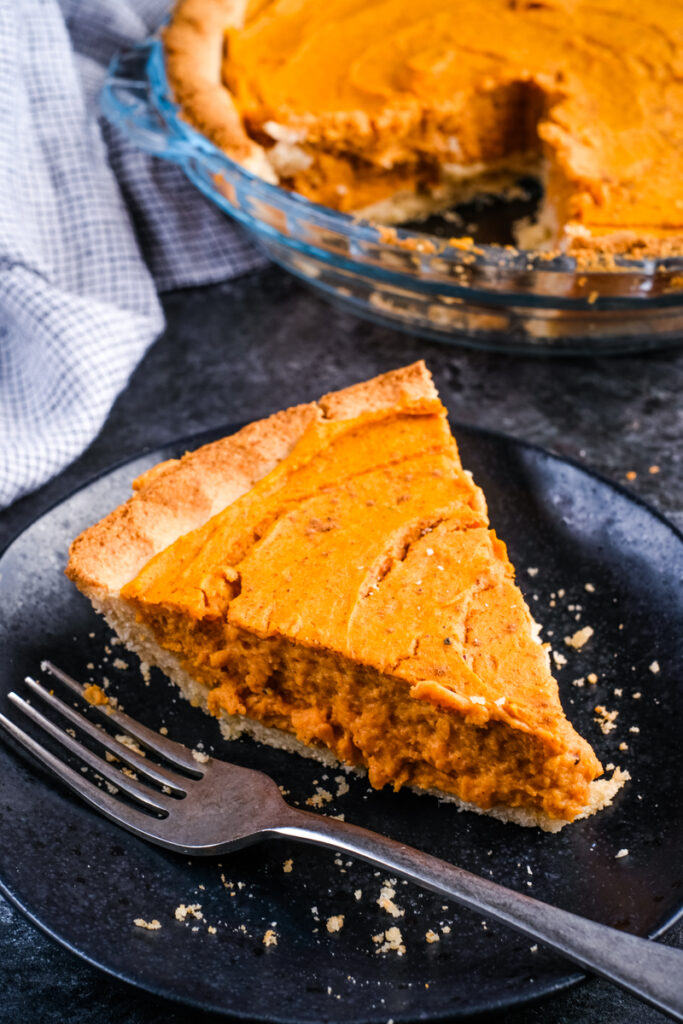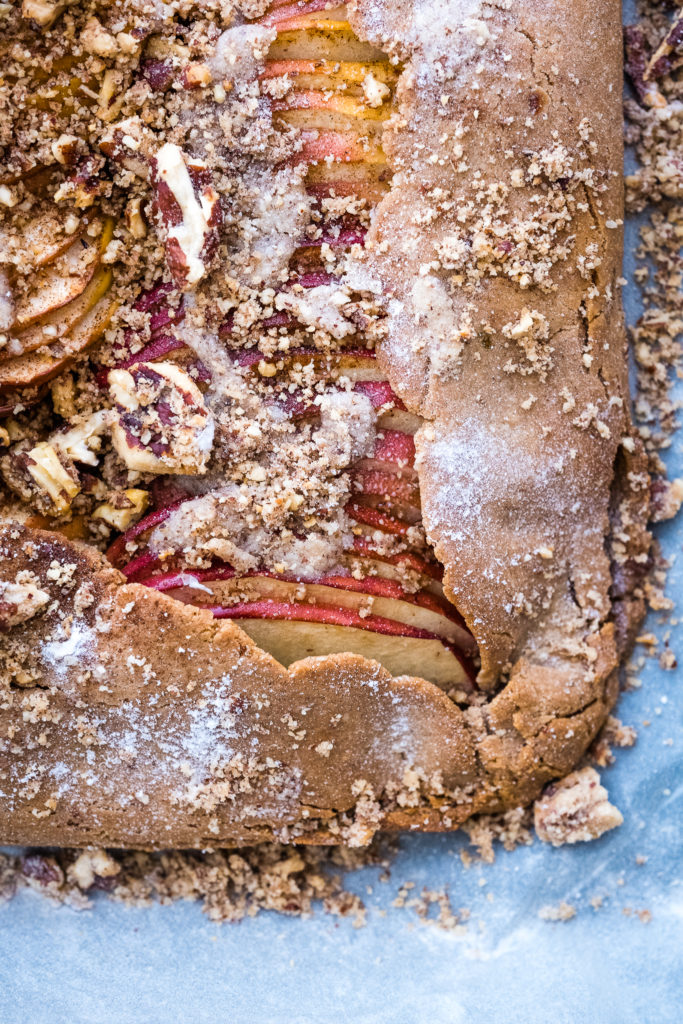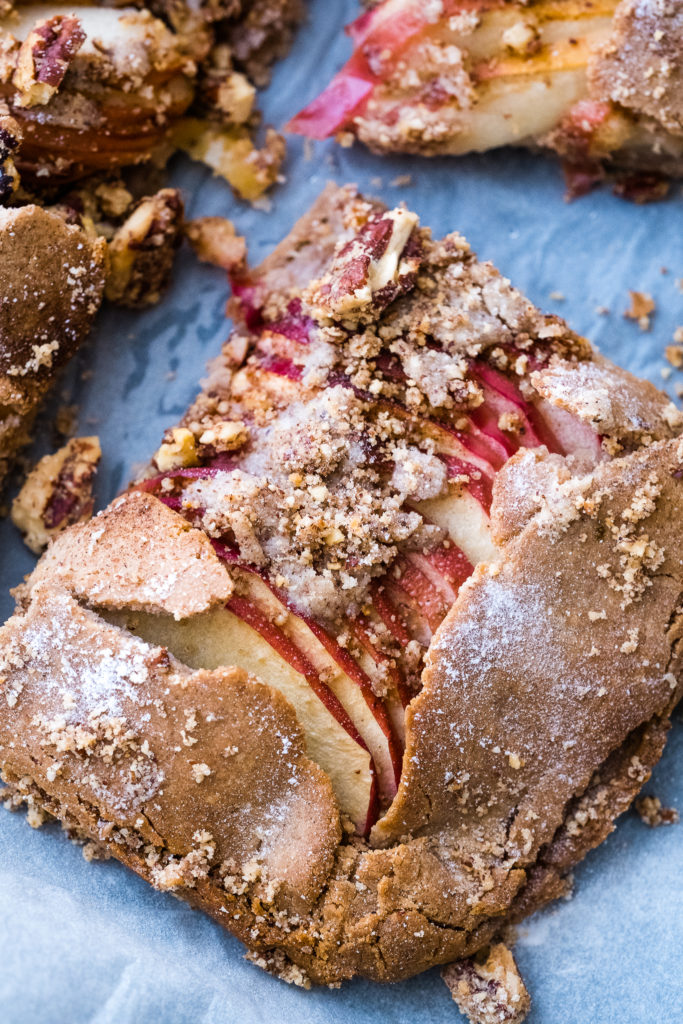 And if you want more inspiration for classic holiday desserts, check out the below recipes: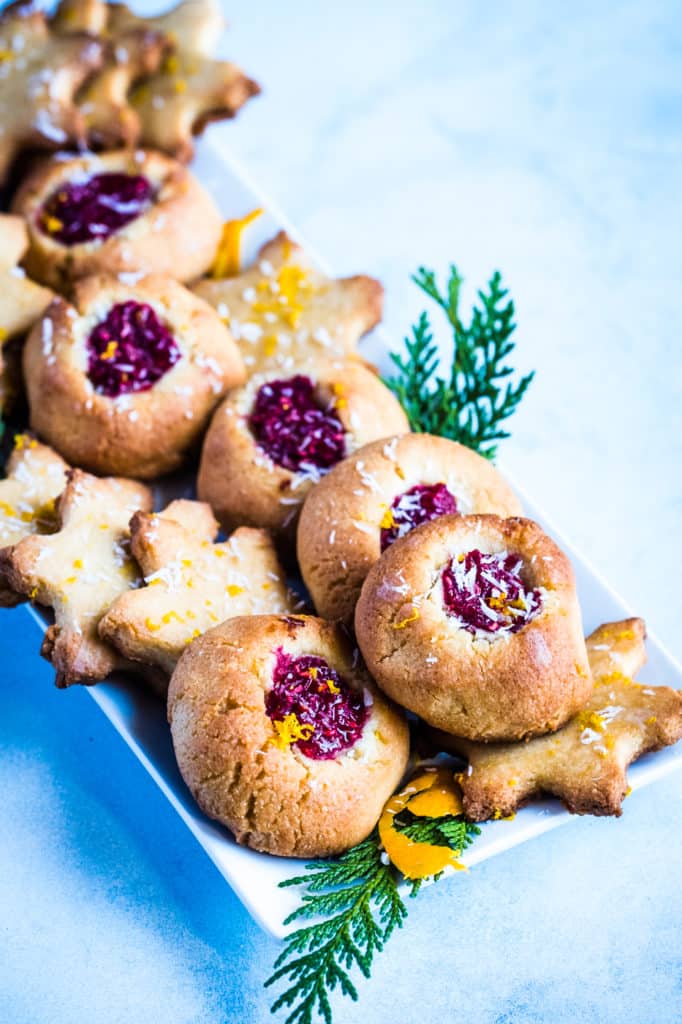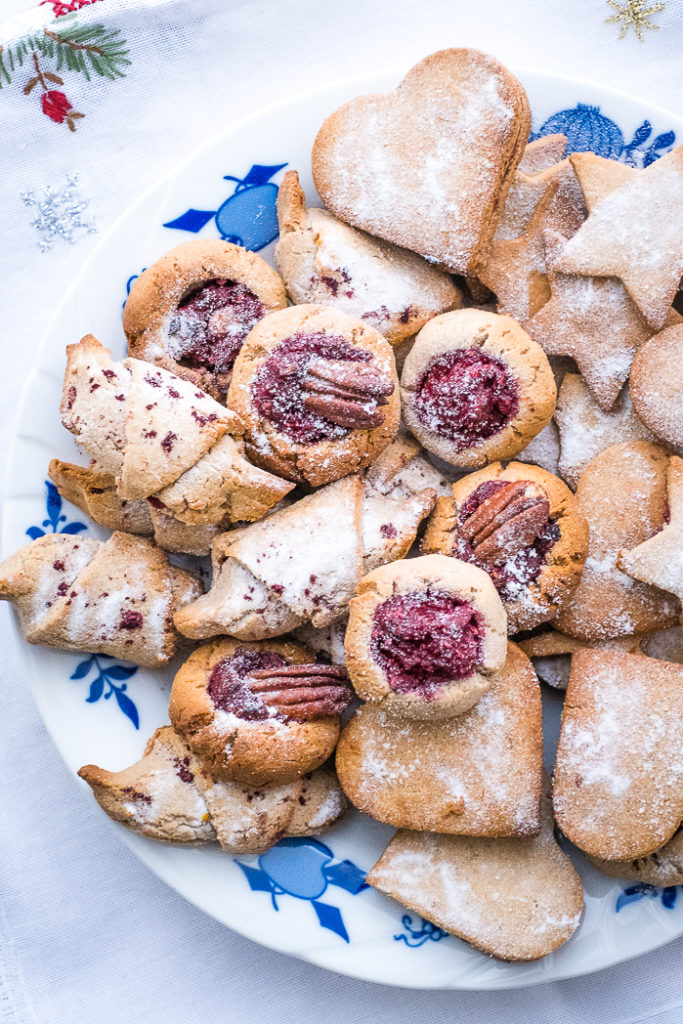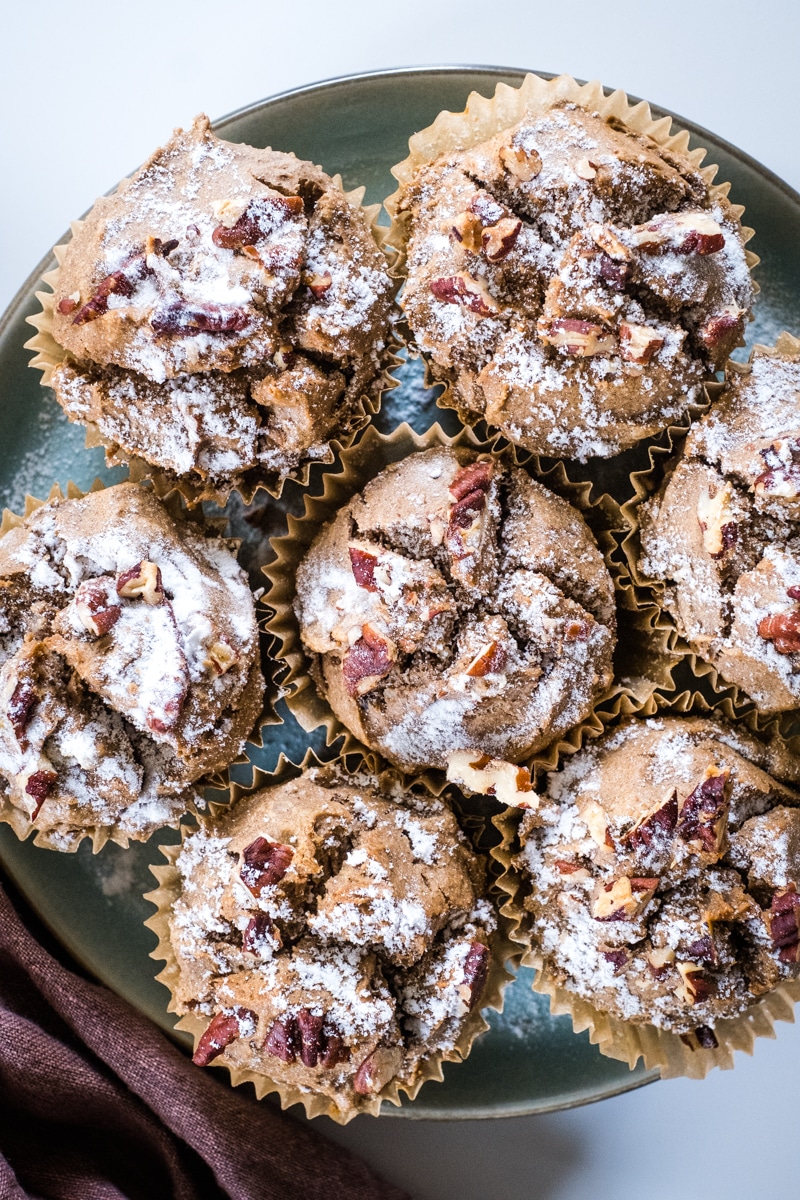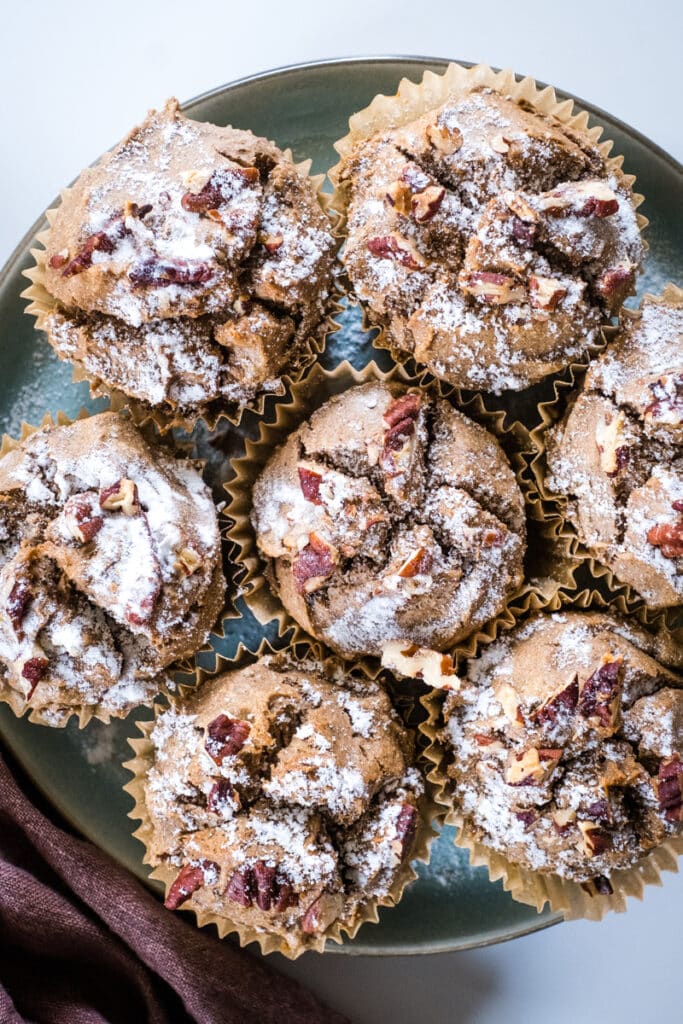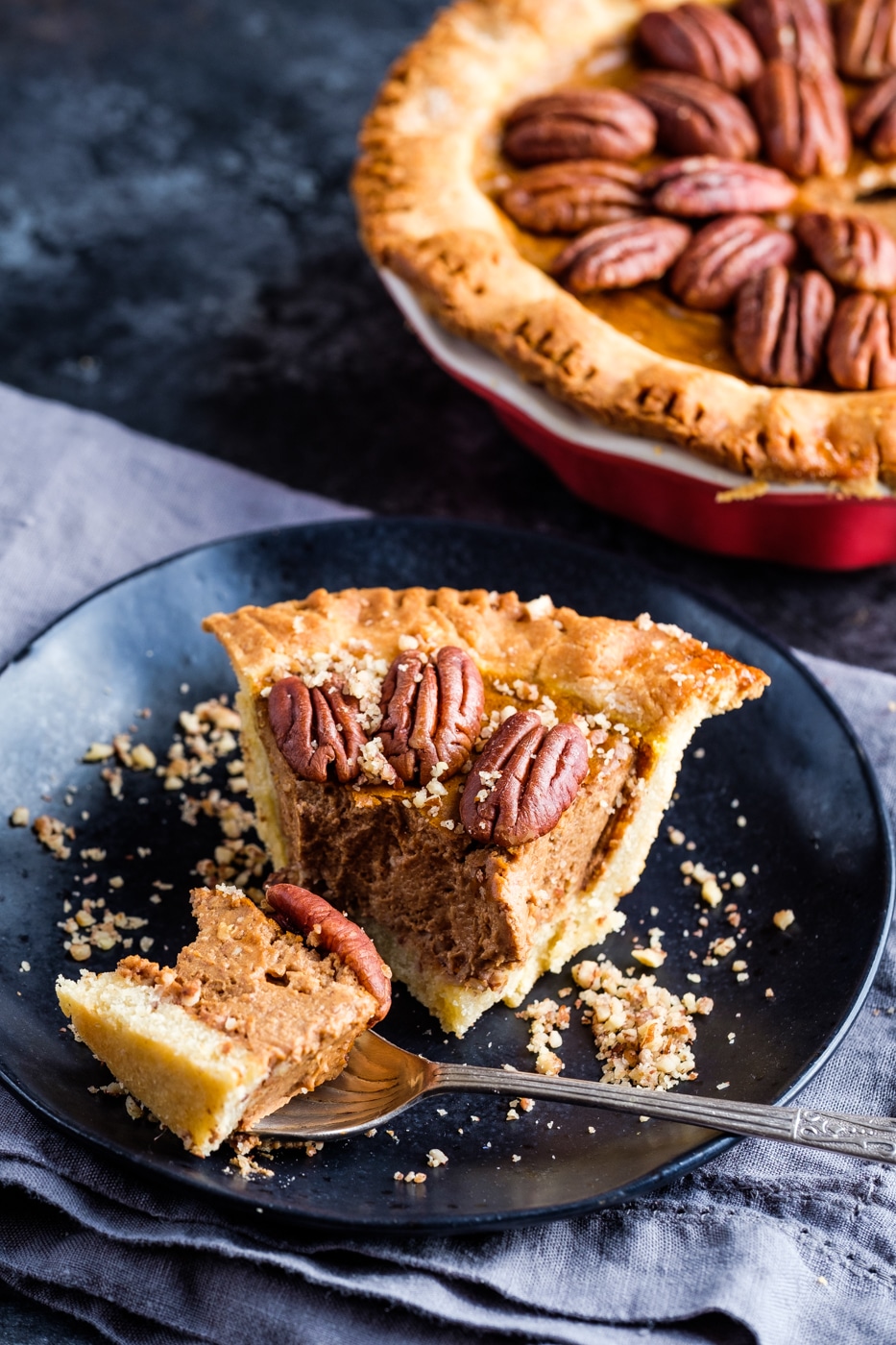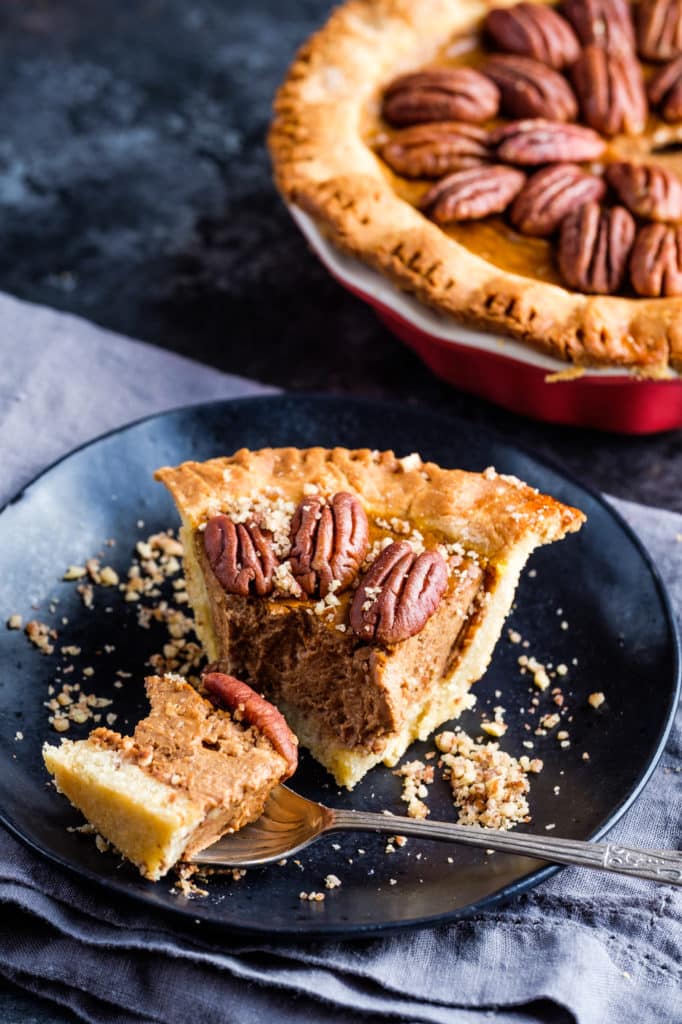 This Spicy Carrot Cake with Fresh Cranberries and Mascarpone is super tasty, warming and grounding, perfect for the cold weather and the cranberry season. If you don't eat dairy, skip the mascarpone cream or replace it with whipped coconut cream.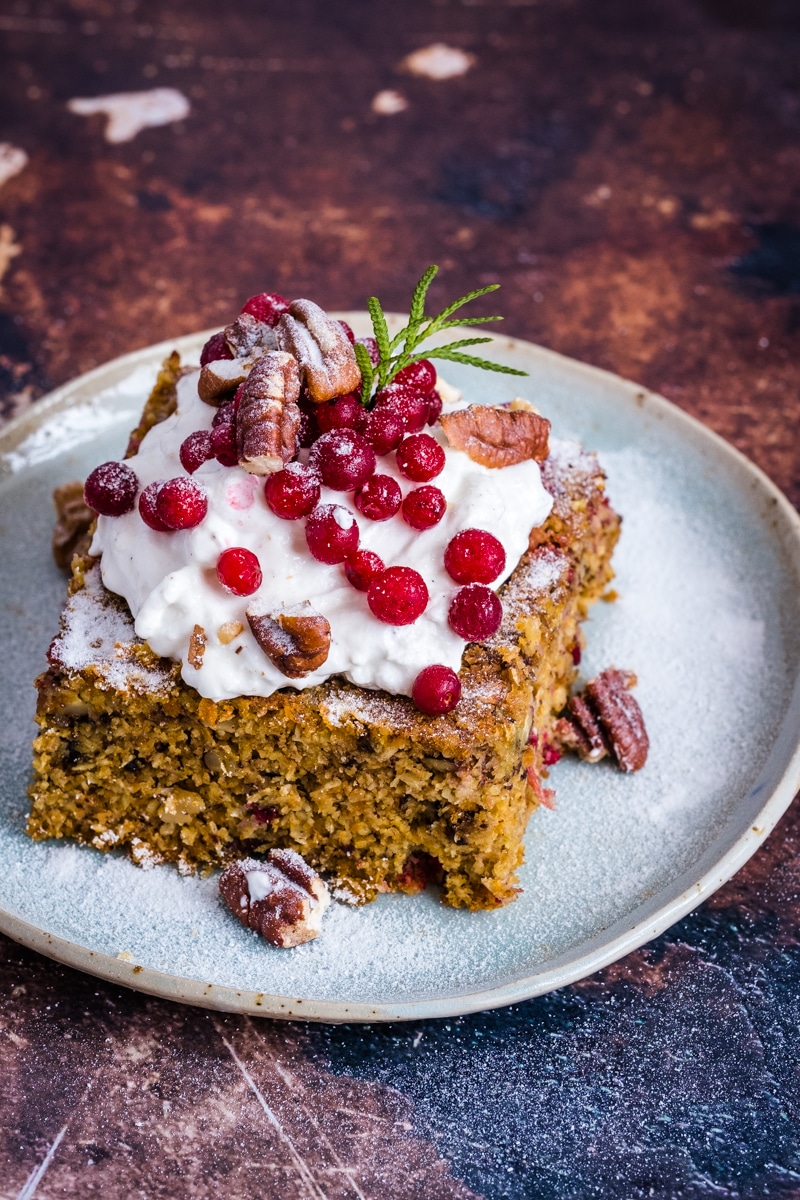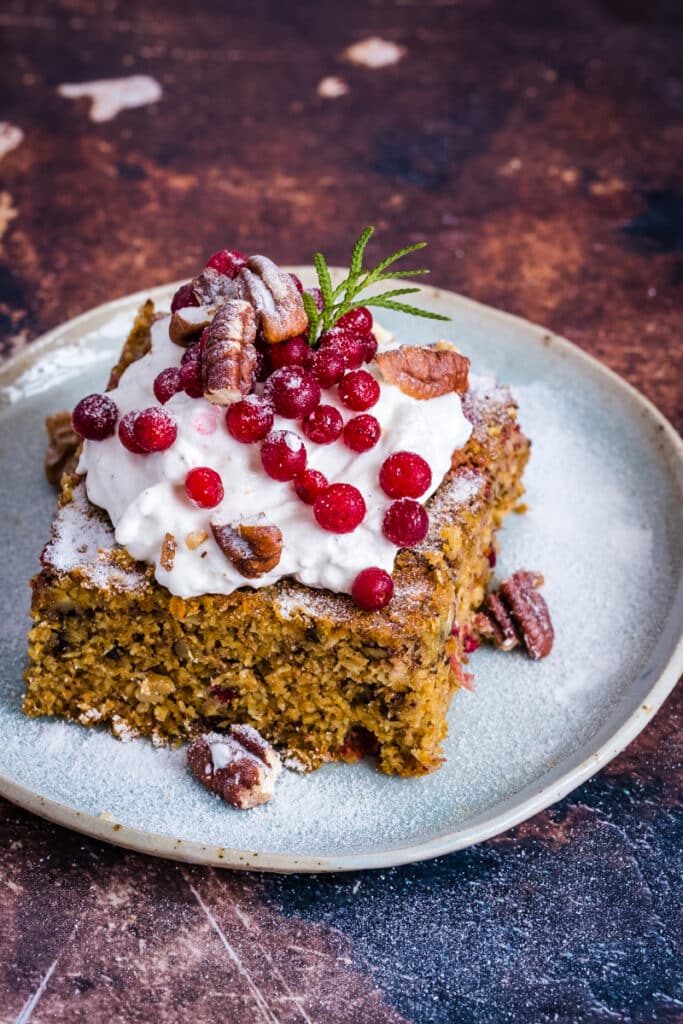 The bread and other treats
I know everyone loves bread. Don't worry; you will find the below bread and crackers recipes in my book: The Living Well Without Lectins Cookbook.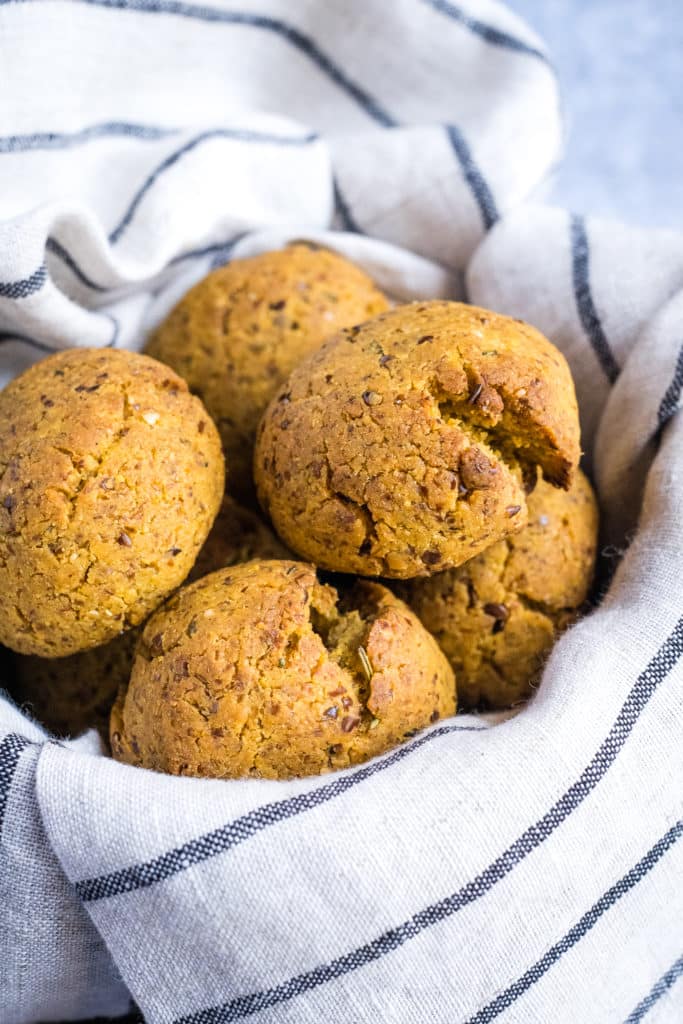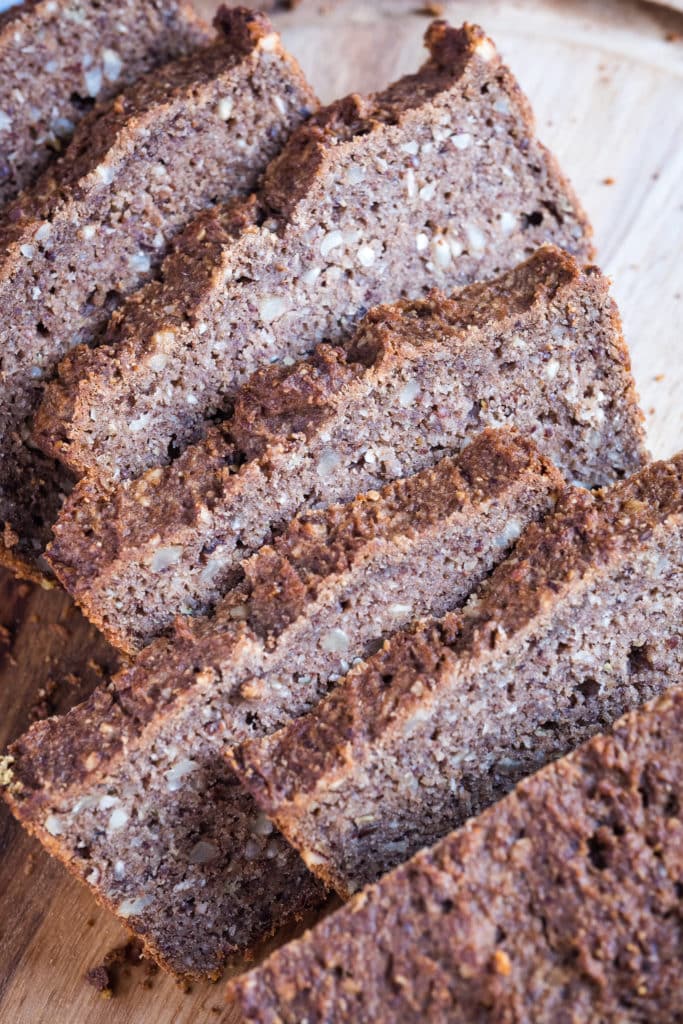 Since I published this article, I developed a method for making gluten-free and lectin-free sourdough bread. If you have ever thought of getting into sourdough, now is the time. This method has been tried and tested by many readers around the world, and it works. On this website you will find my easy recipe for making a Sourdough Starter and many recipes for bread, pizza, flatbread, focaccia, breadsticks, and more.
Or make these sunshine rolls, a vegan/dairy-free version of the famous Brazilian Cheese Bread. Click on the photo caption below for the recipe.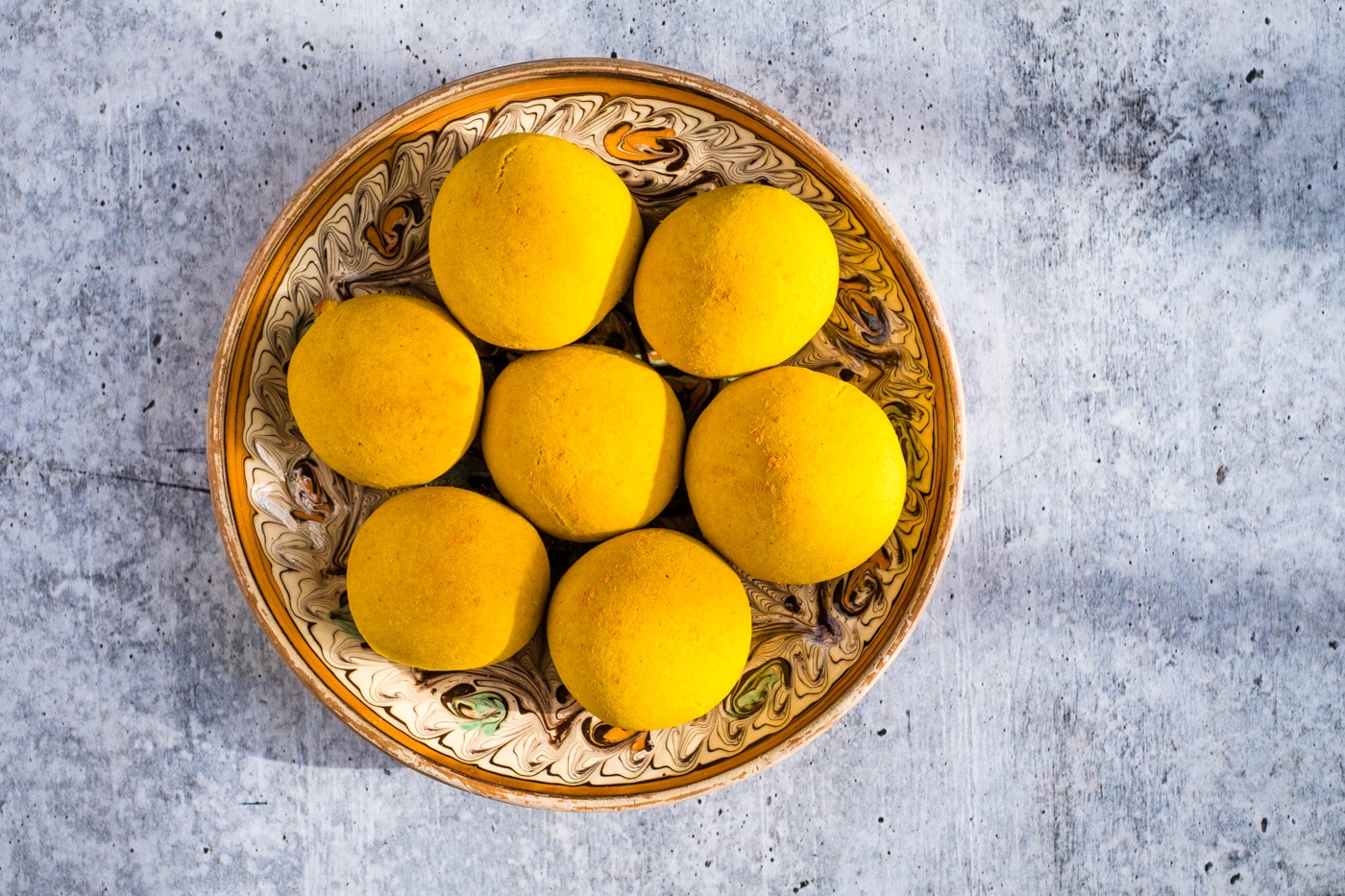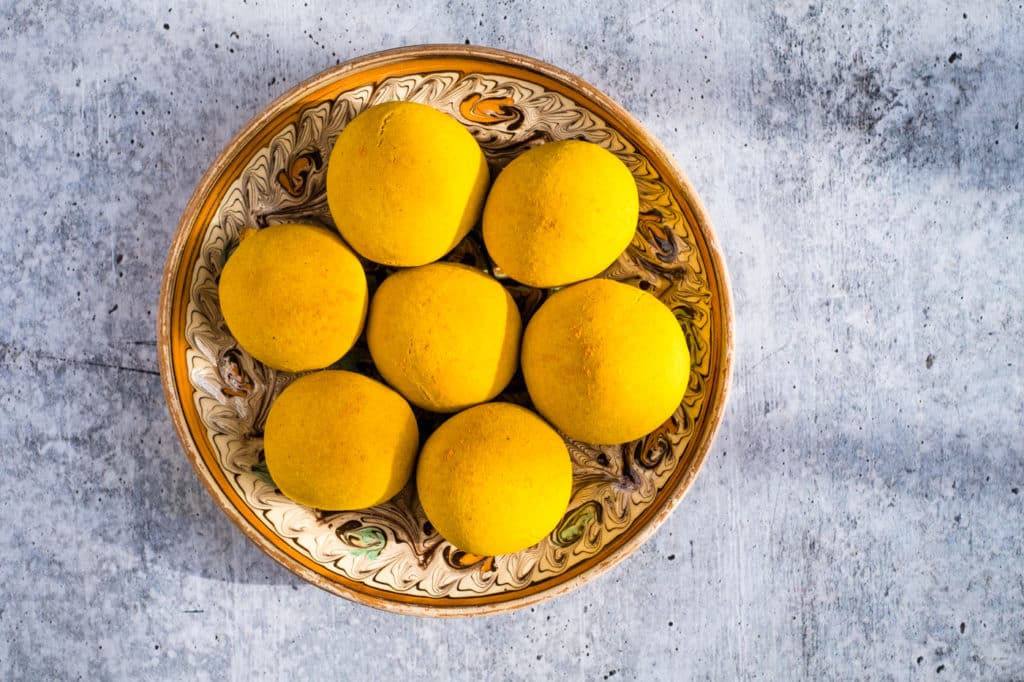 And I can't think of a better time to make some sweet and savory biscotti. Click on the photo captions below for recipes.
And what about these delicious Apple Pie Bars or these exquisite Chocolate-Chestnut Truffles?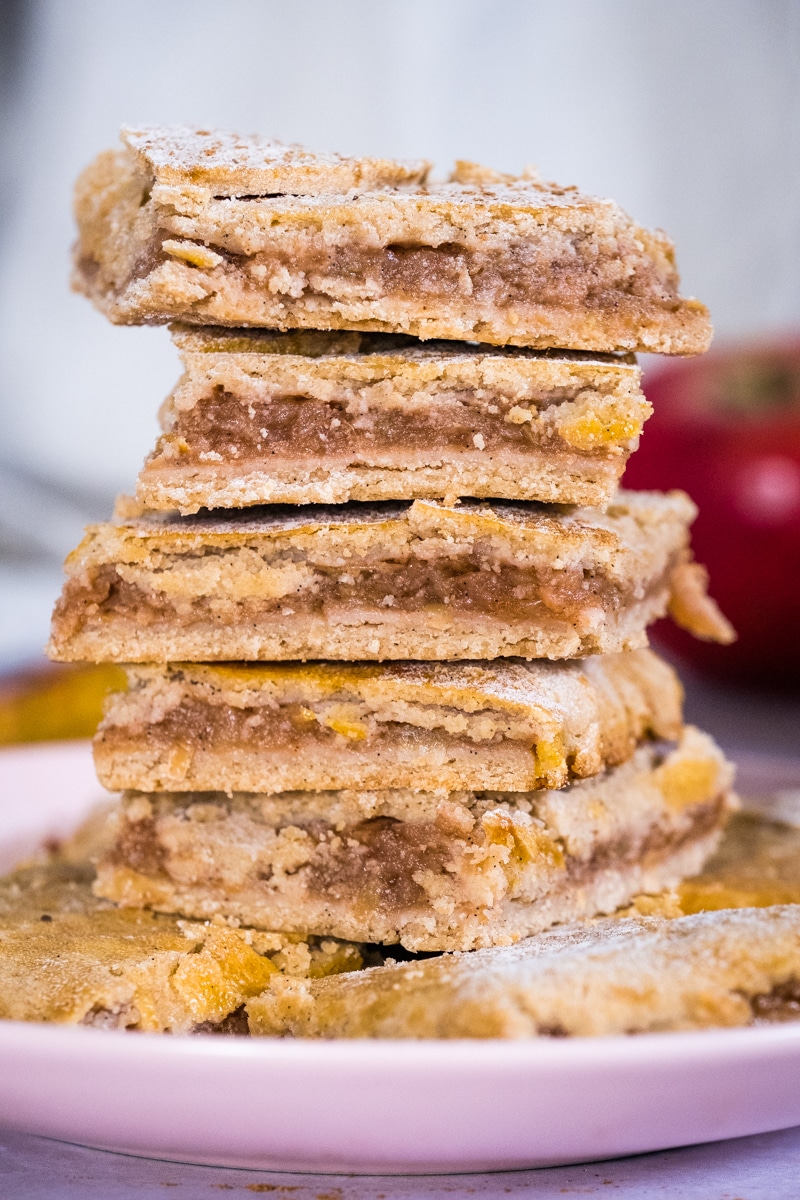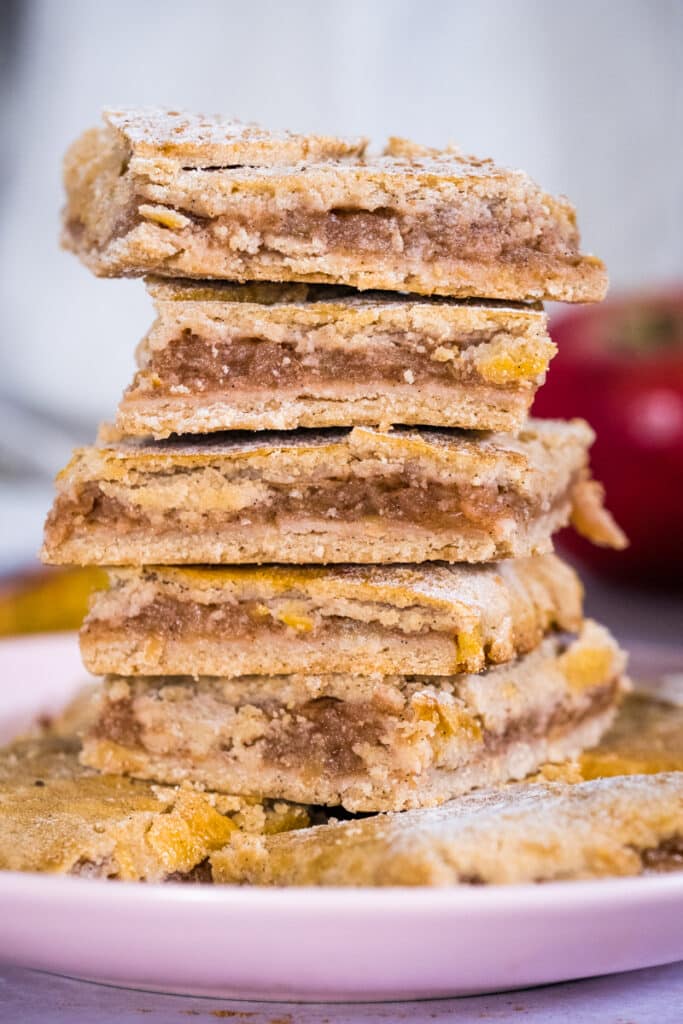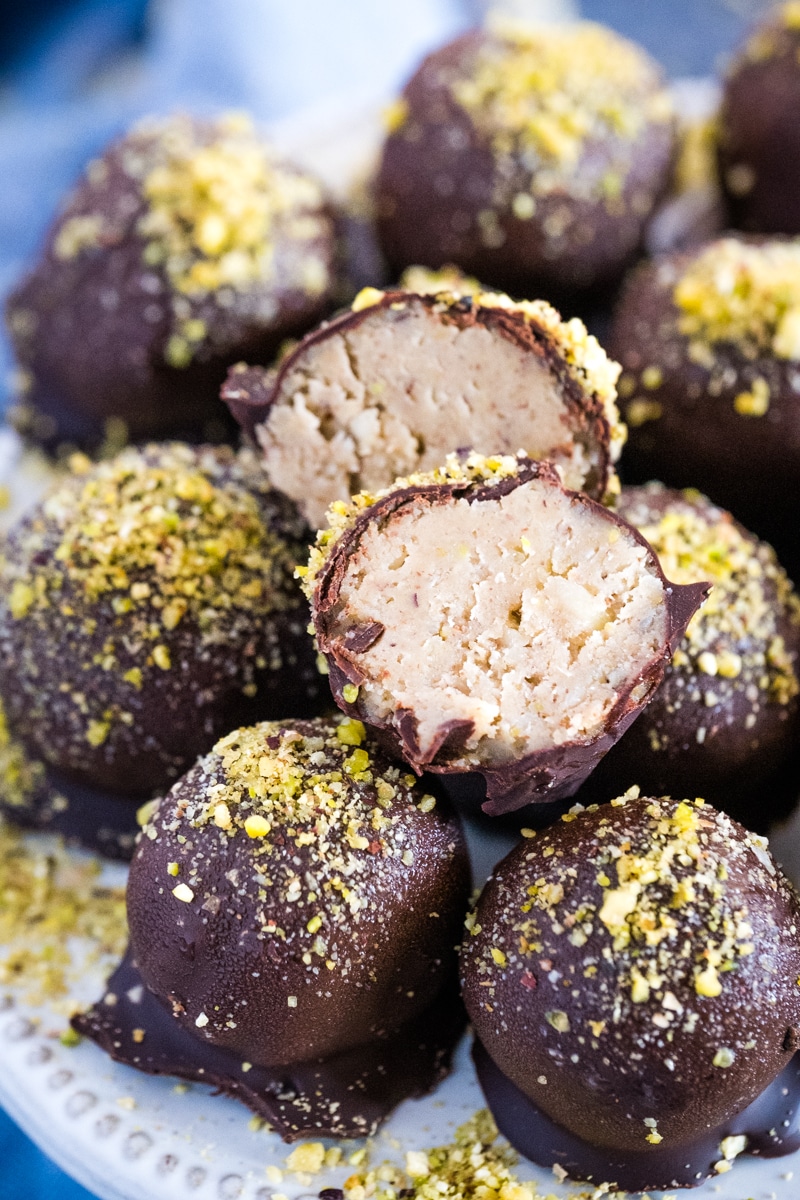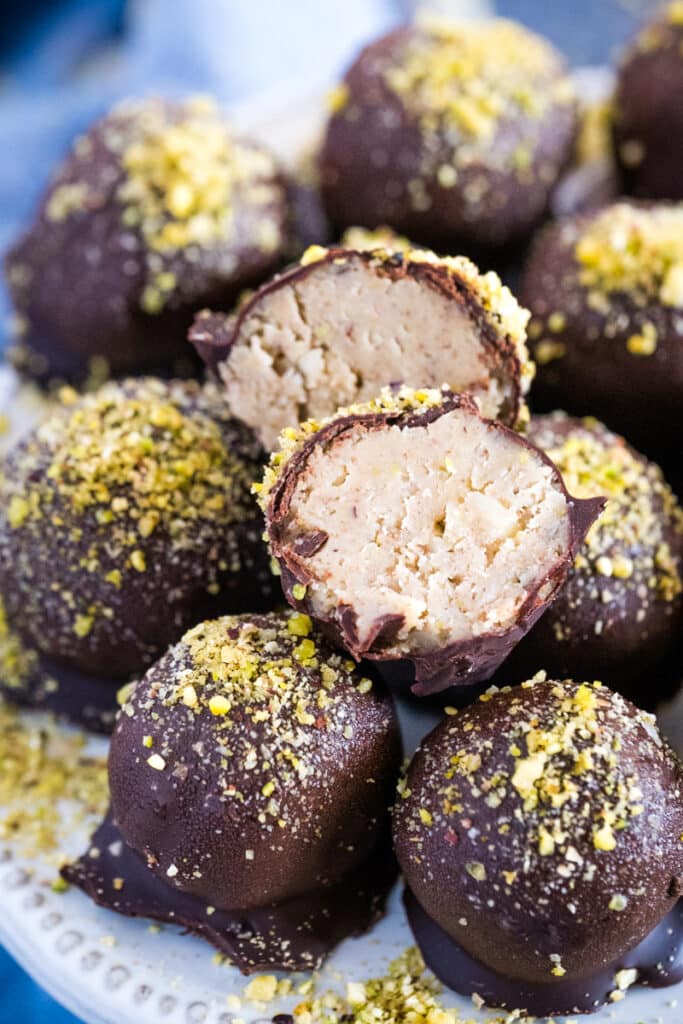 If none of the above is what you had in mind, what about cinnamon rolls for a holiday morning? These are made with GUNDRY's Bread Mix and the recipe is on the back of the bag. Everyone I know is a fan.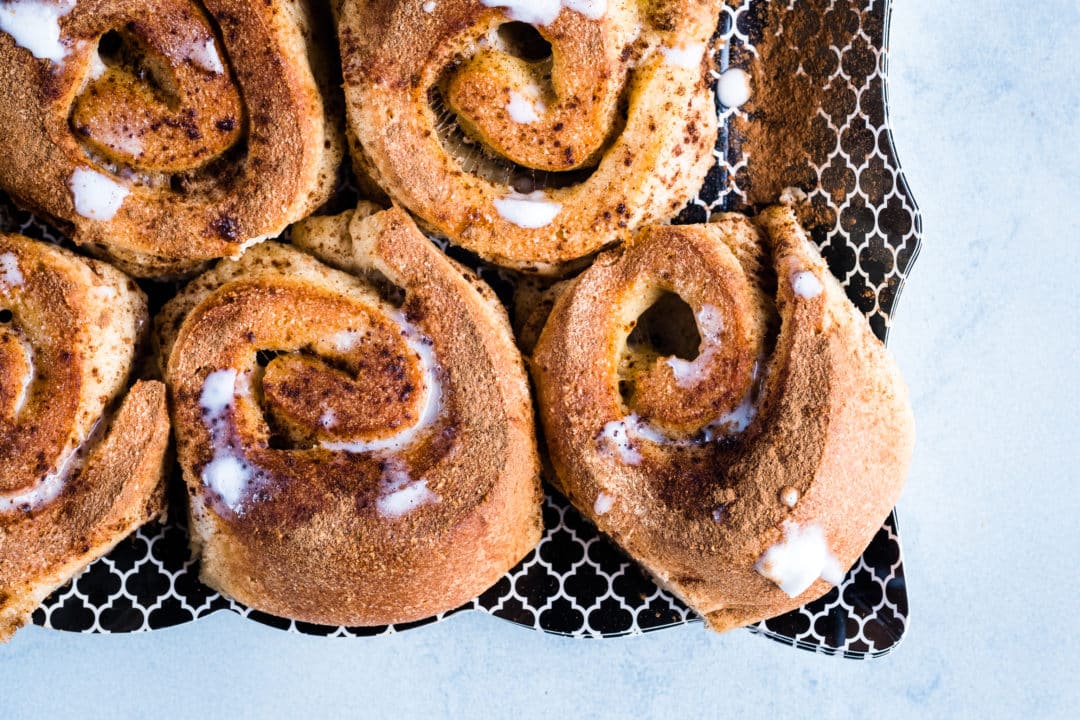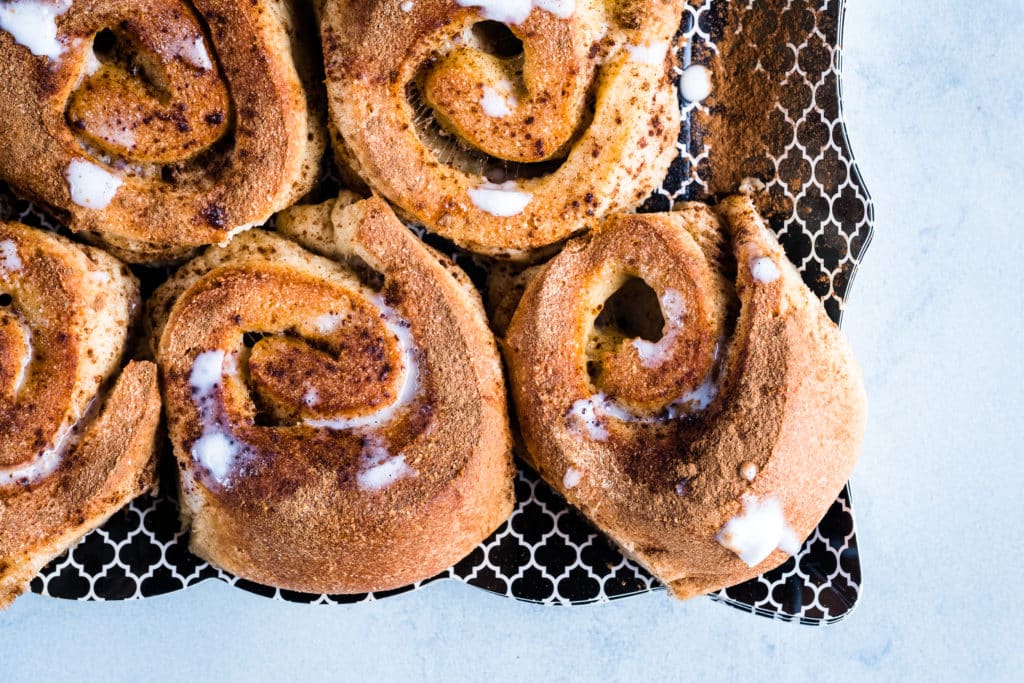 If food is your love language and you want to surprise your partner with something delicious on a holiday morning, this is what I recommend: Chestnut Crepes with Rose Water and Wild Blueberries. You wouldn't believe it, but chestnut flour is traditionally used in Tuscany, Italy, to make crepes, so these are the real deal, not forcing anything into compliance. And fall is the chestnut season.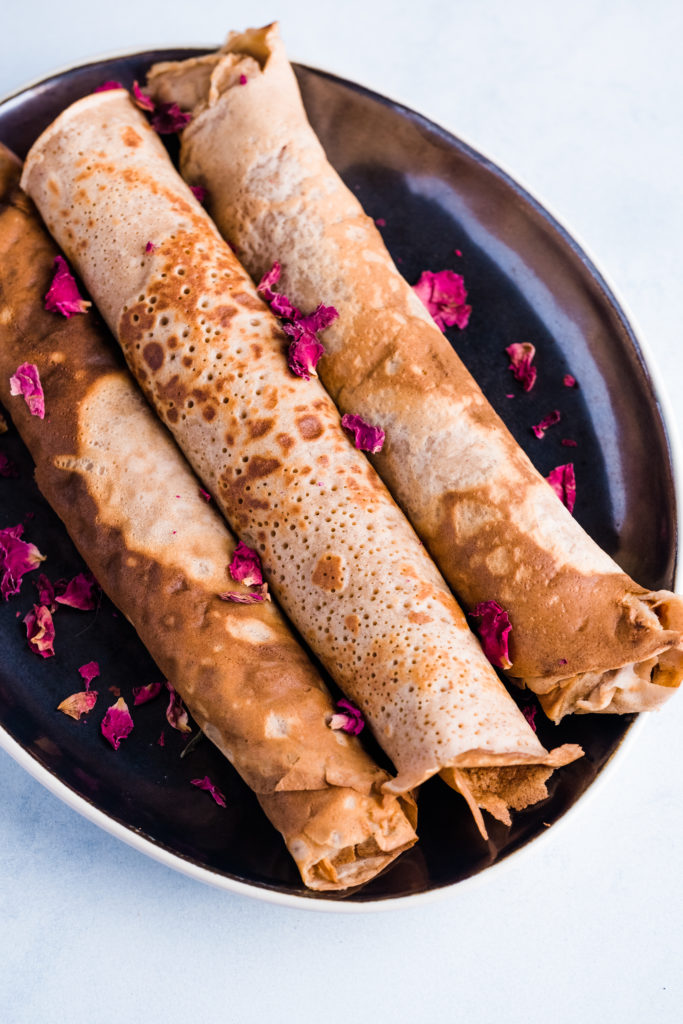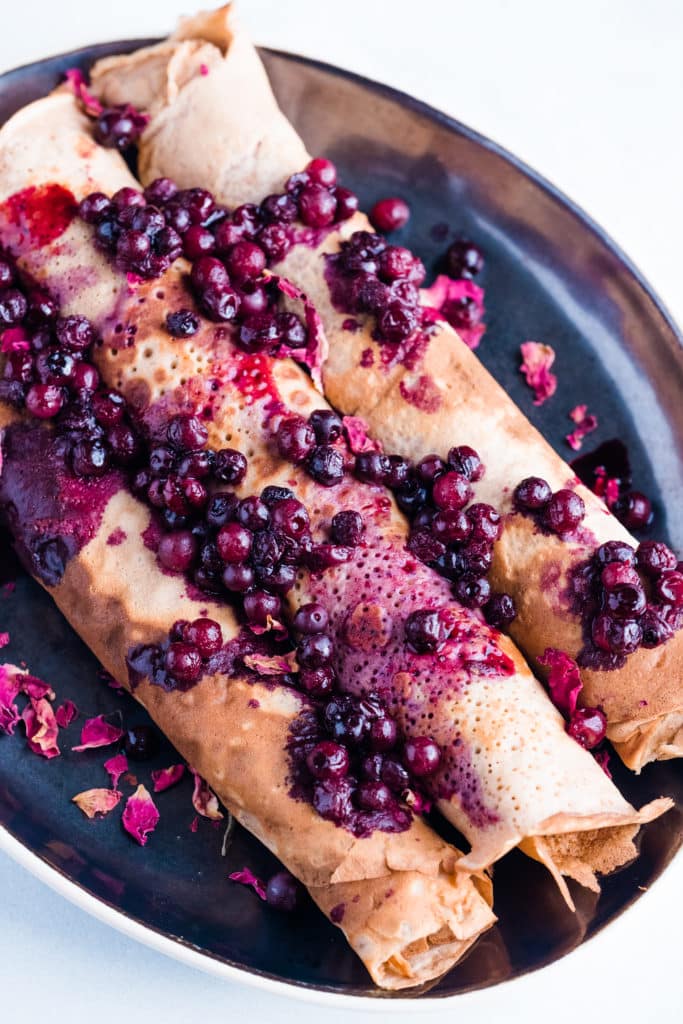 I wanted to recommend one more thing, although I mentioned it in the first part of the article. Get yourself some exquisite Polyphenol Pearls. I like to call them the caviar of olive oil. Polyphenol Pearls are so versatile and super delicious (think of an intense olive taste). I love to add them to sautéed greens and roasted artichokes and I particularly love the combination of pearls and baked sweet potatoes or other roasted root vegetables. Not only they'll enhance the flavor and texture but they'll make any dish healthier.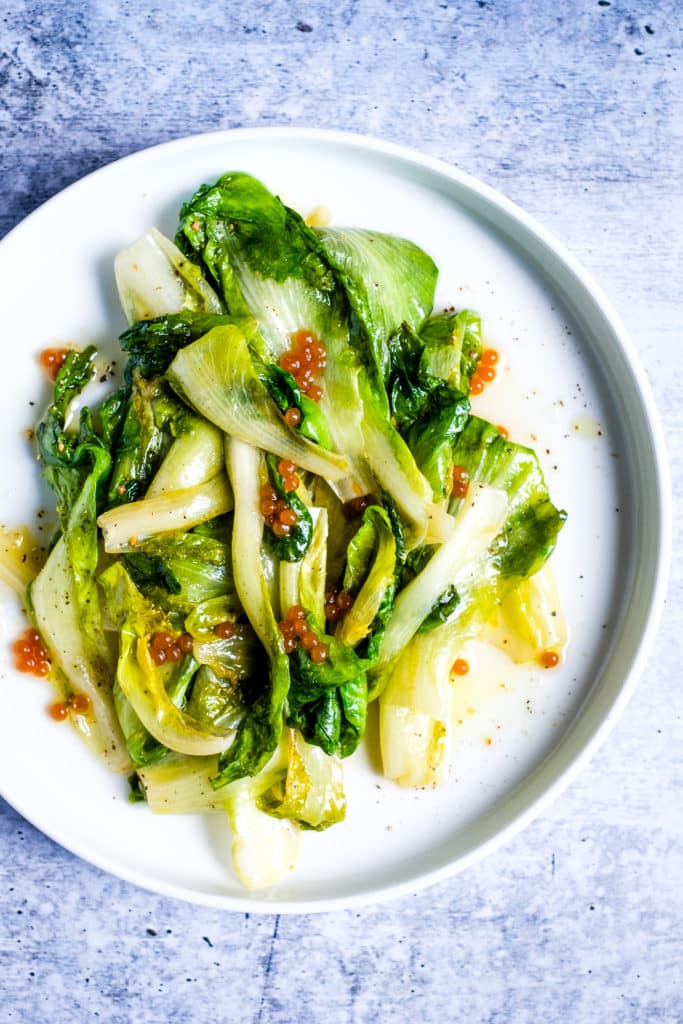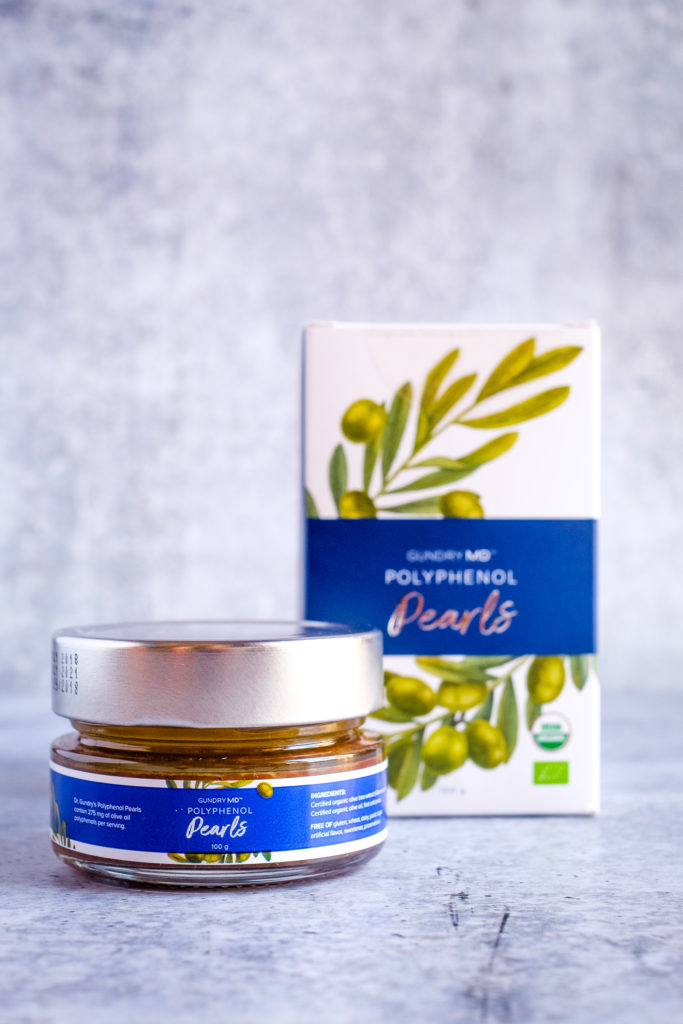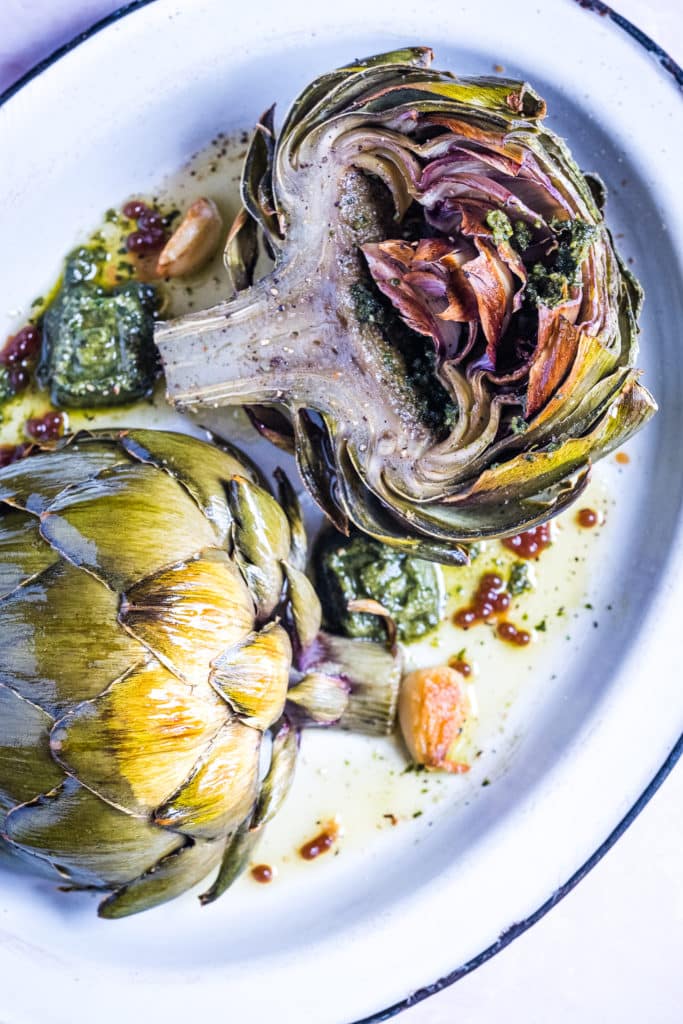 The Ultimate Holiday Spice Blend
Do you want your house to smell like a holiday? I created this holiday warming spice blend to use from September to February in all the pies and cakes I want to make. Plus, it works so well with savory dishes too.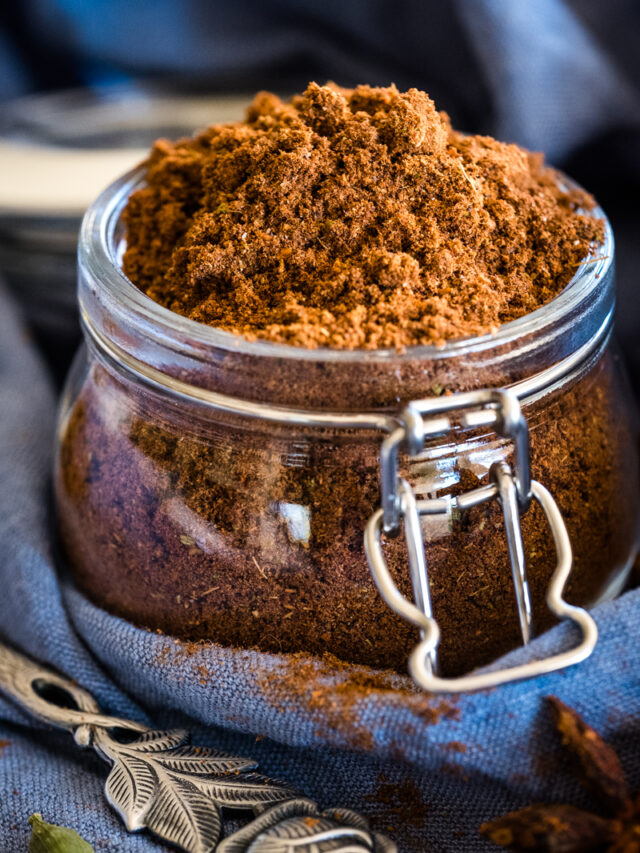 And that's a wrap
This is all for now, friends. It took me days to put this together, and I only hope you find it useful. Please feel free to leave comments with your additional questions or suggestions. I'll do my best to answer them.
Happy holidays! Enjoy your time cooking healthy food and sharing it with your loved ones.
*This post contains affiliated links, which means I get a small commission if you choose to purchase something via one of my links, at no extra cost to you.