It may sound fancy and it does taste like a gourmet dinner, but this sheet pan orange chicken with Brussels sprouts is actually super fast and easy to make. And if you make more of it it works really well as leftovers, either together or separately.
Brussels sprouts and chicken go in the oven at the same time and are ready in less than 30 minutes and the cranberry sauce can be prepared while the rest cooks. This is a healthy chicken recipe your family will love.
A lectin-free feast that only takes two sheet pans and 30 minutes
I would go as far as saying that you can serve this sheet pan dinner as part of your holiday table if you want to keep things a little easier and simpler.
For chicken, I used boneless thighs because they are more moist and juicy, but you can use chicken breasts too – you might have to adjust the cooking time depending on how big your pieces are. The secret to making the chicken super tasty is to add a lot of seasoning – I used the French Made Easy spice mix, from WorldSeasonings. I also added Himalayan pink salt, lots of pepper and some dill and lemon sea salt from Martha Vineyard's Sea Salt – if you don't have any of these just go with mixed poultry spices you have on hand and be generous.
And what makes things even more exciting is adding some orange juice to the marinade. What I didn't add though, and I think that's important, nothing strong like garlic (the French mix has garlic in it, but it doesn't come forward as a strong flavor at all). I would not add a strong garlicky flavor in this combination, because it will overpower the orange and other herbs, also the cranberry sauce. Let them marinate for about 30 minutes before cooking. I would not add paprika either.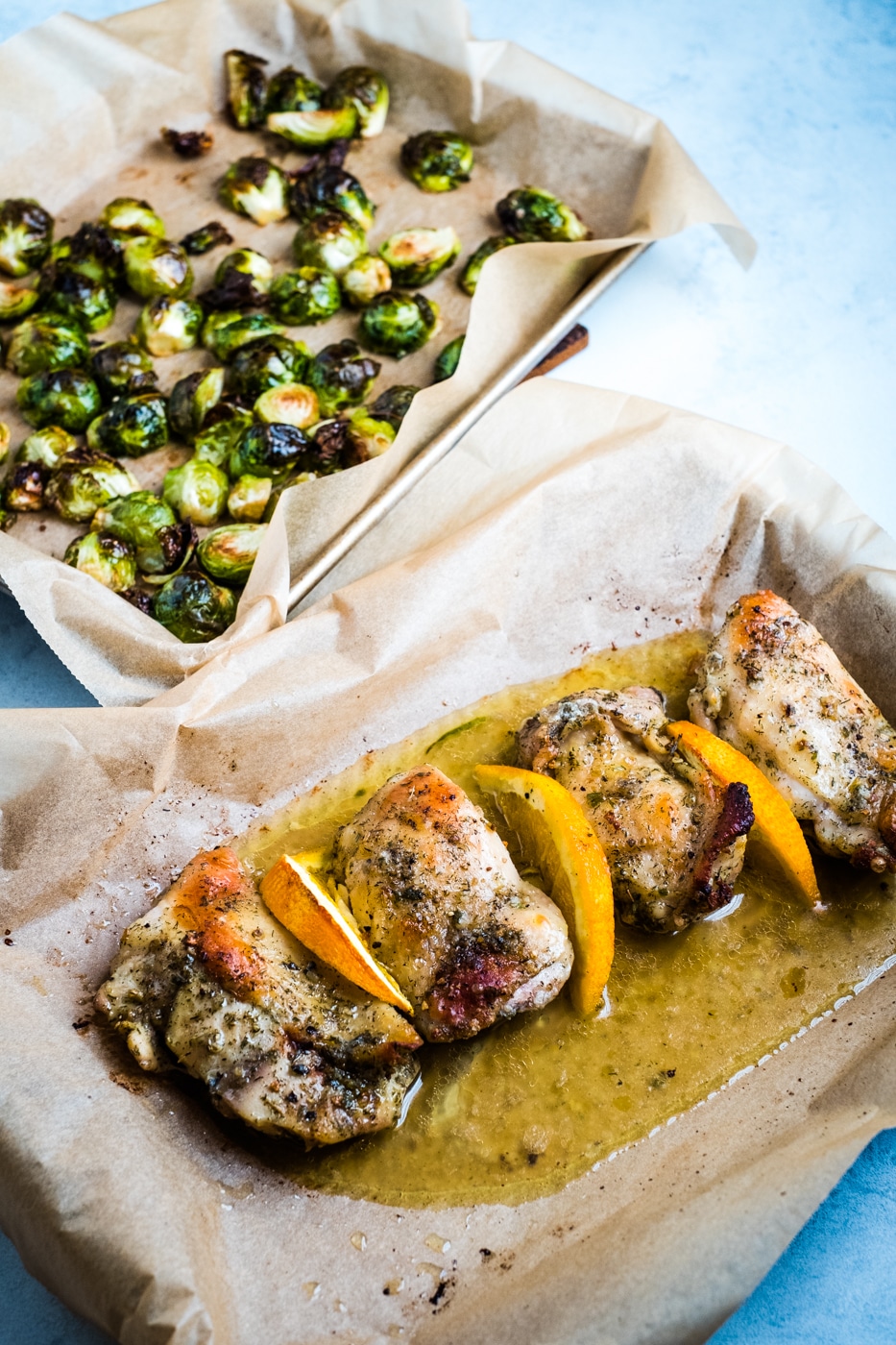 Making the cranberry sauce and Brussels sprouts
Now, the cranberry sauce. It was my first time making it, and I did not expect it to be that easy. The tricky part with cranberries is that they are very sour, that's why cranberry sauce requires so much sugar to balance that out. Now, you can add a lot of monk fruit sweetener, or even Swerve, and can make your sauce as sweet as you want, but I would personally not do that because I don't want to train my brain into craving the sweet taste, and alternative sugars do that too.
So what I tried to do here is to balance the sourness of the cranberry sauce with foods that are naturally sweet, like roasted Brussels sprouts and orange chicken. That's why this combination works well. You get the benefits of eating whole, in-season cranberries, without so much added sugar or sweetener. Not even talking about the bright red color added to your dishes.
Later edit: Since making this recipe we have created a new recipe for a delicious sugar-free cranberry sauce (you can find it here).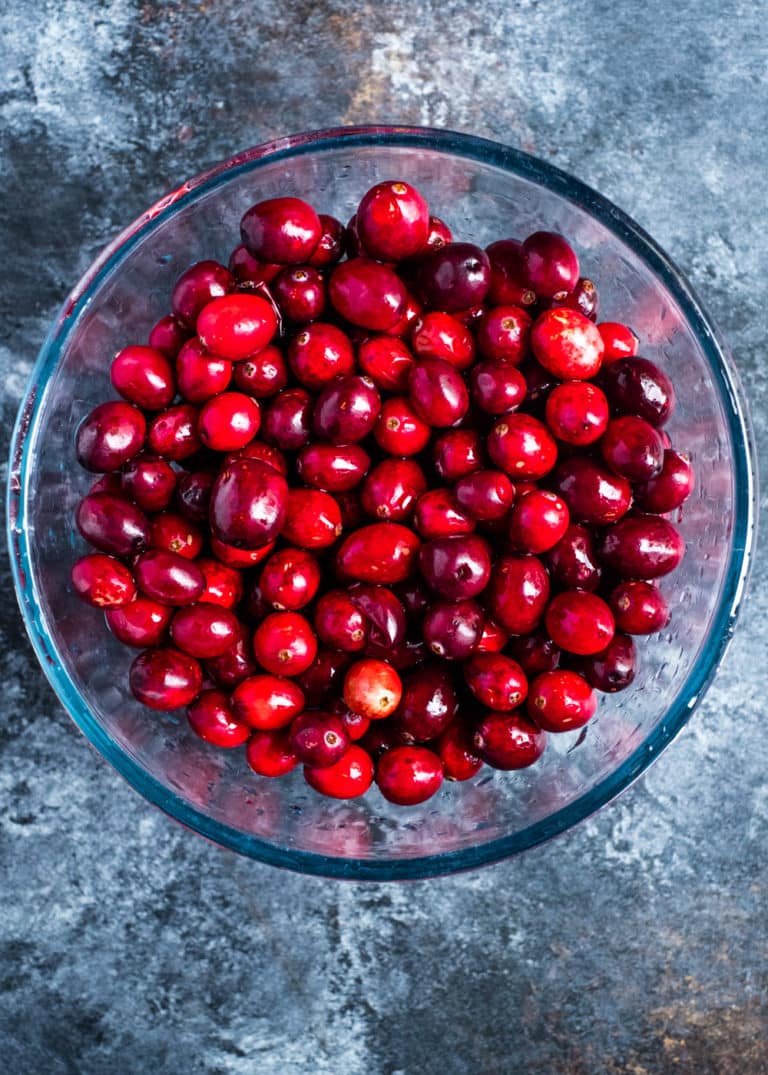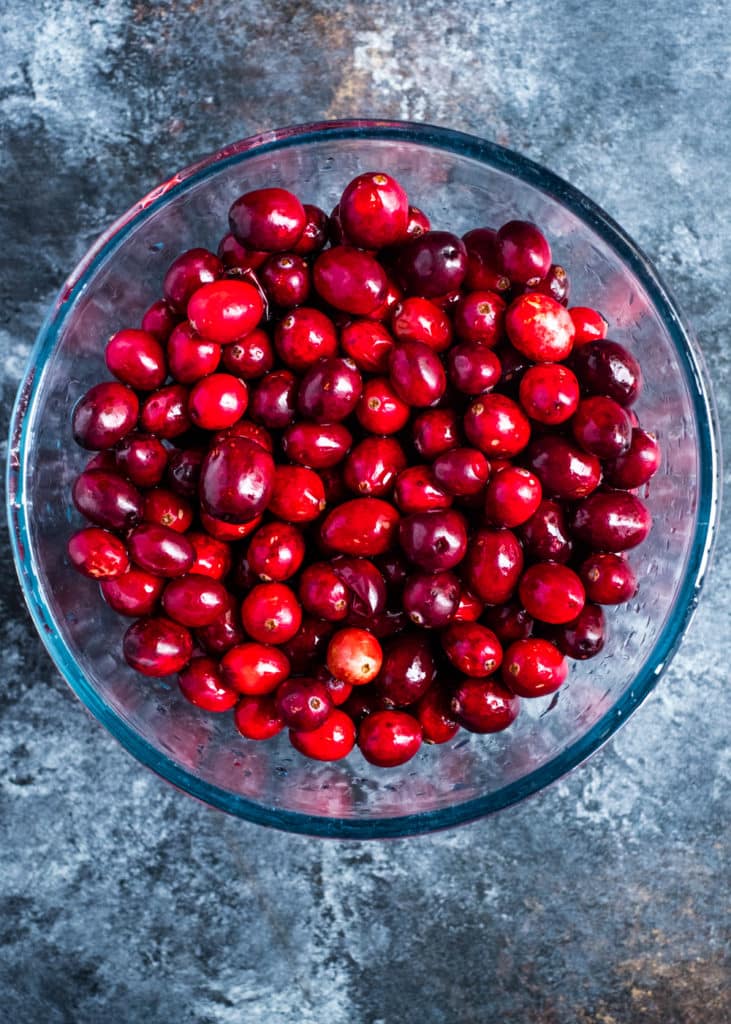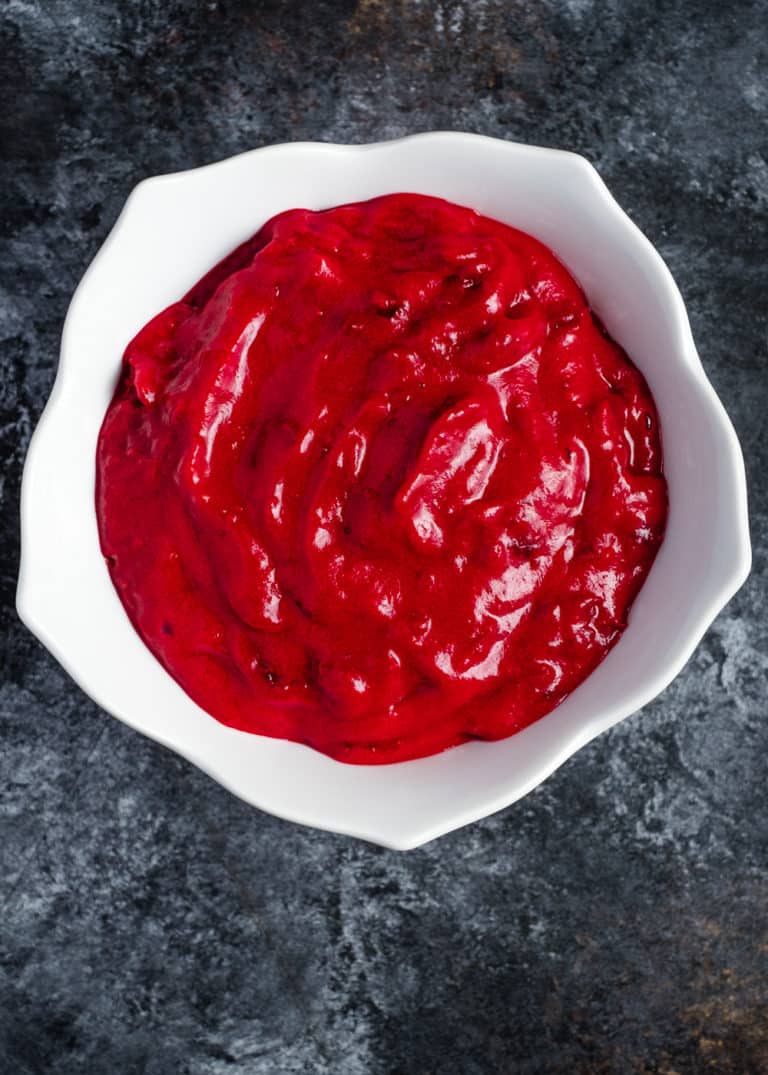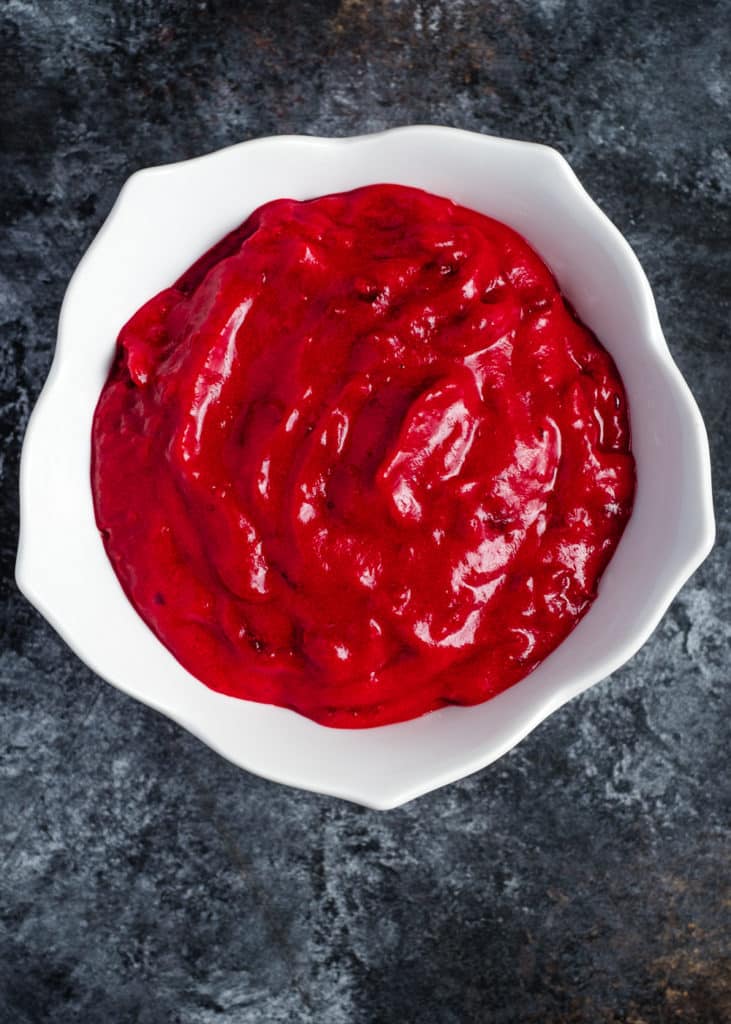 The Brussels sprouts are easy to make, just sprinkle with avocado oil or extra virgin olive oil, salt and black pepper. I would use two different pan sheets for the chicken and veggies because the chicken will release a lot of moisture and you don't want your sprouts to swim in the liquid.
But the two sheet pans went into the oven at the same time, and both were ready in about 25 minutes. I roasted them at 375F for 20 minutes and for another 5 minutes I turned the broiler on at 420F for a little color.
If you're looking for another satisfying Brussels sprouts recipe try the Green Shakshuka with Brussels Sprouts and Smoked Sausage.
Enjoy! And as usual, let me know if you make it.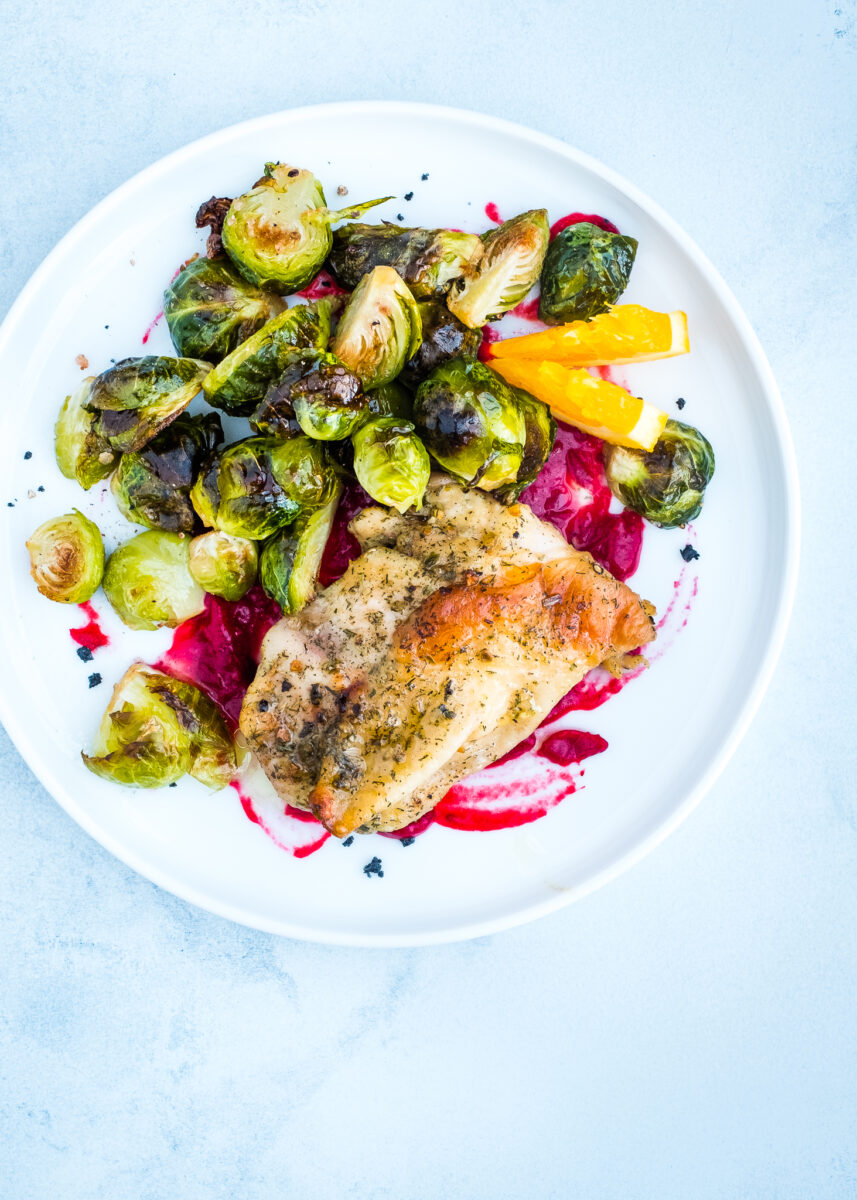 Print Recipe
Orange Chicken with Brussels Sprouts and Cranberry Sauce
A lectin-free feast that only takes two sheet pans and 30 minutes
Ingredients
FOR THE CHICKEN:

4 boneless chicken thighs (from pasture-raised chicken)

A mix of poultry spices (feel free to use whatever you have on hand and be generous)

Himalayan pink salt + sea salt + fresh ground pepper (be generous)

Few tbsps orange juice and few orange wedges

avocado oil

FOR THE BRUSSELS SPROUTS:

about 1lbs brussels sprouts, halved

salt and pepper

avocado oil

FOR THE CRANBERRY SAUCE:

About 5oz fresh cranberries (or use more if you want to freeze it or use it later, I made 12 oz)

Monk fruit sweetener to your taste (I only used 1 tbsp for this quantity)

Zest of one orange

about 2 tbsp fresh orange juice

about 1/4 cup water (or add more if it's getting too thick)
Instructions
1
Preheat your oven to 375F.
2
FOR THE CHICKEN: Pat dry your chicken thighs and season them generously with your spices, salt and pepper, orange juice, orange wedges and avocado oil. Marinate for 30 minutes. Cook for 20 minutes (plus 5 more minutes broiled, they'll cook at the same time as the Brussels sprouts.
3
FOR THE BRUSSELS SPROUTS: Cut them in half and add them to your sheet pan with salt, pepper and avocado oil.
4
When the chicken is marinated and added to the sheet pan put both pans in the oven. Time for 20 minutes. When the 20 minutes are done, turn your oven to boil on 420F and cook both chicken and sprouts for 5 more minutes.
5
FOR THE CRANBERRY SAUCE: Add the washed, fresh cranberries to a big saucepan. Add the rest of the ingredients and cook for about 15-20 minutes, until the cranberries are popped and the sauce forms. If it's too thick you can add more water or orange juice. You can taste and see if you want to add more sweeteners, but keep in mind that the sourness of the sauce will balance out the chicken and Brussels sprouts.
6
TO SERVE: Add some of the cranberry sauce first on a plate. Add the chicken and Brussels sprouts on top, and serve warm.
Notes
Adjust quantities for your needs. I would make a bigger quantity of cranberry sauce in advance, it will last about a week in the fridge and a couple of months in the freezer. The chicken is also super yummy the second day, I actually sliced one piece and added it to a stir fry, with some of the leftover Brussels sprouts. You can also add it to a salad.