Sometimes I take for granted dishes that for me are simple so I don't consider it necessary to make a recipe, but my sister asked for a specific recipe for cauliflower because she would have no idea how to combine ingredients to make it tasty. So for her, I put together this lectin-free cauliflower gratin recipe and I hope some of you will also find it useful, and tasty.
Cauliflower gratin good enough to grace your holiday table
Firstly, this is one of my favorite ways to have cauliflower. It tastes really good and it's quite festive, even though for us following a low carb lifestyle cauliflower has become an everyday staple and a replacement for everything. Secondly, is super simple to make even though the caramelized leeks require some presence and attention in the kitchen. It's totally worth it as it elevates the dish by creating an umami layer.
Just to be clear this is not your usual cauliflower gratin dish, which is made with flour, milk and cheese, and sometimes breadcrumbs. It's pretty close, that's why I call it a gratin. I used heavy cream, Gruyere and Parmesan cheese (not much of either if you worry about the amount of saturated fat or dairy), and ground pecans. Alternatively, you can make this dish dairy-free, by using coconut milk and nutritional yeast. This is how the dish looks before adding the caramelized leeks.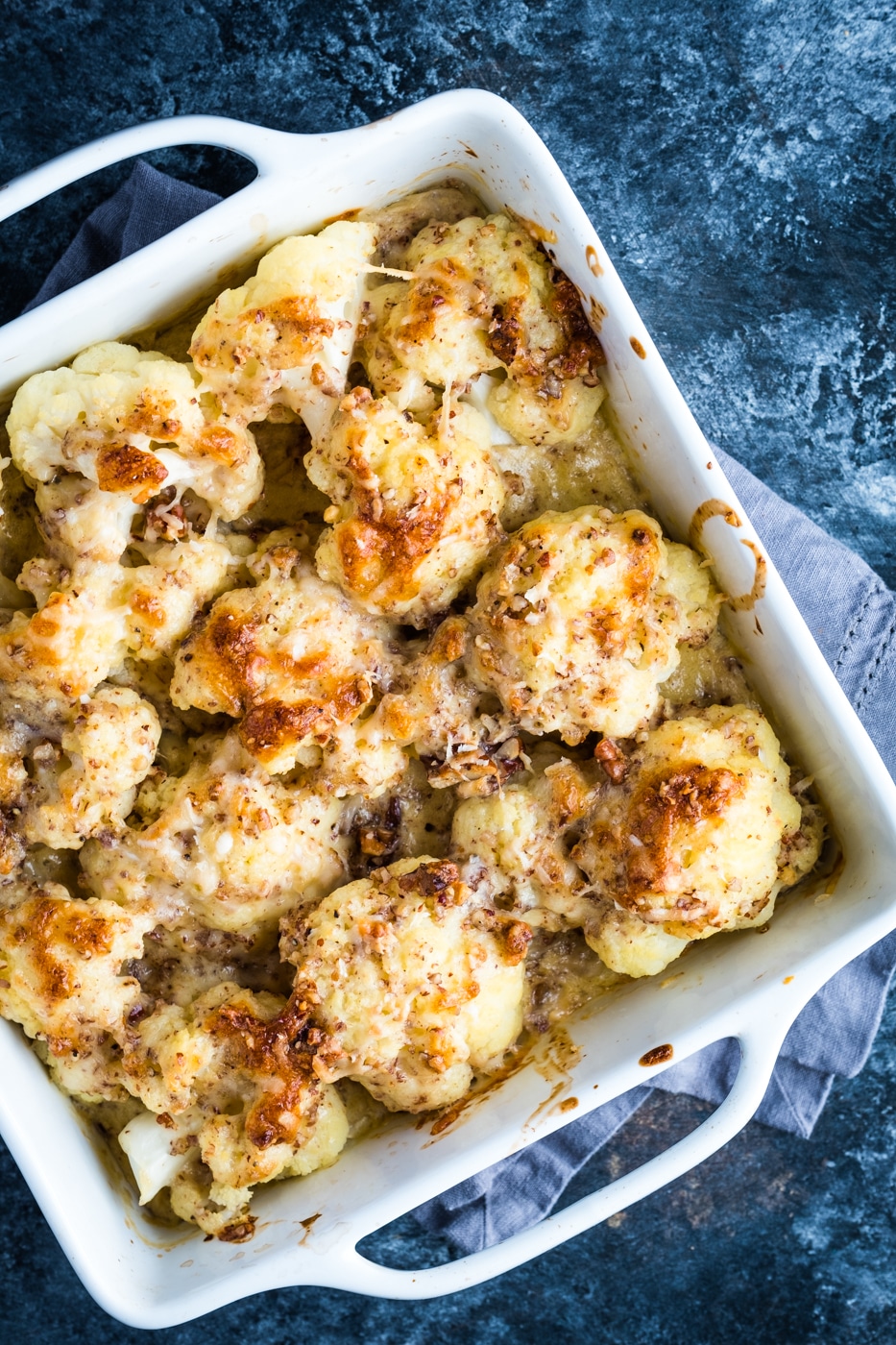 Caramelized leeks
Since there is no flour in the sauce, it will not get thick. If you want that you can mix in about 2 tsp arrowroot powder, mixed with cold water first. The caramelized leeks will be added at the end, so you can make them while the cauliflower is in the oven. Making them is easy, but you have to be there and watch them and stir often. These are some pictures of the process to help you visualize.
I hope you love this cauliflower gratin with pecans and caramelized leeks. For another easy recipe with cauliflower, you should try my Whole Roasted Cauliflower with Pesto.
YOU WANT TO SHOP MY AWESOME ALL CLAD COPPER CORE SAUTE PAN? IT'S HERE. A LITTLE PRICEY BUT A LIFETIME PIECE AND ONE FOR SAFE COOKING
(I got the one without the long handle for storage purposes)
*This post contains affiliated links, which means I get a small commission if you choose to purchase something via one of my links, at no extra cost to you.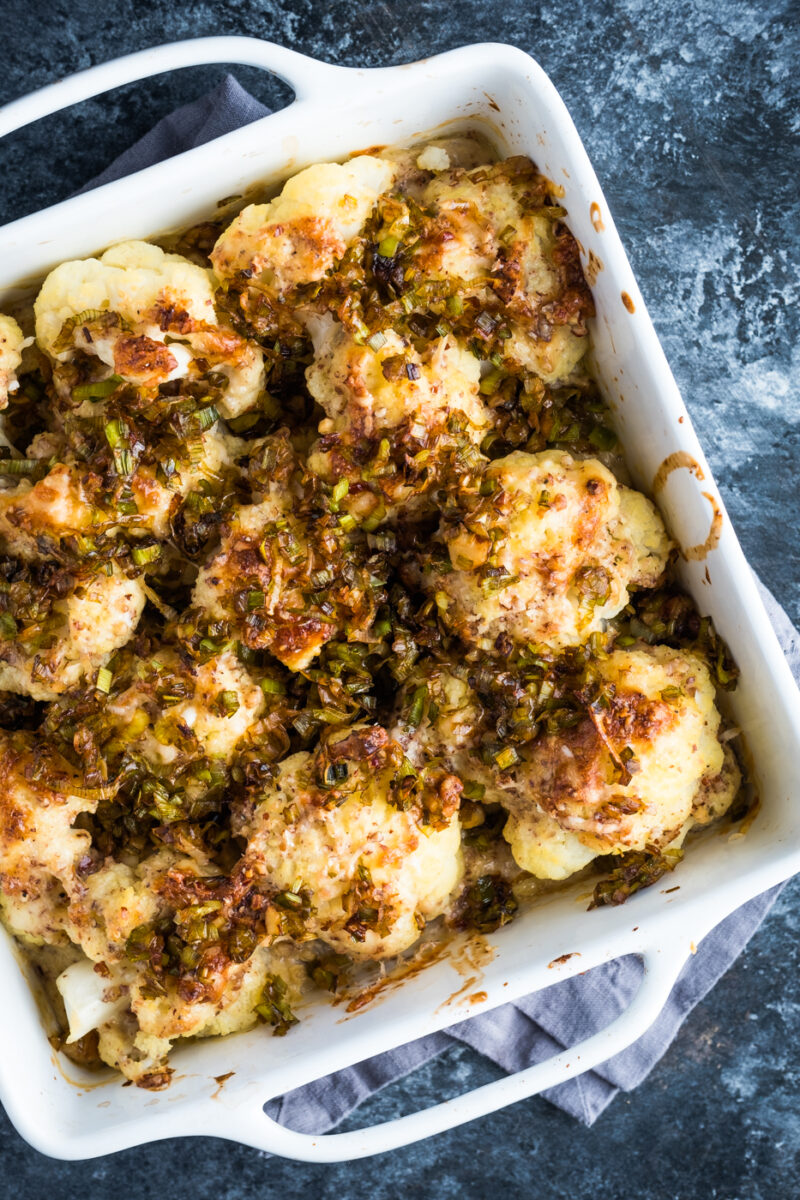 Print Recipe
Cauliflower Gratin with Pecans and Caramelized Leeks
A tasty, low-carb festive lectin-free side dish.
Ingredients
1 big head cauliflower, washed, pat dried and cut in big florets

2/3 - 1 cup heavy cream

3 oz grated Gruyere

1/2 cup ground pecans (for more taste use dry roasted pecans)

a handful of grated parmesan (to sprinkle on top)

1 nutmeg, freshly grated (or a pinch of nutmeg powder)

salt and pepper to taste

2 big leeks, sectioned in half, well cleaned and pat dried (you will use the white and a little bit of the light green)

1 tsp good quality balsamic vinegar
Instructions
1
Preheat your oven to 375F.
2
Boil the cauliflower first, for about 5-7 minutes (if your florets are smaller maybe less, you still want the cauliflower to be firm). Drain the cauliflower and add it to a baking dish (a 9x9 inch or something similar in volume is perfect). Mix the heavy cream with Gruyere cheese and nutmeg, the pecans, some salt and pepper to taste. Add the sauce on top of the cauliflower and sprinkle some grated parmesan cheese on top (I added a handful, you can go crazy here if you want and don't care for keeping the dairy moderate). Cake for 25-30 minutes, or until the cauliflower gets a golden brown color.
3
While the cauliflower is in the oven, prepare the caramelized leeks. Finely slice the half sections (use the white part and a little bit of the light green, but not the leaves). Add a little bit of avocado oil to a sauteeing pan (I used a large one, so most of the leeks have contact with the pan) and heat on low to medium heat. Add the leeks and stir every time they get a little stuck to the pan. When you start to get brown spots on the pan, start adding just a tiny amount of water (about 1 tsp) and continue to stir and watch them (continue this until they are caramelized). They take about 25 minutes to be ready, but it's worth it, they are so tasty. At the end add a sprinkle of balsamic vinegar (used an aged, slightly thick one), stir some more and take off the heat. Add the caramelized leeks on top of your cauliflower and bake for 5 more minutes.