Shared with me by my sweet Brazilian friend Luana, living in Paris, this vegan sweet potato snack bread hits all the right spots when you are craving bread. It's crunchy on the outside and chewy on the inside and tastes like soft pretzels to me. While dairy-free, lectin-free, and gluten-free, this recipe is a dream come true because it's also low-histamine (you might need to skip the turmeric and add rosemary). It goes with everything, anytime.
Delicious bread with a cute name
The first family recipe Luana shared with me was Auntie Jovita's Brazilian Cheese Bread. It's an easy version of the traditional Brazilian 'pao de queijo'. While it is a delicious bread alternative, it has cheese, and for those of us not eating cheese anymore, it's not an option.
That's where this vegan sweet potato snack bread recipe comes in handy. It's so easy to make and delicious in its way. And did I mention how cute the original name is: 'pao de beijo'? It means 'kiss bread' and they make me happy to make and see them on my table. They look like little balls of sunshine in my kitchen.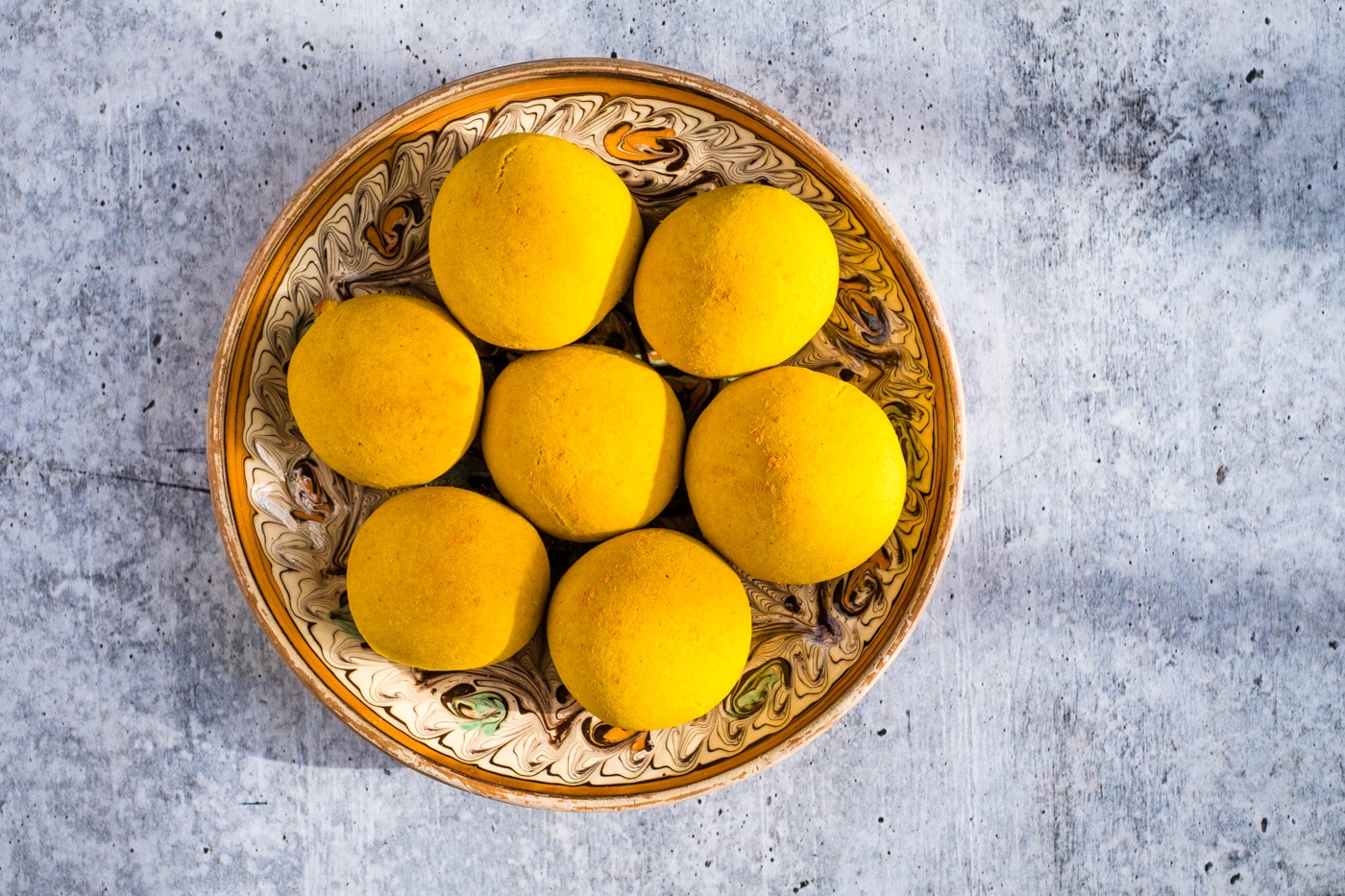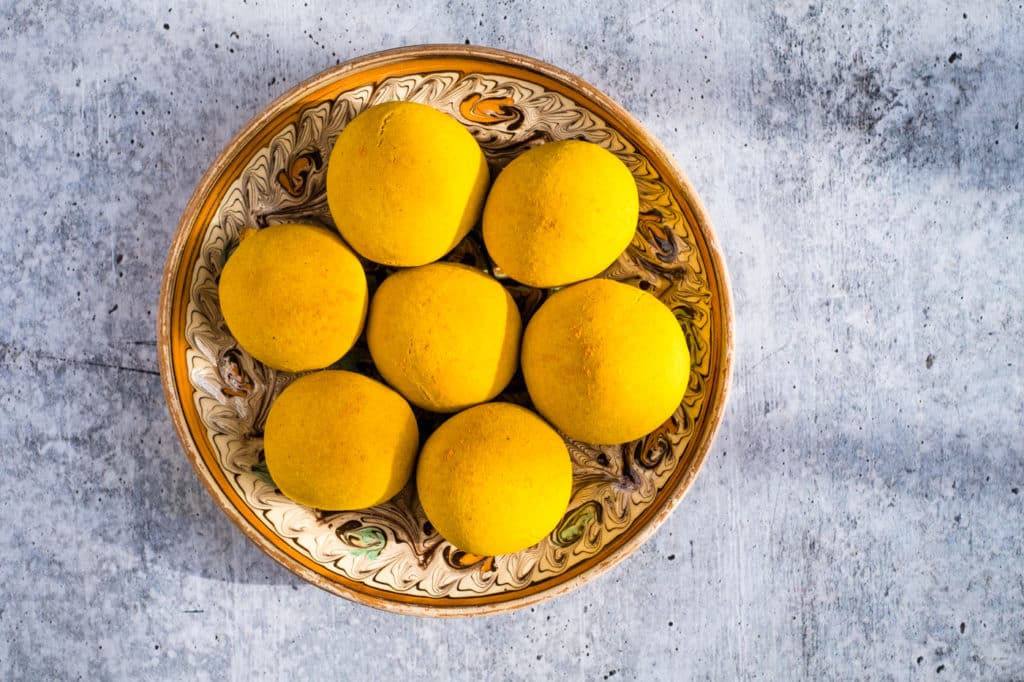 The ingredients for vegan sweet potato snack bread
The ingredients for the sweet potato bread are:
Cassava flour
Sweet potato
Water
Salt
Turmeric
My friend Luana adds rosemary to them, made with Mandioquinha (little cassava), a South American root that is similar to carrot and celery root. Not something easy to find outside Brazil, but thankfully easy to replace with sweet potato.
I've made this vegan sweet potato snack bread probably more than 50 times in different countries with different cassava flour brands. Otto's Cassava Flour gives the best result, from what I've tried so far, but you can only find it in the US (not affiliated). There is not much difference in taste and texture, but mainly in how they look, and those made with Otto's are brighter and smoother.
There are also slight differences in how much liquid the flour absorbs, so you might have to tweak and add less flour or more liquid. Whatever it is, this recipe is forgiving.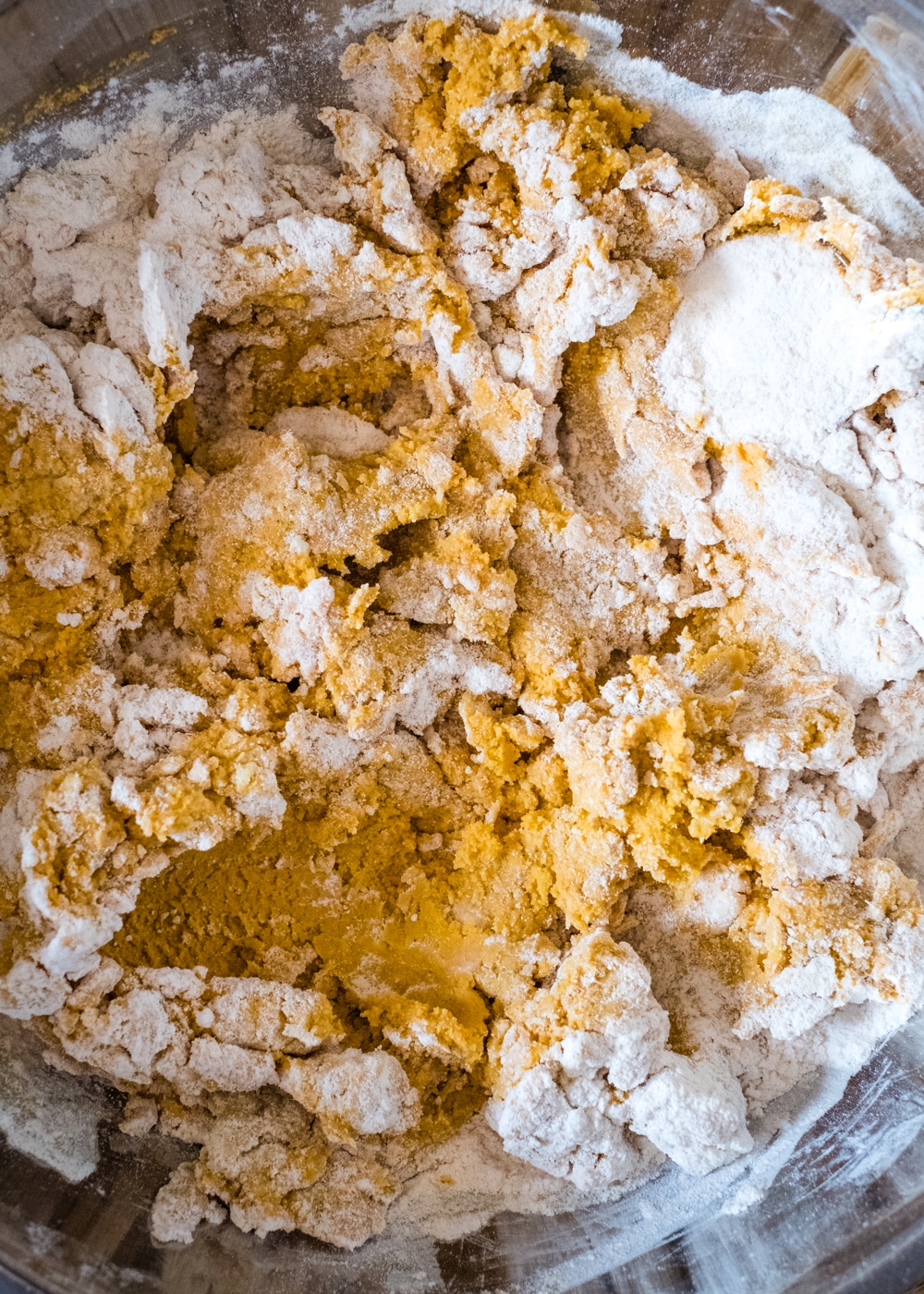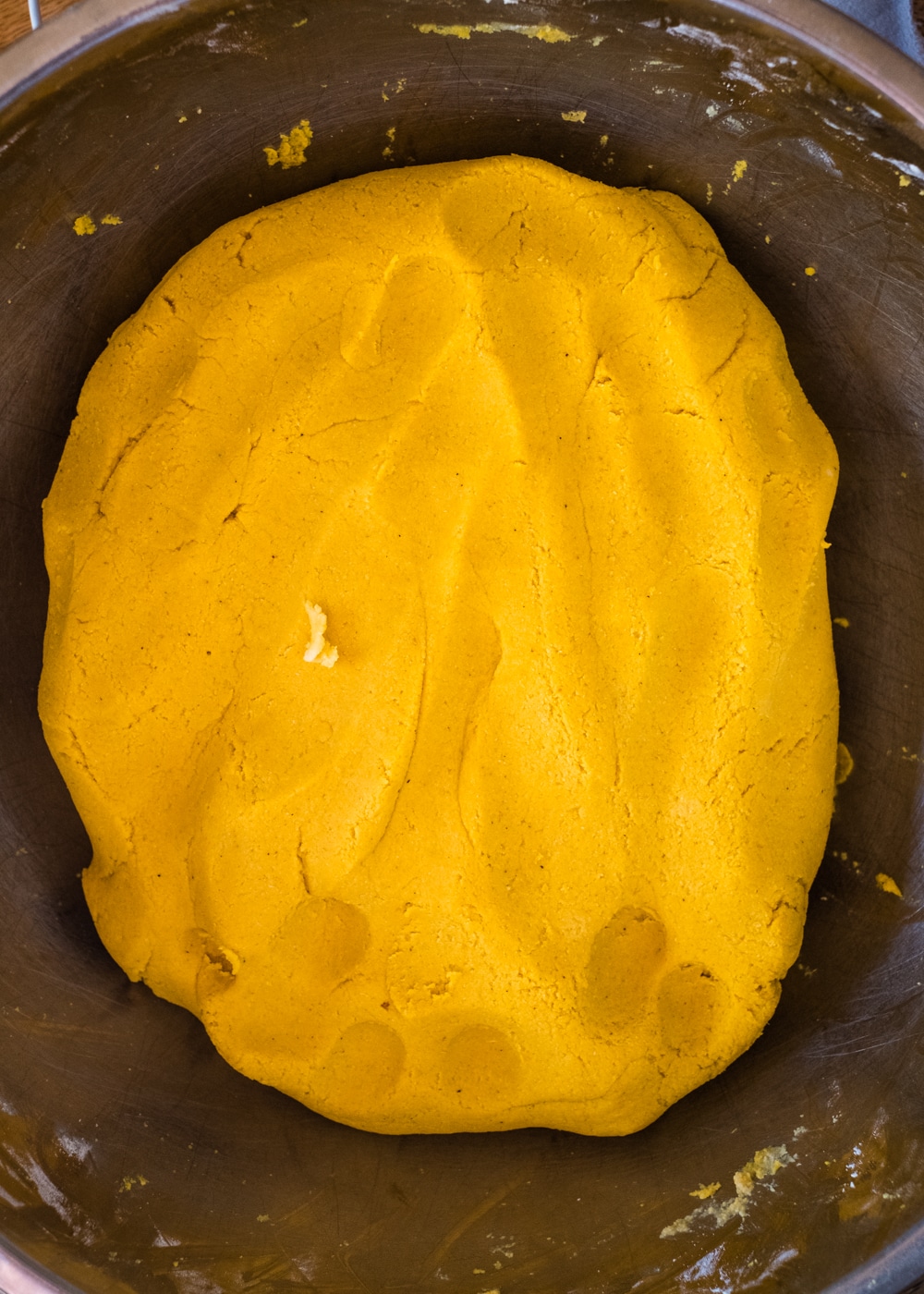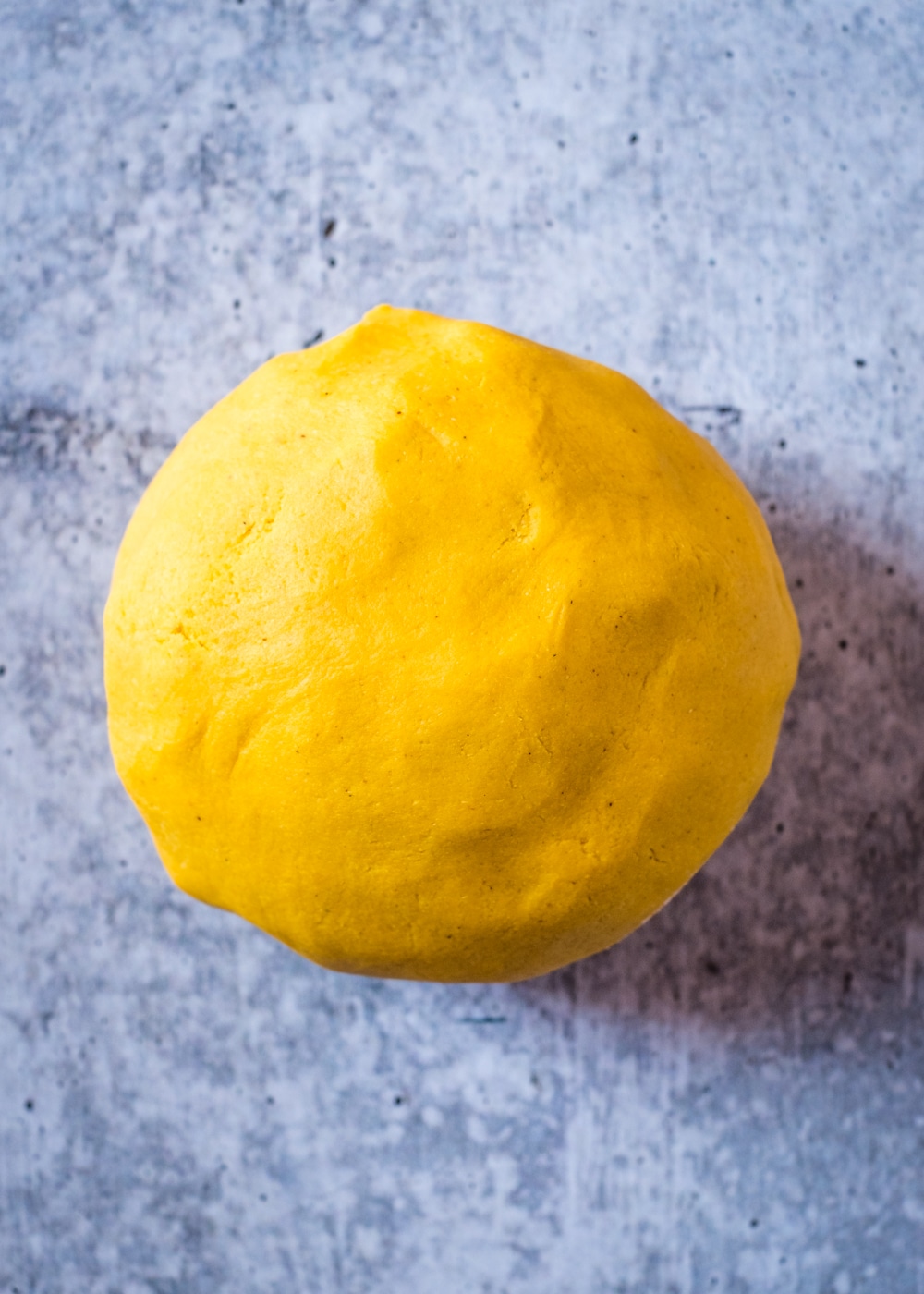 Get creative with this sweet potato bread
Alternatively, you can experiment with different spices and even different types of sweet potatoes. Let's say, you can use a Japanese sweet potato that has white flesh and add some thyme or rosemary or whatever herbs you fancy. Just don't forget to balance out the sweetness of the potato with salt.
Another modification you can make, which will slightly change the texture (for the better, I would say, because of the added starch), is adding some tapioca to the flour mix. However, I prefer cassava flour because of its lower glycemic index and better nutritional profile (more fiber). Also, if you use some tapioca, the shape of your bread might change when baked.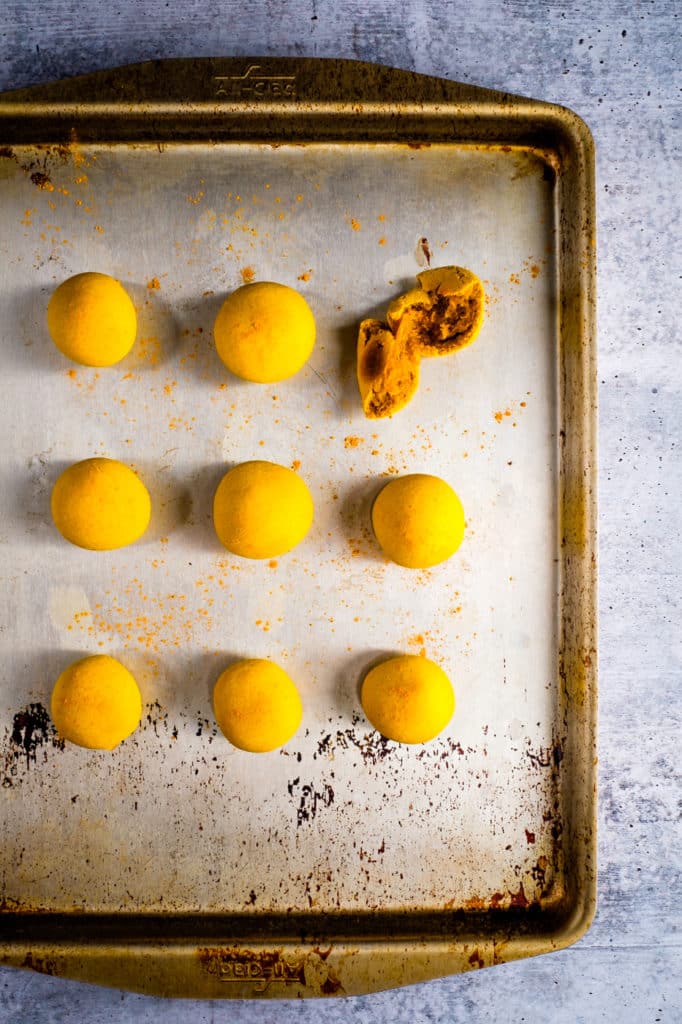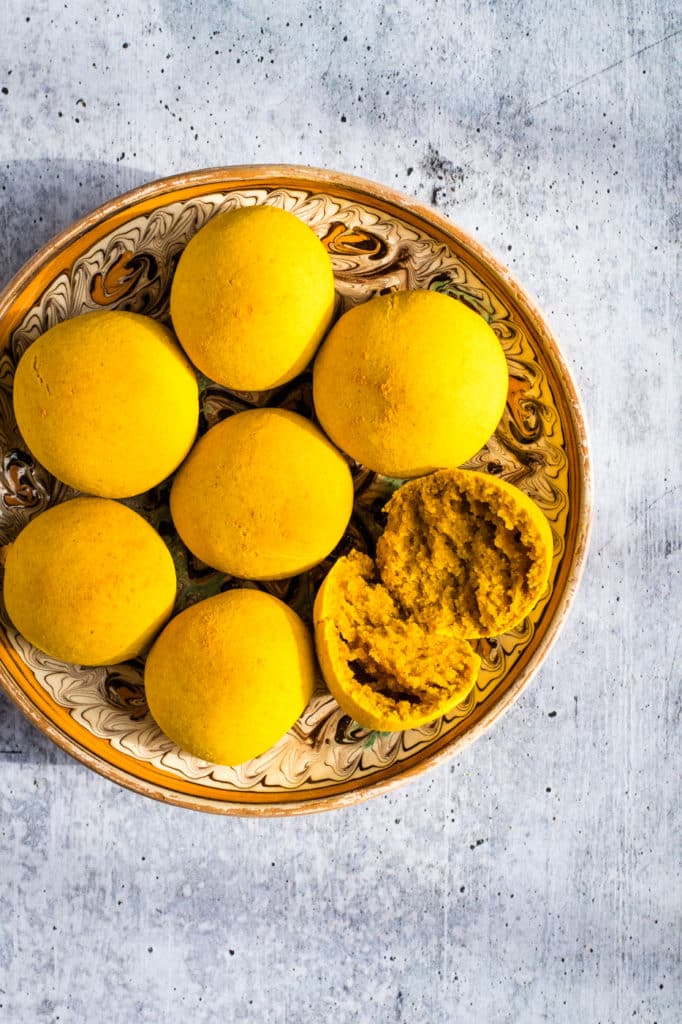 This vegan sweet potato snack bread should have a hard crust on the outside and a chewy on the inside. It's slightly sweet from the sweet potato but nicely balanced out by the sea salt and turmeric. It goes with everything, but my favorite way to eat it is with my break-fast (first meal of the day).
*This page contains affiliated links, which means I get a small commission if you choose to purchase something via one of my links, at no extra cost to you.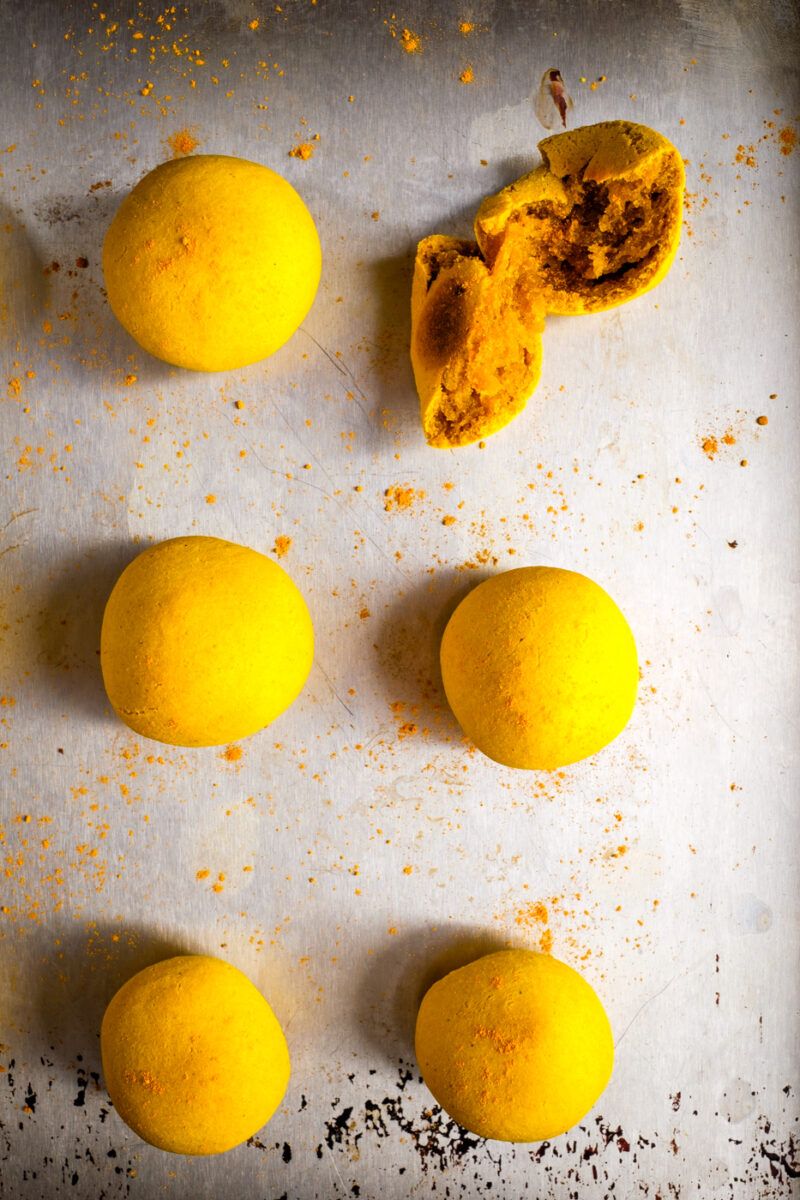 Print Recipe
Pao de Beijo - Vegan Sweet Potato Snack Bread
Easy to make snack Brazilian bread with sweet potato, cassava flour and extra virgin olive oil.
Ingredients
425g cassava flour

425g cooked sweet potato (baked or boiled)

150 ml extra virgin olive oil (10, 11 tablespoons, 0.63 cups)

150 ml room temperature water (10, 11 tablespoons, 0.63 cups)

1 teaspoon sea salt

1 teaspoon turmeric powder
Instructions
2
Combine the sweet potato, extra virgin olive oil, water, salt, and turmeric in a food processor until creamy.
3
Transfer to a big mixing bowl and start adding cassava flour, at first mix with a spatula, and when it gets hard start kneading with your hands. Keep adding cassava flour and knead for a few minutes. You will get a dough that is elastic, homogeneous, with a consistency similar to playdough.
4
Split the dough into halved, then quarters, and continue until you get small balls about the size of a golf ball.
5
Arrange them on a baking sheet (no oil needed) and bake for about 30 minutes at 400F.
6
Eat fresh or freeze. To reheat take out of the freezer and insert into the hot oven (400F) for a few minutes.
7
You can also freeze the dough but I prefer to freeze them cooked and reheat. They'll be as good as fresh.