Sometimes I like to 'take orders' from my followers and readers. A few of you asked for dinner recipes and a lectin-free and healthy chicken pot pie. I never had one before, but I had plenty of the more European version 'vol au vent,' and I was keen to try it.
It turned out great, and the result didn't disappoint but I let you make it and be the judge. It passed my husband's test though, which is a big deal.
How to make healthy chicken pot pie
I was not worried about the filling, but I was wondering what kind of lectin-free crust to make and how it will come out. I did some research online and came across this Perfect Paleo Pie Crust Recipe on FOOD REPUBLIC. So, since I did not want to reinvent the wheel, and this recipe seemed very close to what I've tried before, I decided to test it and see how it goes with this dish.
Although a little sensitive (but what grain-free dough isn't?) in my opinion it works well, does the job of making a beautiful crust that also tastes good. I personally don't eat much of it, because I like to limit flours and starches, but the few bites I had were enough to compliment my chicken filling. On the other hand, my husband had it all and some of mine.
Just so you know, before you go to the recipe, it is made of almond and coconut flour and tapioca starch, salt, one egg, and butter. I used goat butter, but you can use any compliant butter. Please check the original recipe and instructions for more details (link above).
Filling for a healthy chicken pot pie
Now, the filling is super delicious. It's creamy, silky, and nutritionally balanced. Comfort food does not have to be nasty and bad for you. In fact, the real flavors and texture are given by the veggies I added to make this dish so tasty and rich.
I used pasture-raised chicken – both chicken breast and tights – compliant chicken stock, a mix of mushrooms, carrots, sweet onion, and because it needed more green I replaced the usual peas with chopped asparagus. I used avocado oil for cooking, heavy cream (just 1/4 cup) and arrowroot powder for thickening. You can replace heavy cream with coconut cream.
How to make chicken pot pie and what to do with leftovers
So why I said "…and More"? Although I'm not the type of meal planner and like to be spontaneous with my meals, I like to make my cooking efficient. When I started this dish I had 2 chicken breasts with bone-in and 4 boneless chicken thighs. So I started with a large sauteing pan with avocado oil and cooked all the chicken at once. I salted and peppered it generously on both sides, browned it first on one side, then covered it and let it cook in the oil and its own juices and steam. Depending on how big your pieces are, it will take about 20-25 minutes.
Once the chicken was cooked through, I took it out, chopped the meat of one breast and 3 chicken thighs and put the rest in the fridge for use during the week. I plan to make this chicken salad with the breast and use the chicken tight as my protein for one of my lunches or dinners.
Since the pies need to be eaten warm out of the oven, I made only two individual pies using two 5.5 inch pie pans. I had a leftover filling which I ate the next day as a crustless pie with extra sautéed asparagus. So for the same amount of work I basically made 4 or more meals for my husband and me.
In the recipe below, I only included the quantities for the chicken pot pie and leftover filling, but feel free to use more chicken in the cook-up so you can have cooked chicken for a chicken salad – have you tried my Tarragon Chicken Salad with Cranberries and Avocado Mayo? – or other meals for the next few days.
A note on the mushrooms
One more note about the mushrooms I used. You can use any mushrooms, but I promise they'll add extra depth of flavor and text if you find these varieties. I usually buy this mix at Whole Foods.
It is called Chef's selection and is made of these varieties: chocolate brown Velvet Pioppini (add color and texture), amber color Forest Nameko (add silkiness), white Nebrodini Bianco (they are meaty, sweet and savory at the same time, and they can even be used instead of chicken if you want to make this dish vegetarian).
But, I'm aware that this can be a hard find, especially if you don't have a Whole Foods nearby, so go ahead and be creative with your own mix of mushrooms.
Chicken pot pie or Vol-au-vent
Some pictures of the process. I didn't take any with the crust-making process because that needed my full attention, and my hands were dirty. 🙂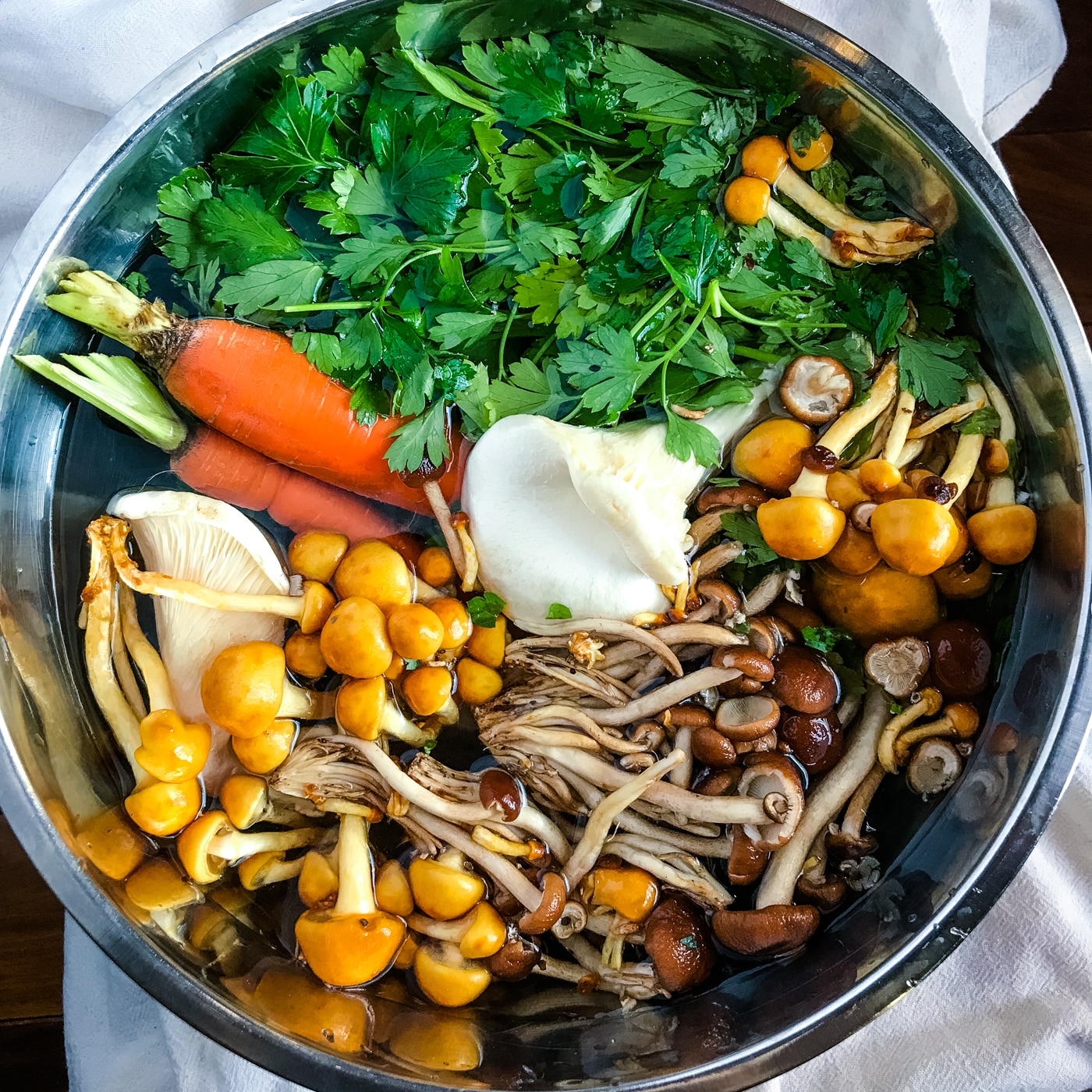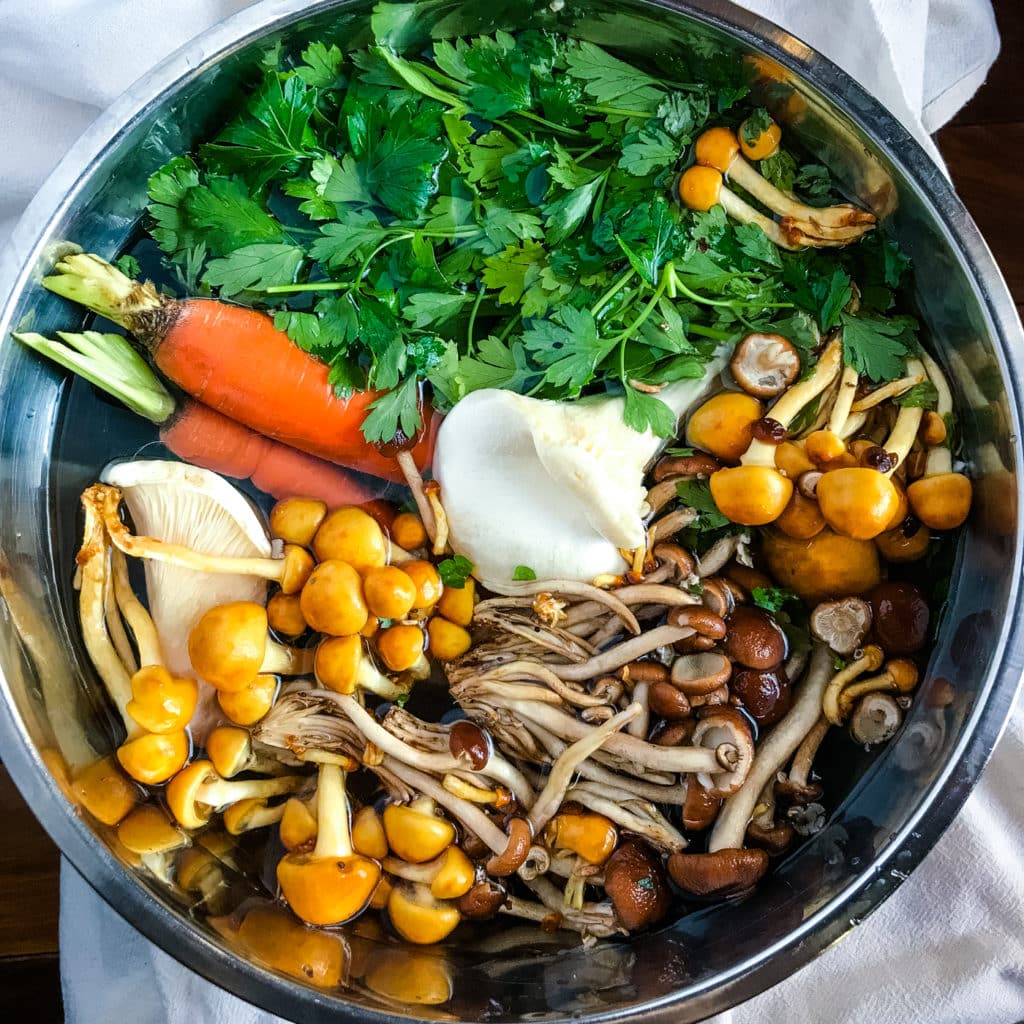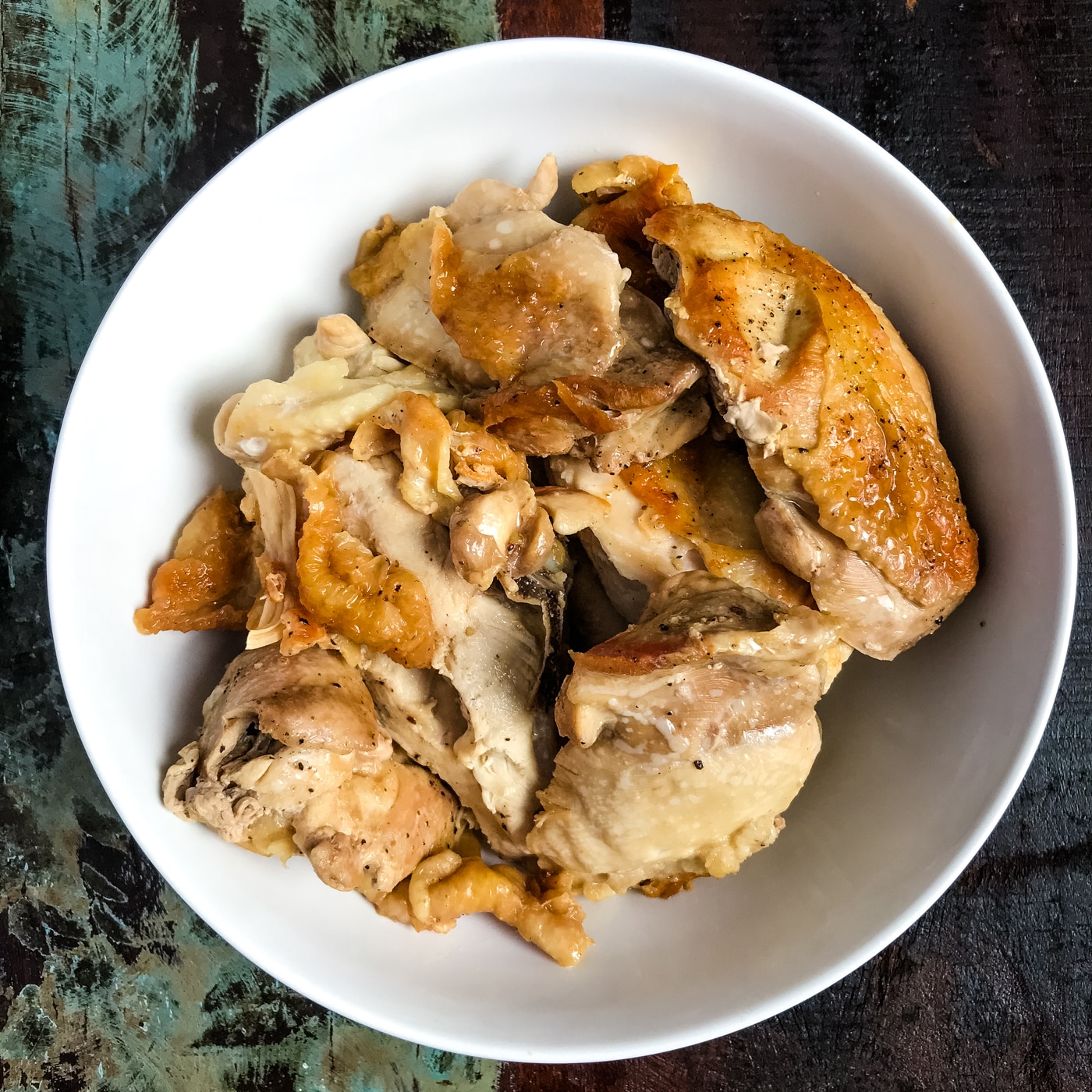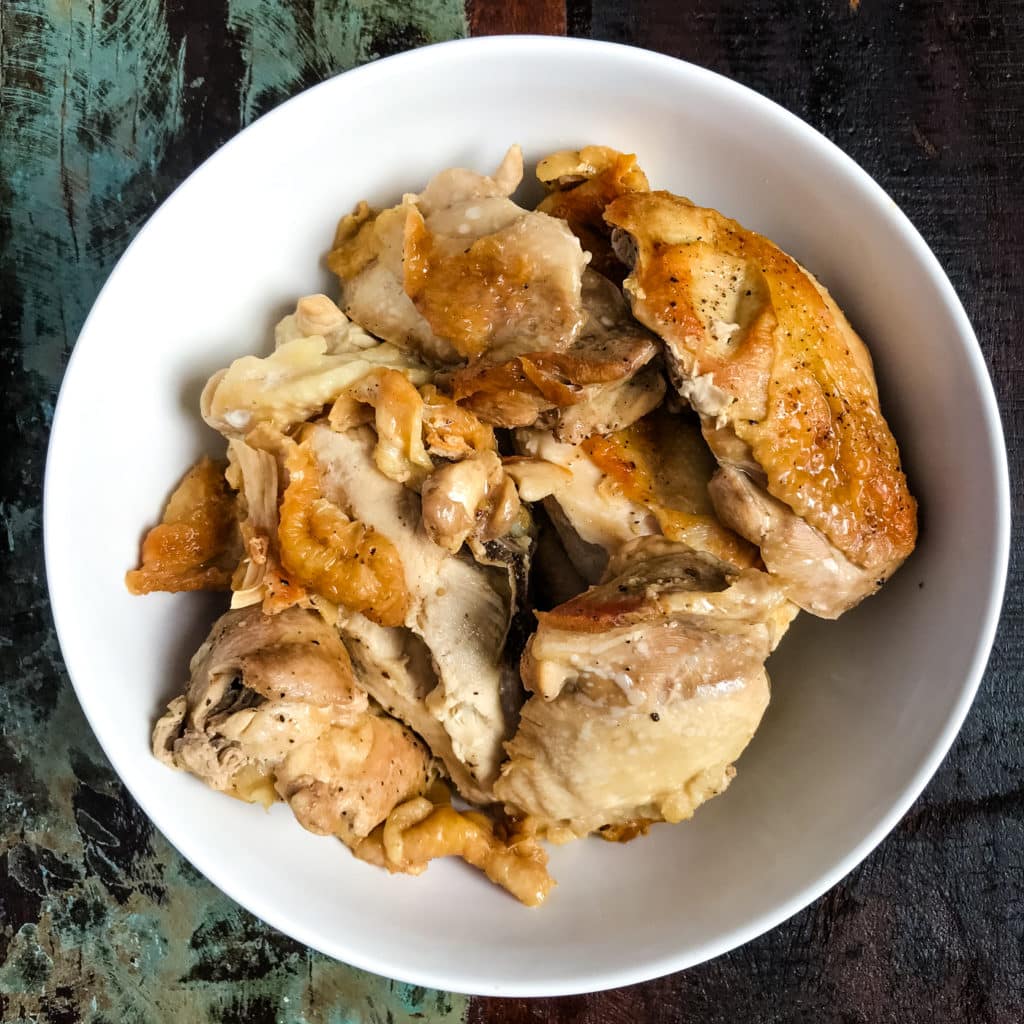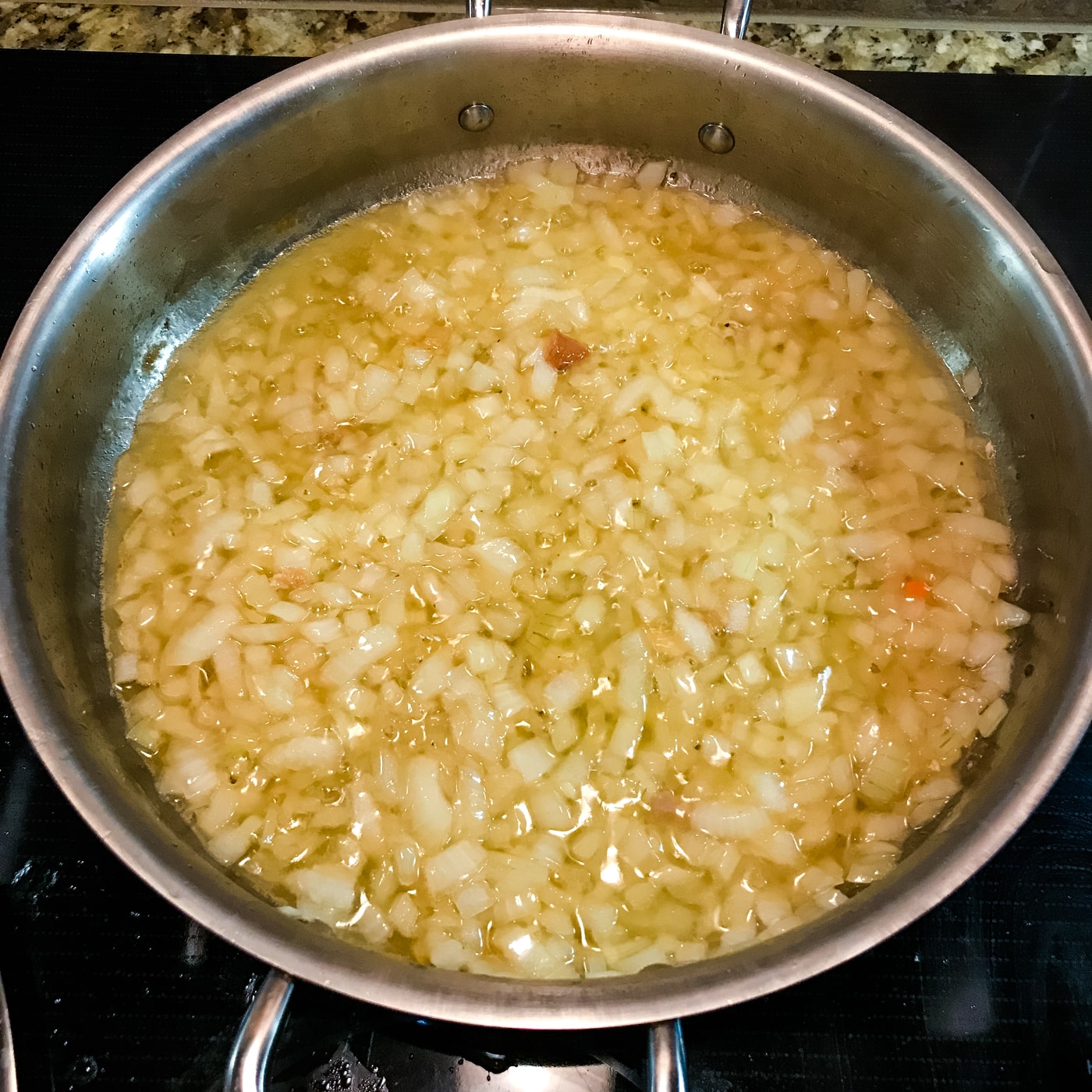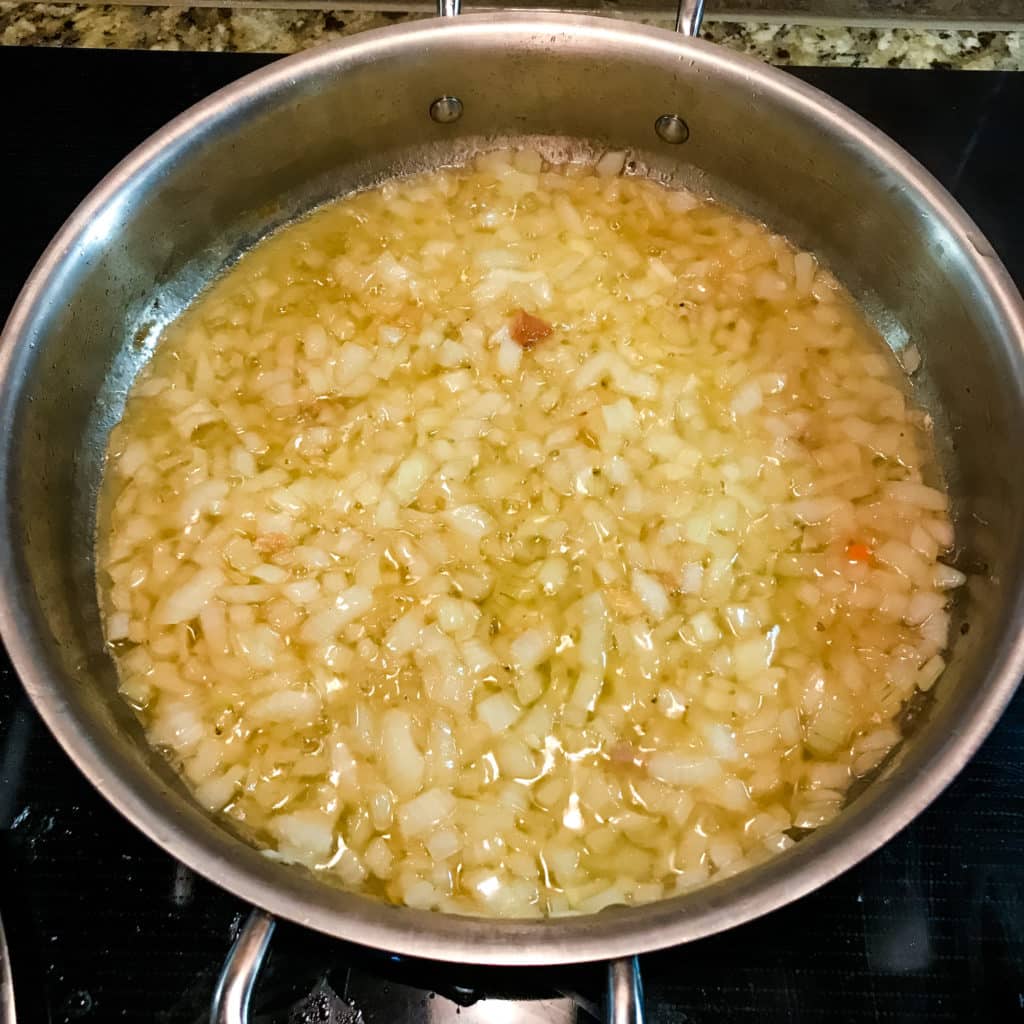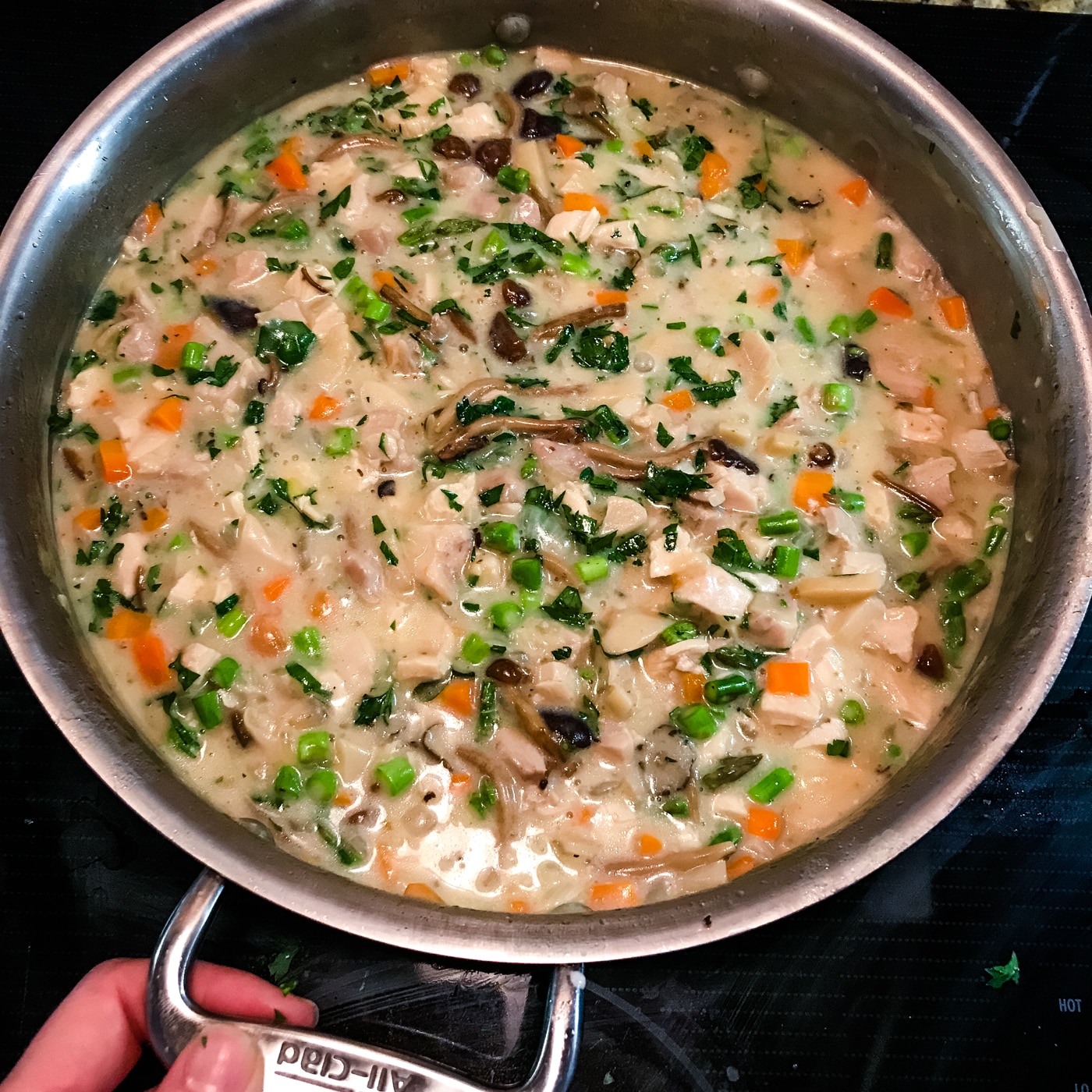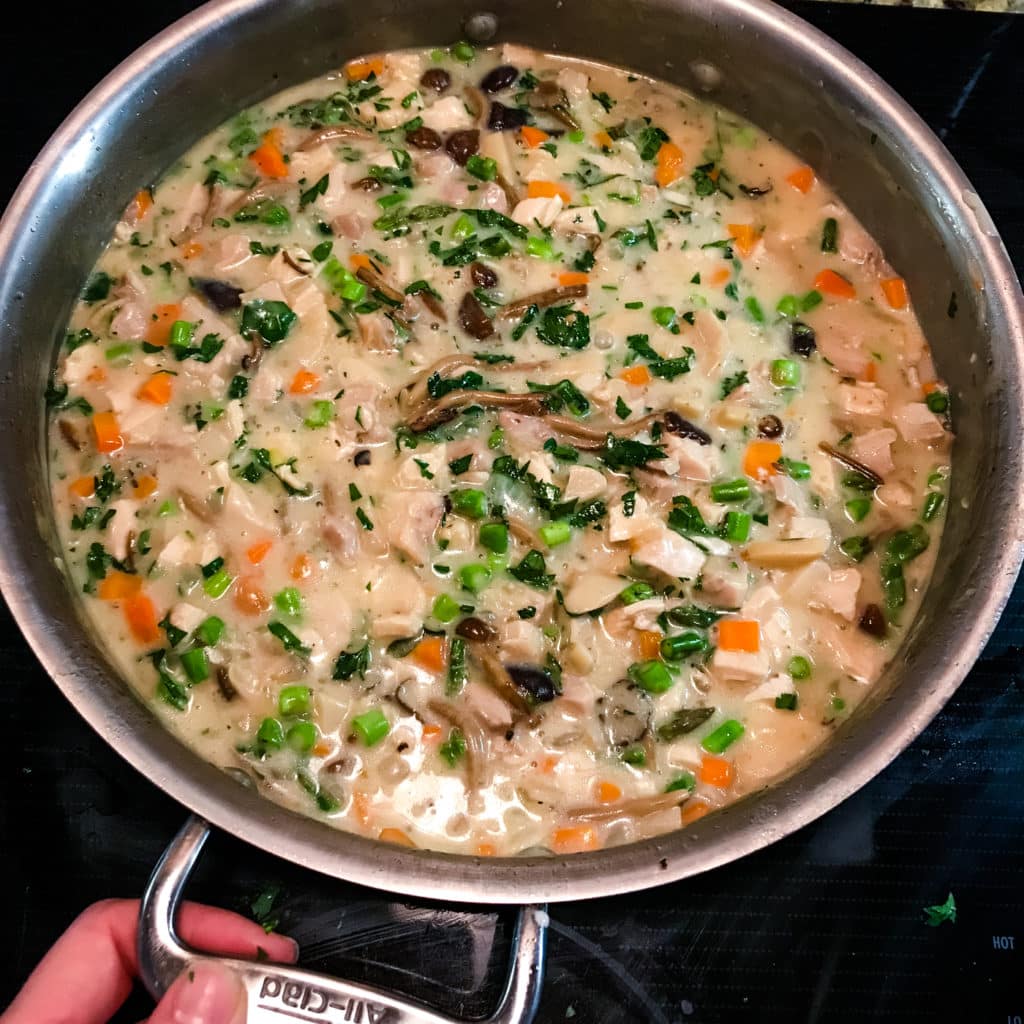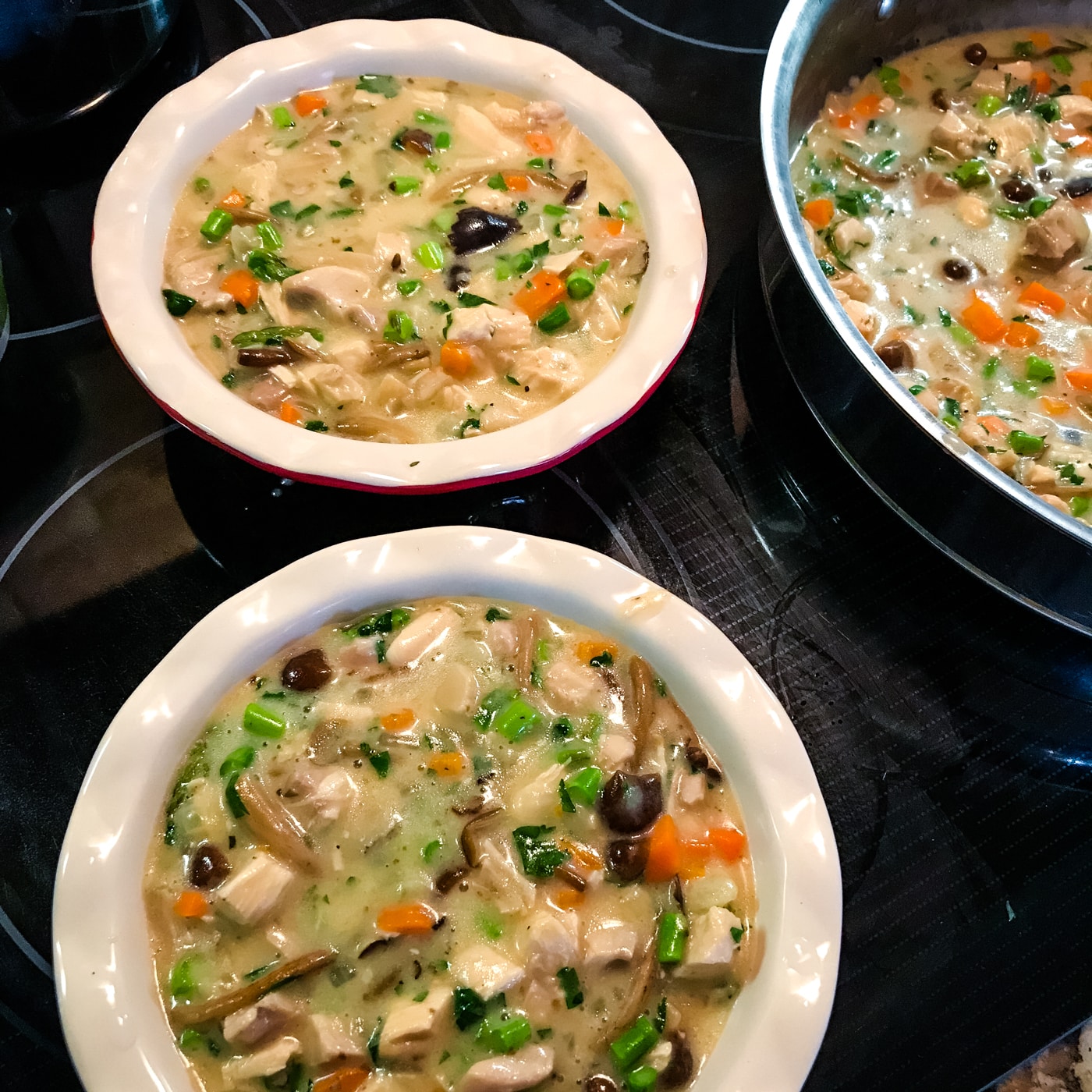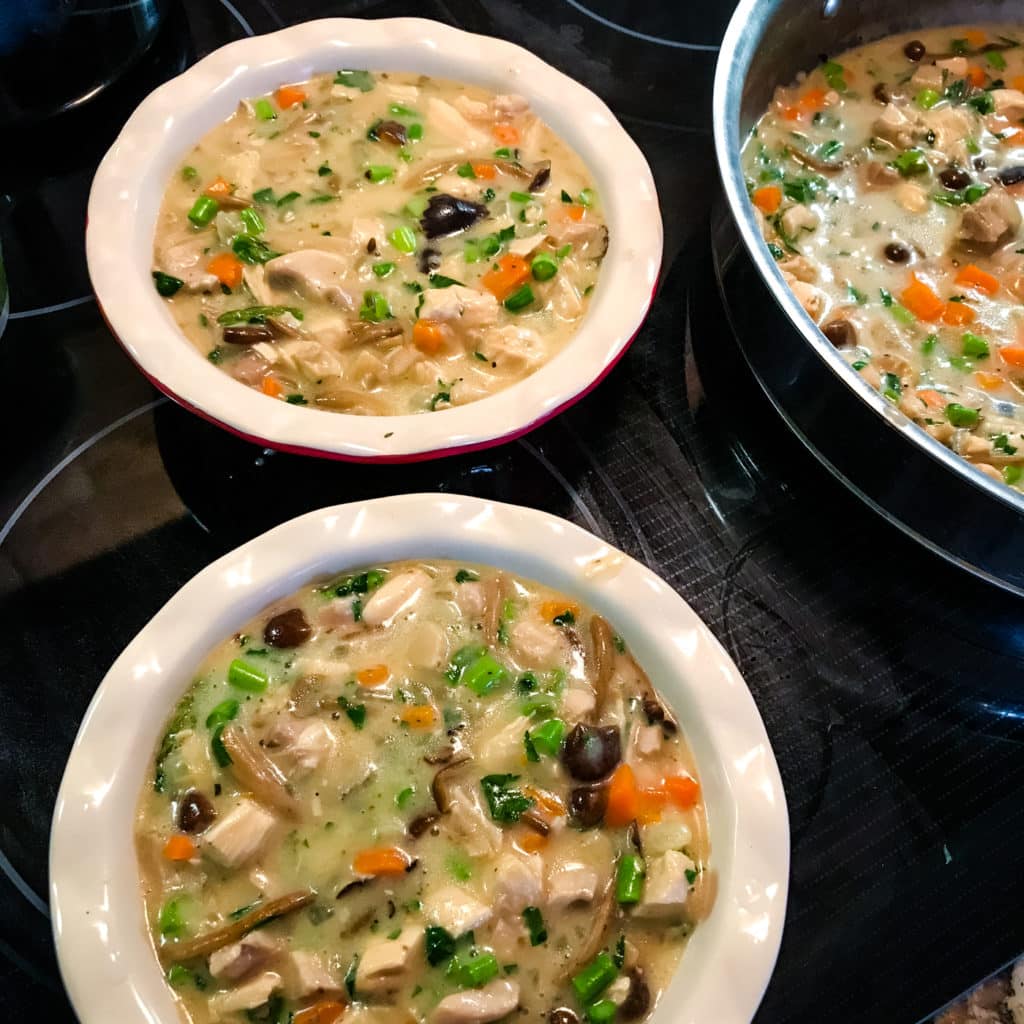 And voila, the lectin-free healthy chicken pot pie, also known as vol-au-vent, before digging in, plus the leftovers served the next day.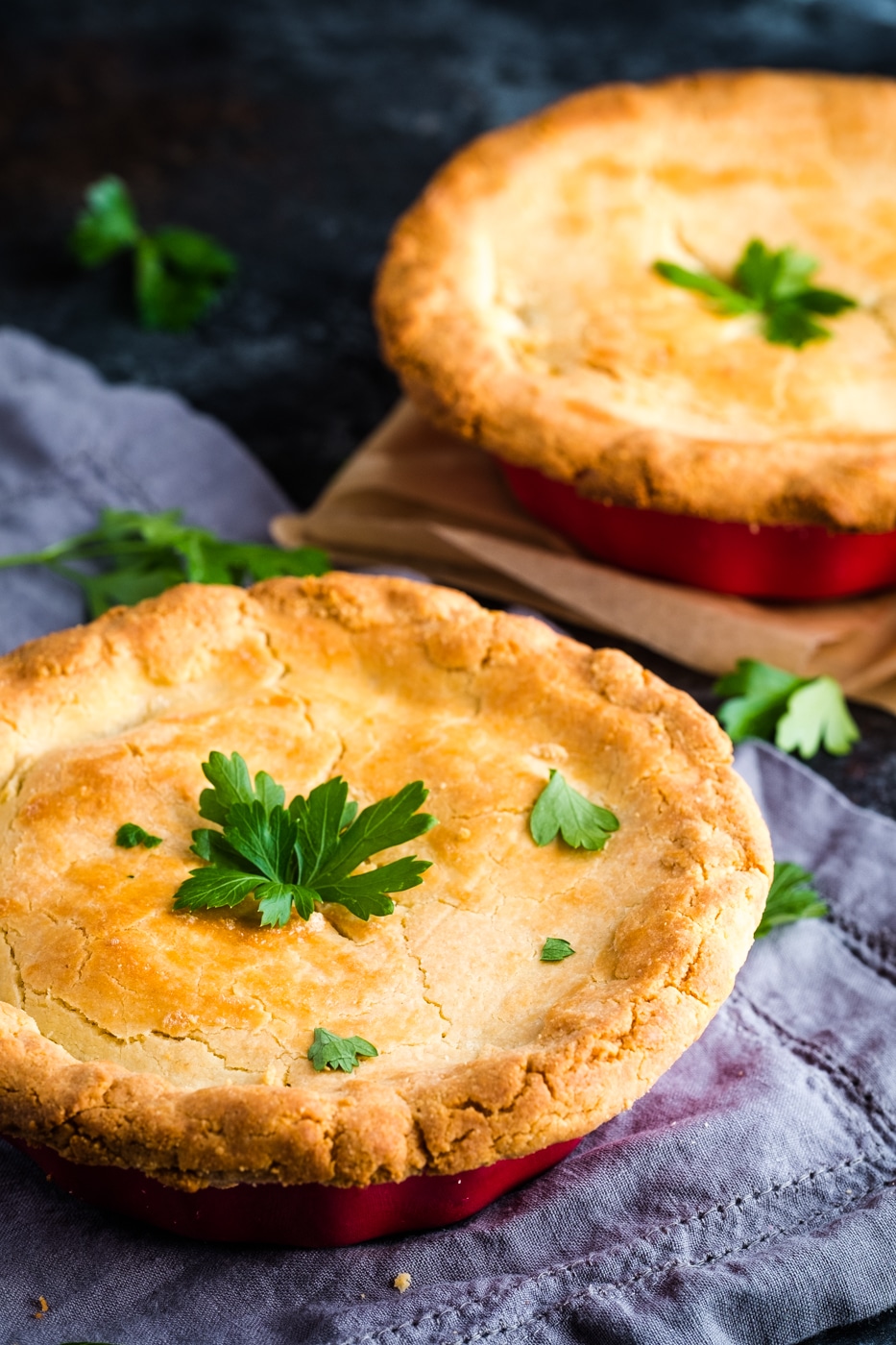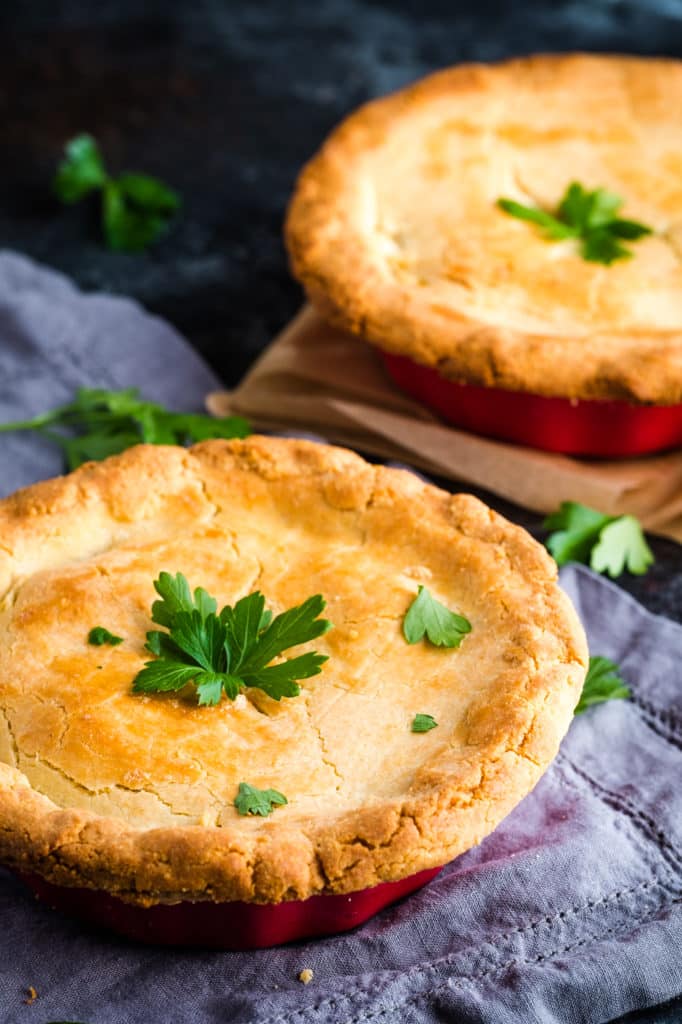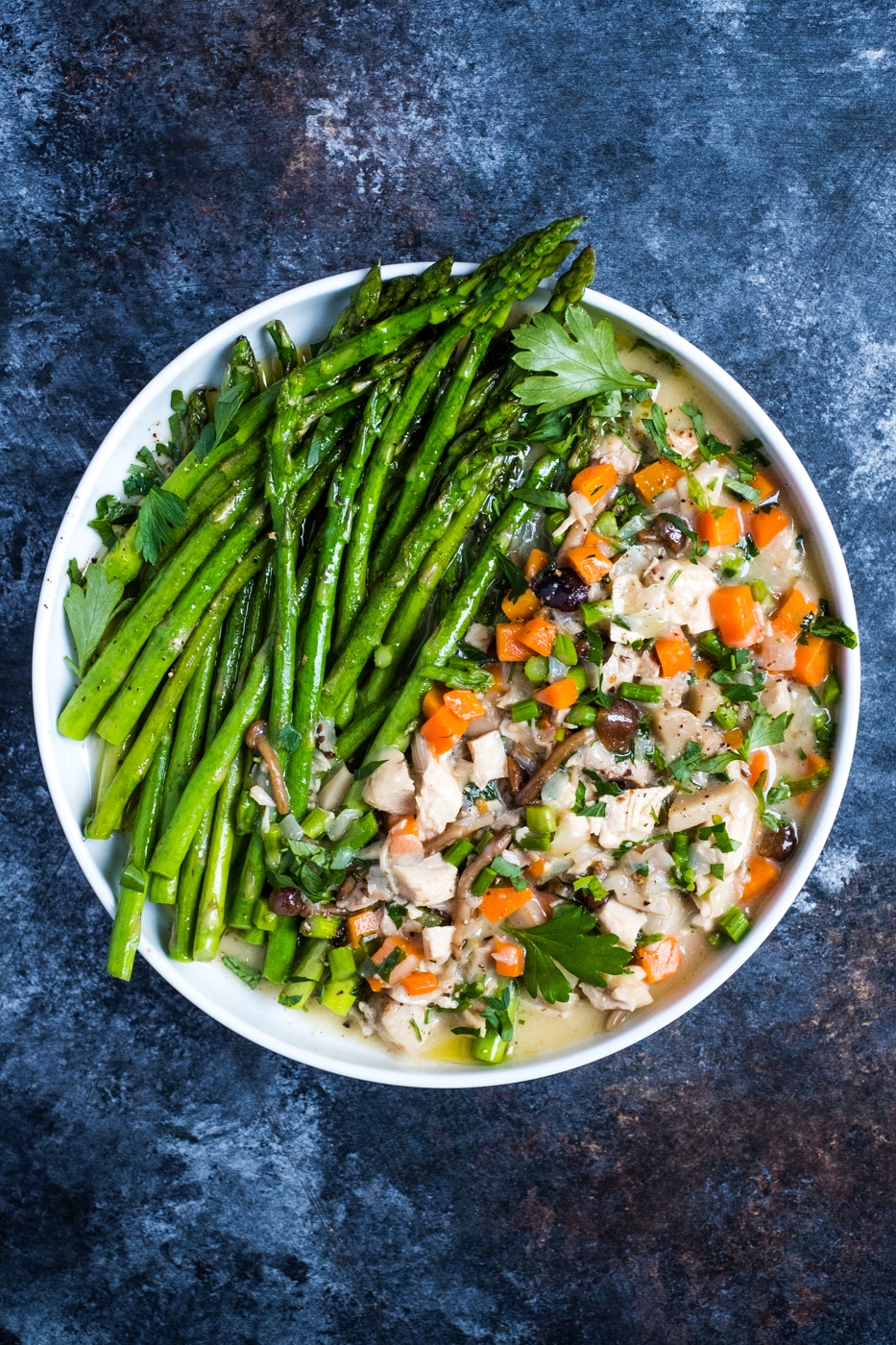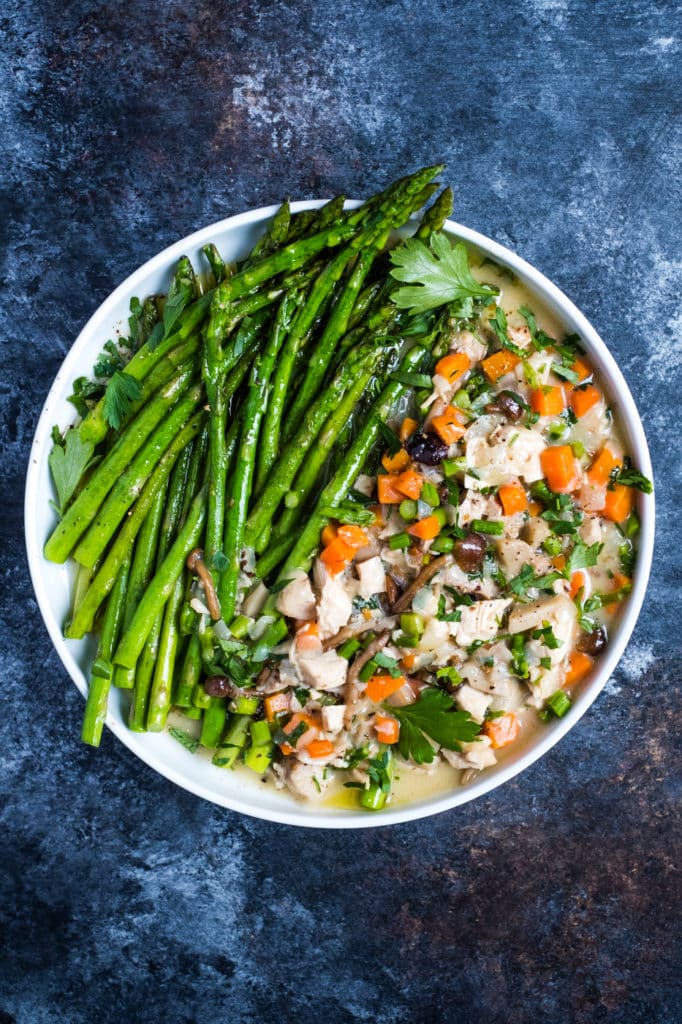 *This post contains affiliated links, which means I get a small commission if you choose to purchase something via one of my links, at no extra cost to you.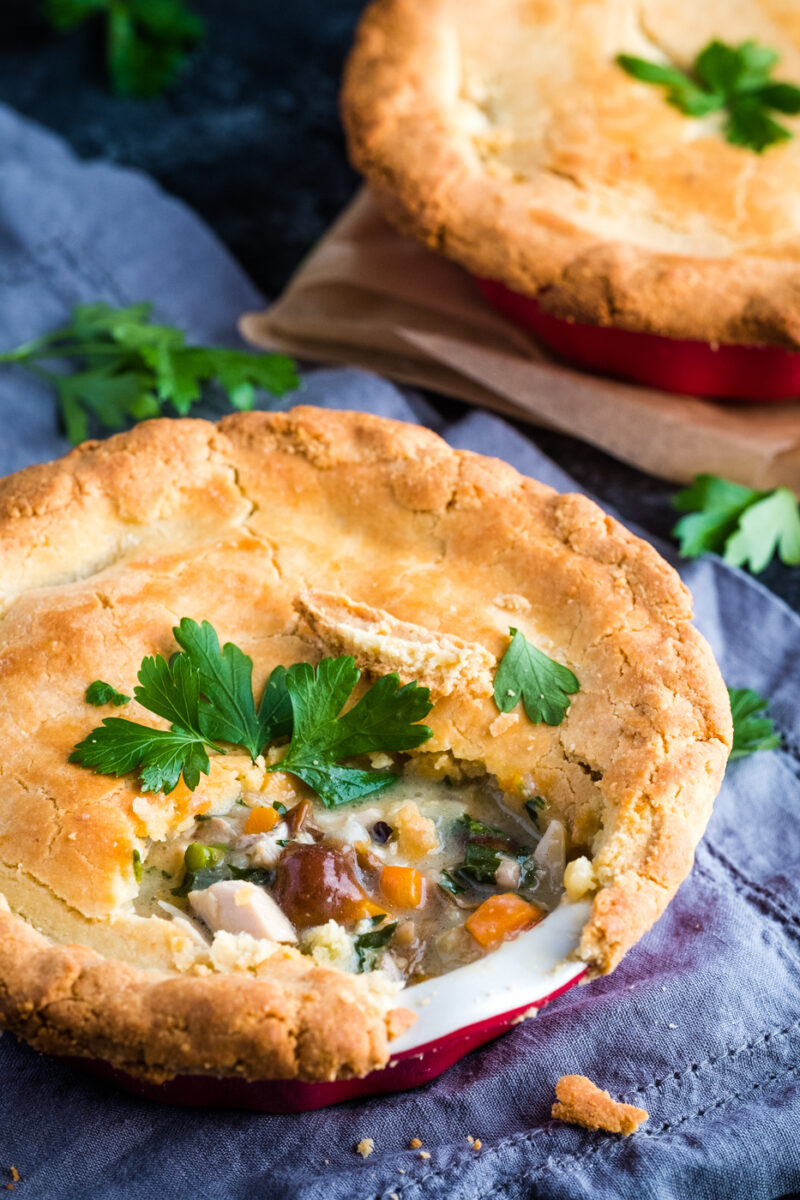 Print Recipe
Lectin-Free Chicken Pot Pie
A classic comfort dish made lectin-free and nutritionally balanced.
Ingredients
FOR THE CRUST:

1 cup almond flour

1/2 cup coconut flour

1/2 cup tapioca starch (plus more for kneading)

1/2 cup cubed cold butter

1/2 teaspoon fine sea salt

1 whole pastured egg + 1 egg white for the egg wash

FOR THE FILLING:

1 chicken breast and 3 chicken boneless thighs (or use whatever pieces you like), you need about 2 cups of chopped chicken

avocado oil (as much as to cover your pan)

1 sweet (or yellow) onion, finely chopped

1 medium carrot, peeled and chopped in small cubes

a mix of mushrooms (about 2 cups, chopped) - please check my post above for the varieties I used

1 bunch fresh parsley

1/2 bunch asparagus, woody ends removed, chopped to the size of peas

1 cup chicken or vegetable broth/stock

1/4 cup organic heavy cream

salt and pepper to taste

2 tbsp arrowroot powder
Instructions
1
CRUST. Make the dough for the crust first. Mix well all the flour and salt together, add to a food processor and mix with cubed cold butter for few pulses. Add the egg and pulse again, until you get a dough. Take the dough out, separate it into two equal balls, flatten them, cover with some plastic wrap and store in the fridge until ready to use. (For more details please check the link to the original recipe in my post).
2
FILLING. Start by adding generous amounts of salt and pepper to the raw chicken, then add it to a medium heated pan with avocado oil. (See the note in my post: I cooked more chicken than necessary for the pies to have more cooked protein for the week and make my life easier). So add the seasoned chicken to the pan, and let it brown on one side. Once golden brown on the first side, flip it and add a cover to the pan, and let it cook in its own juices and steam. This will take about 25 minutes, while you can prepare all your veggies. Wash, dry and chop the veggies. When the chicken is done take it out in a bowl and put it on the side. Add the chopped onions to the pan (you can add more avocado oil if necessary) and sauté until translucent. Add the mushrooms and carrots and cook for about 10 minutes, stirring occasionally. Add the chicken stock, bring to a boil then simmer for about 5 more minutes. Add the heavy cream (make sure you temper it, by adding some of the hot liquid first to the cream, so you avoid curdling). Simmer for a few more minutes and season with salt and pepper to taste. Add the chopped chicken. Mix the arrowroot powder with cold water, then temper it with some of the hot liquid, then add it to the whole mixture. Stir well and simmer for few more minutes. Only add the asparagus and the chopped fresh parsley at the end. (The dish will cook more in the oven and you don't want mushy asparagus).
3
Preheat your oven to 375F.
4
ASSEMBLY THE PIES. Add the filling to two individual pie dishes, make the egg wash by mixing an egg white with 1 tsp of water. Take the pie dough out of the fridge and with the help of 2 parchment paper sheets, one rolling pin and some tapioca flour roll each dough ball into a sheet. I used the bottom sheet of the parchment paper to transfer the crust on top of the pie dish. You might have some cracks (I did) but handle it carefully and use the egg wash to fix some of the cracks, and in the end, it will work. You can add some more egg wash on top or use it to fix the edges. This was the most sensitive step of preparing this meal. When both pies are ready, make three cuts in the center and bake for about 18-20 minutes in the preheated oven or until golden brown on top. The smell will guide you.
Notes
You will have some leftover chicken pie filling, transfer it to a glass container and save for the next day's lunch or dinner, next to some steamed or sautéed veggies. My pie dishes are 5.5 inches. FYI, in case it's not clear, the crust is only on top.