There is something about the combination of kale – more specifically, Lacinato or dino kale – and romaine lettuce. They balance each other perfectly and create a satisfying salad even as a main dish. And the sesame salt is absolute perfection – a trick I just learned recently from Bon Appetit magazine. This kale romaine Salad is easy, healthy, and lectin-free.
A healthy, delicious and satisfying salad
The inspiration for this kale romaine salad comes from a similar one I usually order in one of my favorite cafes in Dallas, Ascension Cafe. They have a kale romaine salad on the menu, and I have to modify it slightly and remove some of the ingredients to make it plant paradox compliant. I was always surprised by how satisfying this salad was even with few ingredients (I even removed the salad dressing and added extra virgin olive oil).
Kale leaves alone can be a little tough and bitter, and Romaine salad alone is boring and more of a side dish. But together, they balance each other. The crispiness and sweetness of the romaine complement the bitterness and tougher texture of kale, and it just works.
I wanted to recreate this at home, giving it more flavor with compliant adds-on (the original one has sunflower seeds, raisins, and an apple vinaigrette which I ask not to be added). Since I wanted to add some seeds, I thought sesame seeds would fit well. Then I discovered this fantastic idea in the latest issue of Bon Apetit magazine: sesame salt. Oh my, I tried a fantastic trick to add flavor to salads!
How to make the sesame salt
How to make the sesame salt: toast about 3 tbsps of sesame seeds until fragrant, about 5 minutes, on the stove, in a naked pan. I used a stainless steel All-Clad saucepan. I mixed black and white sesame seeds, but you can use any raw sesame seeds. Watch them and stir them, making sure they don't burn.
Once ready, add them to a mortar and pestle and let them cool down. Add one heaping tsp of flaky sea salt – I used Maldon Sea Salt Flakes – and slightly mash until about half of the sesame seeds are ground. This makes more than you need for the recipe, store the leftovers for about one week in an air-tight jar and use them with other foods.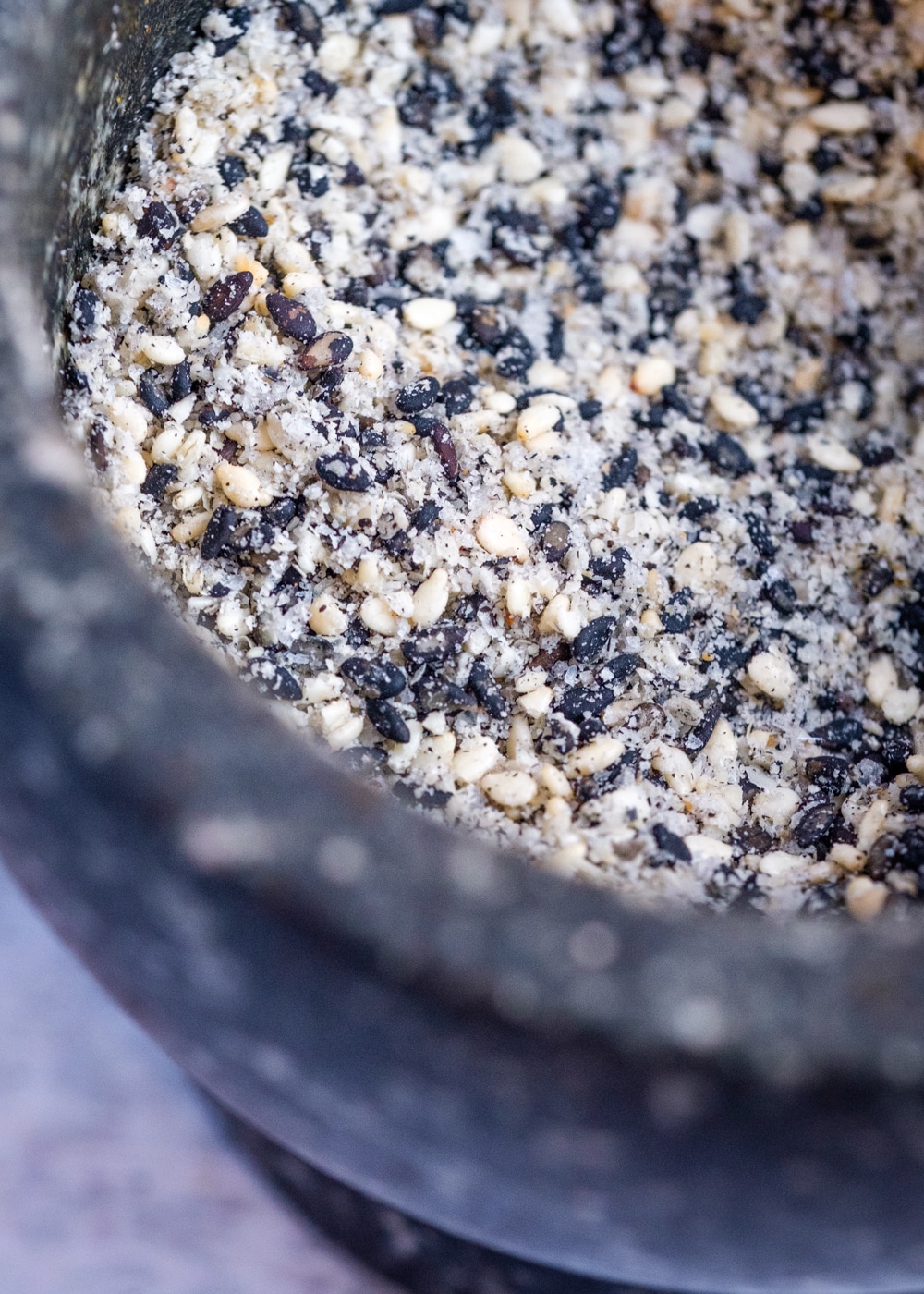 Making the kale romaine salad
You need about one heaping cup of clean, dry chopped kale and romaine (one of each). Measure by pressing down or adding more. In my opinion, there is never too much kale or romaine in a recipe. The balance between the two is essential here. I used one heaping cup or two light ones of each and had it as a main dish for lunch, and it was a perfect size.
You also need about 1/4 of one small to medium red onion, finely julienned, depending on how much you like raw onion in your food. You will marinate this for 5 minutes in a mix of vinegar. This way, some of the strength will be gone. For the vinegar mix, I used 1 tsp champagne vinegar, 1 tsp apple cider vinegar, and about 1/4 tsp balsamic vinegar. Slice your onion, and add it to a small bowl with the vinegar mix. Let it sit in the vinegar while you prepare the salad in a large bowl. I use Kasandrinos oils and vinegar. And Bragg apple cider vinegar.
The other only three ingredients for this salad are extra virgin olive oil (of course), half avocado, and a few shavings of Parmigiano Reggiano. This salad is ready in no time if you have your kale and romaine washed and dried in advance. This is one of the most helpful meal preps I do and saves me a ton of time.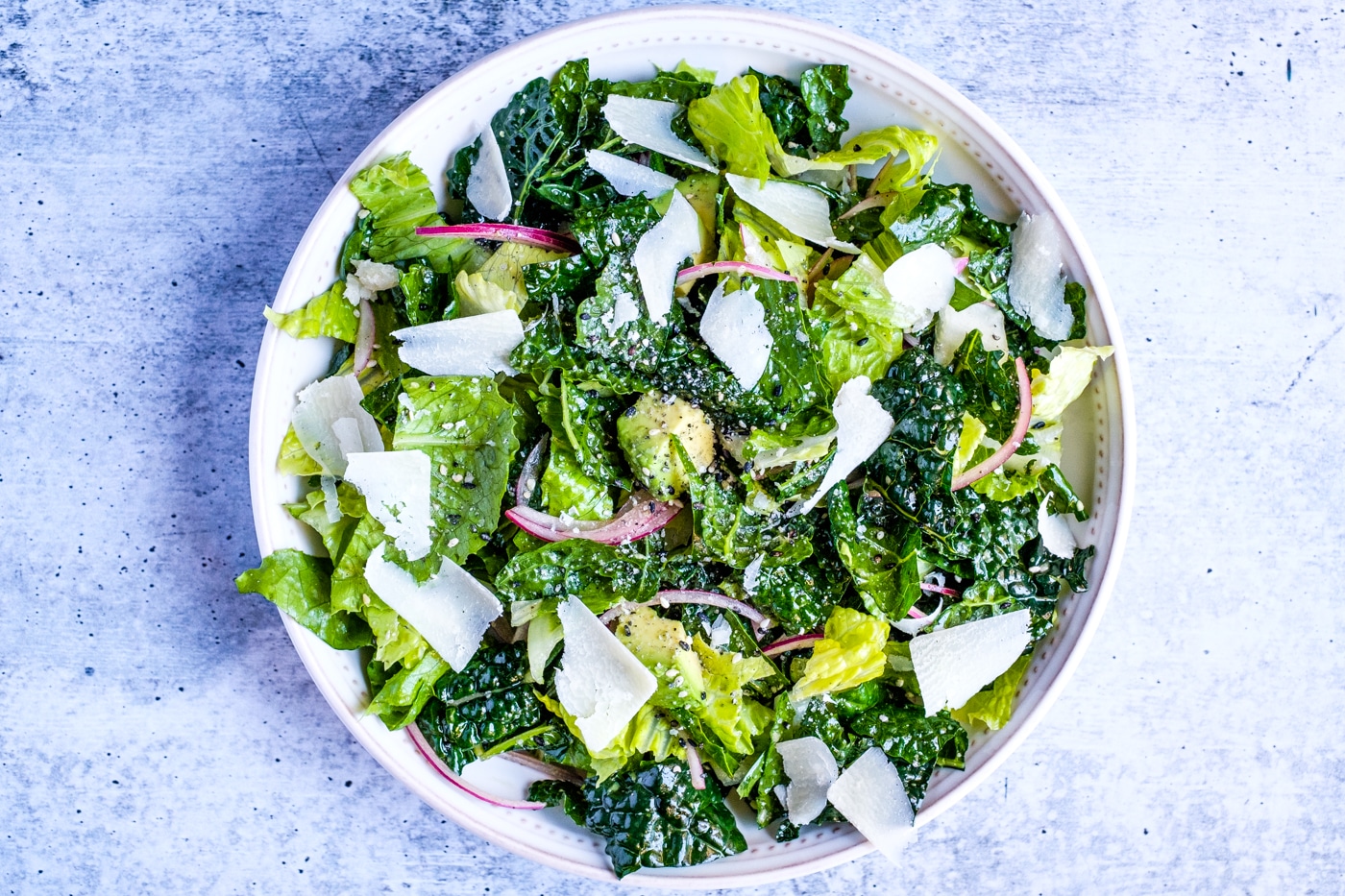 How to serve kale romaine salad with avocado and sesame salt
If you feel the kale romaine salad is not enough for hungrier people like my husband, you can always add one or two boiled eggs or cooked chicken. You can also add the Almost Italian Meatballs. Or have it as a side dish or appetizer. 
And friends, don't forget to chew, especially the kale. Digestion starts in the mouth, and some of the benefits of kale begin with breaking the leaves while chewing.
*This page contains affiliated links, which means I get a small commission if you choose to purchase something via one of my links, at no extra cost to you.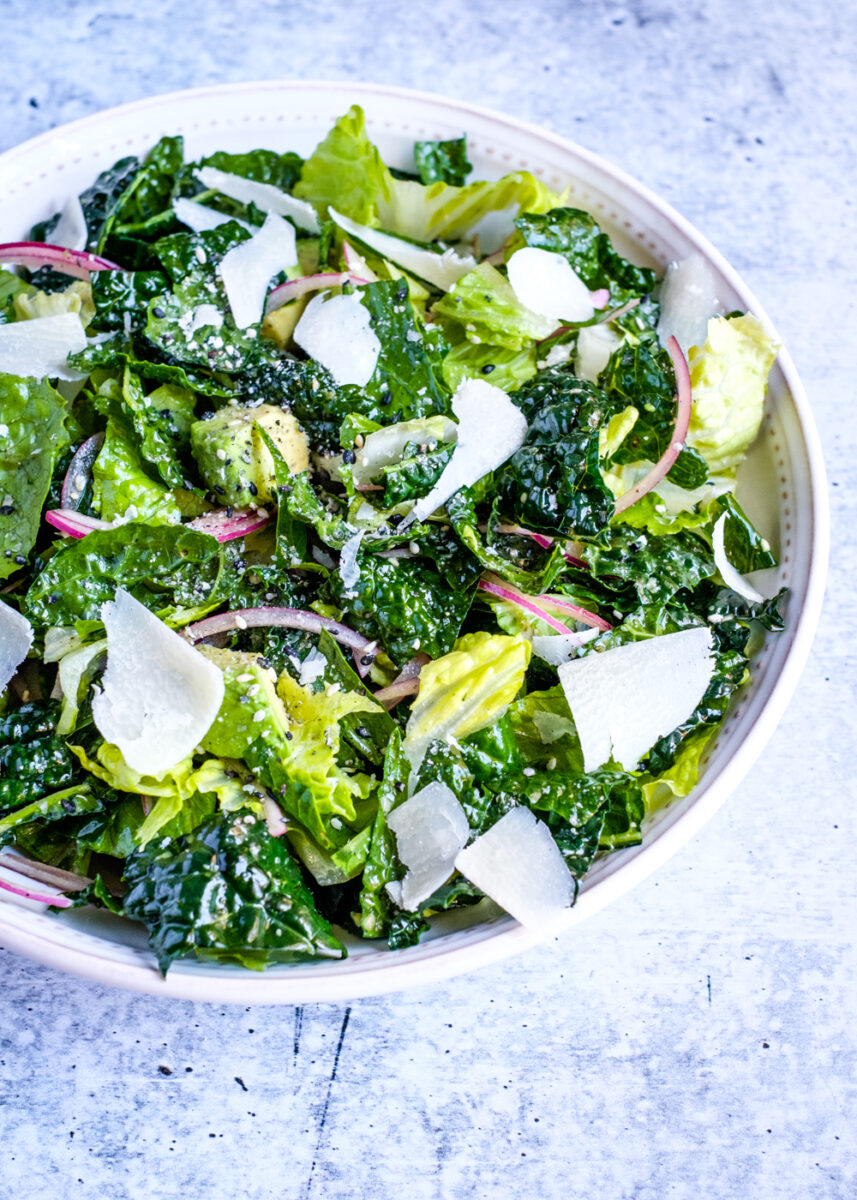 Print Recipe
Kale-Romaine Salad with Avocado and Sesame Salt
Easy, healthy and super satisfying salad.
Ingredients
For the sesame salt:

3 tbsp raw sesame seeds (a mix of black and white if you have)

1 heaping tsp of sea salt flakes

For the salad:

1 heaping cup or more chopped, clean and dry Lacinato kale

1 heaping cup or more chopped, clean and dry Romaine lettuce

1/4 small to medium red onion, finely sliced (julienne)

1/2 avocado, cubed

Vinegar mix: 1 tsp champagne or prosecco vinegar, 1 tsp apple cider vinegar, 1/4 tsp balsamic vinegar

about 1 tbsp extra virgin olive oil

1 1/2 tsp sesame salt

few shavings of Parmigiano Reggiano
Instructions
1
Make the sesame salt as per the instructions in the post above and use it for this recipe and next meals (toast the sesame seeds and mix in a mortar and pestle with the salt).
2
Make the vinegar mix and add the sliced onions. Mix and let it sit until the salad is ready.
3
Add the kale to a mixing bowl, add 1 tsp of sesame salt, half of the extra virgin olive oil and massage gently with your hands to break down some of the fiber in the kale. Add the romaine lettuce, half cubed avocado and the onions and vinegar and gently mix everything with your hands. Add the salad to a serving plate, sprinkle some more sesame salt on top, and drizzle the rest of the olive oil. Serve immediately.
Notes
You can add some boiled eggs or chicken to this salad. And don't forget to chew, especially the kale, digestion starts in the mouth and some of the benefits of kale start with breaking the leaves while chewing.