Can you eat healthy and feel like you had a treat? My answer to this question will always be Yes. Take these oven-baked sweet potato wedges. They are nutritious, easy to make, inexpensive and lectin-free.
They look beautiful and in this combination, they taste as if you had the best potato side dish in the best restaurant. Don't skip the horseradish aioli dipping sauce though, it completes this meal perfectly.
A delicious and healthy plant paradox treat
Someone on Instagram (a chef and meal planner who is familiar with all the current diets) was mentioning the other day about The Plant Paradox that it is the strictest and healthiest of all diets. While I understand this might feel restrictive when you look at the NO list, I actually get overwhelmed with the possibilities when I look at the YES list. So yeah, depends on how you look at things, right?
Yesterday, while thinking about what can we make for dinner that will be equally satisfying for myself and my husband (who is not strictly following any diet) I remembered I had some meatballs frozen and I needed a side dish.
This is the recipe for the Almost Italian Meatballs. They are super tasty and so easy to make in advance and freeze for later use.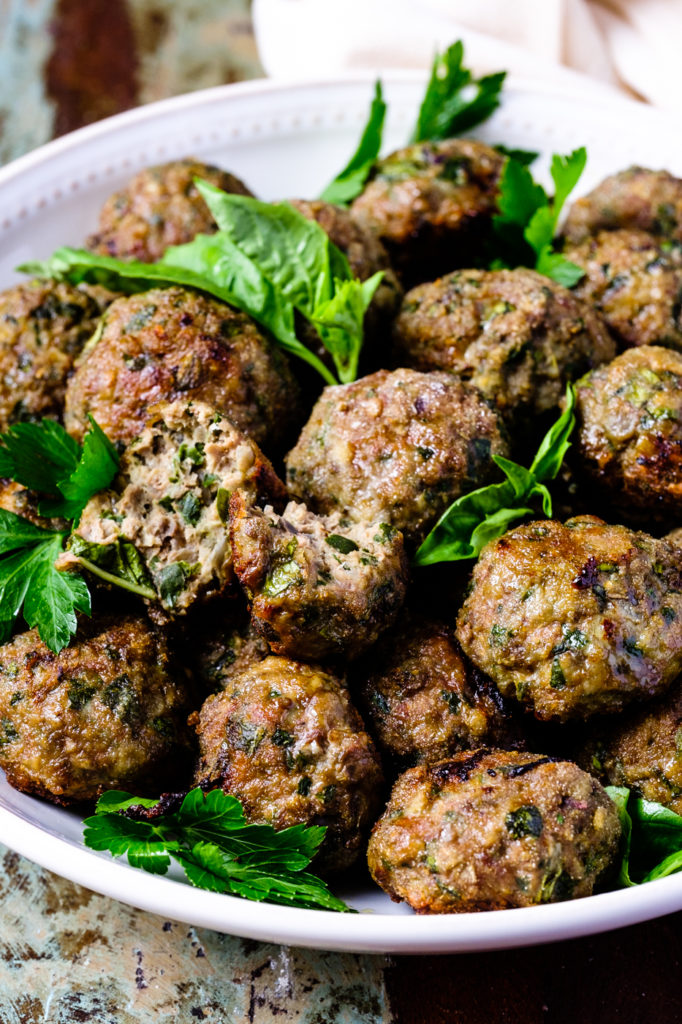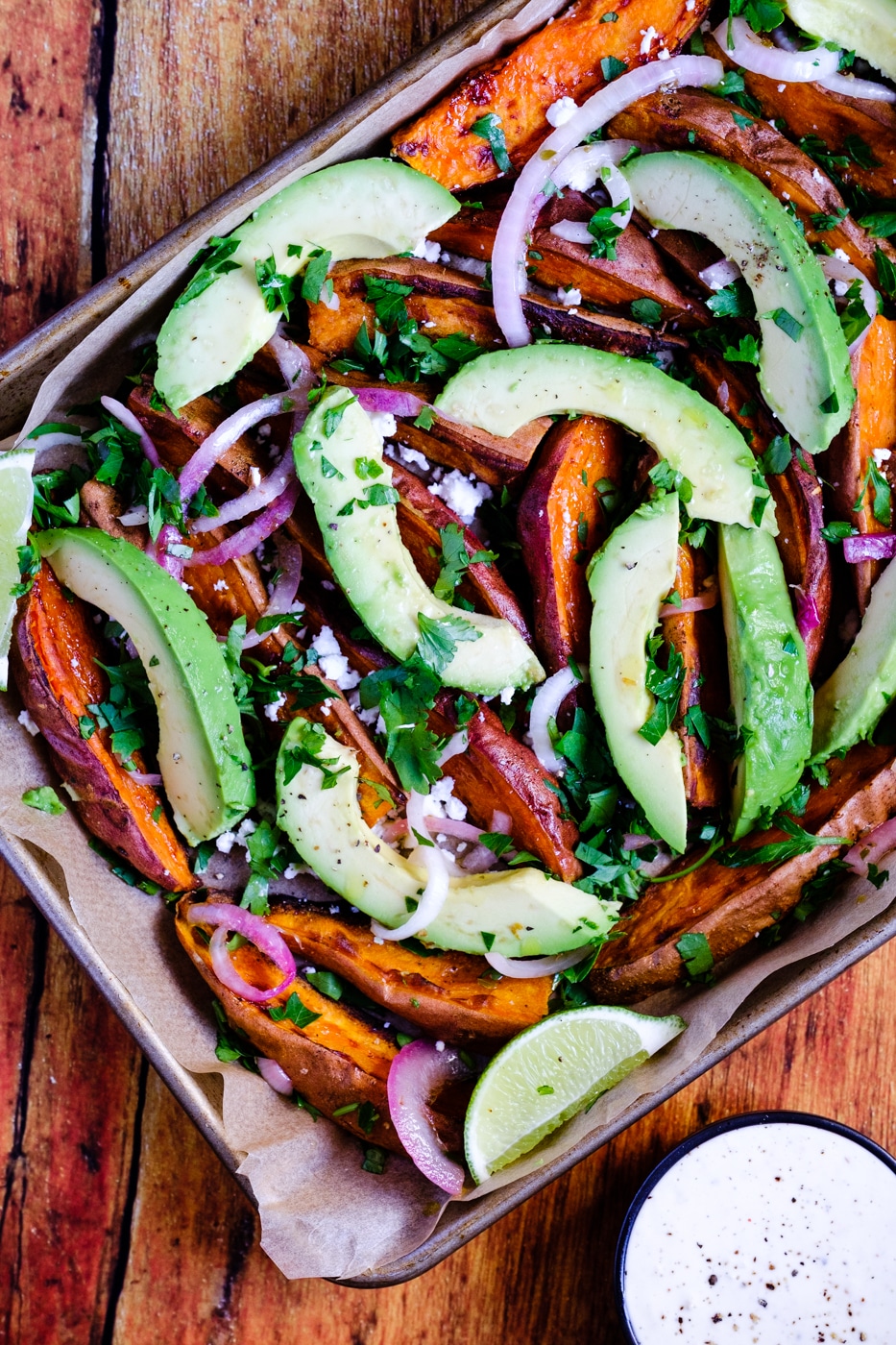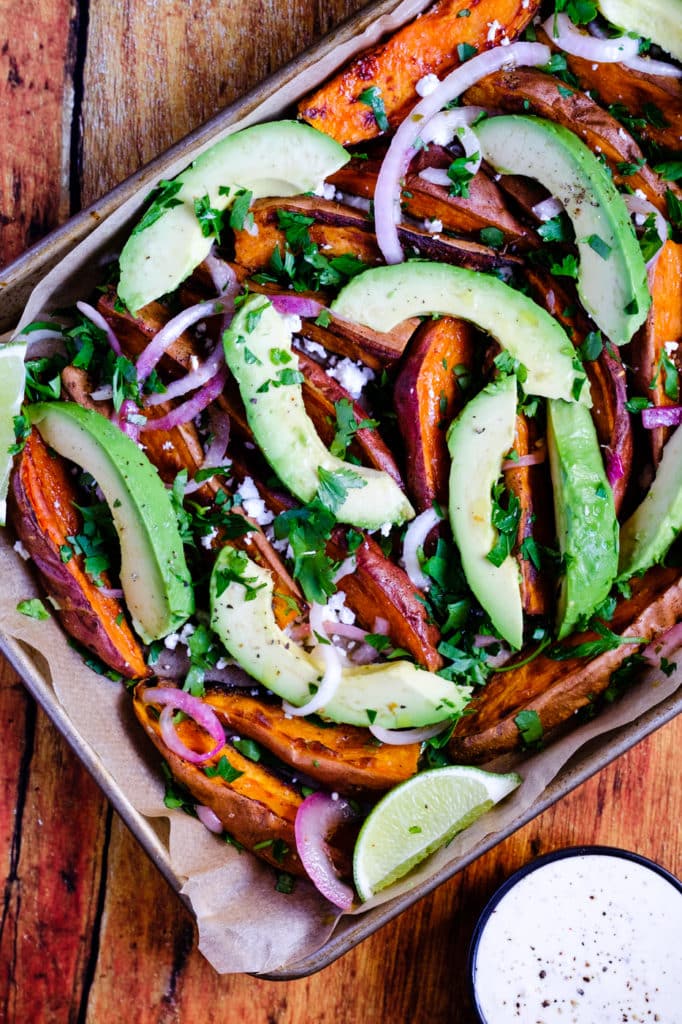 Oven-baked sweet potato wedges with some healthy additions sounded like a good plan.
Other ingredients I used were avocado oil, paprika, garlic powder and sea salt, avocado, cilantro and parsley, feta cheese (the real Greek one), and the marinated red onions I make quite often, following a recipe by famous @NoCrumbsLeft (check her website or Instagram for her exact recipe, but I use a good quality extra virgin olive oil, red wine vinegar and oregano).
One note about sweet potatoes. Since you will eat the skin, I recommend buying the organic version and scrub them well with a vegetable brush.
Horseradish aioli dipping sauce for the oven-baked sweet potato wedges
As per the horseradish aioli dipping sauce, I absolutely love the combination between avocado mayo, horseradish and garlic. It compliments the sweet potatoes perfectly. My husband said he loved the meal because of the sauce.
For an alternative dipping sauce try my Dairy-Free Ranch Dressing (Lectin-Free).
*This post contains affiliated links, which means I get a small commission if you choose to purchase something via one of my links, at no extra cost to you.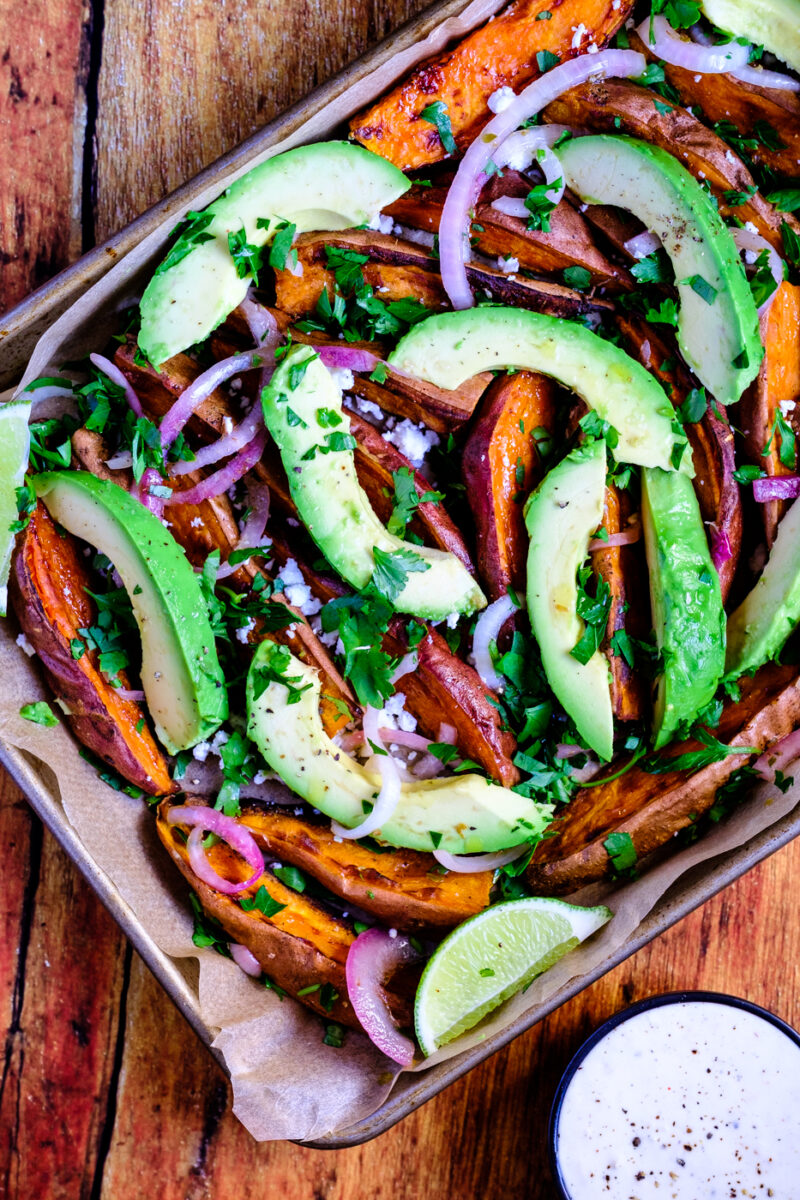 Print Recipe
Oven-baked Sweet Potato Wedges with Horseradish Aioli
Ingredients
FOR THE POTATOES:

2 medium sweet potatoes (Garnet are perfect), throughly washed and brushed, non-peeled, dried

1 hard avocado (ripe but not soft)

one handful of fresh cilantro + parsley, chopped

1 tbsp Greek feta crumbles (made of sheep and goat's milk)

2 tsp Hungarian paprika

1/4 tsp garlic powder

1 tsp sea salt

avocado oil

handful of red onion (pickled or marinated)

1 lime, cut in wedges

FOR THE SAUCE:

3 tbsp avocado mayonnaise (homemade or Primal Kitchen)

2 tbsp goat yogurt

1 tbsp prepared horseradish (sugar-free)

2 medium garlic clove, finely grated (or if you want it more garlicky you can add more)

pepper
Instructions
1
Preheat oven to 400F. Line a big baking sheet with parchment paper.
2
Once the potatoes are washed and dried, cut them in half, lengthwise, then cut each half in half, lengthwise, then repeat one more time. This should give you the perfect size wedges. If your potato is long (which most of the sweet potatoes are), cut the wedges in half.
3
Arrange the potato wedges on the baking sheet, drizzle with avocado oil, add salt, paprika and garlic powder, toss with your hands so it's all covered and put in the oven for 40 minutes (you will turn each wedge on the second side at half time).
4
While the potatoes are cooking, prepare the sauce by just mixing all the ingredients. Keep in the fridge until serving time.
5
Once the potatoes are done, transfer to a serving plate, add avocado wedges on top (which you will cut at the last moment), the feta crumbles, the cilantro and parsley, the red onions. Serve with the sauce as a main dish or add some protein.
Notes
We had these with cooked meatballs I had frozen previously, so just added the meatballs to the wedges sheet 10 minutes before the potatoes were done. The pan you see in my picture is the serving one, so when you cook the potatoes you need something bigger so you can cook them with some space in between to get that nice caramelization.