When I'm out of ideas of what to cook, I ask my husband, and he usually has some random, but inspired requests. This time he said chicken drumsticks and cold potato salad. I had everything I needed so I was happy to comply. This was a great lectin-free roasted za'atar chicken platter, healthy, and easy to make.
A $10 healthy, home-cooked, zaatar chicken recipe for two
We get pasture-raised chicken from Burgundy's Local in Dallas, and sometimes from the Farmer's Market. I have a post about chicken and some other ideas on how to cook it and where to buy it from, no matter where you are in the US (not as specific but some ideas for other countries too). You can read it here.
I've never been one to pay attention to prices. I remember when I was going to the farmers' market as a teenager, my mom will always be upset that I paid too much for something, haha. It's not that I am or I was rich, but my side of the brain dealing with numbers is not as developed, I guess.
But lately, I started to pay attention to how much it costs to cook healthy at home, mainly thanks to my health coaching training. And I realize more and more that for some people cost of some healthy items (real or perceived), is a real challenge. So you will hear (or read) me more talking about how much different things cost to make at home.
My conclusion so far, which I knew intuitively, is that eating healthy at home is not more expensive than eating at a fast-food restaurant. This dinner, which was amazingly delicious, which any family member would love, made with the most expensive and quality chicken you can get, was $10 for the two of us. And my husband ate 3 drumsticks, I ate one. Vegetables in general, even the organic and bought from Whole Foods, are not expensive, is the animal protein that brings the cost up. My costs are even more down because I only have two meals a day and usually one of them is plant-based.
How to make za'atar spices
Anyway, back to this roasted za'atar chicken recipe. The inspiration to prepare the drumsticks came from the latest issue of Bon Appetit magazine.
I am a fan of zaatar spices and slow cooking and it was perfect for these drumsticks. You have all the details in the recipe below, but regarding zaatar spices, you can buy them already mixed – but be careful they don't contain fillers – or you can make it at home. For the zaatar spices you would need:
sesame seeds
dry thyme
dry rosemary
dry oregano
salt
sumac
cumin
I skipped the cumin this time, you can add it or not or you can personalize this mix to suit your taste. The onions, garlic and lemon will infuse the chicken with more flavors. When I make chicken in the oven I use a stainless steel sheet pan, so you may have to adjust timings depending on what kind of dish you use.
Later update on zaatar spice blend recipe
Since writing this post I have created a new homemade za'atar seasoning recipe and you can find all details here. It is excellent as a dry rub for chicken.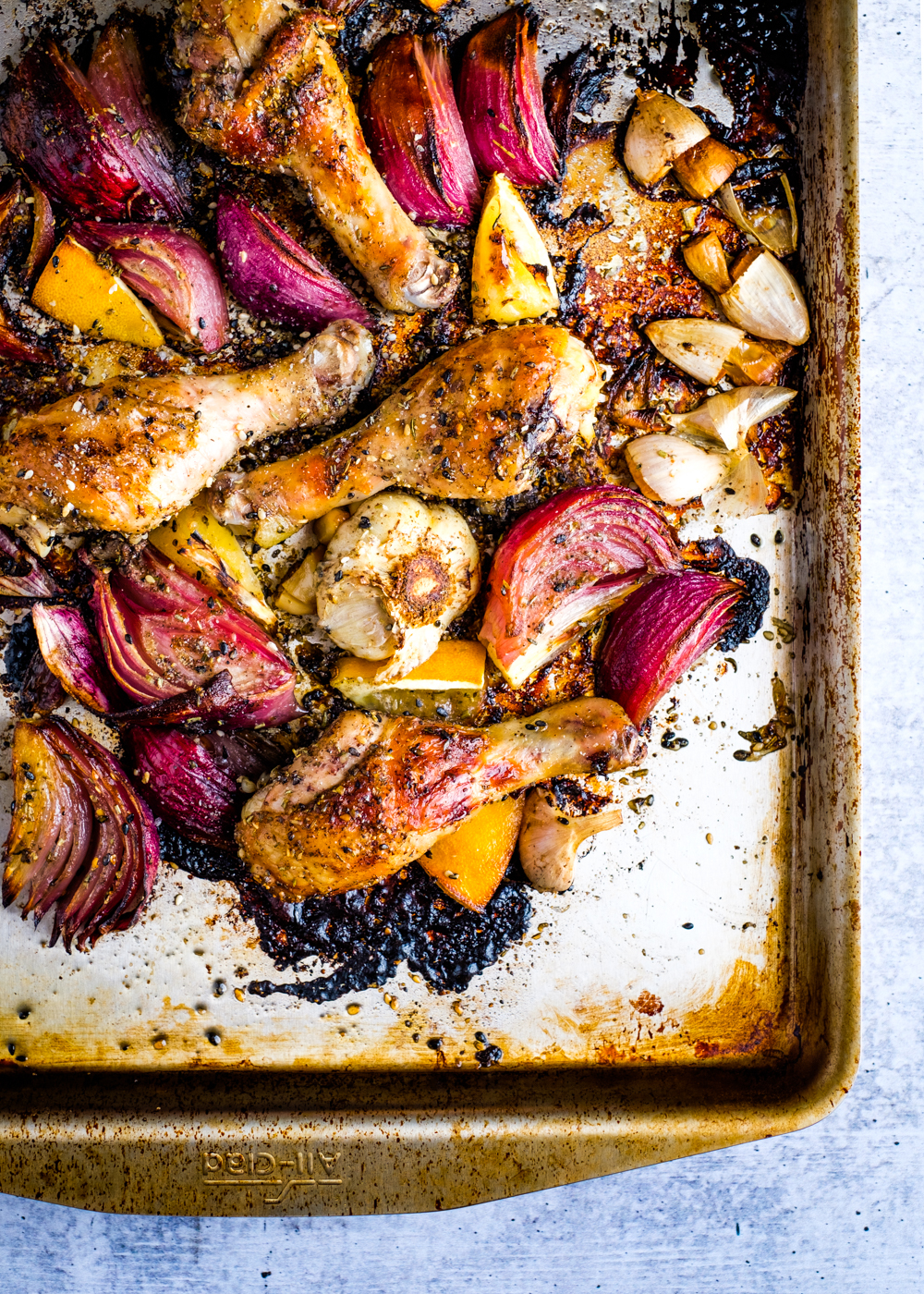 The leftover sesame salt I made earlier – you can find the instructions here – came in handy and perfectly matched with the zaatar theme of this dinner. I sprinkled it on everything.
Preparing the za'atar chicken platter
The chicken will take an hour to cook, but it's passive time, you can use the time when the chicken cooks to prepare the rest of the dinner.
You can boil the potato in advance – you basically need a cold, boiled sweet potato, I prefer the Stokes Purple variety, the one with purple skin and purple flesh. It has a more earthy flavor, less sweet than a garner or jewel. Japanese, the one with purple skin and white-ish flesh is my next favorite for cold potato salad, but sweeter. The vinegar, salt, onions and olives will balance that out.
To add more nutrition to this lectin-free za'atar chicken platter I used half of a savoy cabbage to make a cabbage salad/slaw and fresh, crispy leaves of Romaine lettuce. You can personalize it the way you feel.
*This page contains affiliated links, which means I get a small commission if you choose to purchase something via one of my links, at no extra cost to you.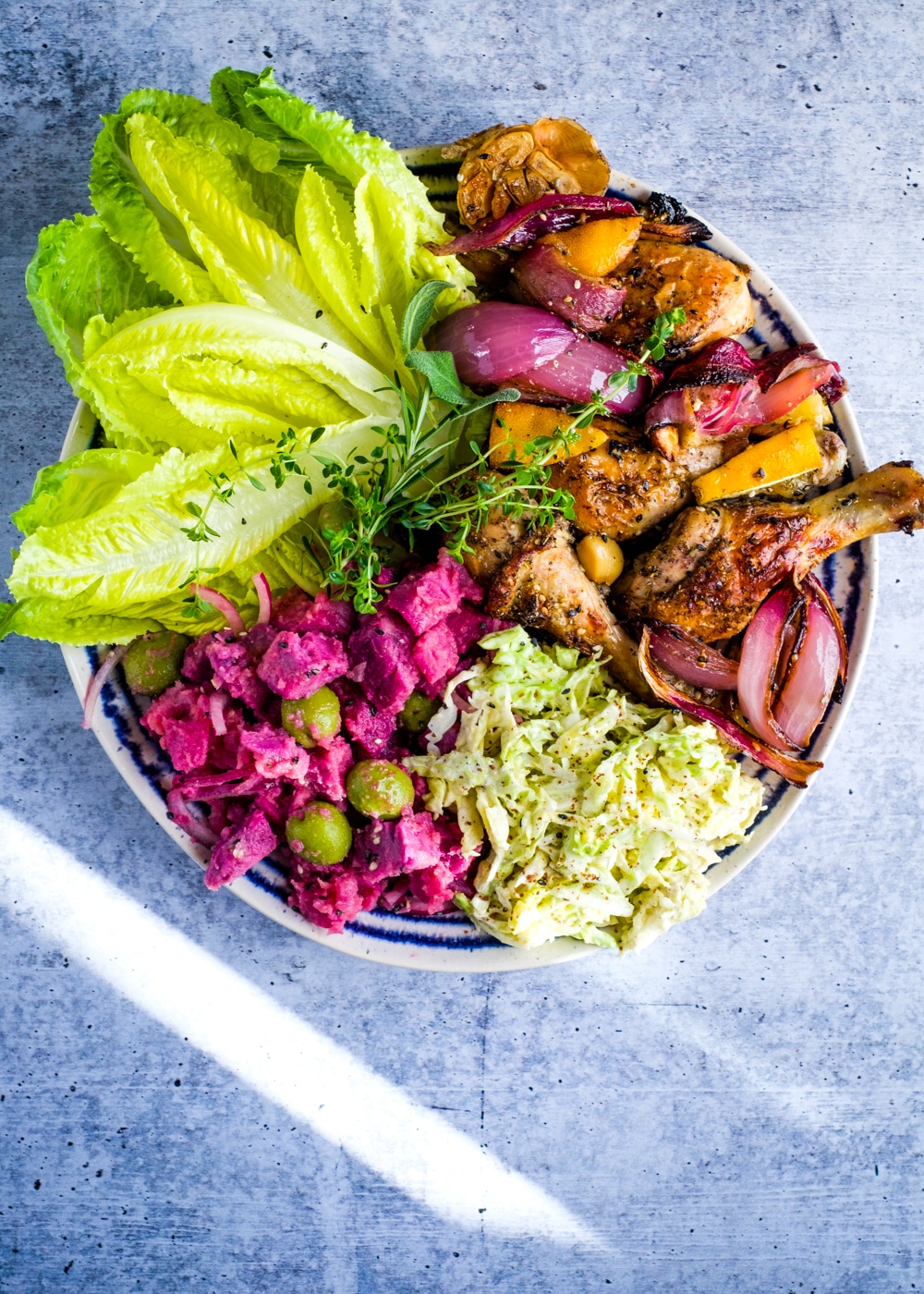 Print Recipe
Roasted Za'atar Chicken Platter with Sweet Potato Salad
A $10 healthy, home-cooked, lectin-free dinner for two
Ingredients
For the chicken:

4 chicken drumsticks (pasture-raised)

2 small red onions, cut into wedges

1 garlic head, sectioned in half

1/2 lemon, pits removed, cut in 4 pieces

Za'atar spice mix: 2 tsp sesame seeds, 1/2 tsp dry rosemary, 1/2 tsp dry oregano, 1/2 tsp dry thyme, 1/2 tsp sumac

about 1 tsp good quality sea salt

extra virgin olive oil

For the sweet potato salad:

1 medium purple sweet potato, boiled whole, cooled, peeled and diced

1/2 small onion, sliced julienne

extra virgin olive oil

1 tsp apple cider vinegar (or more, to taste)

salt, or use sesame salt (see post)

a handful of green olives

For the cabbage salad:

1/2 small savoy cabbage (or you can use green cabbage)

salt and pepper to taste

sumac, few sprinkles, optional

vinegar (champagne or red wine vinegar)

extra virgin olive oil

1 tbs avocado mayo (optional)

For serving:

Romaine leaves
Instructions
1
Boil the sweet potato in advance; wash it well, and boil it whole, with the skin on, until fork tender. Let it cool. You can make this even one day in advance. Make the potato salad after you put the chicken in the oven (it's nice when it sits about 30 minutes in the refrigerator). Mix the peeled, cubed potato with the rest of the ingredients, and refrigerate until ready to serve.
2
Preheat the oven to 325F.
3
In a sheet pan add all the chicken ingredients, add the zaatar spice mix and salt, the oil and rub it all together. Make sure the garlic is cut face down in the pan. Put the chicken in the oven and cook for 45 minutes. After 45 minutes turn the oven to 425F and cook for 10-15 more minutes until the chicken becomes golden brown.
4
While the chicken is in the oven make the cabbage salad. Slice the cabbage, massage with a little bit of salt, add to a bowl and add the rest of the ingredients. Refrigerate until ready to serve.
5
Wash and dry Romaine leaves or other salad leaves you may have.
6
When the chicken is ready arrange everything on a platter and serve.