While living in Dubai for almost eight years, I spent many of my lunch breaks in Dubai Mall, in a nice cafe called Angelina. My favorite dish to order was this tower of goodness, similar to the Salmon Avocado Tartare, although I don't remember the exact name.
Since then, I've been thinking about making it many times, but I didn't have the tool to build the tower. I don't know what chefs use to make it. But a few days ago, I bought a deep round cookie cutter that works perfectly for the purpose.
Salmon avocado tartare is a tower of lectin-free goodness
Avocado and wild-caught Sockeye salmon 'chilled' in lime juice and spices. These are the two main ingredients of the Salmon Avocado Tartare, but they are a powerhouse of taste and nutrition.
Although, if you know yourself as sensitive to high histamine foods, go easy on this meal. Or try to have it earlier in the day, not close to bedtime. Make sure the salmon is super fresh, or if you buy it frozen, make sure it is flash frozen. And if you want to enjoy without worry even though you are sensitive to high histamine foods, you can take some Histamine Block before the meal.
The salmon is 'cooked' in the fridge in lime juice, onion, cilantro, extra virgin olive oil, mustard, and dry oregano. You can call it a ceviche. So this is pretty much all you have to prepare for this dish before you cut the avocado and arrange it on a serving plate.
This avocado tartare can be part of your 3 day cleanse
Do you know what the best thing about this dish is? It is phase 1 plant paradox compliant, so it can be part of your 3-day plant paradox cleanse. Isn't that fun?
If you enjoy this salmon avocado tartare, you may also like: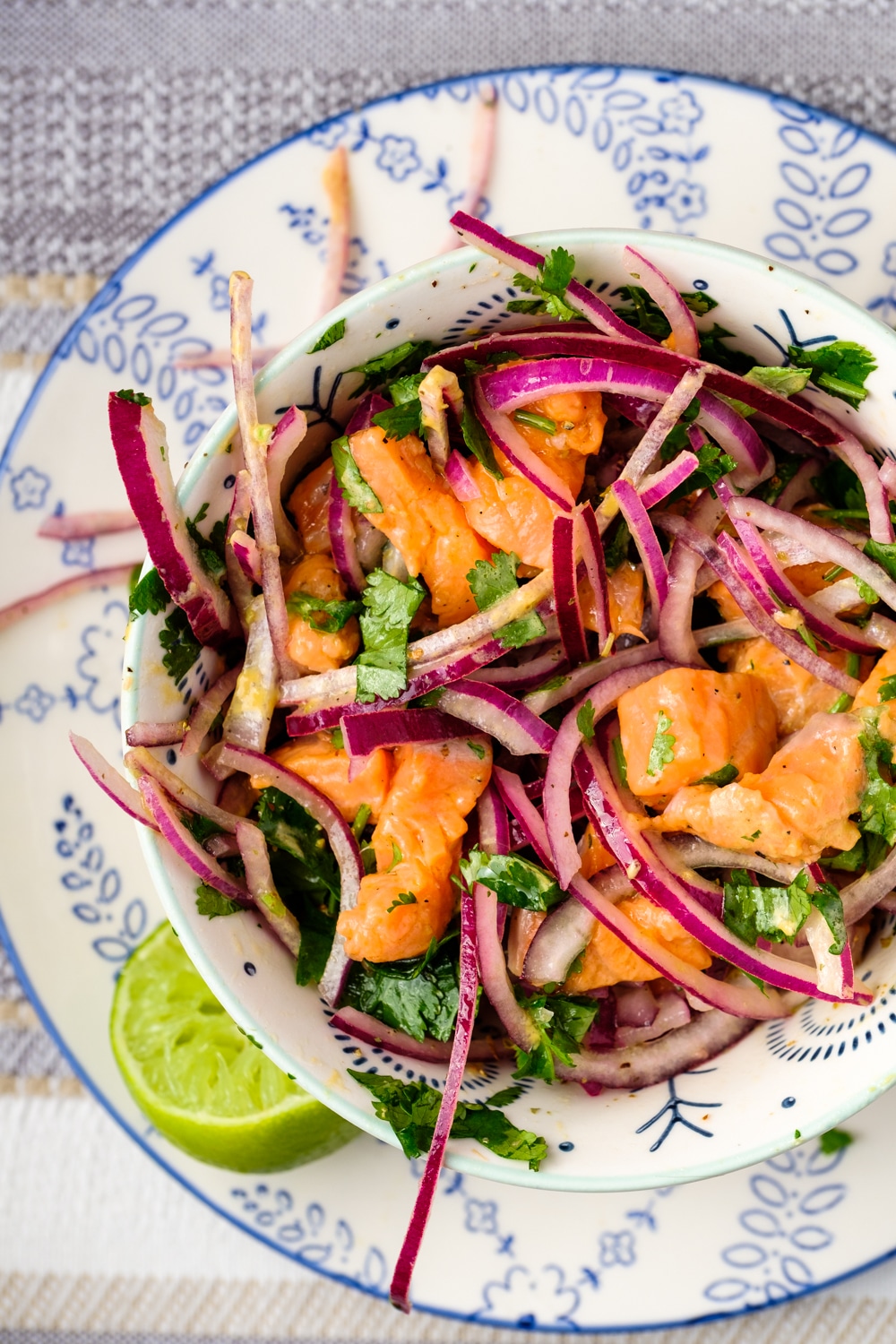 *This post contains affiliated links, which means I get a small commission if you choose to purchase something via one of my links, at no extra cost to you.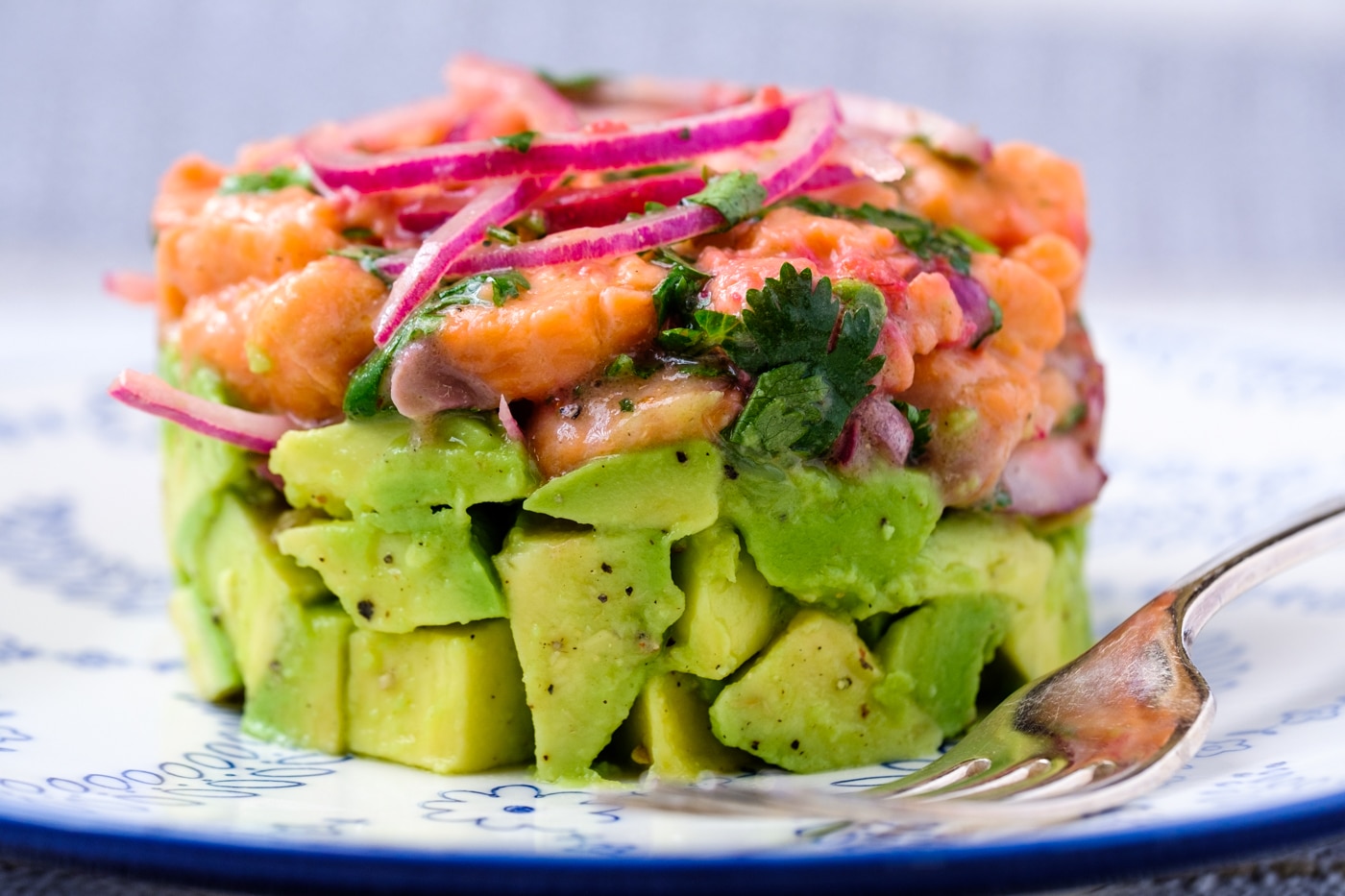 Print Recipe
Salmon Avocado Tartare, the Perfect Appetizer
Beautiful and nutritious meal, phase 1 plant paradox compliant, perfect if you want to make your 3 day cleanse more fun.
Ingredients
1/2 lbs wild-caught salmon

a few fine slices of red onion

juice of 2, 3 limes

a handful of chopped fresh cilantro

1 tablespoon extra virgin olive oil

1 teaspoon Dijon mustard

dry oregano

salt and pepper

1 teaspoon capers (optional)

2 avocados
Instructions
1
Cut the salmon into bite-size cubes.
2
Mix all the ingredients with the salmon (except for the avocados), mix well, make sure everything is coated with all the juices and spices, cover and put in the fridge for about one hour.
3
When the salmon is ready, cut the avocado into bite-size pieces, drizzle some extra virgin olive oil, lemon juice, salt and pepper.
4
Put the round cookie cutter with the tall walls in the center of the plate and start filling in with one of the avocados, trying to layer and gently press down. When you are done with the avocado, add half of the salmon mixture, pressing and leveling down. When you feel everything is pressed together, slowly pull the cookie cutter (or whatever tool you use) out.
5
Repeat with the second tower.
Notes
Makes 2 portions. This can be eaten as a main dish or shared as an appetizer. It is also a great entertaining appetizer because it is easy to make, can be prepared in advance and will definitely wow your guests.