Are you on a nightshades-free diet, and you miss mashed potatoes? Well, I believe that this lectin-free purple sweet potato puree recipe tastes much better than your regular potato puree (or mashed potatoes). And it looks better.
A lectin-free, delicious alternative to mashed potatoes
This post will be short because, really, there is not much to say; this is a super easy recipe. The most challenging part might be to actually find the purple sweet potatoes, called Stokes Purple and produced by a company named Frida's Produce here in the US. I'm not sure if they are easy to find on/in other continents/countries, but please leave a comment below if you do find them. According to the producer's website:
Stokes Purple® sweet potato is a unique variety with purple skin and rich purple flesh that intensifies when cooked. Aside from its unique bold color, Stokes Purple® contains a high level of antioxidants, making it unusually healthy and nutritious. These sweet potatoes are also an excellent source of vitamin C and fiber.
To not be confused with the famous Okinawan Sweet Potato, which has a similar flesh color and texture but a white-ish skin. Taste-wise, Stokes Purple has a rich and earthy taste, and the texture is a little dry and sense. To me, they taste like chestnuts. They absorbed an enormous quantity of extra virgin olive oil and/or butter, making them a pretty good vehicle for getting some good fats in.
For the puree, I prefer to boil them whole, with skin on, so they don't lose some of their signature rich purple color. The boiling time will differ depending on their size, but it will be around 30 minutes. They behave like regular potatoes, the skin will break if you over-boil them, and you will want to avoid that.
Pair purple sweet potato puree with a pesto
I love to pair this purple sweet potato puree with spinach pesto, not only for the vibrant color combination, but they make for a nutritional powerhouse.
For more puree recipes, be sure to try our: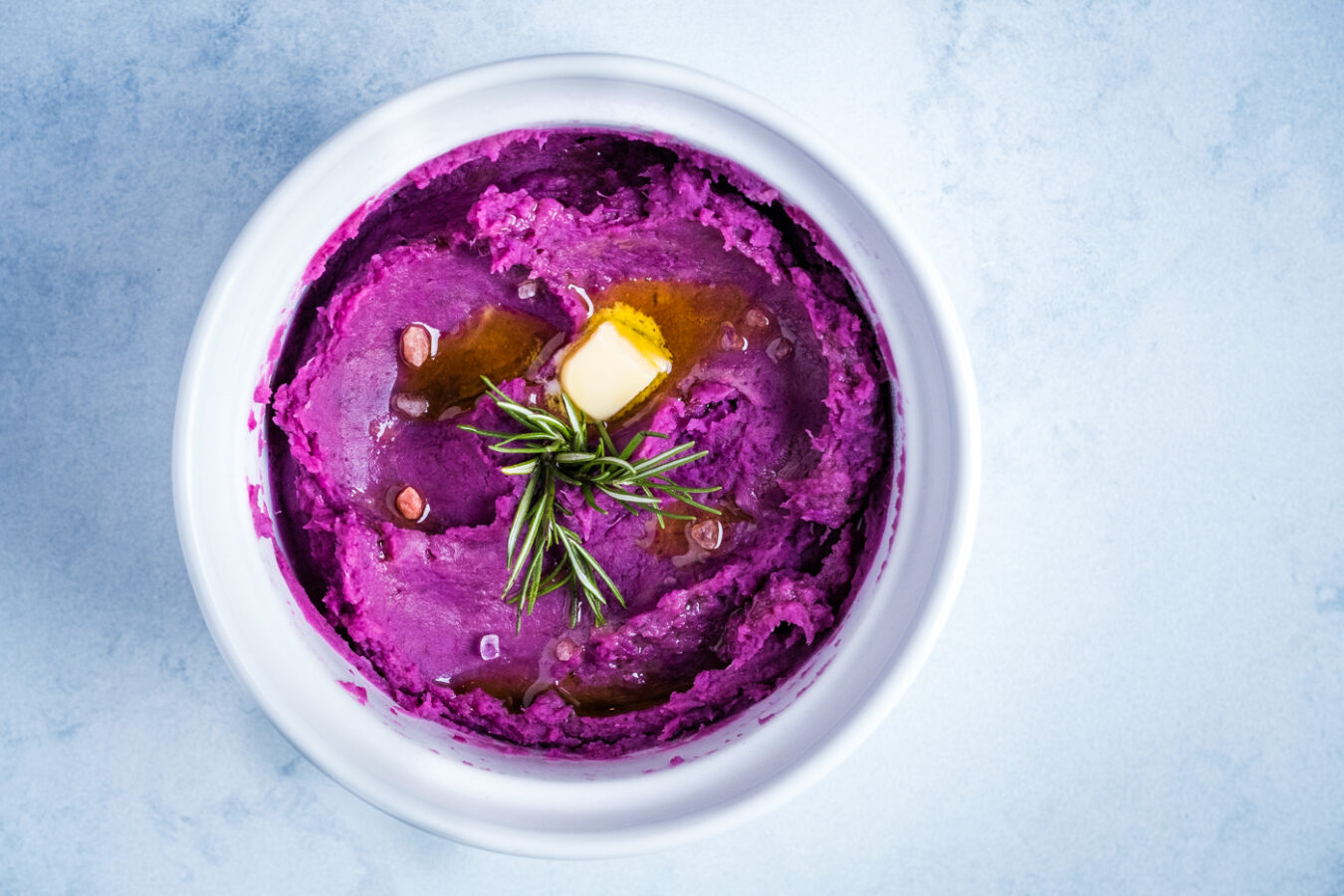 Print Recipe
Purple Sweet Potato Puree
A lectin-free, easy and delicious alternative to mashed potato.
Ingredients
2 medium purple sweet potatoes (Stokes Purple)

1-2 tbsp French or Italian butter

a good quality salt (I use Himalayan pink salt), pepper

few small stems fresh rosemary

1 tbsp extra virgin olive oil

Optional: a drizzle of lime
Instructions
1
Boil the potatoes until fork-tender. Drain water, let slightly cool and peel the skin. Mash the potatoes in a bowl, add the butter, salt and pepper, mix and taste. Adjust if necessary. Add to a serving bowl, add extra virgin oil on top and decorate with few rosemary leaves, salt flakes, a cube of butter and a drizzle of lime if you wish.