This simple yet delicious meal recipe was shared in my first newsletter, sent out last Friday. Since is almost time for the next newsletter, I share it here for easy reference. This thyme roasted mushrooms with millet polenta meal were inspired by the October issue of Bon Appétit magazine. They always have great ideas for seasonal meals and I love making some of them Plant Paradox compliant.
Thyme roasted mushrooms with millet polenta, a lectin-free dinner that feels like home
I love mushrooms and polenta but for obvious 'lectin-free reasons' corn flour polenta is not an option in our home. Fun fact: I grew up eating polenta, which is a traditional daily dish in Romania, served as an accompaniment for the everyday Romanian stew. Mushrooms and thyme are also staples in Romanian cuisine, so this meal felt pretty familiar. I enjoyed roasting the mushrooms, make sure you get the edges crispy by broiling them at the end, it makes for an amazing umami flavor.
Millet can be tricky. It has to be good quality but I'm not sure yet what makes a good quality millet. At first, when I tried millet I would always have grains in the batch that would stay crunchy. I even heard someone saying that the whole batch of millet didn't soften after 20 minutes of boiling in x4 times the liquid. My last experience was perfect. I bought it from the bulk section at Whole Foods and it worked nicely for this dish.
As per millet flour, sometimes used to make polenta, I tried it and it was a failure. I don't like the texture, and it tastes bitter, so I totally recommend using the grains.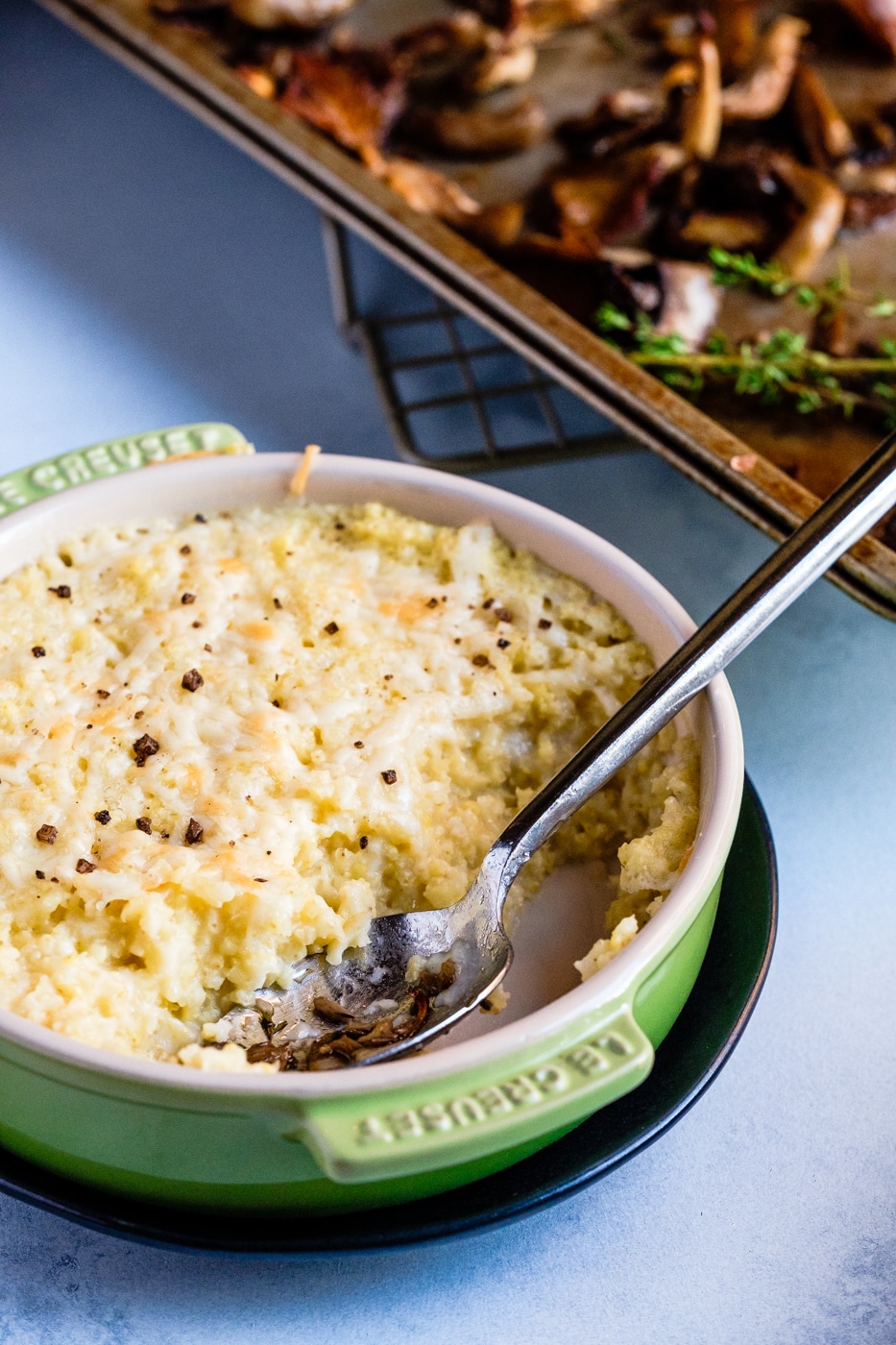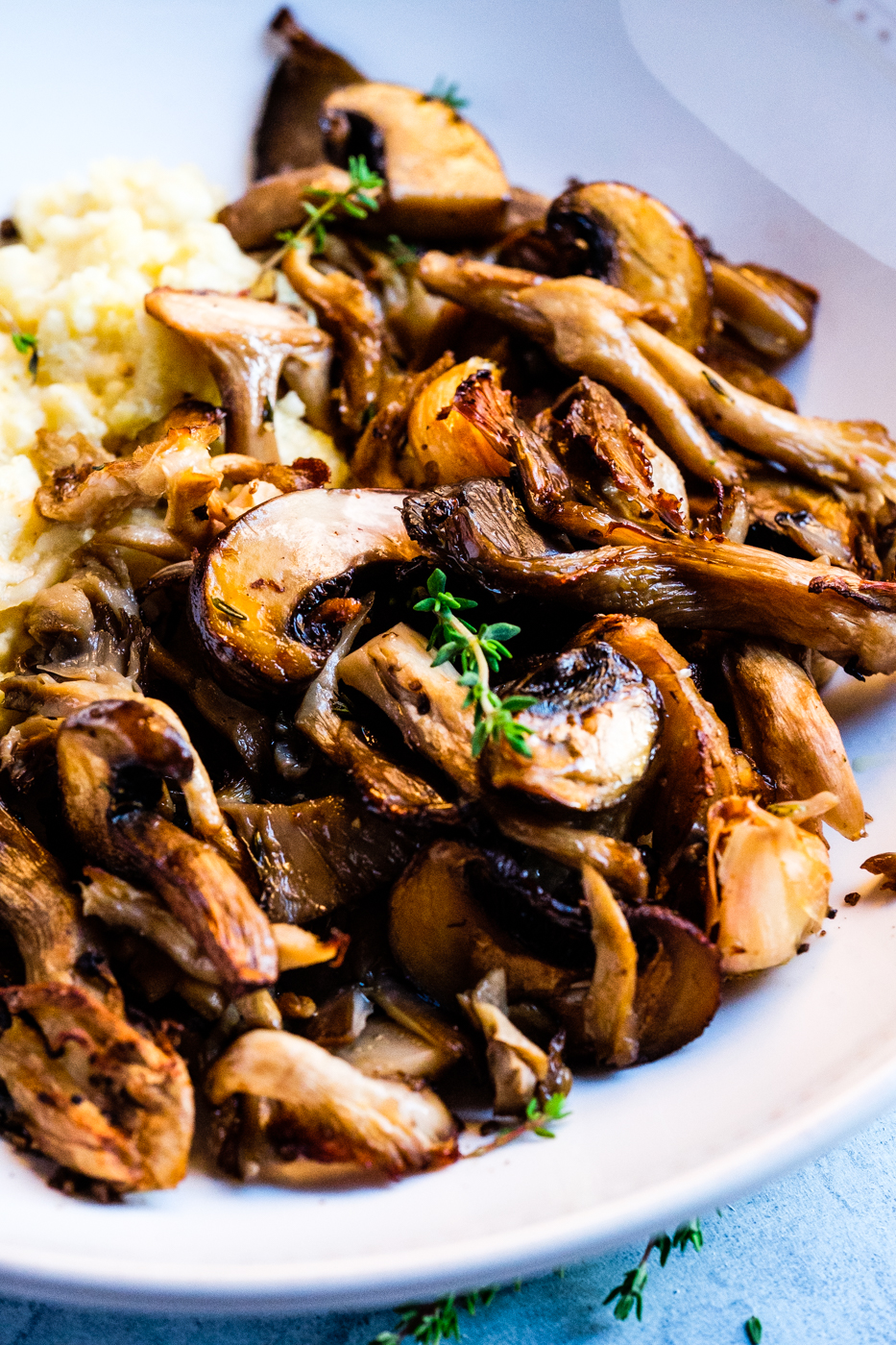 For more millet recipes
For more delicious ways to use millet, check out these recipes:
Enjoy the thyme roasted mushrooms with millet polenta, possibly with a glass of red.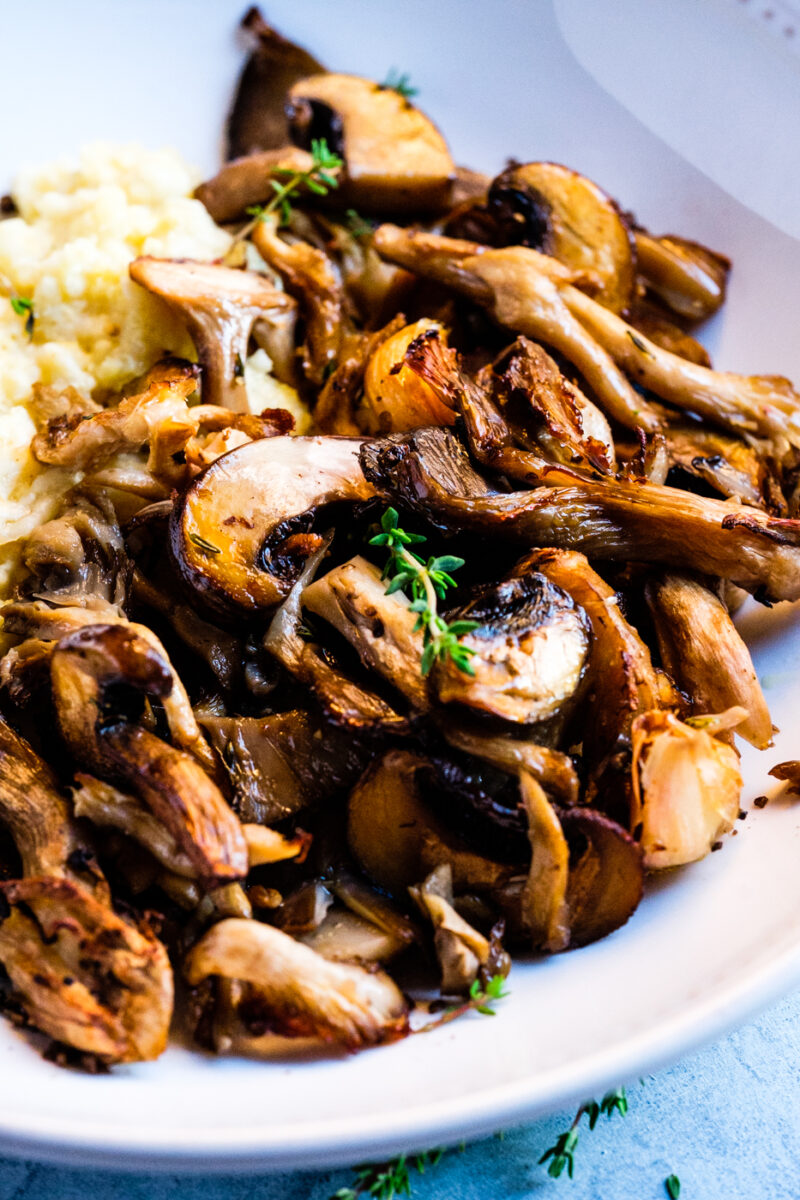 Print Recipe
Thyme Roasted Mushrooms with Millet Polenta
An easy and warming lectin-free dinner idea.
Ingredients
FOR THE ROASTED MUSHROOMS

1.5 lbs mixed mushrooms (I used oyster and mini portobello, but you can use a more diverse mix)

few springs of fresh thyme plus more for serving

6 garlic cloves, unpeeled and slightly smashed

Himalayan pink salt

pepper

extra virgin olive oil

FOR THE MILLET POLENTA

1/2 cup millet (grains, not flour)

2 cups water

1/2 tsp iodized sea salt

1 or 2 tsp French butter

a small handful of grated Pecorino Romano
Instructions
1
TO MAKE THE ROASTED MUSHROOMS: Wash and pat dry the mushrooms and cut them into medium chunks. Add them to a large baking sheet, add salt, pepper, thyme, garlic and extra virgin olive oil, toss and mix. Bake, on the upper rack, at 350F for about 25 minutes, and broil for another 5-7 minutes at 400F. While the mushrooms are in the oven, you will make the polenta.
2
TO MAKE THE MILLET POLENTA: Heat a stainless steel saucepan (about 3QT) on medium heat and add the dry millet. Slightly roast the millet in the dry pan until it becomes fragrant (make sure you stir continuously so it doesn't burn). When you start to smell the millet being roasted add the water (being careful with the hot pan, a lot of steam will be released). If you see impurities coming to the surface, check the water level, throw that water away and replace it with a new one. The reason I don't wash it first is that I like to roast the grains first when they are dry. And I don't always throw the water but if I see too many Impurities in the water I do it. Add the salt and cook on low to medium heat until all the water is absorbed, it will take about 20-25 minutes (stir regularly). Transfer to an oven-resistant dish, add the butter and half of the cheese and mix. Add the rest of the cheese on top and broil at 425F for about 5 minutes.