I love a galette because is forgiving and easy to make, even when no gluten and sugar are used. This sugar-free and gluten-free apple galette is made with a mix of cassava, chestnut, and almond flour and it has no sugar.
The natural sweetness comes from the apples, the chestnut flour, and the spices. During the apple season, all I want to make is this apple galette.
Best apples for baking
I love the apple season. Eating fruits is a seasonal affair, even if in our days, most fruits are available all year round. But eating fruits only during their season is exciting and the healthiest way to consume fruits.
For this apple galette, you will need about 4-5 apples, depending on their size. In general, we want apples that hold their shape well when baked. Fuji, Gala, Honeycrisp, Braeburn, and Jonagold are all great for baking. I do prefer red apples because of the pop of color they add to apple desserts, but any crisp apple can be used, regardless of the color.
And because we are using the skin, please use organic apples.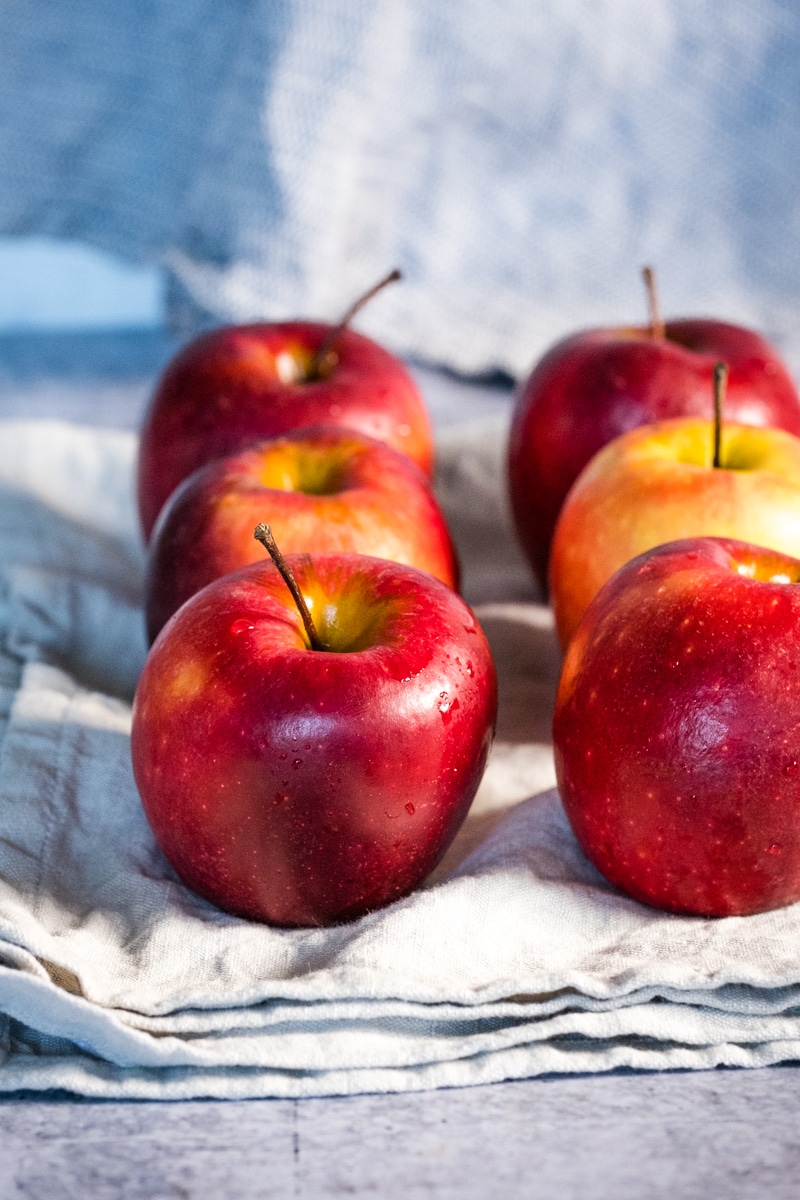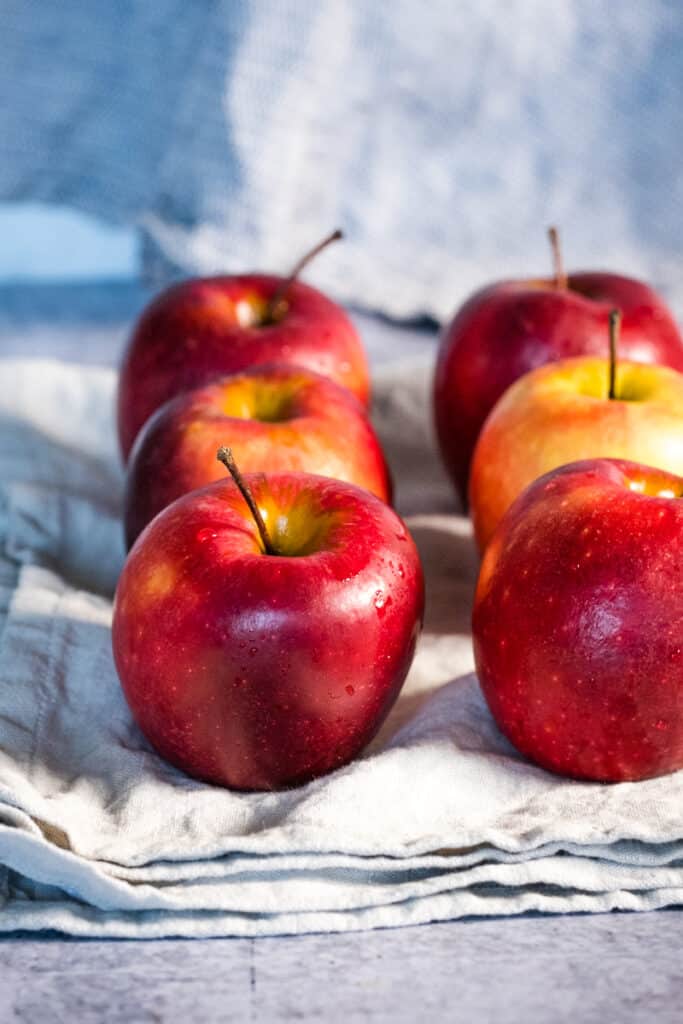 Made with chestnut and almond flour
The original version was made with cassava and coconut flour, but I replaced the coconut flour with a mix of chestnut and almond flour because I feel they work even better; reducing a little bit the dry ingredients.
I find the dough much easier to work it which is important in this case. But chestnut and almond flours also make the crust a little sweeter and more flavourful, without the overpowering taste of coconut.
And I added one extra tablespoon of arrowroot or tapioca flours which helps with the texture. For recommendations on where to find all the lectin-free flours (if you live in the US), visit my SHOP page.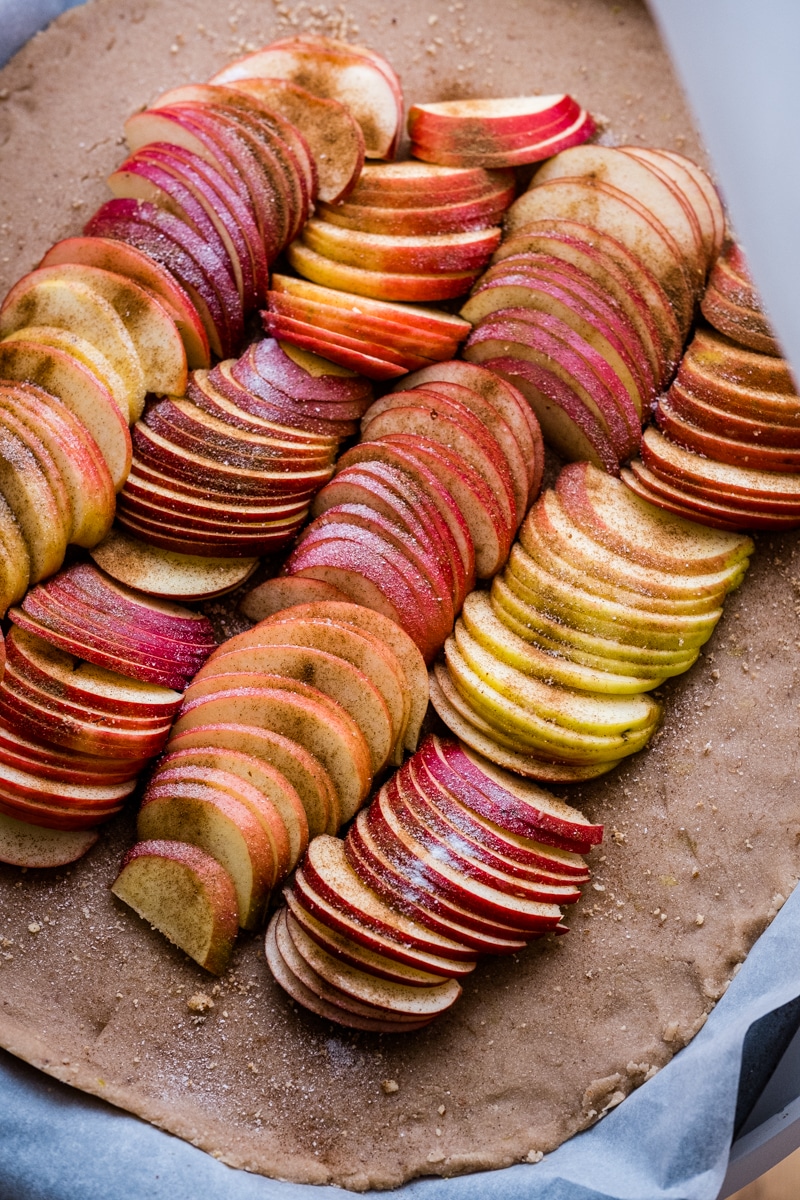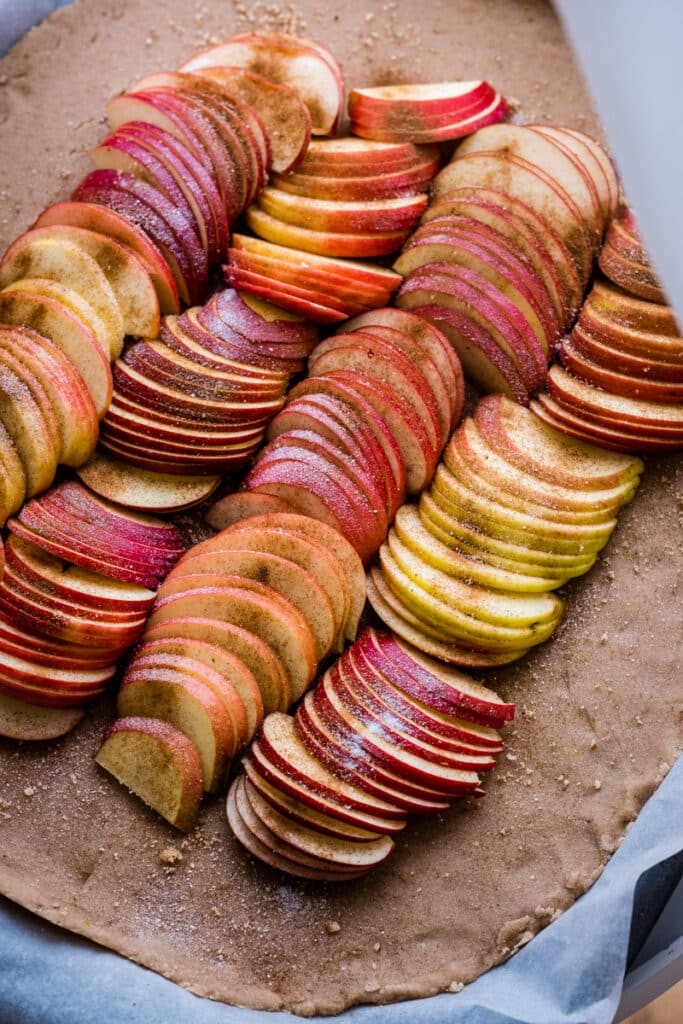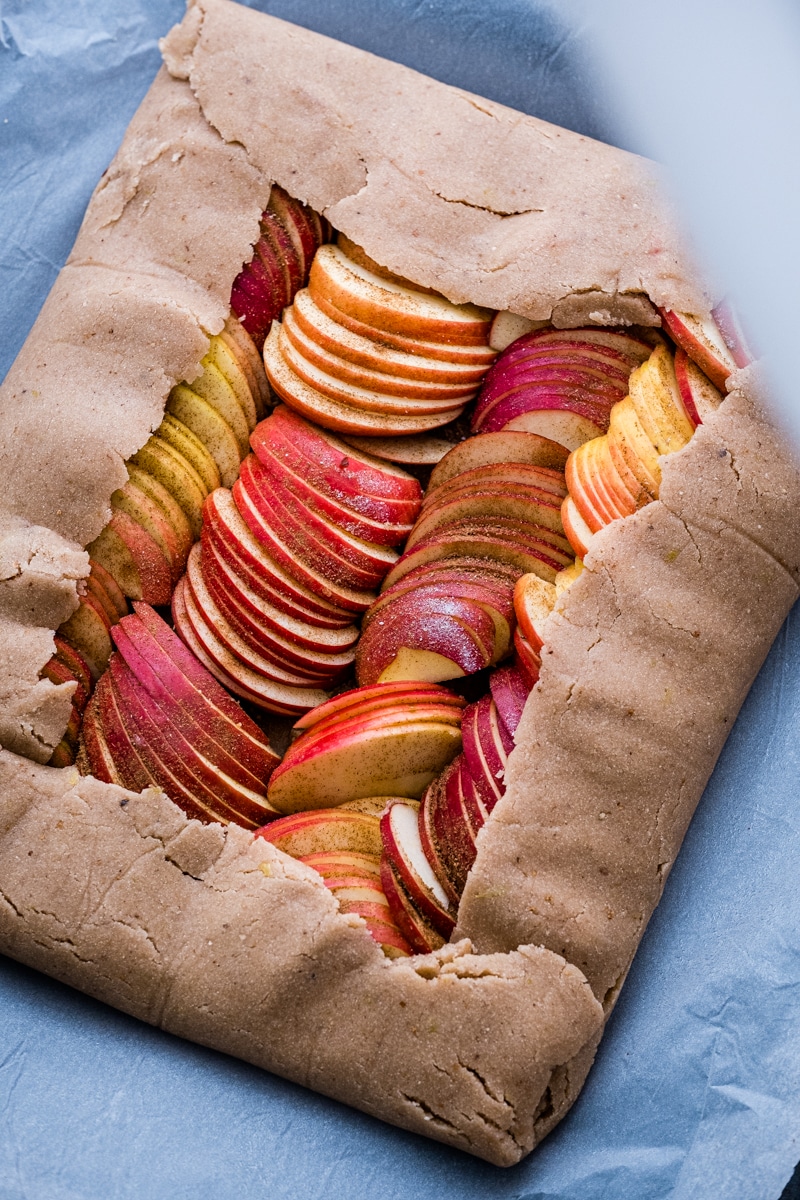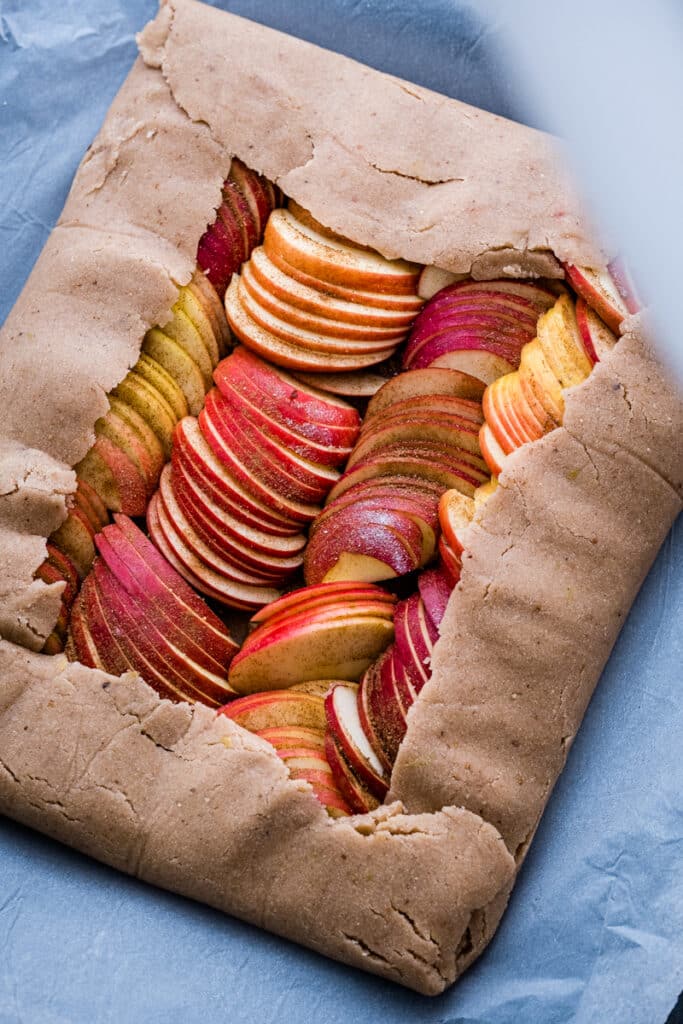 Serve this apple galette warm or cold
You can eat this apple galette while still warm, but I prefer to slice and store it in an air-tight glass container in the fridge and eat it the next day. I feel it gets moister and has a very refreshing taste. Perfect with a coffee or tea.
You can replace hazelnuts with other nuts; I tried pecans and they are delicious. Walnuts and almonds can also work. Enjoy!
For another delicious cake with apples, you should try our sugar-free apple pie bars (gluten-free).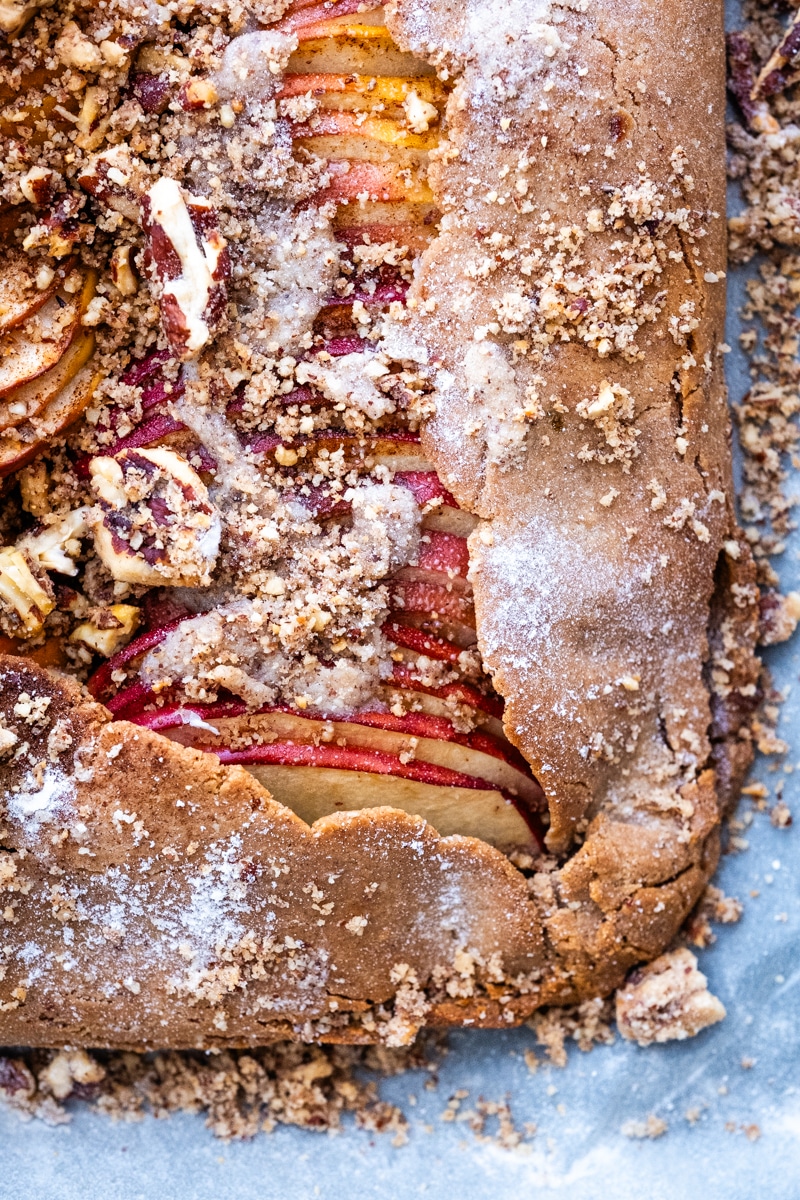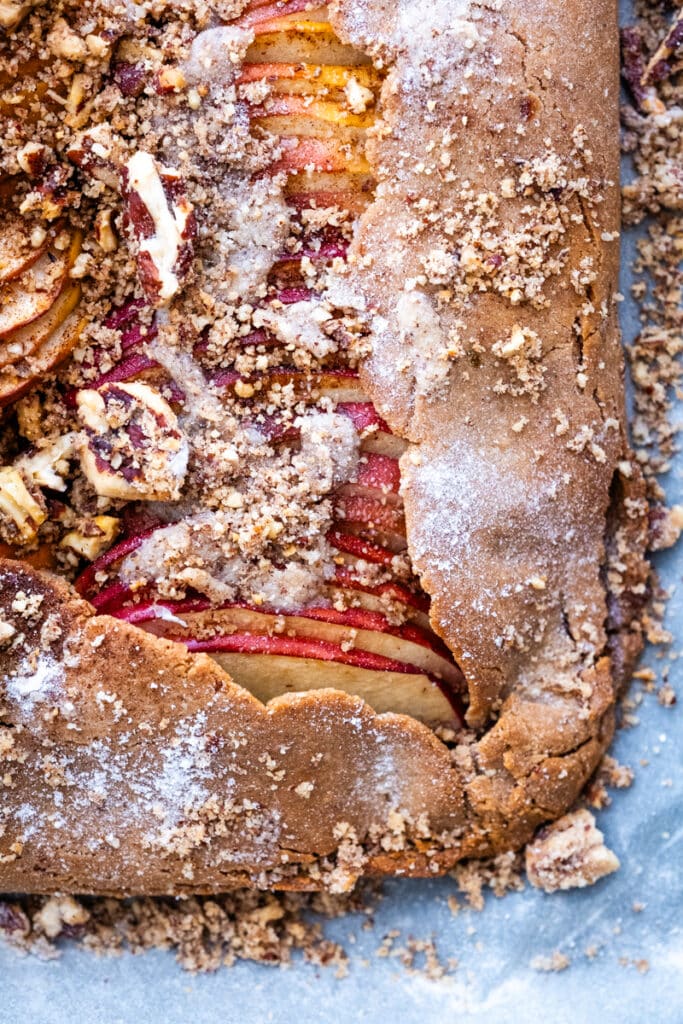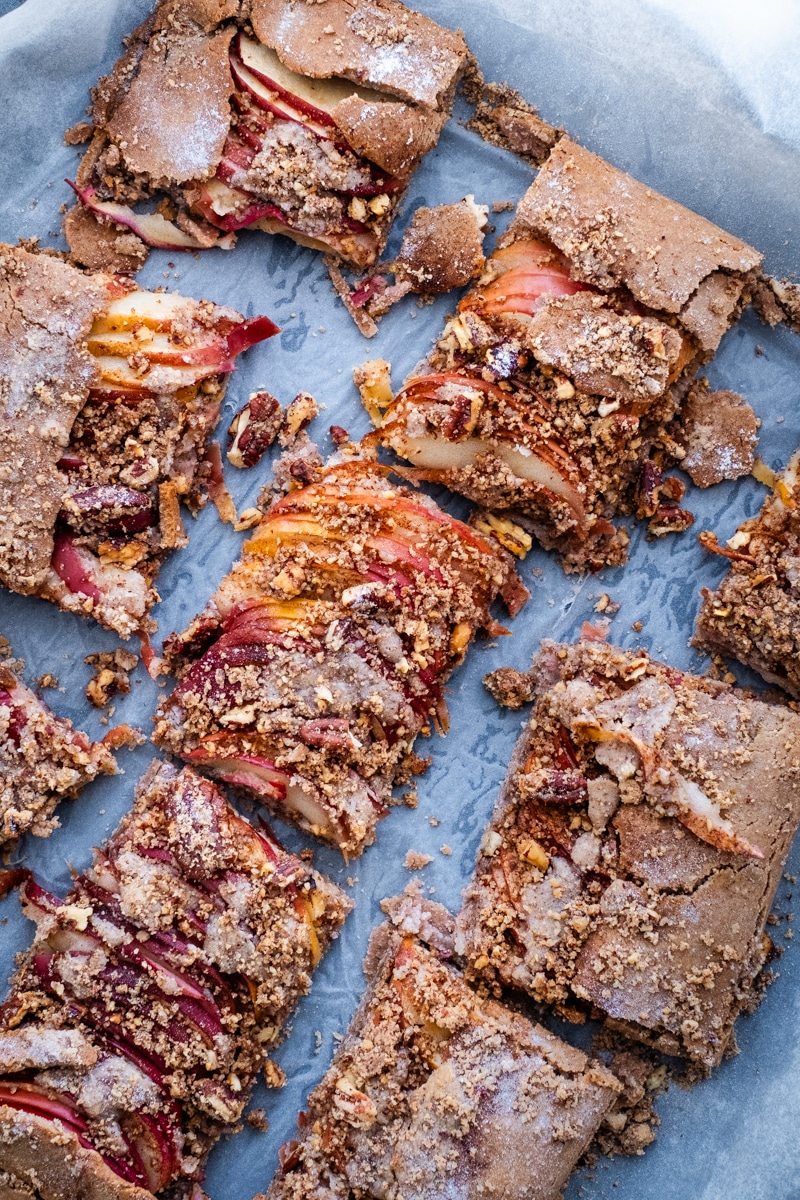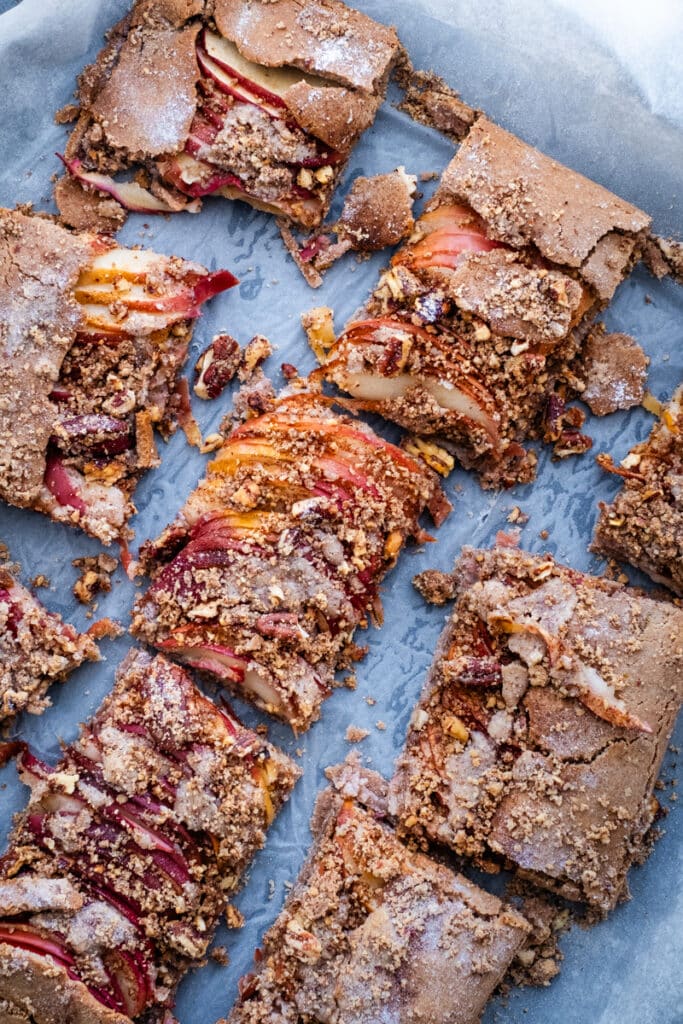 If you love apple cakes and pies, you will love these sugar-free, gluten-free, and lectin-free Apple Pie Bars and our Easy Gluten-Free Apple Cake.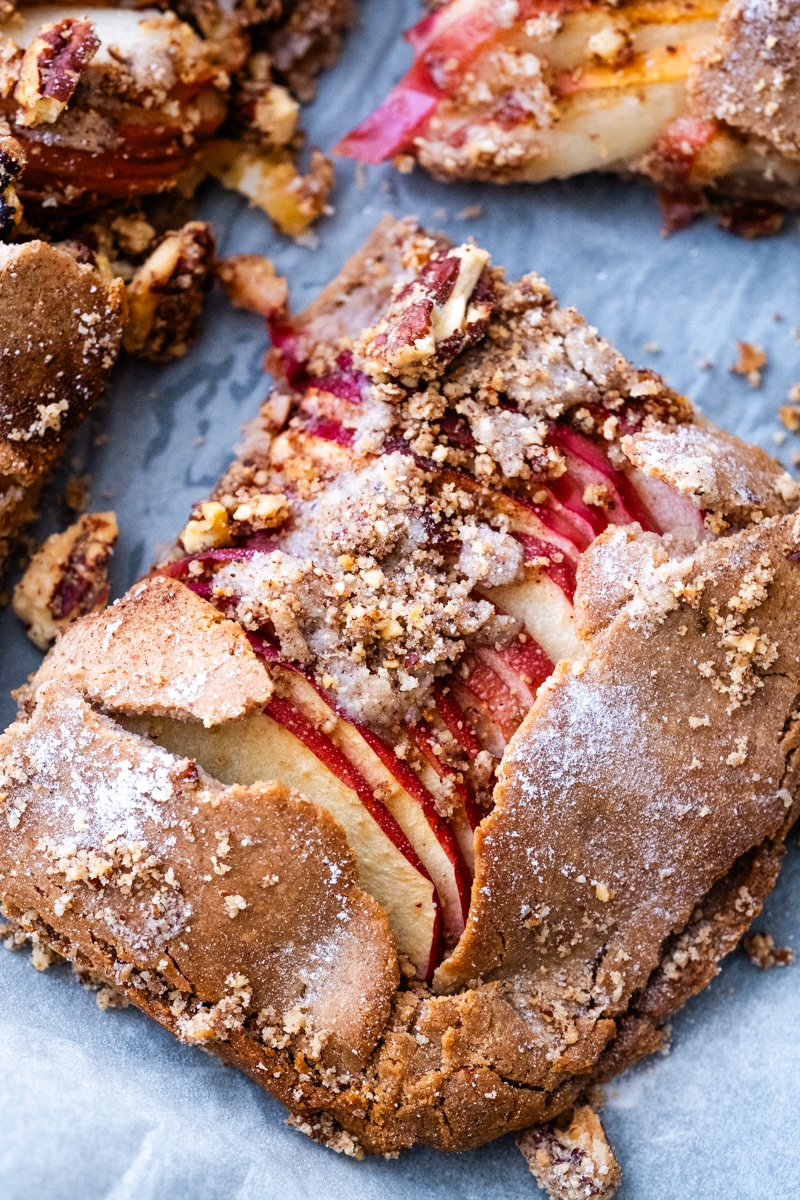 Print Recipe
Apple Galette with Hazelnut Crumble
A lectin-free, delicious holiday treat
Ingredients
FOR THE CRUST
1 cup cassava flour
3 tablespoons arrowroot OR tapioca flour
1/2 cup chestnut flour
1/2 cup almond flour
1 tablespoon monk fruit sweetener OR inulin powder
1/4 teaspoon salt
zest from one organic lemon
2 pastured eggs
1 teaspoon vanilla
1/2 cup coconut oil, softened but not melted
4 tablespoons ice-cold water
FOR THE FILLING
4-5 apples, depending on size (I use Gala or Fuji)
1 tablespoon monk fruit sweetener/inulin powder
1 teaspoon cinnamon
1/4 cup roughly ground hazelnuts OR pecans
1 tablespoon coconut oil
1/2 tablespoon yacon syrup
Instructions
2

Combine the flour, sweetener and salt in a food processor.

3

Add the lemon zest, eggs, vanilla, coconut oil and the water and process on high until everything gets mixed together. At this point, it will look more like a crumble.

4

Take everything out in a bowl or on a sheet of parchment paper and start working the dough with your hands. It will be a hard dough first, but it will stick together. Shape the dough in a ball and let it rest in the fridge while you are preparing the apples.

5

Prepare the apples. Cut them in half, core them and then slice each half really thin without pulling the slices apart. Leave them cut face down until the dough is ready (so they don't oxidize).

6

Prepare a working surface with two parchment papers and a rolling pin. Take the dough out of the fridge, knead it a little bit so it warms up, and start to flatten it on the bottom parchment paper, spreading it into a round or a rectangular. Add the parchment sheet on top and start rolling with a pin until you get a sheet about 1/8 inch thick. The dough might crumble a little bit on the edges, but it's easy to stick back together using your fingers. Peel the top parchment paper off and transfer the bottom one with the dough on a baking sheet.

7

Arrange the apple slices on top of the dough, overlapping the slices (you take each half at a time, press down slowly and spread it with your hand. Repeat until you fill the dough layer, leaving about 1 1/2 inch space all around on the sides.

8

Sprinkle the cinnamon and the sweetener on top of the apples.

9

Fold the edges on top of the apple filling, using the parchment paper to lift it and fold it over the apples. Don't worry if it breaks, stick it back together.

10

Mix the ground hazelnuts with coconut oil and sprinkle on top of the apple center.

11

Bake for about 35 minutes or until the dough and top is golden brown, but keep an eye on it so it doesn't burn.

12

You can spread more coconut oil on the dough edges when out of the oven.

13

Let slightly cool down, eat warm, or store in the refrigerator. I love both warm or cold but my favorite way to eat it is the second day, cold from the refrigerator.