I used to order a whole roasted cauliflower with pesto in a restaurant in Dallas until I found out their pesto had cheese. So I decided I'm going to start making my own whole roasted cauliflower with pesto and sharing the recipe with you because it is delicious and super simple to make. Also, easy to personalize if you do want to add some cheese to the pesto.
Use any type of pesto for the cauliflower
You can use any type of pesto you have around for this cauliflower recipe. I always change the recipe depending on what kind of greens I have, depending on the season. For Christmas, I used basil, parsley, chives and arugula; some days I use arugula, parsley, cilantro and mint.
I do use a small number of raw macadamia nuts but you can use any nuts you want. Slightly toasted pine nuts are great. You can use garlic or not. And if you eat dairy, feel free to add some Parmigiano Reggiano to the pesto, or grate it on top towards the end and bake or broil for 5 more minutes.
If you need help with the pesto, check these options out: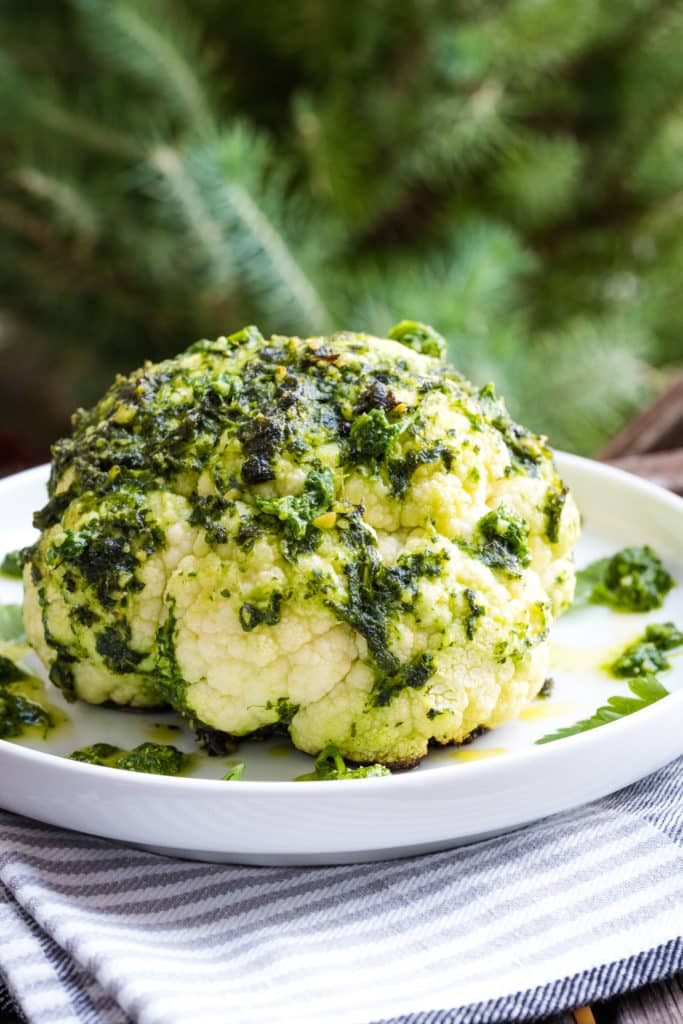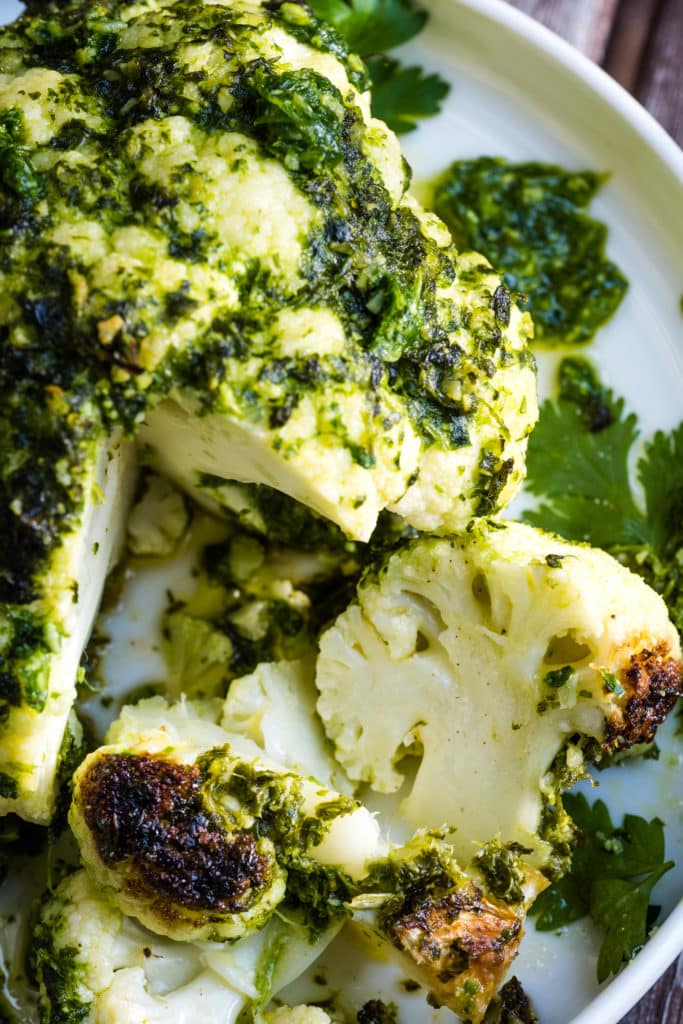 An easy way to make pesto is to mix all the herbs (washed and dried) in a food processor with a small handful of nuts (I prefer macadamia or pistachio but you can use anything). Add garlic if desired.
When the herbs are chopped, start adding extra virgin olive oil through the feeding tube until you get a creamy consistency.
My favorite herbs/greens for pesto: basil, arugula, parsley, cilantro, kale, chives, mint.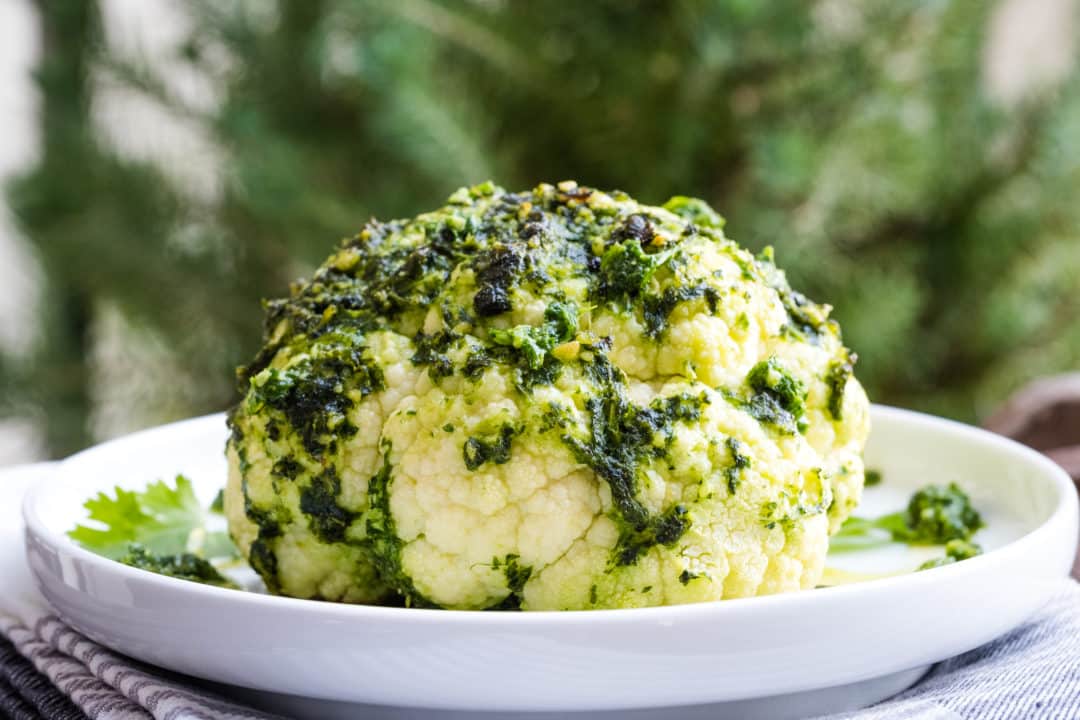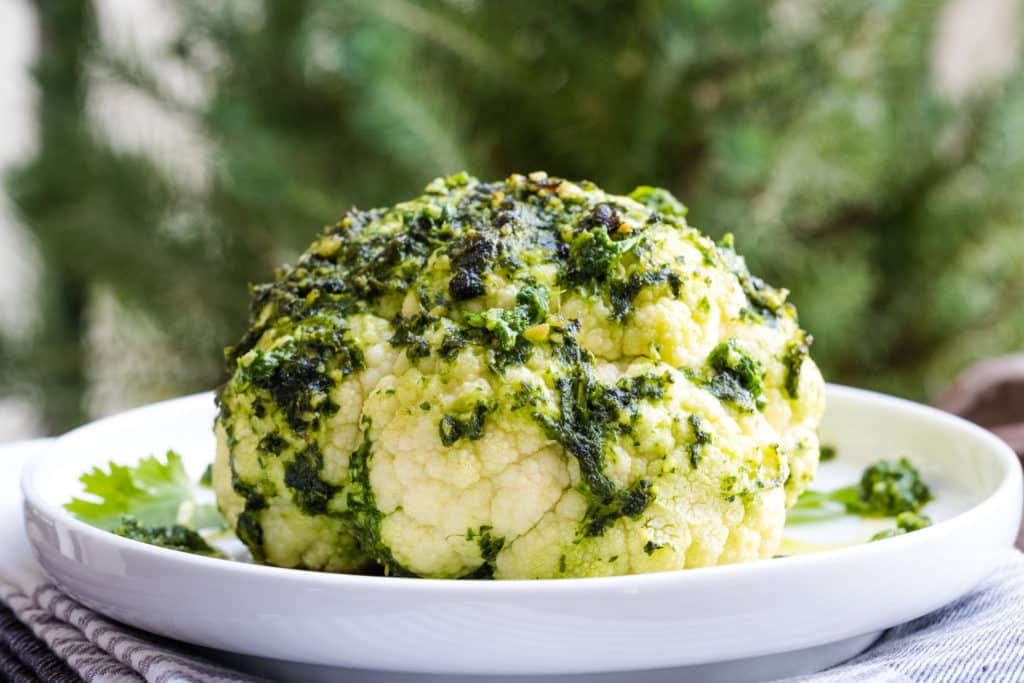 Whole roasted cauliflower with pesto – soft or al dente
As per the cauliflower, the doneness can be adjusted to your liking. I made it both soft and al dente, and I prefer the al dente version.
The time in the oven will also depend on how big your cauliflower is, but a medium one will take about 40 minutes for a harder bite and 45 to 50 for a soft one. Set the oven to 400. It's easy just to check tenderness with a knife or fork.
*This post contains affiliated links, which means I get a small commission if you choose to purchase something via one of my links, at no extra cost to you.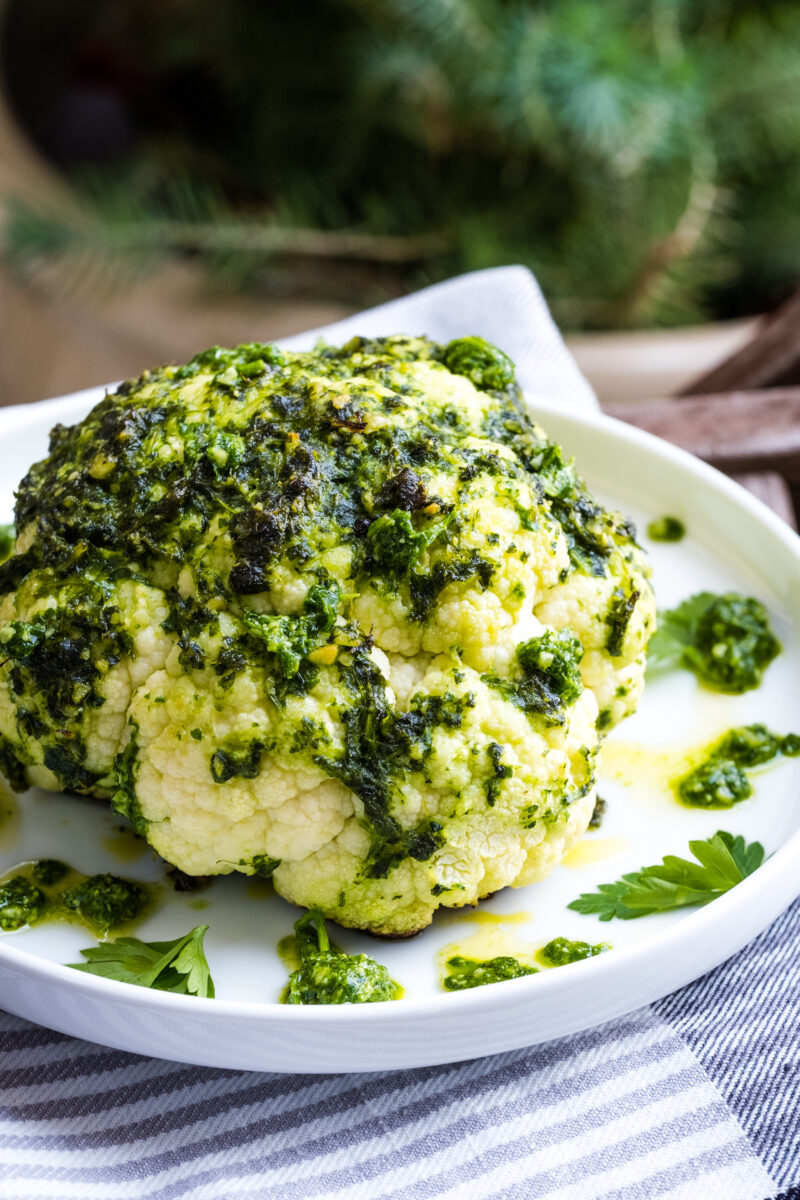 Print Recipe
Whole Roasted Cauliflower with Pesto
An easy, plant-based and lectin-free meal, or side dish, delicious and healthy.
Ingredients
one whole cauliflower
1 cup pesto of your choice
extra virgin olive oil for serving
salt and pepper
Instructions
1

Make sure you have one cup of pesto before starting. Check the text above for ideas.

2

Preheat the oven to 400F. Prepare a Dutch or a French oven (like Staub or Le Creuset).

3

Clean the bottom of the cauliflower, removing all the leaves and cut so you have a stable base. Be careful so you don't cut any of the florets. Wash and pat dry.

4

Turn the cauliflower upside down and add some of the pesto on the base, pushing the pesto into the spaces in between the florets. Turn it around and add more pesto on top, coating the entire surface. You can add as much as you want, but save some fresh pesto for serving.

5

Put the cauliflower in the Dutch oven, cover with aluminum foil and cook for about 25 minutes, covered. Removed the foil and cook for about 15 more minutes, or until the cauliflower is done to your liking. I made them both soft and al dente, and I prefer it more al dente (plus, the cauliflower retains more nutrients when not overcooked).

6

Serve with more extra virgin olive oil, more fresh pesto, salt and pepper if necessary.