Who said comfort food can't be healthy? Or that healthy food has to be boring or tasteless? My mission is to prove that anything can be made Plant Paradox compliant. And this lectin-free boeuf bourguignon is the living proof. A perfectly healthy and comforting stew for the whole family.
A Boeuf Bourguignon with more veggies
You need a few hours in the kitchen to make this meal. But a lot of this time is having the beef simmer (with a lid on), on the stove. So you can use that time to do something else. Alternatively, you can use the oven. I've had a lot of interest lately in soups and stews. I'm not surprised, these warm, comfort dishes are what we need for the cold season.
The great thing about this lectin-free boeuf bourguignon recipe is that you can use the frame I give you, but you can make changes in quantities, or add extra vegetables. I kept it close to the traditional version, which at the end has chunks of meat, mushrooms and carrots.
I know cooked carrots are slightly controversial in the plant paradox world, because of the glycemic index, but apparently, the glycemic load is quite low compared with the glycemic index. And that's what matters when you eat the carrots. But, if you have diabetes or insulin problems, you may want to check your blood sugar and then decide for yourself if it's worth having the cooked carrots or not. You can easily replace them with other roots veggies like parsnip, rutabaga or turnips.
About the mushrooms, cremini are the best, and I chose the smaller size because I like to have some of them whole, but you can use bigger ones and cut them in chunks. I know some people are not big fans of mushroom texture, in that case you can even cut them smaller.
Use meat as a condiment
Some of the recipes use bacon and much more beef than I used. I wanted to keep it clean and plant paradox friendly, which means more veggies and less meat. Have you ever heard the word 'condimeat'? It's used to describe the use of meat as a condiment, not as the main ingredient. Just make sure your meat is 100% grass-fed.
How to serve boeuf bourguignon
Serve the stew with a lot of veggies, purees and salads and you will get the best of both worlds: 'plant centered' and 'paleo'. I love to serve stews with steamed broccoli and puree.
My husband, who eats what I cook but it's not strictly following the plant paradox program, likes to eat his portion with Indian basmati rice (which is the best rice, approved for the plant paradox phase 3, especially if it's cooked, cooled and reheated, as it becomes a resistant starch).
You will see below that carrot has two separate entries in the ingredient list. That's not a mistake. The first chopped vegetables you start with (red onion, carrot and celery) will be discarded after the beef is done, and new pieces of carrots will be added (just in case you wonder).
This is a visual guide through the process, to make it easier.
THIS IS THE STAUB CAST IRON COCOTTE I USED
*This page contains affiliated links, which means I get a small commission if you choose to purchase something via one of my links, at no extra cost to you.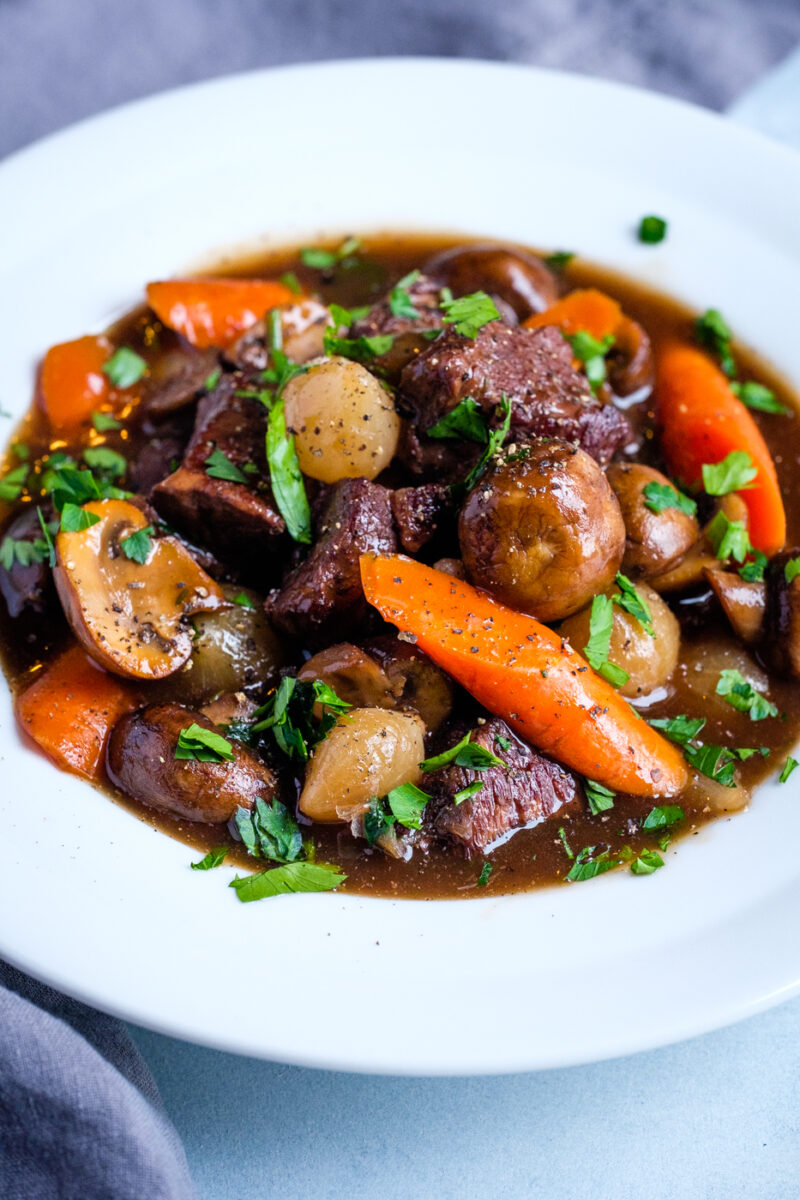 Print Recipe
Lectin-Free Boeuf Bourguignon
Perfectly healthy and lectin-free comfort meal for the entire family.
Ingredients
1 lbs stew grass-fed beef, cut in small chunks

avocado oil for frying

1 medium red onion, chopped

1 medium carrot, chopped

3 stalks celery

1 small bouquet of fresh thyme

1 cup good quality red wine

2 cups beef / bone stock or broth

4, 5 cups of small cremini mushrooms, whole or cut in halves

2 cups frozen pearl onions, whole

3 medium carrots, cut in big chunks

4 tbsp arrowroot flour (or more)

salt and pepper to taste

fresh parsley, chopped
Instructions
1
Pat dry and coat the beef chunks with salt and pepper and brown the beef in batches, in avocado oil, in a thick stew pan, I used a Staub. Once done, put the beef on the side, and add the chopped red onion, chopped carrot and chopped celery (these veggies will be discarded in the end). Sauté everything until translucent, soft and fragrant. Add the beef and juices back in the pan, add the thyme, stir well, and add the wine. Let it simmer for few minutes so the alcohol evaporates. Add the 2 cups of stock. Bring to a boil and then cover and simmer for a couple of hours or more until the beef is tender. When the beef is almost ready, take it out, and strain the juice using a sieve. Press well on the veggies so you get all the yummy juices out. Add the clear juice back to the same pan, put the meat back, add salt and pepper to taste and and let it simmer.
2
In a different skillet, add avocado oil, and sauté the mushrooms until fragrant and slightly browned. Add the big chunks of carrot, and sauté for few more minutes (7-10 minutes).
3
Mix the arrowroot flour with cold water, temper it with some of the hot juices, and add it to the pot. Stir well and add the cooked mushrooms and carrots. Add the pearl onions. Taste for salt and pepper again and add more if needed. Let it simmer for about 10 more minutes. If you feel is not thick enough, add more arrowroot. Add some chopped fresh parsley in, you can sprinkle more when serving.
Notes
If you make a big batch of it, make sure the beef chuncks are not too small, so you can easily separate them from the veggies before straining. Also, it will help if you tie all the thyme sticks together or put them in a small herb sachet, so you don't have to pick all the thyme branches from the stew. You can separate the veggies from the meat before the meat is completely cooked, it will make your life easier. Smooth and clear juice is the signature of this dish, and I don't see an easier way around it. I served it with Indian basmati rice for my husband and with steamed broccoli for me. Sauerkraut or fermented okra are a good addition too. The second day I had it with a cauliflower, carrot and parsnip puree. The puree works really well because it absorbs some of the juices.