Pecans are my new obsession. And I don't even think I knew they existed before I moved to the US, more precisely to Texas. If you ask me, they are the tastiest tree nut out there. You might already know how much I love homemade pecan butter. But Thanksgiving is a week away. So I thought I'd try to make a healthier lectin-free version of the classic chocolate pecan pie recipe.
Ditch the sugar and grains, keep the pecans, bourbon and chocolate
Because, if you've ever made a pecan pie, you know that it is basically made of few different types of sugar, plus corn syrup. So making a healthy version is almost an impossible feat, especially that I didn't want to go crazy on alternative sweeteners either. I'm not saying this can beat your grandma's recipe, but if you want it, there is a way to make it so it's not a sugar bomb.
If you need more convincing, one of the most recent studies about obesity in America revealed that the top US states with the highest obesity rates are South Eastern states, and I have a feeling that's related, among others, to the amount of sugar (and corn syrup) consumed. And speaking of Texas, who came 9th in adult obesity, came sadly on the second place in child obesity, after Mississippi.
How to make lectin-free bourbon chocolate pecan pie
And back to our lectin-free pecan pie. I tested this recipe twice. First I made a simple version, using sweet potato, coconut cream, egg and pecan butter. I didn't add any sweetener, because I wanted to see how much natural sweetness these ingredients will give. It was sweet enough for me. But it felt slightly bland. So my second test was inspired by a request of my sister, who wanted to try a bourbon chocolate pecan pie.
I removed the coconut cream, which I think overpowered the pecans taste, and added more pecan butter instead. Added bourbon and dark chocolate (I used TAZA Wicked Dark) and more chopped pecans in the filling. I did not use any sweetener in the filling, but I sprinkled a little bit of Lakanto monk fruit on top before going to the oven. If you have a sweet tooth, go ahead and add one, two tbsp of a compliant sweetener when you beat the eggs. And you can use my recommendation as a frame, and add your own touch to it. If you come up with some good ideas please comment and let me know.
If you wonder where you get pecan butter, this is an option (and I heard is the best). But when I ordered it it got lost and I never received it. So I decided to make it at home. It is the easiest thing to make if you have a powerful food processor or blender.
How to make the pecan butter at home
Roast raw pecans (8oz) in the oven at 300F for about 7-9 minutes (until fragrant), process them on high speed in a food processor for few minutes, until creamy, and add 1/2 tsp cinnamon and a pinch of salt. It's that easy. And it's the most delicious thing in the world.
What about the lectin-free pie crust?
I used the same as the one for the Chicken Pot Pie which was inspired by this Perfect Paleo Pie Crust Recipe on Food Republic. I keep using it because it works every time, even though is a little sensitive to work with (but what grain-free dough isn't?). If you have your own lectin-free crust recipe, feel free to use it. This one is made with almond, coconut and tapioca flours, plus butter and egg.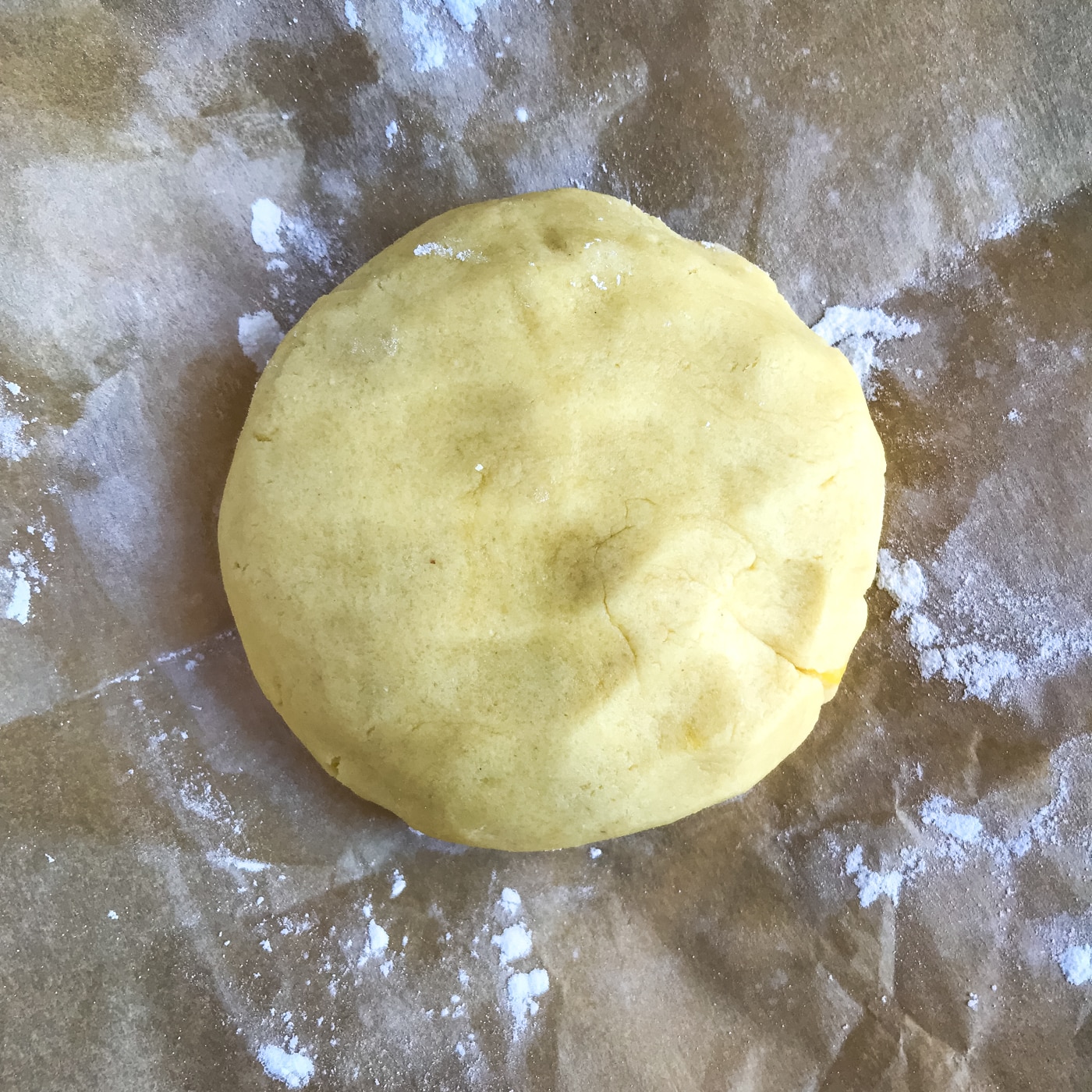 How to serve the pie
I make my pies really small because we don't eat that much and we don't want to waste anything, but if you have a big family to feed feel free to double quantities and make a full-size lectin-free pecan pie. My pie dishes are 5.5 inches and the quantities below are for two 5.5 inch pies (something like this). They are called personal size, but I don't advise anyone to eat the full pie. In my opinion, one personal size dish makes 4 servings.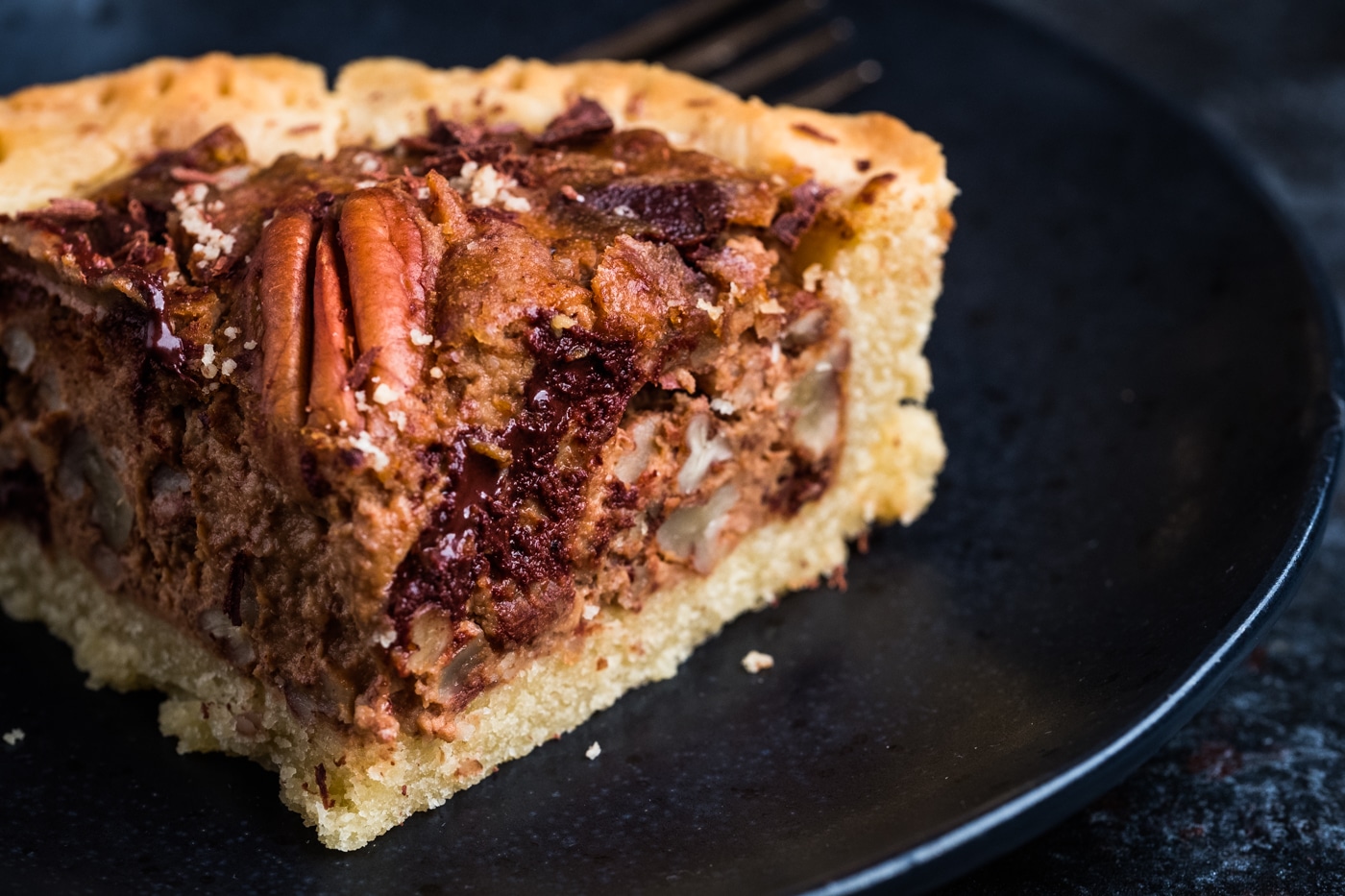 *This post contains affiliated links, which means I get a small commission if you choose to purchase something via one of my links, at no extra cost to you.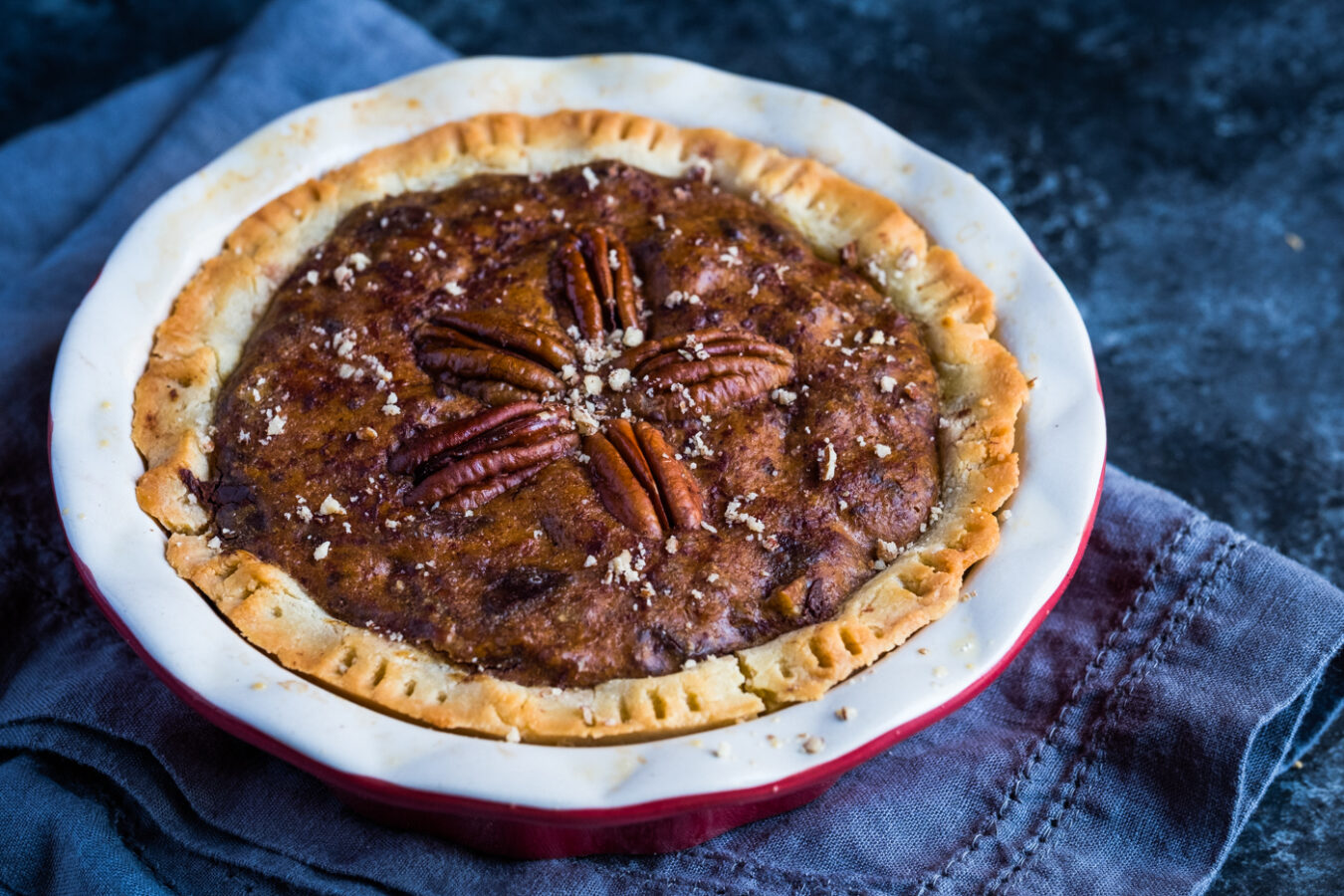 Print Recipe
Lectin-Free Bourbon Chocolate Pecan Pie
A healthy version of the classic pecan pie.
Ingredients
FOR THE CRUST (makes two 5.5 inch pies):

1 cup almond flour

1/2 cup coconut flour

1/2 cup tapioca starch (plus more for kneading)

1/2 cup cubed cold butter

1/4 teaspoon fine sea salt

1 whole pastured egg + 1 egg white for the egg wash

FOR THE FILLING:

1 cup sweet potato puree (I used a canned one)

2 pasture-raised eggs, room temperature

8 tbsps pecan butter (I used homemade)

about 1 cup of roasted pecans, different textures (I used half ground and half roughly chopped)

more half raw pecans for decoration (depends on how many you want to put on top, I kept it simple)

1 tsp vanilla

4-5 tsp bourbon

3 oz dark chocolate, chopped (I used 95%)

about 1 tbsp granulated monk fruit (or more if you want to add to the filling)
Instructions
2
CRUST. Make the dough for the crust first. Mix well all the flour and salt together, add to a food processor and mix with cubed cold butter for few pulses. Add the egg and pulse again, until you get a dough. Take the dough out, separate into two equal balls, flatten them, cover with some plastic wrap and refrigerate for about 30 minutes. Butter the pie dishes. Take out, dust with tapioca flour and roll the crust in between two parchment papers with a rolling pin. Remove the top paper and carefully place the dough into the buttered dish with the help of the bottom paper. Poke some holes with the fork in case there are any air pockets left. Wash the edges with the egg wash. Bake for about 7-8 minutes, on a lower rack, before adding the filling.
3
FILLING. Beat room temperature eggs in a bowl (if you want to add any sweetener this is the time, you mix it with the eggs). Add the sweet potato, pecan butter, vanilla, bourbon and mix until creamy. Add the chopped chocolate and roasted pecans (you can roast the pecans in advance, at 300F for about 7-9 minutes).
4
ASSEMBLE THE PIE. Take the pie dishes out of the oven, add the filling and bake for about 18 minutes if you are making the small pies, on a low rack. Decorate with half raw pecans. If you are making the full-size pie, check the pie when is set and the edges are golden brown but not burned (it will probably take at least 30 minutes, but keep an eye on it). Since a full-size pie will bake a little longer, I recommend adding the pecans on top only 10 minutes before the cooking is done, so the pecans don't burn.
Notes
You can add more spices if you wish, and whip some coconut cream for serving. Or maybe you have some compliant ice cream around.