I'm on a mission to make healthy snacks that are easily transportable and can help us staying on track when we crave something naughty or travel and don't have access to our own kitchen.
Lectin-free savory Biscotti are such a perfect one. They are crunchy, can be sweet or savory and they last for a long time.
Cheesy, crunchy, spicy and grain-free
This recipe was inspired by Laura Santtini's Caraway Biscotti from her amazing book "At Home with Umami". Since I have experience with making grain-free biscotti – in fact, one of my most popular recipes on this website is the Almond Biscotti with Tigernut Flour – I was really interested to try a savory version. So when I saw Laura's recipe in the book, I knew it is not impossible to make a grain-free version, even if I had to try it several times.
Fortunately, the experiment was a success the first time, and I'm here to share the modified recipe. I used a few types of flours to make sure I get a consistency closer to the all-purpose flour used in the original recipe but also to give it a balanced nutritional profile: almond, tigernut, arrowroot, green banana, and even some cassava to help with the kneading process (from my experience so far cassava is perfect for kneading and finishing a non-grain dough).
A note on tigernut flour
One little note about tigernut flour. I've used it in various recipes many times, from pancakes to cakes, to scones, to savory dishes. But there is a grittiness to it, that is bothering some of us. So now my favorite way to use it is in the biscotti recipes. The double baking process makes the texture unnoticeable.
I also recommend reading my article Quick guide to lectin-free, gluten-free flours for more information on the different types of flours available.
I could have used butter, but I decided to replace it with avocado oil. The recipe has already eggs and cheese. Oh, and replaced the whole milk with full-fat coconut milk.
TO CHECK ALL PLANT PARADOX BAKING PANTRY ITEMS IN ONE PLACE CHECK MY SHOP PAGE
How to serve lectin-free savory caraway biscotti
These biscotti are cheesy and slightly spicy (I used cayenne pepper, caraway seeds and mustard powder as spices).
They go well with quality olive oil and olives (marinated or not). I even had one with a spread of almond cream cheese (Kite Hill) and few blueberries for late breakfast, with coffee. Yesterday I had two in my bag for a lunch in a restaurant, and I had one with marinated olives and mint tea (that was my lunch and it was super satisfying).
The lectin-free savory biscotti last a long time in an air-tight glass container or jar. It can also be frozen.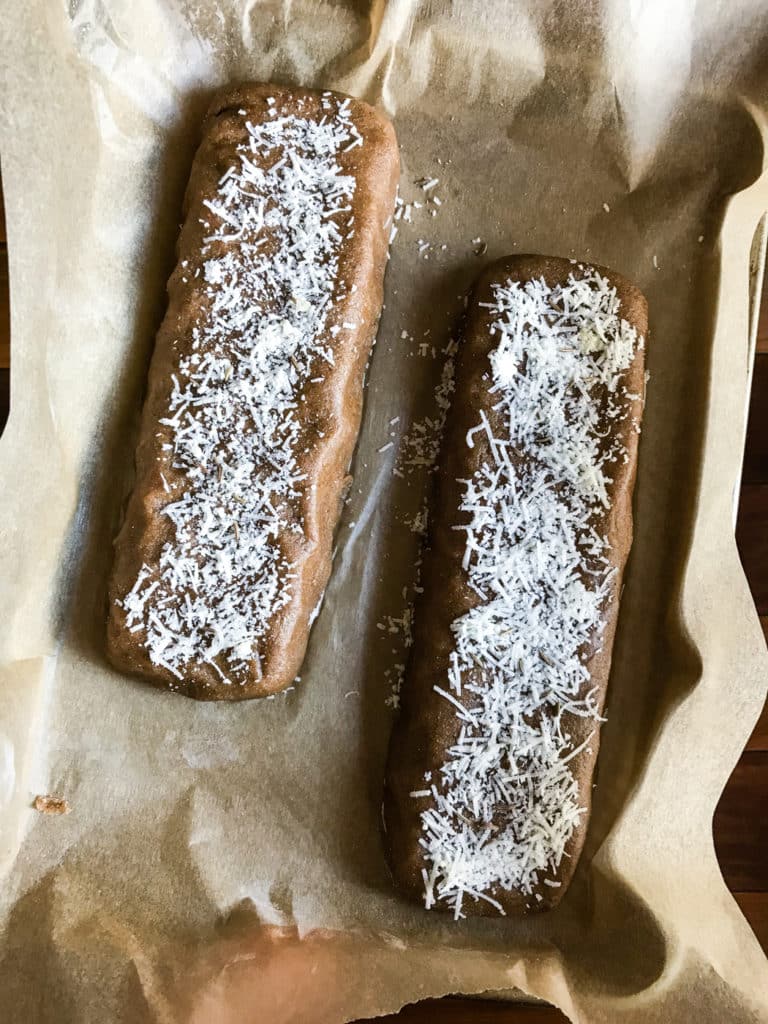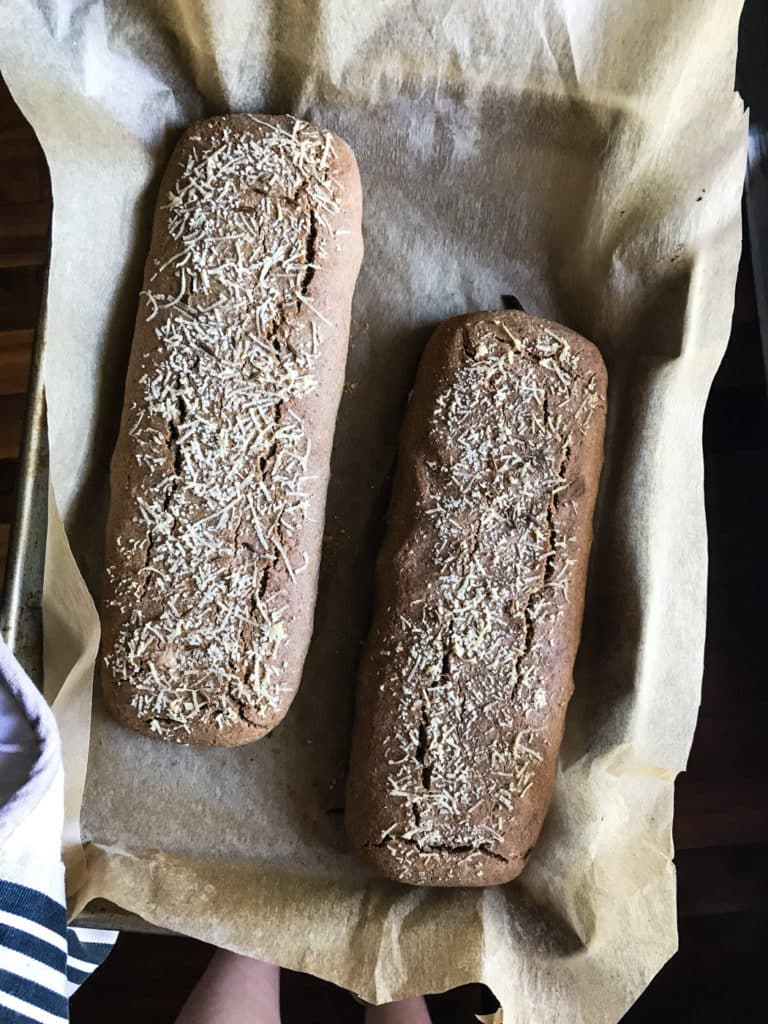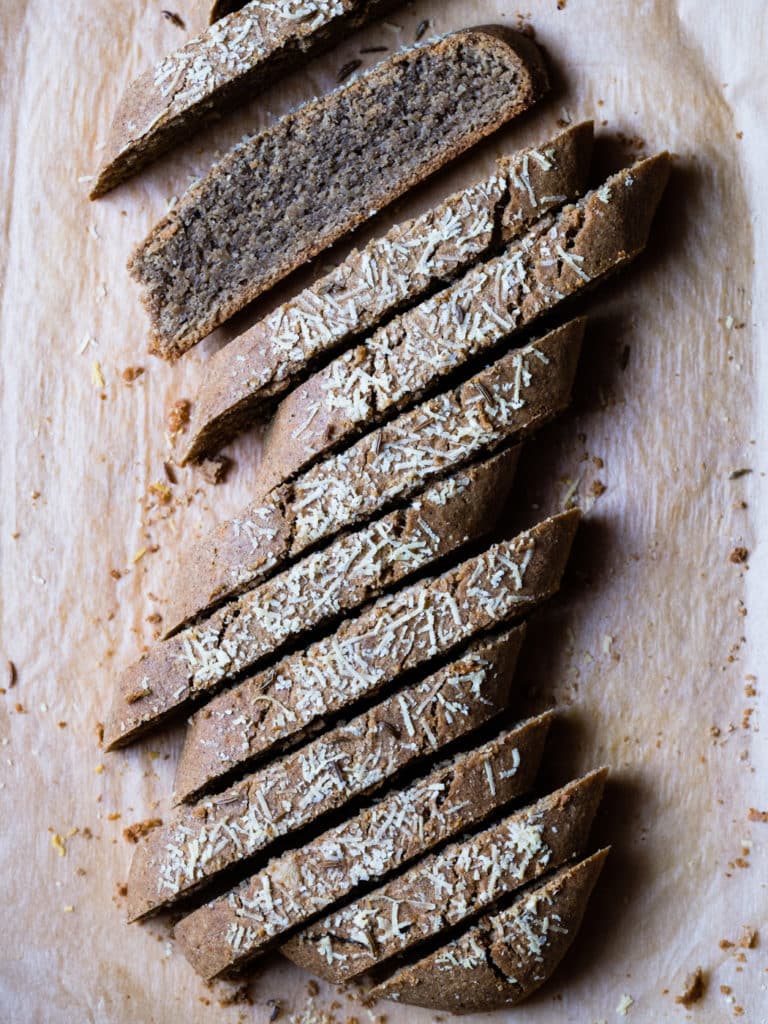 *This post contains affiliated links, which means I get a small commission if you choose to purchase something via one of my links, at no extra cost to you.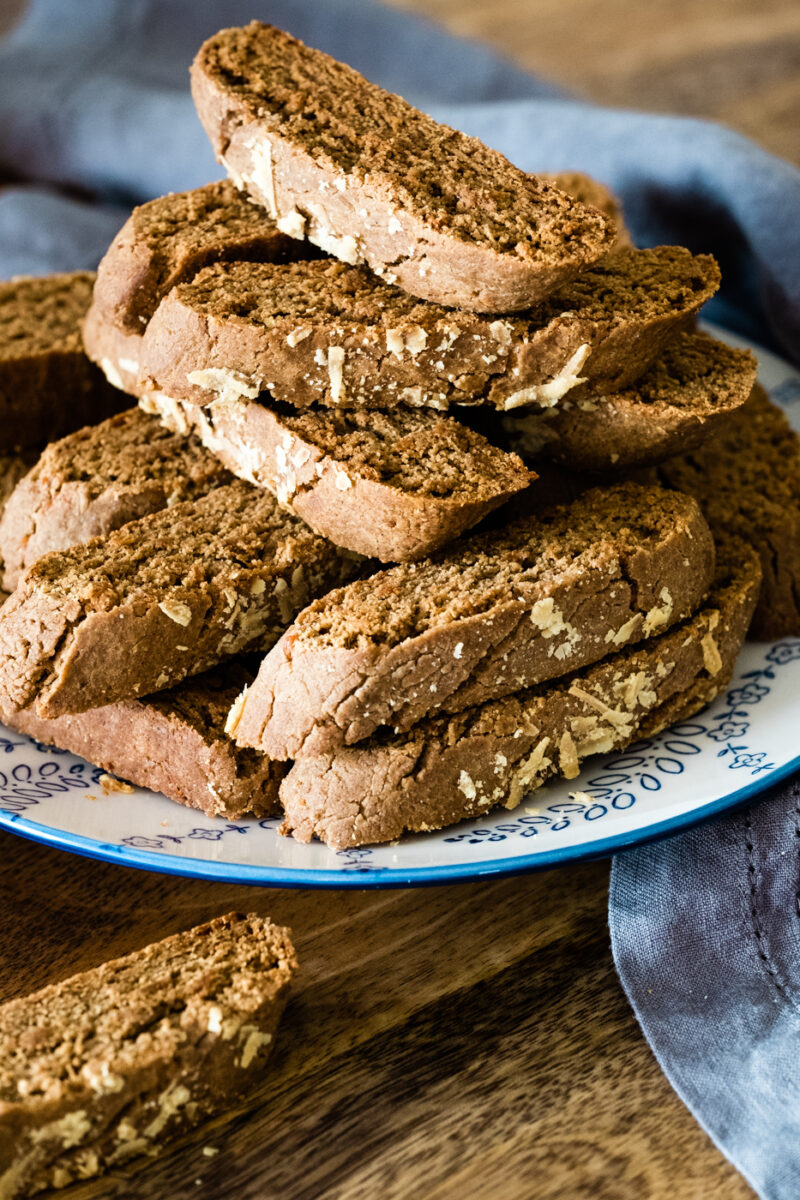 Print Recipe
Lectin-Free Savory Caraway Biscotti
Ingredients
1 1/4 cup tigernut flour (I use Organic Gemini)

1 cup almond flour (pressed down)

6 tbsp green banana flour

3 tbsp arrowroot flour

1 tsp baking powder (I make my own by mixing 1/2 tsp cream of tartar + 1/4 tsp bicarbonate of soda)

1 handful cassava flour for kneading

2 small pasture-raised eggs

1/2 cup full fat coconut milk

1/2 cup avocado oil

1/2 tsp caraway seeds + more for decoration

1/8 tsp mustard powder

1/8 tsp cayenne pepper

1/2 cup finely shredded Parmigiano Regiano + 2 tbsp for decoration

1/2 cup finely shredded Gruyere cheese

1 tsp salt
Instructions
2
Mix almond, tigernut, green banana and arrowroot flours in one big bowl. Add the baking powder, salt and spices. Add the two cheeses and mix well. Add the avocado oil and mix well with your hands.
3
In a separate bowl beat the eggs and coconut milk and pour onto the dry mixture. You can do all this in a standing mixer if you want, I mixed it all with my hands. At this point, the texture might look a little too wet and sticky.
4
On a clean surface or parchment paper add a handful of cassava flour, flouring your hand too, and start kneading the sticky dough, until it becomes smooth and holds together nicely. It didn't take long for me, about a small handful of cassava flour and one minute of kneading did the trick.
5
Now separate the dough into two pieces and form two logs/cigar shapes and flatten then down slightly (see pictures below). Put them on parchment paper in a cookie baking sheet, sprinkle with 2 tbsp of Parmigiano, and bake for 30 minutes.
6
When done, turn the oven down to 300F.
7
Take them out, let cool for 10-15 minutes, and carefully slice the logs at an angle. I always say this is the most sensitive part of the process, you want to do it slowly with a sharp knife to make sure the slices don't break.
8
Arrange all the slices, cut face down, on parchment paper and bake at 300F for about 40 minutes, flipping them at half time. Just keep an eye on them at the end in case your oven runs slightly higher, to make sure they don't burn.
Notes
This makes a little more than 20 biscotti, depending how you size them. Store them in an air tight glass container or mason jar, they'll last for few days on the counter. You can freeze some for later use.