Dear friends, I am so happy to share this simple but delicious chestnut flour lectin-free crepes recipe with you. Crepes were my childhood favorite treat and they still are my 'madelaines'. My mom made (and still makes) the best crepes, and I missed them so much, but now I have an option. Not only they are lectin-free crepes, but they are also sugar-free and sweetener-free, thanks to the natural sweetness of chestnut flour and hemp or coconut milk.
My first "culinary" memory is me, around the age of nine, trying to surprise my mom with crepes. She was making the best crepes and I wanted to make them as good as hers. She came back from work while I was just finishing the batter. And she was so surprised, she said, referring to the batter I had shown her "It looks even better than mine!". And I knew she meant it because my mom was not the type to sugarcoat things. I still feel the pride and happiness I felt in the moment.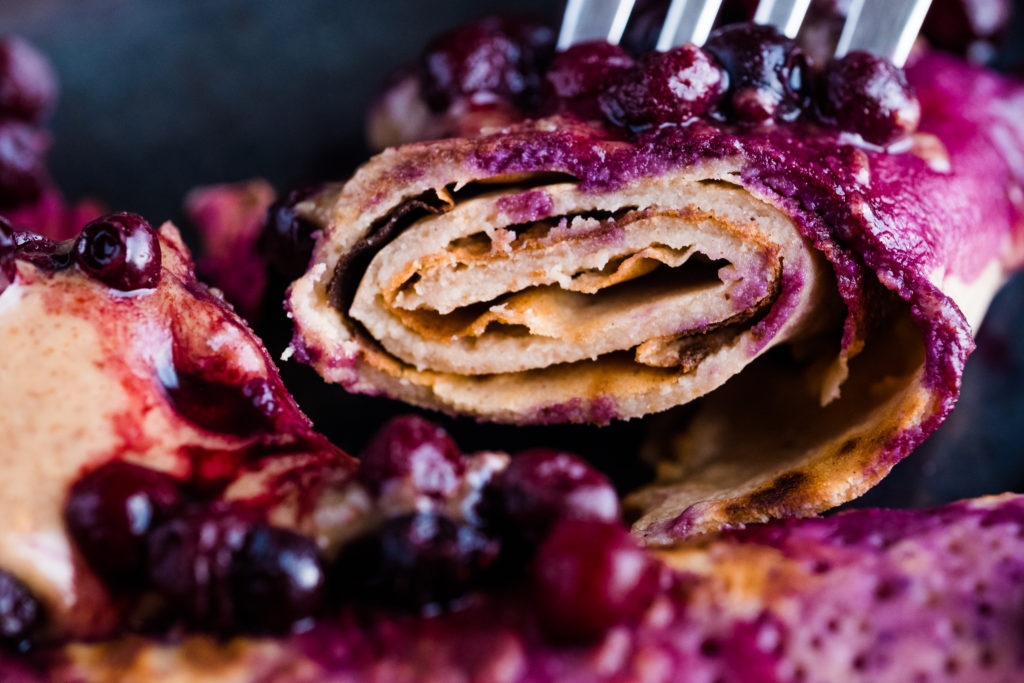 I made those crepes – I even knew how to flip them without a spatula, just throwing them in the air, all learned by watching my mom – and they were delicious.
Italians use chestnut flour to make crepes/necci
So when I discovered chestnut flour on my recent trip to Denmark and searched for some ways to use it, I learned Italians use chestnut flour to make crepes, they call them "necci" or Tuscan chestnut crepes. While in Denmark, I also created this new recipe and shared it here, on the website: Chestnut Pie With Root Vegetables.
The thing is, chestnut flour is not as popular in the US, but I did find one place that sells it: Nuts.com. This post is not sponsored by or affiliated with them, but I am grateful for all the good stuff they sell and their adorable packaging.
So, the first thing I wanted to try was the lectin-free crepes. And since I am very familiar with making crepes, I just tried the "traditional" way we make them with wheat flour, even used one of my mom's tricks: carbonated/sparkling water for more fluffiness. And it worked and OMG they were the most delicious thing I had in a while!
Later edit on chestnut flour
In the meantime, chestnut flour has become more available, even in the US and I like to think I have something to do with this since I shared quite some recipes using chestnut flour since I wrote this post initially. Check out my SHOP PAGE for more suggestions on where to get the chestnut flour. Nuts.com remains a good option when they are not out of stock.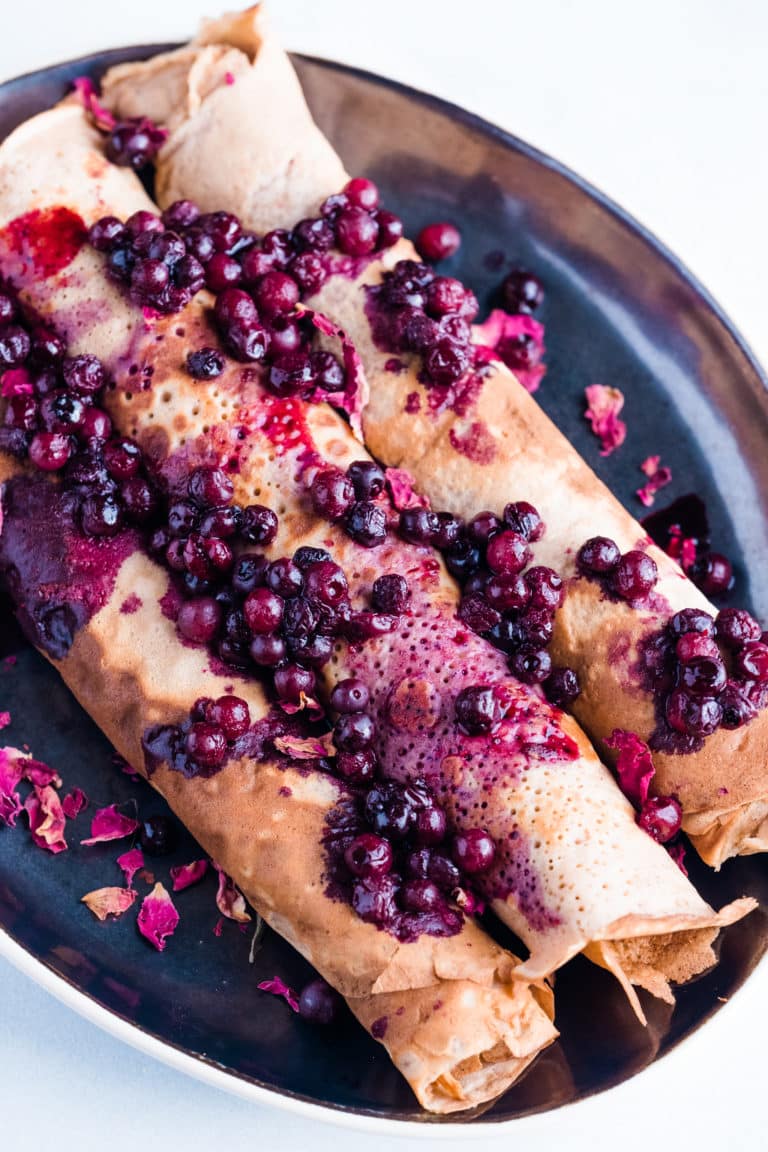 How to make chestnut flour lectin-free crepes
I did use a touch of Rose Water – this is the one I found on Amazon, good for culinary use. There are also a few options of chestnut flour on Amazon. But I'm not sure it is included with Prime – check it out in case you prefer Amazon to Nuts.com.
For oil, I used pecan oil, but you can use any compliant oil that doesn't have a strong flavor, such as avocado oil (sometimes I use MCT oil). For sparkling water, I use St. Pellegrino, but any would work.
As per the pan, I cooked them in, I have an All-Clad non-stick crepes pan, which is the only nonstick pan I own and it's only used for crepes. As long as you don't use it often and stick to medium heat, you should be safe. Ceramic-coated, non-stick pans are also good for crepes.
I used coconut milk, but any milk would work. I think is better to use milk that is not very thick. Usually, the canned coconut milk has guar gum and gets super thick, so I would rather use one that doesn't have gum, they are much thinner. Hemp or almond would work too. That's the one I used.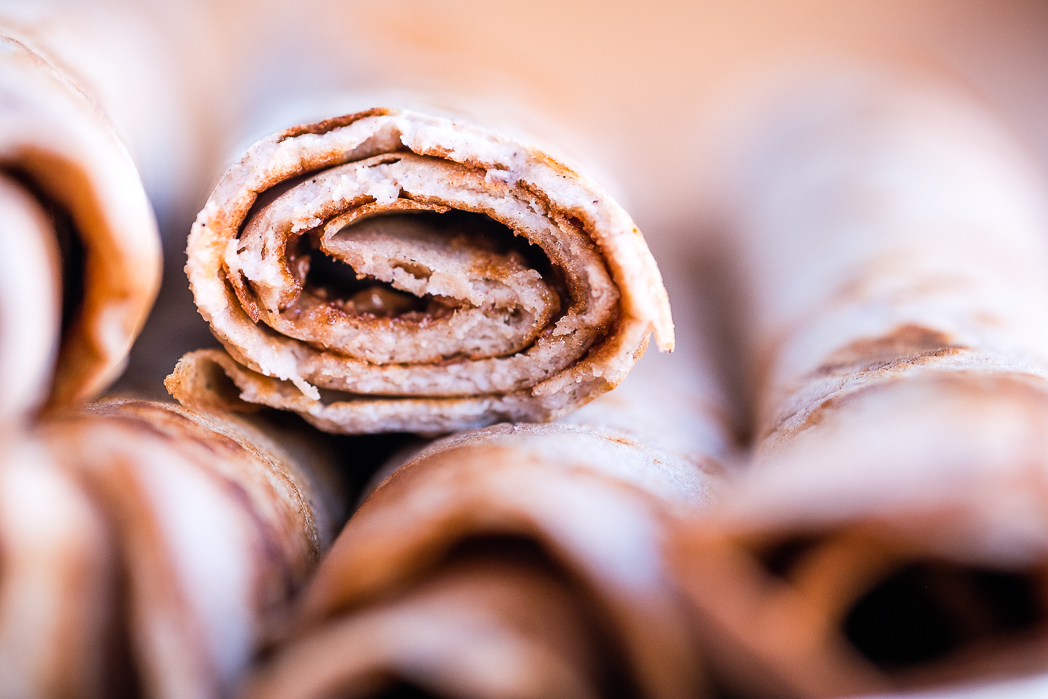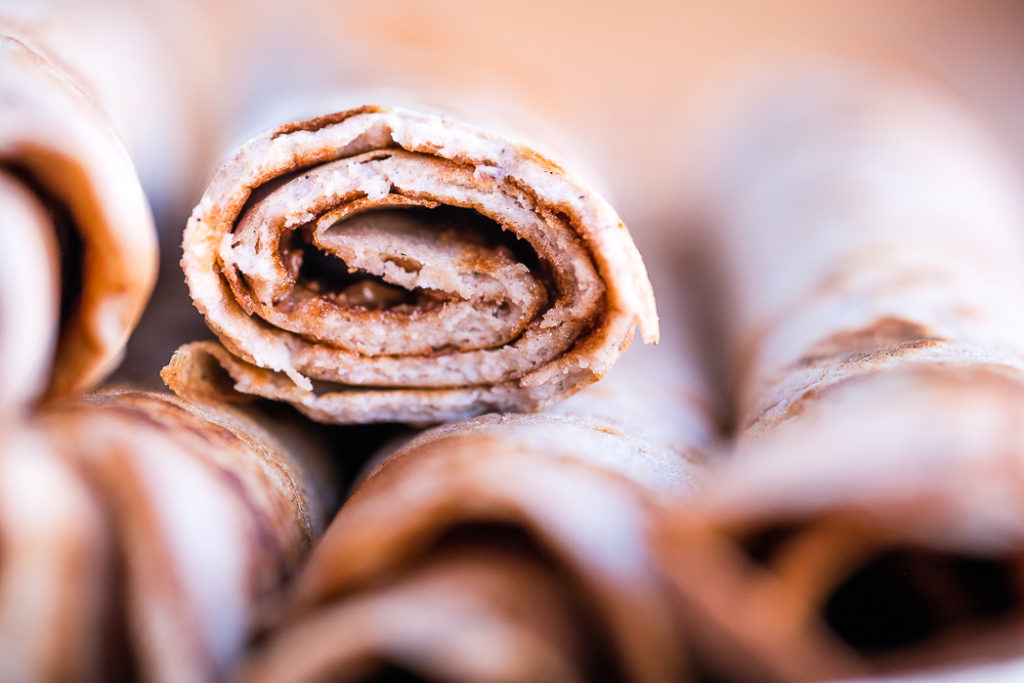 You can also make them without rose water if you don't find, you can use flavors like vanilla and lemon or orange zest etc. And if you feel like it, you can fill them with the nut butter of your choice, but pecan butter works like a dream.
How to serve crepes
I rolled them as my mom does, but I didn't fill them inside. They are delicious as they are, but you can get creative with the way you serve them.
I added a mix of pecan and coconut butter on top, as well as some warm wild blueberries and rose petals. You can add yacon syrup, honey, homemade compliant jam, fresh fruits, coconut cream, whipping cream if you eat dairy, chocolate etc. You can even make them savory.
But let's not make this longer than it needs to be. This is the lectin-free crepes recipe, please let me know if you make it and love it as much as I did.
*This post contains affiliated links, which means I get a small commission if you choose to purchase something via one of my links, at no extra cost to you.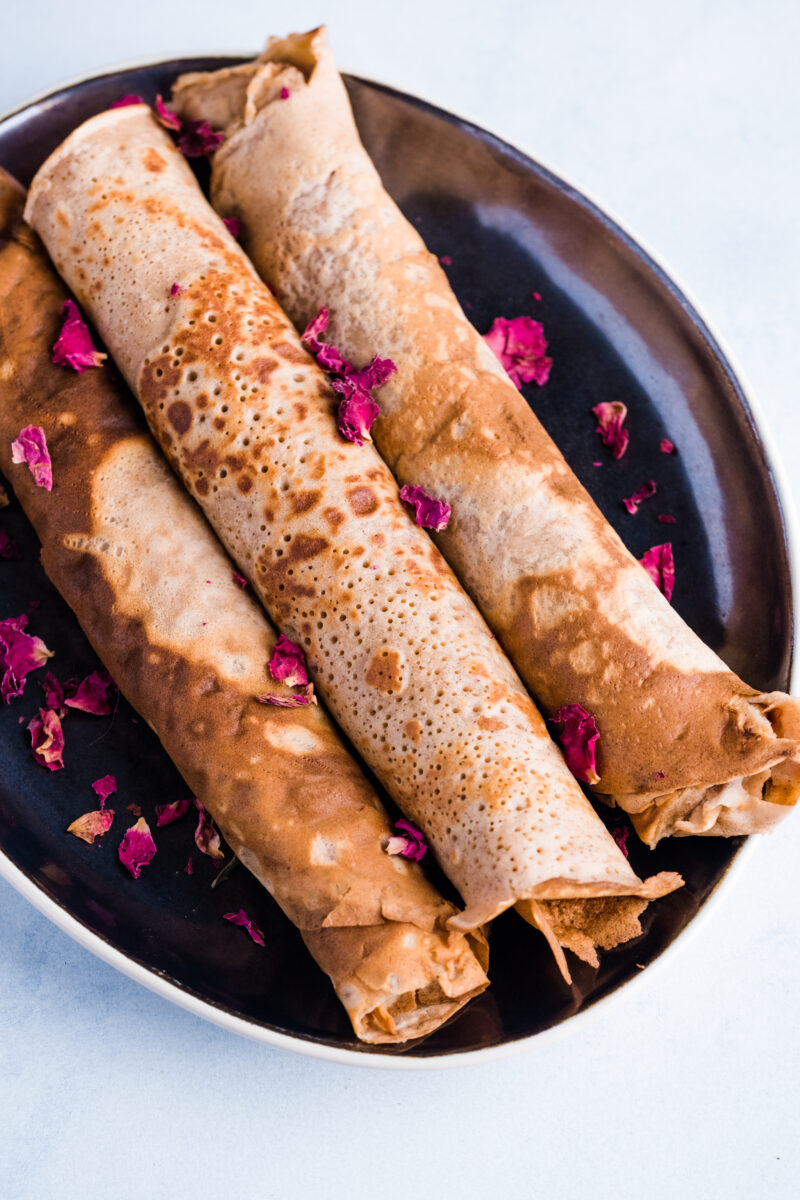 Print Recipe
Chestnut Flour Crepes with Rose Water
A classic recipe turned gluten-free, lectin-free and sugar-free.
Ingredients
2 pastured eggs
1 cup coconut milk or hemp milk, or a mix of both (or the milk of your choice, preferably one that doesn't have gums in it)
1 cup chestnut flour
1 tablespoon rose water or more (you can skip or add less or more to your preference)
optional: lemon zest, vanilla (especially if you don't use rose water)
1 tablespoon pecan/avocado oil / MCT oil (an oil that is not strong in flavor)
2 tablespoons sparkling water
pinch of salt
For filling or topping: warm wild blueberries, nut butter (pecan + coconut), rose petals, etc
coconut oil for the pan
Instructions
1

Add all the ingredients to a high-power blender and mix until everything is smooth.

2

Warm a crepes / non-stick pan on medium heat and add a tiny bit of coconut oil to the pan.

3

start cooking the crepes by adding about 1/4 cup batter to the pan, making sure the batter covers the entire pan as quickly as possible. Cook for about 2 minutes.

4

When the edges are cooked and the batter is no longer liquid on top, it's time to flip it. You can use a spatula to carefully peel the edges off and turn the crepe or you can flip it like a chef, please check tutorials online if you want to learn, is actually super fun.

5

Repeat with each crepe, and when all are ready, add a filling and roll them.

6

You might need to adjust the heat as the pan gets heated. I turn mine from medium to lower heat.
Notes
This quantity makes 6 crepes (3 servings if you have 2 per person). For toppings or filling, I used a mix of pecan and coconut butter, warm wild blueberries (they were frozen and I heated them in a pan). You can also use any seasonal fruits, coconut cream, whipping cream, chocolate, any nut butter, Yacon syrup, the sky is the limit. Enjoy.