In case you don't know what mini Bellas are, they are baby Portobello mushrooms. Just making sure because I didn't know they existed until recently. This is a very easy recipe, plant-centered and plant paradox friendly. The stuffing is made with almond ricotta and fresh oregano so these lectin-free stuffed mini Bella mushrooms are also dairy-free.
Stuffed mini Bella mushrooms – Plant Power
I've made stuffed Portobello mushrooms before, almost the same recipe, but I thought this one deserves its own place on the website. This is where you can find the Almond Ricotta Stuffed Portobello with Brussel Sprouts recipe.
The most significant difference is the flavors, this time I used fresh oregano for the stuffing and it was amazing. I made them in the oven at the same time with cauliflower and sweet potatoes, at 400F.
I find mushrooms a great replacement for animal protein. Most of the time I have them with a side of vegetables or greens, cooked or raw. All these veggies can be roasted in a bigger quantity and stored in the fridge for a couple of lunchboxes or quick dinners.
They are good cold or pretty easy to warm up in the oven or microwave (I personally don't use a microwave but if that's your only option and don't like cold veggies, go for it).
Roasting different veggies in the oven at the same time is one of my favorite techniques for making my meals simple and reducing time spent in the kitchen cooking and cleaning. My second favorite one must be soups.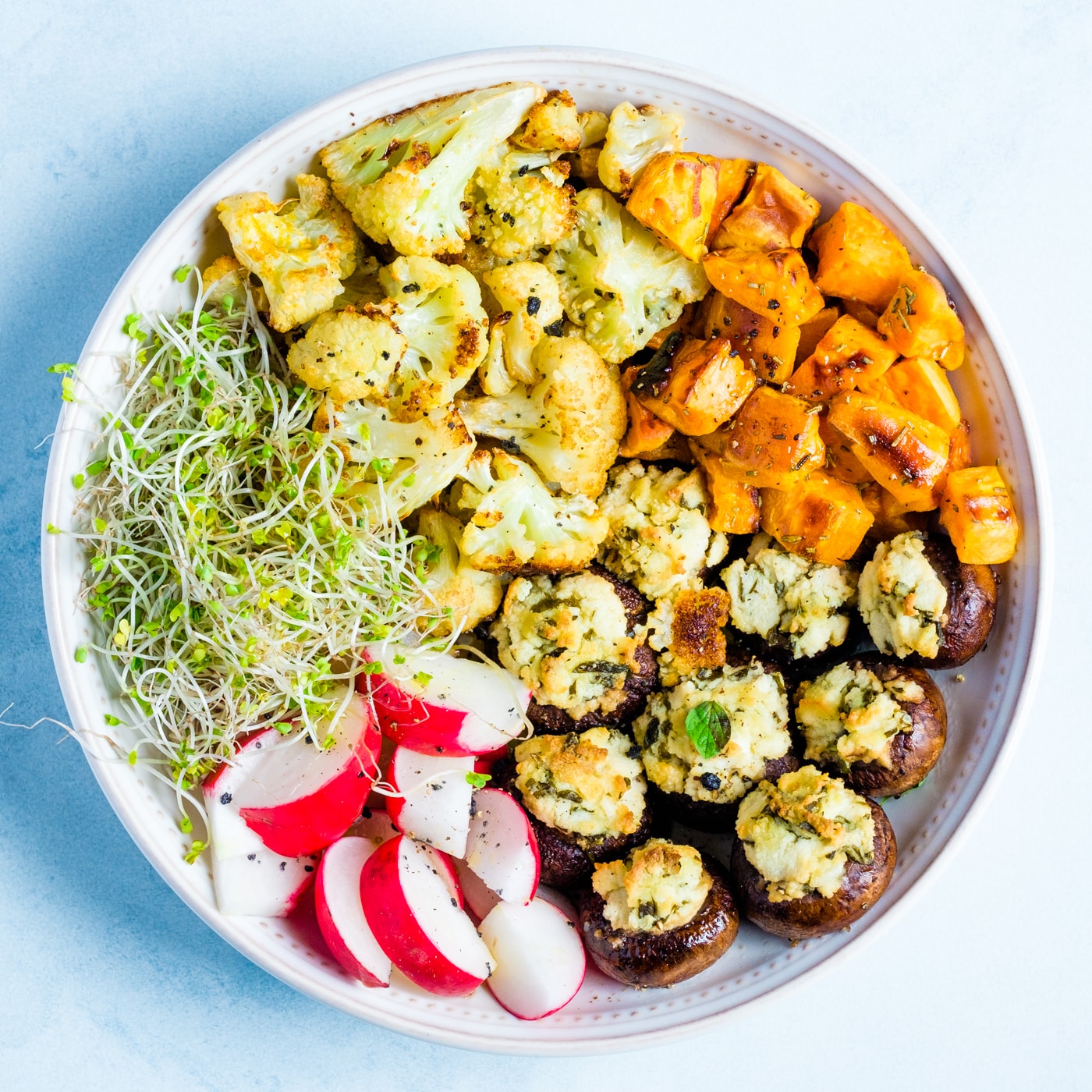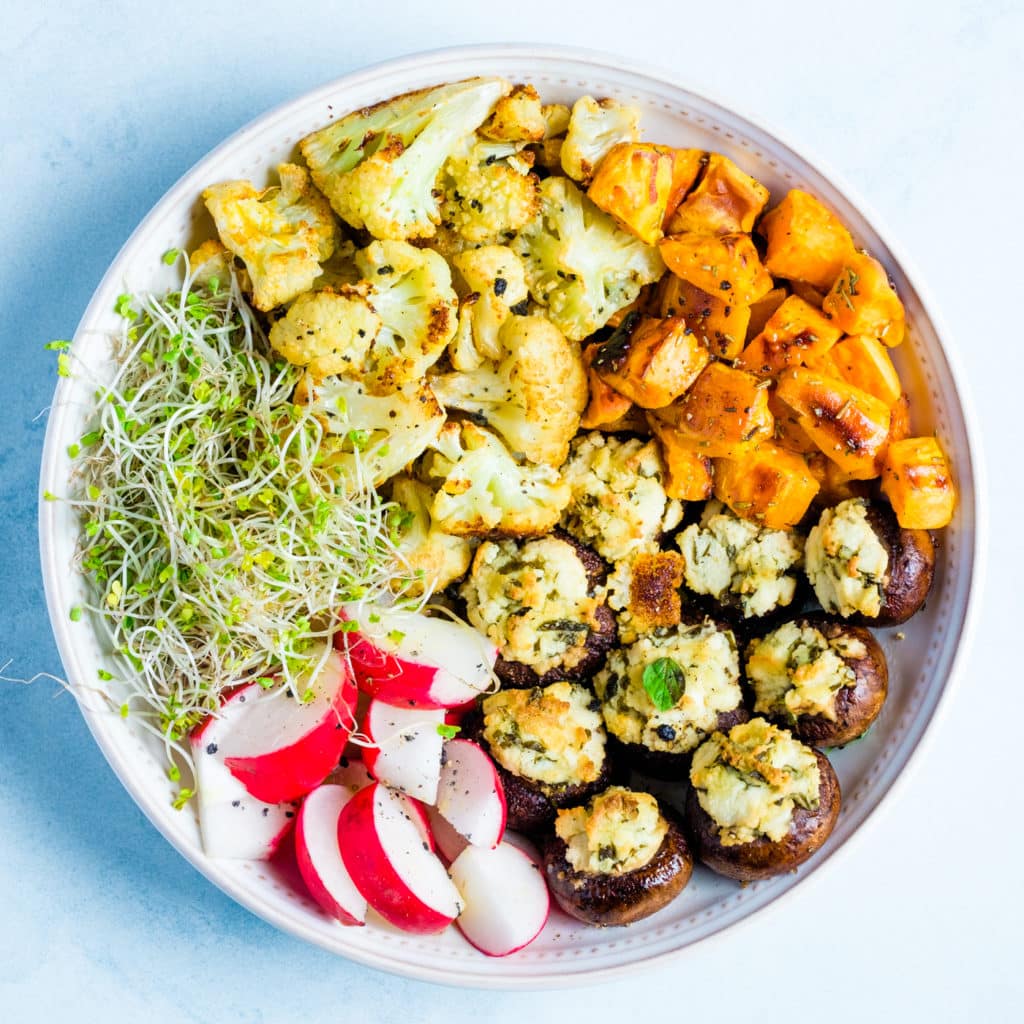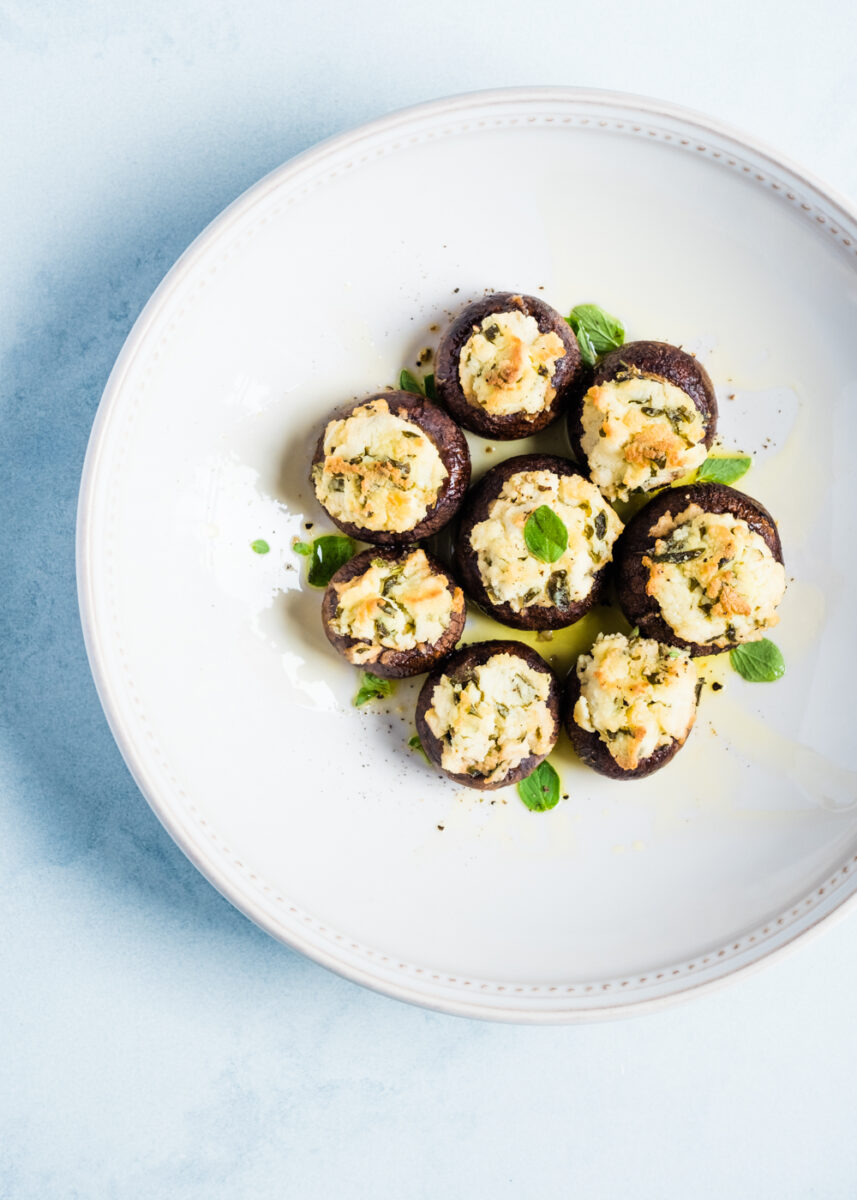 Print Recipe
Mini Bella Mushrooms Stuffed with Almond Ricotta and Oregano
Ready in three steps, these stuffed mushrooms with almond ricotta and oregano are tasty and filling.
Ingredients
9-10 mini Portobello mushrooms (or other mushrooms that are easy to stuff)

1/2 cup almond ricotta (I use Kite Hill brand)

1 tbsp extra virgin olive oil

2 tbsp fresh oregano leaves, chopped

1 garlic clove, finely chopped

Avocado oil

salt and pepper
Instructions
2
Wash the mushrooms, remove the stems and pat dry.
3
Mix ricotta, olive oil, oregano and garlic and stuff the mushrooms with the filling.
4
Add the stuffed mushrooms on a baking sheet (with or without parchment paper), drizzle with avocado oil, sprinkle with black pepper and salt and bake for 30 minutes.
Notes
Serve warm or cold, with a side as a main dish or as an appetizer.