I always wonder if there is anyone in this world not loving bread. Is there? I absolutely love bread, although I only like very good bread, which luckily is hard to find these days. Otherwise, I'm not at all tempted by the usual bread you find in stores and many restaurants. In my book – The Living Well Without Lectins Cookbook – I have quite a few lectin-free bread recipes, and from your feedback so far they are quite successful.
But I felt it was time for something new. Something easy to put together, to suit as many lifestyles as possible, to be tasty and have a satisfying texture. And that's how these flavorful, simple everyday little bread were born.
Not only this is a great lectin-free bread replacement, but they are also egg- and dairy-free. I affectionately call these "lectin-free little bread".
A bread that can be used in a variety of ways
This dough is made with a mix of lectin-free flours and sweet potato, and quite versatile. You can try to use the dough to make your own creations. Maybe give it different shapes and sizes, or even work the basics of this dough to create flatbreads and pizza crust.
But I really loved this size and shape because they cook and reheat fast. They are easy to store and are great for a breakfast open sandwich, a burger base, or a mini pizza. The crust is crunchy and the middle is soft. And they are oh, so tasty, you can just eat them as they are. My dad said this lectin-free bread tastes like meatballs (quite the compliment!).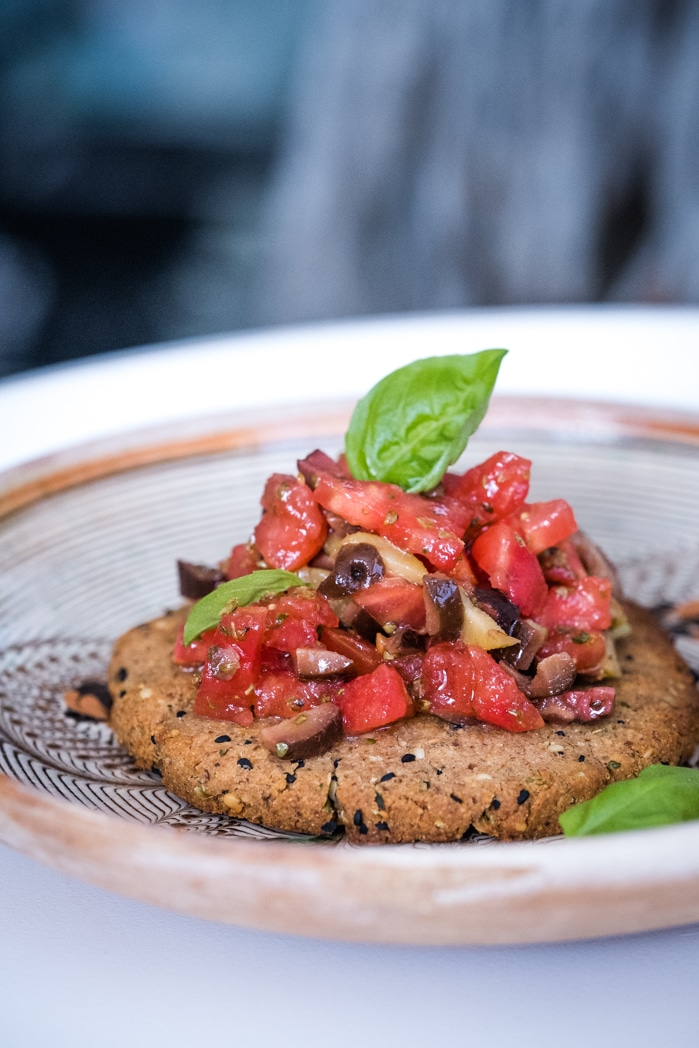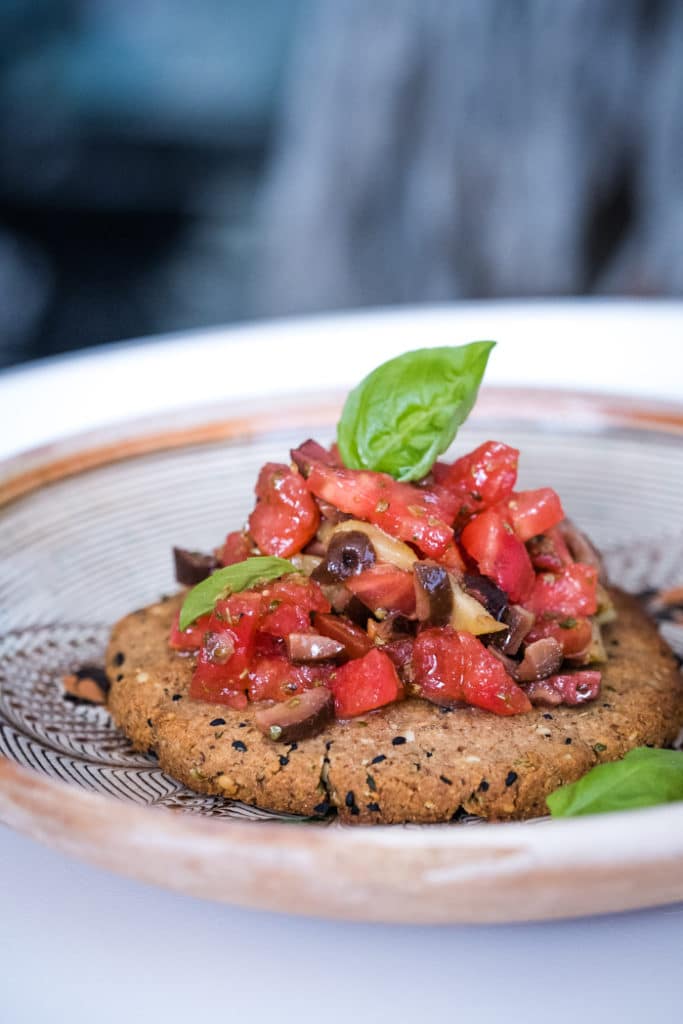 I love to eat this little bread as it is because is super tasty, but bruschetta for brunch is one of my favorite ways to serve it. I peel and deseed a small tomato (only when in season), cube it and mix with extra virgin olive oil, dry oregano and a mix of olives and top with fresh basil. You can also add garlic but the bread already has garlic in it and that's enough for me.
You can also try it with a poached or fried egg, olives and pesto, maybe wild-caught smoked salmon. It's perfect as a base for a chicken salad or tuna salad open sandwich. They also go well with my beef liver pate with fresh herbs recipe.
This quantity I'm using here makes eight little pieces of bread. You can double or triple, cook and freeze them and reheat in the oven or on a griddle just before eating. They can be stored for a couple of days in a glass container, in a cool place, or in the fridge. In my house, at the moment my mom and I are eating them and they don't last long anyway.
Lectin-free bread: the ingredients
The dry mix
The dry mix for the little bread is made of: flaxmeal, arrowrrot, psyllium husk, cassava flour, tigenut flour, almond flour, baking powder, hemp seeds, Nigella sativa seeds.
The wet mix
The wet blend mix is made of fresh onion and garlic, cooked sweet potato, coconut milk, water and extra virgin olive oil. Spiced with salt, herbs de Provence and dry oregano (fresh herbs can be used too).
How to make your baking powder
A quick note about baking powder. If you can't find a clean one, without corn starch or aluminum, you can make your own by mixing cream of tartar with baking soda.
For one teaspoon of baking powder required in a recipe, mix 1/2 teaspoon cream of tartar with 1/4 tsp baking soda. If you make a larger batch mix 2 parts cream of tartar, 1 part baking soda and 1 part arrowroot powder, mix well and store in a glass, airtight container in your pantry.
I usually make it fresh each time I bake so no need for arrowroot, which helps with the moisture of the mix (why corn starch is used in commercial versions).
TO FIND SUGGESTIONS FOR ALL THE INGREDIENTS, IN ONE PLACE, CHECK OUT MY SHOP PAGE
The sweet potato
As per the sweet potato, the simplest way for me to cook it is in the skin, in the oven, at 375F for as long as it needs to get soft, depending on the size of the potato. 160 grams of cooked sweet potato is usually the flesh of one big sweet potato.
You can totally use canned, but the canned ones are usually more watery, so you might need to adjust to more flour or less liquid. Either way is easy to fix if the dough is too wet or too dry.
Get creative
You can roll the dough thinner or use a tortilla press to make delicious flatbreads. It will be a great dough for mini pizzas, the same thickness or thinner. Cook them halfway or slightly undercook them, add toppings and continue to cook until everything is ready. You can certainly get creative with this dough but you might need to add more flour for different results.
More lectin-free bread recipes
For more delicious lectin-free bread recipes, check out this delicious Pao de Beijo or Luana's Brazilian Sun Kissed Bread, or the Easy Cassava Flour Tortillas, both vegan and with minimal ingredients. For a more festive, slightly sweet bread, you might like my Lectin-Free Mini Irish Soda Bread.
This recipe is part of The Ultimate Lectin-Free Breakfast Guide, Recipe Round-Up, check it out for more tasty and satisfying lectin-free breakfast ideas.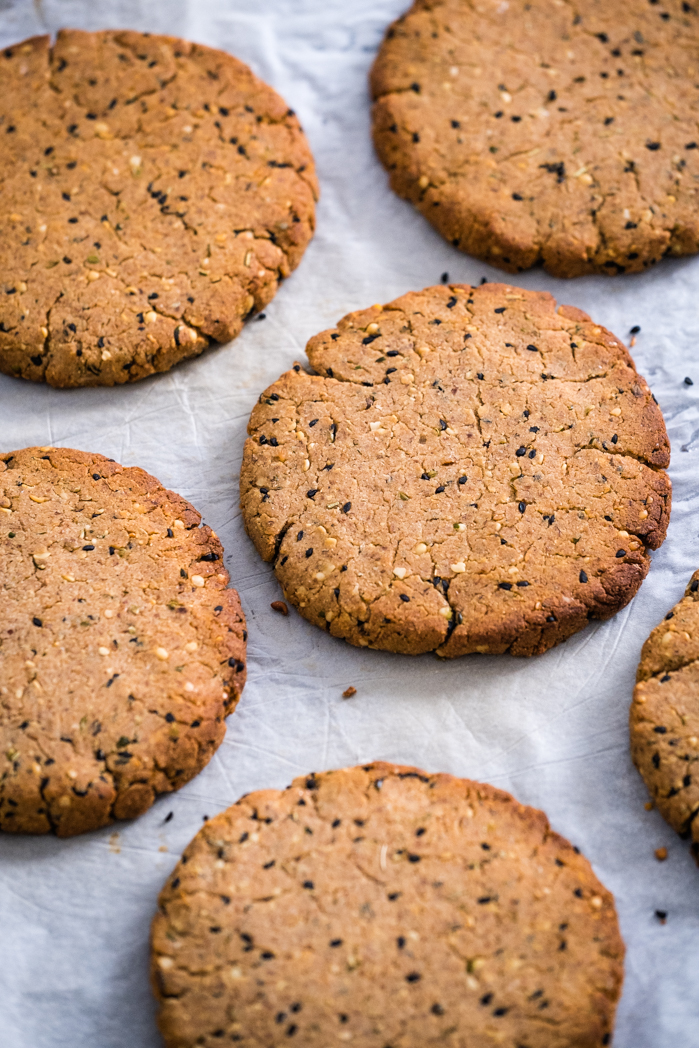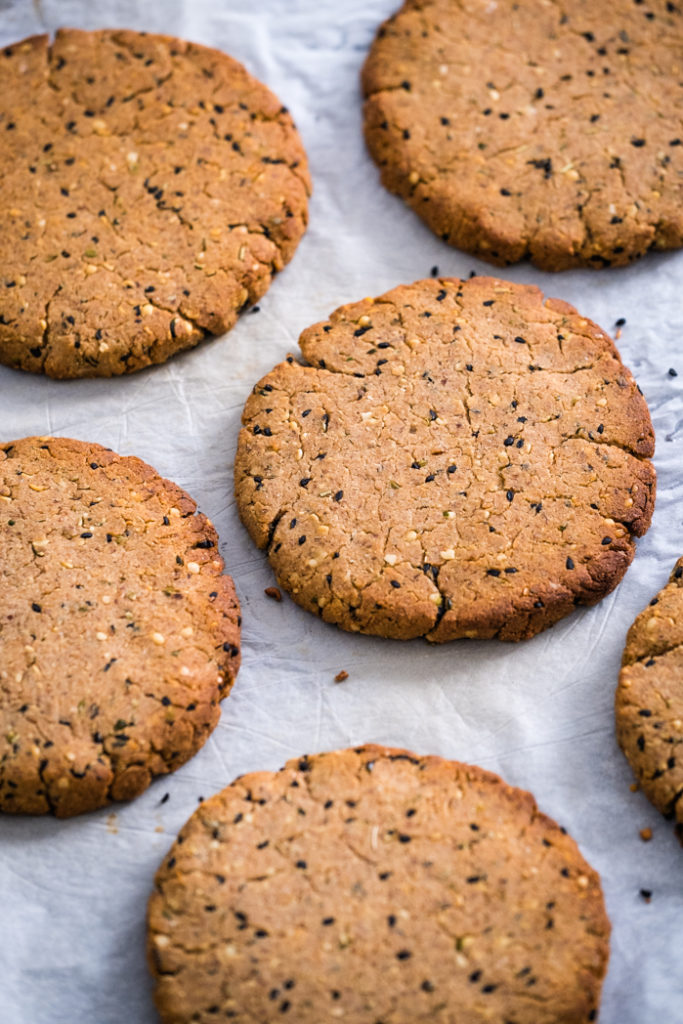 These are two of my favorite lectin-free bread recipes in my book – The Living Well Without Lectins Cookbook. They are both vegans.
Wholesome Rosemary Bread Rolls, page 46
Teff Hazelnut Banana Bread, page 60
Enjoy!
*This post contains affiliated links, which means I get a small commission if you choose to purchase something via one of my links, at no extra cost to you.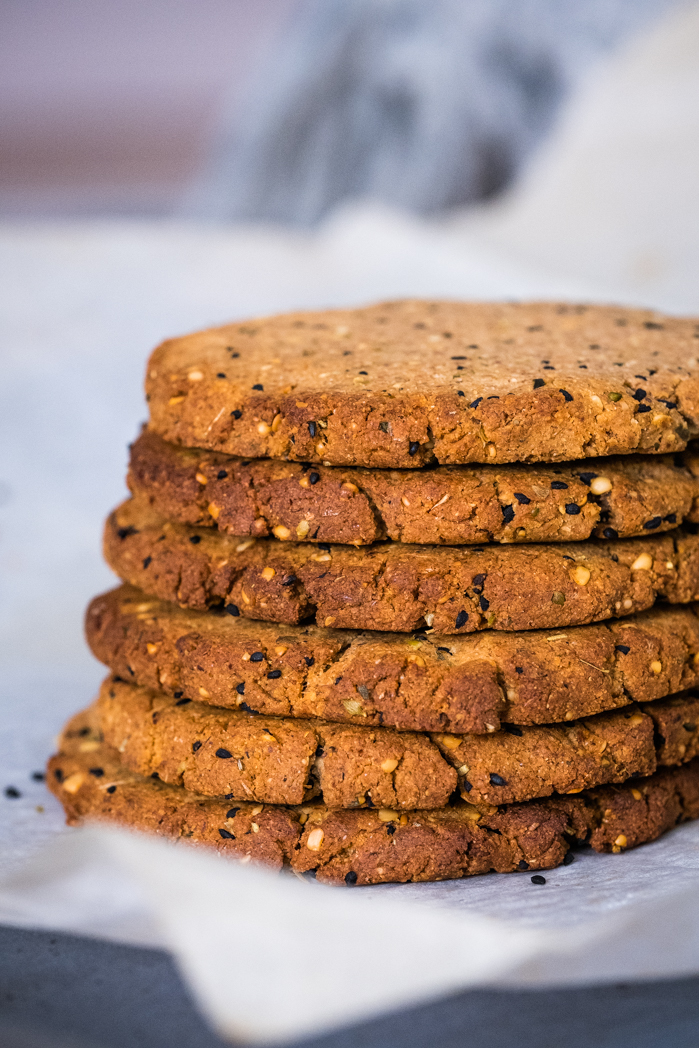 Print Recipe
Everyday Lectin-Free Bread
Easy to make lectin-free, gluten-free and sugar-free everyday little bread.
Ingredients
DRY ingredients:
20 grams flax meal
1 tablespoon arrowroot powder
2 tablespoons psyllium husk flakes
130 grams cassava flour (plus more if needed for kneading)
20 grams tigernut flour
2 tablespoons hemp seeds
25 grams almond flour
1 teaspoon baking powder
1 tablespoon Nigella sativa seeds
1/2 tablespoon herbs de Provence
1 teaspoon dry oregano
1 teaspoon salt
BLENDER ingredients:
1 small onion, chopped
2, 3 garlic cloves
160 grams sweet potato puree (cooked: boiled or baked)
1 teaspoon apple cider vinegar
1/4 cup full fat coconut milk
1/4 cup water
5 tablespoons extra virgin olive oil
Instructions
1

Preheat oven to 400F and prepare a baking sheet with parchment paper. Prepare another parchment baking sheet and a rolling pin.

2

Combine all the dry ingredients in a big mixing bowl.

3

Add all the blender ingredients to a blender and combine until all creamy and smooth.

4

Add the blender ingredients to the dry mix bowl and combine with a spatula, then with your hands until you form a nice ball of dough. If you feel like the dough is too wet, you can sprinkle more cassava flour and knead. If too dry, wet your hands and knead until the dough gets more hydrated.

5

Split the dough in 8 equal balls and flatten them with your hands or with the help of a rolling pin. From my experience, there is no need for a top sheet of parchment paper, but just in case you feel it sticks to the rolling pin you can do that. You can choose your thickness, but I like mine about 1/4 inch.

6

Transfer the little breads on the baking sheet and bake for about 25 minutes, or until they are baked to your liking. I like when the crust gets a little hard. There is nothing in the dough (like eggs) that needs to cook in order to be safe to eat, so you can vary the timing to suit your purpose. If your plan is to freeze them for later use, I would bake them a little less, and when you reheat them you can cook them soft or with a harder crust.
Notes
They'll stay fresh for a couple of days in the fridge, in an air-tight container and they freeze well, separated with parchment paper. Take out before serving and warm in the heated oven for about 10 minutes (straight from the freezer). You can use these as mini pizzas, so you can slightly undercook them, add the toppings and continue to cook for 10 more minutes with toppings. You can roll them thinner if you prefer or even use a tortilla press to make flatbreads on a griddle (you might need to add more flour for more crispiness).