A few days ago I went to a family dinner at a nice restaurant in Aarhus (Denmark). One of the side dishes immediately caught my attention. Mostly because it looked plant paradox compliant but also because I love roasted cabbage. It was roasted cabbage and tahini and I knew I would love it.
I really wanted to use this combination for a homemade meal, especially that I love Danish cabbage and I reintroduced tahini recently. I stopped it once I started to have histamine issues but lately, I've been working on slowly reintroducing everything back. Balance is important so I carefully combine things so I don't have again a histamine overload.
Roasted cabbage and tahini, a very simple dish
So, back to the roasted cabbage and tahini dish. It is very simple to make, plant-based and perfectly balanced, and satisfying as a main dish, or can be served as a side dish.
I would imagine it would go well with fish and lamb, even chicken breast. For this reason, serving size is just guidance, you can have it all by yourself if you are super hungry, serving it as a main for two or even for four people as a side dish.
Pressure-cooked beans
The chickpeas I used were already pressure-cooked. To pressure cook chickpeas, you have to soak them overnight and change the water three or four times, and pressure cooks them for about 22-25 minutes. I don't like to use salt when pressure cooking beans, but I use fresh rosemary. A friend told me she pressure cooks them with garlic, onion and carrots, and all those flavors will infuse the chickpeas.
Alternatively, you can use chickpeas from a can, as the canning process usually involves pressure cooking. Eden brand is recommended in the US (they also use BPA-free cans and apparently also soak their beans). You can double-check with the company that produces them if you are not sure.
I usually portion them and freeze them. For this dish, I took out one cup of cooked chickpeas, put them in a baking dish with finely sliced spring onion and garlic, salt, pepper and extra virgin olive oil and I baked them for 35 minutes (at the same time with the cabbage). They'll get almost crispy and very tasty.
Danish roasted cabbage
I love to use the summer Danish cabbage. It's very tender and pretty small in size (also called sugarloaf in some countries, it has a cone shape and grows pretty fast in the summer).
But if you don't have access to this type of cabbage, any type and any color would work, even Napa or Savoy cabbage.
Making the tahini sauce
I make the tahini sauce while the cabbage and the chickpeas are in the oven. You just have to mix tahini (sesame butter) with lemon and cold water until you get the desired consistency (creamy, that can be drizzled). I added 1/4 tsp of raw honey for a little bit of sweetness.
For a zero-sugar version (or truly vegan) you can use Yacon syrup or Lakanto syrup. You will also need dry dill, fennel seeds and fresh dill. If you can't find fresh dill, skip it or use more of the dry when serving, but be careful because dry dill is more concentrated in flavor. I wouldn't use any other herb in this case.
You might also want to check out the Homemade Tahini Sauce with Garlic and Cumin recipe. Another great salad dressing and it will go well with the roasted cabbage.
More cabbage recipes
And if you are up for more cabbage recipes check out Roasted Cabbage Wedges with Smoked Pork Sausage (plus more cabbage inspo) or Mushrooms and Napa Cabbage Miso Stir-Fry.
Enjoy!
*This post contains affiliated links, which means I get a small commission if you choose to purchase something via one of my links, at no extra cost to you.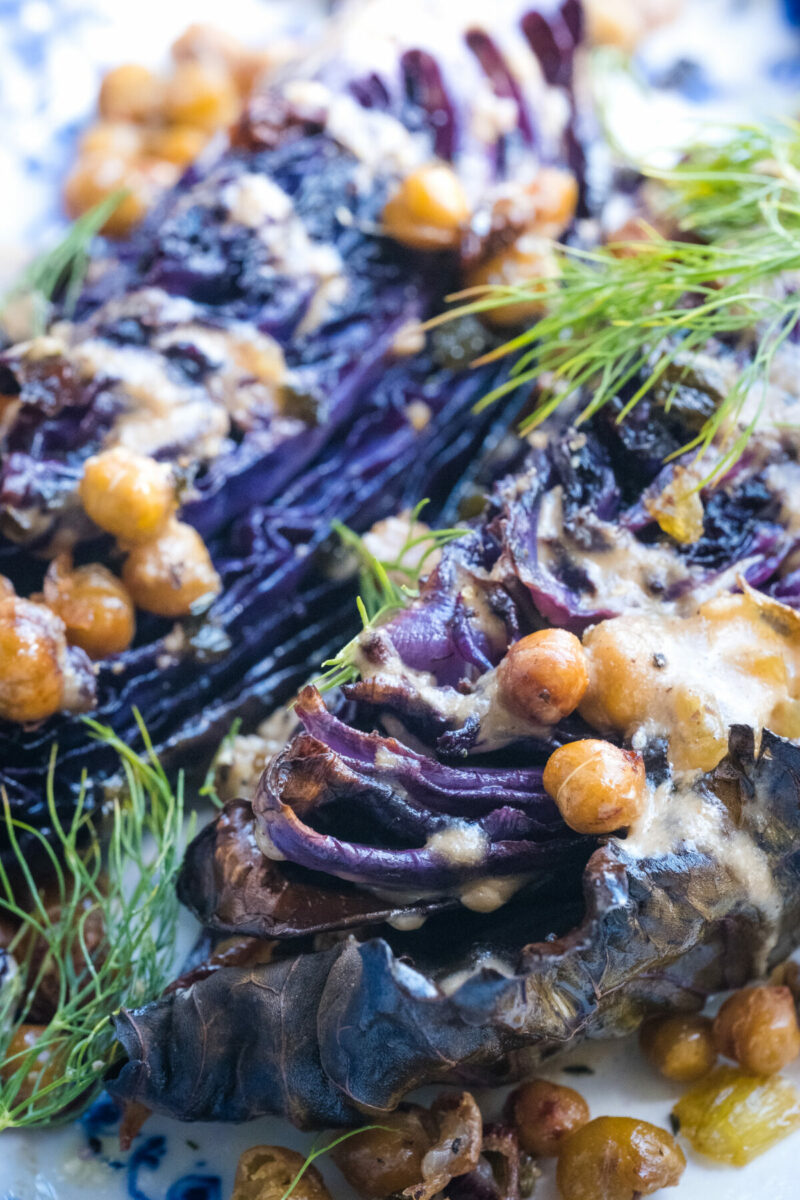 Print Recipe
Roasted Cabbage With Crispy Chickpeas and Tahini Sauce
A delicious and easy to make plant-based, lectin light meal
Ingredients
FOR THE CABBAGE:
1 small to medium red cabbage (any type of cabbage can be used)
extra virgin olive oil
salt and pepper
1/4 teaspoon fennel seeds
1/4 teaspoon dry dill
FOR THE CHICKPEAS
1 heaping cup pressure cooked chickpeas (drained)
4-6 spring onions, chopped
1 garlic clove, finely sliced
salt and pepper
FOR THE TAHINI SAUCE
2 tablespoons tahini paste
1/2 teaspoon lemon juice
1/4 tsp raw, local honey
few teaspoons cold water (added one by one until you get the desired consistency)
FOR SERVING
fresh dill
salt and pepper to taste
Instructions
1

Preheat the oven to 400F (200C).

2

Wash and cut the cabbage in wedges, the number will depend on how big your cabbage is. The sugarloaf cabbage I used is pretty small so I had four wedges.

3

Add the cabbage to a baking dish, drizzle with extra virgin olive oil, sprinkle with salt and pepper, fennel seeds and dry dill and roast for 35-40 minutes. You can add a little water in the last 15 minutes if it looks too dry.

4

Add the cooked chickpeas to another baking dish that will fit next to the cabbage, add the onions and garlic, sprinkle with salt and pepper, drizzle with olive oil, toss and put in the oven. It will need about 35 minutes to get crispy (they are not totally crispy, but pretty dry compared to the boiled ones).

5

While the veggies are cooking, make the tahini sauce. Add the tahini to a small bowl with the lemon juice and honey, start mixing, preferably with a mini hand mixer, or a fork and start adding cold water, one teaspoon at a time, and continue until it becomes creamy and easy to drizzle, but the consistency is up to you. If the tahini is not salted, taste and see if it needs a pinch of salt.

6

When the cabbage and chickpeas are ready, add the cabbage wedges to a serving platter, spread the chickpeas on top, drizzle the tahini sauce and sprinkle fresh dill. If everything is well seasoned you won't need extra salt, but if it needs more add some.