You don't need an occasion to make another carrot cake, especially a healthy one. This is an easy lectin-free spicy carrot cake to make, not very carby as it's made with almond and hazelnut flours, and it is delicious. Paired with the mascarpone cream is divine, but you can make it without, and it will still be perfect.
The cranberry season is a good excuse to make this cake. If you can't find fresh cranberries, you can use wild blueberries, or black and red currants – fresh or frozen.
How to make a healthy homemade carrot cake?
Just because a cake is made with carrots doesn't mean it is healthy. A classic carrot cake is made with lots of sugar and the usual wheat flour.
So, for a healthy carrot cake:
skip the wheat flour, or any lectin and gluten-heavy flour
skip the tons of sugar
use ingredients that are nutritious
I have been introduced to the best carrots cakes while living in Dubai, and I can tell you, I've had some of the best ones (if by any chance you read this and you know Dubai, you know what I'm talking about: Lime Tree Cafe and More Cafe, both had amazing carrot cakes. And coffee! ). But you know, they were full of sugar and gluten.
This version of a spicy carrot cake is made with almond and hazelnut flour. It has a minimum amount of sweetener, and it only has whole, healthy ingredients like carrots, apples, fresh cranberries (not the sweetened, dry ones), and anti-inflammatory spices like ginger, turmeric, cinnamon, and nutmeg. In general, I am not scared of carbohydrates, but this one is also pretty low in carbs since it's only made with nut flours.
You might know already I have a few more carrot cake recipes on the website. One is the Happy Birthday Carrot Cake, my birthday cake creation in July 2018, which is great, and I make it mostly for celebrations. I had quite a few happy people making it since then. The second is in fact a review of Dr. Gundry's carrot cake muffins, from The Plant Paradox Cookbook, with a few modifications I made: Dr. Gundry's Carrot Cake Muffins, Tried and Tested.
There is also a Nut-Free Carrot Cake, which I made when I took a break from nuts but I still wanted carrot cake. It's so easy to make and delicious.
Why another carrot cake recipe
So the reason I'm posting another lectin-free carrot cake recipe on my website is not that the others were not good, or there are not enough carrot cakes on the internet, but because it just happened that I made a great version using different ingredients, and it turned out delicious. And when fresh cranberries are in season, this might be a great way to use them.
Plus, I am a fan of hazelnuts in desserts, so I think using hazelnut flour gave this cake a super nice texture and taste. My experiment also has a lot to say about how versatile a carrot cake is once you figure out the proportions and how the different flours and ingredients work together, so you can unleash your creativity and make your own version of gluten-free, lectin-free and sugar-free carrot cake.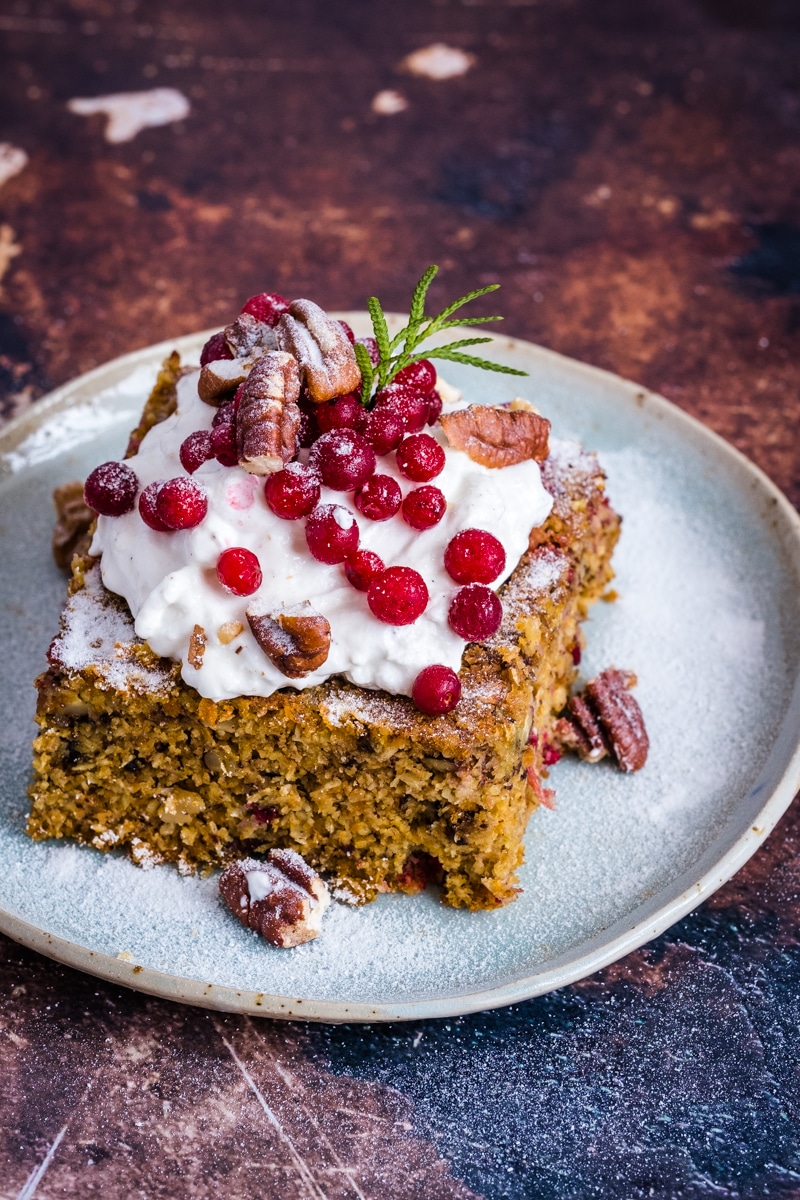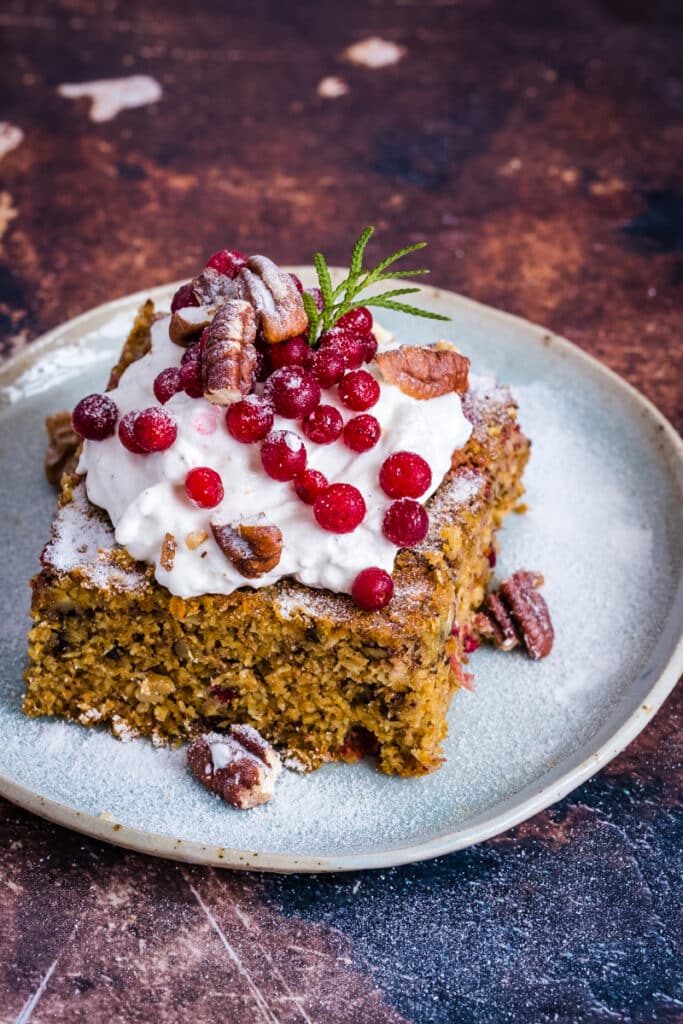 Ingredients and substitutions
I will split the ingredients into wet and dry for an easy way to follow.
I added marine collagen for an extra boost of nutrients, but you can totally skip it or use your favorite collagen. When I first published this recipe, I used Turmeric Tonic, a mix of turmeric and adaptogens that have great anti-inflammatory properties, to spice the cake. But I have updated the recipe to make it easier for those who do not have access to this product.
I sometimes make this lectin-free spiced carrot cake without mascarpone cream. It's still delicious. You can also make a dairy-free cream to go with it or use regular organic cream cheese.
Something about the baking time. It will differ depending on the type of dish you make it in. The sign that your cake is cooked is that is not soft to the touch.
As for the sweetener, I use alternatively LAKANTO GOLDEN Monk Fruit Sweetener (granular) and SWERVE (granular) in my recipes. I personally think they work the same. I usually add a small quantity for a cake like this (3 tablespoons), but it's perfectly sweet for my taste. Feel free to add more if you have a big sweet tooth.
The Spices for Carrot Cake
You can use the spices in the recipe card below, you can use a pumpkin pie spice mix or my Holiday Warming Spice Blend.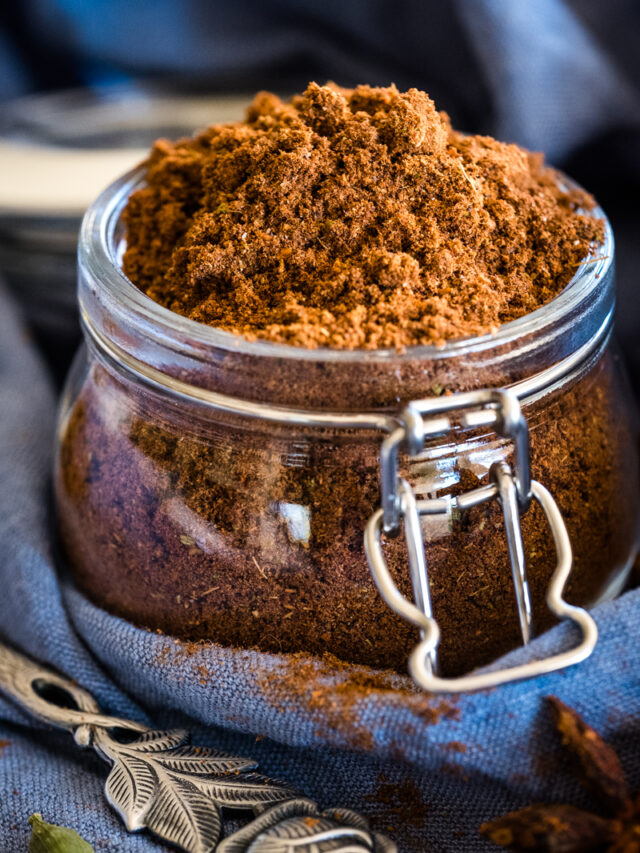 *This page contains affiliated links, which means I get a small commission if you choose to purchase something via one of my links, at no extra cost to you.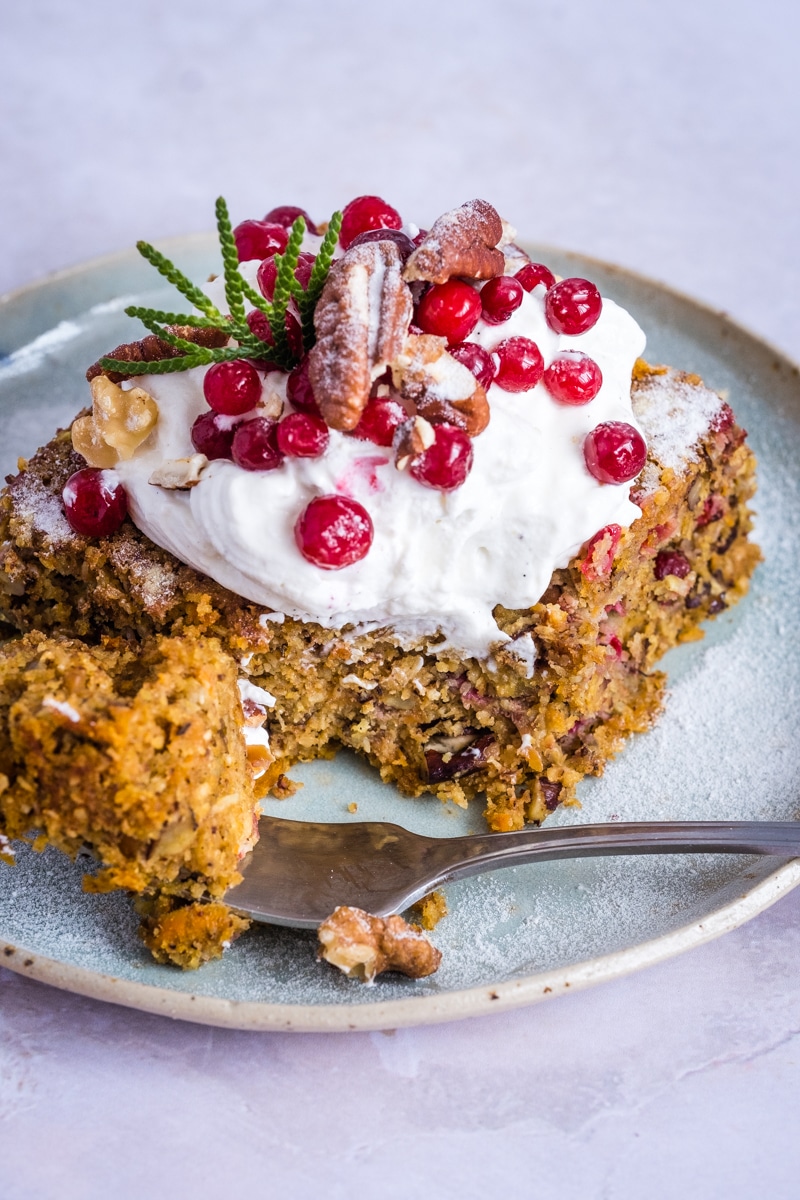 Print Recipe
Spiced Carrot Cake with Fresh Cranberries and Mascarpone
A yummy, easy lectin-free carrot cake.
Ingredients
THE DRY MIX:

1 cup blanched almond flour (packed)

1 cup coarse hazelnut flour

2 tablespoons coconut flour

2 tablespoons tapioca flour

1 teaspoon cinnamon

1/4 teaspoon nutmeg

1 teaspoon ground turmeric

2 scoops Marine Collagen (optional, or use any your favorite collagen)

1 teaspoon baking soda

1/2 teaspoon baking powder

1/8 teaspoon salt

THE WET MIX:

2 pastured eggs

2/3 cup full fat coconut milk

1/3 cup avocado oil or extra virgin olive oil

3 tablespoons monk fruit granulated sweetener (Lakanto) OR granulated Swerve

organic lemon zest OR organic orange zest from one lemon/orange (or both)

1 teaspoon pure vanilla extract

THE ADD-ONS:

1 heaping cup shredded/grated carrots

1 heaping tablespoon freshly grated ginger

1 grated apple

1 cup fresh cranberries (make sure they are not wet)

1/2 cup shredded coconut

1/2 cup toasted pecans, roughly chopped

THE CREAM:

Mascarpone

Goat yogurt (use 3 parts mascarpone to one part yogurt)

Optional: sweetener to your taste (I don't add to mine)
Instructions
2
Prepare a deep baking dish with parchment paper (you can use any size / type dish you want, shape, or even make them as muffins). Mine was rectangular, 8x6 inches and it took about 35 minutes to bake, but there were times when I made it in a round cake dish, and it took much longer (about 50 mins to an hour). To test if it's done, try to press with your finger on top of the cake; if it's no longer soft to the touch, it's done.
3
Prepare the cranberries (wash and pat dry).
4
Roast (8 mins at 350F) and chop the pecans (you can also use raw, but roasted are tastier).
5
Make the coarse hazelnut flour, by processing the raw hazelnuts in a food processor on high. I like mine to be a little coarse. It is ok if it's not all the same size; it gives a nice bite and texture to the cake.
6
In a big bowl, combine all the dry ingredients.
7
Grate the carrots. Grate the ginger.
8
In the food processor, mix the wet ingredients. Add the wet mix over the dry one and mix with a spatula until all is incorporated. Add the carrots, ginger, shredded coconut, cranberries, and pecans and lightly mix with the spatula.
9
Add the batter to the baking dish and bake for about 35 minutes, or more if necessary. Do the toothpick test. I did mine first at 30 minutes and it came out wet and left it 5 minutes more. Just make sure you keep an eye on it. Smell and color should guide you. Let it cool before you eat or remove it from the dish. I like this cake best after it had time to rest in the fridge.
10
To make the cream, just mix 3 parts mascarpone with one part goat yogurt. I didn't make a cream for the entire cake, just for a few pieces we had that day. You can skip the cream entirely or just use an organic cream cheese mixed with heavy cream, in case you don't have mascarpone.
Notes
This cake is better when cold, from the fridge. Even better the second day. My cake was about 2 inch tall, so if you want to make a layer cake you can bake 2 separate ones in smaller dishes and add the cream in between layers. So many possibilities. Be creative!