How is that time of the year again? I've made a similar lectin-free sweet potato pie last year for Thanksgiving, and couldn't wait to re-test it and improve it for this year's fall season. And I thought I'd do it earlier this year to give y'all time to prepare. Move over pumpkin, sweet potato got our back this fall.
No pumpkin, no problem. Lectin-free sweet potato pie saves the holidays
I've never been a fan of pumpkin, except on a few occasions I've made a really tasty pumpkin soup. My grandma always tells this story when I was little and was invited to eat at some of our neighbors' house, and when they told me the second course is baked pumpkin I got all sad and quiet (haha).
In Romania, we also have a sort of pumpkin pastry, which some people love and I never liked. All this to say, finding out pumpkin is all lectins didn't ruin my entire world. On the other hand, I absolutely love sweet potatoes, although I discovered them just recently, after moving to the US. They were not a thing when I moved from Romania almost 15 years ago, and they were not a thing in Dubai, where I lived for the most part of those years. Now when I travel back to Europe I see them everywhere, even in the small town, where my parents live.
Two color filings, a nice visual effect
So, back to this recipe, there are two ways to go about it: 1. the easy way, just get the usual orange flesh sweet potatoes and make the pie. OR, if you want to complicate your life, as I do, try to make it in two colors, complementary ones that are, purple and orange.
It does have a nice visual effect, and I love the addition of the Purple Stokes sweet potato (which to me tastes like chestnuts), but it takes almost double the time because you have to split the ingredients into two batches. And while you can contaminate some of the purple with orange, you can't do it the other way around because the orange sweet potato will get muddy.
If you choose the difficult path, I suggest making the two-color fillings in advance: bake the potatoes, puree them, add the rest of the ingredients and store them in the fridge. This will definitely make everything easier. I did everything in one go and it took me about three hours with the baking of potatoes. It's totally worth it though; I'm just having some right now with coffee, while I'm typing this.
Making two mini pies
Another area I want to cover before going to the recipe is the quantity. Because we are a small family, I don't do things normal size, because I don't want to waste food, so my quantities will make two mini pies. I have two mini tart / mini quiche pans with removable bottoms, which I also use for pies. They are about 4 in diameter and not very deep. Something similar to these. I only have two so I usually make two pies and I use the leftover dough and filling in a different way. If I had three, this quantity would make three mini pies.
This time I actually had quite a lot of potato filling left, so I added it in layers in a stone bakeware pan, starting with the purple one, followed by the orange, followed by the dough which I crumbled. So I basically made a third one, a reversed sweet potato pie. Most of you will make a full-size pie, in a pie mold that will have higher walls, so for that, I recommend doubling the quantity of dough, but the filling would be enough for a full-size pie.
This is how the extra filling and dough ended up looking like after baking: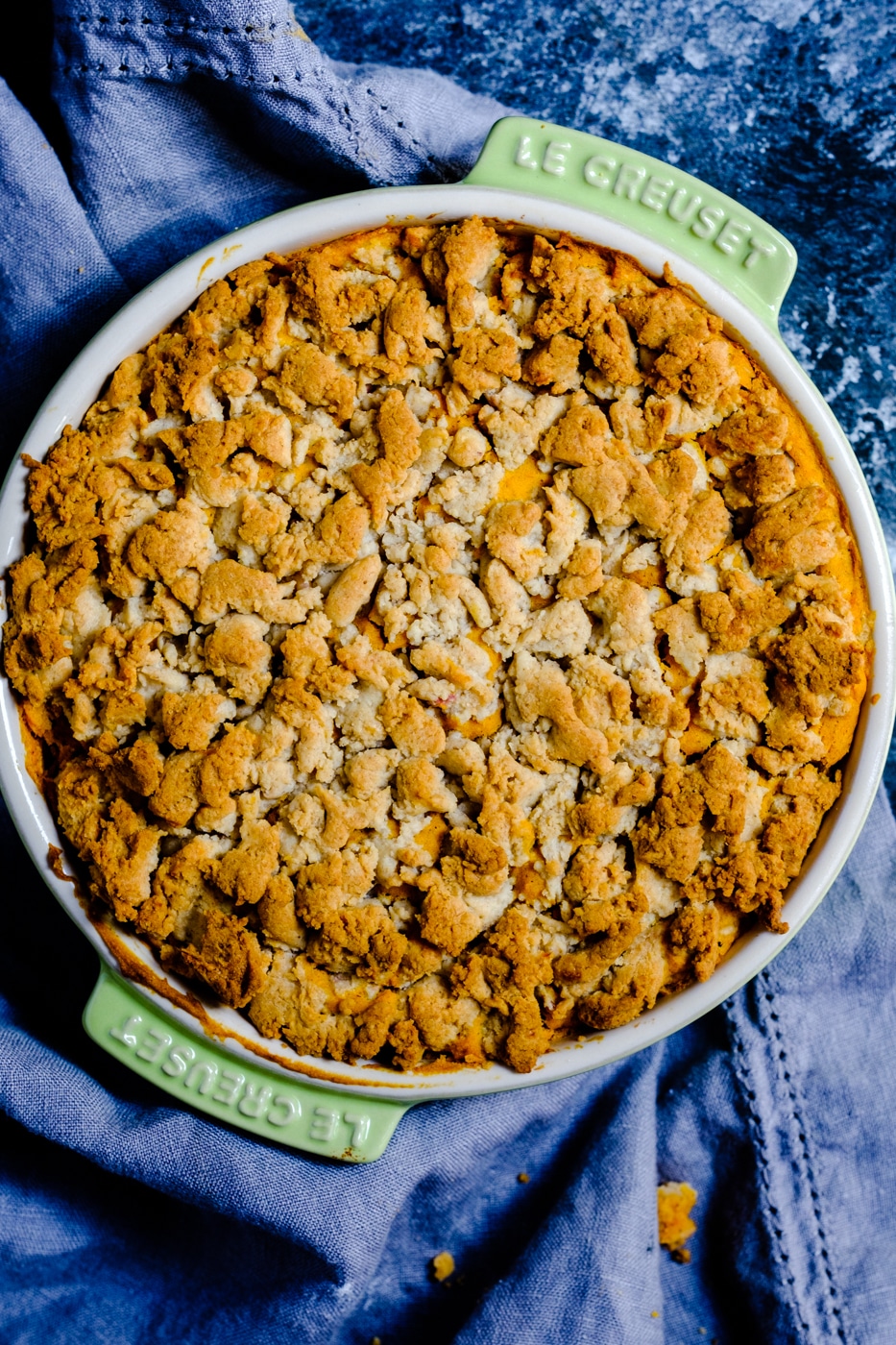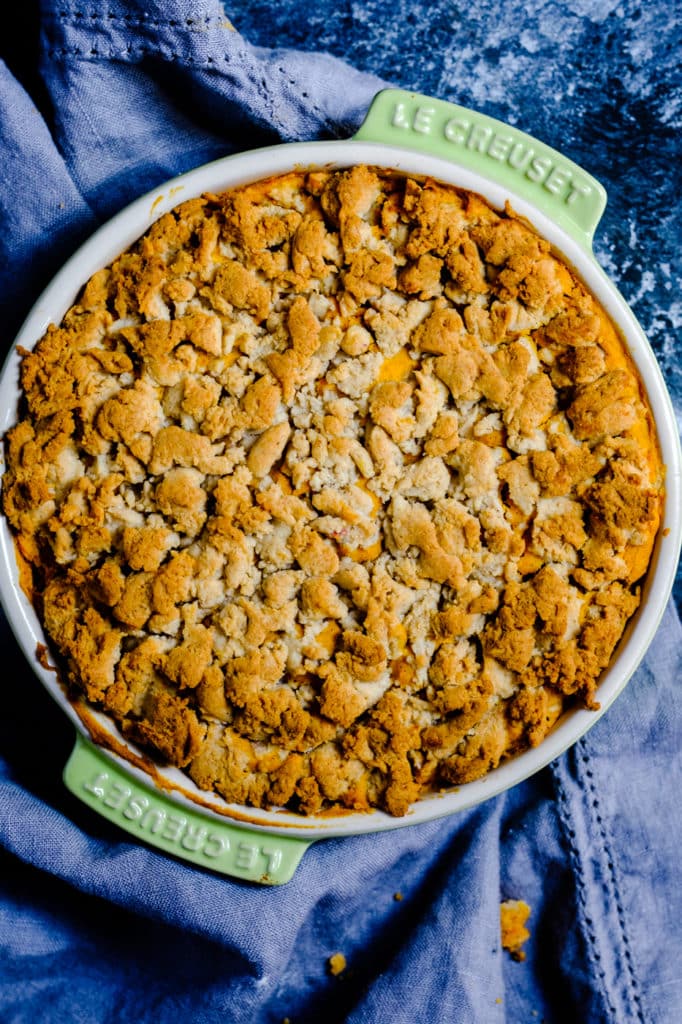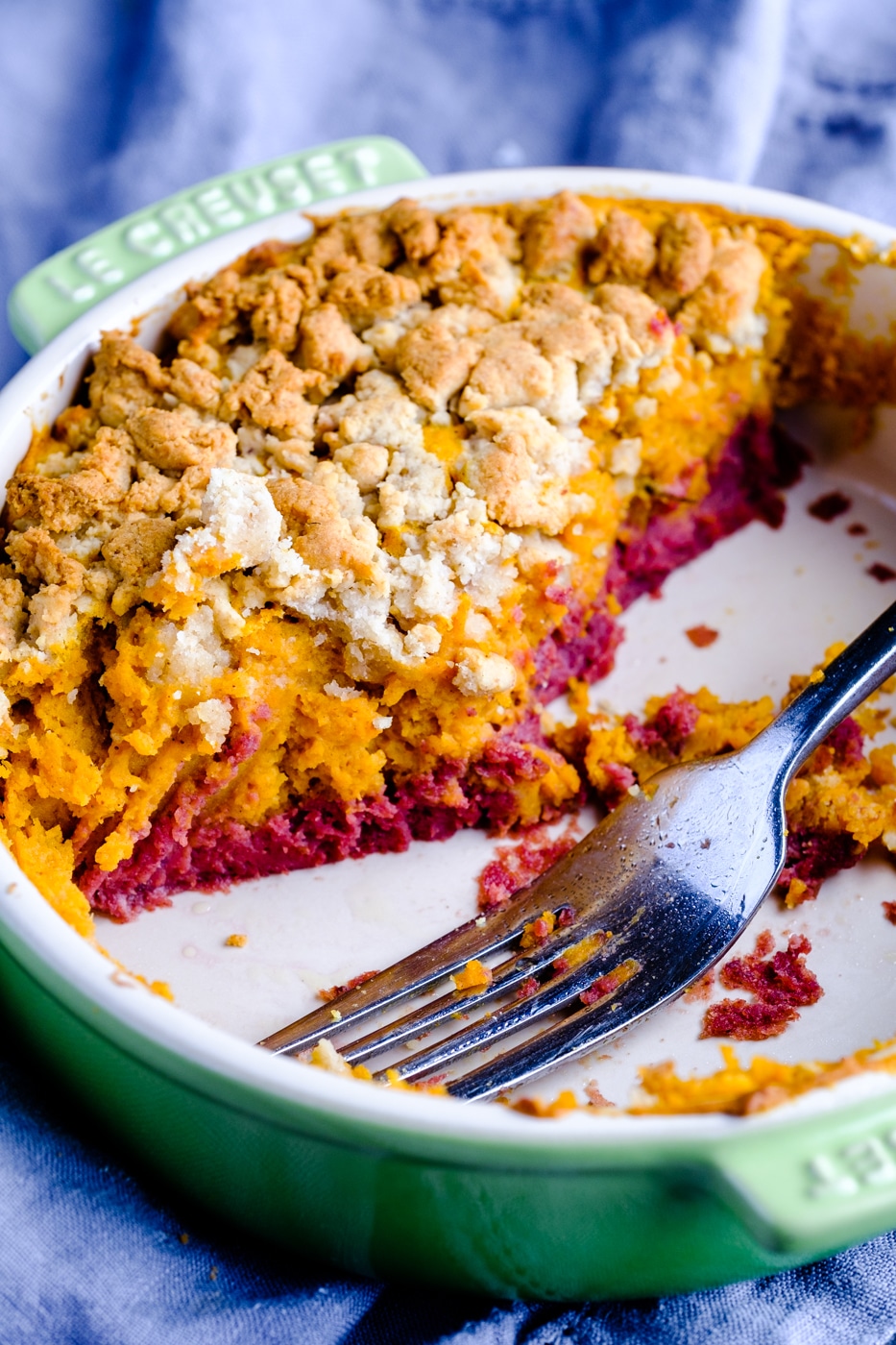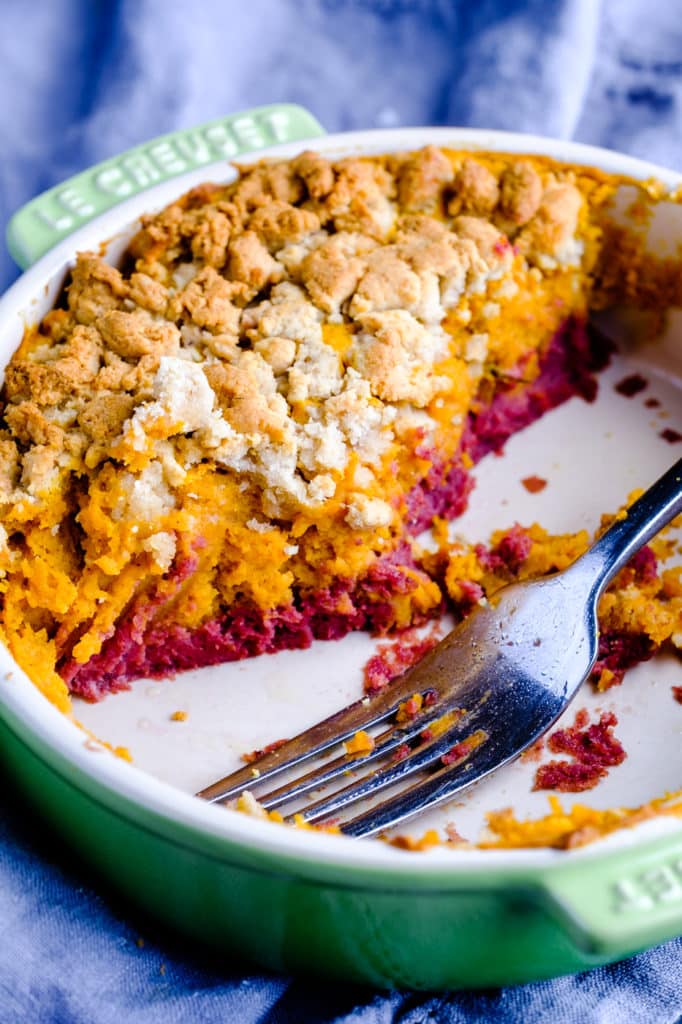 How to make lectin-free sweet potato pie
Of course, pumpkin pie spice is essential for this recipe, so don't start if you don't have it. I had one from last year left but I wanted a fresh one, and I found an organic one at Whole Foods. Or, you can find one here.
The dough is made with almond, tigernut and tapioca flours. Please double the quantities if you make a big pie (normal size pan). I've made a few photos of the entire process to make it easier to follow this recipe. It's not complicated at all but there are few steps involved and if you are a visual person like I am you will appreciate this.
I use a food processor for making both the fillings and the dough, that's why I think is better to have the fillings made in advance so you don't have to go back and forth and clean the processor. The dough will come out super sticky from the food processor, and you will finish it by kneading it by hand with tapioca flour, until you can easily shape it in one or two balls, depending on what pan you are using. Regarding the cooking time, I did not add the baking of the potatoes to the time.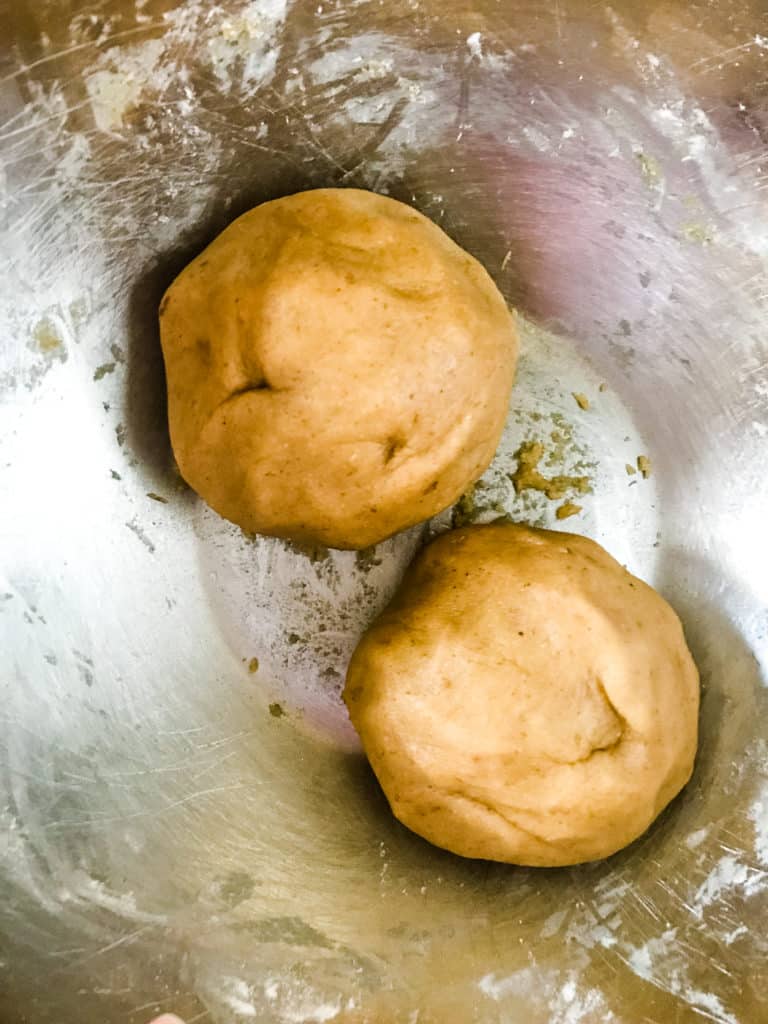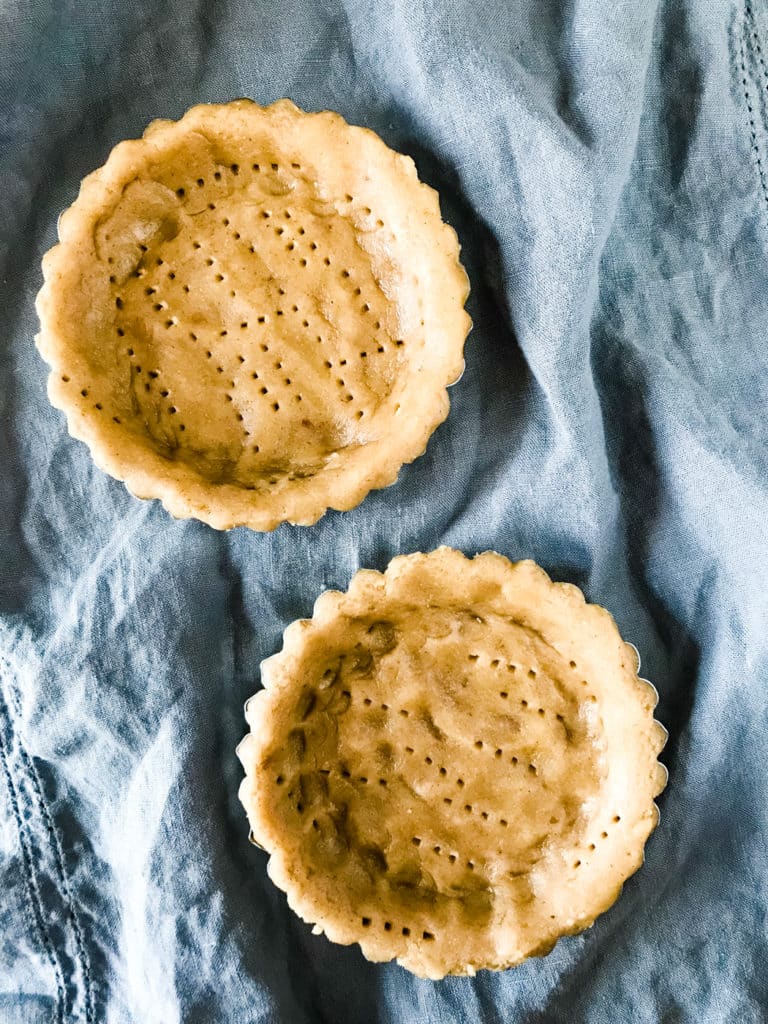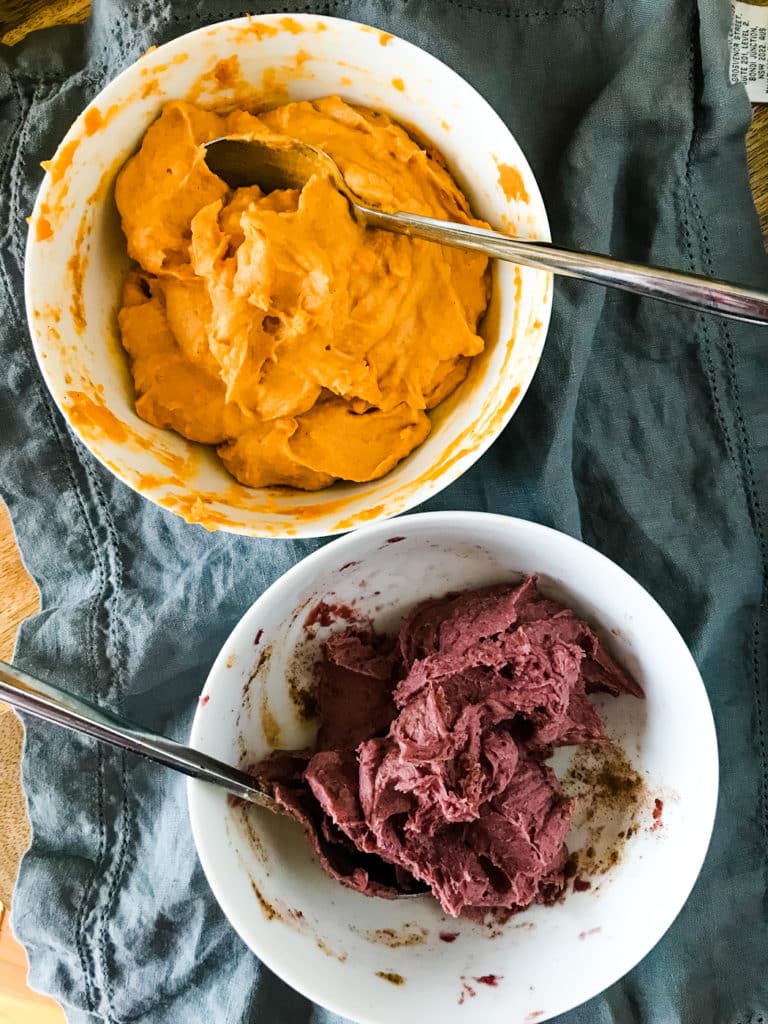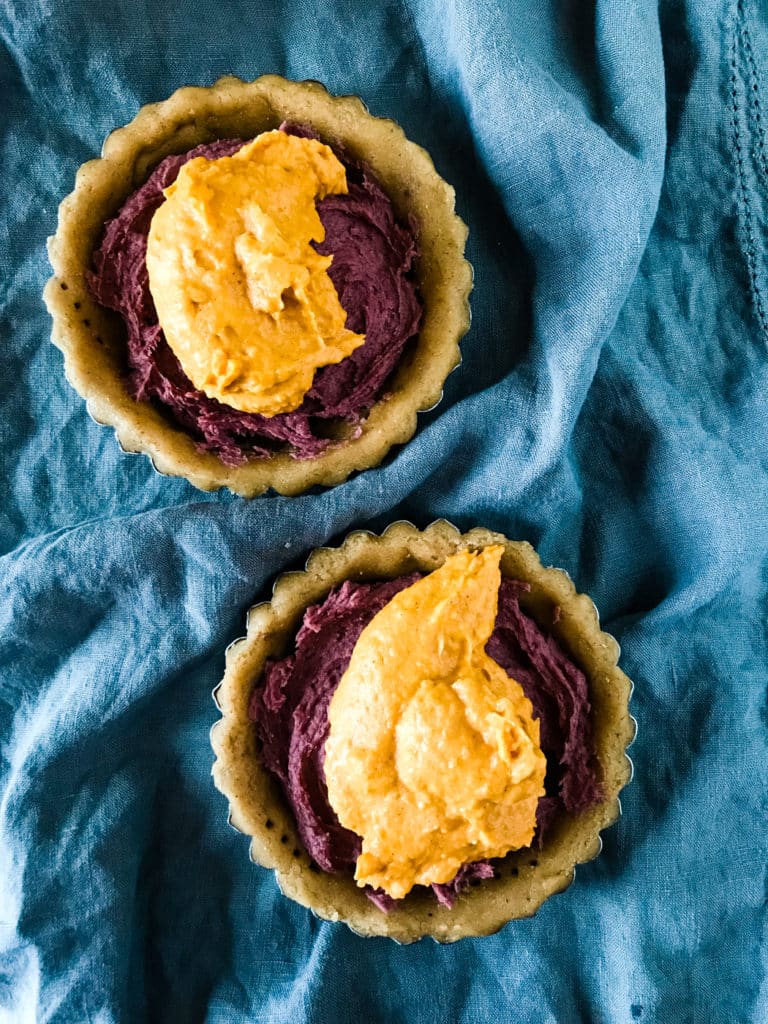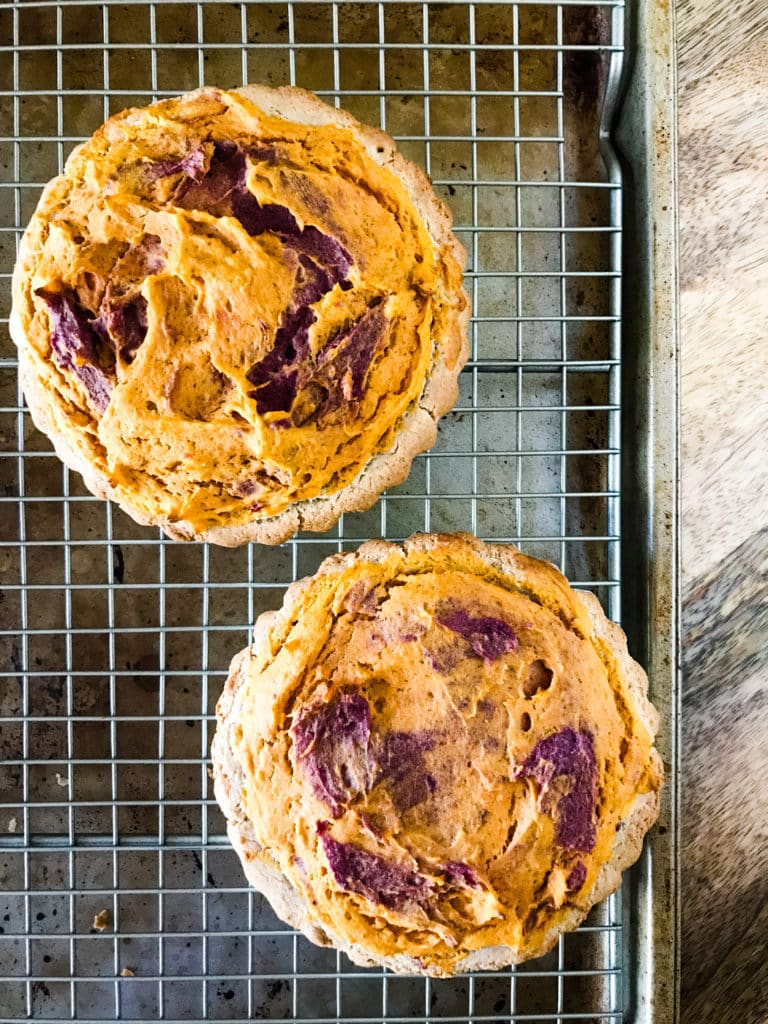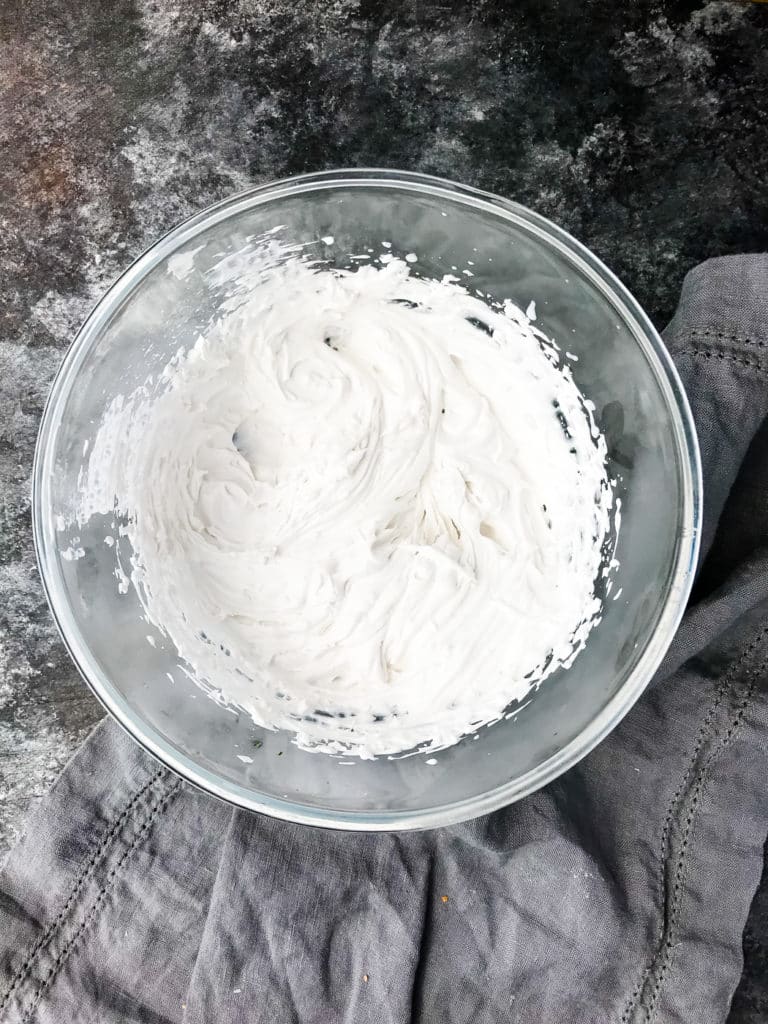 This is how the pies look like after baking: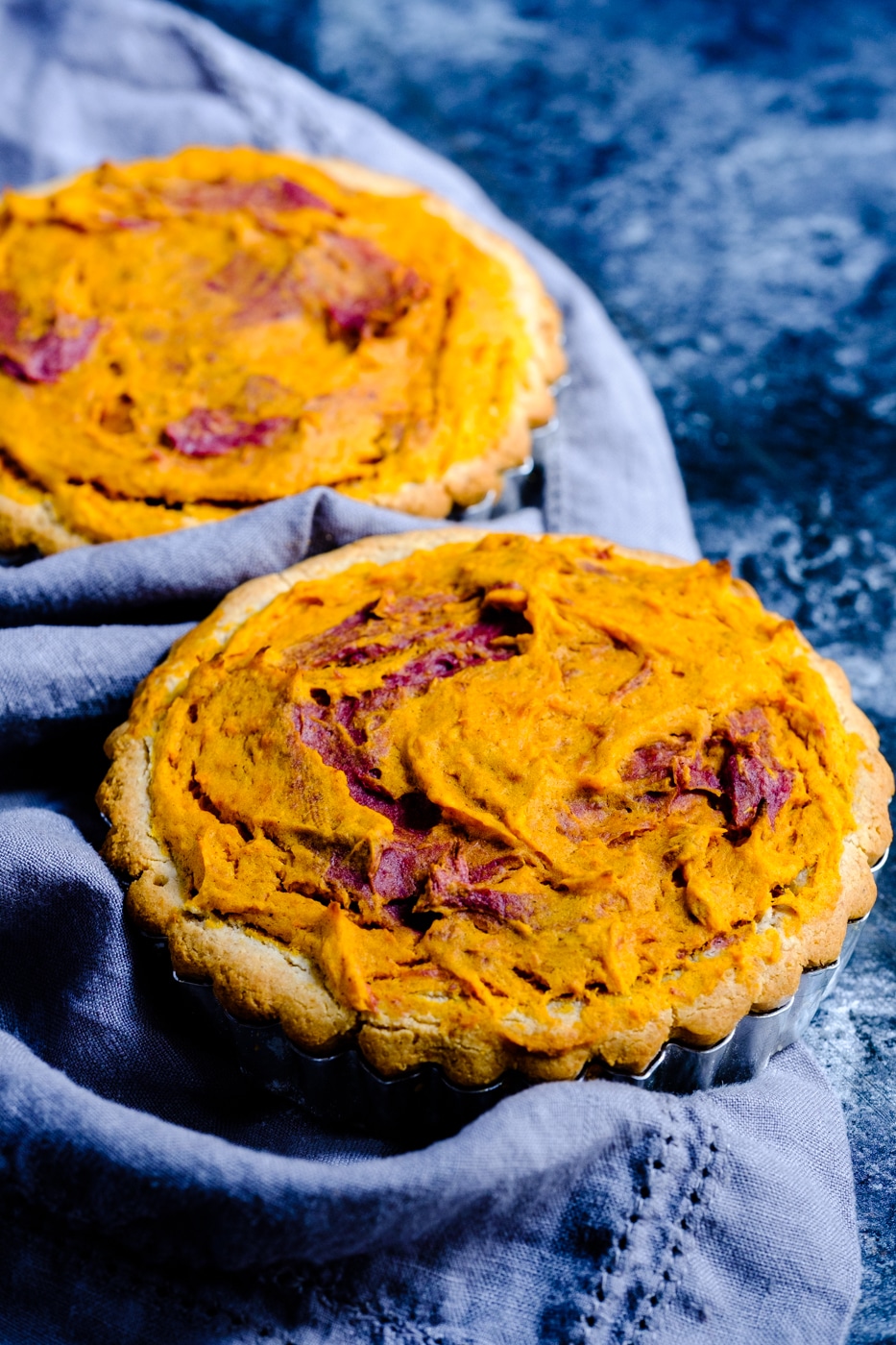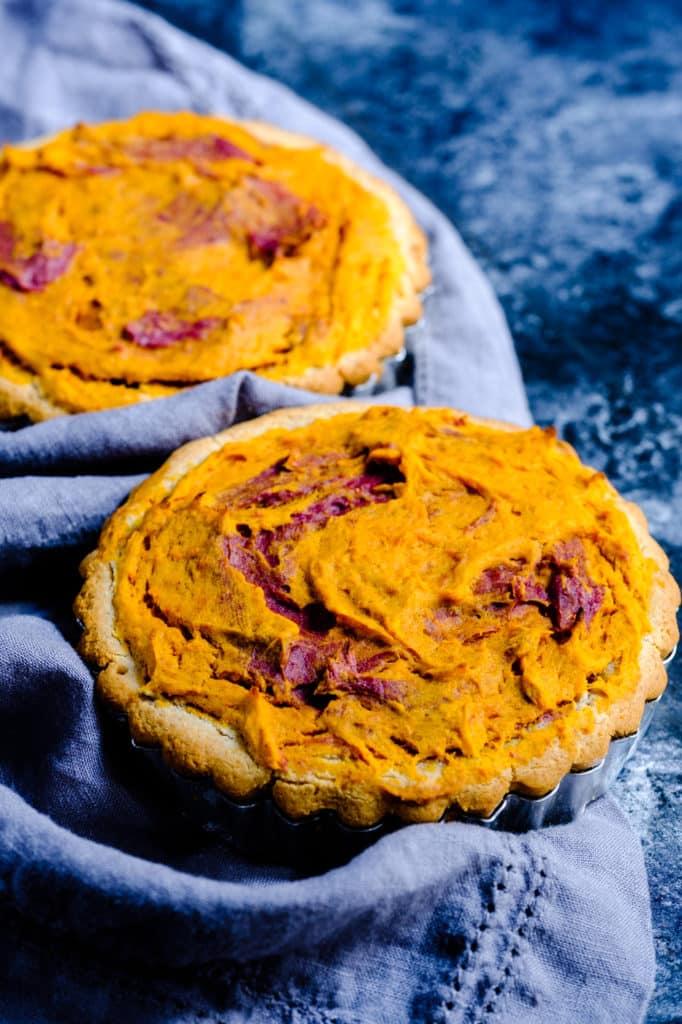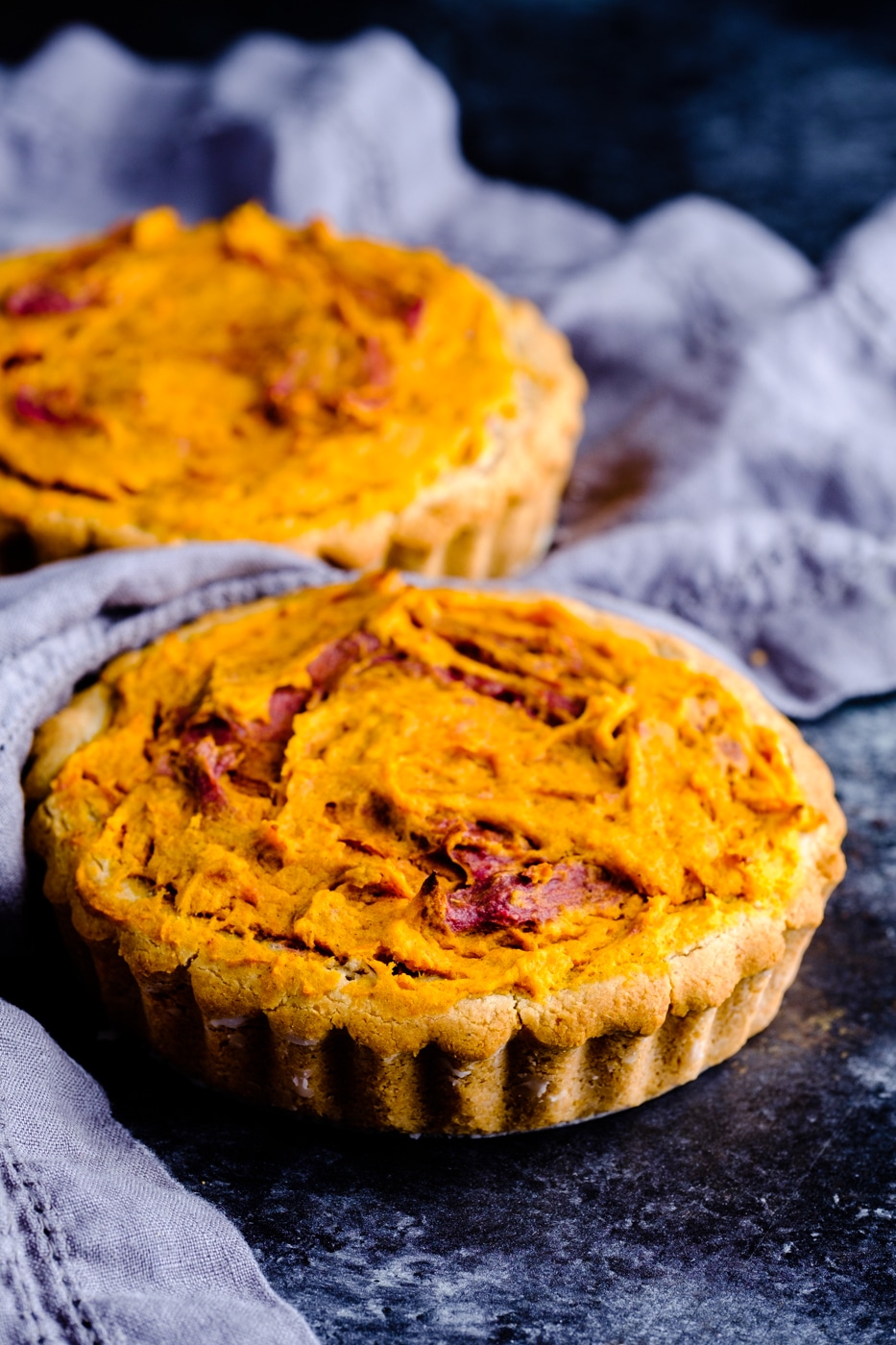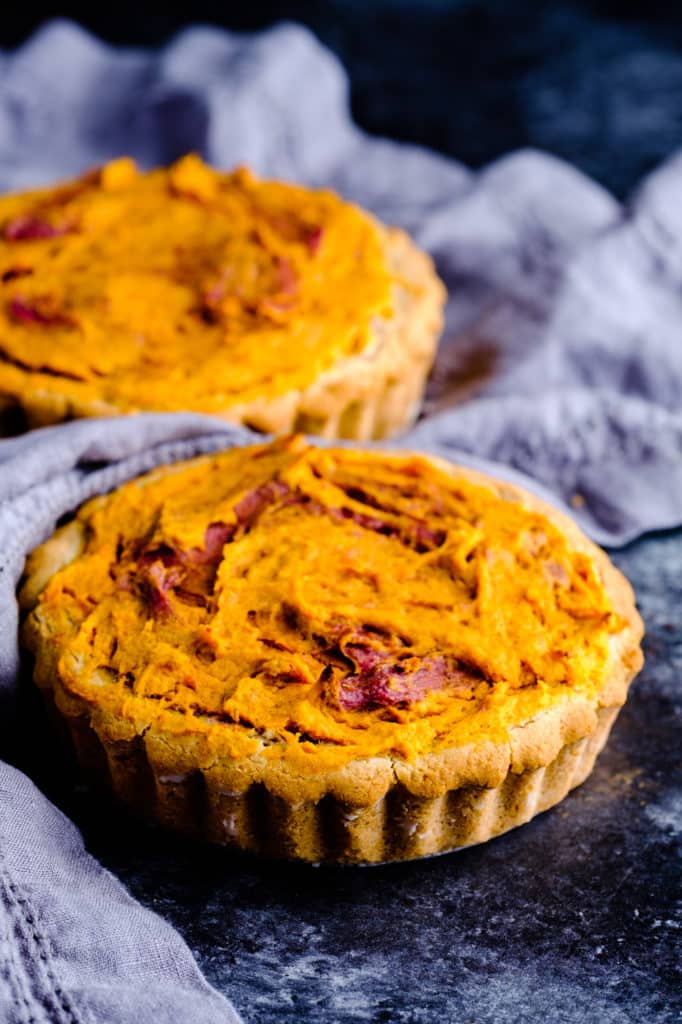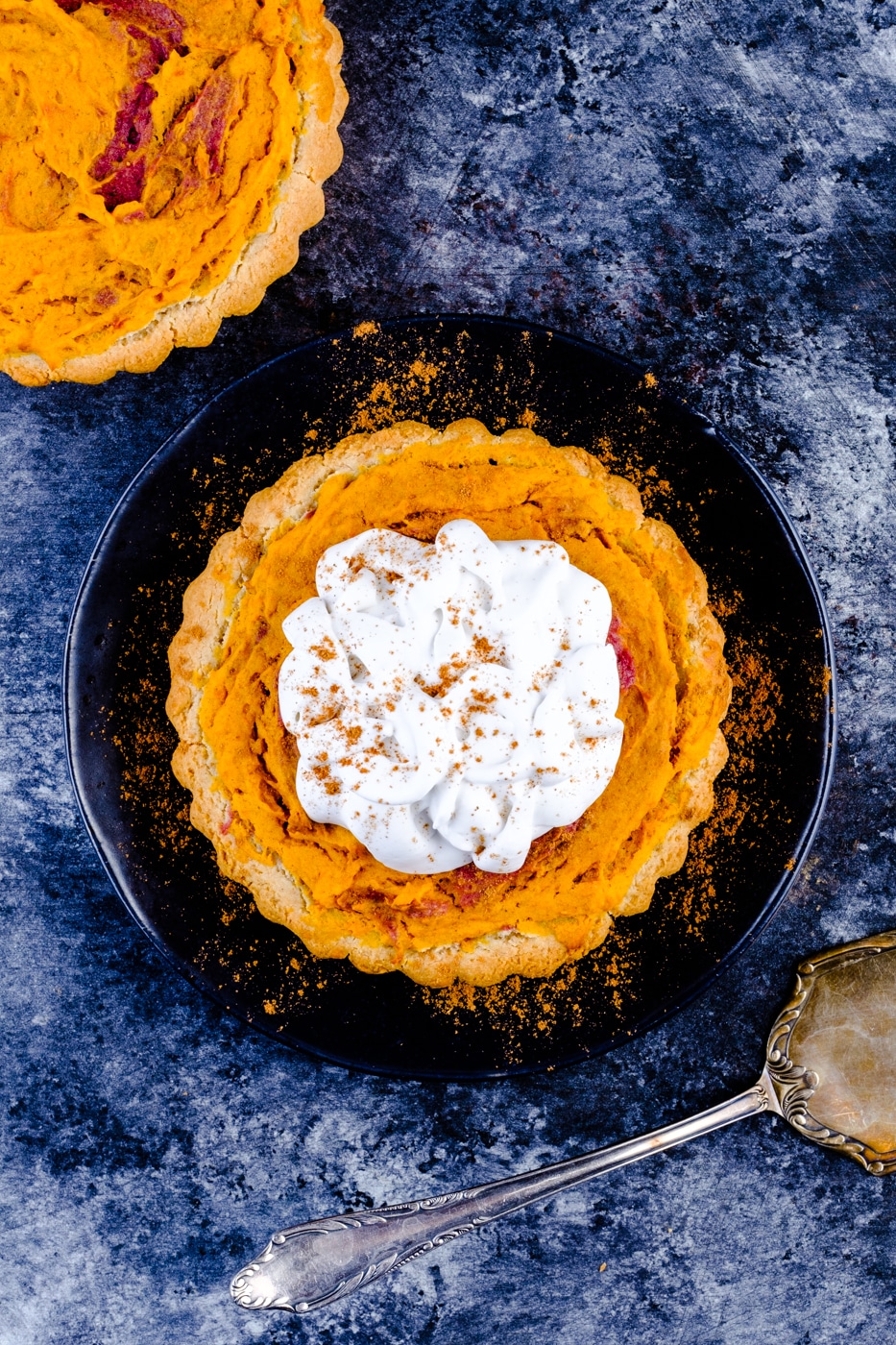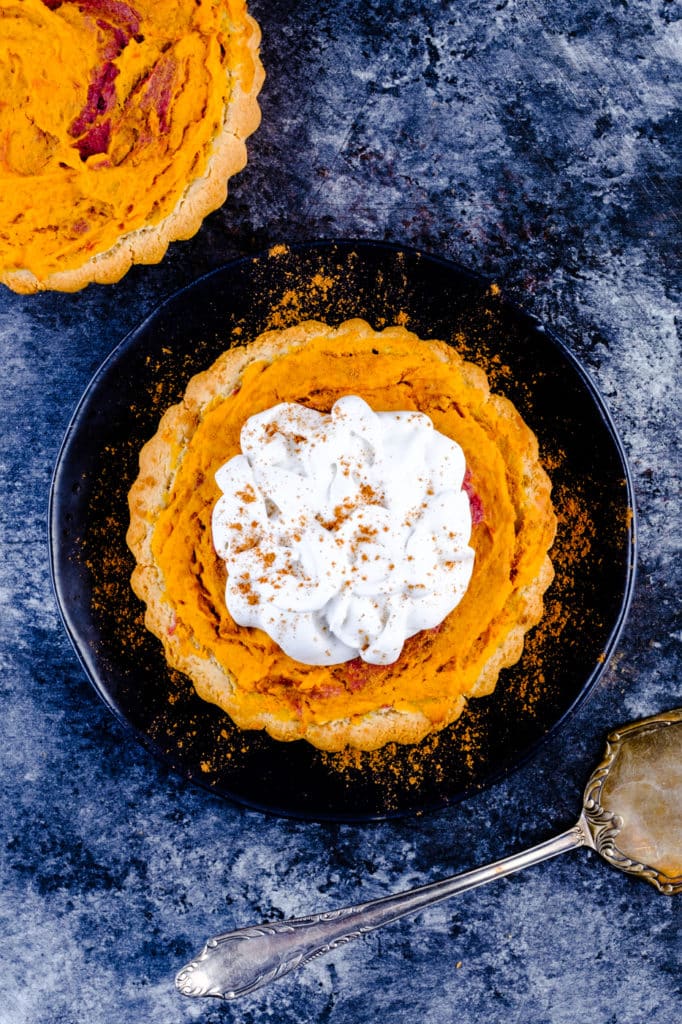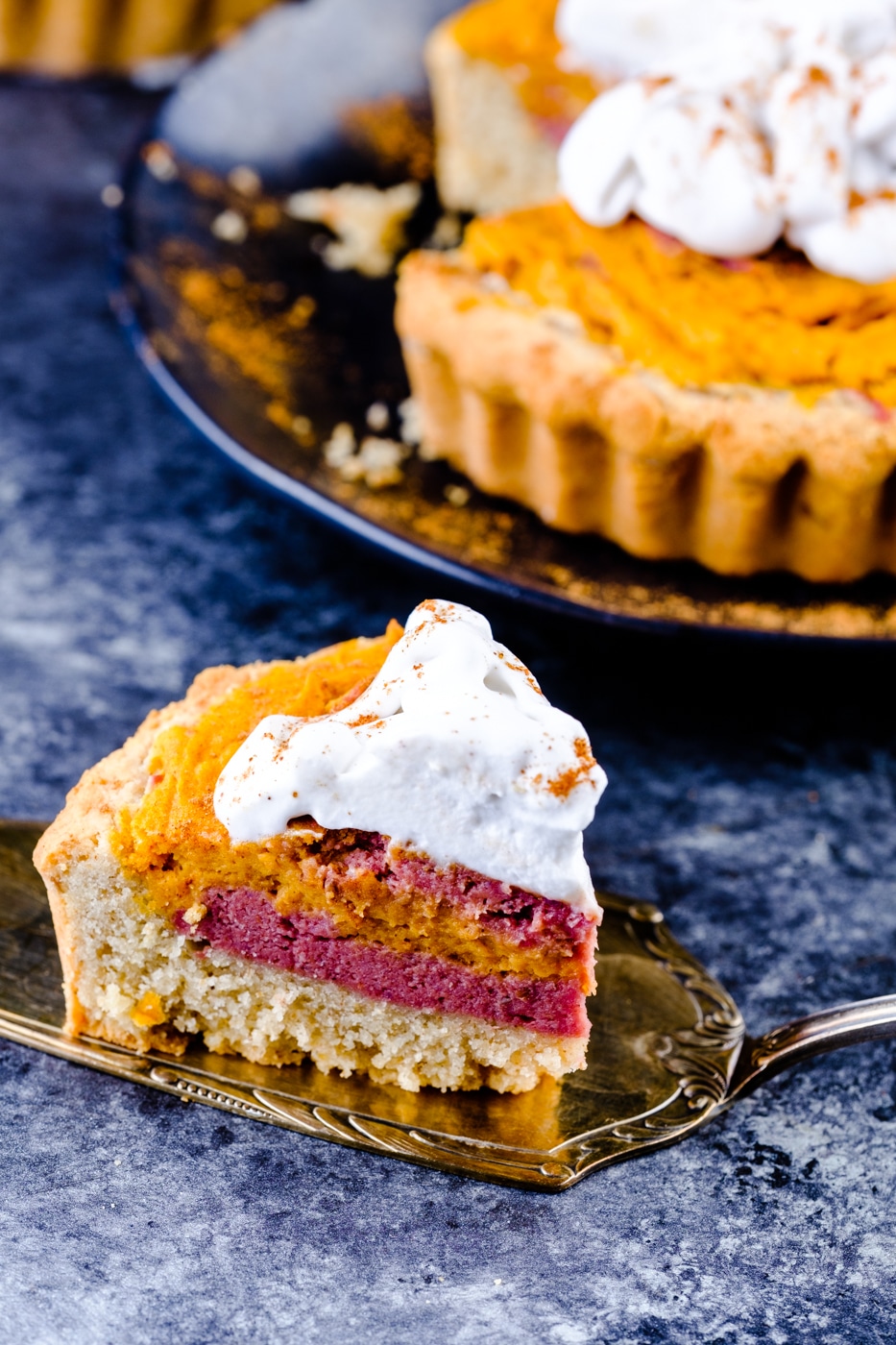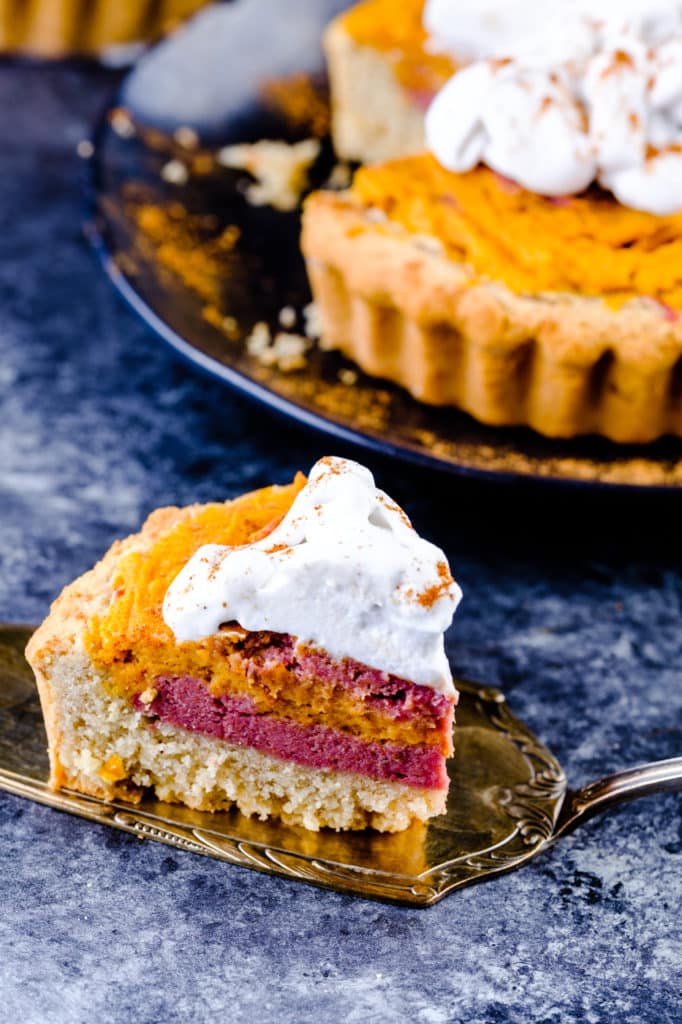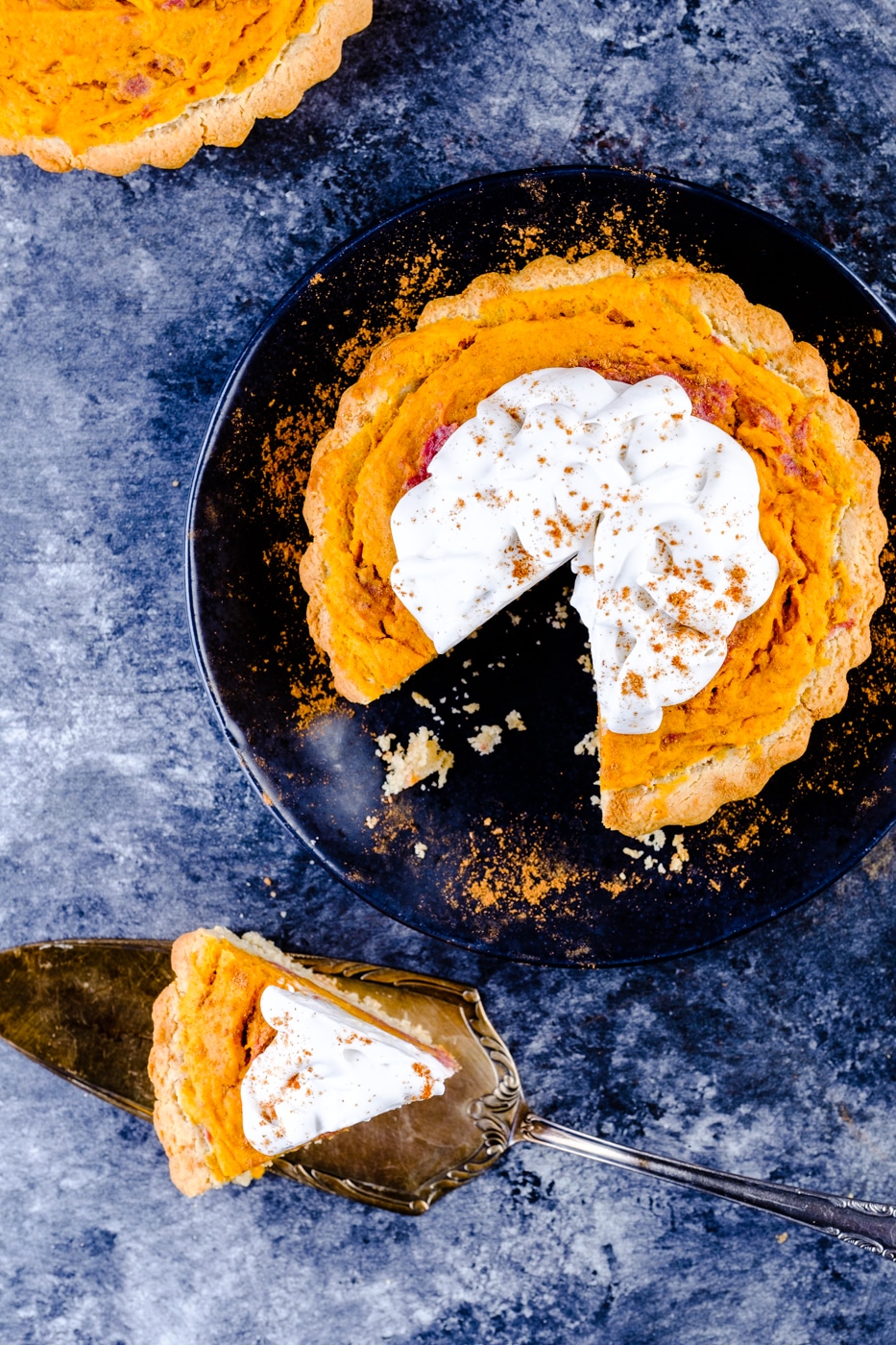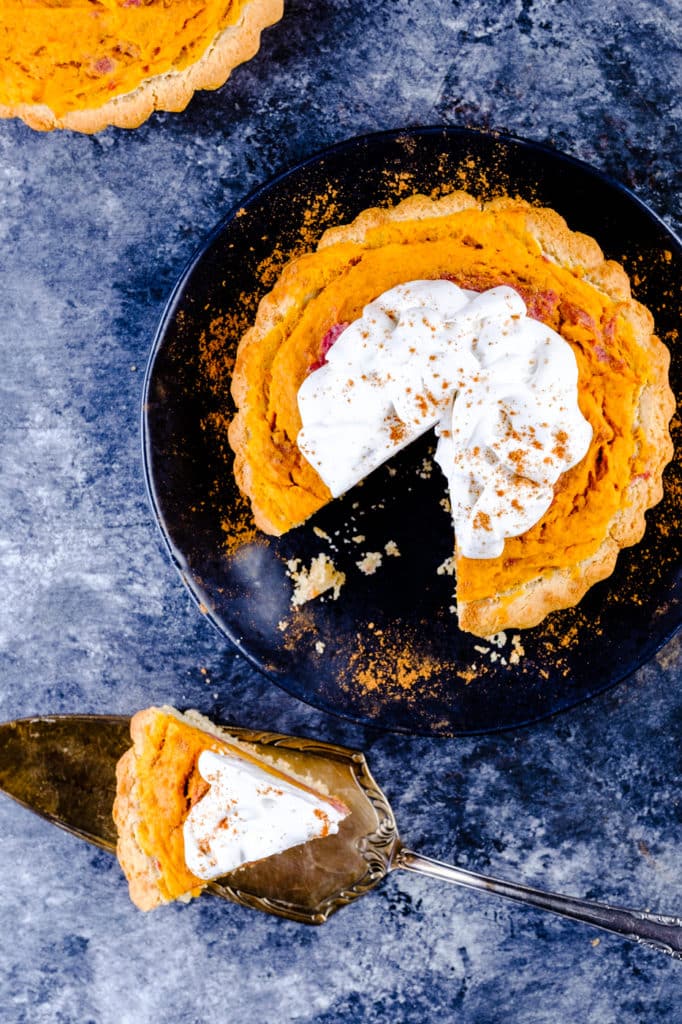 This post contains affiliated links, which means I get a small commission if you choose to purchase something via one of my links, at no extra cost to you.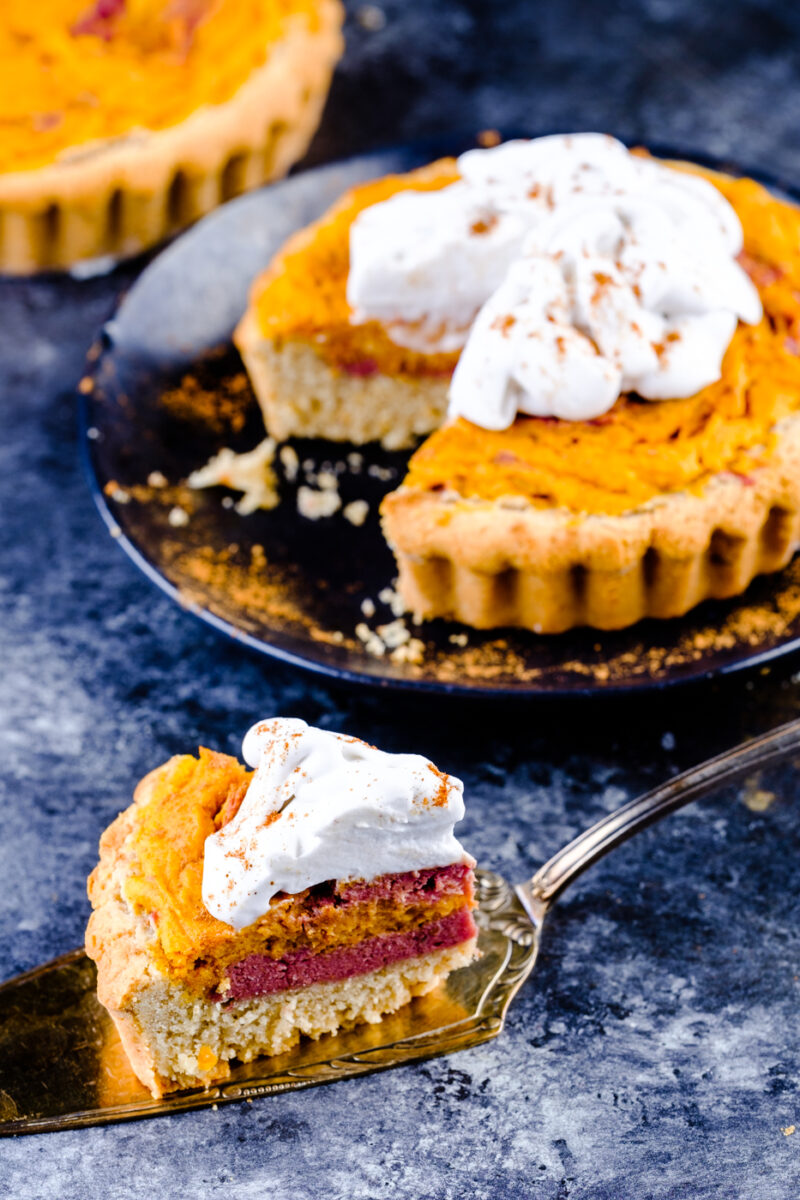 Print Recipe
Lectin-Free Sweet Potato Pie, Two Colors
A pumpkin pie spiced sweet potato pie that is lectin-free, grain-free and tastes delicious.
Ingredients
FOR THE PIE CRUST (these quantities make two 4 or 5 inch mini pie crusts if you make a full-size pie use double everything):

1/2 cup almond flour + 1tbsp

1/2 cup tigernut flour + 1tbsp

1/2 cup tapioca flour + 7 tbsp (for kneading)

1/2 tsp baking powder

1 tsp date paste

1 egg

1/8 tsp salt

1/3 cup melted (but not warm) coconut oil

1/2 tsp red wine vinegar

FOR THE FILLING:

ORANGE COLOR: 1 medium sweet potato with orange flesh, baked and pureed (about one heaping cup) + 4 tsp coconut butter (or any nut or coconut butter) + 1 or 2 tsp date paste + 1/2 tsp vanilla + 1/4 tsp almond extract + 1 tsp pumpkin pie spice + 1 egg

PURPLE COLOR: 1 medium sweet potato with purple flesh (stokes purple, about one heaping cup), baked and pureed + 4 tsp pecan butter (or any nut or coconut butter) + 1 or 2 tsp date paste + 1/2 tsp vanilla + 1/4 tsp almond extract + 1 tsp pumpkin pie spice + 1 egg

DATE PASTE: 2, 3 dates, soaked in water for an hour, and mixed in a food processor

FOR THE FROSTING: one can cold coconut cream (previously stored in the fridge for at least one day)
Instructions
1
The oven should be preheated at 350F when you are ready to bake.
2
MAKE THE DATE PASTE: soaks about 3, 4 dates in water for an hour and mix everything in a food processor to make a paste. I used 4 dates and only added half of the paste, but you can adjust to your taste. Remember sweet potatoes are already sweet and there is no sweetener in this recipe.
3
MAKE the FILLINGS in advance: mix separately the ingredients for the two colors, in a food processor (make the orange one first so you don't have to wash the food processor when making the purple one), then make the purple and store in the fridge until you have the pie crust ready. If using just orange sweet potato, double the quantities for the orange filling.
4
MAKE THE CRUST (double the quantities if making a full-size pie): Beat the egg, coconut oil and vinegar in a mixing bowl.
5
In a food processor add 1/2 cup of almond, 1/2 cup of tigernut, 1/2 cup of tapioca, salt and baking powder, 1 tsp date paste, add the wet mixture and mix on low until combined. Take the dough out. at this point, it will be very sticky. Add the dough to a working surface, gradually add the 1 tbsp almond flour, 1 tbsp tigernut flour, and the tapioca one tbsp at a time and knead. By the time you added the 7 tbsp of tapioca flour your dough should not stick to your hands anymore and will be easy to work in a ball. If still sticky, maybe it needs 1 or 2 extra tbsp of tapioca flour.
6
ASSEMBLE THE PIE: Grease the molds (I used avocado oil) and dust them well with tapioca flour. Start shaping the crust dough into your molds, I like to do it quite thick to make sure it doesn't break. Make some whole with a fork (I'm not sure this step is necessary but I did it anyway). Add the two fillings so the final pie will have a marbled look, but don't over mix purple with orange because the orange will easily take on the purple color. Bake at 350F, on the lower rack, for about 25 minutes if you make mini pies, give it some extra 5 minutes or so if you make a full size one. You will have some leftover filling, which you can bake separately.
7
MAKE THE FROSTING: Make sure the coconut cream, your mixing bowl and the beaters from your electric mixers are really cold (keep them for about 15 minutes in the freezer). Mix on high until the cream reaches stiff peaks. Add it to your pie when the pie is cold.
Notes
Please make sure you read everything, including the introduction, before you start making this. It's an easy recipe but requests few steps you need to prepare one day in advance. It may seem complicated because of the two colors thing, but if you stick with just orange is actually pretty straightforward. Also, make sure you double the dough quantities if making a full-size pie. The filling should be more than enough for one full-size pie, but to be on the safe side make sure your potatoes are big enough (have at least 2 heaped cups of pureed potatoes).