Two days before Hanukkah 2019 starts and I had to give lectin-free latkes a try. It's not really the first time I'm making something similar but it is the first time I did a little research into Jewish holiday food. It must be the influence of The Marvelous Mrs. Maisel, but also inspiration from my friend Lauren Margolies (@laurens_lunchbox on Instagram) who provided a little guidance into Hanukkah traditional food.
A Latkes recipe without nightshades
I have to be honest, I am a little nervous to post this recipe, just after watching a video of Jewish moms judging each other's brisket. Let's just say I don't want any Jewish mom to judge my latkes :))); or please do, I'll try not to take it personally. I am not trying to make a better version of any latkes, just a different one for those of you who are off white potatoes, aka nightshades but still want to enjoy your family's traditional foods.
Firstly, let me say I left out the onion, and if I have to stay completely transparent (which I have to!), it was because I somehow forgot.
LATER EDIT: In the meantime, I made them with onion and they are amazing, so don't skip the onion if you can eat onion. Some recipes I checked had onions, others didn't, so I guess at one point the onions slipped my mind. So, if you want to include the onions, go ahead, grate one medium onion and add it to the mix. Since onion is more watery, you might have to squeeze the mixture a little more or add an extra tablespoon of flour. I have to say though, I absolutely loved how they came out, and I wouldn't change anything at this point (add the onion!! haha).
EGG FREE VERSION, ALSO LATER EDIT: I made an egg-free version and it worked wonderfully. Just replace the egg with 1 teaspoon flax meal mixed with water until you get a paste. Add it to the mix.
Serve lectin-free Latkes with homemade apple sauce
I noticed latkes are served with sour cream or apple sauce. Since I don't eat dairy and apples are in season, I figured I'll give homemade apple sauce a try. It was easy and super delicious. And unsweetened, of course; not even with approved sweeteners, apples are sweet enough. Some of my favorite apples to work with are Fuji, but any variety would work.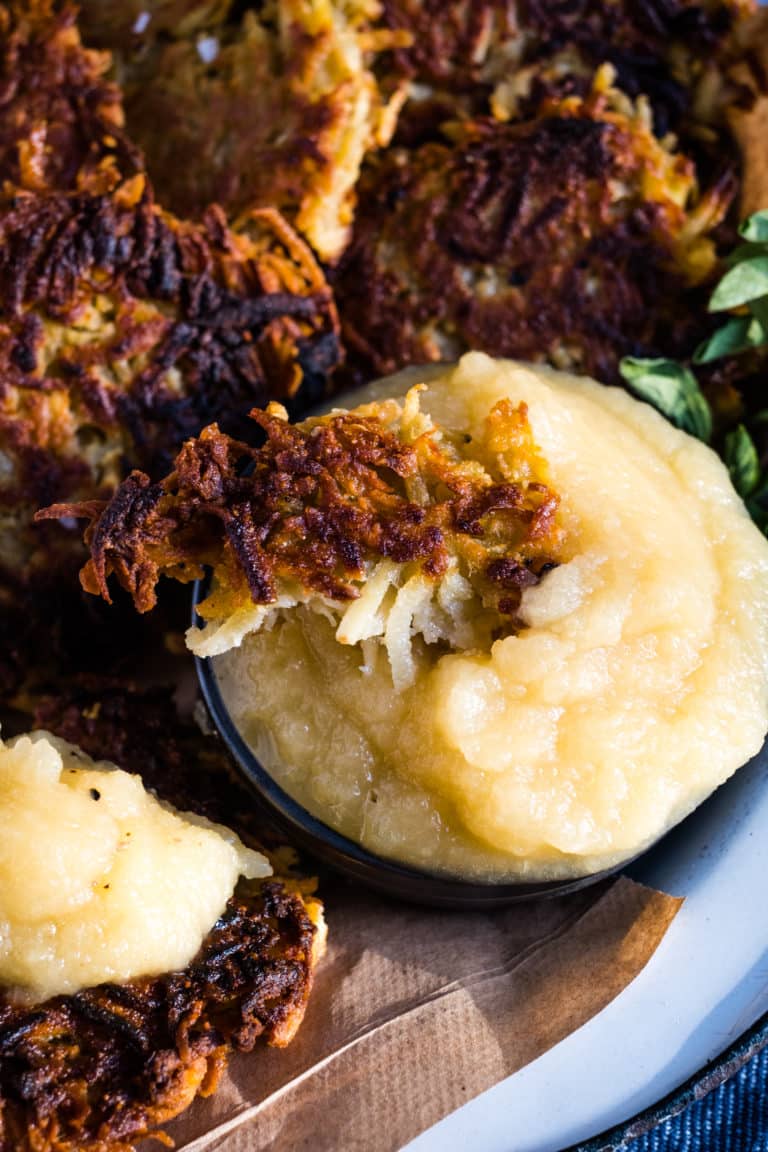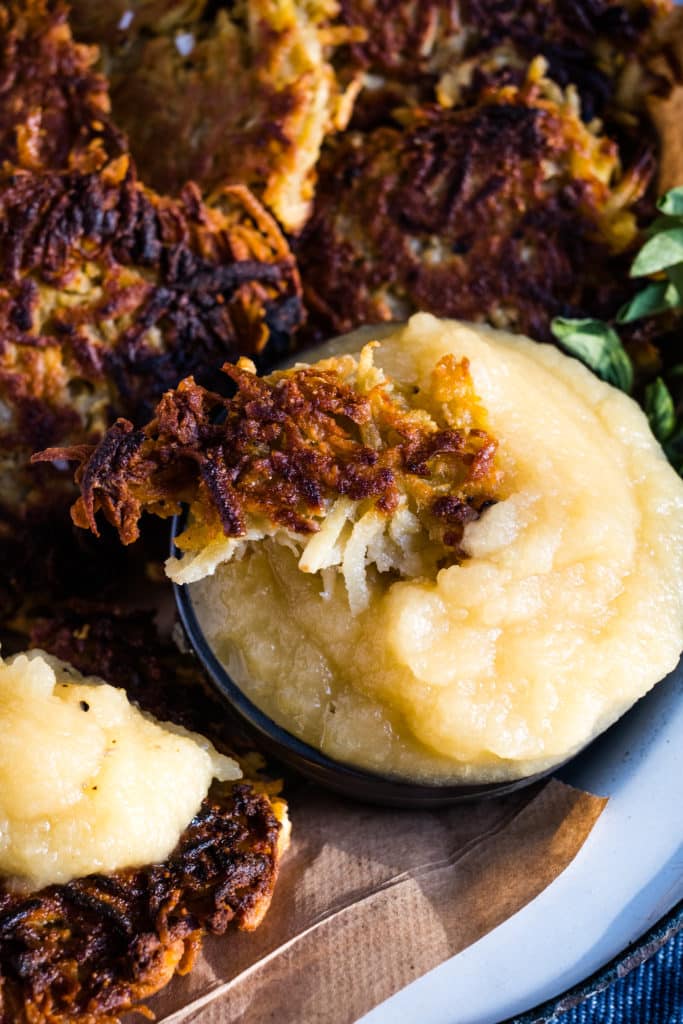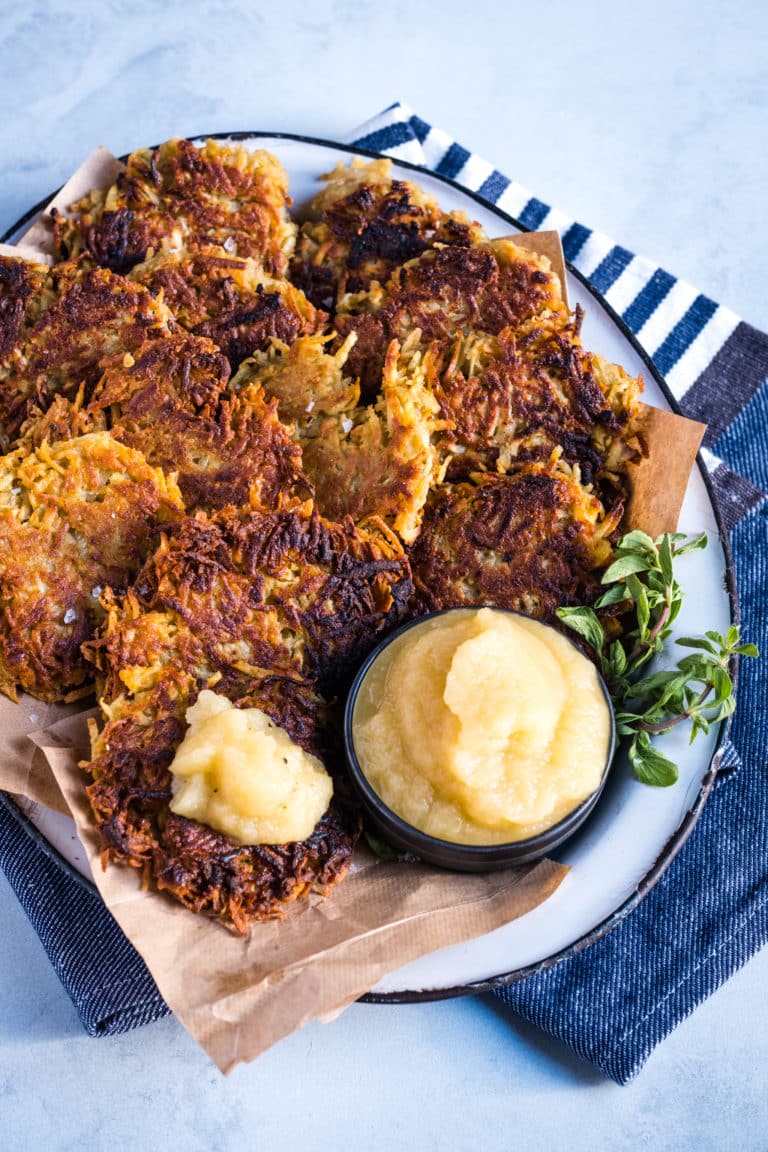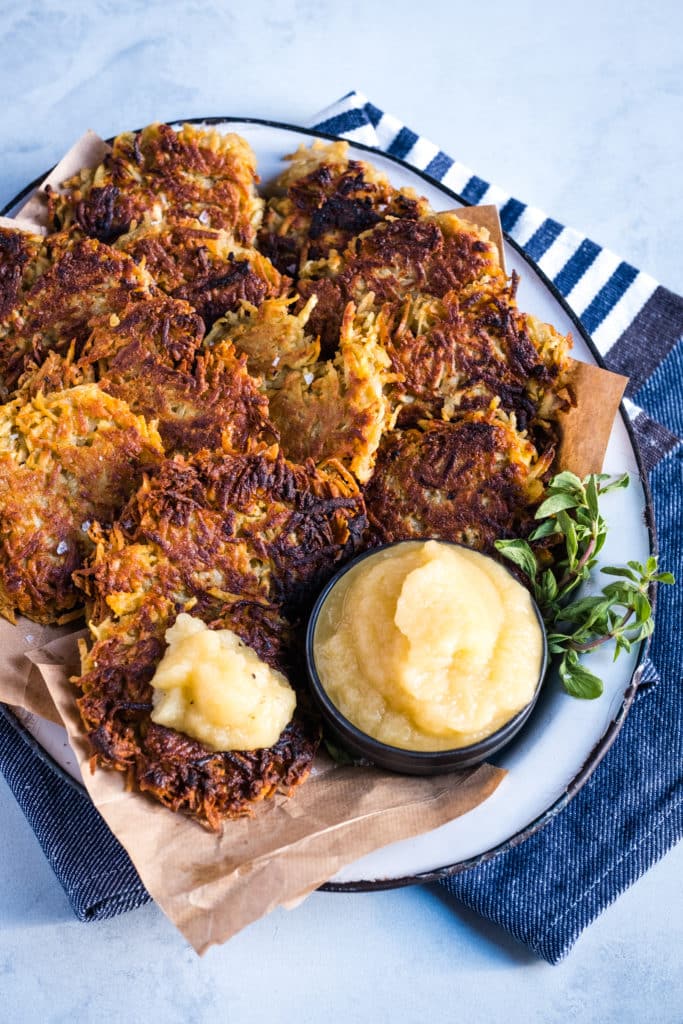 You might know already how much I love parsnips. They caramelize well, don't get mushy and are wonderfully fragrant, hence my choice of combining a sweet potato with parsnips. Plus, is the season parsnips shine, so let's use them in everything :)). The parsnip gets crispy and sweet, better than a sweet potato, so I promise you it works really well.
If you are looking for some other, more unconventional way to use parsnips, check out this recipe: Parsnip Apple Cake with Rosemary and Olive Oil. This also makes a great base for a smash cake, babies will love the taste (you will find all the instructions in the post).
Serve the lectin-free latkes with the apple sauce, and add some sour cream and fresh chives if you like.
Happy Hanukkah!
*This post contains affiliated links, which means I get a small commission if you choose to purchase something via one of my links, at no extra cost to you.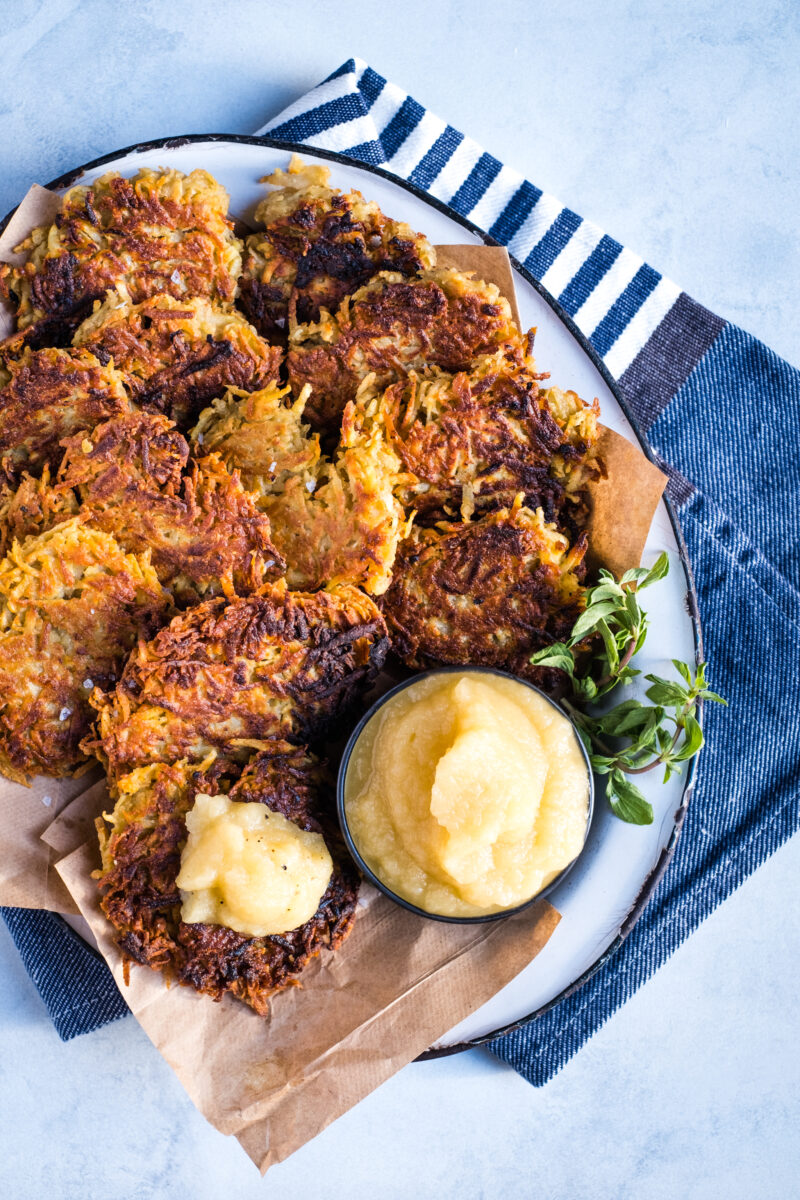 Print Recipe
Lectin-Free Latkes with Homemade Apple Sauce
A nightshade-free version of the beloved latkes.
Ingredients
FOR THE APPLE SAUCE:
3 medium Fuji apples, peeled, cored and cubed
1/4 cup filtered water
FOR THE LATKES:
1 big parsnip, rubbed clean and grated
1 medium Japanese sweet potato (purple skin, white flesh), peeled and grated
1 egg, beaten (or use the egg replacement, see post)
2 tablespoons cassava flour
3 tablespoons almond flour
2 teaspoons sea salt
pepper
1/4 teaspoon all-spice
extra virgin olive oil or avocado oil for the pan
Instructions
1

MAKE THE APPLE SAUCE: Add the cubed apples to a pan (I use stainless steel) and start warming up on the stove, low to medium heat. Add 1/4 cup water after about 10 minutes and simmer on low to medium heat for about 20 minutes more. Add to a blender and blend until smooth. Cool and store in a glass jar in the refrigerator until the latkes are ready to serve.

2

MAKE THE LATKES: Mix the grated potatoes and parsnip, put them into a cheesecloth and try to squeeze as much liquid as possible. Since I didn't use onion, mine was not that watery. Add the veggies to a bowl and add the rest of the ingredients. Mix well until all the ingredients are combined. You can add more flour if you feel is too watery (especially if you choose to add onion).

3

Heat a large frying pan on medium heat and generously cover with your choice of oil (avocado or extra virgin olive oil). When hot start spooning one heaping tablespoon of the pancake mix into the pan and gently flatten out. Let them cook undisturbed until they got golden brown on one side, then flip using a spatula. Depending on how big your pan is, you probably need to make them in two batches. Make sure you let them crisp up and get brown on each side before you take them out on a paper towel.

4

You can keep them warm in the oven. Serve with apple sauce. We ate them hot and cold and they were both delicious.