This delicious sweet potato hummus with roasted garlic is perfect for the fall and winter holidays but luckily, sweet potato is available all year round, almost everywhere. It can make a nutritious and satisfying side dish to any meal. Dip with your favorite crudités and crackers. Use it as a creamy base topped with your choice of protein and greens.
Sweet potato hummus is the perfect healthy side dish to add to your menu
This hummus/cold puree is so delicious, and it comes right on time for the holidays. Super easy to make, and I assure you everyone who loves sweet potatoes will love it. Plus, it's the season, so no better time to give it a try. The ingredients are one big sweet potato, tahini, roasted garlic, salt and pepper, lime and extra virgin olive oil.
The sweet potato hummus will be perfectly served with raw veggie sticks such as radishes, celery, carrots, kohlrabi etc, or compliant crackers such as these ALMOND FLAX VEGAN CRACKERS WITH ZAATAR SPICES. (Zaatar and tahini is a match made in heaven).
Another way we served this was as a base for this dinner with salmon and Swiss chard. The extra layer added by the hummus, even though a small quantity, was just perfect. In case you are interested to replicate this dish, the salmon (wild, sustainably caught) can be cooked any way you prefer, and this is the link for my favorite way to prepare SWISS CHARD.
This recipe might seem like a lot going on but all in all, is a 30 minutes affair. While the salmon is in the oven you make the Swiss chard which takes literally 5 minutes (minus the washing and drying). The sweet potato hummus can be used cold, straight from the fridge.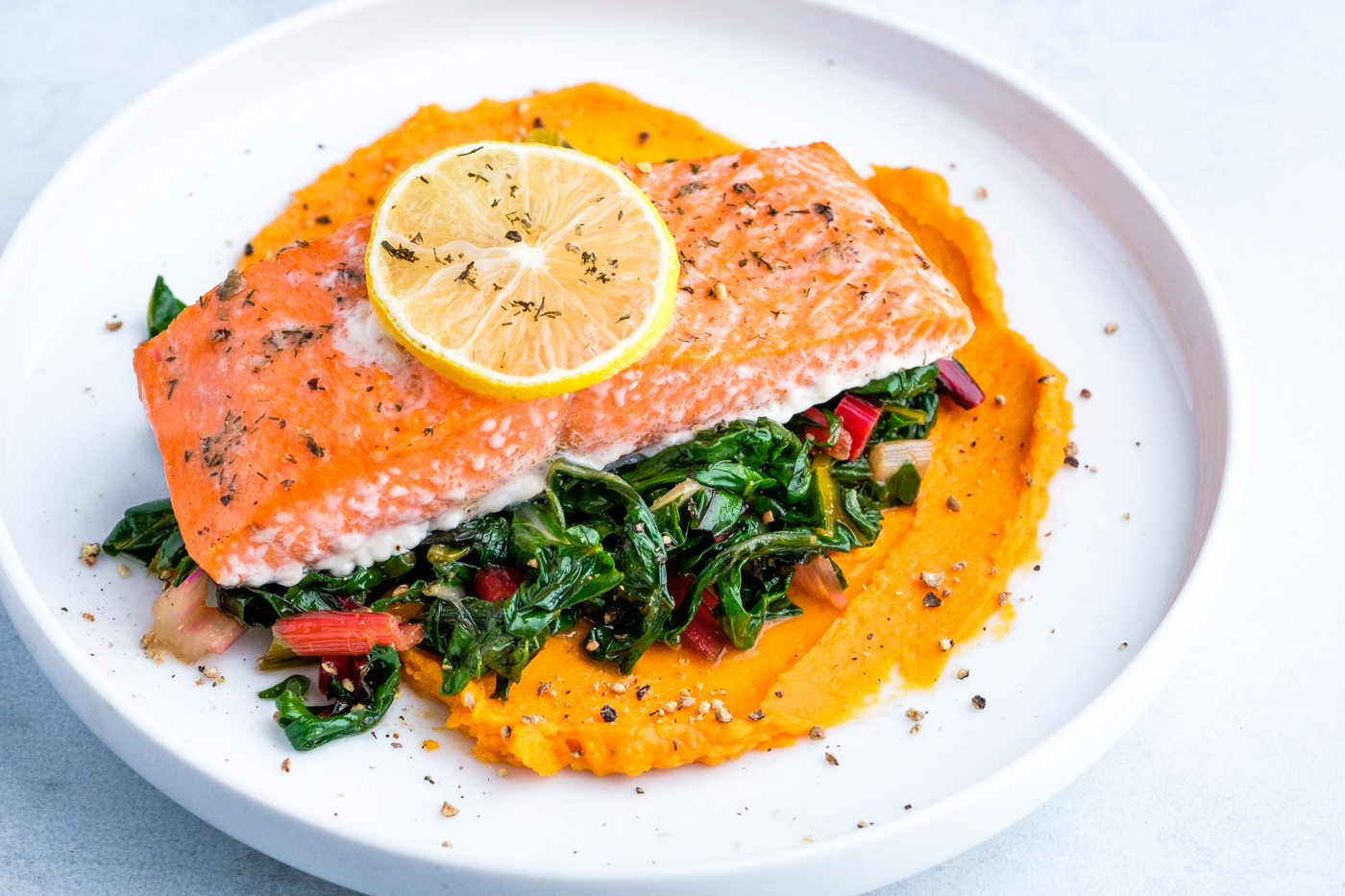 Roasted garlic is a key ingredient
Back to the sweet potato hummus, a key ingredient to me is the roasted garlic. It adds an amazing flavor when just raw garlic would be too overpowering. This is in fact a trick I use with many dishes, adding roasted garlic instead of raw, for a softer garlic flavor. Use whole garlic cloves, unpeeled, and bake for about 25 minutes in the oven, at 375F. For this dish, the garlic goes in the same pan as the whole potato, but I take them out a little earlier.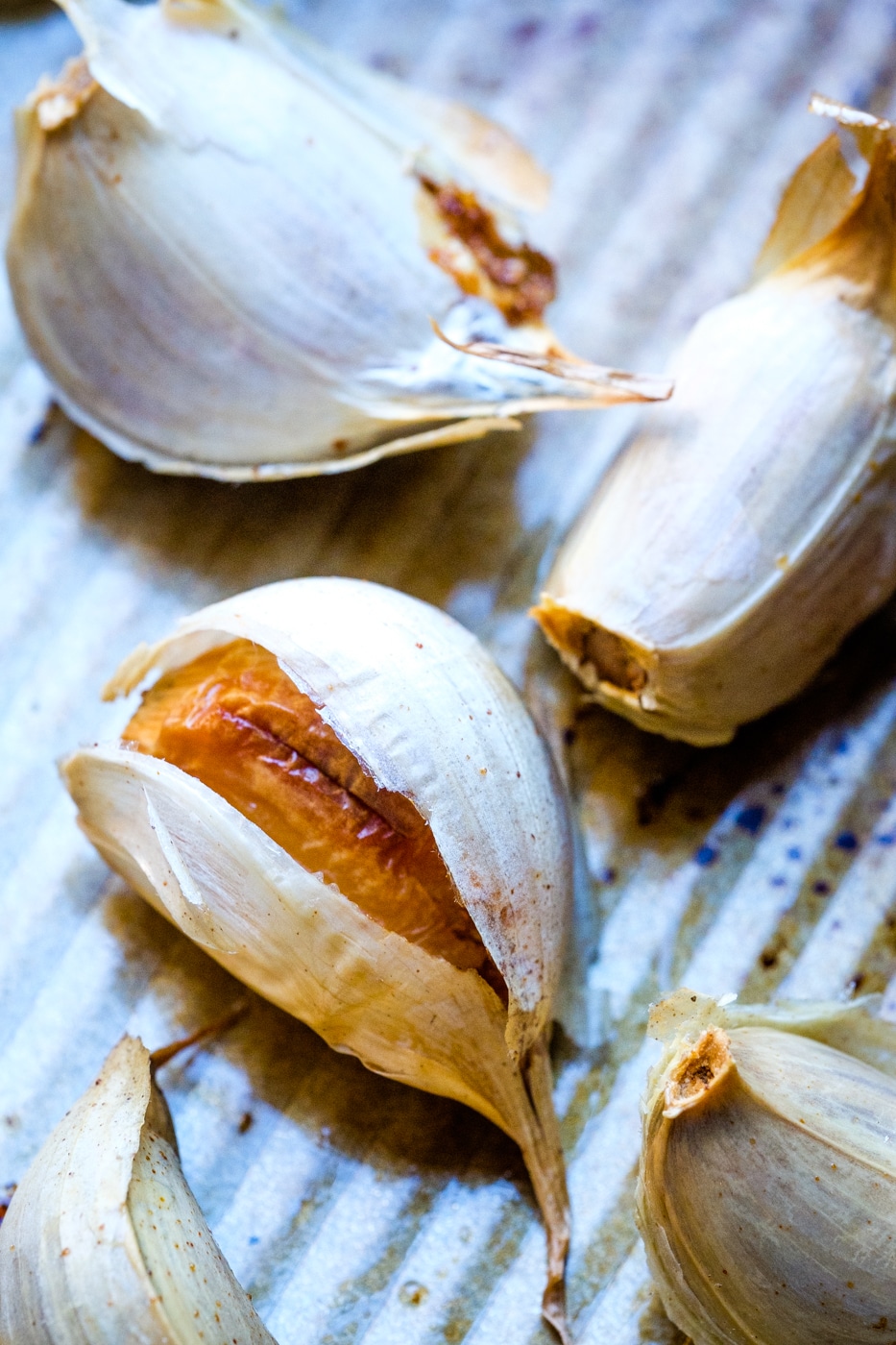 For more hummus recipes try the Lectin-Light Roasted Vegetable Hummus.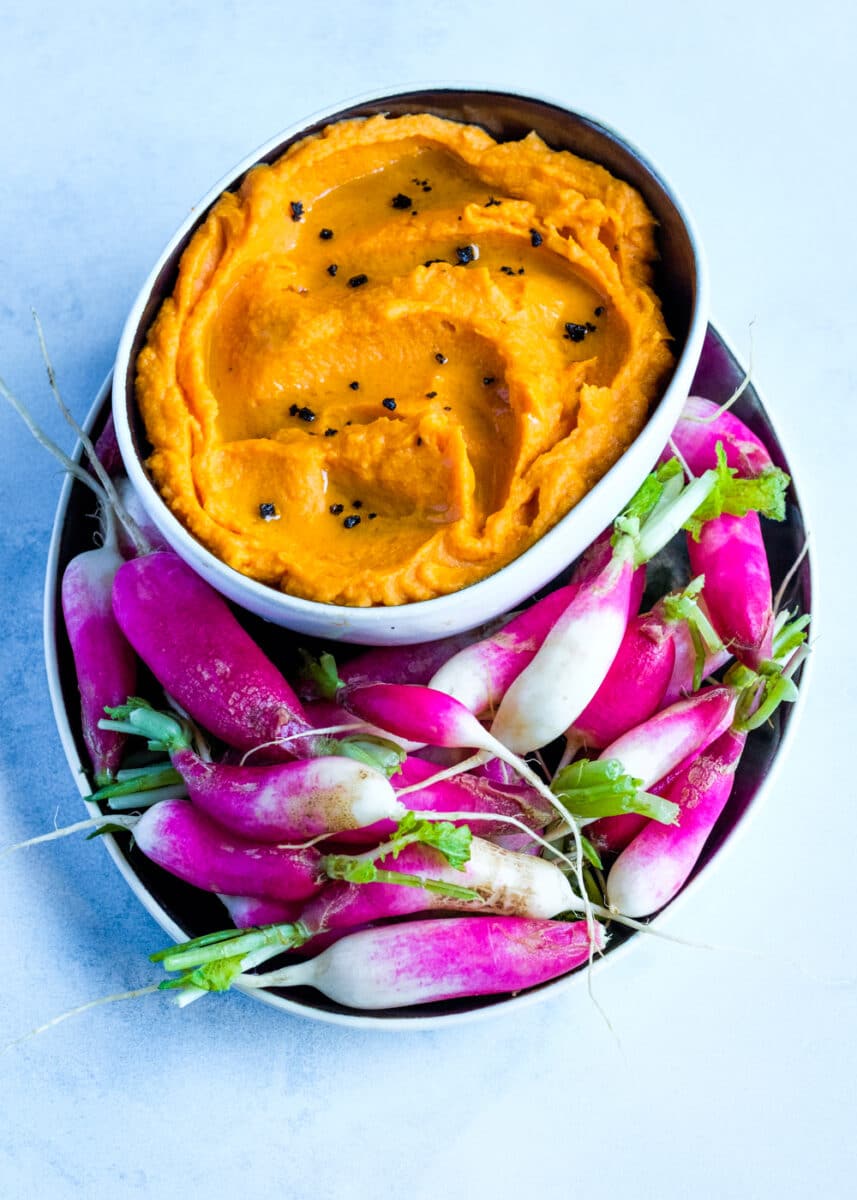 Print Recipe
Sweet Potato Hummus with Roasted Garlic
The perfect lectin-free side dish addition to your menu.
Ingredients
1 big sweet potato, whole, washed and dried

4-6 whole garlic cloves, unpeeled

1 tsp ghee/avocado oil

1 heaping tbsp tahini

juice of 1/2 lime

few tsp extra virgin olive oil

sea salt

raw vegetable sticks (for serving)
Instructions
1
Preheat the oven to 375F.
2
Poke some holes with a fork in the sweet potato. Grease your potato and garlic cloves with ghee/avocado oil and add them to a sheet pan. Bake the garlic for about 25 minutes and the potato for 35-40 minutes, depending on how fat and big your potato is. Leave the potato to cool down, peel the garlic. When the potato is cooled peel it and add the flesh to a food processor. Add 3-4 garlic cloves (or even less, depending on how much you like garlic), add tahini, lime juice, some salt and process until smooth. Taste and adjust seasoning to your taste. You can add a few tsp extra virgin olive oil to the mix, or you can just add the oil on top, in serving bowls (or both). Serve with raw vegetable sticks or compliant crackers.
Notes
Can be stored in the fridge in an air-tight container.