I am more motivated these days to create savory, everyday healthy dishes than baked stuff. Partly because I have enough really great recipes for sweet treats, and partly because I have a green tooth these days more than a sweet tooth.
But, the holidays are here and I just have to have some cookies on my table. So I created these lectin-free Christmas butter cookies today, and the dough can be used in different ways. My favorite ones are the thumbprint raspberry cookies.
Lectin-free Christmas Cookies with orange and raspberries are a match made in heaven
For me, the smell of orange is the smell of Christmas. When I was a kid, living in communist Romania, we really only had access to oranges at Christmas, that was the only time the shops would sell (imported) oranges. So you can imagine how grateful and happy I was for the smell and taste of oranges.
When buying oranges for zest, look for organic ones; god knows what's on the skin of non-organic oranges. Wash and scrub them well anyway, dry them and then you can zest them.
I could have tried to use nut butter or coconut oil, but I really wanted butter cookies, at least once a year! I always use President butter, made in France, luckily I find it in Central Market in Dallas. Trader Joe's has butter made in France too, so that's a good alternative, as well as butter made in Italy and goat butter.
One day maybe I'll try to make them with nut butter and coconut butter, but that's another story. If you try let me know.
So, as I mentioned in my introduction and the notes of the recipe, my favorite ones were the thumbprint raspberry cookies, so if you don't care to have snowflakes or flat cookies go ahead and make them all thumbprint.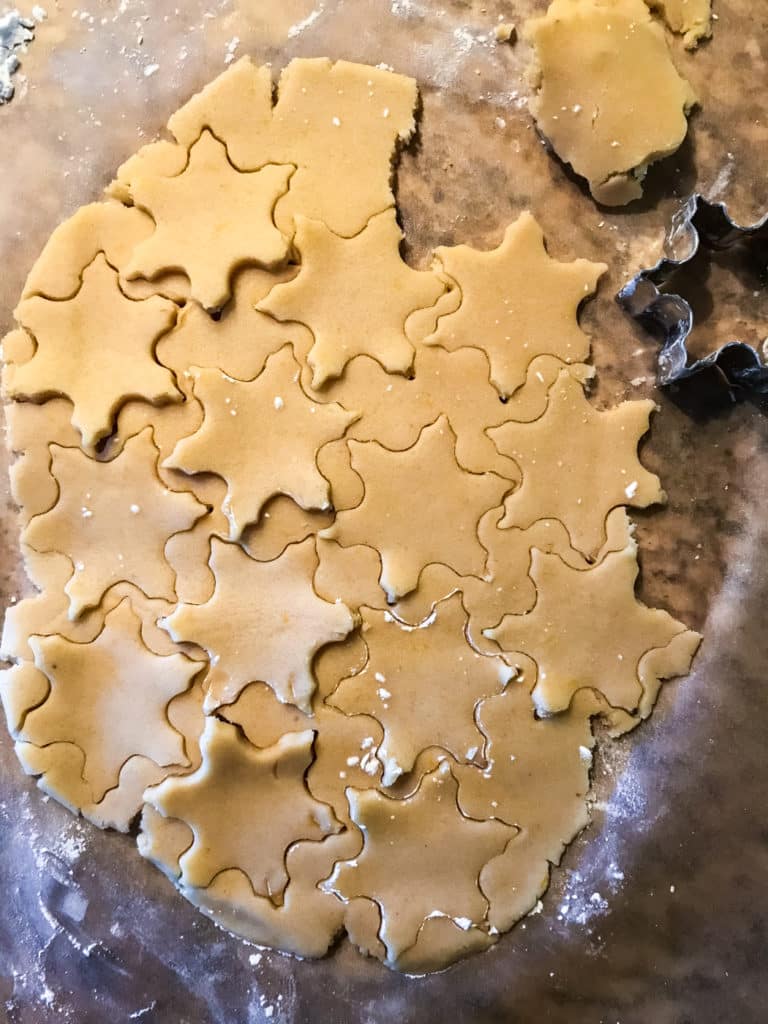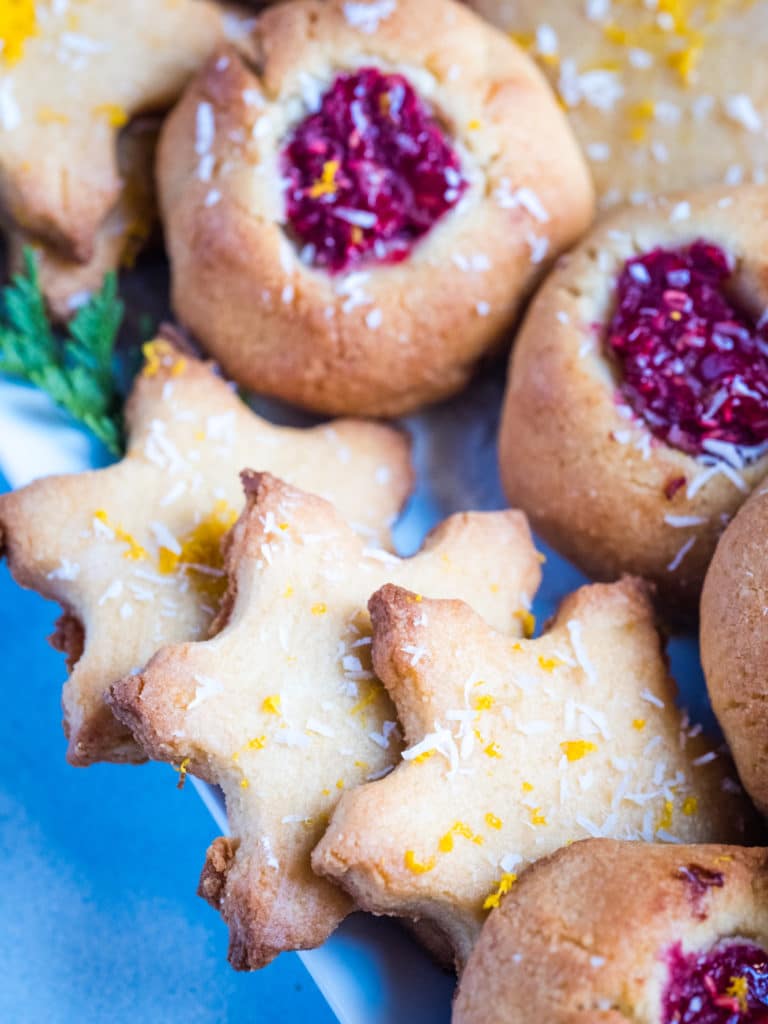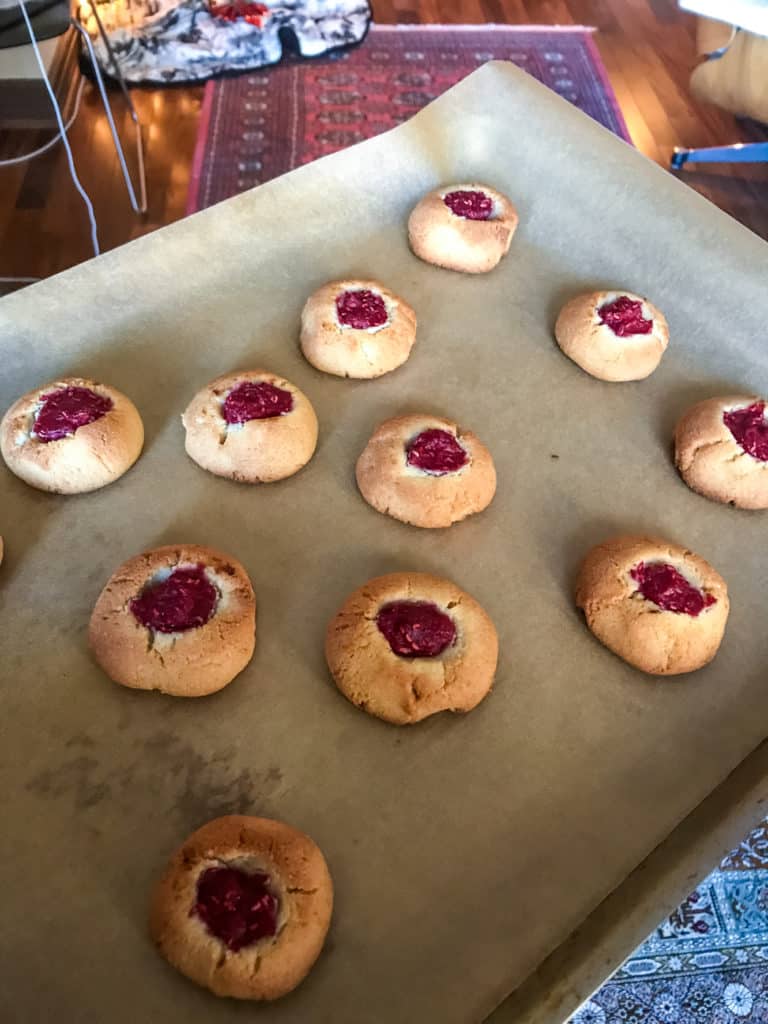 Another way to eat the flat ones would be to make a cookie sandwich with some nut butter or some of the raspberry jam. The dough holds together really well so you can play with it the way you want. I'd love to see some of your results if you try them.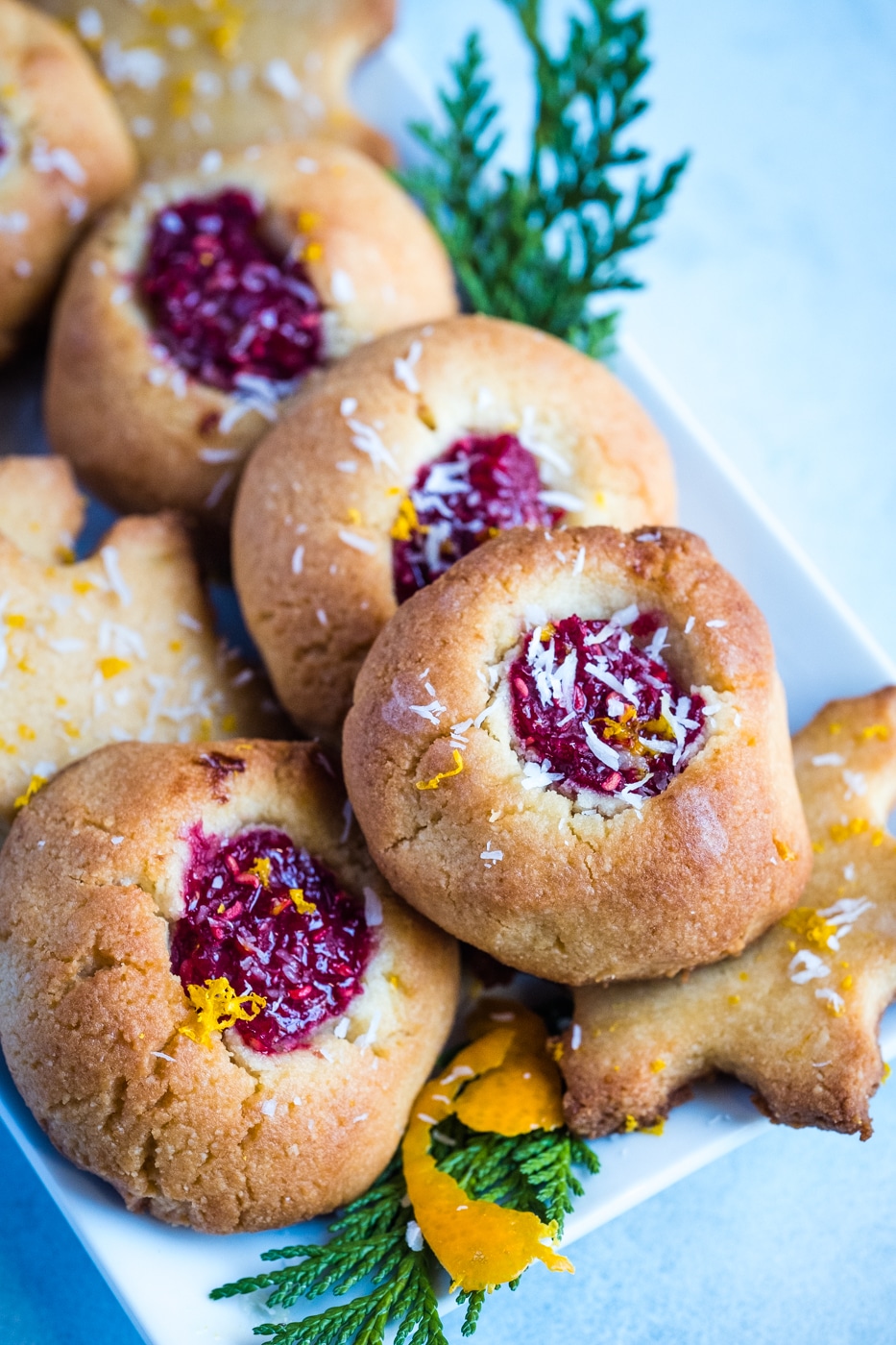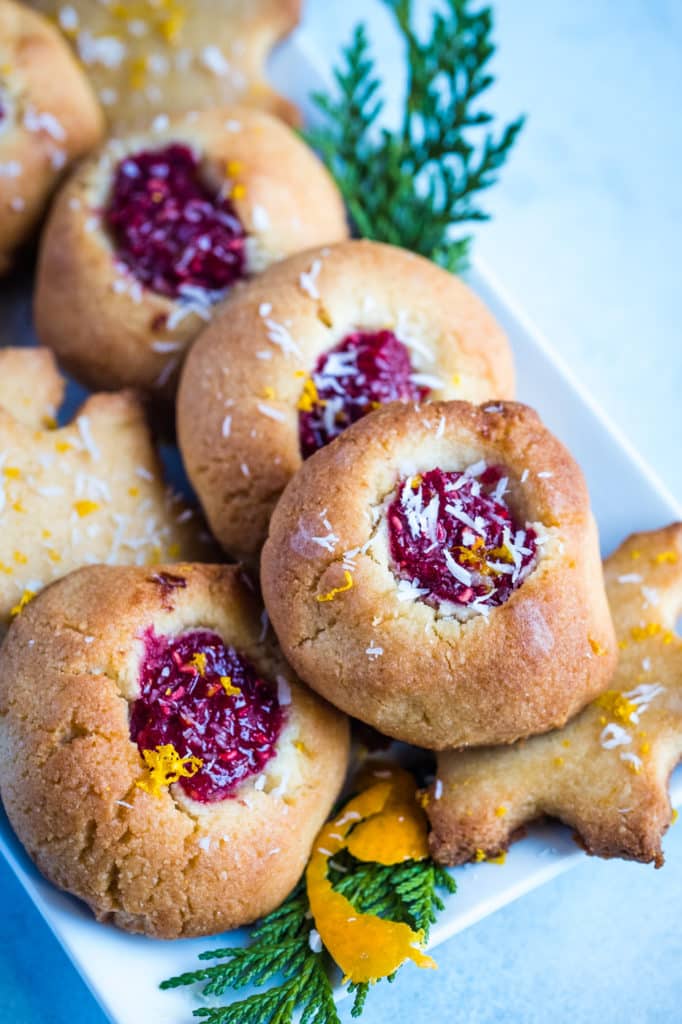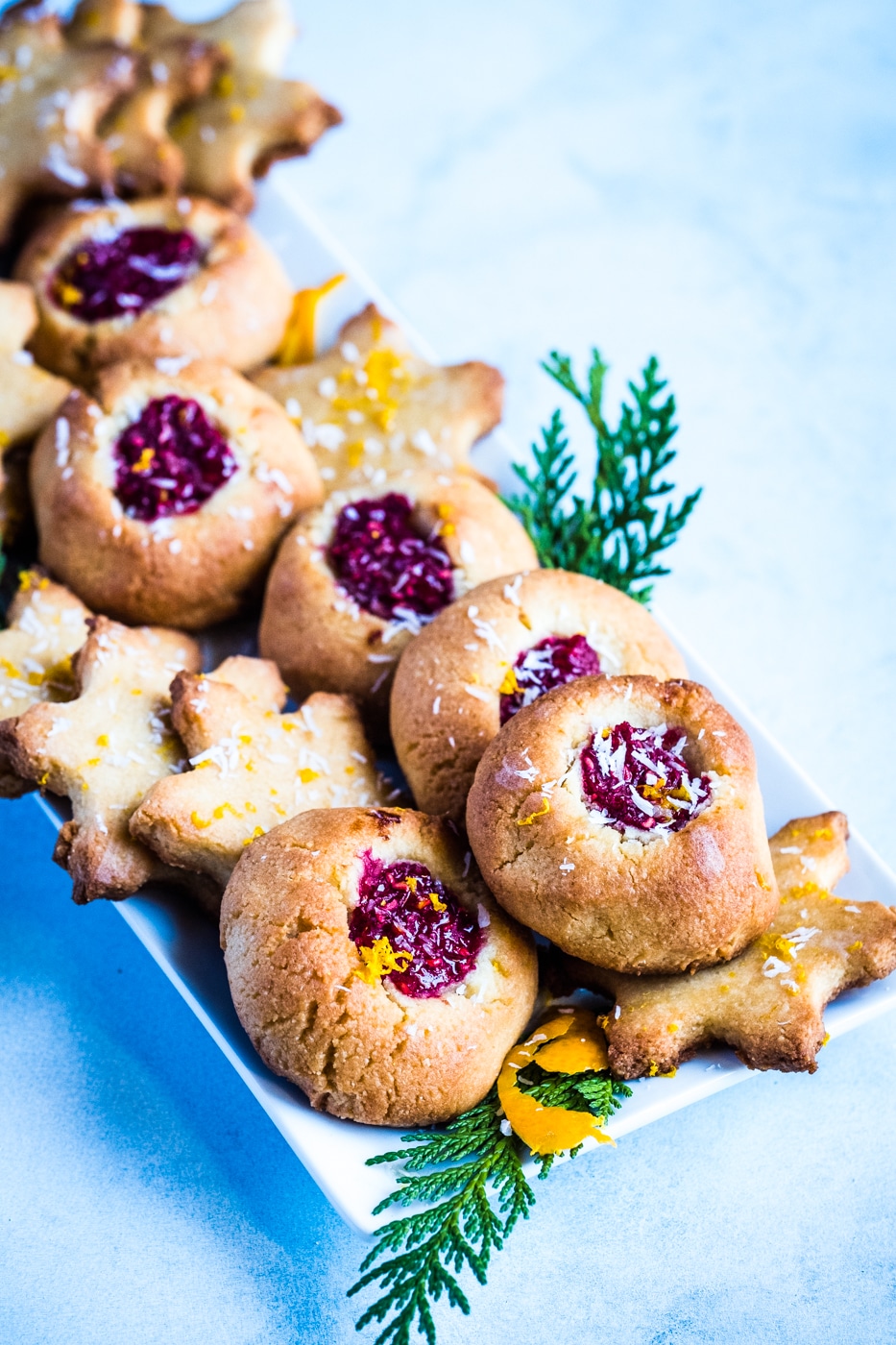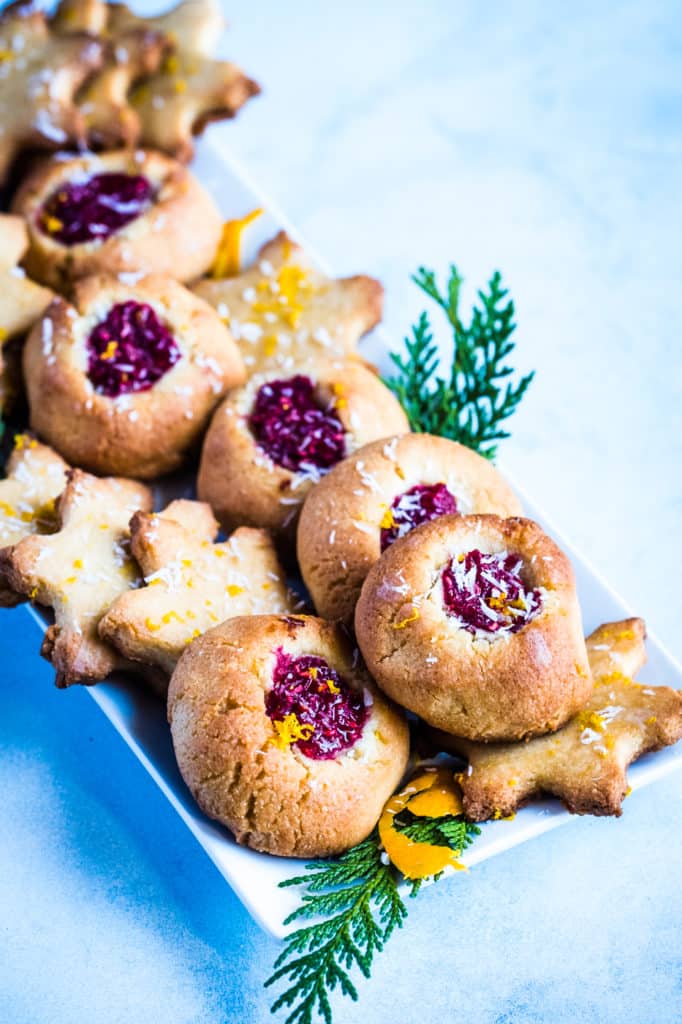 For another cookie recipe try the Lectin-Free Cookies for Christmas. One Dough, Three Ways to Use It.
CHECK OUT MY STORE PAGE FOR RECOMMENDATIONS ON LECTIN-FREE PANTRY ITEMS AND INGREDIENTS
*This post contains affiliated links, which means I get a small commission if you choose to purchase something via one of my links, at no extra cost to you.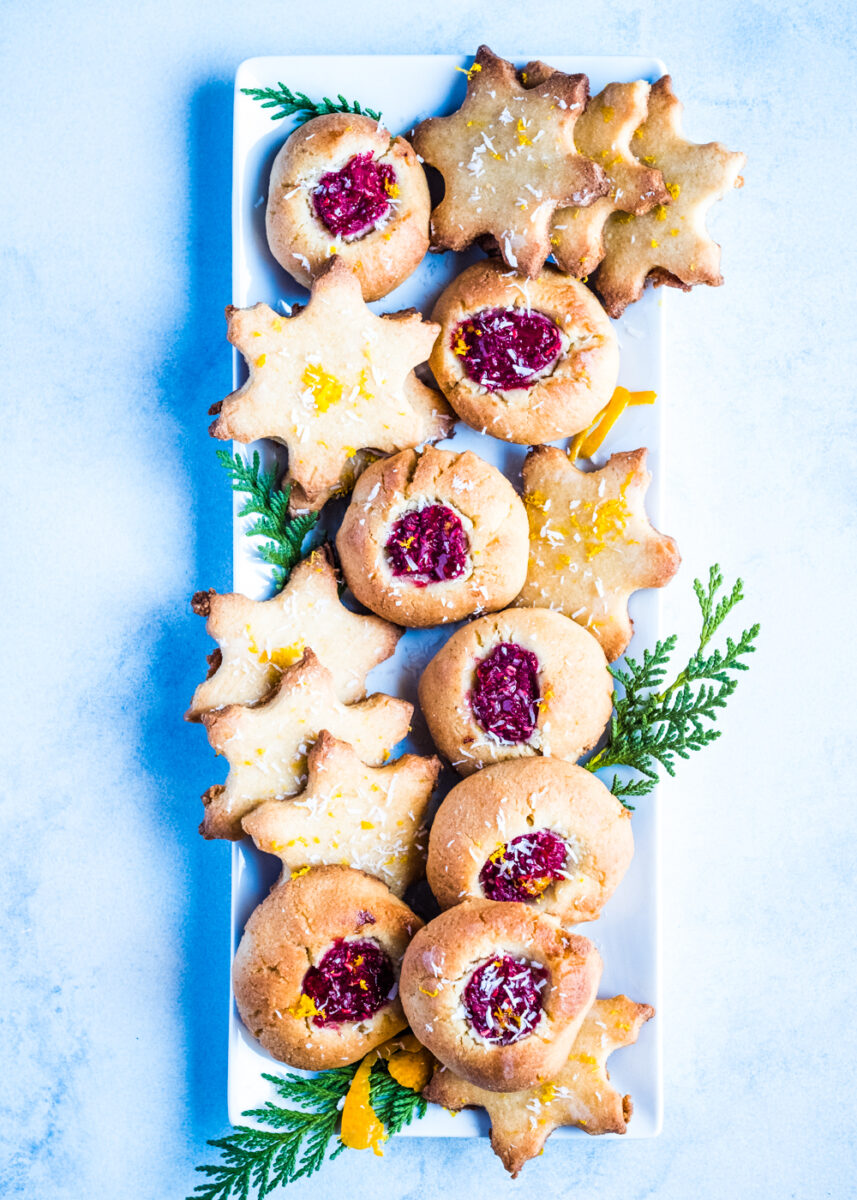 Print Recipe
Lectin-Free Christmas Cookies with Orange and Raspberries: Two Ways
Easy to make butter Christmas cookies that are grain-, sugar- and lectin-free.
Ingredients
FOR THE COOKIE DOUGH

3/4 cup softened French butter

3 tbsp Swerve (or another granulated approved sweetener)

1 pasture-raised egg (room temperature)

1 tsp vanilla

zest of two big organic oranges (leave some for decoration)

2 packed cups almond flour (blanched)

1/4 cup coconut flour

2 tbsp tapioca flour + 1/4 tsp baking soda + 1/2 tsp creme of tartar (mix all together before mixing with the rest)

pinch of salt

2 tbsp arrowroot flour for kneading

FOR THE RASPBERRY JAM

1 heaping cup of fresh raspberries (even more if you want to make a bigger quantity and store for other purposes)

1 tsp granulated monk fruit sweetener (or whatever sweetener you want)

2 tsp agar agar (optional, for thickening)

FOR THE WHITE CHOCOLATE GLAZE

1/4 cup cacao butter

1 tbsp orange juice
Instructions
1
To make the cookie dough: Mix all the flours (except for arrowroot) and salt together and set aside. In a big bowl, mix the softened butter (room temperature, but not melted) and the Swerve with an electric mixer until creamy. Add the egg and most of the orange zest (leave some behind for decoration), vanilla and mix all well. Start adding the flour to the butter mixture and continue with the electric mixer until all incorporated. Take the dough out on parchment paper, gradually dust it with 2 tbsp of arrowroot flour and gently knead it until it all nice and smooth. Split into two balls, flatten out and wrap them in plastic wrap. Let them cool in the refrigerator for at least one hour.
2
To make the raspberry jam: In a small saucepan add the crushed raspberries and the sweetener. Let it simmer for about 30 minutes. Add the agar agar and simmer for 5 more minutes. Take off heat and cool.
4
To make the snowflake / flat cookies: Take one of the dough pieces out of the fridge, and roll it in between 2 parchment papers (you can use some arrowroot flour if needed), about 1/8 inch thickness. Use a cookie cutter to cut the shape you want. Gently remove the parts that are left in between, and put them back in the fridge until you are ready to make the thumbprint cookies. Gently transfer the parchment paper with the cookies on a cookie sheet, and bake for about 8 minutes. Keep an eye on them they can burn pretty fast. Take them out and cool.
5
To make the thumbprint cookies: Take the rest of the dough out of the fridge, and make balls about the size of a ping pong ball. Slightly flatten and add them on a cookie sheet covered with parchment paper. Once you are done with all the dough, inclusive the leftover one from the snowflake cookies, press with your temp on each ball to make an imprint. That's where you will add the raspberry jam (make sure is cold). Bake at 350F for about 13-14 minutes, keeping an eye on them so they don't burn. Cool down.
6
To make the white chocolate glaze: melt the cocoa butter plus the orange juice. Let it cool (you can make this while your cookies are cooling down).
7
Once the white chocolate mix is thickening, but not complexity solid, and your cookies are cold, drizzle some of the white chocolate on top of the cookies. Sprinkle with the leftover orange zest and some coconut flakes. You can also dust them with Swerve confectioners, I don't do it because my taste buds don't like it.
Notes
This quantity made about 14 flat cookies and 18 thumbprint cookies. My favorite cookies were the thumbprint raspberry cookies, so if you don't care for snowflakes or flat cookies, I recommend making them all thumbprint cookies. Or, you can add jam in between two flat cookies and you have a sandwich cookie. Possibilities are endless.