Is the season for warming, grounding, and nourishing food, and this sweet potato pie is one of the season's staples in our home. Not only this sweet potato pie recipe is lectin-free, but it is also sugar-free, dairy-free and oh, so comforting.
Ditch the sugar
I have to admit, I've never had a sweet potato pie before I moved to Texas in 2015. A traditional sweet potato pie is usually made with 1 cup of sugar to 2 cups of sweet potato, which would be way too sweet for me, even if I ate sugar. So, I started to make a few versions at home, for Thanksgiving and Christmas.
Not only I didn't use any sugar, but I don't think this pie needs any sweetener at all. The sweet potato is so sweet, and it gets additional sweetness from pecan butter, coconut milk, and cinnamon.
Other lectin-free and sugar-free pie options
If you want to explore more options, check out this beautiful creation. It does take a little longer than a simple pie, but if you want to elevate the looks of a sweet potato pie, which is rather boring, this is one option. Use both purple (Stokes) sweet potato and orange sweet potato.
LECTIN-FREE SWEET POTATO PIE, TWO COLORS
And I have one more option for you. This was a special request from my sister and her husband, for Christmas. They wanted a lectin-free, sugar-free Chocolate Pecan Pie, and I delivered:
LECTIN-FREE BOURBON CHOCOLATE PECAN PIE
The ingredients for the lectin-free, sugar-free sweet potato pie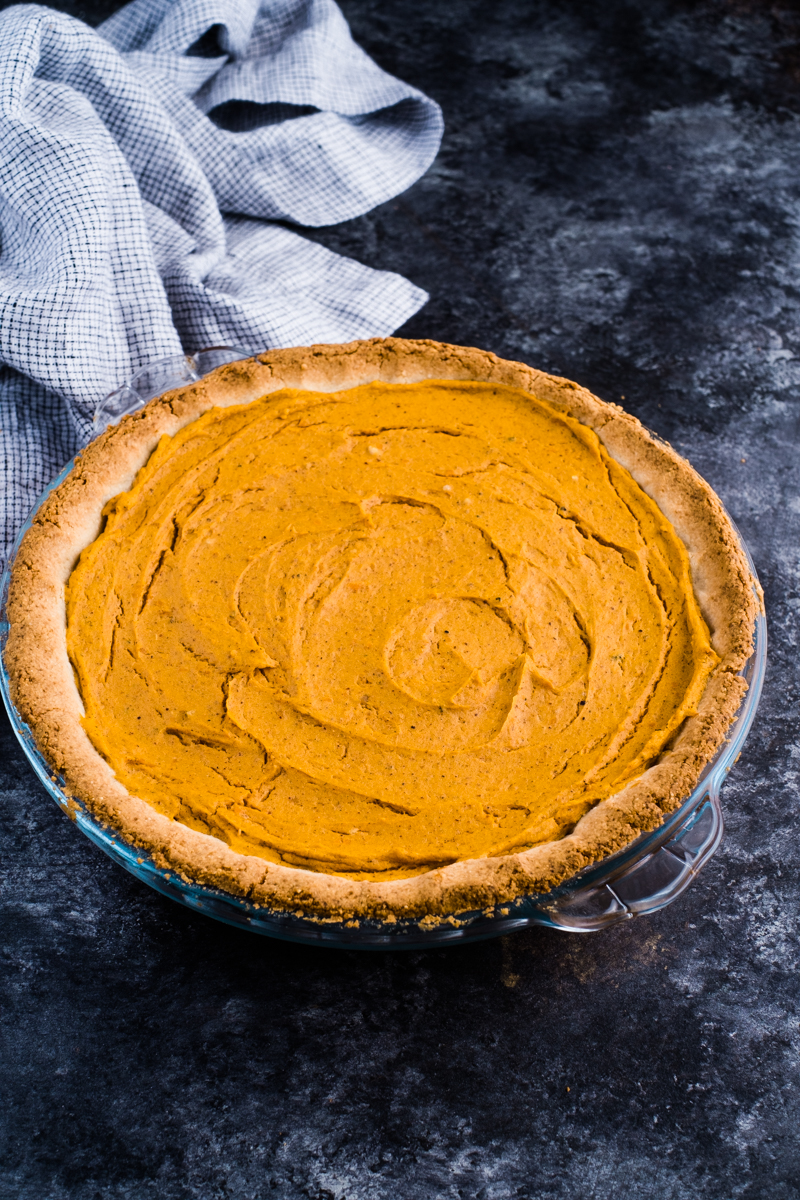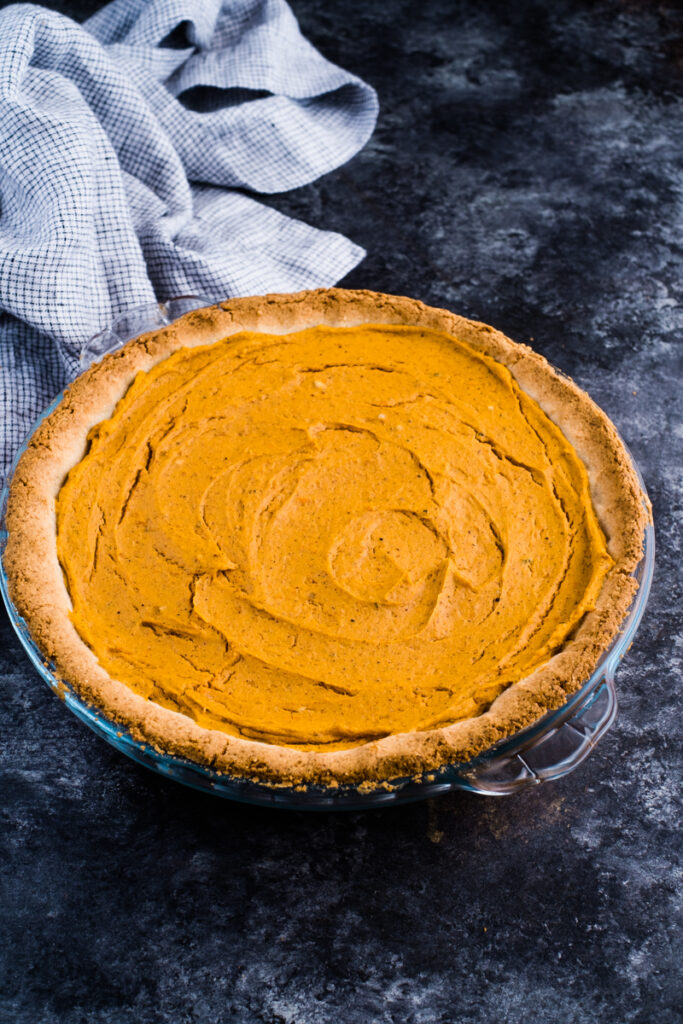 And back to our gluten-free sweet potato pie. This is a more classic version. The pie crust is made with cassava flour, coconut flour and a tiny bit of arrowroot flour.
The dough will simply be made in a food processor, then formed into a ball and rolled out with the help of a rolling pin and two parchment sheets. After the dough will be added to the pie pan, keep it in the fridge until the filling is ready.
The pie filling is made with sweet potatoes, eggs, pecan butter and a dairy-free cream or full-fat coconut milk.
I used vanilla flavored Nut Pods, which is a plant paradox approved coffee creamer that can be found in the US, made with coconut and almond milk. But simple, full-fat coconut milk will be just perfect.
Pumpkin Pie Spice
When I created this recipe, I wanted a pumpkin pie spice flavor, but I was also trying to make a low-histamine version. So I kept the spices considered high-histamine to a minimum and used all-spice instead, which is considered low-histamine.
Depending on your own needs and preferences, you can use a bigger quantity of cinnamon, or a pumpkin pie spice mix made of cinnamon, nutmeg, ginger and cloves.
More lectin-free, gluten-free and sugar-free pie recipes
If you have any questions or suggestions, please leave a comment.
I hope you love this lectin-free sweet potato pie.
*This post contains affiliated links, which means I get a small commission if you choose to purchase something via one of my links, at no extra cost to you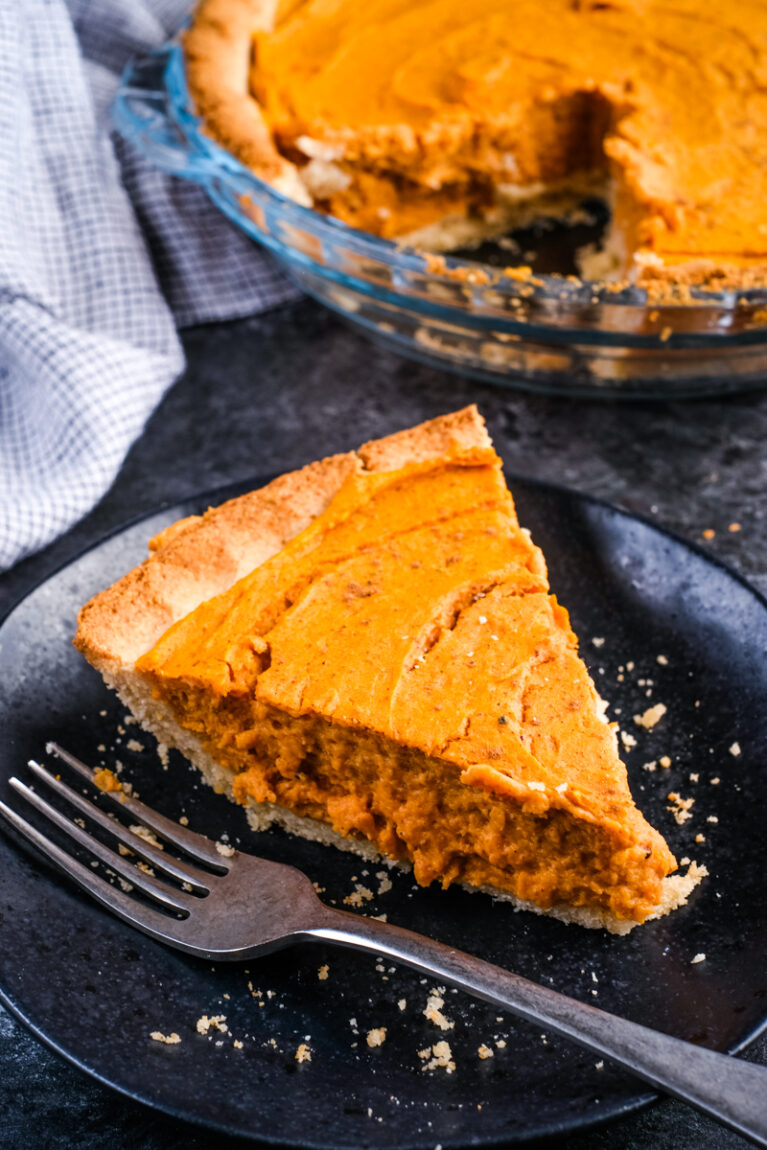 Print Recipe
Sugar-Free Sweet Potato Pie (Lectin-Free, Gluten-Free)
This warming, grounding, and nourishing sweet potato pie is lectin-free, sugar and sweetener-free and it's the perfect comforting treat for cold days.
Ingredients
FOR THE CRUST:
1 cup cassava flour
2 tablespoons arrowroot flour
1/2 cup coconut flour
1 tablespoon monk fruit sweetener (I used golden)
1/4 teaspoon salt
2 pastured eggs
1 teaspoon vanilla
2/3 cup coconut oil, melted but not hot
FOR THE FILLING:
550 grams cooked sweet potato (about 2 medium potatoes; I cook them in an Instant Pot a day prior, but any cooking method would work)
4 tablespoons cold vanilla Nut Pods (the dairy-free creamer, can be replaced with full-fat coconut milk)
2 pastured eggs
2 tablespoons pecan butter
1 teaspoon vanilla (or seeds scraped from a 2-inch vanilla pod)
1/4 teaspoon sea salt
1/4 teaspoon all-spice powder OR 1/4 teaspoon nutmeg
1/2 teaspoon cinnamon (or more to taste)
Optional: pumpkin pie spice mix (use this to spice up the cake and you can skip the individual spices)
Optional: ginger (for a kick)
Instructions
1

Preheat oven to 350F. Prepare a pie dish by greasing it with olive oil.

2

Combine the flour, sweetener, and salt in a food processor.

3

Add the eggs, vanilla, coconut oil and process on high until everything gets mixed together and forms a dough.

4

Take the dough out in a bowl and start kneading it. Shape the dough in a ball and leave it for 5 minutes to rest.

5

Prepare a working surface with two parchment papers and a rolling pin. Flatten the ball out on the bottom parchment paper, spreading it into a round. Add the parchment sheet on top and start rolling with a pin until you get a sheet about 1/4 inch thickness. The dough will crack a little bit on the edges, but it's easy to stick back together. Peel the top parchment paper off and carefully flip the dough on the top of the pie dish. At this point, some of the edges might fall off, but don't worry, they are very easy to stick back together. Stick the dough wherever is broken and remove the excess edges. Rest in the fridge while you are making the filling.

6

To make the filling, add all the ingredients to a food processor and combine until creamy.

7

Fill the pie dish with the sweet potato filling and bake for about 30 minutes. The edges should be golden brown and the top settled and golden. Let slightly cool before serving.

8

Serve as it is or with a dollop of whipped coconut cream.