In this article, we will explore a few simple swaps you can make in your diet that will help you achieve your health goals.
As a health coach and a woman in her 40s, trying to get healthier (and lose weight), I have experimented with all of them, and they've been part of my diet for the past six years.
Not only these healthy wraps for weight loss are healthy, but they are fun to work with and are delicious and satisfying.
Aim to regain your health and weight loss will come
As a health coach, I am confident in saying that weight loss should never be your end goal. Weight loss is a consequence of restoring balance in your body, and a healthy diet is a big part of this process.
But I also know that losing weight is a good motivation to change your lifestyle. It might seem straightforward, but on a practical level, we hit a wall and end up with the question: so what am I eating now?
Tacos, sandwiches, wraps, and burgers, are easy to put together, and they are delicious, but we all know they all come with a bit too much bread, which will not help you with your health goals.
But don't worry, there are many healthy wrap alternatives that will help you in your weight loss journey. If you know how to use them, you will love them and will make them a part of your diet.
Let's explore some of my favorite healthy wraps for weight loss.
Healthy alternatives to bread and grain tortillas
You would think nothing can replace the experience of eating a taco, a burger, a sandwich, or a burrito. It's true, there is something comforting about wrapping your food and taking that perfect bite that has everything.
But, as I learned in my experience of being a health coach and following a healthy diet and lifestyle, anything has a healthier alternative, and a lot of the time, is even better tasting.
It will definitely leave you feeling good after eating, and no more bloating, fatigue, brain fog, nausea, heartburn, or that overall feeling of unpleasant fullness.
So, here is an overview of those easy swaps and a few healthy wrap recipes.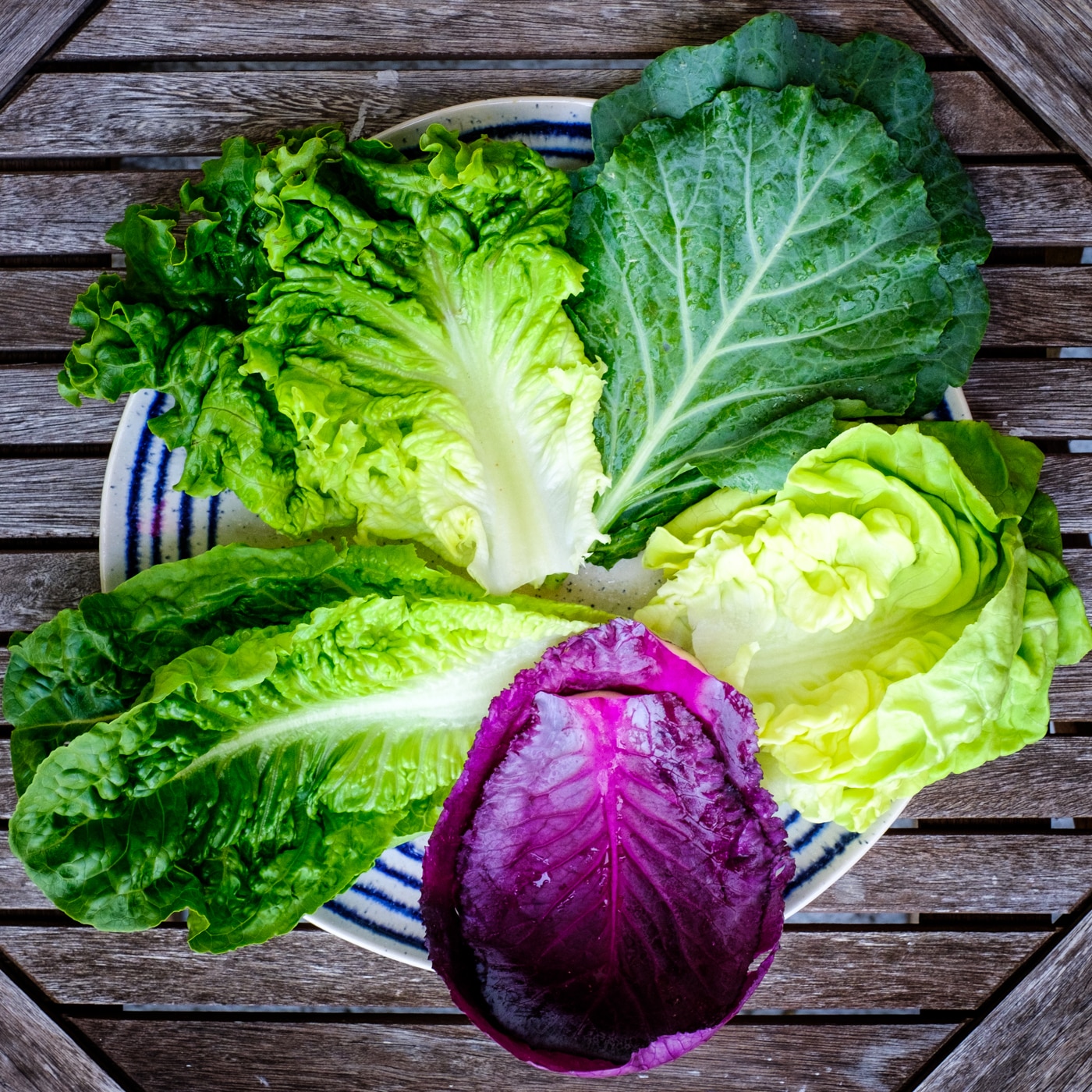 Types of healthy wraps for weight loss
The leaves: romaine hearts, butter lettuce, curly lettuce, radicchio cups, cabbage leaves, collard greens, and swiss chard. They are cheap, easy to find, easy to prepare, nutritious, low-carb, and go with almost everything.
The exotic wraps: nori sheets, jicama wraps, coconut wraps. They are a bit more difficult to find, depending on where you live, especially the jicama and coconut wraps. Keto-friendly and nutritious.
Gluten-free and lectin-free tortillas: almond tortillas, cassava tortillas. Only available in certain areas, but pretty easy to find in the United States. A healthier alternative to wheat and corn tortillas, especially if you are celiac or follow a lectin-free diet, but quite pricey. Don't worry though, as these can also be made at home; check out the below paragraphs for recipes.
Other options have ingredients I prefer not to eat, like cauliflower wraps, which can contain potato starch, poor-quality eggs or protein powders, additives, and preservatives.
Romaine lettuce – perfect for hot dogs and all kinds of creamy fillings
One of the most nutritionally dense of all lettuces, I love romaine because it is sturdy, crunchy, and delicious.
For wraps, I usually choose the hearts; I remove the big outer leaves and use them chopped for salads, and I keep the smaller leaves in the middle for making wraps or as I like to call them, boats. You can also find romaine hearts to buy.
What can you make with romaine lettuce:
Replace a hot dog bun with lettuce heart leaves. They are so sturdy and hold everything so well. You will be surprised, but the hot dog, if it has all the classic ingredients, it tastes like one. Make sure you buy a Whole 30, Paleo-approved or grass-fed sausage.
Make avocado boats. Fill the romaine hearts with chopped avocado and season well, or use guacamole. They are the perfect snack.
Fill the romaine hearts with egg salad, tuna salad, beef liver pate, or this creamy artichoke spread. The sky is the limit.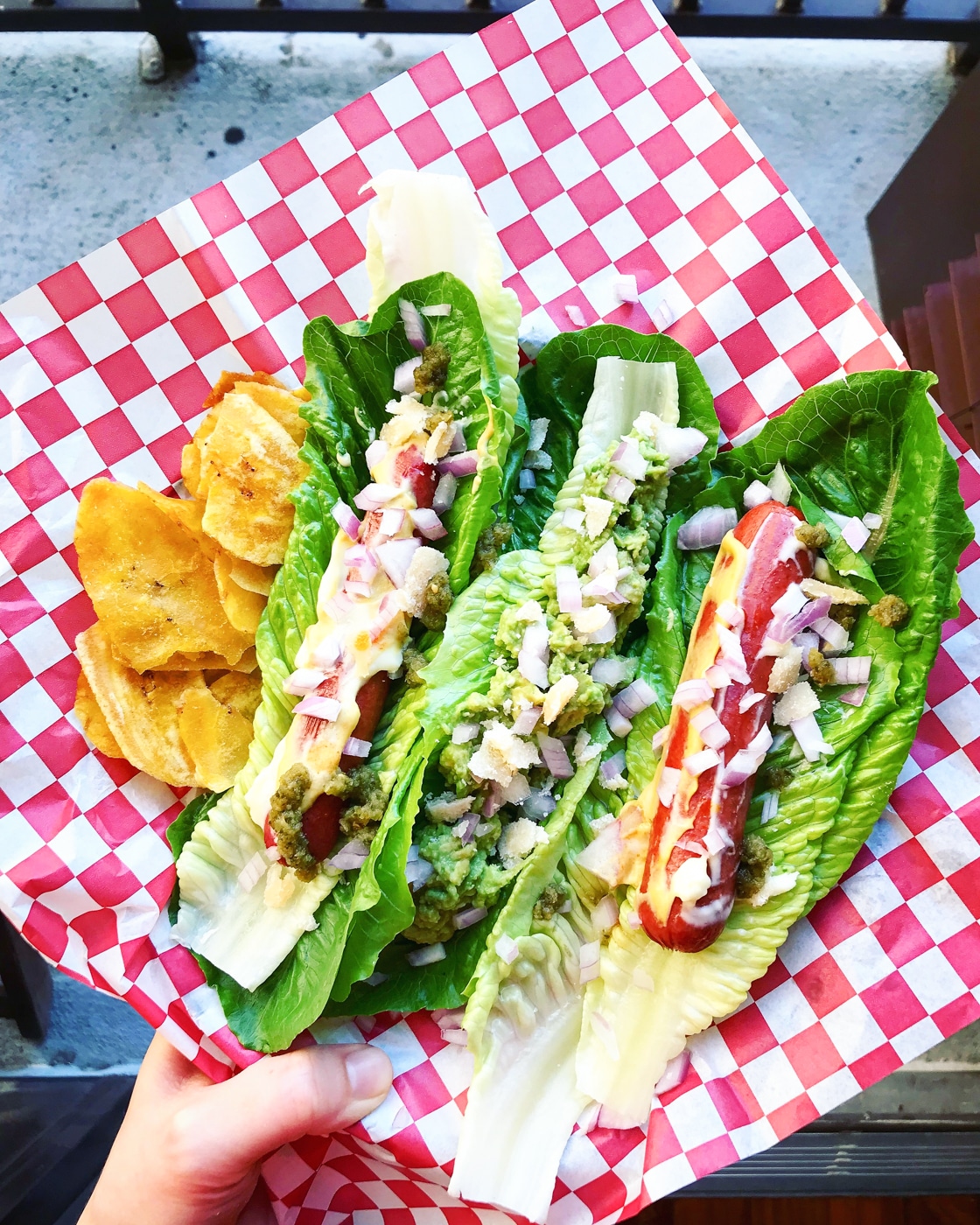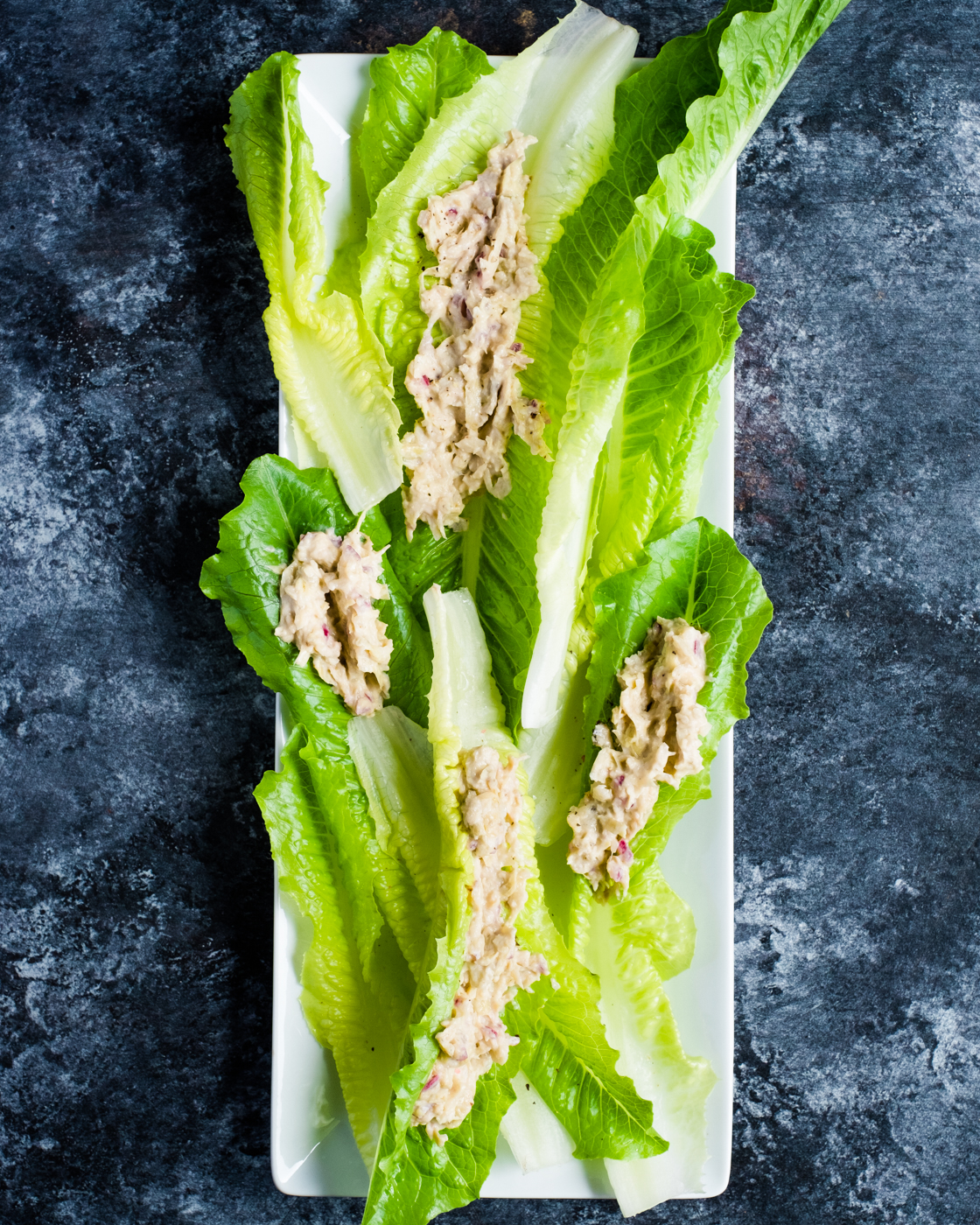 Butter lettuce – perfect for tacos
Your healthy taco fillings will pair perfectly with a few layers of butter lettuce.
Use a mix of taco spice with your favorite protein: grass-fed beef, pasture-raised chicken, salmon, shrimp, white fish, etc. Top with avocado or guacamole, shredded cabbage, red onion, sour cream or yogurt, fresh cilantro and fresh lime juice.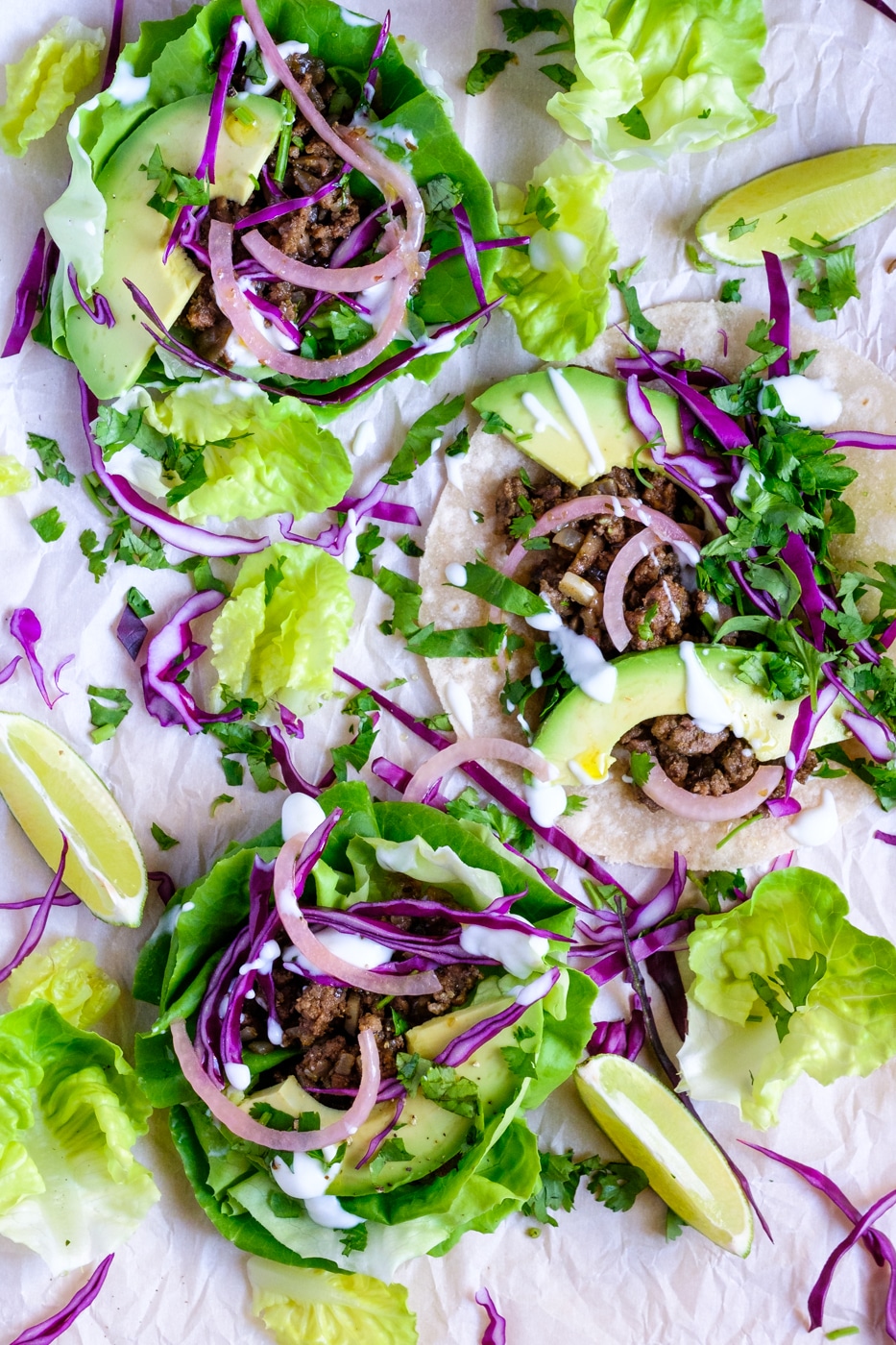 Curly lettuce – perfect for burgers
Curly lettuce is sturdier than butter lettuce and has the perfect shape to hold a burger. Make burger patties with grass-fed beef, chicken, or turkey, layer the burger with a few lettuce leaves, and add your favorite toppings.
You can also make a fish cake sandwich.
Lettuce wraps are so versatile, and curly lettuce can hold a lot of delicious fillings.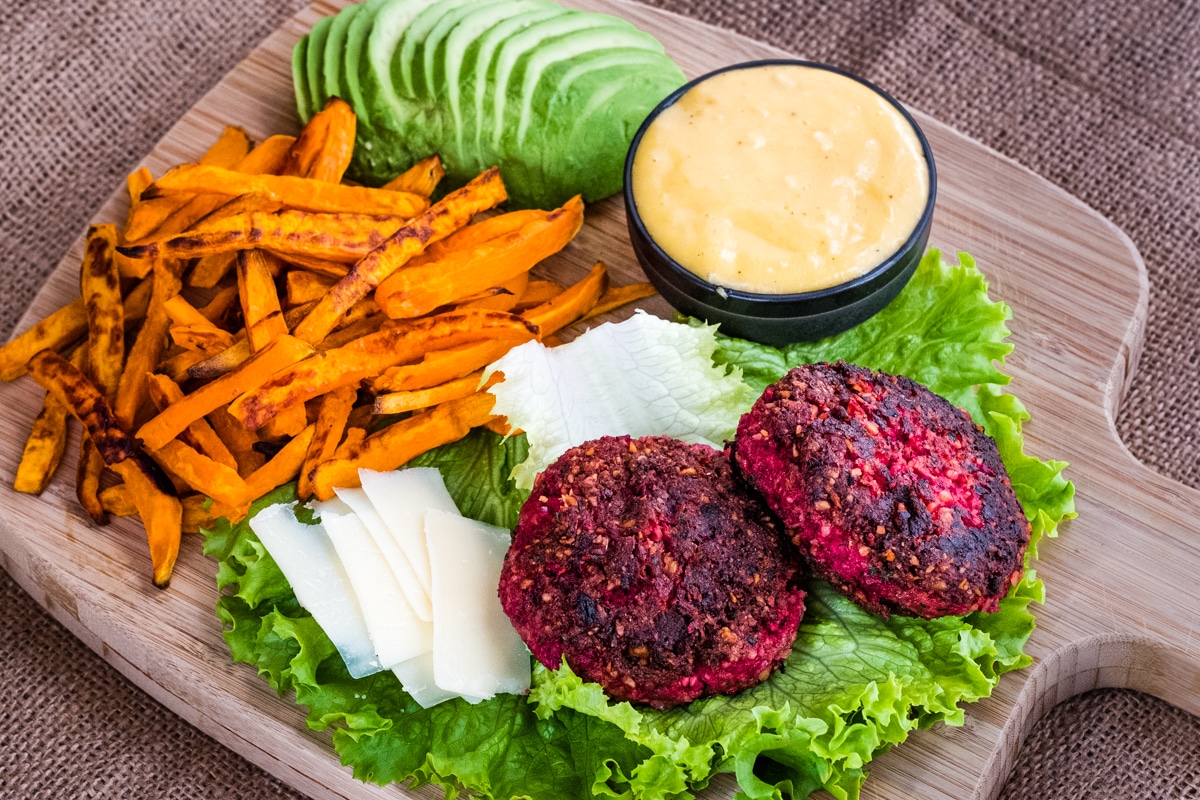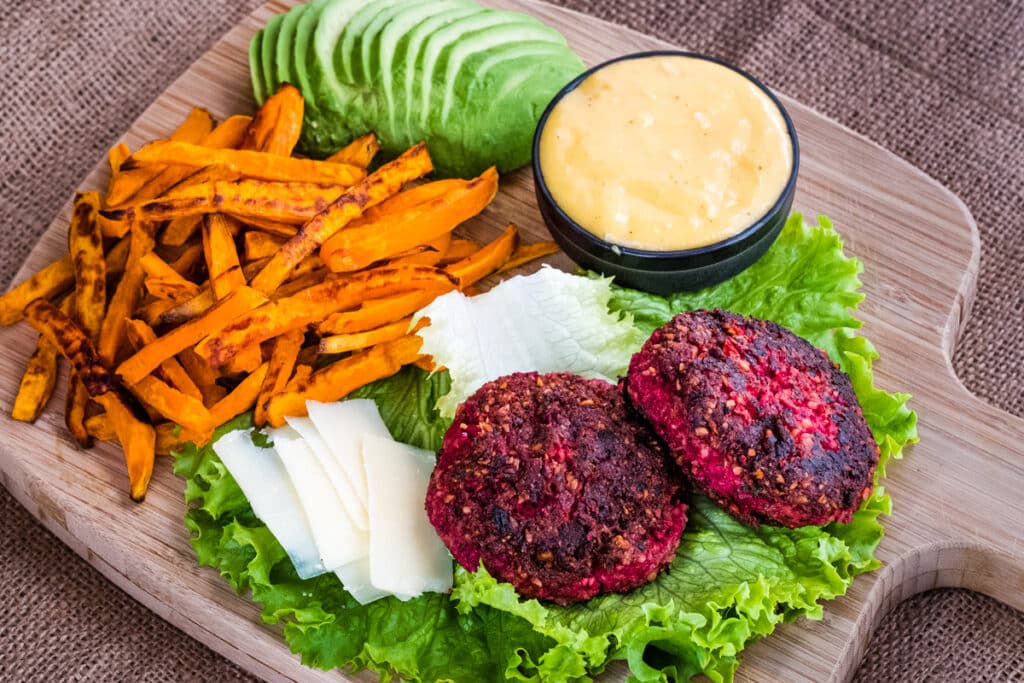 Collard greens – nature's perfect wrap
If there were a perfect leaf to make a wrap, that would be collard greens.
To make collard greens wrap, start by blanching the leaves. Bring a pot of water to boil, add some lemon juice to the water, and submerge in hot water for a few minutes.
Let them dry on a cotton towel, and remove the hard part of the stem. Depending on how big the leaves are and how big you want the warp, you can layer two leaves on top of each other.
You will find a tutorial and an idea of filling here: Collard Green Wraps with Sardines and Avocado Salad.
But when it comes to filling, you can use anything you can think of: eggs, chicken salad, ground beef of beef steak, make it vegetarian, etc.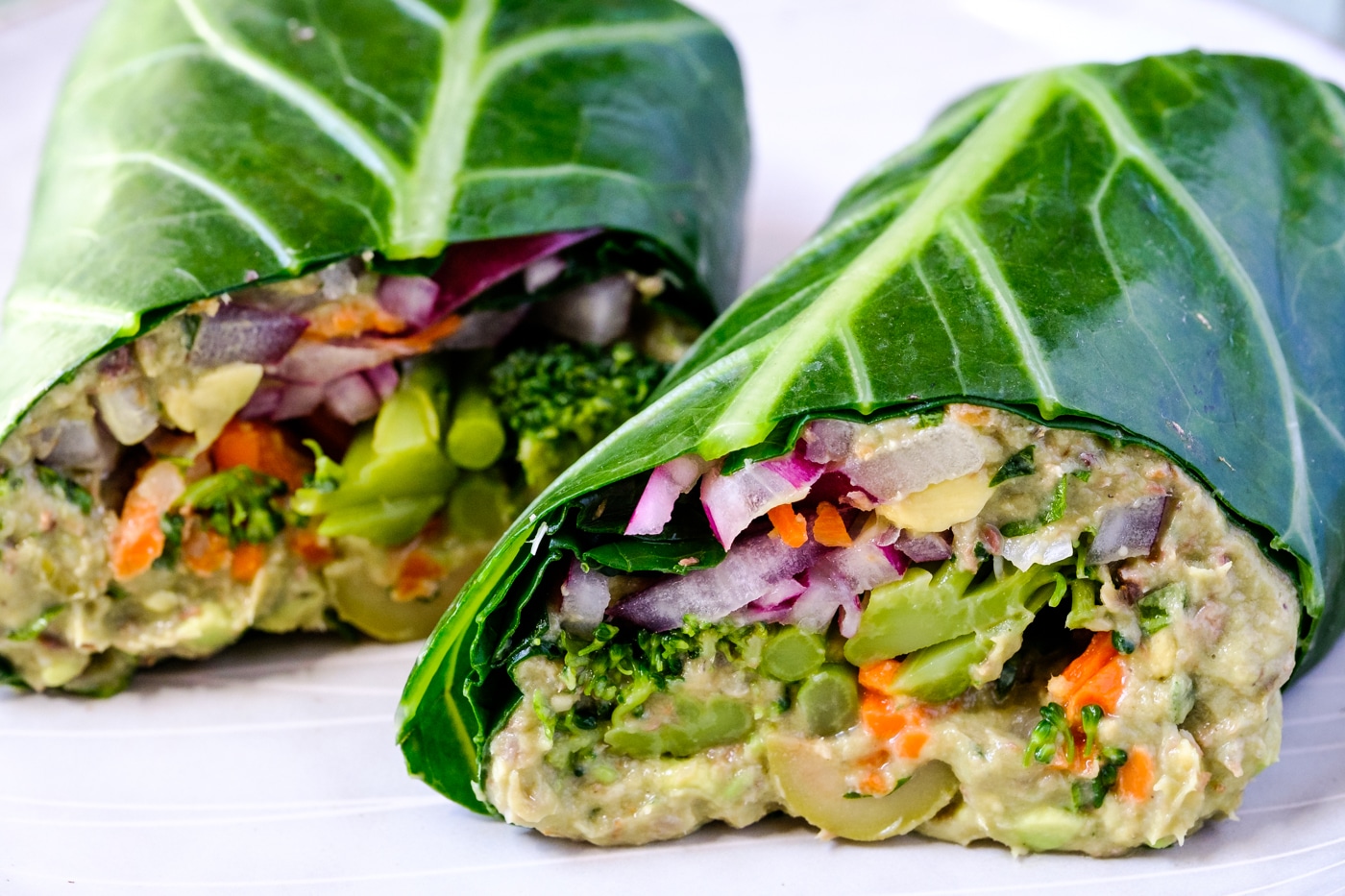 You can make smaller rolls using the same technique as wrapping burritos or cabbage rolls.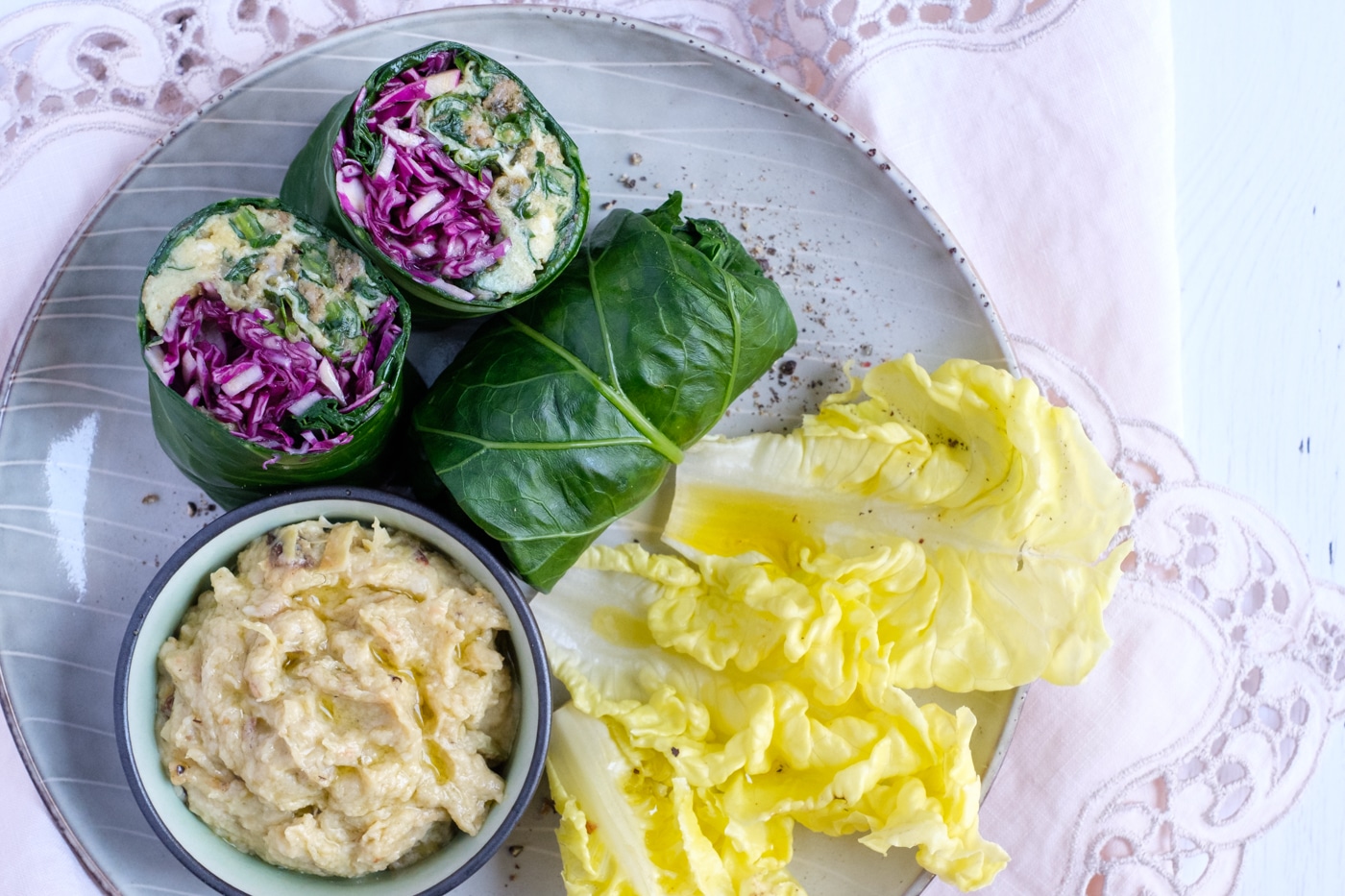 The sky is the limit when it comes to making healthy wraps using collard greens. Here it is a few combinations that I love:
tuna salad with avocado
chicken, olives, pesto, and avocado
eggs, beef, and vegetables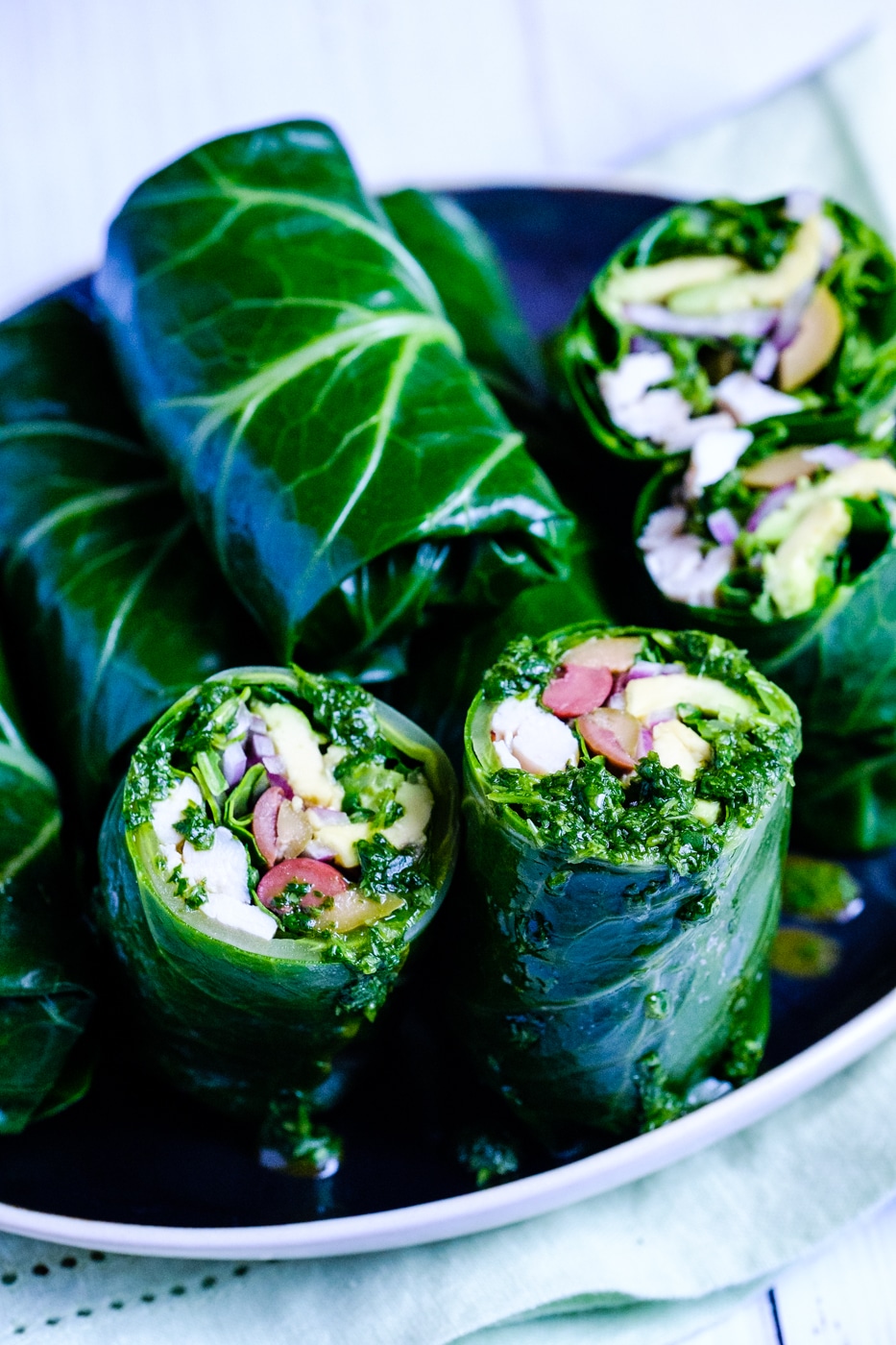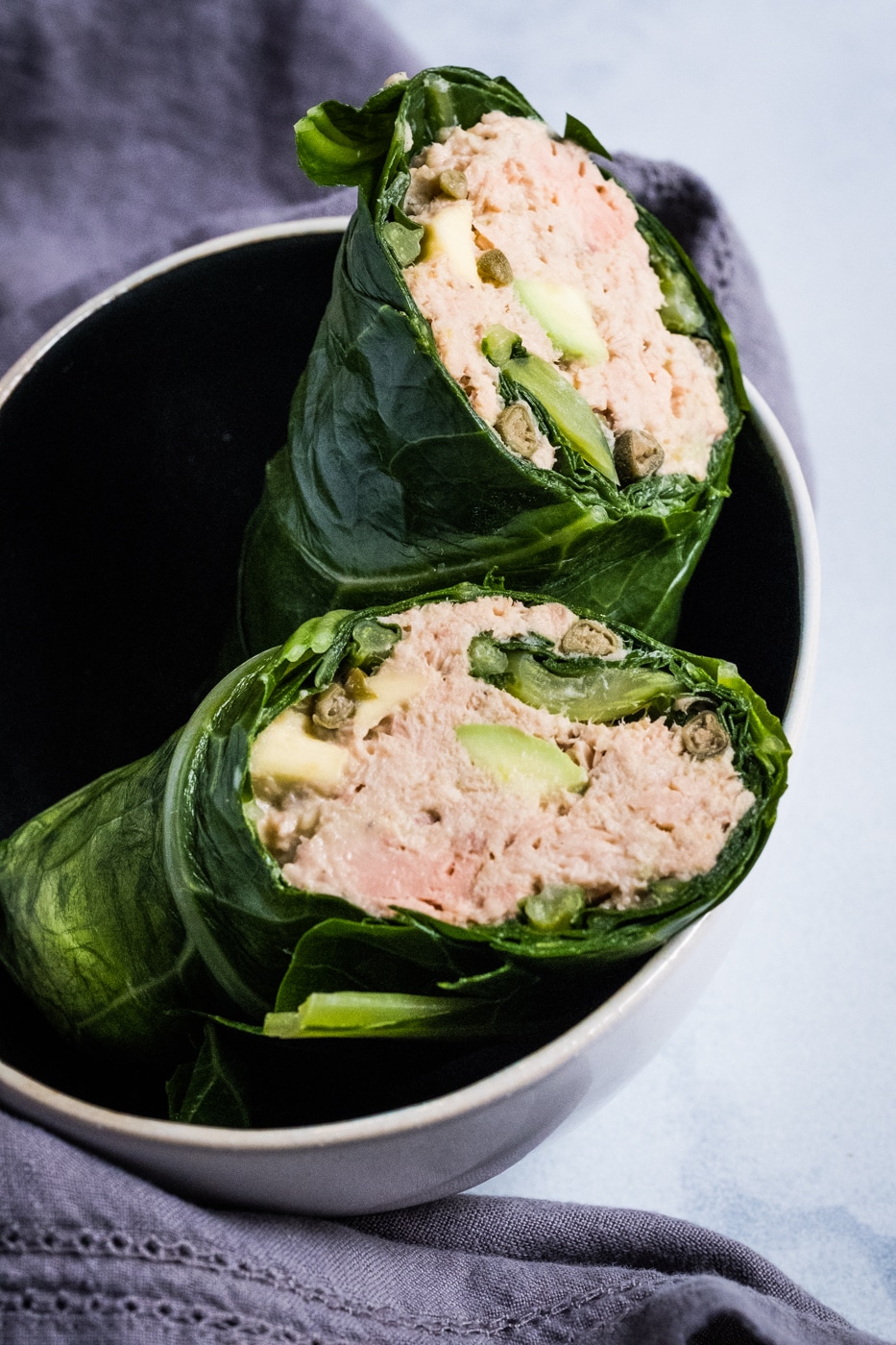 Radicchio leaves / Red cabbage leaves
Radicchio and all the greens in the chicory family are my favorite vegetables. They are the most nutritious leaves you can have.
Raddichio leaves make delicious and beautiful cups that can hold any filling you can think of: fish, chicken salads, egg salads, and even burgers and tacos.
Try this recipe: Plant Paradox Curried Sardines in Radicchio Cups.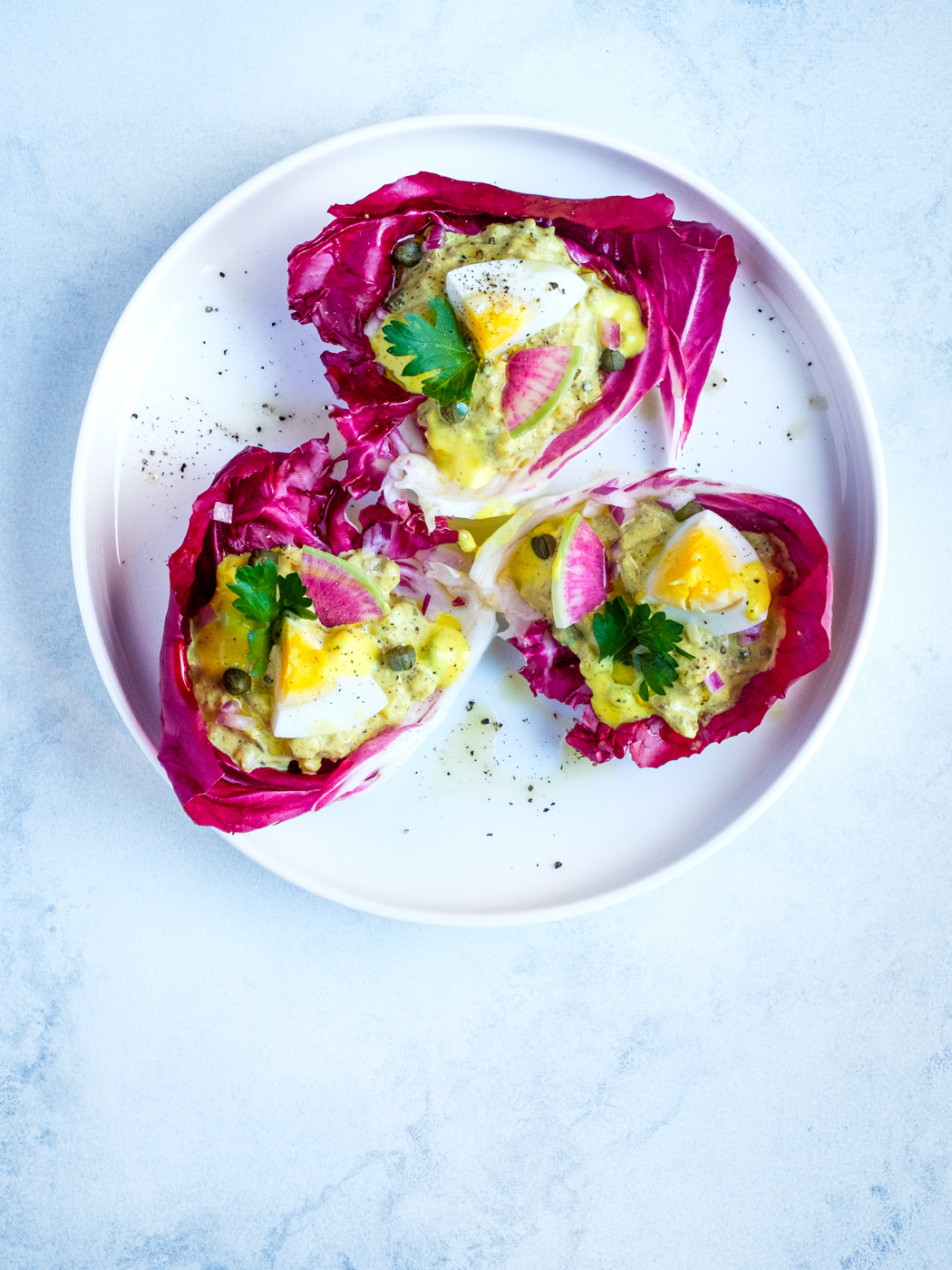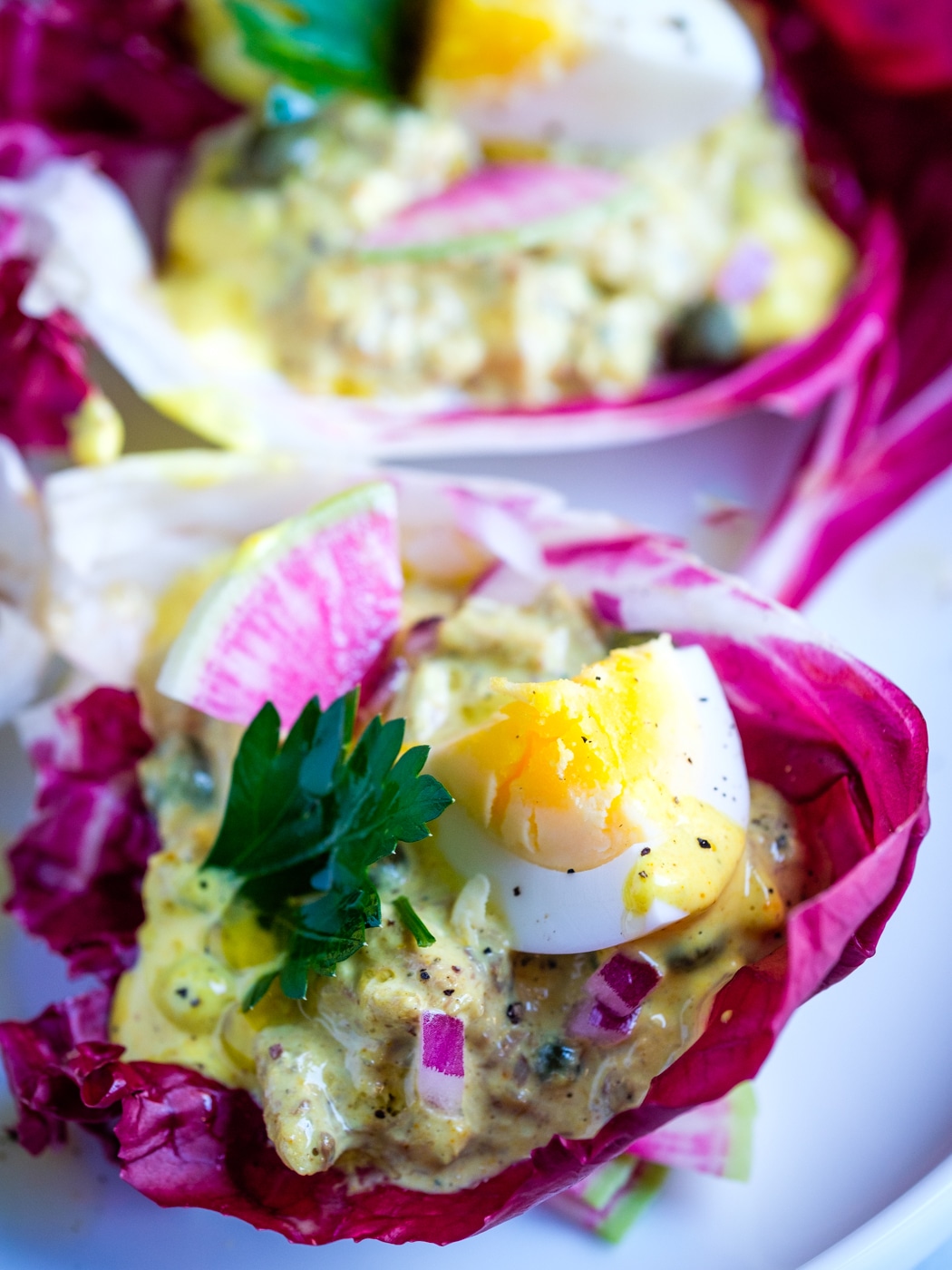 Nori wraps – sushi reinvented
Of course, you can use nori to make the ultimate wrap, sushi. I don't eat rice, but I make sushi with cauliflower rice, which is delicious.
If you've never worked with nori rolls, it might take a little bit of practice, and you will need a bamboo sushi mat. But once you learn the tricks (there are plenty of video tutorials online), you will love to make them.
Here it is a few ideas for nori wraps I like to make. They are also great for meal prep, so you can prepare them in the evening for an easy lunch the next day.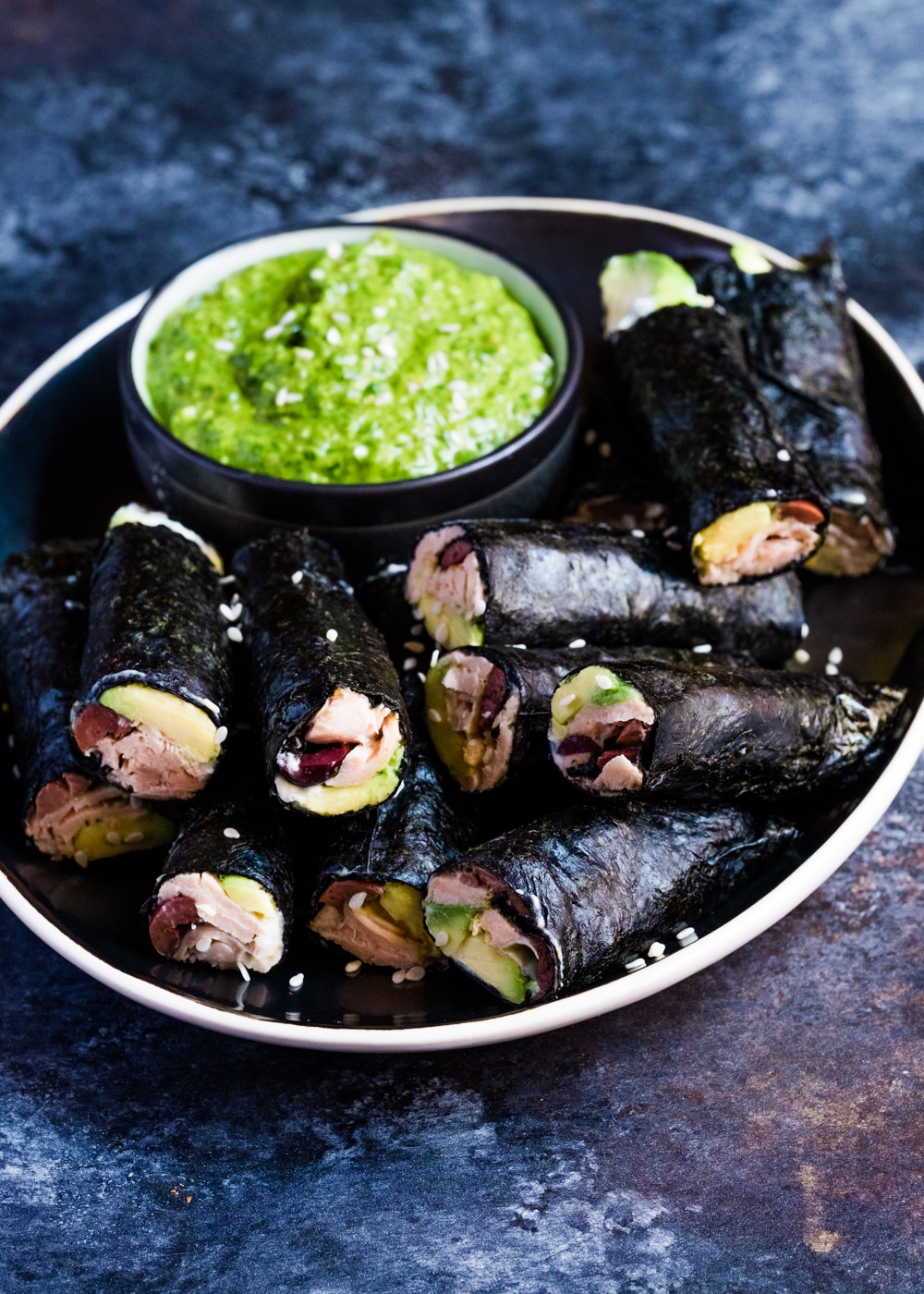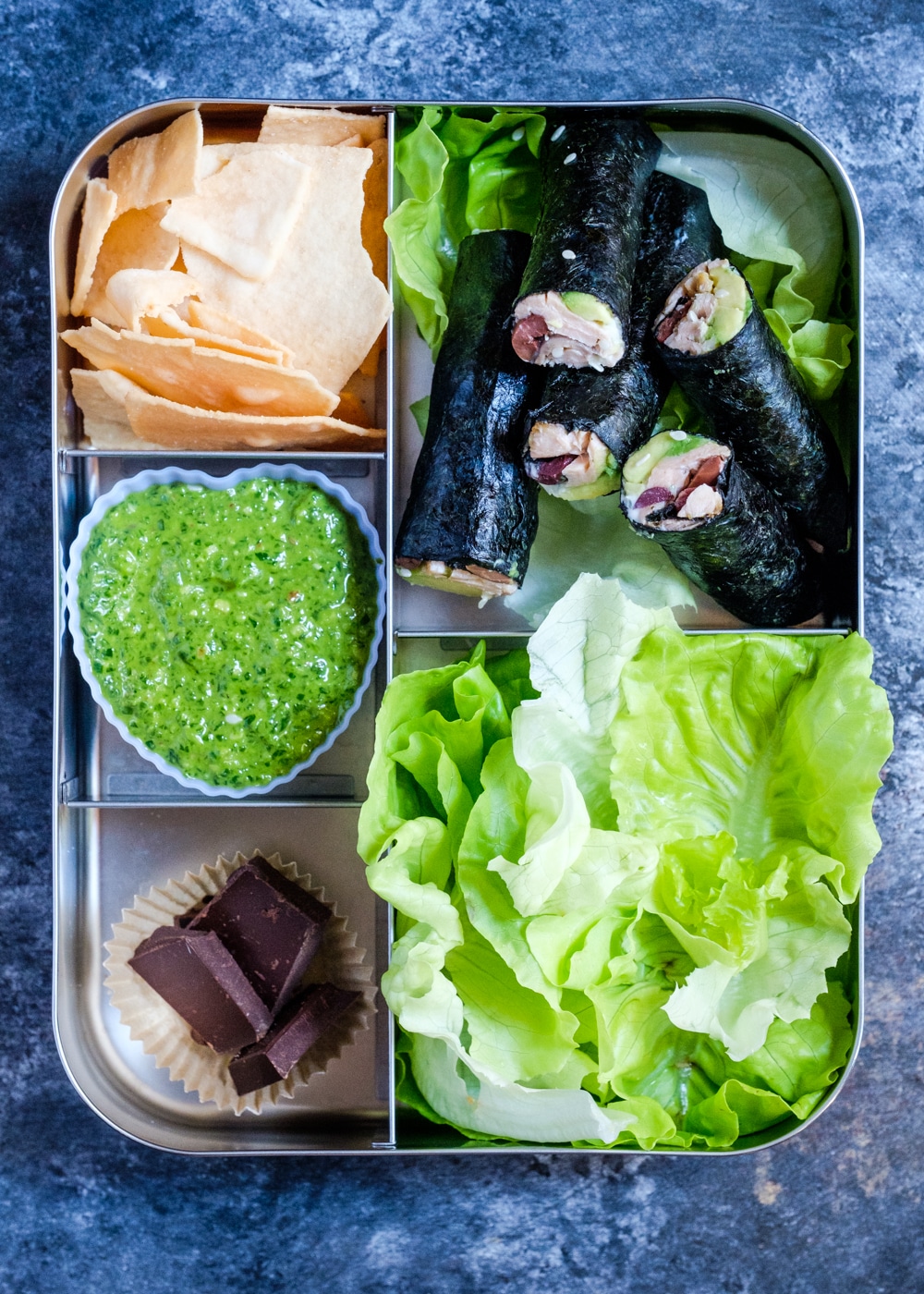 You can make those nori rolls using my Easy Turkey or Chicken Salad with Homemade Egg-Free Mayonnaise. Add arugula, avocado, carrot sticks, and olives to the mix, and you have a great breakfast, lunch, or dinner.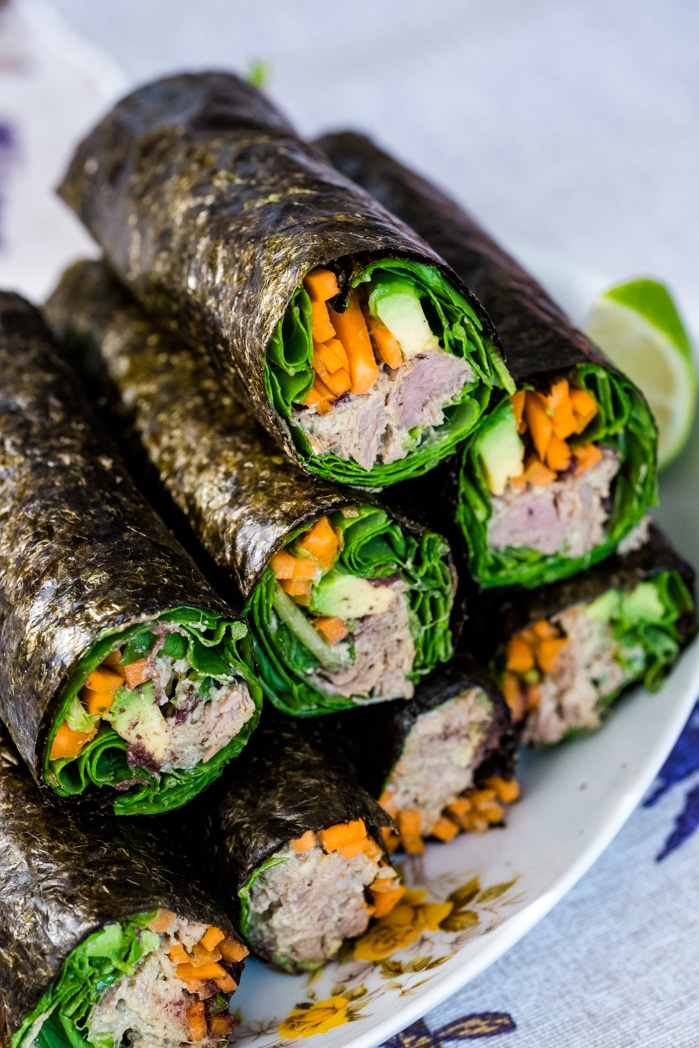 Jicama tortillas – the perfect low-carb tortilla for tacos
Jicama tortillas are the best alternatives to classic corn or wheat tortillas, and your gut bugs will love them. But they are not easy to find.
If you live in the southern US states, you might have better chances of finding them. I used to buy them in the HEB supermarkets across Texas or Central Market in Dallas.
But what is jicama? Jimaca is a round root vegetable with a thick, light brown skin, with a crispy texture and a taste between apple and potato. If sliced thinly, it makes these perfect tortilla-shaped wraps. If you have a professional slicer at home and you can find bigger size jicama, you can make these wraps at home.
Jicama is considered a resistant starch with a significant amount of fiber and vitamin C. Read more about jicama and how to use it here.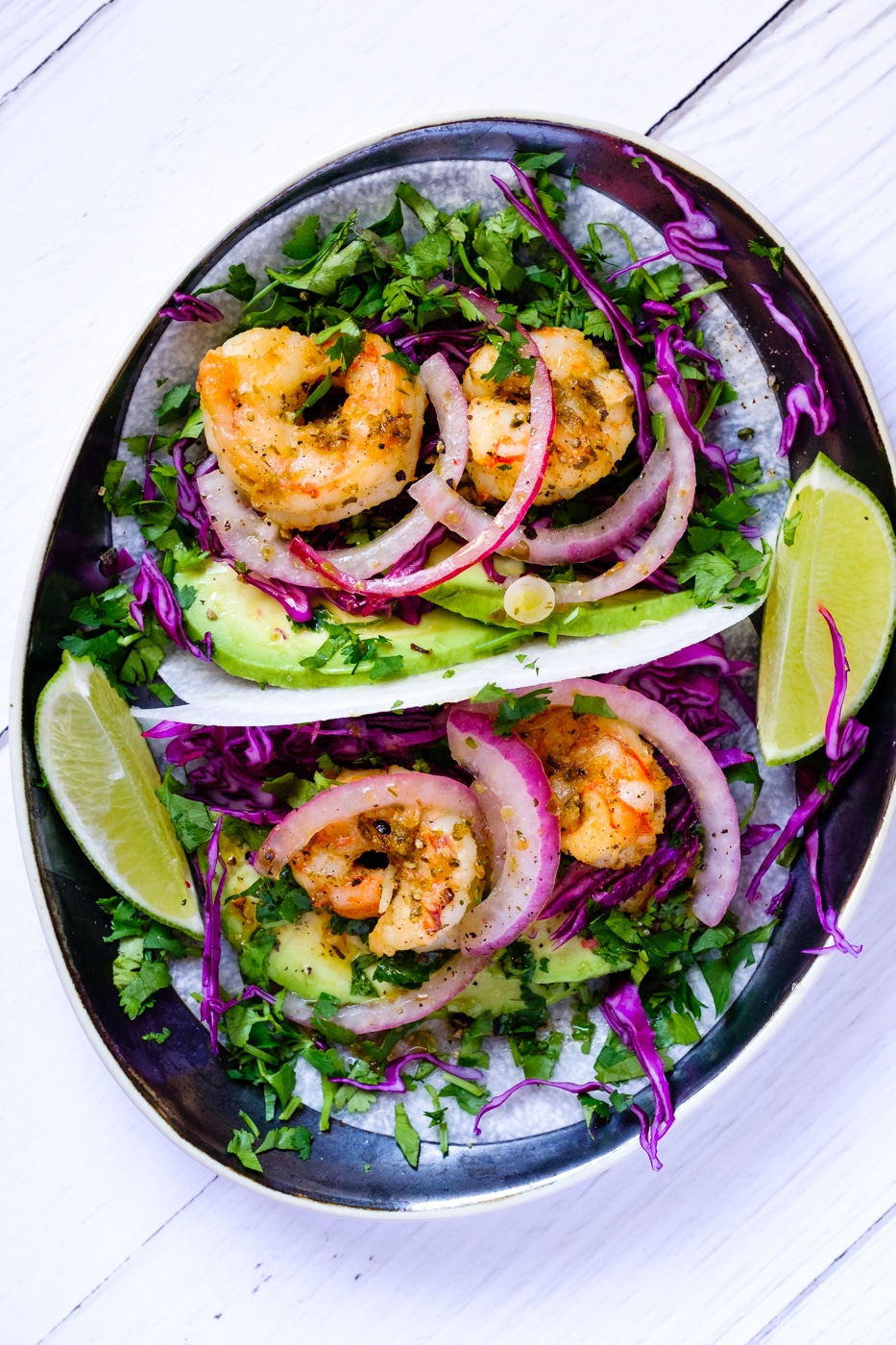 Almond and cassava tortillas
Siete was probably the first brand in the US to come out with tortillas that were paleo, grain-free, gluten-free, and also provided a low carb option.
Both the Cassava flour tortillas and the Almond flour tortillas are excellent replacements for wheat and corn tortillas. The almond flour tortillas, if cooked some extra time, become crispy and perfect for tostadas.
Try these vegan Cauliflower Tacos with Jicama Cabbage Slaw or The Shrimp Tostadas with Red Cabbage and Avocado.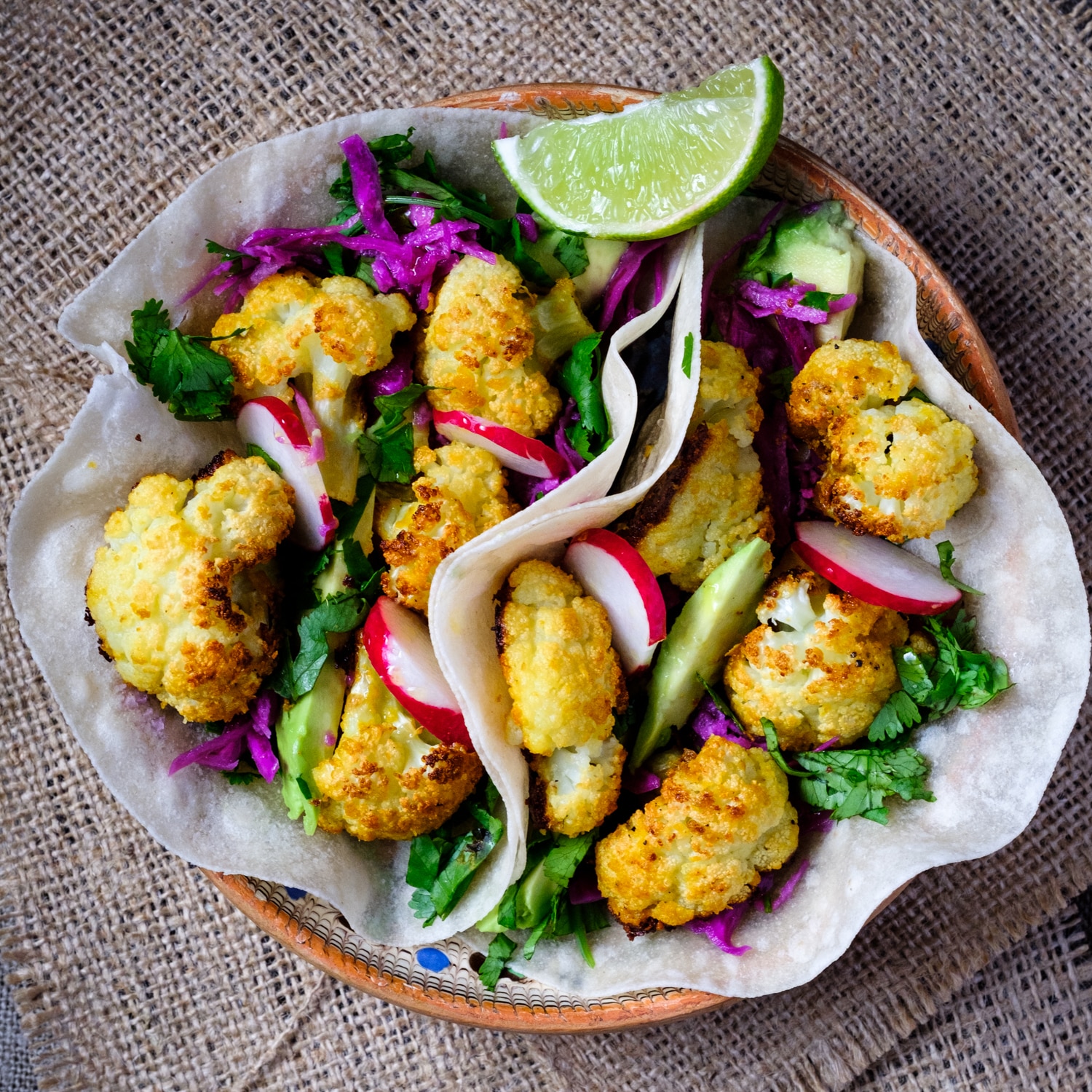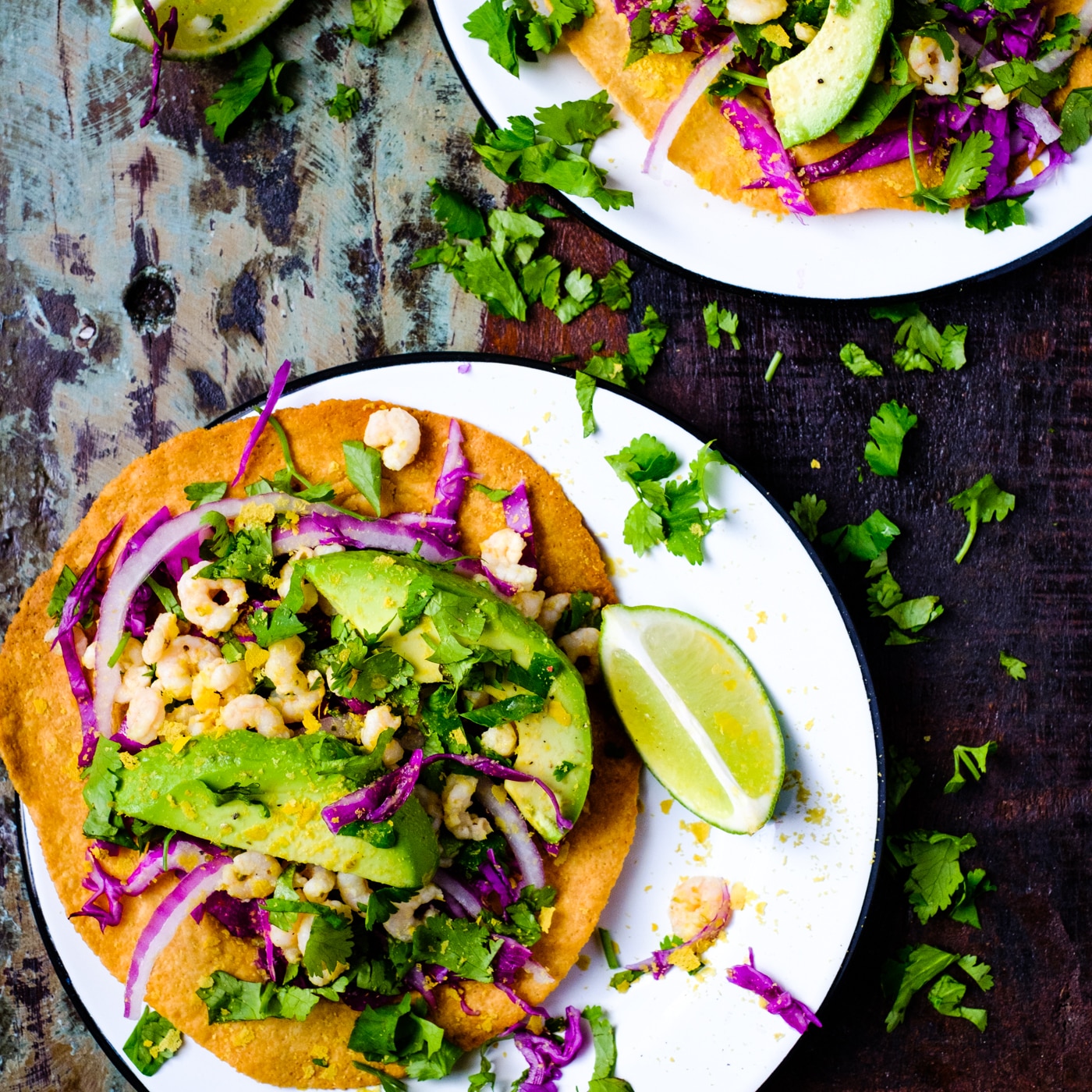 I love to make taquitos using these gluten-free tortillas. Fill them with eggs, leftover tacos meat, some green leaves, or really whatever you have in the fridge. Slightly warm the tortillas before wrapping them, then broil them in the oven for 5 to 7 minutes with a little ghee. They are delicious.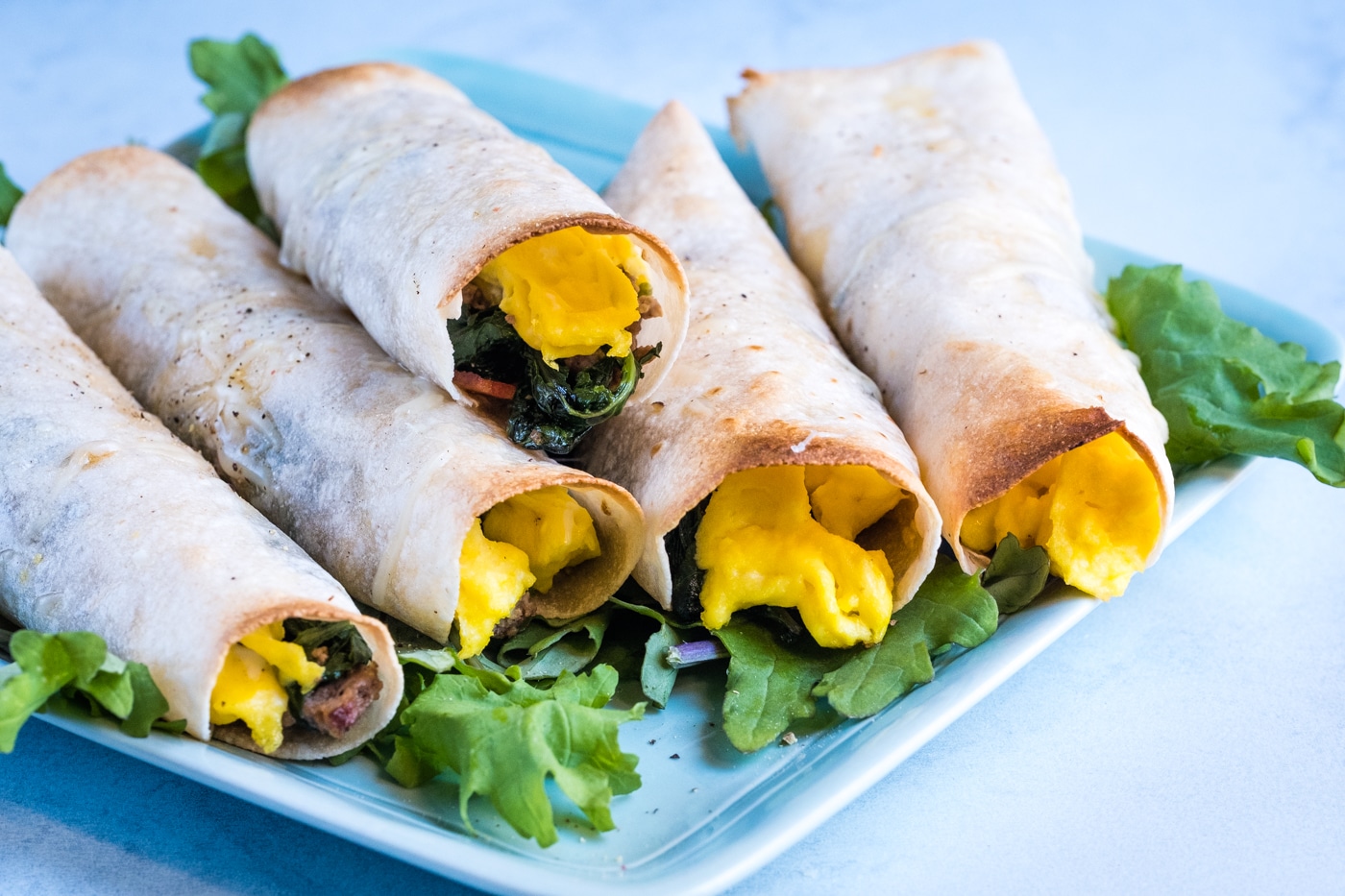 Making breakfast burritos with eggs, sausage, greens, and maybe some cheese is super easy with these tortillas. Fill and wrap them, and toast them in a skillet with butter or extra virgin olive oil.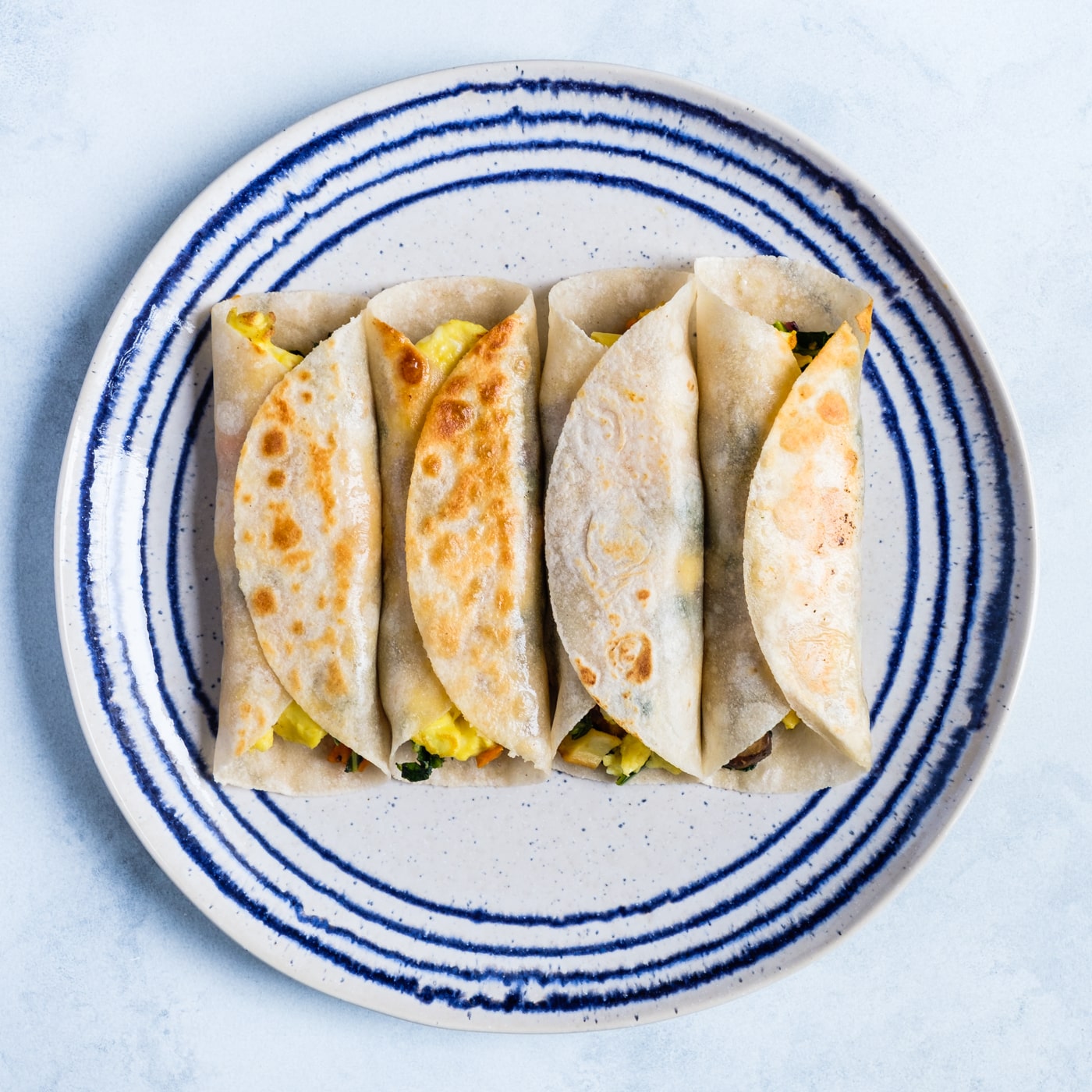 Homemade cassava flour tortillas
Don't worry if you don't have access to a gluten-free and lectin-free tortilla brand. You can make cassava tortillas at home with only three ingredients: cassava flour, extra virgin olive oil, and water.
And, of course, we had to jump on the recent TikTok trend, the tortilla wrap hack, with a gluten-free and lectin-free version: The Most Satisfying Lectin-Free Breakfast I've Ever Had. Totally worth it.
NOTE: While avoiding gluten and lectins will help remove inflammation in your body and, consequently, help in your weight loss journey, these starchy foods, like cassava, should be consumed in moderation.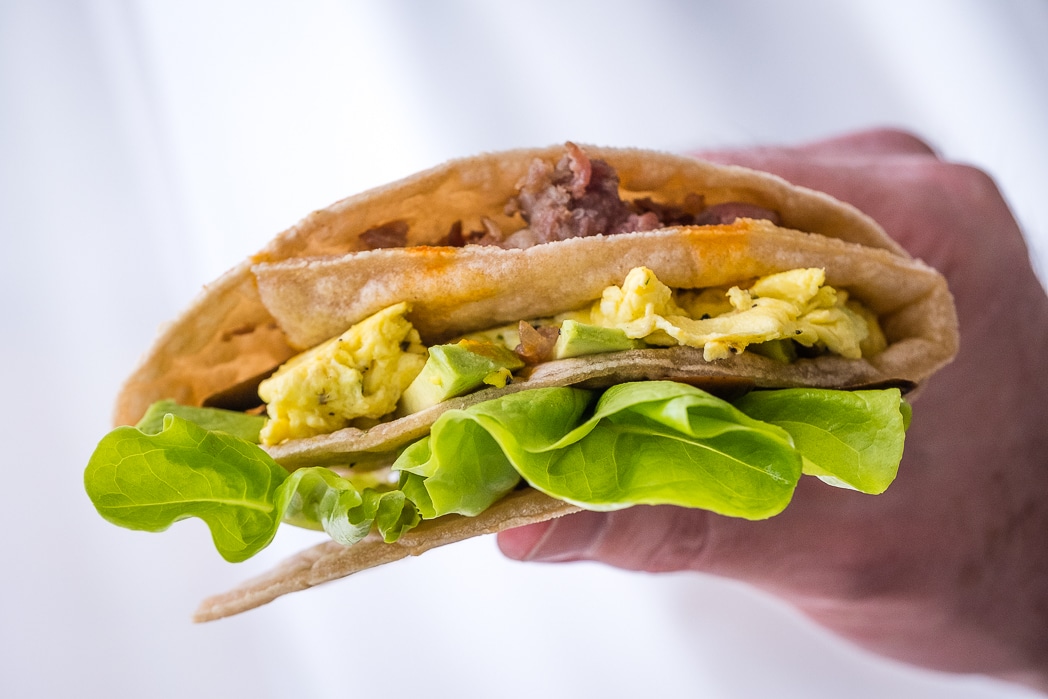 And… that's a wrap! 😊
I hope you find this healthy wraps for weight loss guide useful. If you have any questions, leave a message in the comment section.
*This post contains affiliated links, which means I get a small commission if you choose to purchase something via one of my links, at no extra cost to you.