Nori rolls are one of my favorite foods to eat. Once you learn how to roll them using a sushi rolling mat, they are relatively easy to make. This is one of the food combinations that work well in nori rolls. But this is also a frame for you to experiment with whatever you have available. You will enjoy these salmon avocado nori rolls.
Who needs bread when you have nori?
Every time I make nori rolls, I have this thought in mind. Who needs bread to make rolled sandwiches when you have nori? Sometimes I make the chicken nori rolls recipe from the original Plant Paradox book. That's how I got the idea that nori is not only good for sushi, but you can fill them with anything.
I'm sharing this recipe because it was delicious, especially if combined with the spinach pesto (but I'm sure it would work great with other types of green dipping sauce). You find the spinach pesto recipe here.
I used quantities to make two generous servings, even as a main dish, but you can also use it as an appetizer for more people. I think they'll make great entertaining food and a super convenient lunch box meal. You can prepare it in advance, store it in the fridge and serve it when guests arrive.
What do you need to make salmon avocado nori rolls
I used one 4-5oz Alaskan salmon fillet, which I previously cooked on the stove in avocado oil. The nori wraps I buy from Whole Foods, and I always get the roasted ones because if they are not roasted, you will have to do it yourself, and it's not that fun (let's say I burnt a few in the past).
I used Kite Hill almond cream cheese with chives (the plain one is just as good), or you can use a homemade nut cream cheese or standard cream cheese. I did not include in the recipe the cooking of the salmon. Because you can use any cooked leftover salmon, you have or cook it in any way you want.
How we serve these salmon avocado nori rolls in our home: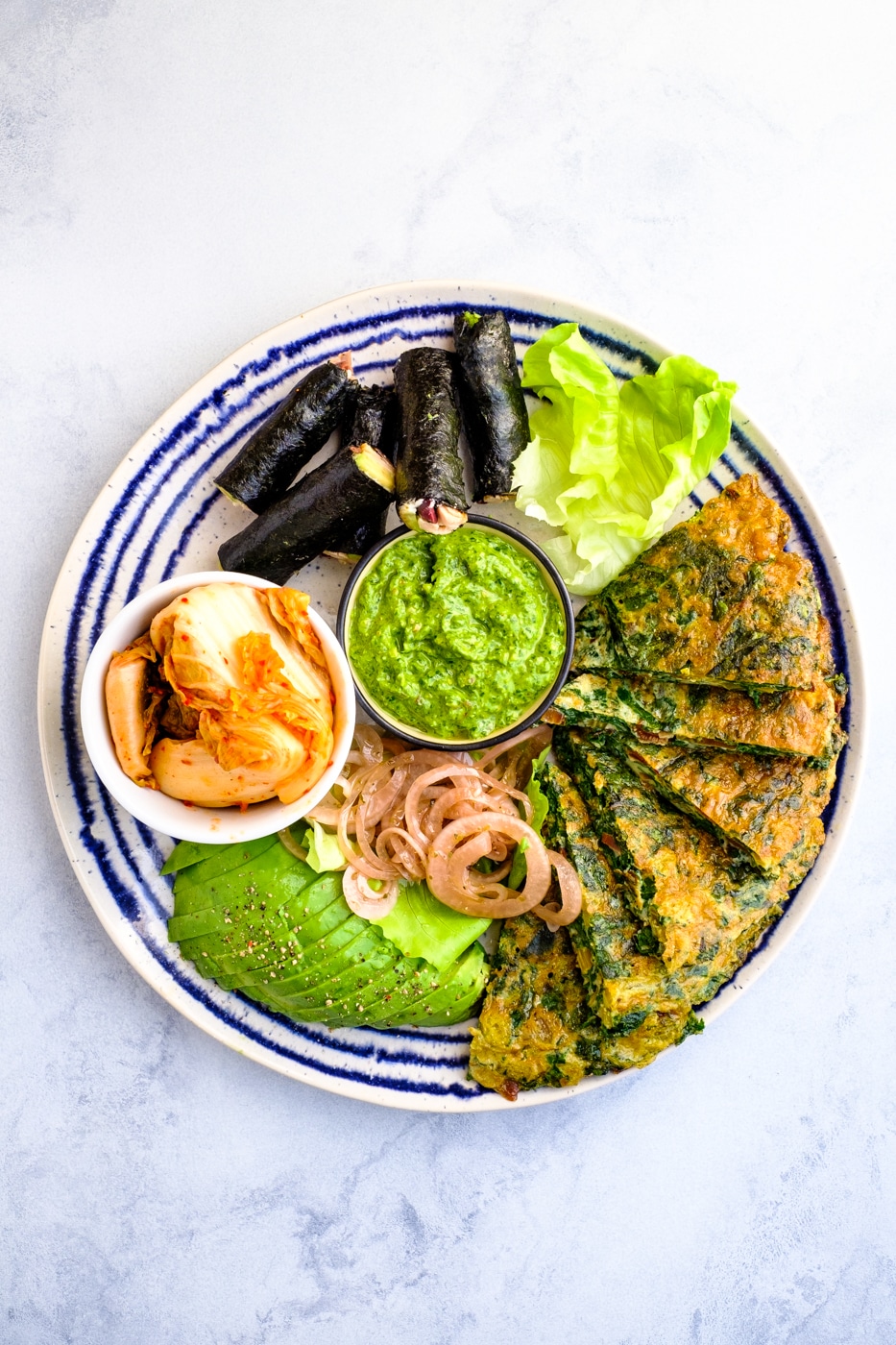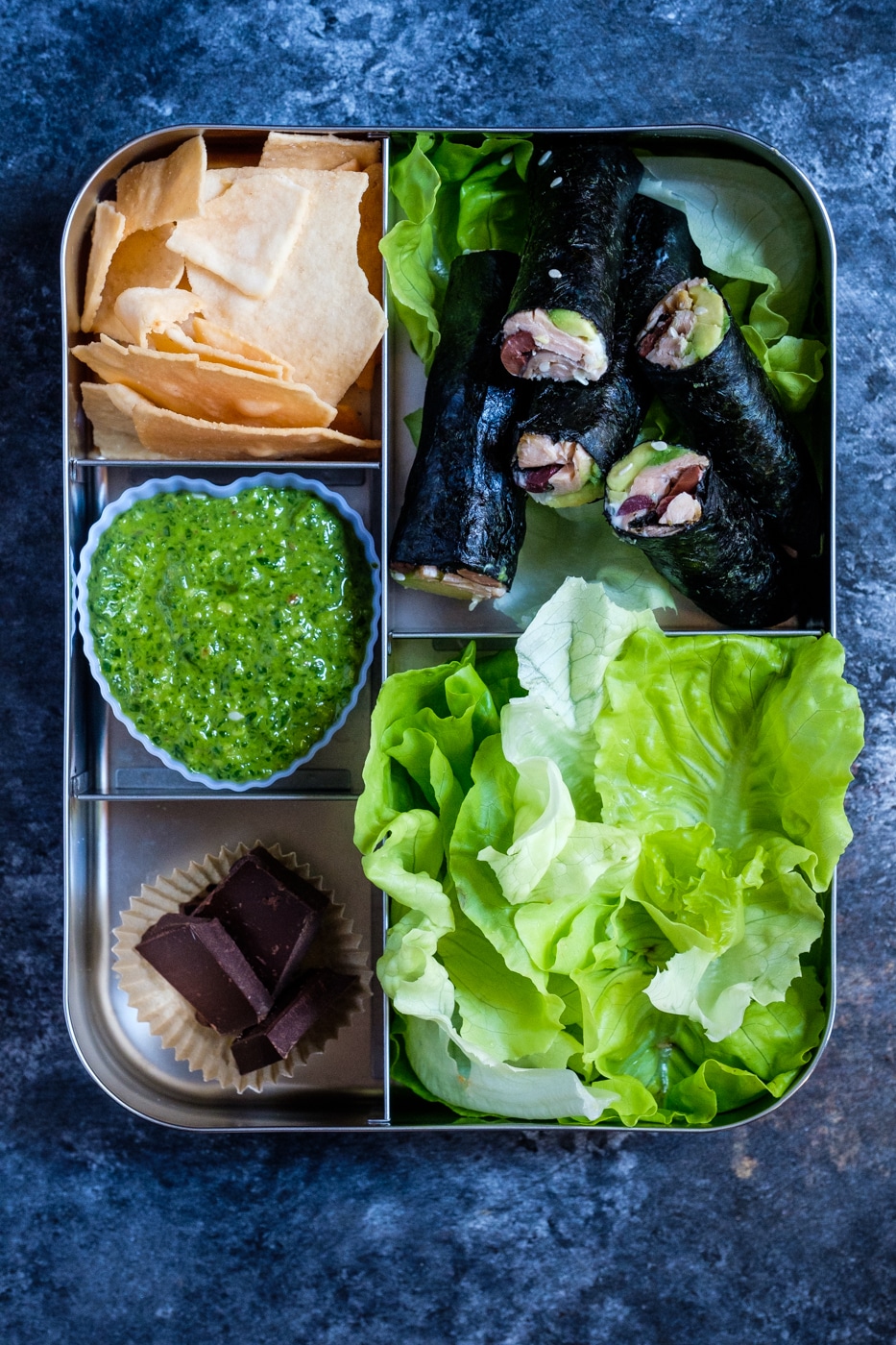 Rolling nori sheets
If you are not familiar with rolling nori sheets, please watch a tutorial online. There are plenty. The sushi rolling mat I used I bought at Whole Foods, and before I bought that, I even rolled them using parchment paper.
The below picture might help to see how I spread out the ingredients, although the nori sheet is a little wrinkled because I took too long to take this picture. It still gave an excellent roll. But you probably won't need to take a picture of the process, so go ahead and roll immediately after you add the filling.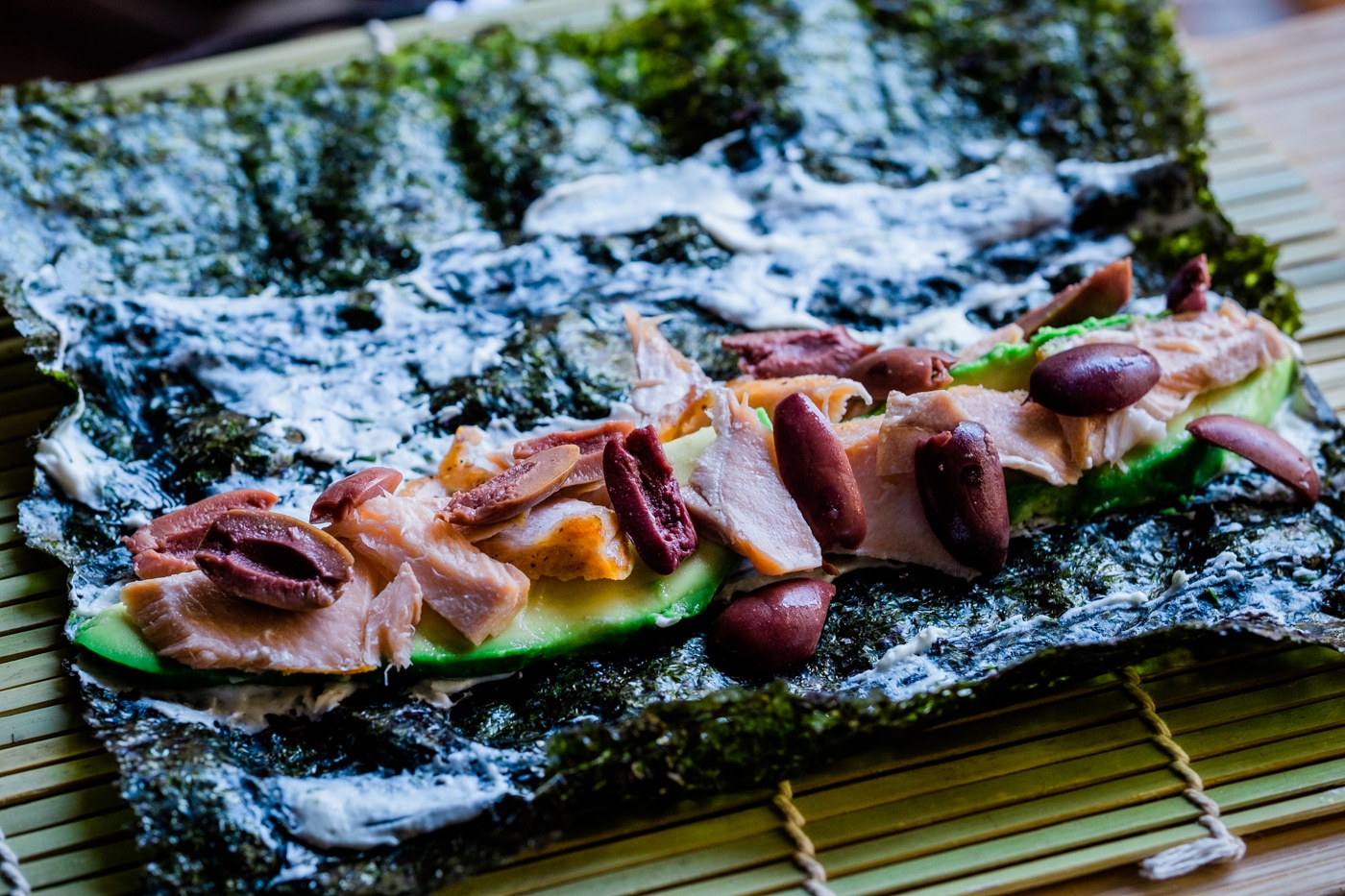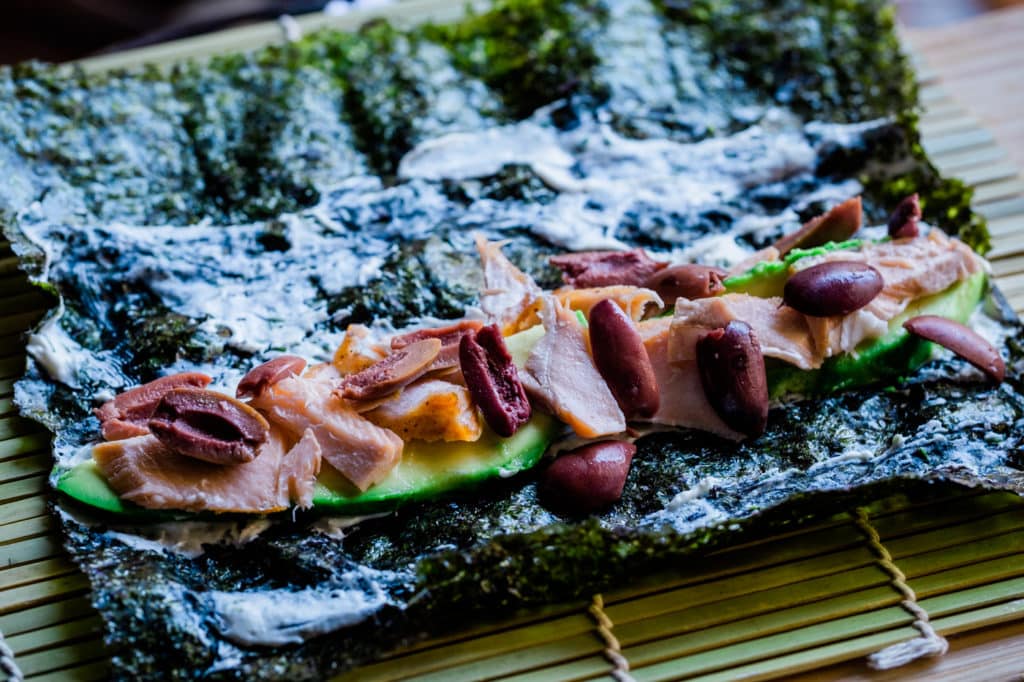 Salmon avocado nori rolls with dipping sauce and jicama fries
And these are the original chicken nori rolls from The Plant Paradox book, which I had with an avocado dipping sauce and jicama fries.
Possibilities are endless, so go ahead and learn how to roll that nori (if you don't know already).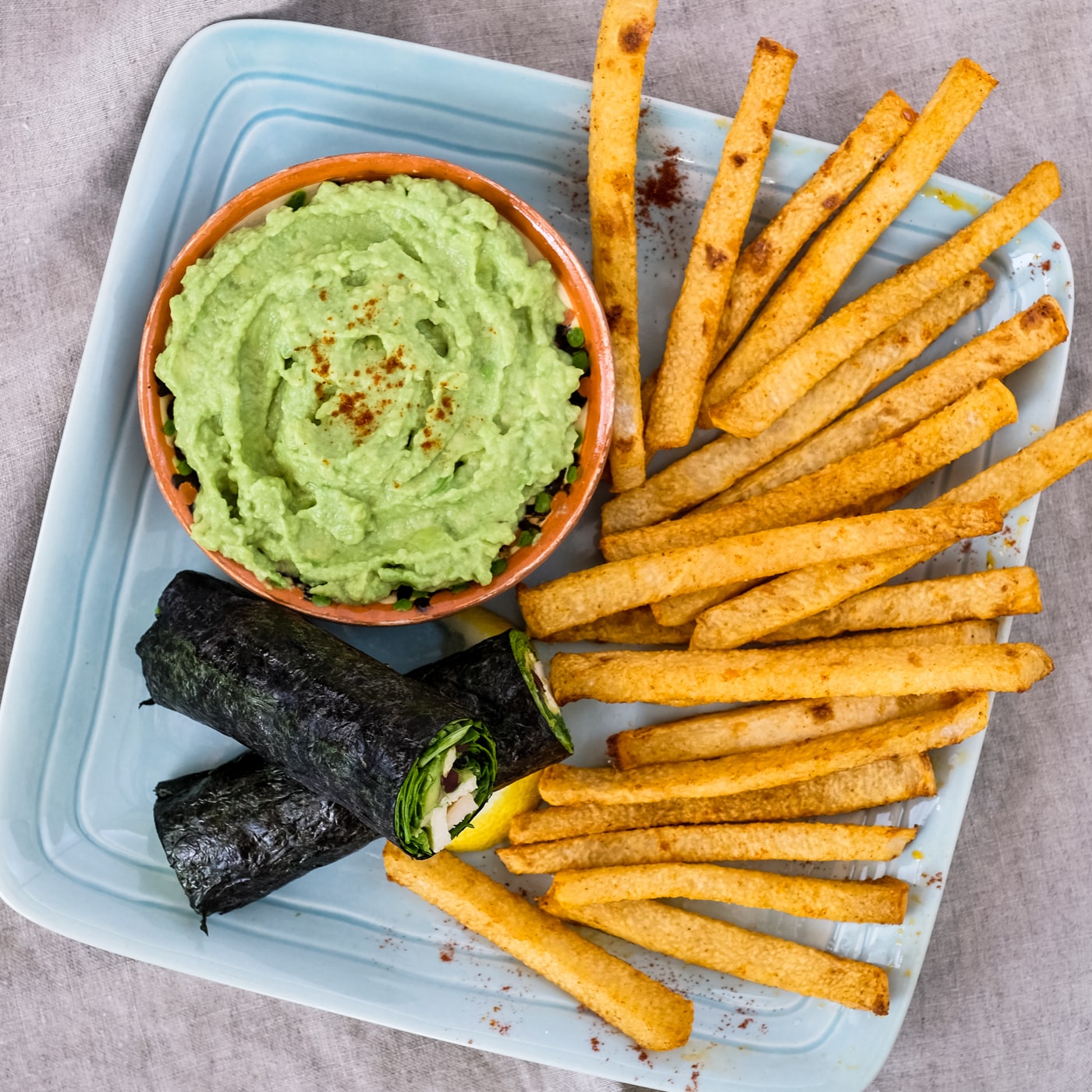 *This post contains affiliated links, which means I get a small commission if you choose to purchase something via one of my links, at no extra cost to you.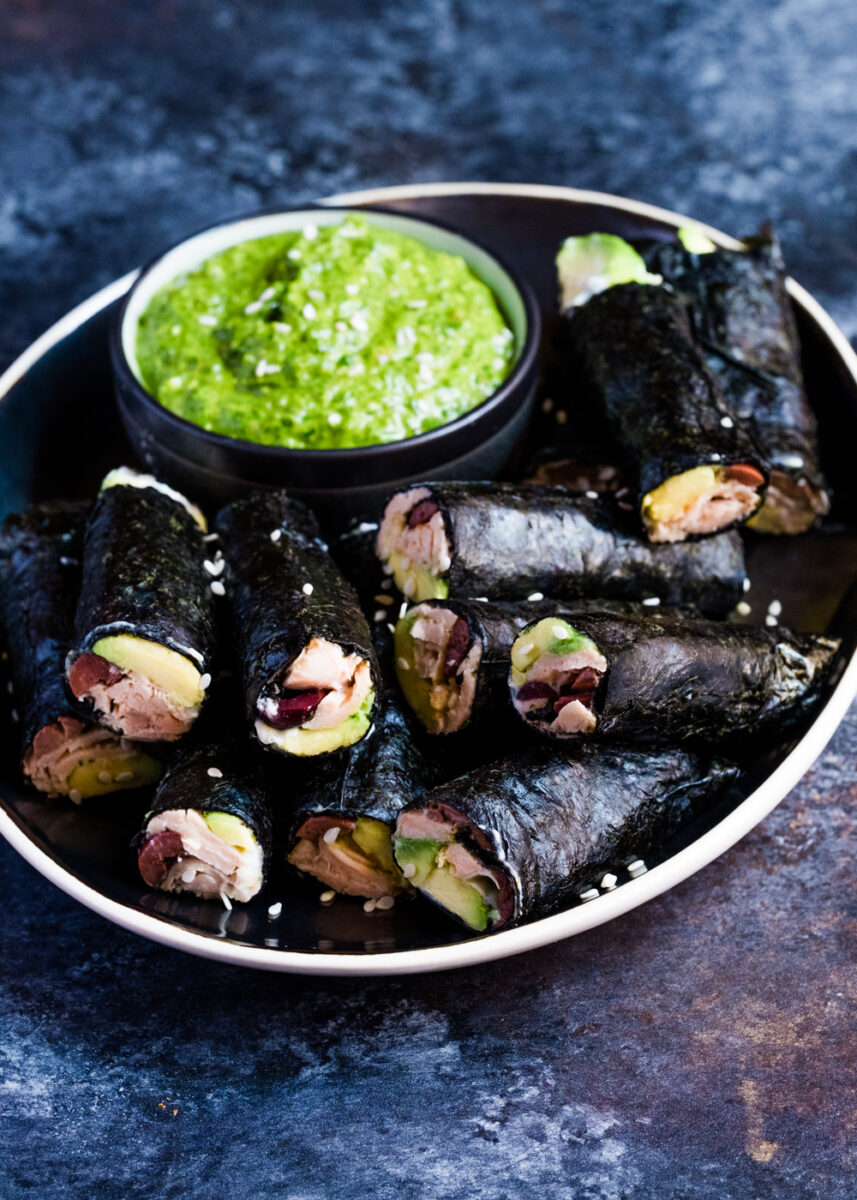 Print Recipe
Salmon Avocado Nori Rolls with Almond Cream Cheese
A super tasty and delicious finger food
Ingredients
4-5 oz wild-caught salmon fillet, cooked and flaked, well seasoned with salt, pepper and lemon

1/2 big avocado, sliced (if your avocado is small use a whole one) and seasoned with salt, pepper and lemon

3 oz almond cream cheese (I use Kite Hill brand, and for this one I used the chives one)

about 1/2 cup or more pitted kalamata olives, rinsed, drained and pat dried

4 roasted nori sheets
Instructions
1
Prepare your work surface with all the ingredients ready. Spread cheese on the nori sheet, add flakes of salmon, avocado, olives and then roll. Once you rolled all four sheets cut them into three smaller rolls each. They are the perfect size for dipping.