My love and obsession with both Greek and Middle Eastern flavors and cuisines show in this meal. Having lived for eight years in the Middle East (Dubai), both my husband and I want to experience those amazing flavors in our Dallas home regularly.
So now and then, we put together a meal like this one. This one-pan beef kebab platter will probably become one of our favorite home-cooked meals.
First shopping, then meal planning
Does this sound weird? The idea of this meal started with me seeing and buying grass-fed beef kebab meat from Burgundy's Local, the Dallas store where I buy most of my meat.
I get this question a lot, how do you plan your meals? Well, I usually plan my meals around available ingredients and produce. I check what's available in my local stores or markets, I buy what inspires me and looks good, and then think of what I can create with those ingredients. I find this way much easier, partly because I shop in small stores and I don't want to get disappointed when I don't find something.
For example, my local Whole Foods was out of organic celery for one week, for some reason, and it happened to be the week I really wanted some celery. Well, bad luck, I had to think of something else.
Ingredients for the kebab platter
But let's get to this beef kebab platter recipe already. You will need grass-fed, grass-finished kebab meat, usually, top sirloin, cut in bite-size cubes (or a little bigger).
You must marinate the meat for a few hours (the longer the better), so plan this meal in advance. I suggest starting marinating in the morning if you are making this for dinner.
You also need to make the Za'atar oil and marinated onions in advance; you can make them the same morning or a few hours before to give the flavors some time to infuse with the oil. All these three steps are super easy; it won't take you longer than 15 minutes.
I do my marinades in a Stasher bag. They are just the best, no exposure to plastic, no plastic waste, and they last a lifetime (if you take good care of them and don't lose them).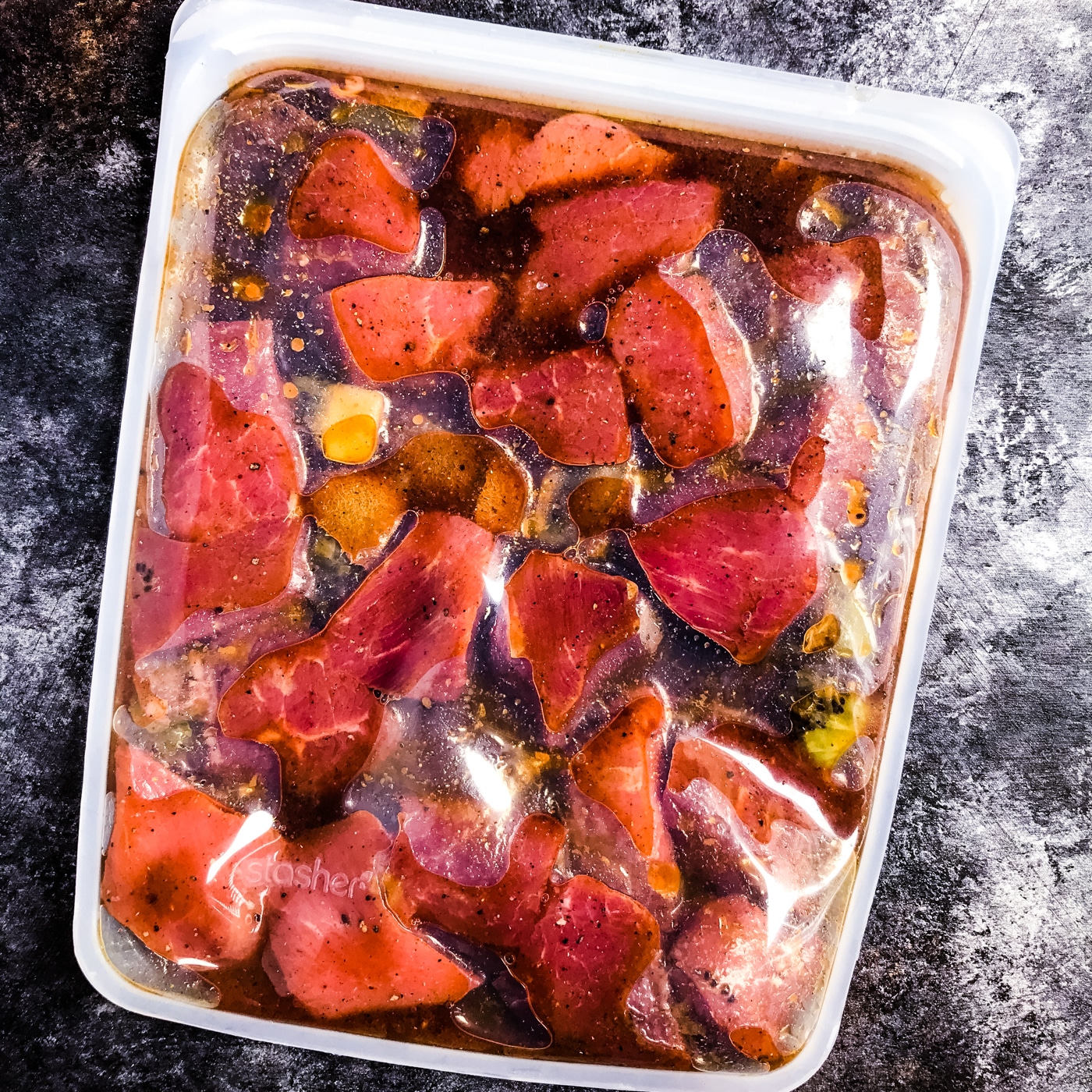 The kebab marinade
You need extra virgin olive oil, coconut aminos, apple cider vinegar, Ras el Hanout spice mix, onion powder, garlic powder, pepper, salt, pepper, and one kiwi fruit. The kiwi trick I learned from a friend in Dubai. Apparently, it is used in Middle Eastern cuisine to tenderize the meat (at least my friend used it, and she is an amazing cook).
Marinated onions
I use a recipe by Teri from NoCrumbsLeft; you find it HERE. You need a red onion, good-quality olive oil, red wine vinegar, and dry oregano. I don't like to expose the extra virgin olive oil to light and air for so long, because it is very sensitive to oxidation, so I make mine in a jar I can cover and keep it at room temperature in my pantry (in a dark place, not close to a heat source).
Za'atar Oil
You need good quality extra virgin olive oil and the following spices: cumin powder, dry thyme, dry oregano, sumac, fresh ground pepper, salt (I use Himalayan pink salt), and toasted sesame seeds.
More recently, I created and shared my own Za'atar Seasoning Mix, so you can use this recipe to make a bigger batch and use it in your everyday cooking. Great for anything with Mediterranean flavor.
Learn How to Pick the Best Olive Oil (Helpful Tips from Dr. Steven Gundry), which will help you choose a good quality olive oil.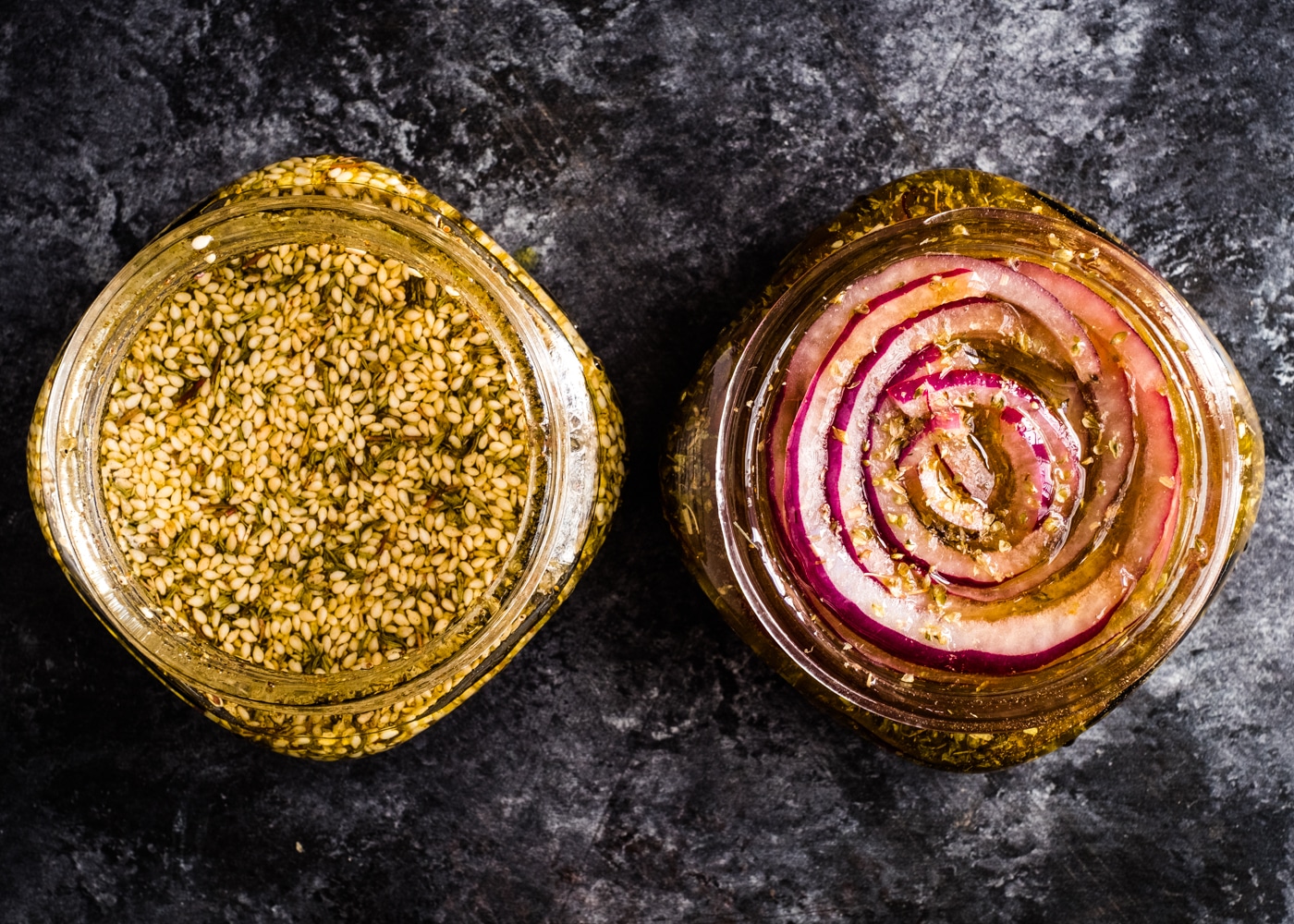 The serving platter
You need a mix of green leaves. I used baby kale for this one, but romaine or butter lettuce would be nice, as well as arugula. Whatever you find and works for you (I wouldn't try baby spinach though, I don't feel that would fit in this kebab platter). My intention for this one was to buy arugula, but I bought baby kale by mistake. You also need kalamata olives, greek feta cheese, and pomegranate seeds. Some red radishes would be a good addition too.
The wrap
You can either make cassava flour tortillas at home or buy Cassava tortillas from Siete Foods. For this meal, we went the easy way and bought the tortillas.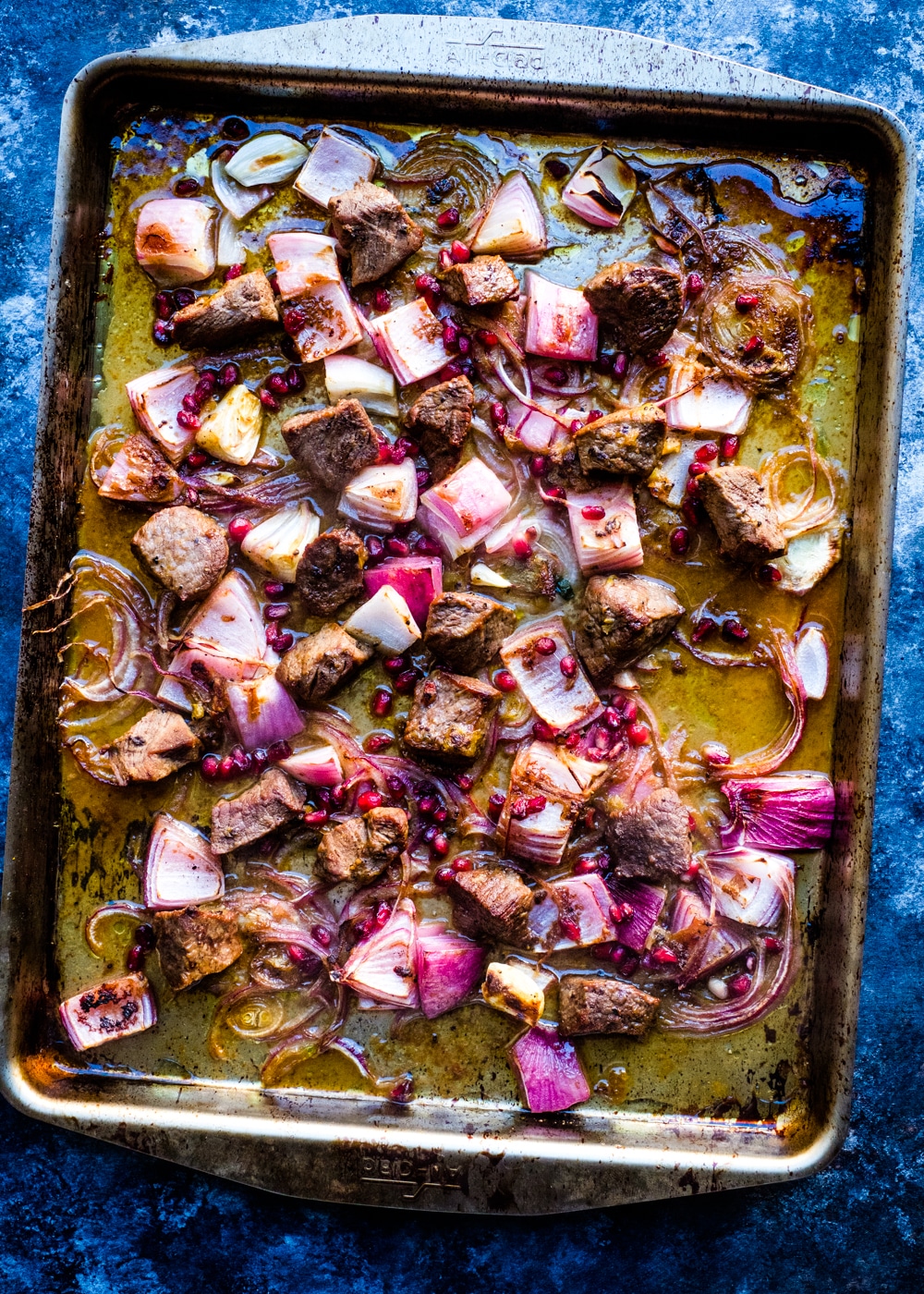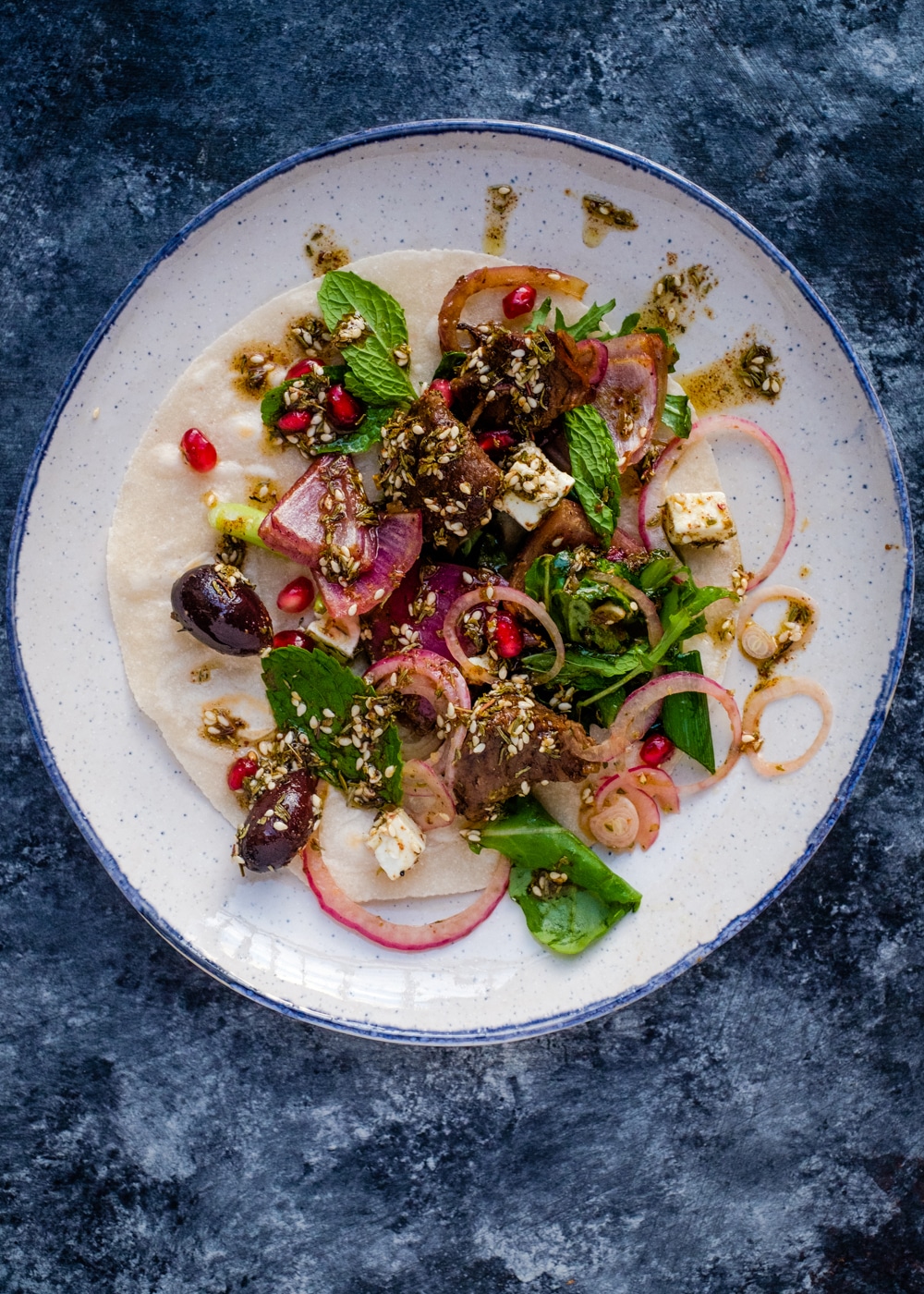 More easy meal platter recipes
Let me know if you make and like this kebab platter. For more delicious meal platter ideas try below:
*This post contains affiliated links, which means I get a small commission if you choose to purchase something via one of my links, at no extra cost to you.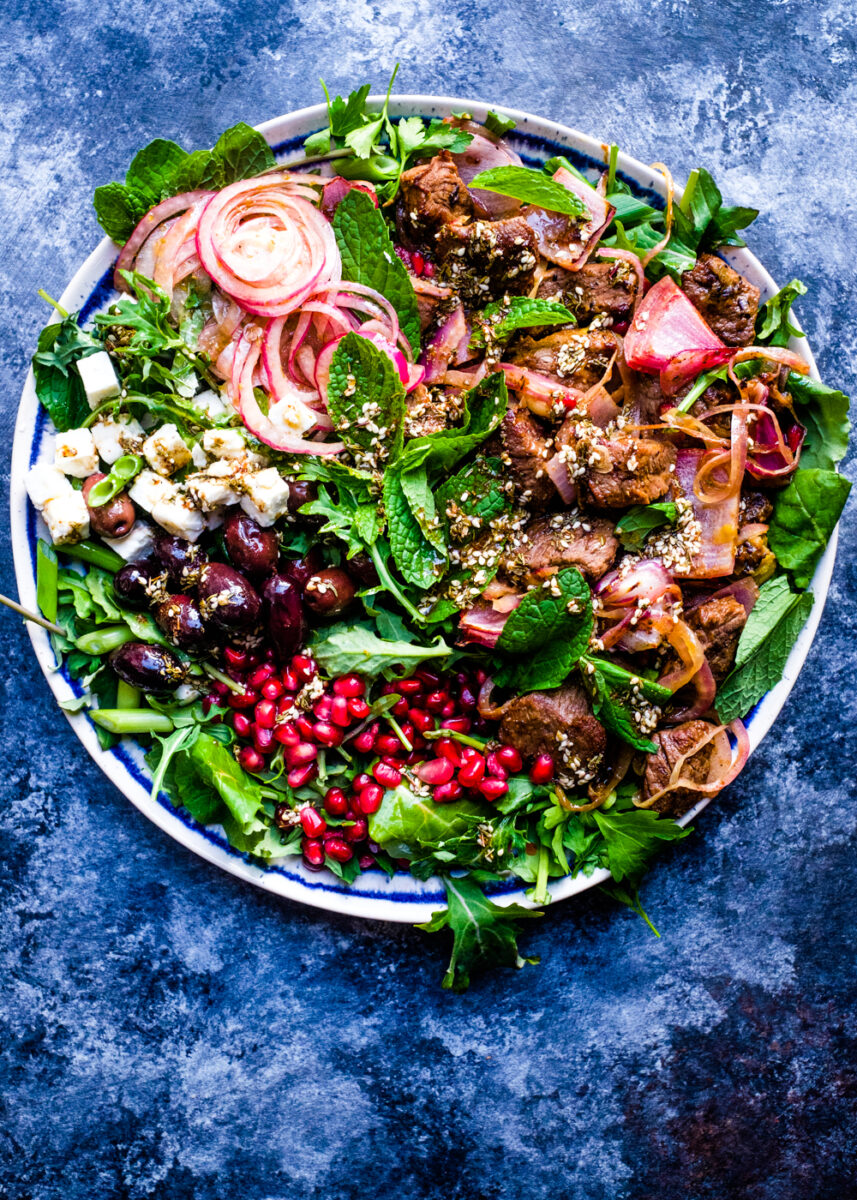 Print Recipe
One Pan Beef Kebab Platter with Za'atar Oil
A fusion of Greek and Middle Eastern cuisines ready in 30 minutes. Lectin-free too.
Ingredients
FOR THE KEBABS:

Marinade: 1/4 cup extra virgin olive oil, 1/4 cup coconut aminos, 1 tbsp apple cider vinegar, 2 tsp was el hanout, 1/4 tsp onion powder, 1/4 tsp garlic powder, 1/4 tsp ground pepper, 1/4 tsp salt, 1 cubed kiwi fruit

1 lb top grass-fed grass-finished sirloin beef, cut in cubes (kebab size)

1 red onion, cut in big chunks

1/4 cup pomegranate seeds

FOR THE ZAATAR OIL:

200ml extra virgin olive oil (about 3/4 cup)

Spice mix: 1 tbsp cumin powder, 1 tbsp dry thyme, 1 tbsp dry oregano, 1 tbsp sumac, 1/4 tsp fresh ground pepper, 1/4 tsp salt (I use Himalayan pink salt), 2 tbsp toasted sesame seeds

FOR THE PLATTER:

a few handfuls of green leaves: baby kale, arugula, romaine or butter lettuce

Fresh mint leaves

1/2 cup cubed Greek feta cheese (skip if dairy-free)

a handful of kalamata olives

1/4 cup pomegranate seeds

Za'atar oil (see recipe above)

Marinated onions (see post for a link to recipe)

Cassava tortillas (Siete Foods or homemade) OR any type of compliant flatbread
Instructions
1
In the morning, make the marinade for the beef. Mix all the ingredients, add them to a Stasher bag (or any container you usually use for marinades), add the beef, mix well, and put in the refrigerator until meal time (you should marinate them for at least 4 hours).
2
Make the Za'atar oil in advance. Lightly toast the sesame seeds in a pan, and let them cool. Mix the oil with all the spices in a jar, cover with a lid, shake well and keep in a dark and cool place, or room temperature, like your pantry).
3
30 minutes before dinner, start your oven broiler at maximum (500F); take the marinade out. Add the roughly chopped onion to a sheet pan, and arrange the meat cubes on the pan, along with some of the sauce (discard the kiwi pieces). Sprinkle some pomegranate seeds on top. Broil for 10 minutes, flip the meat, and broil for another 10 minutes.
4
While the meat is in the oven, prepare the platter: a bottom layer of greens, add the cubed feta cheese, olives, marinated onions, pomegranate seeds, and radishes if you have any. When the meat is ready add to the platter, drizzle with zaatar oil, and serve with warm cassava tortillas.