I love my salads to be colorful and textured. And simple. This lectin-free, nutritious beet and jicama salad are made of four main ingredients: raw red beets, raw yellow beets, raw jicama and parsley.
Beet and jicama salad – refreshing and pretty
I love food that looks good. And this is so simple I have not much more to say about it. Just mix with Homemade Tahini Sauce with Garlic and Cumin and you have yourself a treat with a Mediterranean flavor.
If you are not vegan or vegetarian, I suggest you have it next to oven-roasted chicken breast.
Beets are best raw
If you are following the plant paradox lifestyle, you might be confused about the status of beetroot in Dr Gundry food list (the YES and NO list). Beetroot is plant paradox compliant, with the mention that it is only recommended raw. However, a few of Dr. Gundry's recipes contain cooked beetroot.
The way to explain this contradiction is that people with pre-diabetes, insulin resistance or diabetes should avoid cooked beetroot due to the high sugar content. However, if you are healthy you can occasionally enjoy cooked beetroot.
I do use it in several of my recipes and love to sometimes make beets chips. But this salad is a perfect way to enjoy the full benefits of beets, without the worry.
I hope you like this crunchy beet and jicama salad. For another salad with beets, you may like my Beetroot and Horseradish Side Salad.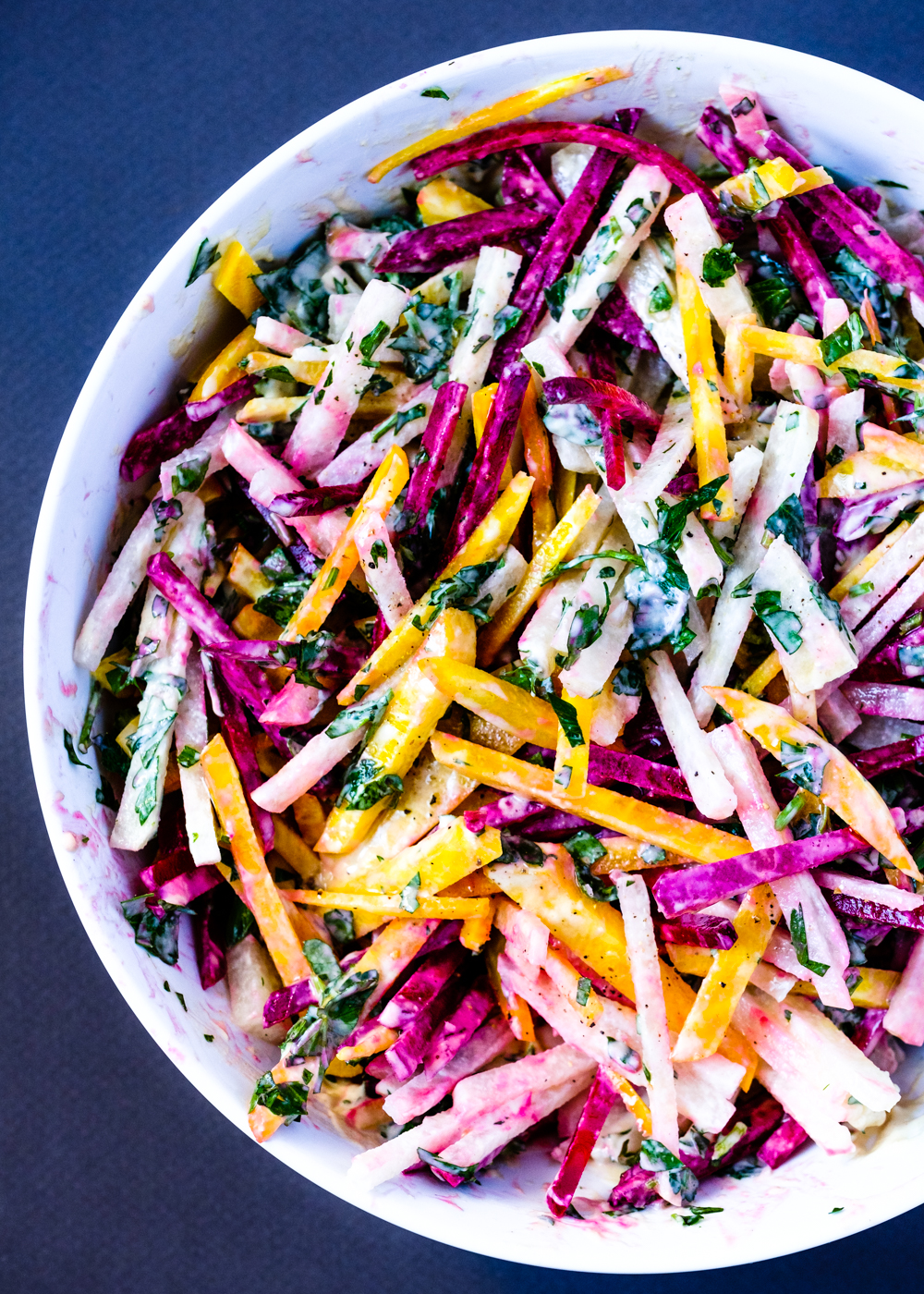 Print Recipe
Crunchy Beets and Jicama Salad with Tahini Dressing
Crunchy Beets and Jicama Salad made of four main ingredients: raw red beets, raw yellow beets, raw jicama and parsley.
Ingredients
1 small to medium red beetroot

1 small to medium yellow beetroot

1 small to medium jicama

1 bunch of fresh parsley

1/4 cup homemade tahini-garlic sauce
Instructions
1
Wash and peel the veggies and cut them into thin sticks.
2
Wash and chop the parsley. Mix all.
3
Add tahini sauce, combine and serve.
Notes
The number of portions may vary depending on whether you have this as a main dish or side or appetizer. Cooking time does not include the tahini sauce, which I shared in a separate post (please check the link in the introduction).