Firstly I want to say: don't get intimidated by the word turkey. As the title says, you can make this salad with chicken. But, I did want to experiment with easily making turkey meat to use in salads. So I'm sharing the original way I came up with this recipe.
We all know turkey takes quite some resources to make, but I promise you, this is the easiest way. You get a perfectly moist shredded turkey. For the chicken salad version, the only thing that will change is the cooking time. Read on for everything you need to know to make this turkey or chicken salad with egg-free mayonnaise.
Turkey or chicken
You will need an Instant Pot, or a normal pressure cooker for this. I used one drumstick and 1/4 turkey breast, which makes about 4-5 portions of turkey salad (about 4 cups of shredded meat). You can use only breast or only legs, but I love to mix both dark and white meat, as they are quite different and give some depth of texture and flavor to this salad.
Just one note here: the turkeys we have here are those raised at home, in small personal farms, so even if they are big, they look leaner. I think in general, the parts are smaller than the ones I've seen in the US, even the heritage ones. But even if you make more, you can freeze some of it and use for another meal or another day. Shredded turkey, as well as shredded chicken, is great for meal prep. You just cook a big quantity once and freeze for later use.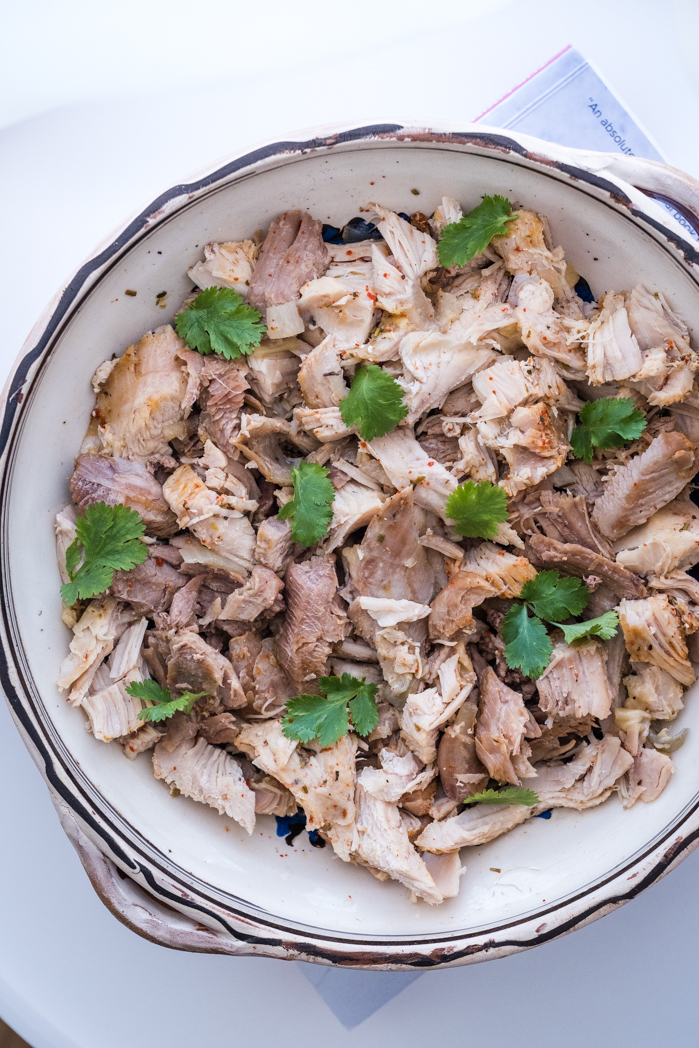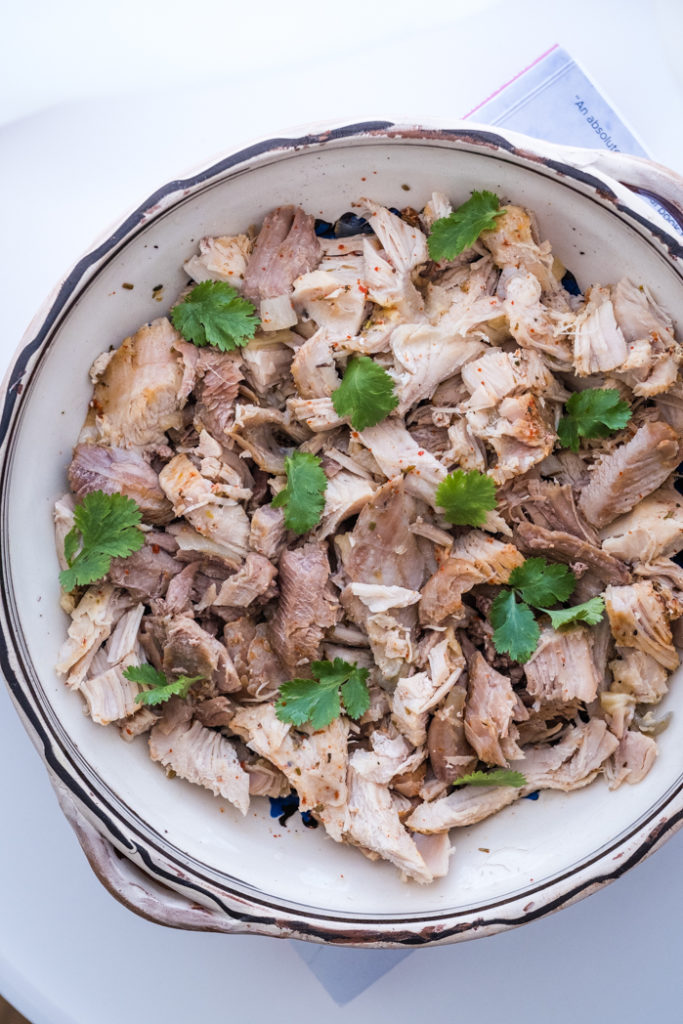 Chicken Salad Salad
I always loved turkey or chicken salad, made with mayonnaise. I think is such a great meal prep item, and can be eaten in so many different ways. If you live in the US you are probably familiar with the 'Chicken Salad Salad'. I was so confused the first time when I saw this item on a menu. I thought it was a typo. It is in fact a dish made of a bed of mixed greens, avocado, some tomatoes and cucumbers topped with 'chicken salad' – as in shredded chicken mixed with mayo and eventually celery and cranberries. I do have a 'normal' chicken salad recipe, check it out:
Tarragon Chicken Salad with Cranberries and Avocado Mayonnaise
So, what is special about this turkey or chicken salad with egg-free mayonnaise? Firstly, the turkey or chicken is easily cooked in a pressure cooker or Instant Pot. And secondly, I replaced the mayonnaise with egg-free mayonnaise.
How to make egg-free, homemade mayo?
I used to be ok with eating raw eggs or eating the plant paradox-compliant Avocado Mayonnaise from Primal Kitchen, until I became aware of histamines. Since then, even though I eat eggs, I try to avoid eating even homemade mayo, since it is made with raw eggs. And store-bought mayo is not histamine friendly. Theoretically, only the protein part can produce histamines (the egg white) but I feel like they are never perfectly separated.
I know so many of you are sensitive to eggs, so I decided to put some effort into creating a dressing that tastes as much as possible as mayo. I'm not too concerned about texture, as in this case, mixed with the chicken (and it will be the same mixed with veggies) it tastes the same and the salad has the same texture. The color is not that appetizing due to the use of cilantro and celery in the mixture. My entire family ate this salad and they loved it. They said it was better the second day, so that's something to keep in mind. Even with my histamine sensitivities, I ate some the second day and I was fine.
Ingredients for one cup of mayo
So I came up with this concoction to be able to use in recipes like this turkey salad (or chicken salad) or other vegetable salads that require mayonnaise. And it can be useful for those of you that are avoiding eggs, so it's a win-win. What do you need for almost one cup of mayo:
a high power blender (my favorite for this type of dressings, especially if I make small quantities, is the Nutribullet), but of course any good blender will work
1/4 cup raw macadamia nuts, soaked for a couple of hours (you can also use blanched almonds)
1/4 cup hemp seeds
4-5 tablespoons good quality extra virgin olive oil
5-6 tablespoons broth / compliant stock (when you make the chicken or turkey salad, use the liquid from cooking the meat; if you make this mayo for other purposes, and especially if you wanted to stay vegan, you can use GundryMD Vegetable Broth (prepare the 1/2 cup of broth as per the instructions and add to the blender).
2 big celery sticks, chopped
1, 2 tablespoons olive paste, olive tapenade, or a mix of pitted kalamata and green olives (you find these in stores, usually they are made with extra virgin olive oil and some have garlic; just make sure doesn't have other non-compliant ingredients)
fresh lemon juice, to taste (about 1/2 juicy lemon and more for serving)
a handful of fresh cilantro (leaves and stems)
optional: a little Dijon mustard (about 1/2 teaspoon)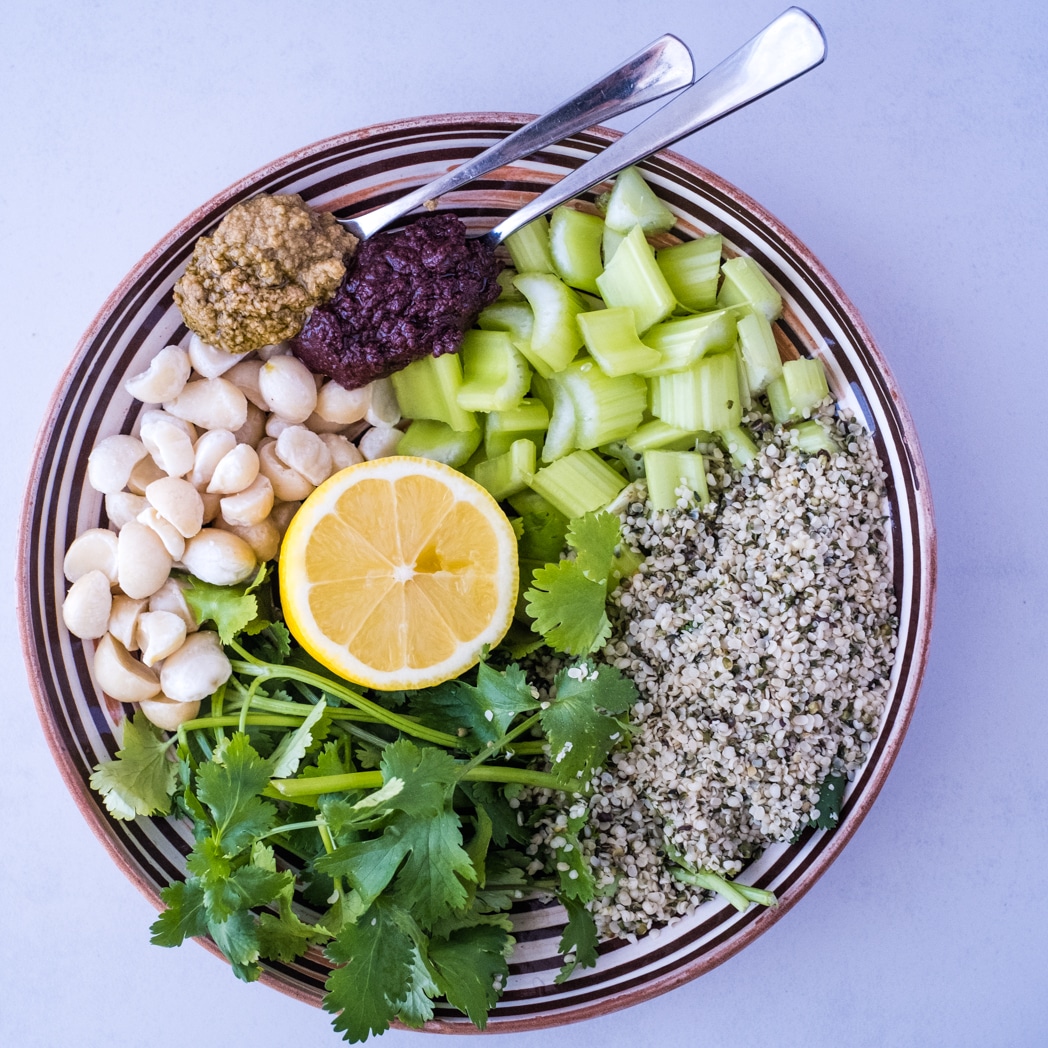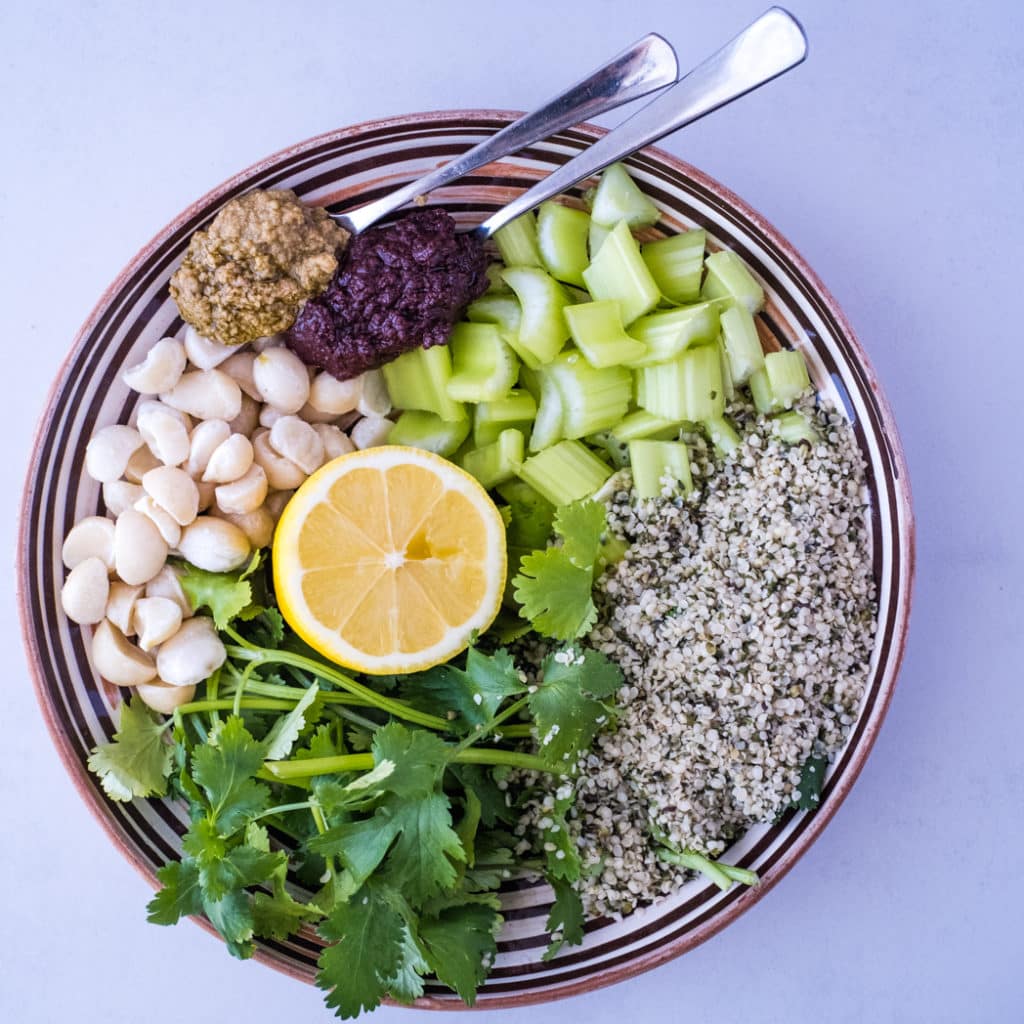 Blend everything together
You will blend everything together until creamy. Taste and adjust with more salt, pepper, olive paste, or lemon juice. There is no need for other spices because the broth and the olives will add a lot of umami flavor. If your blender struggles because there is not enough liquid, add a little more broth and/or extra virgin olive oil.
If you are not trying to keep it low histamine, adding a little bit of Dijon mustard is an option. And if you also don't care if it's vegan or not, one anchovy fillet will add some more umami flavor (canned fish is very high in histamine).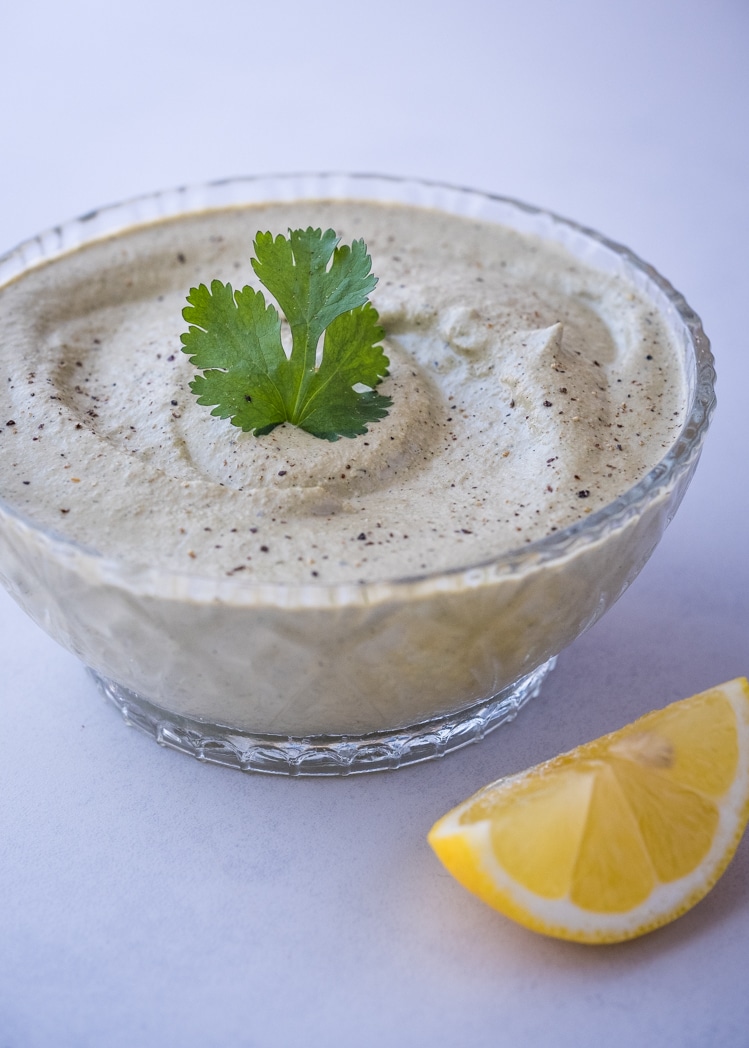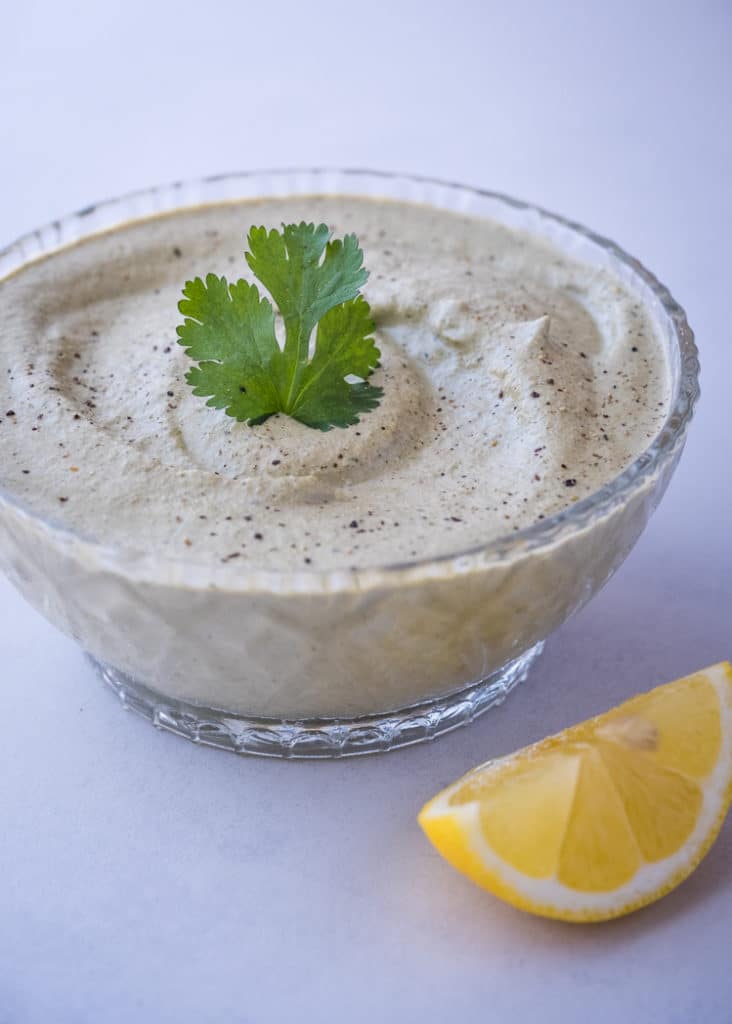 How to prepare the turkey or chicken
The only difference between the two in this recipe is the cooking time. The chicken will take about 20 minutes, while the turkey will take about 35 minutes. If you make a whole chicken (great meal prep trick) check your Instant Pot timings for chicken depending on the weight.
You will put the meat in the pot, add all the spices, veggies and water and pressure cook for the respective time. When pressure is released just take the turkey or chicken out, and shred or cut into small pieces. Strain the stock, save 5-6 tablespoons for the mayo dressing and save the rest for another meal (freeze if not using the same day). Mix the egg-free mayonnaise with the chicken, season with more salt and pepper and fresh lemon juice and serve.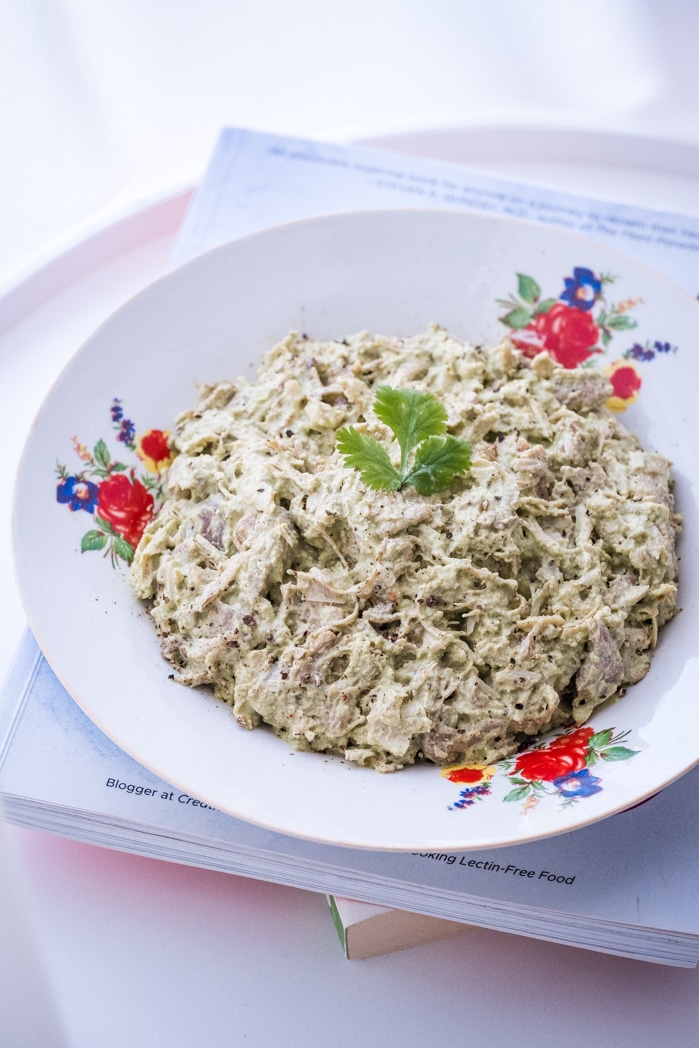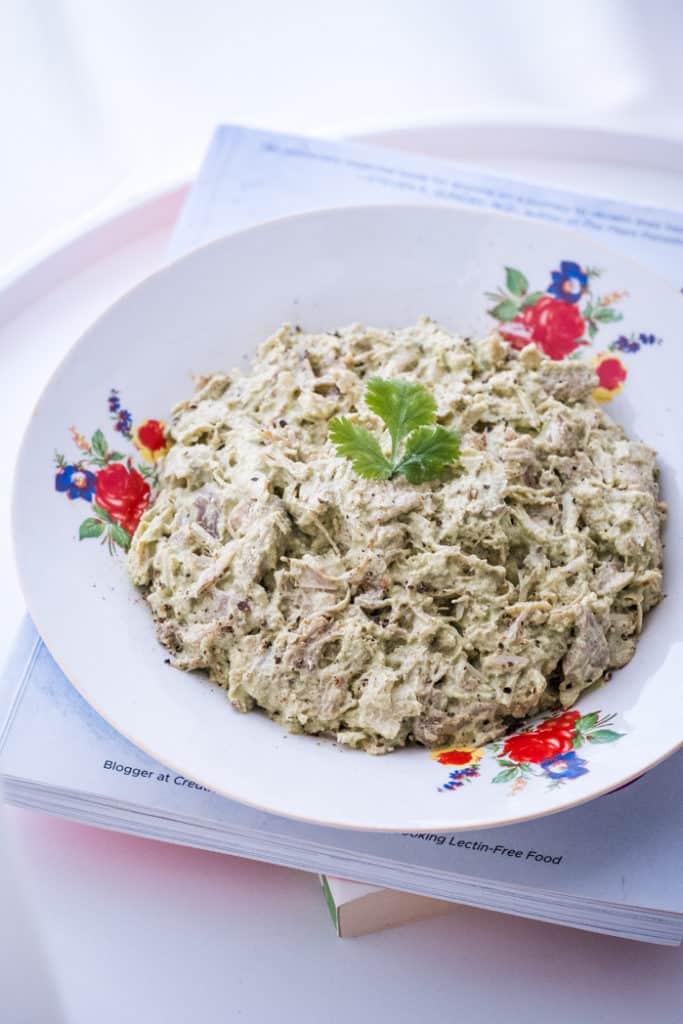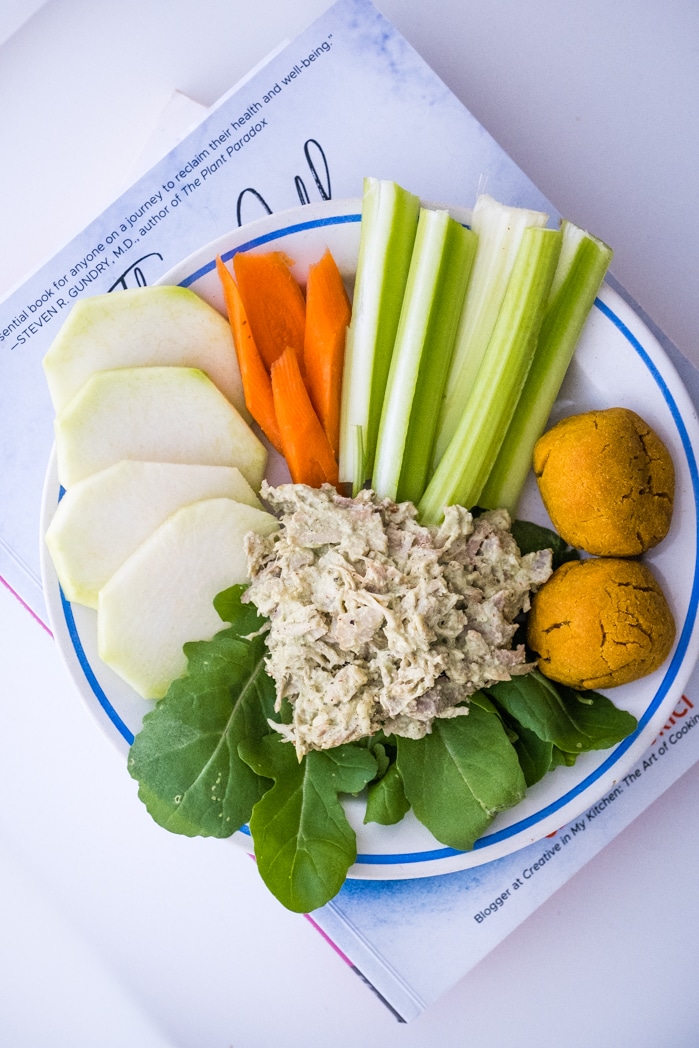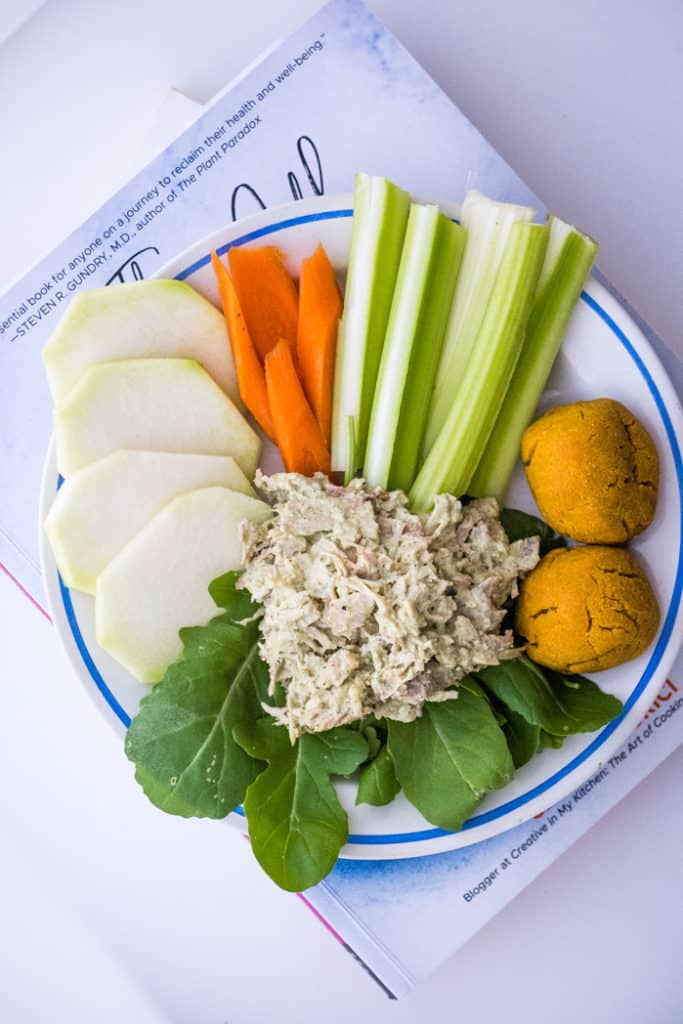 There are so many ways to eat this turkey or chicken salad with egg-free mayonnaise. One of my favorite ways is with cassava tortilla chips and green salad. I make the cassava tortilla chips by portioning in triangles and reheating a frozen homemade cassava tortilla in the oven until crispy.
And guess what? Chicken salad with egg-free homemade mayonnaise is perfect for rolls. Like nori rolls, but the sky is the limit.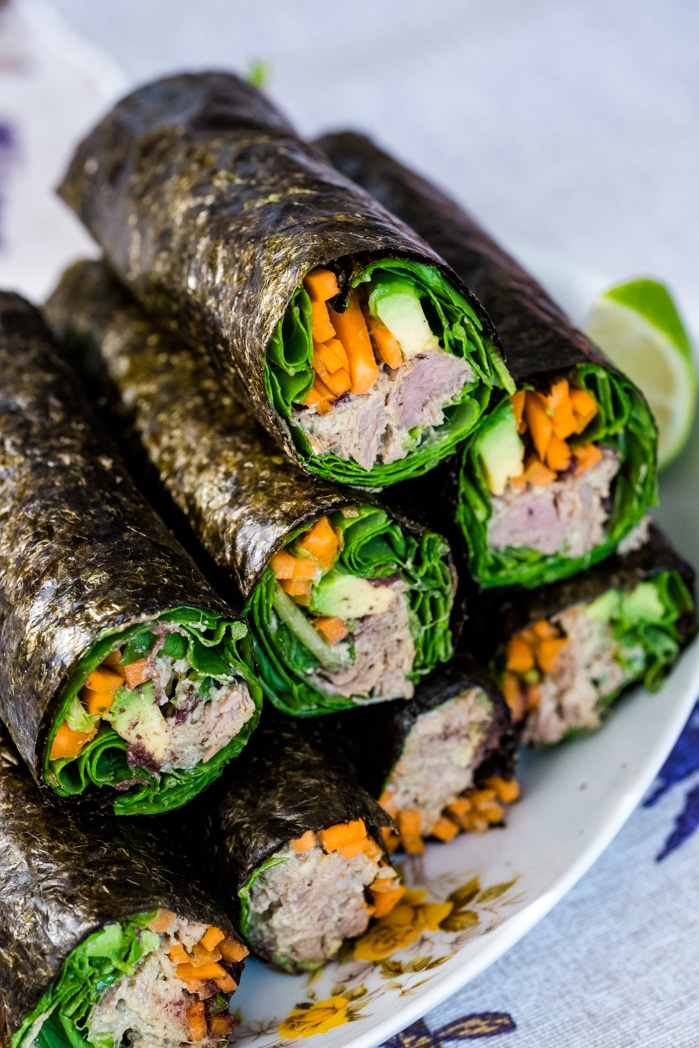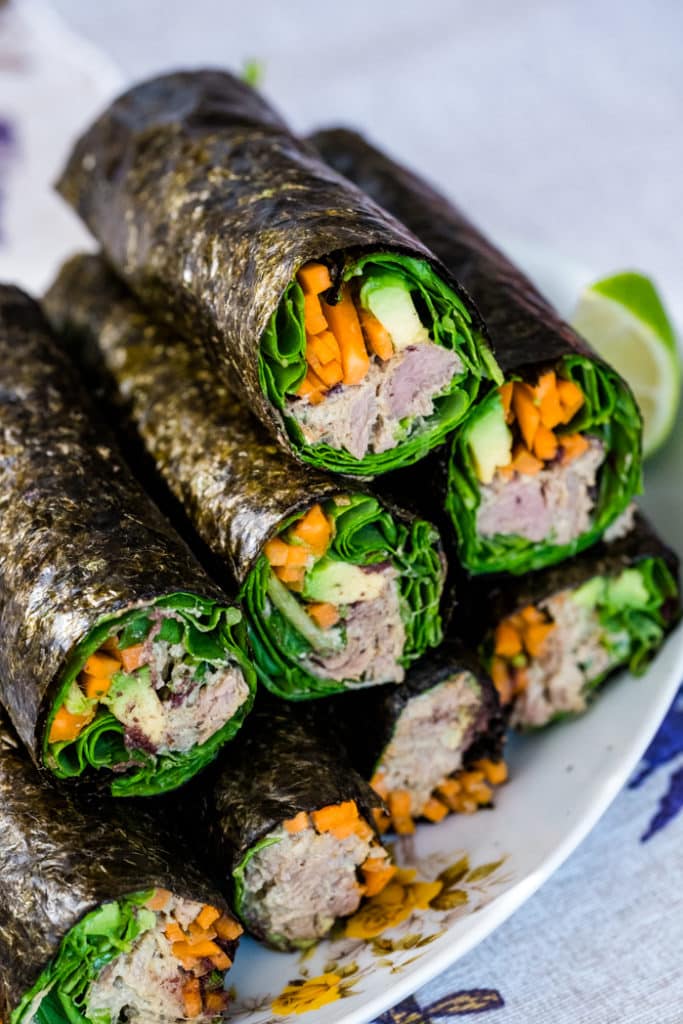 *This post contains affiliated links, which means I get a small commission if you choose to purchase something via one of my links, at no extra cost to you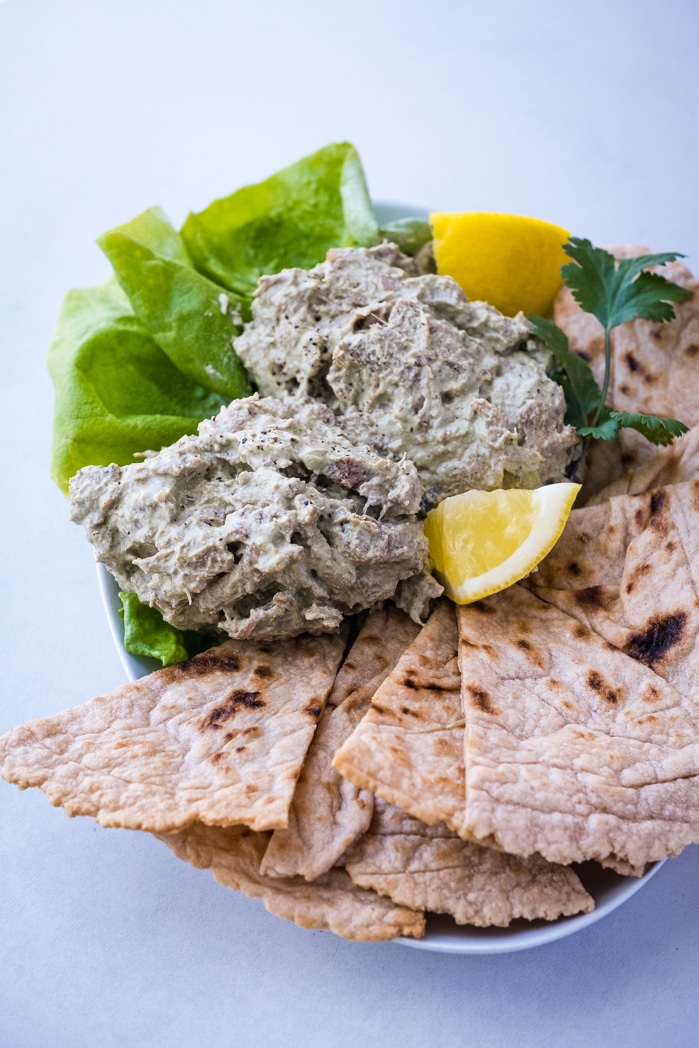 Print Recipe
Easy Turkey or Chicken Salad with Homemade Egg-Free Mayonnaise
Easy to make turkey or chicken salad and egg-free mayonnaise, great for meal prep and lectin-free meals that all the family will love.
Ingredients
1 turkey drumstick + 1/4 turkey breast OR Chicken (breast and legs or even one whole chicken if you do meal prep)
4 garlic cloves, unpeeled
1 medium yellow onion, cut in big chunks
4 celery sticks, roughly chopped
1 teaspoon sweet Hungarian paprika, preferably organic
1 teaspoon herbs de Provence (or fresh rosemary, thyme and sage)
1 bay leaf
1 teaspoon salt
1/2 teaspoon peppercorns
4, 5 all spice berries
2 cups water
FOR MAKING THE SALAD:
4 cups shredded turkey or chicken
1 cup egg-free mayonnaise
lemon wedges
mixed salad leaves
cassava tortilla chips
Instructions
1

Wash and pat dry the turkey or chicken (it's a good step for removing some of those histamine-producing bacteria).

2

Add the turkey or chicken to the pot, sprinkle all the spices on the meat (I like to do it directly in the pot so none of the spices are wasted).

3

Add all the rest of the ingredients, the water, close and set the pressure cooking time to 35 minutes for turkey (for chicken cook only 20 minutes or less, depending on how big the pieces are; check your pressure cooker timings for a whole chicken if you choose to do that). When done, let the pressure release naturally. It will probably take another 15-20 minutes.

4

Take the turkey or chicken out on a board, remove the bones and shred it or cut it into small pieces.

5

Strain the stock and save it (if you make the egg-free mayo, you will add a few tablespoons in there). Drizzle some on the chicken so it doesn't get dry (and make sure you cover it until you have everything else ready.

6

Make the mayo (see recipe and instructions in the post above).

7

Mix the turkey or chicken with the mayo and serve your favorite way or save some for another meal, in an air-tight, glass container.