I usually start my posts by telling you how easy it is to make a recipe. Well, I would lie if I said this was easy, and that's the reason I don't make it more often. It's funny because when you look at it seems simple.
But when you start spreading everything on the working surface and cauliflower rice is everywhere, well, expect a mess. Did I just talk you out of making this lectin-free sushi rolls with cauliflower rice recipe? What if I tell you is all worth it?
Sushi lovers, this is your lectin-free sushi rolls fix
It is. Especially if you are a sushi roll lover. And in fact, is not a difficult recipe, is just a little challenging because you need a big working surface. I tend to be a little messy in my kitchen. Sushi was one of my favorite foods, and I like sashimi, and salads and Japanese food in general, but rolls were my favorite.
This recipe has an interesting story. At the beginning of my Plant Paradox journey, Dr. Steven Gundry launched a competition for recipes; the winner would be included in his (back then) upcoming cookbook. Now we all know his Plant Paradox Cookbook was launched and my sushi rolls recipe is not there, but I still think is a pretty awesome one.
I don't even know why I haven't shared it already on my website, since it's so old and it was already typed out for the competition. This morning someone asked me on Instagram for ideas about how to use nori. So I thought it was about time.
A framework to make sushi rolls with cauliflower rice
I gave you here a frame to work with, but you can really use anything you want to fill the rolls. I just think crab and shrimps work really well, separate and together. Avocado is a no-brainer, green mango is awesome and everything works well together.
You can use a homemade healthy mayonnaise or the Avocado Mayonnaise from Primal Kitchen. Regarding Wasabi, I do not recommend buying paste. I never found a compliant one, as you can expect it is mixed with all kinds of weird stuff. Buy a real powdered Wasabi and mix it with water. This is the one I use.
As per the sushi nori (the wraps) I used the ones I find in Whole Foods, buy the roasted but always check for non-compliant oils. This is the Pickled Ginger I use, most of the other ones I've seen have loads of sugar and other non-compliant stuff, this one only has <1g sugar per serving. It works for me because I absolutely love pickled ginger.
If you like these lectin-free sushi rolls with cauliflower rice, be sure also to try the Salmon Avocado Nori Rolls with Almond Cream Cheese.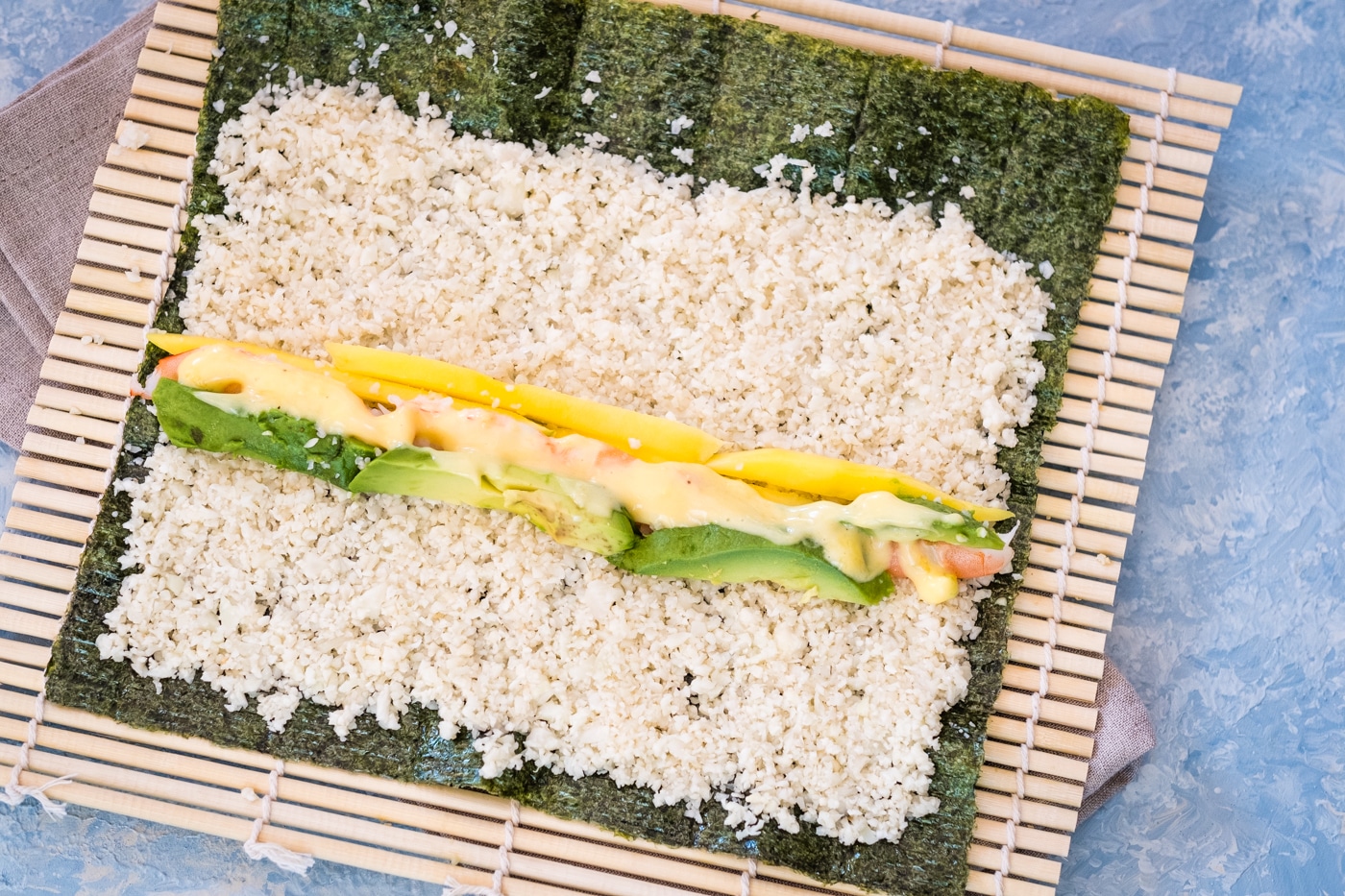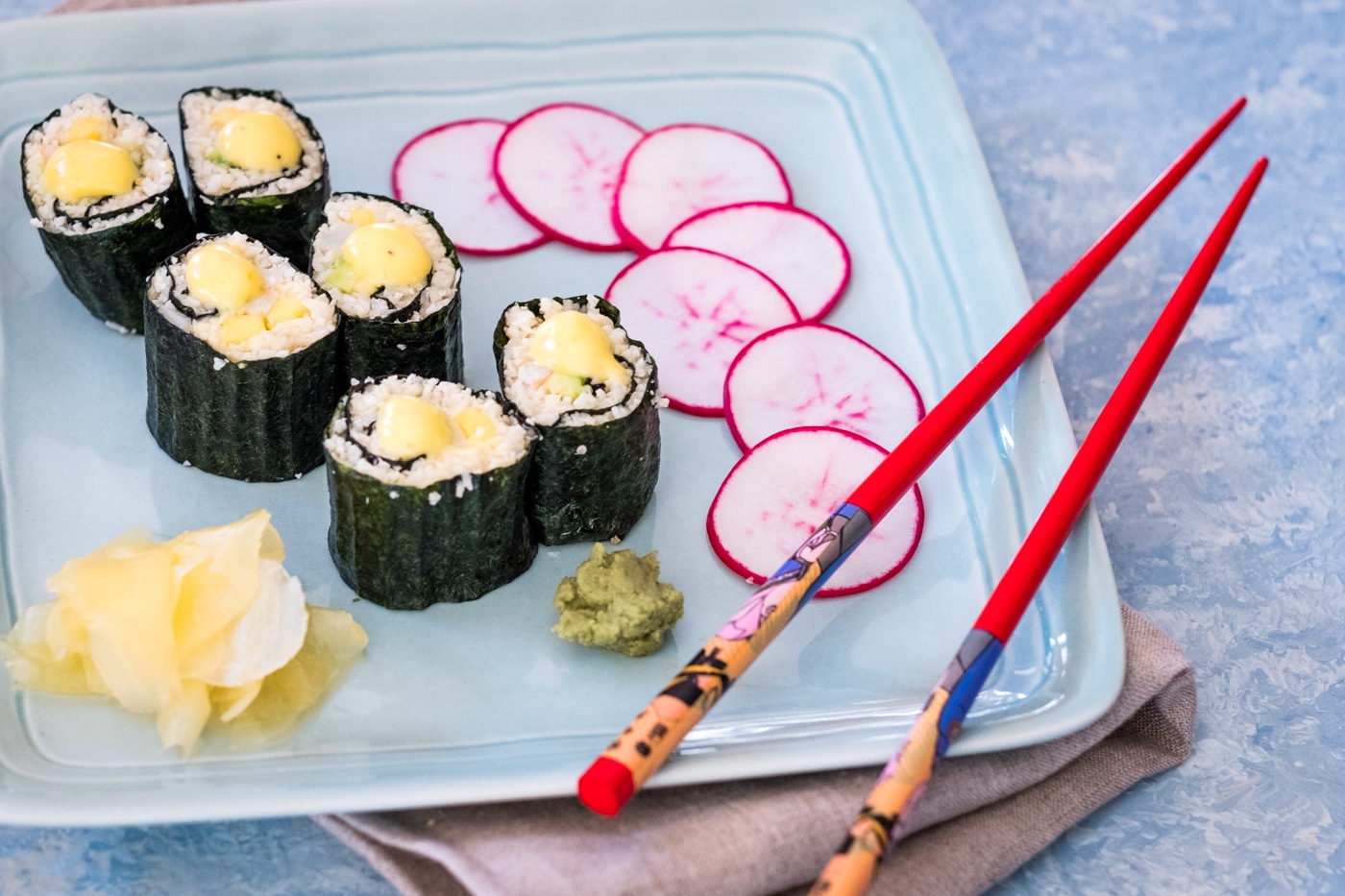 *This post contains affiliated links, which means I get a small commission if you choose to purchase something via one of my links, at no extra cost to you.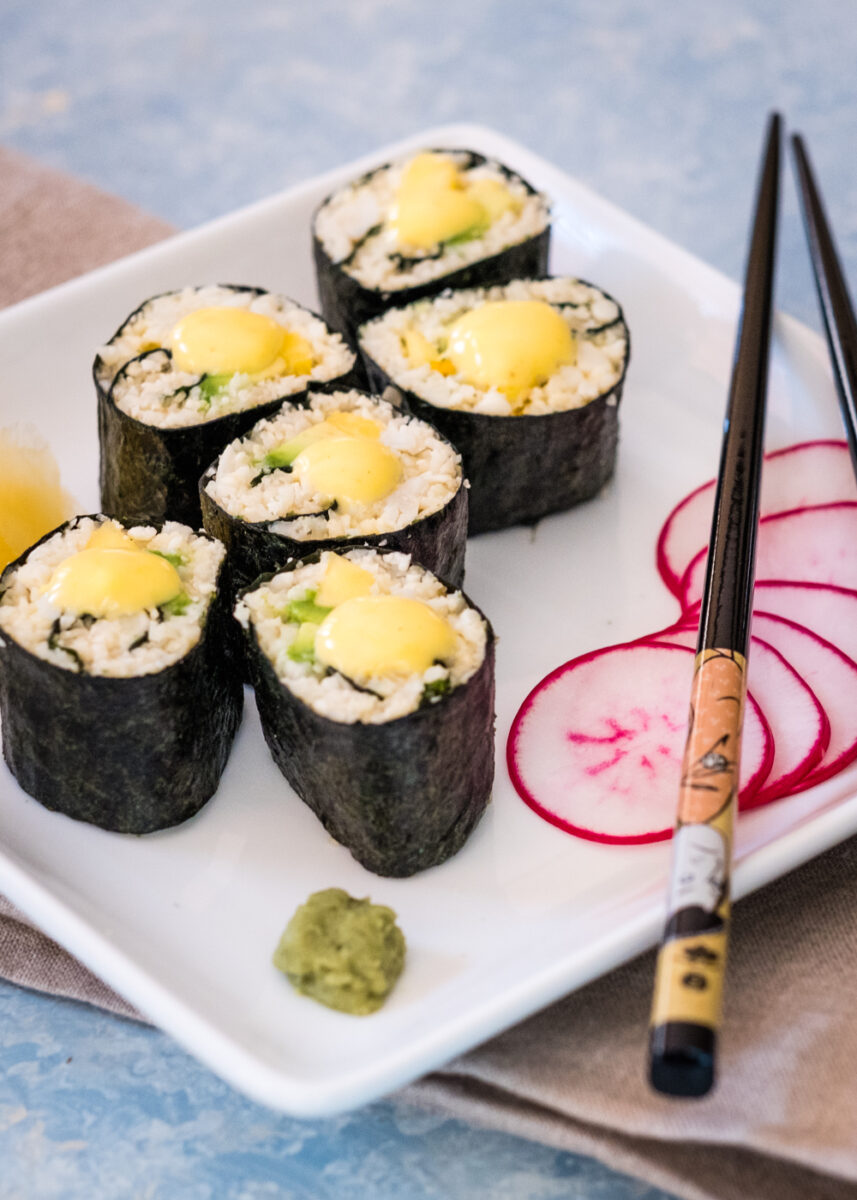 Print Recipe
Lectin-Free Sushi Rolls With Cauliflower Rice
A yummy sushi roll recipe with cauliflower rice.
Ingredients
FOR CAULIFLOWER RICE:

1 medium cauliflower head, riced OR one bag of ready riced cauliflower (not frozen)

1 tbsp avocado oil

2 tsp coconut aminos

1 tbsp rice vinegar

1 tsp salt

FOR FILLING:

Thin (about 1/4 inch) stripes of green mango

1/2 avocado cut in long stripes

1 cup (or less) of cooked crab meat

2, 3 medium cooked wild caught shrimps cut in long stripes

3 sheets roasted Nori (no oil)

few tbsp Avocado mayonnaise (Primal Kitchen or homemade)

FOR SERVING:

Wasabi: mix 2, 3 tsp of pure wasabi powder with water and leave for 10 mins for flavors to settle

2, 3 red radishes thinly sliced for garnishing

pickled ginger

coconut aminos

more mayonnaise (add few drops of sriracha or tabasco to make it spicy)
Instructions
1
MAKE THE CAULIFLOWER RICE: Saute the cauliflower with the avocado oil for 2, 3 minutes, so it still keeps the texture. Add the aminos, the rice vinegar and salt and remove from the stove. Put in a bowl and leave on the side. Taste for salt and add if it needs more.
2
MAKE THE ROLLS: Place a sheet of nori on the sushi mat shiny side down. Spread the cauliflower rice with hands or a spatula over the entire sheet, leaving about 1" of nori on top uncovered. Place your filling over the middle of the rice: crab or shrimp (or both), green mango and avocado. Add some mayonnaise. Now you are ready to roll. Usually, sushi mats come with instructions, otherwise, check a tutorial online if you are not confident you can roll it. Once rolled use a sharp knife to cut the roll into six pieces. Place them on a plate filling side up, garnish with radish, more mayonnaise and wasabi. Serve with coconut aminos and pickled ginger.
Notes
You can use any fillings you like.