Grain-free, lectin-free, sugar-free, even dairy-free, I may add. Cinco de Mayo is just around the corner, and I don't want my fellow plant paradoxers or others on similar diets to feel restricted. Because who doesn't love Mexican food? These shrimp tostadas with red cabbage and avocado are simply delicious.
Shrimp Tostadas, something crunchy, something fresh, something healthy
Tostadas are tortillas that are cooked until they become crispy. It is traditionally fried in lots of oil, but they come out perfectly just baked.
Again, I am the lazy type, and I use Siete Almond Flour Tortillas, Paleo Approved, 8 count (3 Pack – 24 Tortillas), but you can use homemade, lectin-free tortillas. I know many of you have awesome recipes, and I go for the convenience here. Be careful, though, the Siete Cassava and Coconut tortillas won't work for tostadas because they are much thinner and don't get crispy as the almond ones do.
I had to use the last of the frozen baby shrimp I had already in the freezer, but I would have used normal shrimps if I had a choice. Anyway, use whatever wild-caught shrimps you have available. The ingredients are red cabbage, onion (spring or red onion), avocado, fresh cilantro, nutritional yeast, olive oil, and spices.
This post contains affiliated links, which means I get a small commission if you choose to purchase something via one of my links, at no extra cost to you.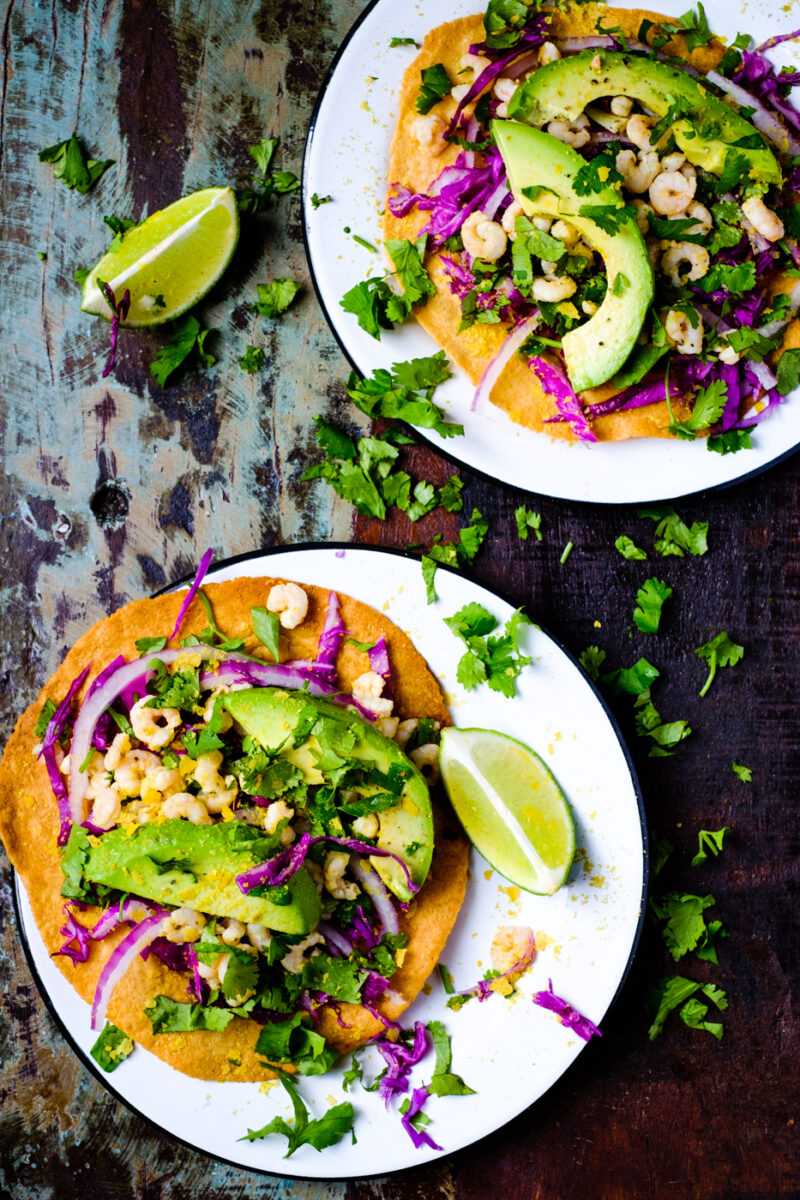 Print Recipe
Shrimp Tostadas with Red Cabbage and Avocado
Ingredients
4 almond flour tortillas (I use Siete brand)

some avocado oil

FOR THE SHRIMPS:

2 cups wild-caught shrimps, cleaned

juice of two limes

2 tbsp extra virgin olive oil, plus more for the pan

1 big garlic clove, smashed

spice mix: 1/2 tsp cumin, 1 tsp dry oregano, 1/4 tsp cayenne pepper (or more if you like spicy), salt and pepper

FOR FILLING:

1/2 small red cabbage, finely sliced

1 avocado, sliced

1 bunch of fresh cilantro, washed, dried and chopped

few thin slices of red onion or scallions, chopped

nutritional yeast

more lime for serving
Instructions
1
Clean and pat dry your shrimps, you can cut them or leave them whole, depending on how big they are. Add them to a bowl. In a small sauce bowl add the lime juice, olive oil, smashed garlic and spices and mix. Add to the shrimp, mix well and put in the fridge for 30 minutes (even less is ok if you don't have time).
2
Finely slice the cabbage and massage it with salt. Chip the cilantro and the onion. Slice the avocado as close to the end as possible, sprinkle with lime so it doesn't oxidize, season with salt and pepper.
3
Preheat your oven to 350F.
4
Line a large sheet pan with parchment paper and add 2 (already cooked) tortillas to the pan. spread a little avocado oil with your hand or a brush on both sides of the tortillas. Put it in the oven and keep an eye on them so they don't burn. Depending on what tortillas you will use, they'll take about 5 minutes, you can flip them half time. You want them hard and crispy, but not burnt.
5
Meanwhile, take the shrimps out and add them to a heated skillet with olive oil. Stir and cook for few minutes, until pink and cooked in the center.
6
Take the tostadas out, put them on plates and add the fillings. Start with the red cabbage, then add shrimps, cilantro, avocado, onion and sprinkle with nutritional yeast. Use more lime if needed.
Notes
Eat with the hands! Get messy! Add a hot sauce if you like.