This tarragon-cranberry chicken I made and shared recently keeps on giving. I usually don't do much meal prep, but it's fun to re-cyle and up-cycle and reinvent a new meal every day based on the same core ingredient.
Also, making nori rolls has been one of my first experiments when I started the Plant Paradox Program. I guess because I wanted to check if I can still have sushi rolls – or at least something close to the experience of having sushi. This is my chicken salad nori rolls made with organic Miracle rice.
A chicken salad that keeps on giving and the power of chopsticks
I love rolls and I love eating with chopsticks. I also love pickled ginger and wasabi, and what better way to have all these together than a mock-up sushi dish.
I've made nori rolls before, but only with cauliflower rice, which sometimes gets to get a little too soggy. This time I decided to give shirataki rice a chance, and it works perfectly fine, better than the cauliflower. So you can really play with the fillings, or use whatever you have around – in the past I used crab meat, shrimps, green mango, avocado, now I used the chicken salad I had prepared on Sunday.
Ingredients for the chicken salad nori rolls
The basics you need for sushi rolls are toasted nori, a protein filling of your choice if you are not vegan or vegetarian, a dressing/sauce like mayonnaise (this chicken salad was made with mayonnaise so that was perfect), avocado, some green leaves, rice. It can actually work without rice, but you need to fill in more stuff to get a full, round roll. Options for rice: cauliflower rice, shirataki rice, or even Indian basmati rice if you are in Phase 3.
Rolling takes a little bit of practice and it's advisable you do it with a bamboo mat, but I've tried before with parchment paper and it worked. To cut them, make sure you have a super sharp knife.
This is the recipe for the Tarragon Chicken Salad if you decide to use it as a filling.
Make sure to buy real wasabi
I could not imagine eating rolls, no matter the filling, without wasabi and pickled ginger. I use Sushi Sonic Real Wasabi Powder, which you mix with cold water. Most of the wasabi has additional ingredients and it's not pure. So make sure you find the real wasabi, which is only one ingredient and usually comes in powder.
Most of the pickled ginger has sugar, and I used one that had less than 1% sugar per serving, but now I found Eden Pickled Ginger with Shiso leaves and it doesn't have sugar. It tastes amazing.
You may also like my Lectin-Free Sushi Rolls With Cauliflower Rice and Salmon Avocado Nori Rolls with Almond Cream Cheese.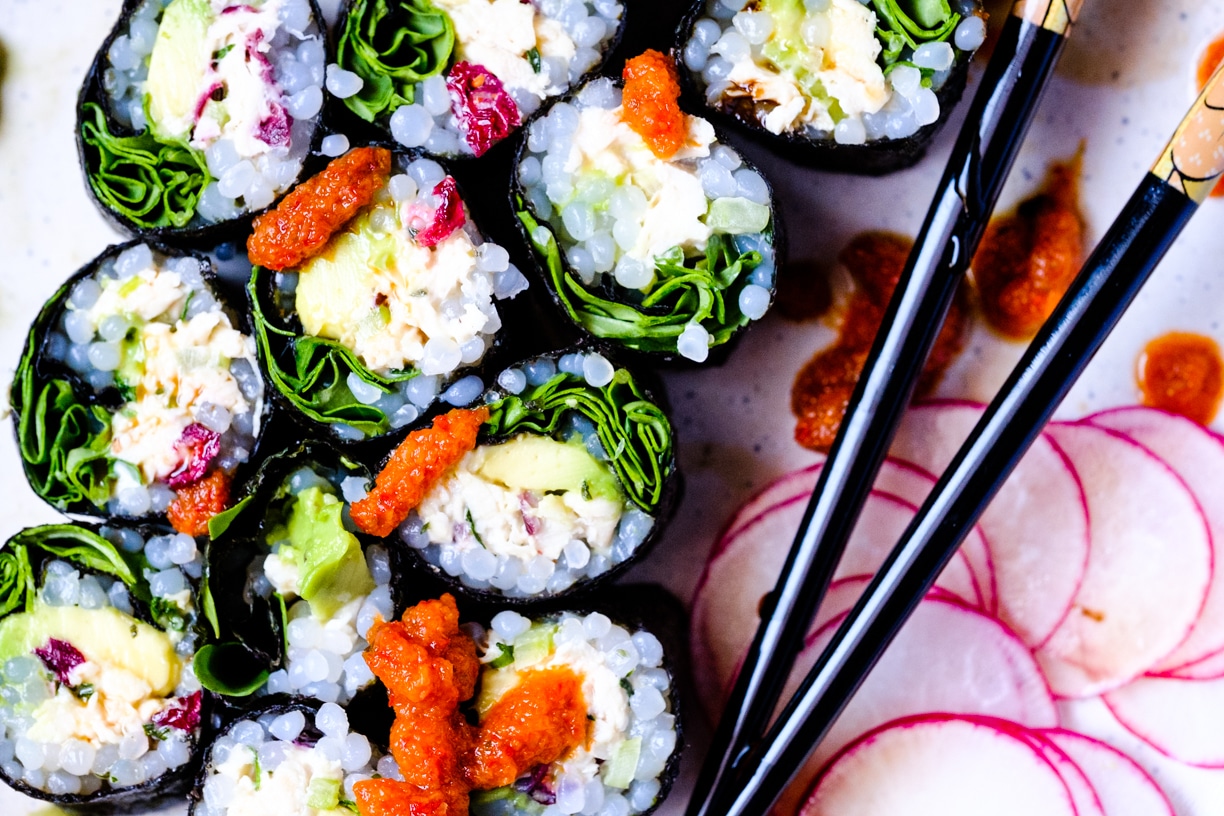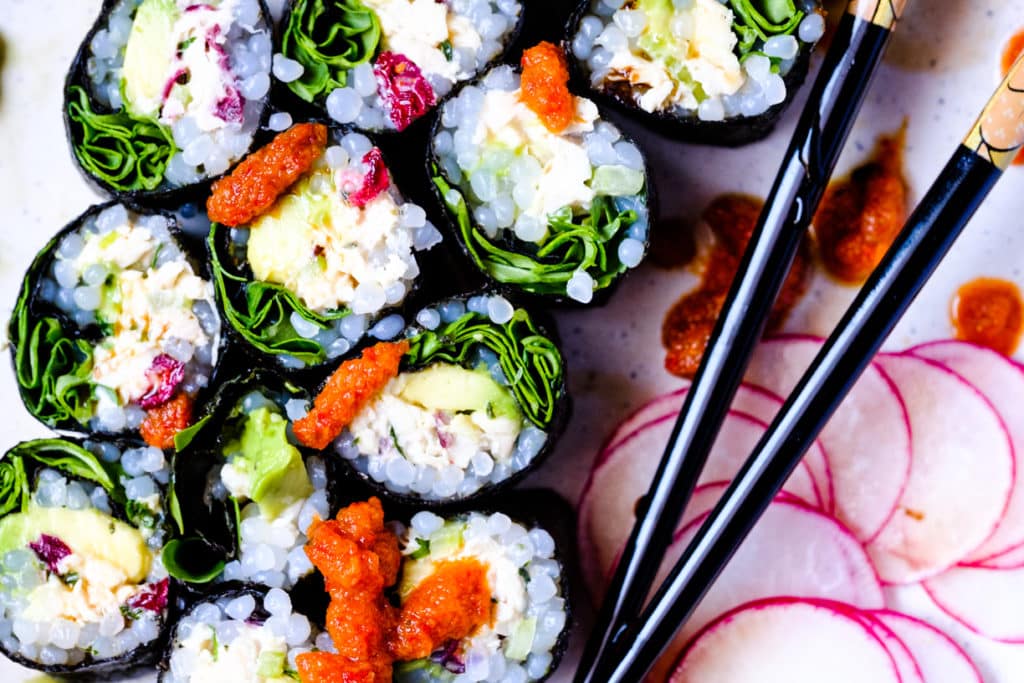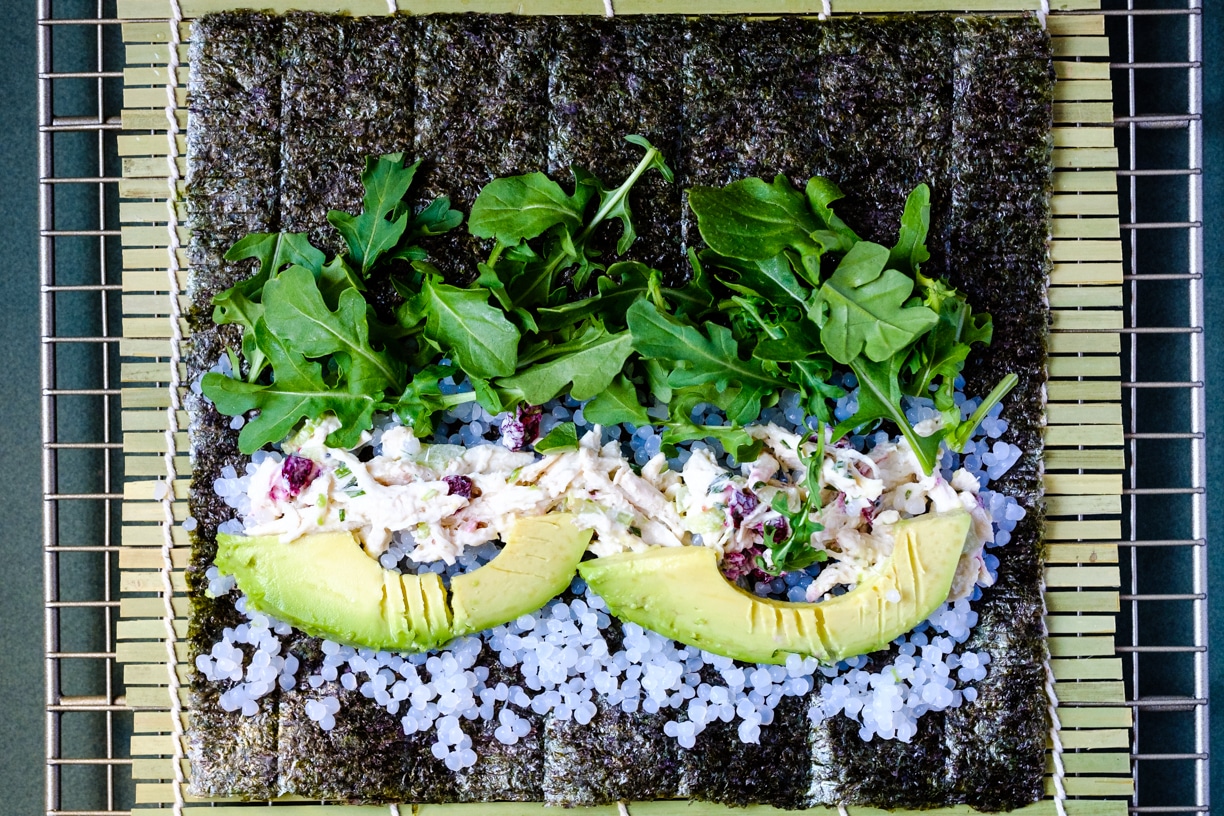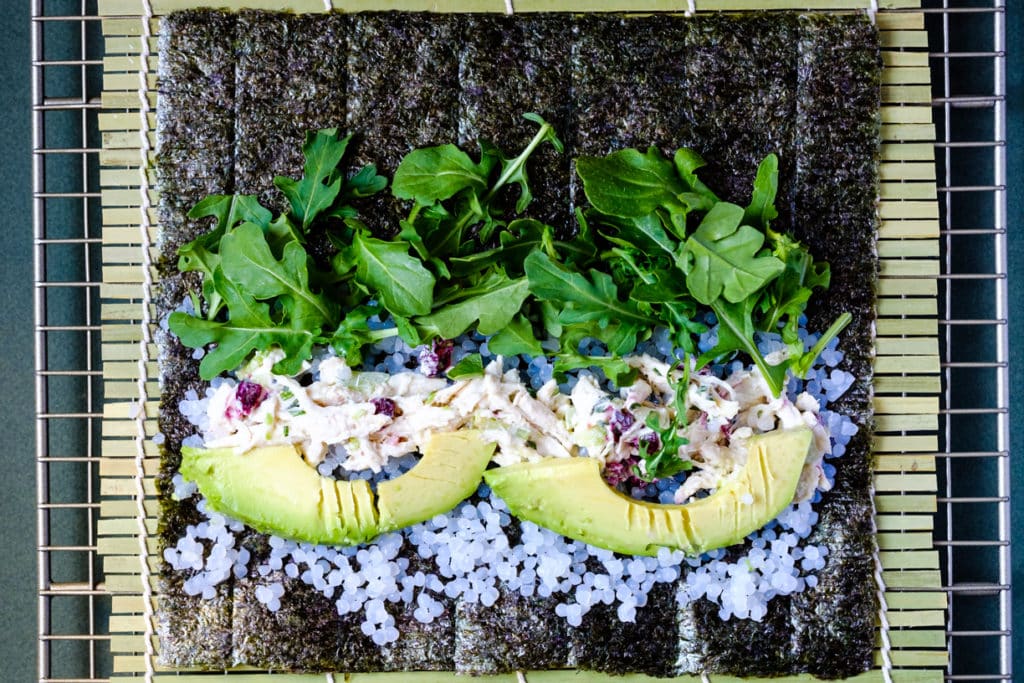 *This post contains affiliated links, which means I get a small commission if you choose to purchase something via one of my links, at no extra cost to you.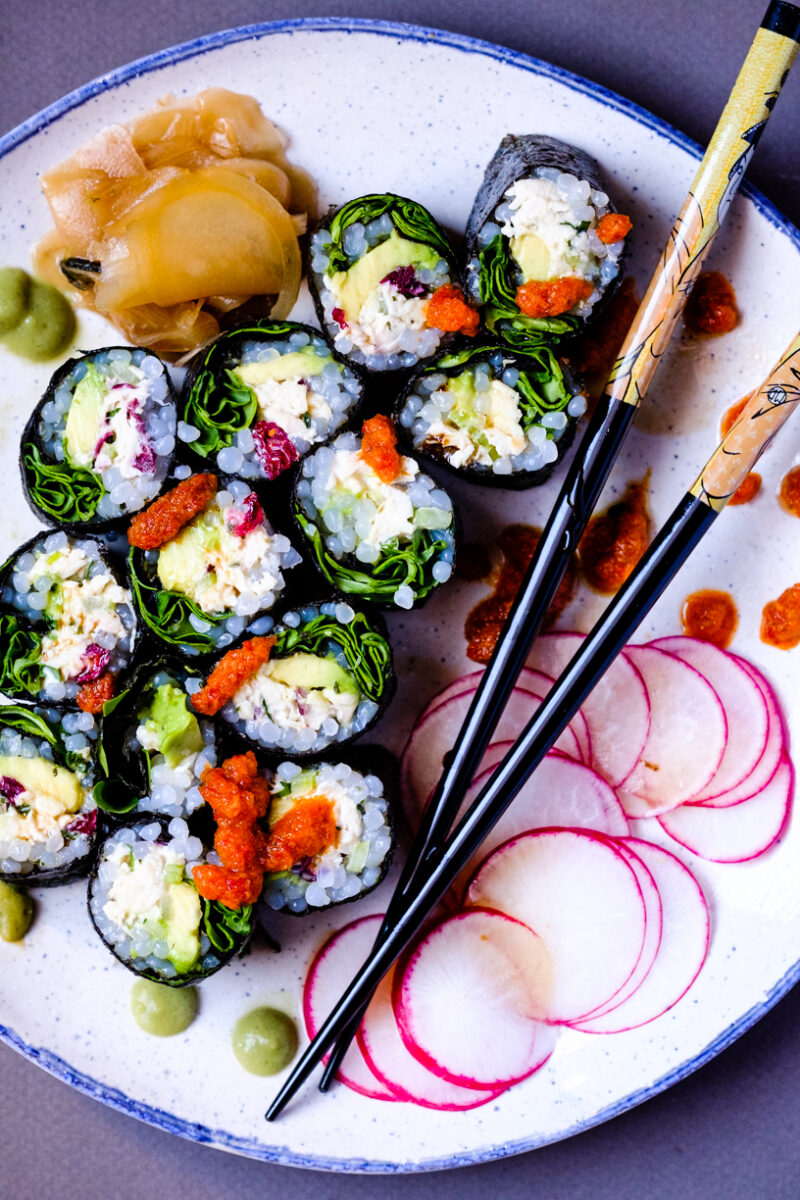 Print Recipe
Chicken Salad Nori Rolls with Organic Miracle Rice
Ingredients
FOR THE ROLLS:

1 pack Organic Miracle Rice

3 roasted Nori sheets

about 1 cup of homemade chicken salad (I used my previously shared Tarragon Chicken Salad)

few handfuls of baby arugula

FOR SERVING:

red radishes, finely sliced

pickled ginger (I used Eden brand with shiso leaves)

wasabi paste

Hot sauce (I used Wildbrine's Kimchi and Sriracha sauce)

Coconut aminos
Instructions
1
First prepare the Miracle rice following the instructions on the pack. You don't want to skip any step. And you don't want any of your ingredients to be wet. Let the rice cool. You can prepare it in advance and store it in the fridge, it's better to be cold.
2
Make the wasabi paste first, by mixing 2 tbsp of pure wasabi powder with enough cold water to make a paste. Set aside.
3
Prepare all your fillings, set the nori sheet on the bamboo sheet.
4
Start filling first with the rice, then stack the other fillings as you see in the picture above.
5
Start rolling. You can watch instructions online about how to roll sushi, also a bamboo sheet usually comes with instructions. I don't cover the entire sheet with fillings, it gets harder to roll. Cold water on the upper edge of the rolls helps with sticking the two sides together.
6
Continue with the second and third roll. Then cut each of them in 6 smaller rolls.
7
Serve with wasabi, red radishes, hot sauce, coconut aminos and pickled ginger.
Notes
The cooking time I added is about the time the miracle rice need to get drained, rinsed, briefly boiled and dried. I suggest you make it in advance and store it in the fridge. Rolling requires a little bit of practice, but it's not as difficult as it may seem.