These cassava tortillas are very easy to make, they only include four ingredients, if you count water and salt, they are pliable and delicious and can be stored and reheated in many ways. You can make tacos, burritos, tortillas, tortilla wraps, or even use them as a base for a mini pizza or flatbread.
Since I came to Romania, my mom is slowly giving up bread/grains and these cassava tortillas have been a very good vehicle for her to replace the bread she was used to eating.
I usually make a batch of 8-9 cassava tortillas, which my mom and I share, and sometimes my husband, who loves them but is not willing to give up his bread, is allowed to have one or two.
I store them in the fridge in an air-tight container, or in a plastic bag, for the second day. If I want to keep them for longer, I separate them with parchment paper and freeze them in a freezer bag or container. They are easy to warm up in a skillet, and they remain soft and pliable. However, if you need a sort of tostada or tortilla chips, you can leave them longer in the pan or in the oven and they'll become crispy.
The recipe is very easy, but I guess can be intimidating if you are making this for the first time or never worked with cassava flour before. So I'll explain the whole process step by step.
What do you need to make cassava tortillas?
The skillet
You need one safe non-stick skillet (don't use anything made of Teflon) like a ceramic, stone coated pan (e.g The Green Pan) or even better, a well seasoned or coated cast iron; or, a cast iron griddle, this way you can make more tortillas at once.
You will not use any fat on the pan, and the heat has to be medium. Make sure that when you add the first tortilla, the skillet is well heated. You will also figure this out by yourself, with practice, depending on what source of heat you have, or what kind of skillet you will use.
Other tools
You need a kitchen scale, a mixing bowl, a rolling pin, two or three sheets of parchment paper, and a working surface. I roll them out manually but if you have a tortilla press you can use it. If you want them to be shaped perfectly round, use an 8″ bowl to cut them.
Ingredients
If you are in the US, Otto's Cassava Flour is the best, in my opinion. I found good cassava flour in other countries in Europe, in specialized stores, or gluten-free sections in supermarkets. In Romania, there is only one option, as far as I know, made by Pronat, and you can find it in their online store. Get the EXTRA FINE, works much better with everything.
You need cassava flour, extra virgin olive oil (you can use avocado oil instead). From 100 grams of cassava flour, you make 5 tortillas, about 8″ each, so from 200 grams you will make 8 dough balls, and you will have another two from the excess dough, if you shape them perfectly round. Ten in total.
Sometimes I don't cut the excess, as they come out pretty nicely shaped, and I get 8 tortillas. They are about 7-8″ or 20″. You can play with the sizes. You can even make them bigger, the burrito size.
IF YOU ARE NEW TO BAKING LECTIN-FREE, CHECK OUT MY STORE PAGE, YOU WILL FIND EVERYTHING I LOVE TO WORK WITH FROM FLOURS, TO OLIVE OIL, SALT, TORTILLA PRESS AND MORE.
How to prepare them
Add the cassava flour, olive oil, and salt to a bowl. Start adding lukewarm water and mix with your hands until you get a homogenous dough that sticks together (it will be crumbly at first). Knead it well for about 10 minutes, the dough will get elastic and sticky, kind of like playdough, and it won't break when you will roll out the tortillas.
Portion the dough in eight balls, and roll out each of them in between two sheets of parchment paper (recently, I reached the performance of not needing a top paper to roll out the dough; it's getting so elastic and it's not sticking, almost like a gluten dough).
I cook them one by one so I roll out one while the other one is cooking. I use a bowl to cut them into round shapes, if you use a tortilla press it will be easier. However, they are also pretty when they have irregular shapes (see pictures), so choose whatever way fits you. If you cut them in rounds remove the excess and at the end, you will have more dough for one or two tortillas.
How to cook them
Once I have one tortilla rolled out and shaped, I remove the top parchment paper, take the tortilla with the parchment paper on the bottom and flip it upside down in the hot pan.
Cook for about 2, 3 minutes on each side, or more. The time will depend on how hot your pan is, what kind of surface it has, or the heat source. Use the first one to experiment. I noticed that the cooking pattern and time will be different if I use two different pans, even though they are both ceramic coated.
They will also start forming pockets. Some have smaller pockets, some bigger. They all have different personalities. Once cooked, transfer them to a plate and cover them with a thick layer of towels so they stay warm and soft.
I ended up buying and seasoning a cast iron pan and I made tortillas in it and it works really well, I do prefer the cast iron now, but both work.
If you want to add a pop of color to your tortillas, check out my Green Cassava Tortillas Recipe.
How to store them
You can store them in a container with a lid, in the fridge, for up to two days. They'll stay soft and you can warm them up in a pan or on a griddle, or even in the oven. If you want to make tostadas (crispy tortillas), leave them longer when you re-warm them, they'll crisp up. You can also store them in the freezer, but make sure you separate them with parchment paper, so they are easy to separate when they are frozen.
Quantities for 8-10 cassava tortillas
You need 200 grams of cassava flour, 3 tablespoons extra virgin olive oil, a pinch of salt and start with about 1/2 cup lukewarm water (the chances are you will add much more (in total you need about 1 1/2 cup of water, but it also depends on your flour). You will add water until the dough will become homogeneous, well-hydrated, and pliable, but will stay hard.
Knead it well for about 10 minutes, adding more water if necessary (like you would knead a normal bread), the dough will get elastic and sticky and it won't break when you will roll out the tortillas.
From this quantity, you will make 8 dough balls, and each will be shaped in one 8″ tortilla. If you shape them round, you will have excess dough, which you will save, and at the end, you will have the dough for two more tortillas. If you feel like the dough gets dry, wet your hands and knead a little bit more to rehydrate.
I found that if I knead again each ball before rolling out it gets even more elastic. In case you want to make a smaller quantity, from 100 grams of cassava flour you will get 4+1 tortillas (the plus one is the excess one).
How to serve cassava tortillas
These cassava tortillas can replace bread in any situation, they taste the most similar to normal bread. Add them to your breakfast platter, or use them as a vehicle for a spread such as: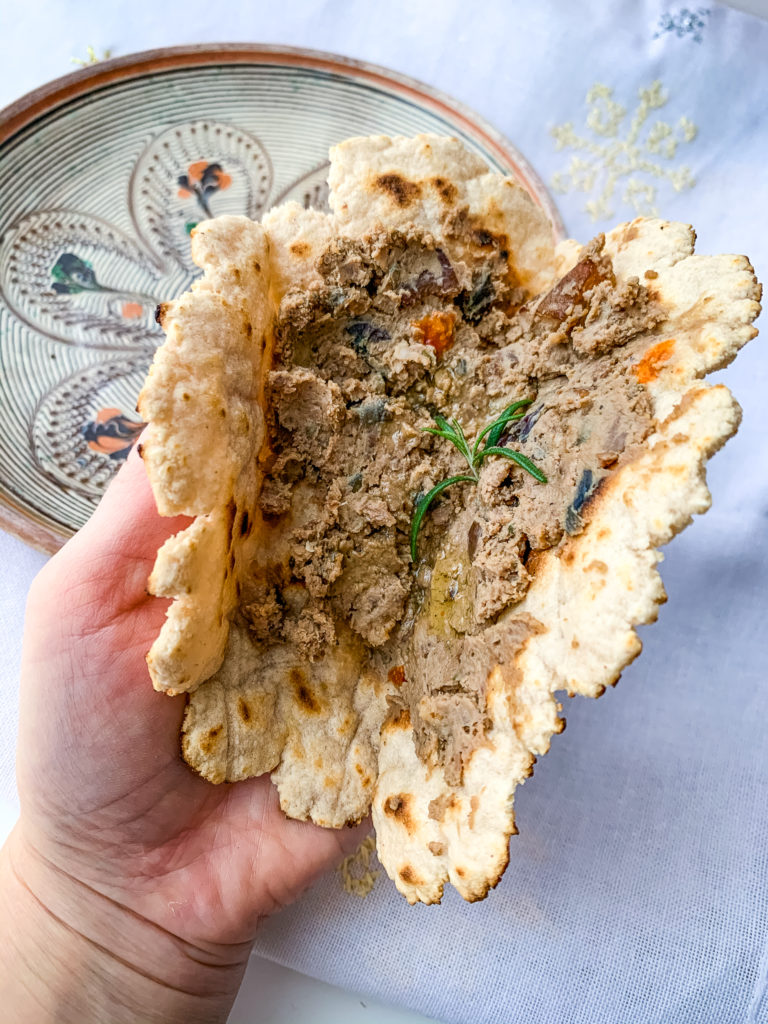 If you make bigger tortillas, you can use them to make the famous tortilla wrap, check out all the details below: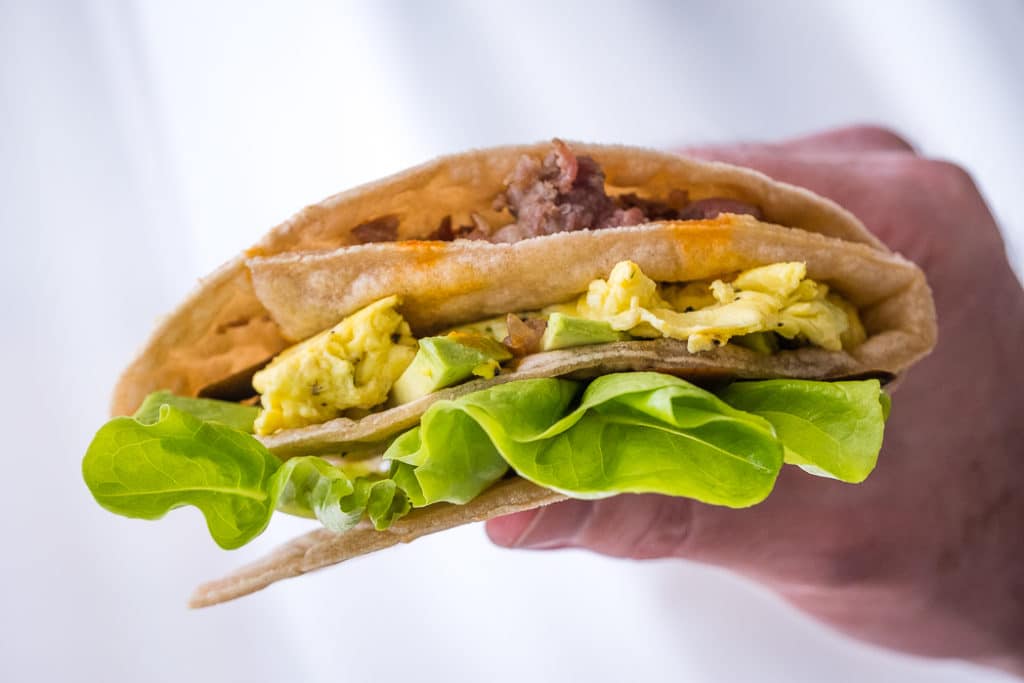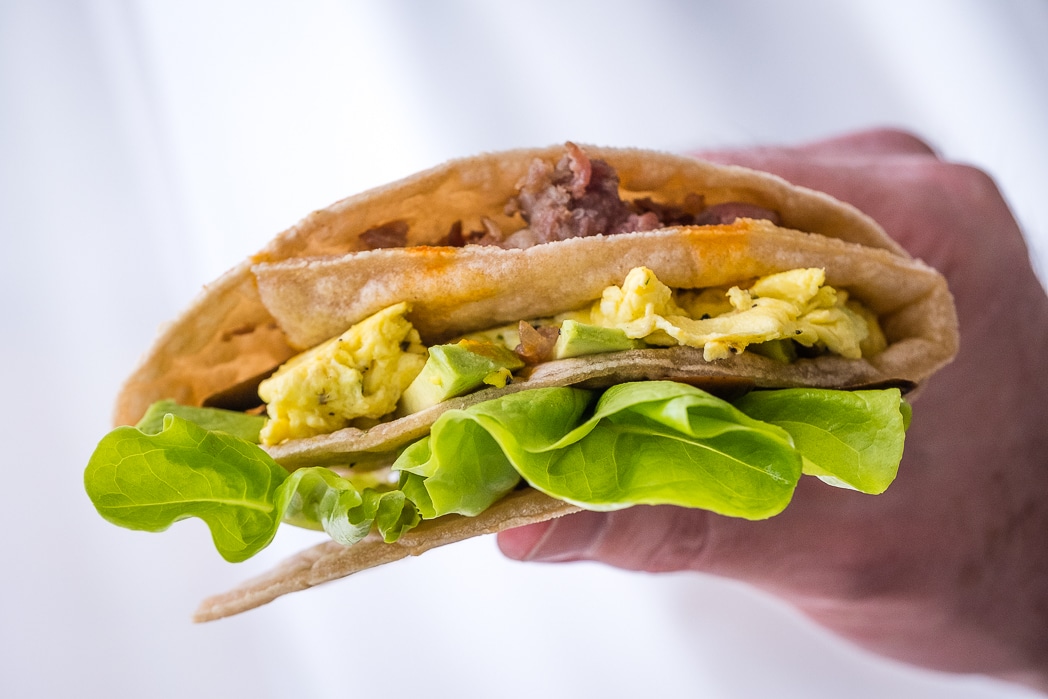 Or, serve them with this delicious beef and cauliflower rice burrito bowl:
Use the homemade cassava tortillas as a flatbread for the beef kebab platter.
Check out my Green Cassava Flour Recipe if you want to have more fun with color and even add more nutrition power to these lectin-free cassava tortillas.
Let me know if you make them and how you use them! And don't forget, practice makes perfect. My first ever cassava tortilla was terrible, but every time I make them they are better. Enjoy.
*This post contains affiliated links, which means I get a small commission if you choose to purchase something via one of my links, at no extra cost to you.