Sardines might look like humble food, but they are a nutritional powerhouse. Rich in Omega-3s, sardines are an abundant source of EPA and DHA (what you usually look for in fish oil capsules) and an affordable quality protein source.
That's why I'm on a mission to contribute to making sardines a staple for those following the Plant Paradox and lectin-free diet. Curried sardines in radicchio cups are an easy and delicious way to eat more fish.
A powerhouse of nutrition, easy but festive looking and tasting
The hardest part for people who think they don't like sardines is to get over the texture and the fishy taste (although, to be honest, a fish is a fish, so what to be expected?). But I get it. Even though I like eating them straight from the can with lots of lemon juice, I admit they are not the sexiest food to have.
This curried sardines dish was born from my Danish husband's craving for a traditional Danish dish, curried herring. This is something Danish people eat a lot around Christmas.
The pickled herring we bought for my husband was not compliant (it had too much sugar for me). So I decided to make my version of curried fish; sardines and herring are related anyway, so why not?
Finding the right brand of sardines
I get this question a lot: what brand of sardines do you buy? To be honest, so far in Dallas, there are three choices, and none of them is BPA-free: Season brand, Crown Prince and Wild Planet. Only Season and Wild Planet are certified sustainable of these two, so I get any of them.
I prefer buying sardines in water. I don't think the extra virgin olive oil used in canning is a good quality oil, no matter the brand. And If I can find it without salt, I prefer it because again in our days not all salt is created equal.
Oh, and I saw a brand of sardines in a glass jar. The brand is called Ortiz, they are in extra virgin olive oil, and I believe they are good, but they cost $8.49, which is 3, or 4 times more than the cans. Maybe I'll buy it when I want to splurge on sardines, but until then, the can ones seem pretty good to me.
How to make the curry sauce
I used Primal Kitchen avocado mayonnaise to make the curry sauce. I added red onion, capers, pear (or you can use apple), goat yogurt, curry powder, and turmeric tonic. You can also make your own healthy mayonnaise if you prefer that.
I use the Turmeric Tonic I buy from Further Foods, which I love because it's not only turmeric but a mix of turmeric and other superfoods and adaptogens. If you don't have the tonic, use just turmeric powder. You can use code 'CREATIVEINMYKITCHEN10' for 10% off on your first order.
How to serve the curried sardines
If you don't find radicchio where you are, you can use any lettuce boats or endives. You can even use a compliant bread and serve it the way Danes do, as an open sandwich ('Smørrebrød' in Danish, mainly on a slice of rye bread).
For decoration, I used hard-boiled eggs, watermelon radish, and parsley, but you can get creative in your way. Smørrebrød, in general, is famous for being a good-looking, delicious food, no matter the ingredients.
Despite being made with such a humble ingredient, in my opinion, these curried sardines make for a great holiday appetizer. Try them with my Everyday Lectin-Free Bread (for an open sandwich).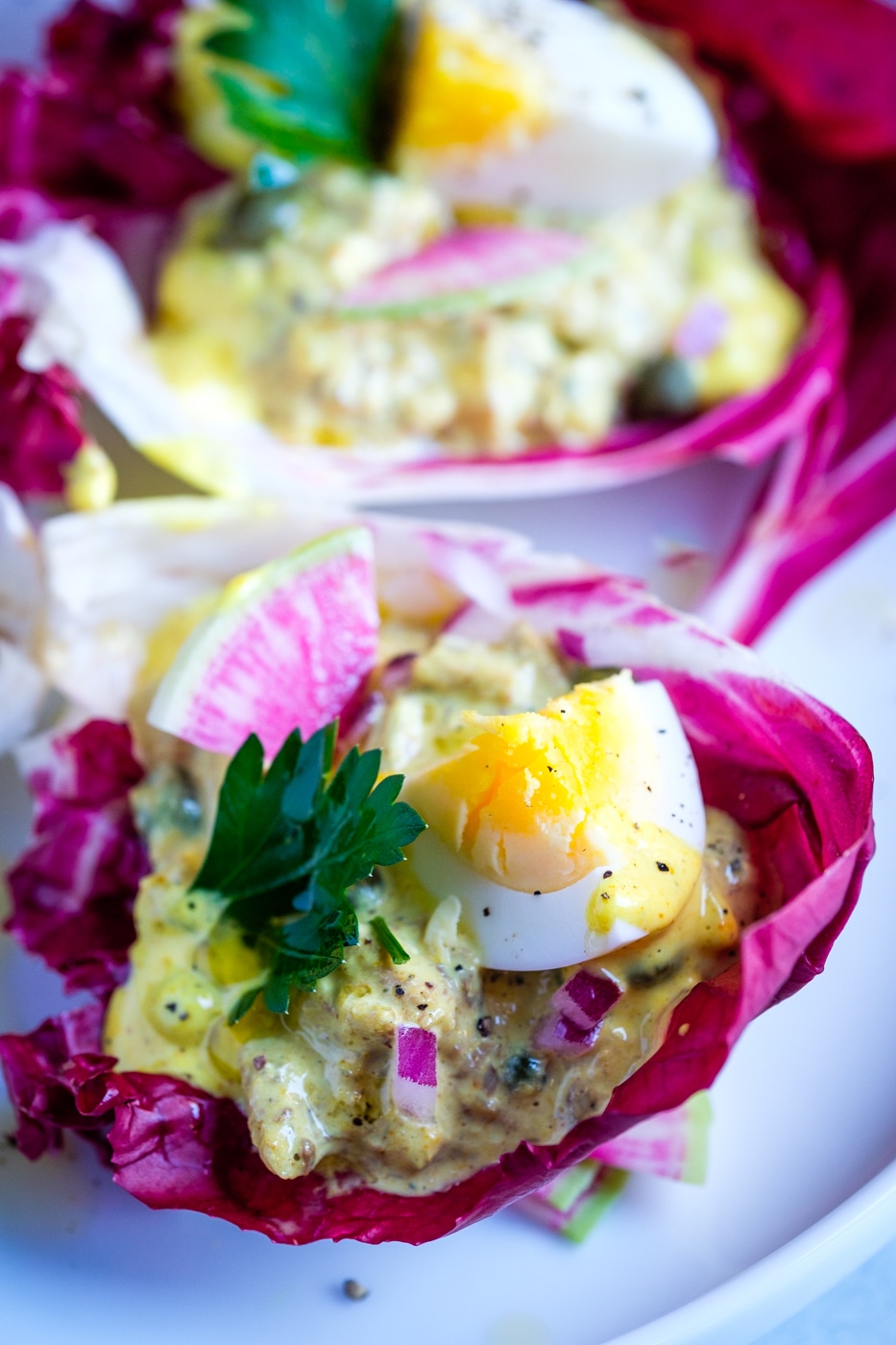 Sardine pate recipe
Did you know that you can also turn those humble sardines into a flavorful spread? Check out our Easy Sardine Pate (with Canned Sardines) for another delicious and healthy recipe.
*This page contains affiliated links, which means I get a small commission if you choose to purchase something via one of my links, at no extra cost to you.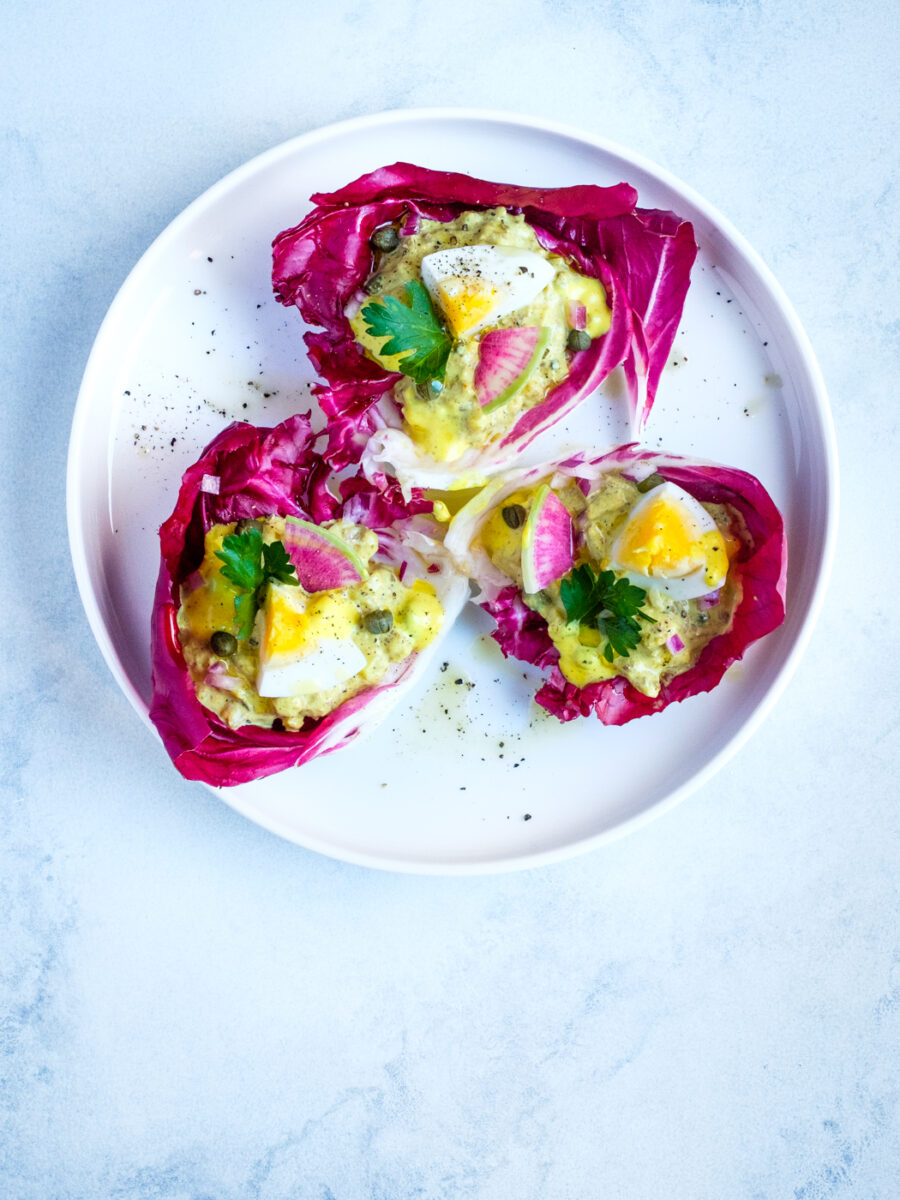 Print Recipe
Plant Paradox Curried Sardines in Radicchio Cups
A powerhouse of nutrition, easy but festive looking and tasting 
Ingredients
2 cans of sardines (preferably in water)

FOR THE CURRY MAYO SAUCE:

3/4 cup avocado mayo

2 tbsp finely chopped pear or apple

2 tbsp capers, rinsed and pat dried

2 tbsp finely chopped red onion

1 tsp curry powder

1/2 tsp Turmeric Tonic (Further Food) powder (or just turmeric powder)

1 heaping tbsp goat yogurt

FOR SERVING:

few leaves of radicchio, washed, dried and cut in half

few slices of watermelon radish

1 or 2 hard-boiled egg (pasture-raised), each cut into 6 pieces

parsley

extra virgin olive oil

pepper
Instructions
1
Drain the sardines and mash them in a mixing bowl.
2
Mix all of the sauce ingredients together and add them to the sardines bowl, mixing all together.
3
Add the curried sardines to the radicchio boats, decorate with boiled egg, watermelon radish and parsley, pepper. Drizzle with extra virgin olive oil and serve immediately.
Notes
The curried sardines sauce can be stored in the fridge. I do not mention any salt because the mayo and capers should be salty enough, but you can adjust for your own taste. This makes quite a generous portion, for 4 if is served as a main dish, even more, if is served just as an appetizer.