Yesterday I wanted to keep it simple and easy and decided I would have a tuna salad for dinner. And in the process of thinking about how to make this tuna salad a little more interesting while plant paradox compliant, I came up with this idea, and I loved it so much that I decided to add this crunchy tuna salad recipe to the blog.
True fast food that is healthy for you
We are all guilty of thinking we don't have enough time to eat healthy or cook at home, so if we are super busy or in a rush, we go for the easy, fast food grab instead of a homemade meal. And I agree that cooking at home requires some time on your hands. You don't have to spend hours in the kitchen to whip up something healthy, tasty, and satisfying in under 10 minutes.
Canned fish can be a lifesaver in situations like these, so make sure you always have some in your pantry. Some options are wild, sustainably caught tuna fish, wild Alaskan pink salmon, sardines, or herring. I usually prefer those who are canned in water or water with salt because I doubt a good quality olive oil is used in canned fish. Plus, you should add your own fresh ingredients and adjust them to your liking. When I buy fish in water or water with salt, I use the juices because they provide as many nutrients as the fish.
For this crunchy tuna salad, I used a 3oz tuna pouch I bought at WholeFoods, which I combined with carrots, celery, avocado, red onion, black olives, avocado mayo from Primal Kitchen. You can buy this one on Amazon at Whole Foods, and if you have a Costco nearby, they have the best price for it. Or, you can make it at home, and that's even better.
How to serve crunchy tuna salad with avocado
A great way to eat this salad is with romaine lettuce boats and so-compliant crackers or chips. I think Barnana's Himalayan Pink Salt – Green Plantain Chips are perfect for this.
You can also make your own chips by following this guide How to Make Tostones (Double-Fried Green Plantain Slices).
Enjoy, and as usual, I'd love to hear from you if you make this recipe.
*This post contains affiliated links, which means I get a small commission if you choose to purchase something via one of my links, at no extra cost to you.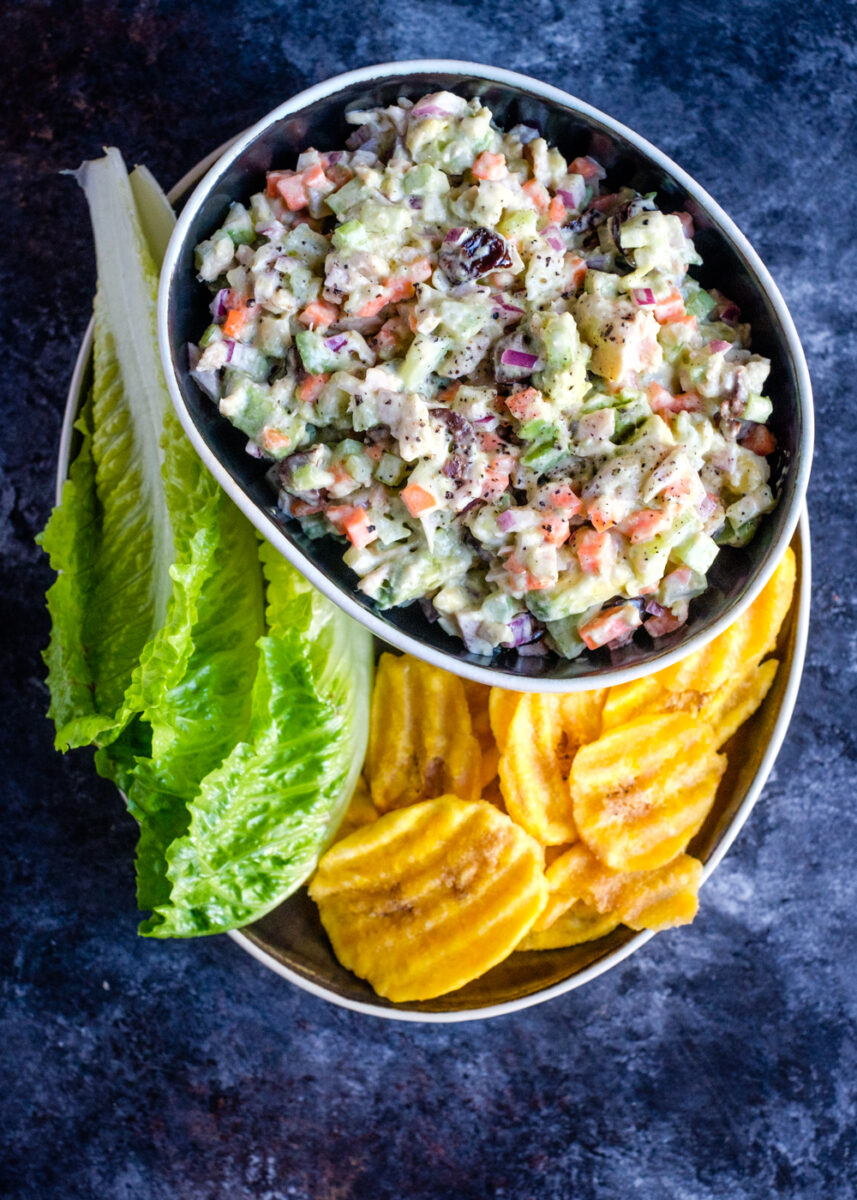 Print Recipe
Crunchy Tuna Salad with Avocado
Ready under 10 minutes, tasty and nutritionally dense
Ingredients
3-4oz canned tuna, in water or water with salt

1 small / medium carrot

1 long celery rib

1 very small red onion or half of a medium one

1/2 avocado (use one that is still firm, but ripe)

a small handful of dry-cured Beldi olives, chopped (or use any black olives you like)

2 tbsp avocado mayonnaise

salt and pepper to taste

lime or lemon juice to taste

extra virgin olive oil, as much as you want / like

FOR SERVING:

green plantain chips (or any compliant chips or crackers)

romaine lettuce boats (or you can use endives)
Instructions
1
Chop all the veggies into small cubes.
2
Mix the tuna (using the juices too) with the veggies, avocado and olives. Add the mayo and extra virgin olive oil and season to your taste.
3
Eat with complaint crackers/chips and romaine lettuce or endive boats.
Notes
This can make 1 or 2 servings, depending on how hungry you are.