After a few tests, I can write this citrus blueberry lectin-free scones recipe down and share it with the world. They are tasty, soft, fragrant, perfect for breakfast, snacks, or even gourmet sandwiches.
They are also super easy to make, with pretty common ingredients, especially if you are familiar with a gluten/grain-free, sugar-free lifestyle.
A treat without the guilt trip, or the pain
They are made with almond, sorghum and arrowroot flours, so technically not really grain-free. Sorghum is a grain, but a lectin-free grain, therefore acceptable for the Plant Paradox lifestyle.
If you didn't know already, gluten is a lectin, and anything that is lectin-free is also gluten-free. However, not everything that is gluten-free is also lectin-free.
If you can't find arrowroot, you can replace it with tapioca flour. To help the flours and the texture I used Xanthan Gum, which helps bind all the non-gluten flours together, and baking soda and Cream of Tartar, to replace baking powder, which most of the time contains corn starch. Everything is Plant Paradox approved.
Ingredients for the blueberry scones
This recipe requires yogurt, so I used Kite Hill almond plain yogurt (non-dairy), and for butter I used unsalted, President brand, that is made in France. If this brand is not available to you, Trader Joe's has a French butter, and there are few stores that sell Italian butter.
The butter and egg keep this recipe from being dairy-free and plant-based. So I'm wondering if coconut oil and no egg will do the trick. I think it will, maybe it will have a slightly different texture, but it will work. If you try let me know.
Organic blueberries
I used organic, frozen, wild-blueberries, mainly because they are much smaller in size and I like that when I bake. You can use fresh, organic blueberries, especially if they are in season. I tried this recipe with dry, unsweetened cranberries and that also works.
Basically, once you have the basic dough down you can use your creativity to create your own. I personally love the combination of blueberries, orange and lemon, and cranberries and orange is a good match too. You can even use fresh cranberries since they are in season now.
Sweetener
The sweetener I used is Lakanto, granulated, but only used 2 tablespoons, which doesn't make these lectin-free scones sweet. But if you know this blog or me for some time you know I don't make and I don't encourage the over-use of sweeteners, even if approved.
Sweet taste, no matter where it comes from, can transmit your brain the same message as sugar, and create a similar effect on your insulin and on your cravings. The more you feel the sweet taste, the more you want to eat sweet things. You do you though, feel free to add more Lakanto if you like a sweet scone, or you can even replace it with Swerve.
FOR A COMPLETE SELECTION OF PLANT PARADOX APPROVED BAKING INGREDIENTS CHECK MY SHOP PAGE
The lectin-free scones are perfectly fine without a glaze, but I made a cacao butter-citrus glaze, using raw cacao butter, orange juice and lemon zest. Maybe it doesn't look as good as your usual sugar glaze, but I promise is tasty. Actually, I'm really bad at decorating anything, so I'm sure some of you will make them look better.
If you like these scones you should also try my Walnut Millet Bread or my Lectin-Free Mini Irish Soda Bread.
*This page contains affiliated links, which means I get a small commission if you choose to purchase something via one of my links, at no extra cost to you.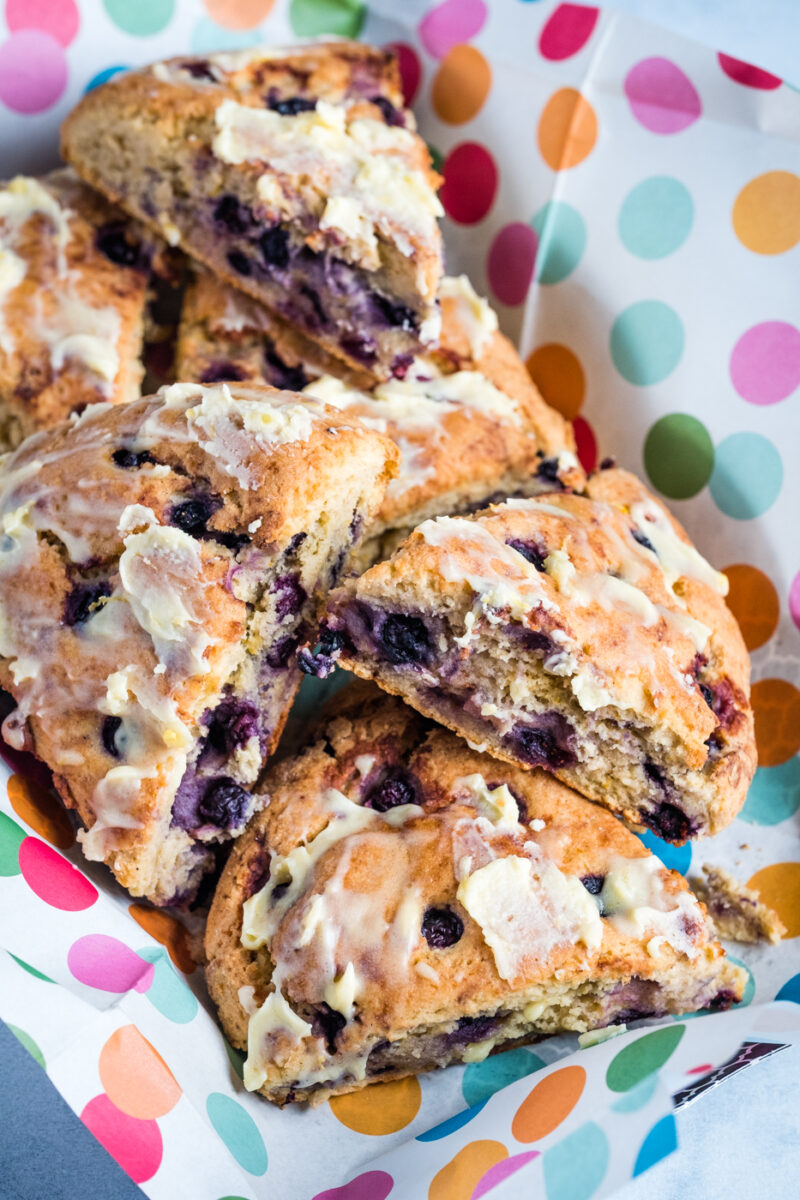 Print Recipe
Citrus Blueberry Lectin-Free Scones
A treat without the guilt trip, or the pain.
Ingredients
1 cup almond flour, packed + 2 tbsp

1/2 cup sorghum flour + 1/2 cup sorghum flour for kneading

1/2 cup arrowroot flour

3/4 tsp baking soda

1 1/2 tsp cream of tartar

1 tsp Xanthan Gum

1/4 tsp salt

2 tbsp monk fruit granulated sweetener (Lakanto)

4 tbsp French or Italian butter

2/3 cup Kite Hill almond yogurt, plain

1 pastured egg, lightly beaten

zest of one organic orange

zest of one organic lemon

1/2 cup wild blueberries (frozen)

FOR THE GLAZE

80g cacao butter

2 tbsp orange juice

zest of one organic lemon (+zest of one organic orange) for more citrus flavor (optional)
Instructions
1
Preheat oven to 400F. Line a baking sheet with parchment paper.
2
Add all the flours (except for 1/2 cup sorghum flour) and dry ingredients in a food processor, including the sweetener. Pulse several times. Add the butter, pulse a few times, add the yogurt, the beaten egg and the zest. Pulse a few times until all mix together. Don't over mix.
3
Take the dough out in a bowl or on parchment paper, add the 1/2 cup of sorghum flour, and bring the dough together without working it too much. Add the frozen blueberries, slightly incorporate them in the dough, and shape the dough in a circle, add it to the pan sheet and cut it in 6 triangles. You don't need to separate it now. Bake it for 15 minutes, take it out and now you can easily separate the 6 triangles. Put back in the oven for about 8 more minutes.
4
While the scones are baking you can make the glaze. Mix all the ingredients and melt on low heat, in a thick saucepan. Put in on the side and wait for it to get almost solid again. Add it to the scones when they are cold.