If you don't have tigernut flour in your pantry yet, you are missing out. For many reasons, tigernut is one of my favorite flours to bake with.
It's nutritionally dense, keto-friendly, and, compared to other flour types, flavorful and sweet, which makes it perfect for sugar-free desserts.
Tigernut flour is gluten-free and lectin-free, and also paleo and AIP-friendly. Grab a bag (or two!) and start baking; I share 20+ tigernut flour recipes to inspire you.
What is tigernut flour?
Tigernut flour is made from ground tigernuts, the small roots of the yellow nutsedge plant (Cyperus esculentus). Despite the name, tiger nuts are not nuts, but root vegetables (tubers).
Tigernuts, also known as chufa, or earth almonds, are widespread across Africa, the Middle East, and the Indian subcontinent, and have been consumed for thousands of years.
To make flour, the tigernuts are dried and ground into a fine powder. The resulting flour is gluten-free, lectin-free, grain-free, and paleo-friendly, making it a popular choice for people with dietary restrictions or those following specific diets.
Tigernuts have a sweet, nutty flavor and a slightly chewy texture. They are also great for making tigernut milk.
Nutrient profile
Due to its nutrient profile, this grain-free flour is considered a healthy alternative to traditional flours. These are the reasons I love including tigernut flour in my diet:
Fiber content: it's rich in dietary fiber, which can support healthy digestion, regulate blood sugar levels, and promote a feeling of fullness, aiding in weight management.
Resistant starch: It contains resistant starch, a type of starch that resists digestion in the small intestine. Resistant starch acts as a prebiotic, providing nourishment for beneficial gut bacteria, and promoting a healthy gut microbiome.
Nutrient content: It's a good source of several essential nutrients, including iron, magnesium, potassium, and vitamins C and E. These nutrients play various roles in supporting overall health and well-being.
Gluten-free, lectin-free, and allergen-friendly: it's naturally gluten-free, making it suitable for those with gluten intolerance or celiac disease. Additionally, it is lectin-free and not commonly associated with allergies, making it a versatile option for individuals with various dietary restrictions.
Nutrient-dense alternative: Substituting it for traditional flours in recipes can increase the nutrient density of your meals, adding extra nutritional value to your diet.
Like any plant, tigernuts contain some anti-nutrients, like phytates, oxalates, saponins, and tannins. That's why diversification and moderation are important. Also, soaking and cooking tiger nuts will remove some of these anti-nutrients.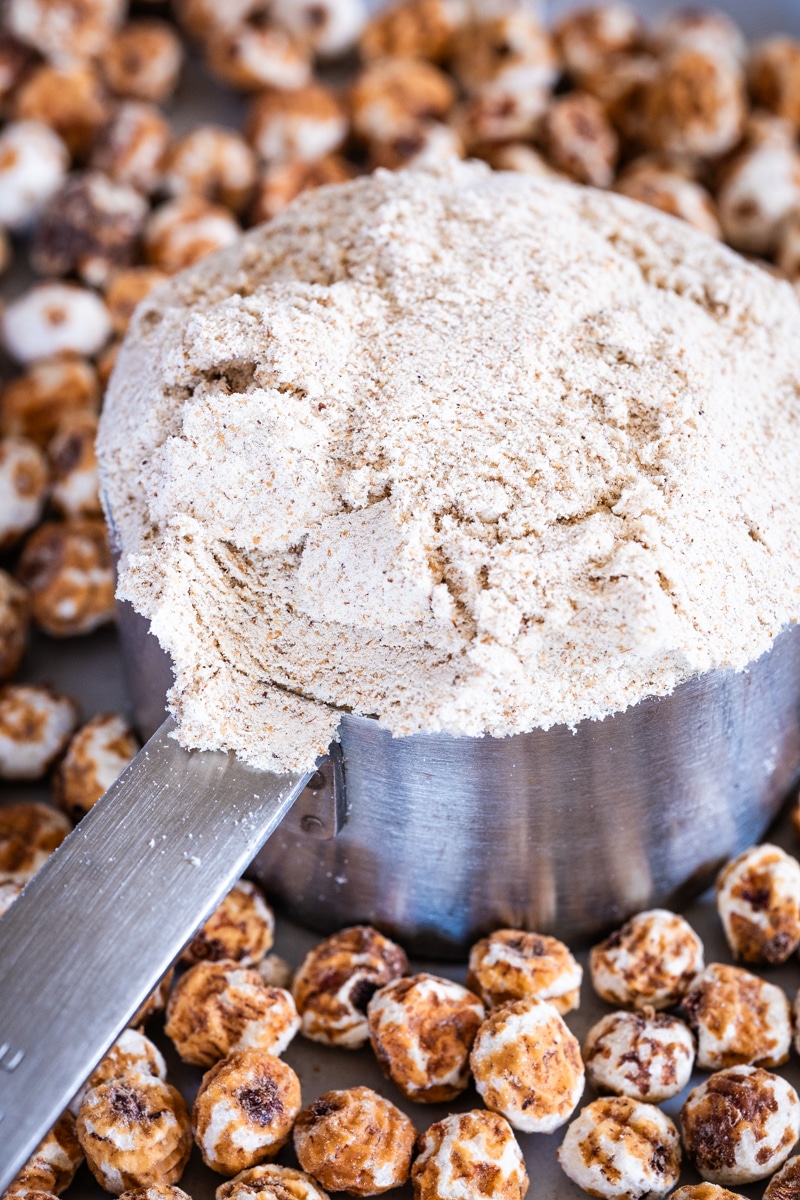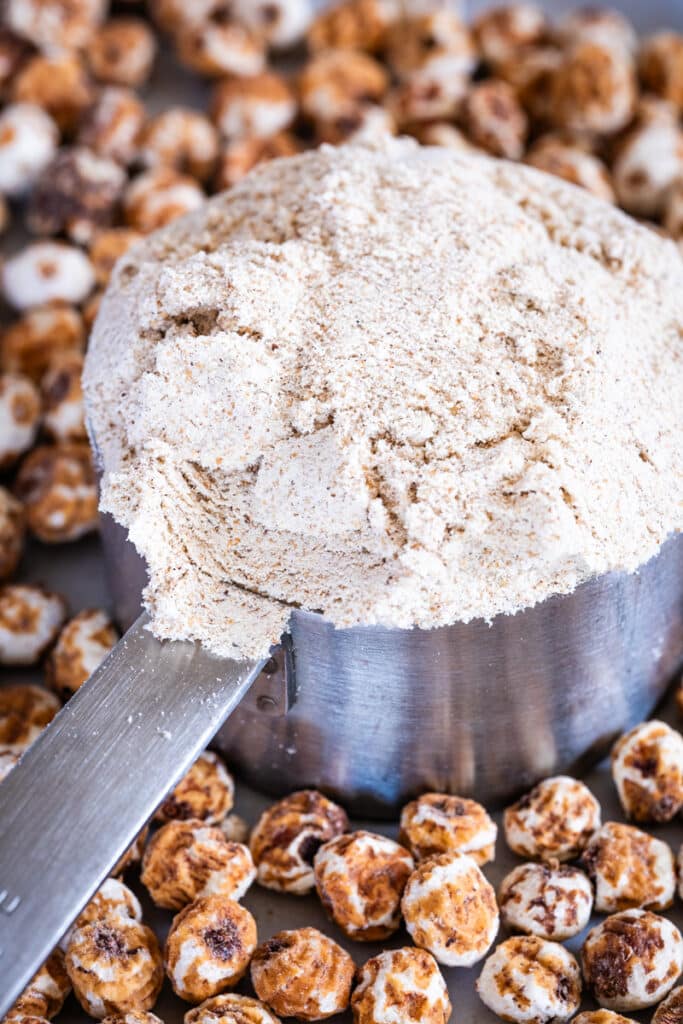 Where to buy it?
You can find tigernut flour in health stores, or gluten-free sections of some supermarkets (like Whole Foods and Sprouts). If that's not available to you, your best bet is ordering from online retailers.
How to use tigernut flour?
Tigernut flour has a fluffy, rich, and moist texture, and can be used any way you would use wheat flour. However, for the best results, I recommend always mixing it with other types of gluten-free flour. Here you find a guide to my favorite lectin-free and gluten-free flours.
There are a few ways I use tigernut flour (all my recipes are also sugar-free):
to bake sugar-free and gluten-free desserts
to make gluten-free and lectin-free pancakes
to make muffins, waffles, or savory scones
to make gluten-free and lectin-free bread
to bread vegetables, schnitzels, or chicken nuggets
to add to vegetable or fish cakes as a binder
How to bake with tigernut flour?
Tigernut flour is excellent for baking. It has a nutty, natural sweet taste, and gives desserts a lot of flavor. It also has a great nutritional profile and is high in fiber, so adding it to baking goods will improve their nutritional value.
Since it doesn't have to be cooked, it can be used in no-bake desserts and smoothies.
While I love it for baking, I never use it alone. Because it has a slightly gritty texture, it must be combined with other flours for best results. In the recipes I will be sharing below, I use tigernut flour mixed with one or more of the below flours:
Nut flours: almond flour, hazelnut flour, chestnut flour, coconut flour
Gluten-free grains flour: sorghum, millet, teff
Root / starchy flours: cassava, tapioca, arrowroot, green banana
If I had to use only two flours, these would be my favorite combinations:
tigernut and almond flour
tigernut and tapioca flour
20+ Recipes with Tigernut Flour to Get You Started
We put together this round-up of our favorite recipes using tigernut flour, and we will continue to update it as we create new recipes.
Enjoy! We hope you love them as much as we do!
I hope you find this guide to tigernut flour helpful and you are inspired to start cooking!
This post contains affiliated links, which means I get a small commission if you choose to purchase something via one of my links, at no extra cost to you.