Can you eat zucchini if you are on a lectin-free diet? Yes, you can. You just need to add two extra steps to the preparation process: peel and deseed. While I don't eat zucchini often, our spring garden made me want to work on this great match, an old favorite of mine: lectin-free baked zucchini fries with spring garlic sauce. It's the perfect spring finger food and it's not only lectin-free but also gluten-free.
How to 'delectinize' zucchini
Zucchini are everywhere, they are affordable and low carb, so if you can remove the lectins and you are not sensitive to them, I don't see why not add them back to your diet.
Just a little note for anyone who landed here and is not familiar with the plant paradox program: zucchini is a high lectin food and you have to remove the seeds and the peel when using it.
I've been making these fries before, but this time I was excited about the spring garlic my dad promised will bring me from our greenhouse, so I decided that breaded zucchini fries are the perfect fit for our freshly picked spring garlic.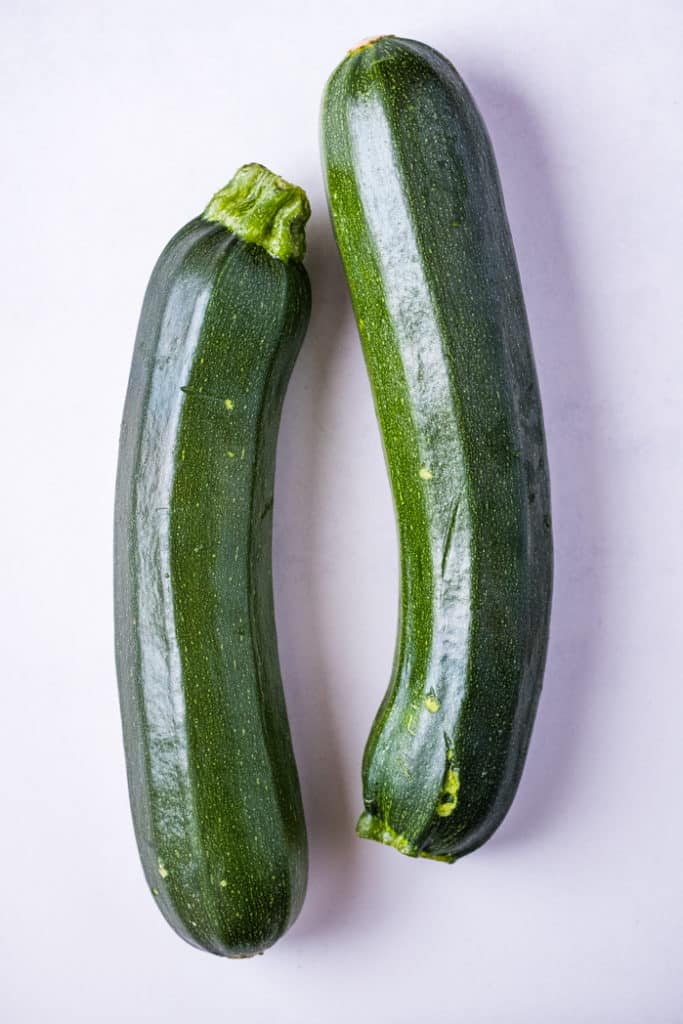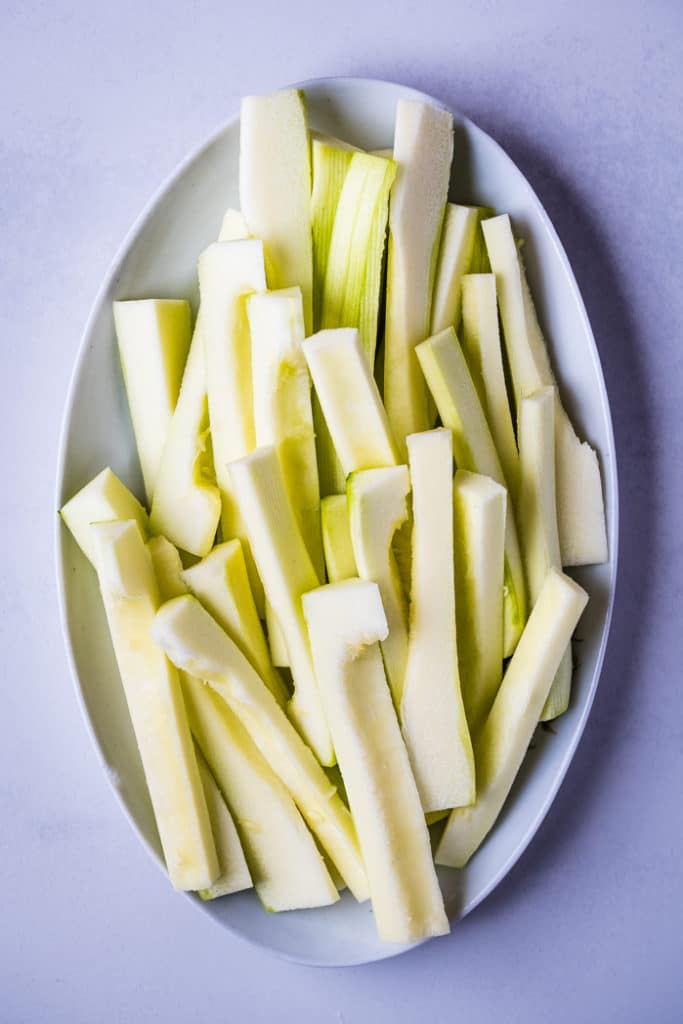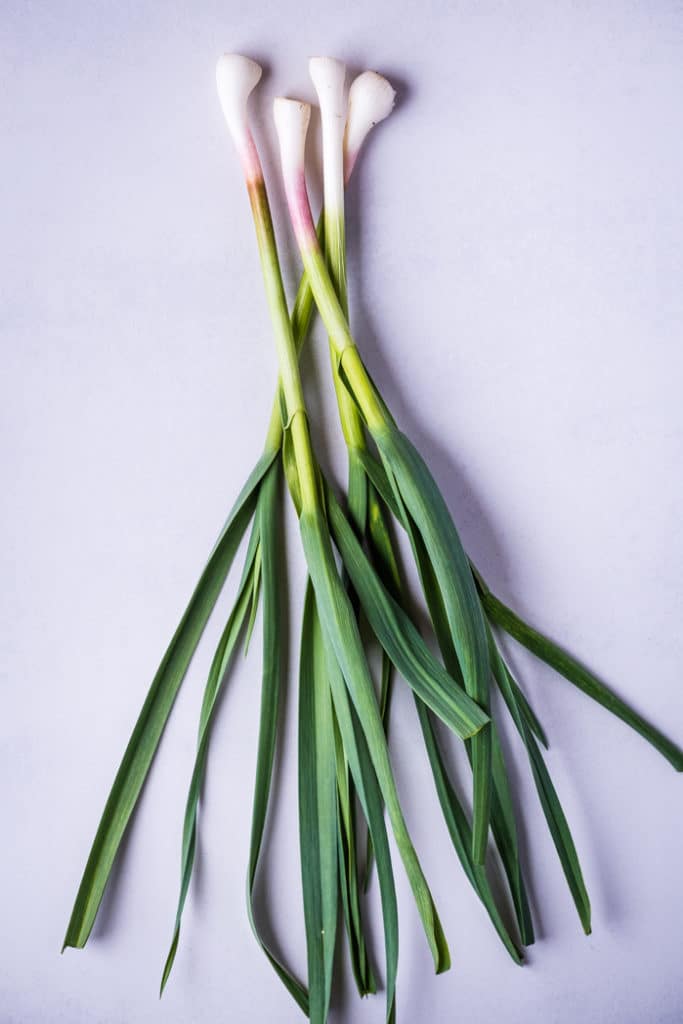 It's actually very easy to remove lectins from zucchini: you peel them with a vegetable peeler and scoop the seeds out with the help of a teaspoon. For a lectin-free breading I used a mix of cassava and tigernut flour, but you can use almond with tigernut, or almond with cassava, equal quantities.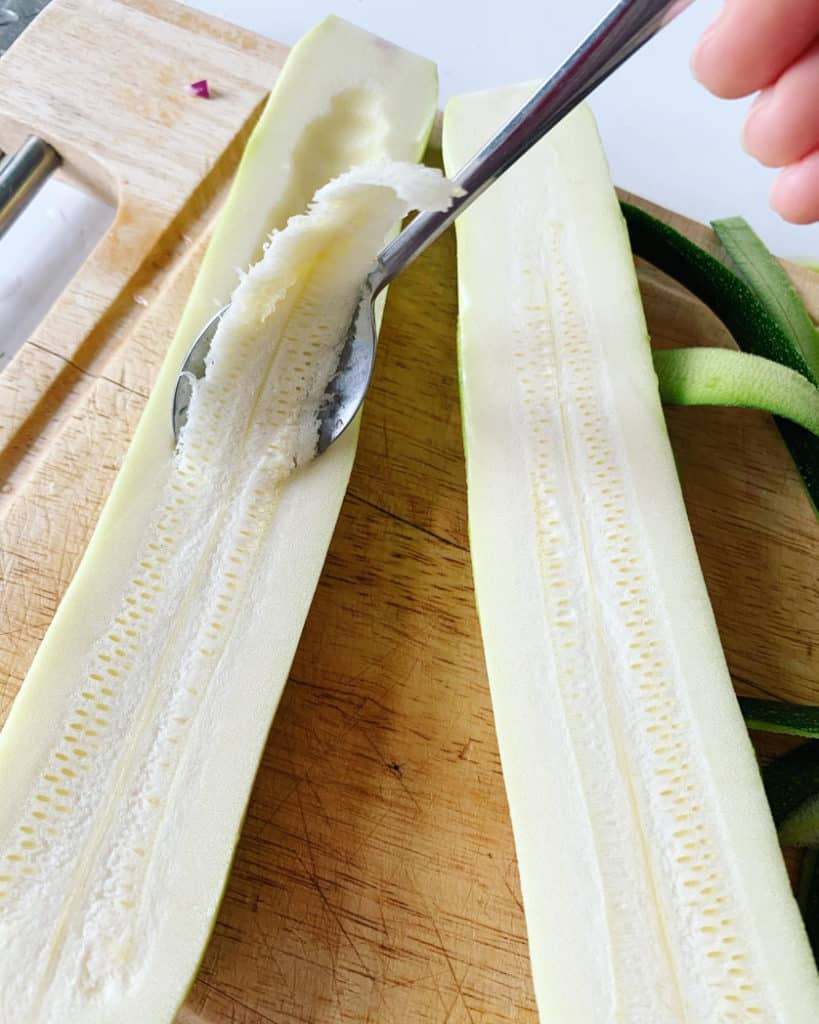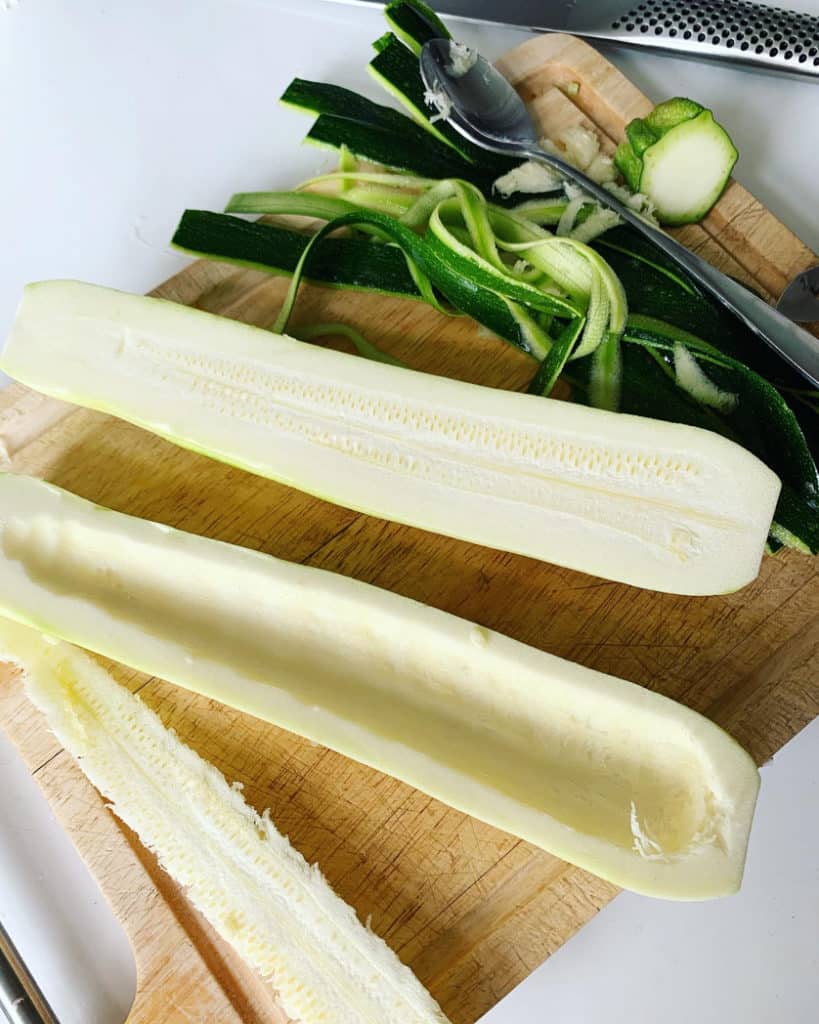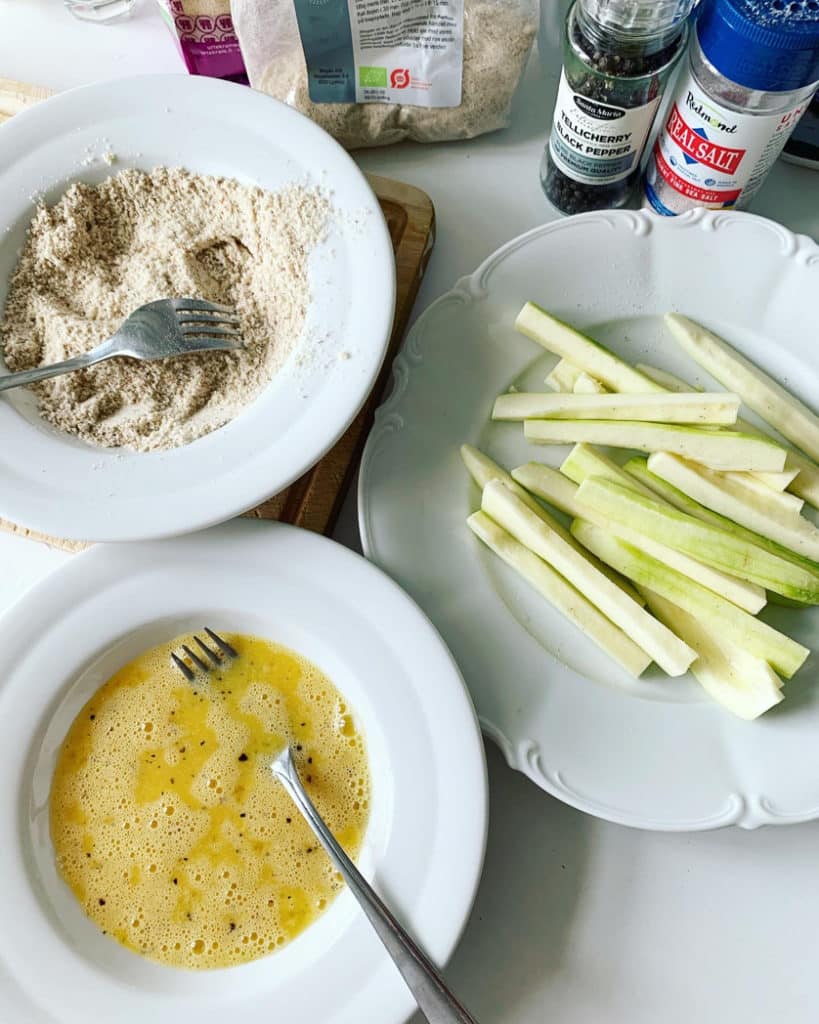 Spices are simple: salt and pepper and paprika added to the flour mix for a little color, but you can always get creative and add your favorite spices. However, since the garlic sauce is very strong, you don't want anything to clash.
How to make the garlic dipping sauce
This is a sauce you can make in a separate bowl and use for everything, not only this dish. It goes well with meat and chicken, with mushrooms, with pizza, with sweet potatoes, roasted veggies and so much more.
Spring garlic is very strong, so you don't need that much. A little bit of milk will mellow out the strong flavor, and I used hemp milk, but you can use another nut milk. Just not coconut, it's too strong. I make hemp milk at home by blending hemp butter or hemp seeds with filtered water. I add 1 teaspoon of apple cider vinegar to the milk, extra virgin olive oil, salt and pepper to taste.
For this dish, you will make the garlic sauce while the zucchini is in the oven. Just add all the ingredients to a high-speed blender and blend until smooth.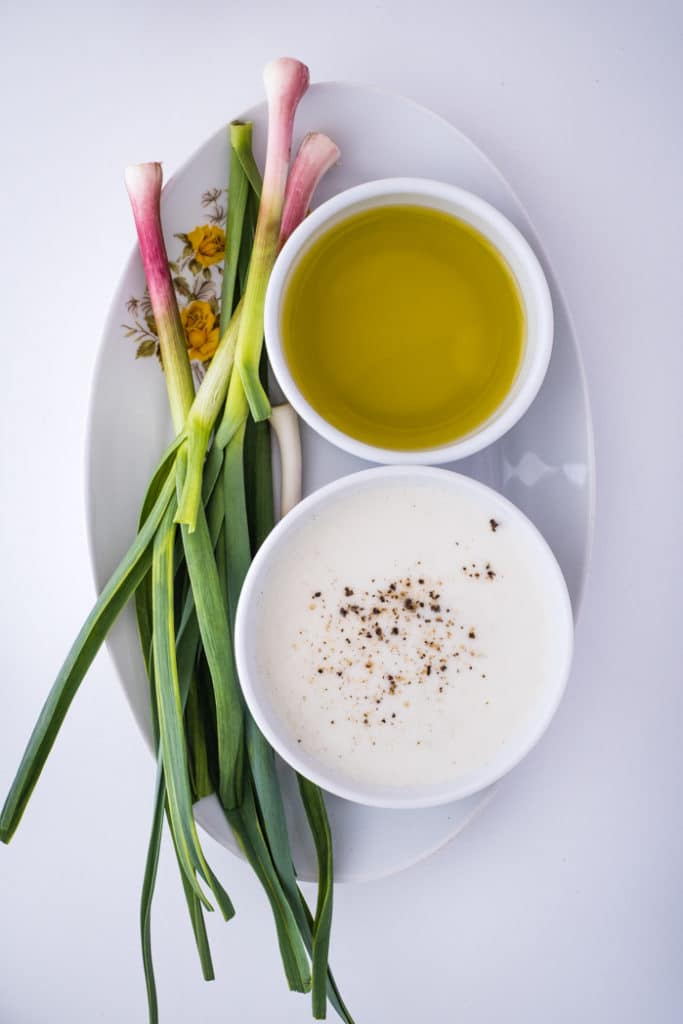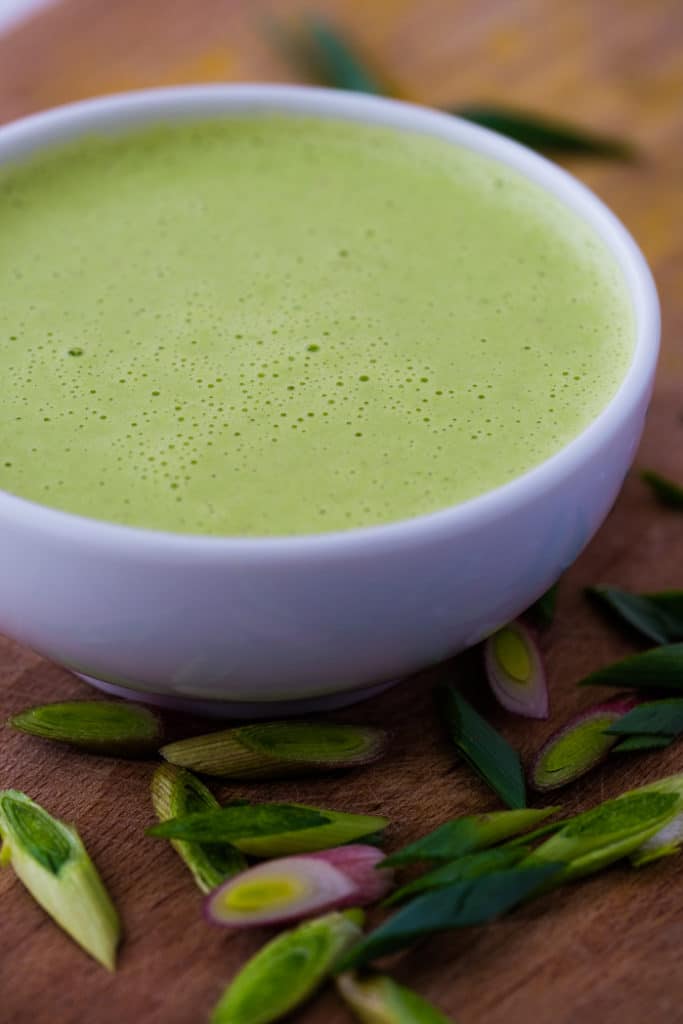 It's really important that after the fries have been baked for 15 minutes, you take them out and brush them on all sides with a mixture of extra virgin olive oil and garlic sauce. This will hydrate some of the parts of the flour that have dried out and will give a lot of flavor to the fries. After coating the zucchini fries put them back in the oven for 5 to 7 more minutes.
The Gundry MD Chef's select organic olive oil is a robust, delicious olive oil that you can cook healthy meals with. You will save more than 25% and up to $36.00 when buying it on my Ambassador Store. Buy Gundry MD Chef's Select Organic Olive Oil here.
If you are not a fan of garlic, you can use my carrot tops dressing instead.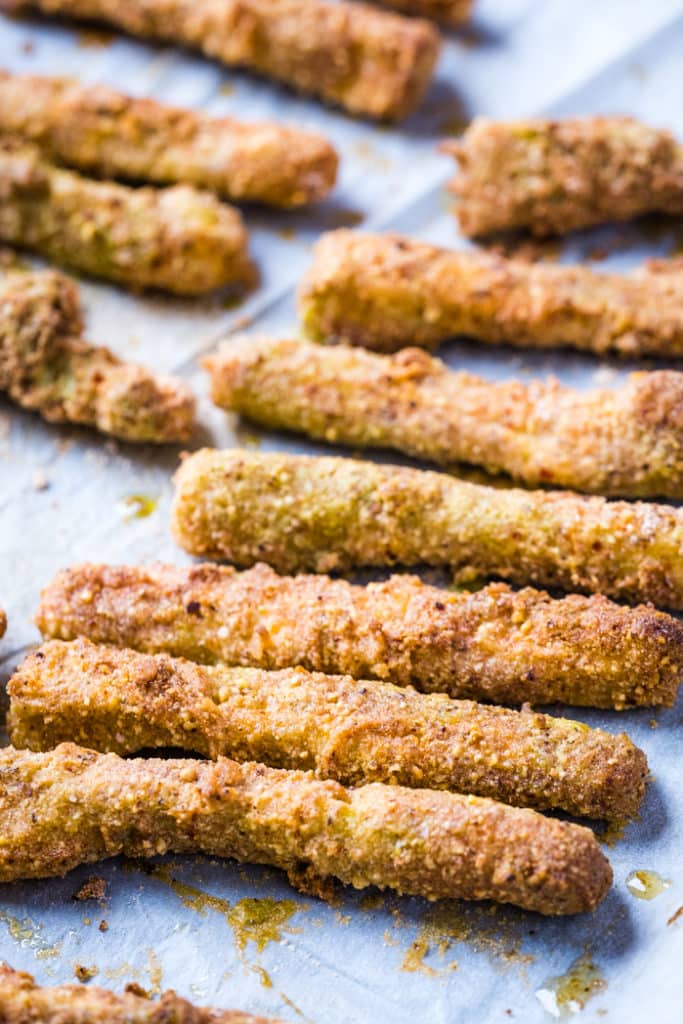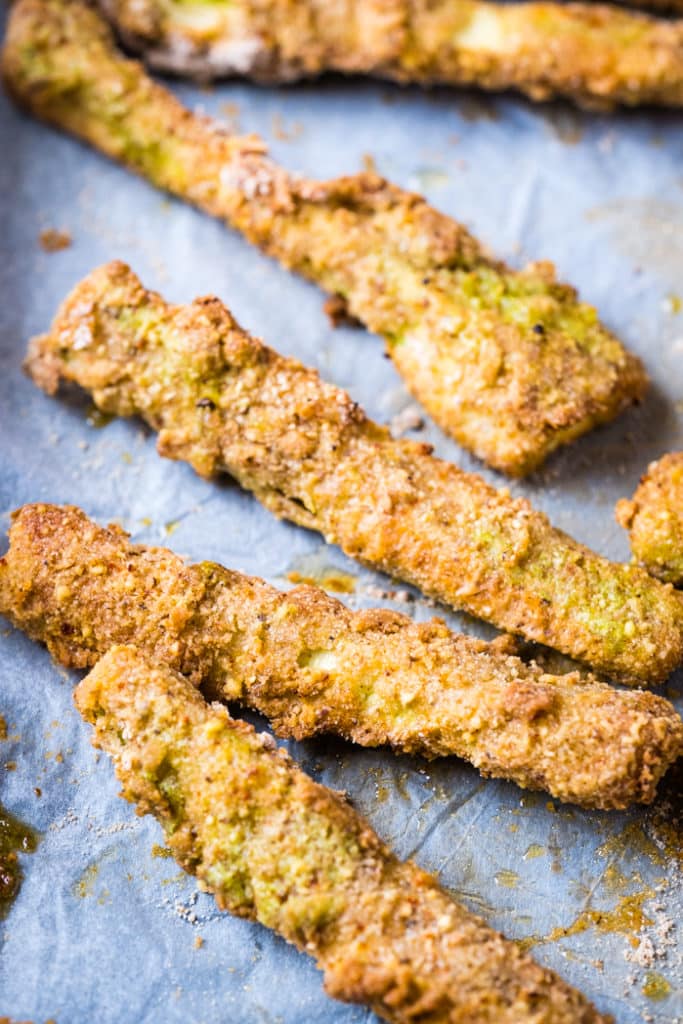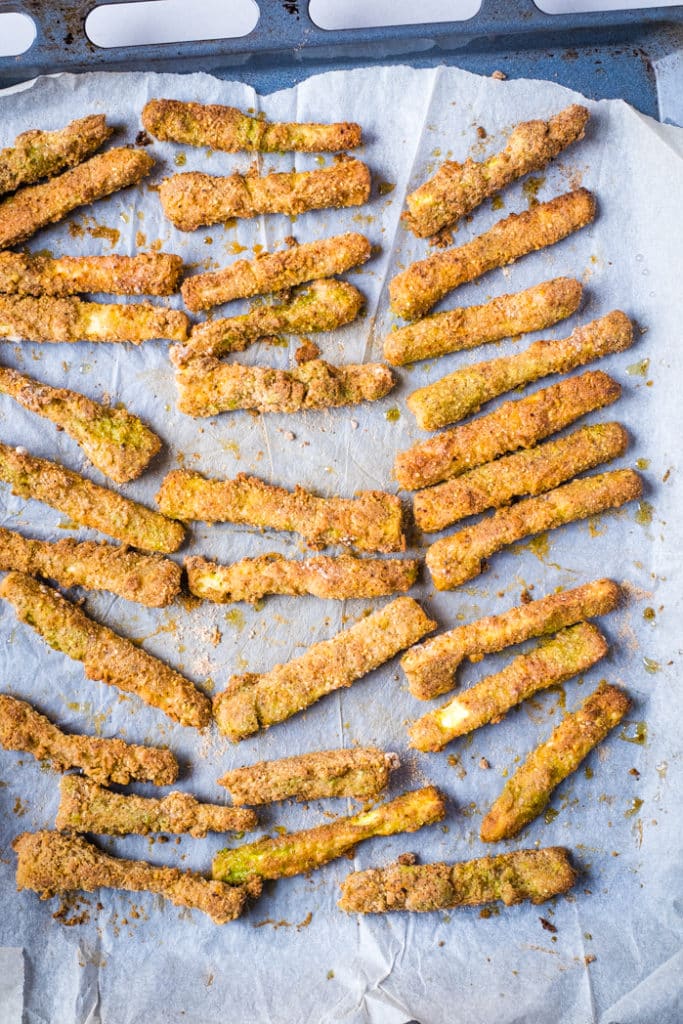 How to serve lectin-free baked zucchini fries
When ready, add the baked zucchini fries to a serving platter, drizzle with more garlic sauce and sprinkle with more fresh garlic. You can also use the garlic sauce as a dipping sauce.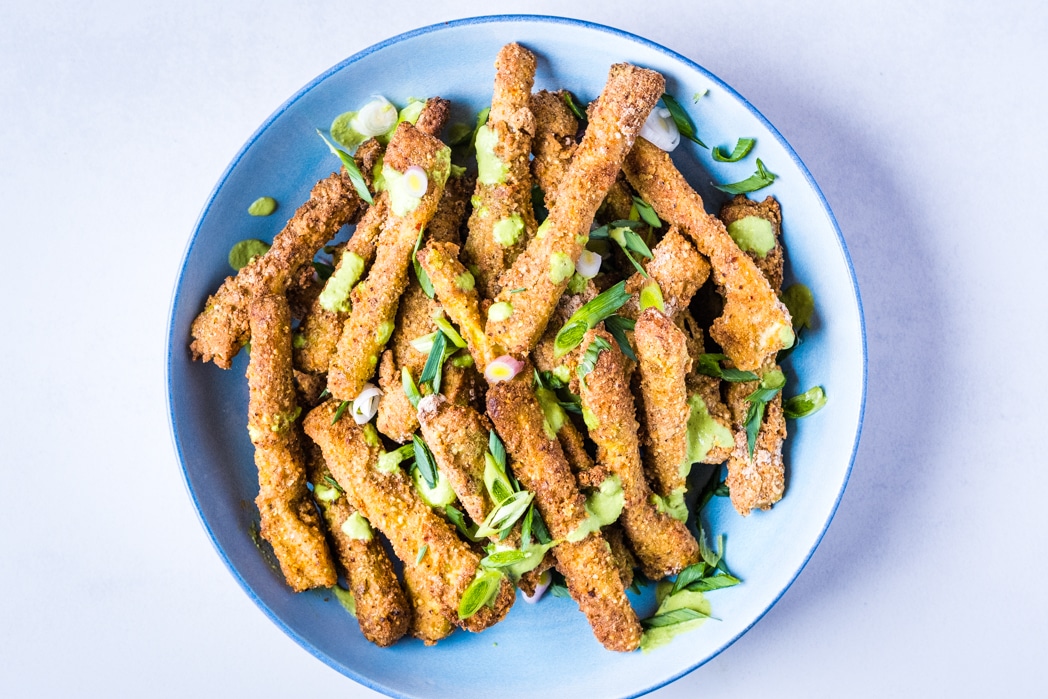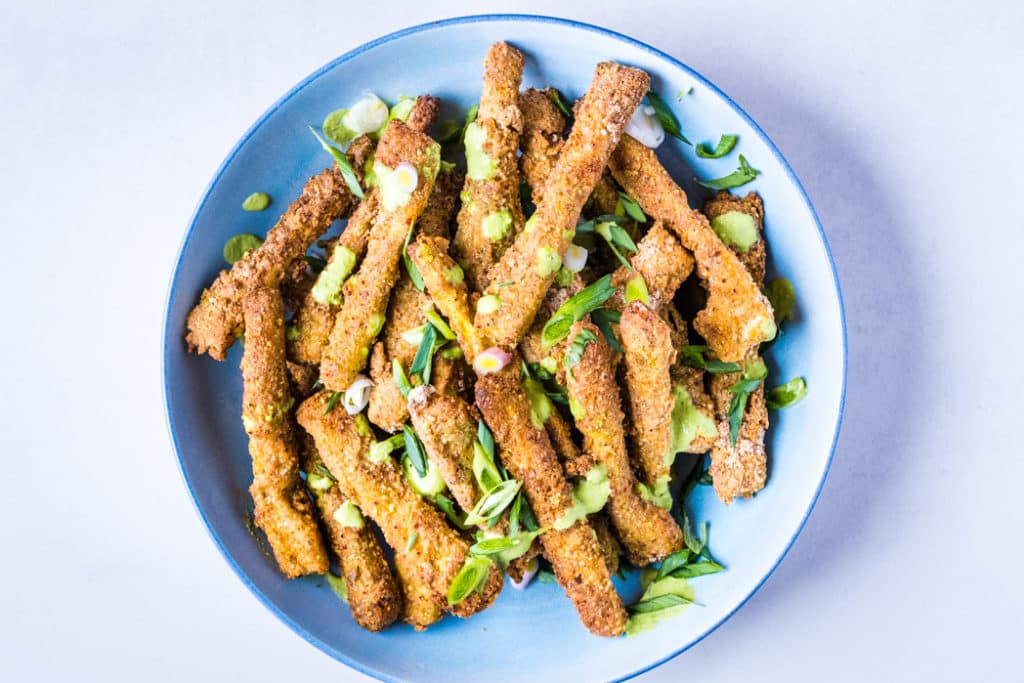 *This post contains affiliated links, which means I get a small commission if you choose to purchase something via one of my links, at no extra cost to you.
Print Recipe
Lectin-Free Baked Zucchini Fries with Spring Garlic Sauce
Start your spring feast with these lectin-free zucchini baked fries with spring garlic sauce. They are the perfect gluten-free finger food.
Ingredients
2 medium-size zucchini
salt & pepper to season the zucchini sticks
extra virgin olive oil
1 spring garlic, finely sliced, for serving
FOR THE DRY BREADING MIX:
3 tablespoons cassava flour
3 tablespoons tigernut flour
1/4 teaspoon salt
1/8 teaspoon pepper
1/2 teaspoon paprika
FOR THE WET BREADING MIX:
3 pastured eggs
1/4 teaspoon salt
1/8 teaspoon pepper
FOR THE GARLIC SAUCE:
3 spring garlic (the very young ones, if they are bigger use less), chopped
4 tablespoons extra virgin olive oil
1/4 cup hemp milk (you can use other compliant milk but not coconut, too much flavor)
1 teaspoon apple cider vinegar (or more, to taste)
salt and pepper to taste
Instructions
1

Preheat oven to 400F and prepare a baking sheet with parchment paper.

2

Peel the zucchini, section them, lengthwise, in half. Using a teaspoon, scoop out the seeds (see photos of the process above). You will have 4 zucchini boats. Cut each boat in half and each piece in 4 sticks. You should get 32 sticks/fries. Season them with salt and pepper and put them on the side.

3

Add the dry mix to a plate, beat the eggs in a bowl and prepare the baking sheet.

4

Coat all the sticks with the dry mix. Then, one by one dip them into the egg mixture, then coat them with another layer of the dry mix and arrange them all on the baking sheet (Better you use two forks for this process as it will clump a lot on your hands, but either way it will work).

5

Drizzle the sticks with a little bit of extra virgin olive oil (about one tablespoon, don't worry if not all are covered) and insert them in the oven and set the timer to 15 minutes.

6

Make the garlic sauce: add the chopped garlic, olive oil, hemp milk and apple cider vinegar to a blender. Blend until smooth, add salt and pepper to taste.

7

In a small bowl, mix one or two tablespoons olive oil with two tablespoons of garlic sauce. Prepare a brush.

8

When the 15 minutes are up, take the baking sheet out and brush each stick with some of the sauce and olive oil, on all sides. Insert them back into the oven and bake for 5-7 more minutes, keeping an eye on them so they don't burn.

9

When done, add them to a serving plate, sprinkle one finely sliced spring garlic, drizzle some garlic sauce and enjoy. You can also use the sauce for dipping.