This cake is decadent chocolate goodness, without any nasties. Think of it: it is made of pure cacao, dark chocolate, hazelnuts, just a tiny bit of Swerve, coconut milk, hemp milk, tiger nut flour, and sweet potato.
Chocolate sweet potato cake – The satisfaction of chocolate perfection without the nasties
You can eat it for breakfast, lunch, and dinner without feeling guilty or overloaded with sugar and flour. It stores well in the fridge, and it's much better when cold. I made it in a square ceramic pan. You can make it in a round one, and you have a birthday cake.
The chocolate I used for the frosting was homemade hazelnut chocolate, but I will give you an alternative that will get you the same texture and taste. You need raw hazelnuts, 100% solid dark chocolate (or above 80%), organic coconut milk. Don't skip the frosting because it makes a huge difference. It adds depth and that double chocolate texture and taste in every bite.
Tigernut flour
Now a little bit about Tigernut flour. Despite the relatively high price, I use tigernut flour a lot for baking because it comes from a root, not nuts, and it's prebiotic. Usually, all my baked food has some nuts in it in the form of nut butter, ground nuts, or flours, so cutting a little bit on one of these forms makes the food more balanced. Nuts are healthy, but like anything in life moderation is key (maybe except avocados).
So I buy the Tigernut flour from Whole Foods, and it's made by Organic Gemini. I know many people can't find it in shops, but can be ordered in one of the online stores. Don't get scared by the number of ingredients and steps, it's actually pretty easy to put together. I recommend roasting and grinding the hazelnuts in advance, same with the sweet potato mash, so you don't have to deal with these steps when you put together the cake.
Enjoy this double chocolate Tigernut and sweet potato cake. For other lectin-free cakes, you will also like my:
To check all plant paradox backing pantry items in one please check out our shop page.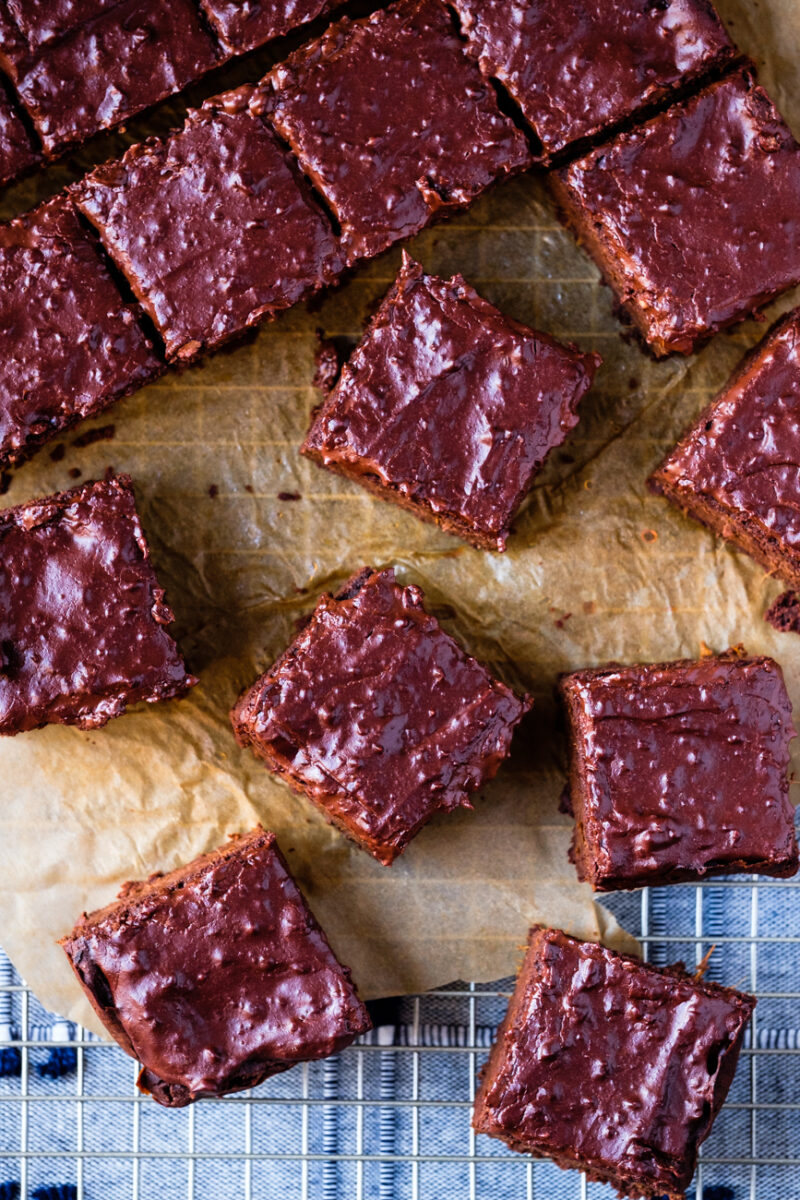 Print Recipe
Double Chocolate Tigernut and Sweet Potato Cake
This cake is decadent chocolate goodness, without any nasties. Think of it: it is made of pure cacao, dark chocolate, hazelnuts, just a tiny bit of Swerve, coconut milk, hemp milk, tiger nut flour, and sweet potato.
Ingredients
DRY Ingredients:

1 1/4 cup Tigernut flour (I use Organic Gemini)

1/2 cup organic cacao powder (+1 tbsp)

1 tbsp Swerve

1/4 tsp creme of tartar

1/2 tsp baking soda

pinch of salt

WET Ingredients:

1 cup mashed sweet potato

1 pasture-raised or omega 3 egg

1 cup organic full fat coconut milk (can)

1 tsp pure vanilla extract

6 tbsp pure raw hazelnut butter

FROSTING:

1/2 cup roasted hazelnuts, ground

2/3 cup solid chocolate of your choice (Plant Paradox compliant)

1/2 cup full-fat organic coconut milk (or mix with hemp milk)

2 tbsp cacao powder

1 tbsp Swerve (or add more to taste)

1 tsp pure vanilla extract

lemon and/or orange zest (optional, it will give a nice flavor)
Instructions
2
The Hazelnuts: You can skip them but if you don't skip this step the frosting will be much tastier. I recommend to buy the raw hazelnuts and roast them yourself, it takes 10-15 mins at 350F. The brown skins will come off after roasting. Grind the roasted hazelnuts in a food processor.
3
The mashed sweet potato. I cut mine into small cubes and steamed, it's ready in 10 minutes. You can also bake if you prefer. Cook, mash and leave aside.
4
The rising mix. Instead of the baking powder which, even if it's aluminum-free, it has corn starch, mix creme of tartar with baking soda and you have homemade baking powder. Add to a bowl.
5
Add all the dry ingredients to the baking powder bowl. Mix and leave aside.
6
Mix the wet ingredients in a separate bowl. Mix the sweet potato and melted hazelnut butter, add milk and mix. Add the egg. You can use an electric mixer or just do it by hand. Add the vanilla and the orange/lemon zest.
7
Start adding the dry ingredients to the wet and continue mixing while you add.
8
Line a baking dish with parchment paper (I used a square ceramic baking dish).
9
Spoon the dough to the baking dish and level.
10
Bake for about 50 minutes. Try it at 45 mins with a stick, should come out clean.
11
Leave cool before you cut or add the frosting.
12
FROSTING: While the cake is baking, add the chocolate to a saucepan and melt with the sweetener and cacao powder, on low heat, mixing continuously. Start adding the milk, bit by bit and continue mixing until you get a soft and creamy chocolate frosting (you may need to cut on milk or add more). Add the ground roasted hazelnuts. Add the vanilla and take off the heat.
13
When the cake is cool add the frosting.
14
If it's completely cool you can take out the baking dish and cut it into squares. I loved mine better after few hours in the fridge.
15
Store in an air-tight glass container in the fridge.
Notes
Don't get scared by the number of steps and ingredients. It seems like a lot, but it's not and you make a big quantity and it will last you a week in the fridge. You can prepare the hazelnuts one day in advance. Also, you can have the sweet potato puree ready in advance, so the only thing you need to make is to mix the ingredients and while the cake is baking make the frosting. It's worth it, I promise.