Extra virgin olive oil, rosemary and dark chocolate, is one of my favorite combinations of flavors. I figured a cookie recipe with these three ingredients is something I'd want in my portfolio of recipes. These olive oil and rosemary cookies are not only delicious, but they are lectin-free, sugar-free, gluten-free and keto friendly. They have a light and fluffy bite and are the perfect accompaniment for a tea or coffee.
When it comes to cookies, I'm a little bit lost in translation. These Olive Oil and Rosemary cookies are not American-style cookies. The translation for cookies in different European languages means an entirely different thing, and even so, there are still confusions between different terms used. When we say "cookies" in Romanian, or French we certainly don't visualize the round, flat, soft or chewy cookies but something that resembles more butter cookies. In the UK, cookies are called biscuits, which makes things even more confusing, because biscuits in the US are a totally different thing. In Romania, we call crackers 'biscuiti'. And in French, we call cookies 'biscuits'. And what about the Italian biscotti, another completely different thing.
All this to say, every time I make a cookie recipe, I'm not sure how to name it exactly. These olive oil and rosemary cookies were inspired by the Greek olive oil cookies, called Melomacarona. Except there is no honey ('melo' means honey) in my cookies.
Next time I will try a closer version to melomacarona.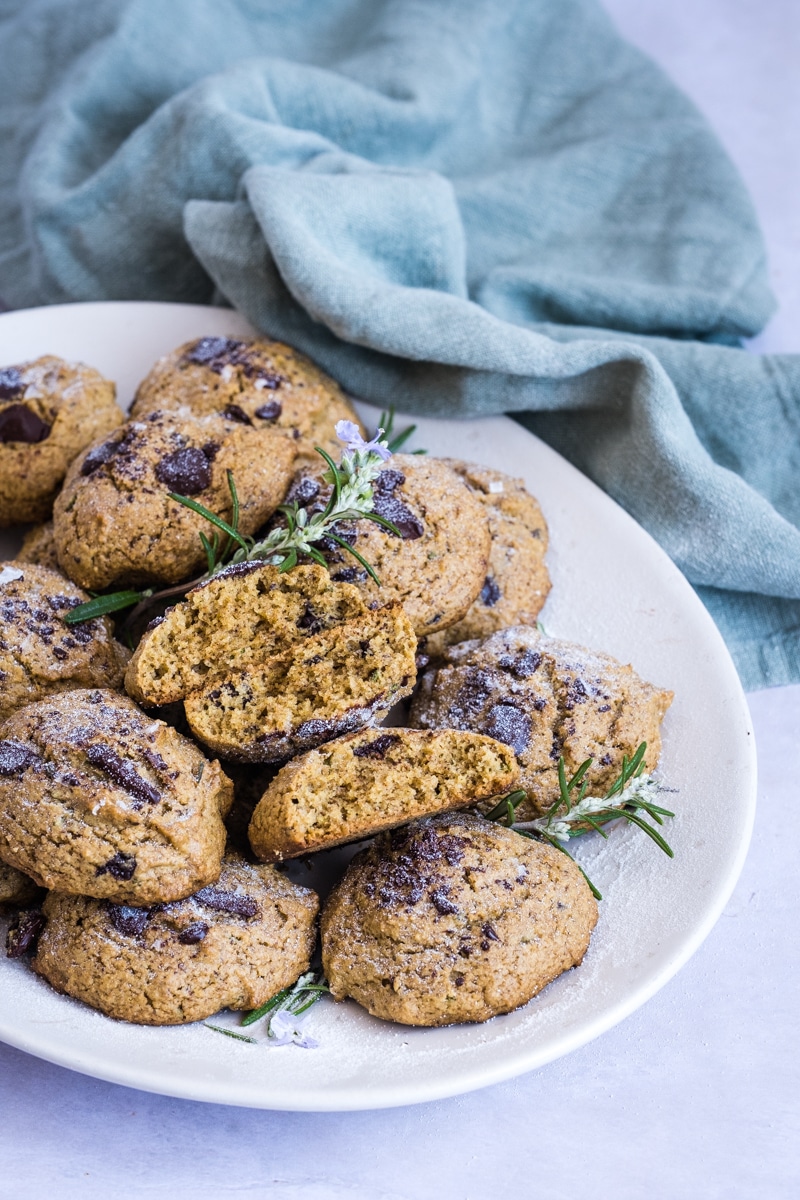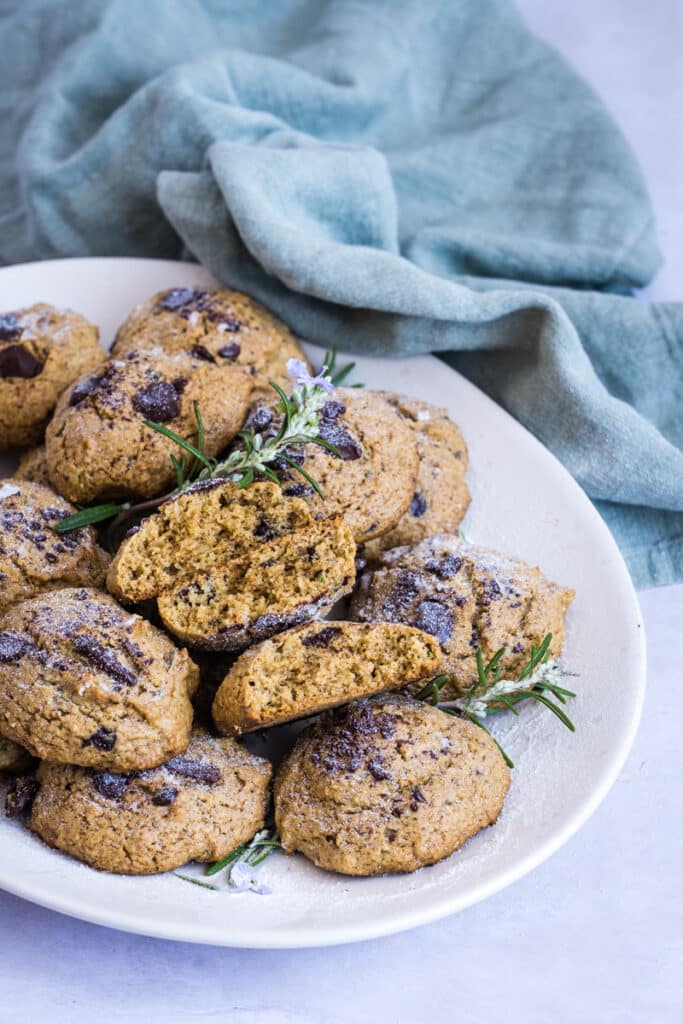 Ingredients: Olive Oil Cookies with Rosemary and Tigernut Flour
The ingredients for the cookies are:
extra virgin olive oil (a very good quality)
pasture-raised egg
sweetener: monk fruit or erythriol (granulated)
arrowroot flour
baking soda
lemon zest
rosemary
dark chocolate (above 85%)
These olive oil cookies are really easy to make. Just combine the wet ingredients until emulsified, then add the dry ingredients. The texture will be soft and sticky, and they need to be added by spoonfuls on the baking sheet. The process can be a little sticky, but nothing too challenging. I used a small wooden spoon for the process, but I think the ice cream scoop can work too.
They are easy to store, and will freeze well.
Also try: Millet flakes Chocolate Chip Cookies
*This post contains affiliated links, which means I get a small commission if you choose to purchase something via one of my links, at no extra cost to you.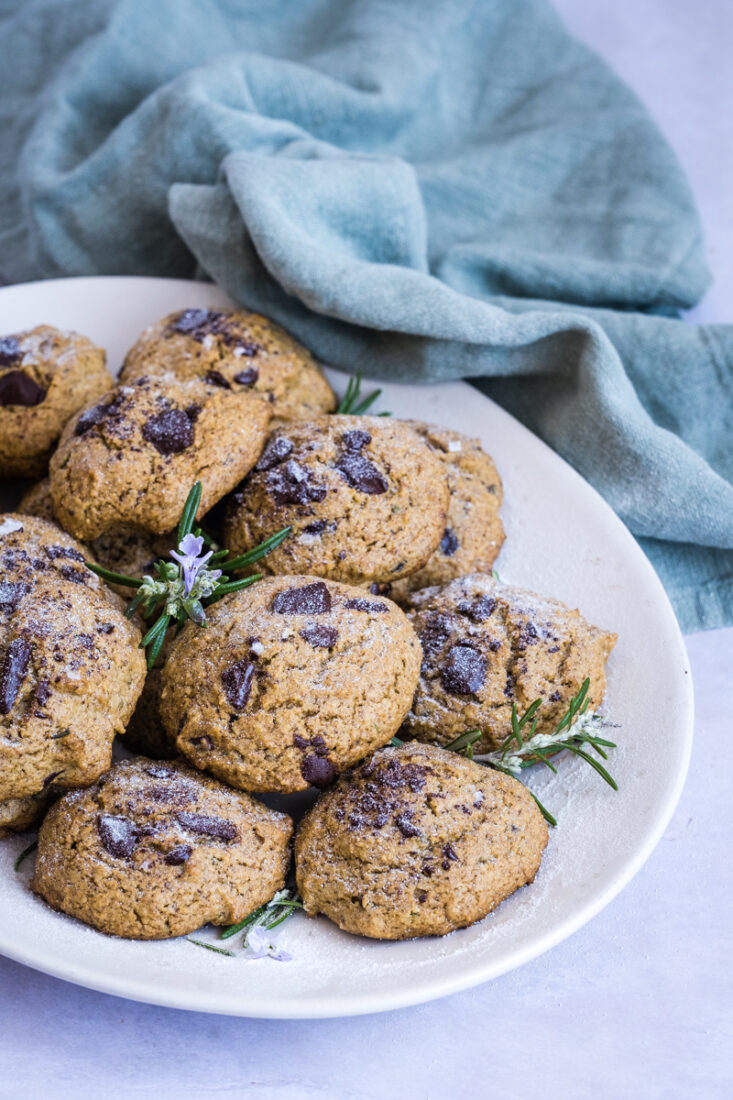 Print Recipe
Olive Oil and Rosemary Cookies with Tigernut Flour
Olive oil, rosemary, and dark chocolate is one of my favorite combinations of flavors. Enjoy these light and fluffy, keto friendly olive oil cookies with coffee and tea.
Ingredients
DRY INGREDIENTS:
112 grams (1 cup) tigernut flour (+ 2 tablespoons)
3 tablespoons arrowroot flour
1/2 teaspoon baking soda
pinch of salt
WET INGREDIENTS:
1 pasture-raised egg
1/2 cup extra virgin olive oil (good quality)
zest of one organic lemon/orange
3 tablespoons sweetener (monk fruit or erythritol)
1 tablespoon finely chopped fresh rosemary
ADD-ONS:
30-50 grams dark chocolate chips / chopped chocolate
sea salt flakes
Instructions
1

Preheat the oven to 375F/185C and line a baking sheet with parchment paper.

2

Mix the dry ingredients in a bowl.

3

Mix and whisk the wet ingredients, until emulsified.

4

Add the dry ingredients to the wet ingredients and combine with a spatula until all the flour is incorporated. If the batter seems too wet, add the additional 2 tablespoons of tigernut flour. You will get a sticky dough.

5

Add the chocolate chips, fold them in (keep some for decoration).

6

Drop spoonfuls of dough on the parchment paper until you've finished all the dough. The dough is not very easy to handle, and it will not turn into a perfectly round spread-out cookie, but this doesn't bother me at all. If you need to shape the dollops of dough, you can do it with wet hands.

7

Add some more chocolate on top and sprinkle with sea salt flakes.

8

Bake for 10-11 minutes. They will still seem a little bit doughy but they'll harden up while cooling.

9

Store in an air-tight container, in the refrigerator, or freeze.