Every time I find green bananas (unripe bananas) in stores, I buy some and try to make good use of them. Green bananas have less sugar and more resistant starch than ripe bananas and I prefer them. This green banana and chocolate cake is gluten-free, lectin-free, sugar-free, and also nut-free, but easy to personalize. This is my favorite cake to replace ladyfingers when making lectin-free tiramisu.
I wasn't planning to post this cake, but it turned out to be not only a delicious coffee cake but also an excellent ingredient for my Easter lectin-free, gluten-free, sugar-free tiramisu.
If you are set on making the tiramisu cake, start with baking this cake, one or two days in advance. You will find the recipe for putting together the tiramisu here: Gluten-Free Tiramisu in a Jar (Sugar-Free & Lectin-Free).
Using green (unripe) bananas to make cakes
I first created this cake because I had three unripe bananas I needed to use. You see it right, I said three unripe bananas, not overripe like you see in most banana cake recipes. If you are not familiar with the plant paradox program, or a lectin-free diet, ripe bananas are not recommended because of their high sugar content. However, green bananas are mainly made of resistant starch and contain much less sugar, while still providing other important nutrients such as potassium, vitamin B6 and vitamin C. And of course, let's not forget how easy is to make a batter using bananas, green or ripe.
Easy to make
This cake is super easy to put together. You first mix the bananas, eggs, and a small quantity of sweetener in a blender, until creamy. All the dry ingredients are mixed in a bowl, and then you add the blender mixture over the flour mix and combine with a spatula. Incorporate the add-ons, pour the batter into a lined cake pan and bake for 30 minutes, at 350F/170C.
When making this cake for tiramisu, I recommend making it one or even two days in advance, portioning it into nine squares, and storing it in the fridge, in a glass container with a lid.
Once you have this cake done, making the tiramisu is super easy. You make the mascarpone cream, assemble the cake, and store it in the fridge for at least six hours before serving. The best is to make it in the evening for serving the next day.
The ingredients
The flour mix
For this cake, I used a mix of tigernut flour and tapioca flour. I wanted the cake to be nut-free, but tigernut flour can be replaced with almond flour if necessary (suppose you can't find tigernut flour).
The wet ingredients
What makes the wet ingredients are three green bananas mixed with two pasture-raised eggs.
The sweeteners
For sweetness, I used inulin powder and a small quantity of erythritol, but any plant paradox compliant sweeteners can be used: monk fruit, swerve, just like sugar, etc. I also used one tablespoon of Yacon syrup which you can skip or replace with Lakanto syrup. Or, as an alternative, you can replace all the above with allulose. I personally never worked with allulose (not yet approved in Europe) so you will have to follow the guideline from the bottle depending on how much sweetness you want.
As a side note regarding sweeteners, I always use whatever I have available, even if the recipes ask for something different. But I am careful with ratios as some sweeteners are more powerful than others. Inulin, for example, doesn't have a strong sweet taste compared with the same quantities of other sweeteners.
The add-ons
The add-ons for this green banana cake are dark chocolate, sugar-free, dry aronia berries, toasted pine nuts, and cacao nibs. You don't have to use them all, but if you have them, I recommend you do. They provide a few layers of interesting tastes and textures to this cake. If you can't find dry aronia berries, see if you have any other sugar-free dry berries. But they have to be clean, with no other preservatives or things like apple juice. If you can't find them, just skip them.
The flavors
For flavors, I used vanilla, pure orange extract and pure lemon extracts. If you don't have the extracts, add the zest of one organic lemon and the zest of one organic orange. If you are planning to make the tiramisu cake, zest more orange as I recommend adding it to the mascarpone cream later.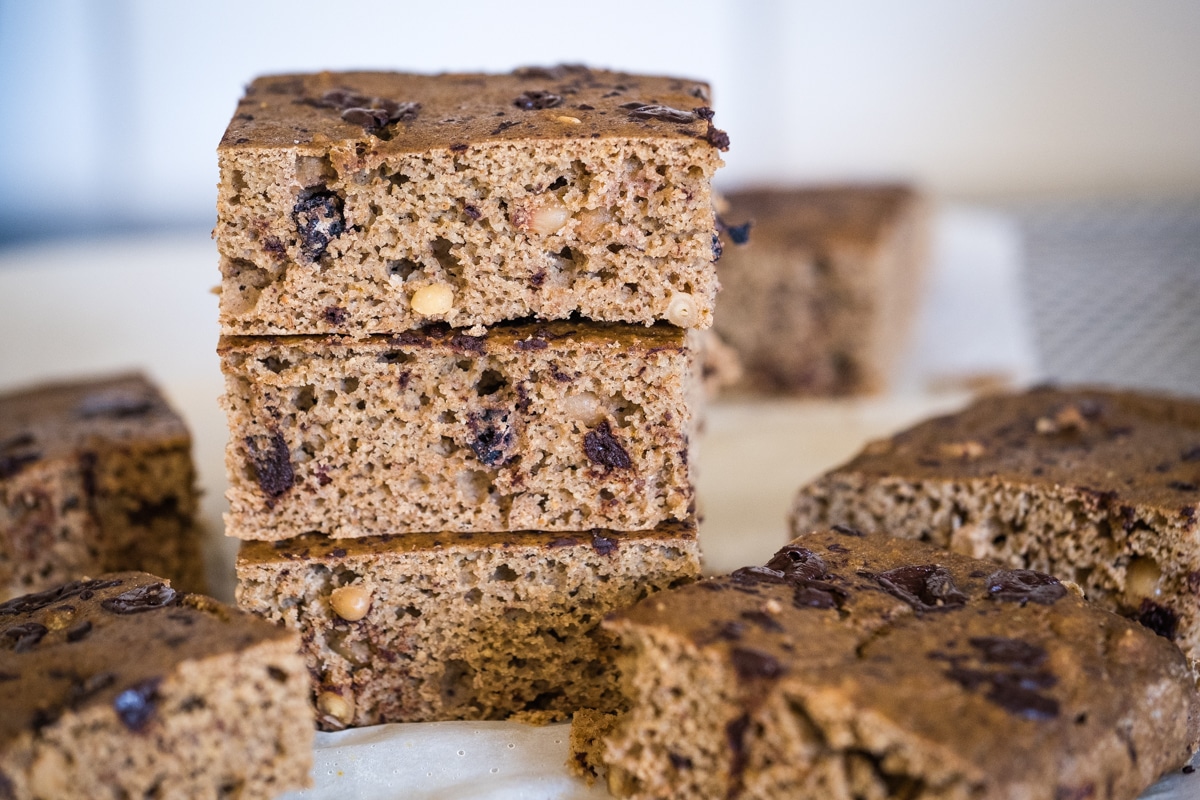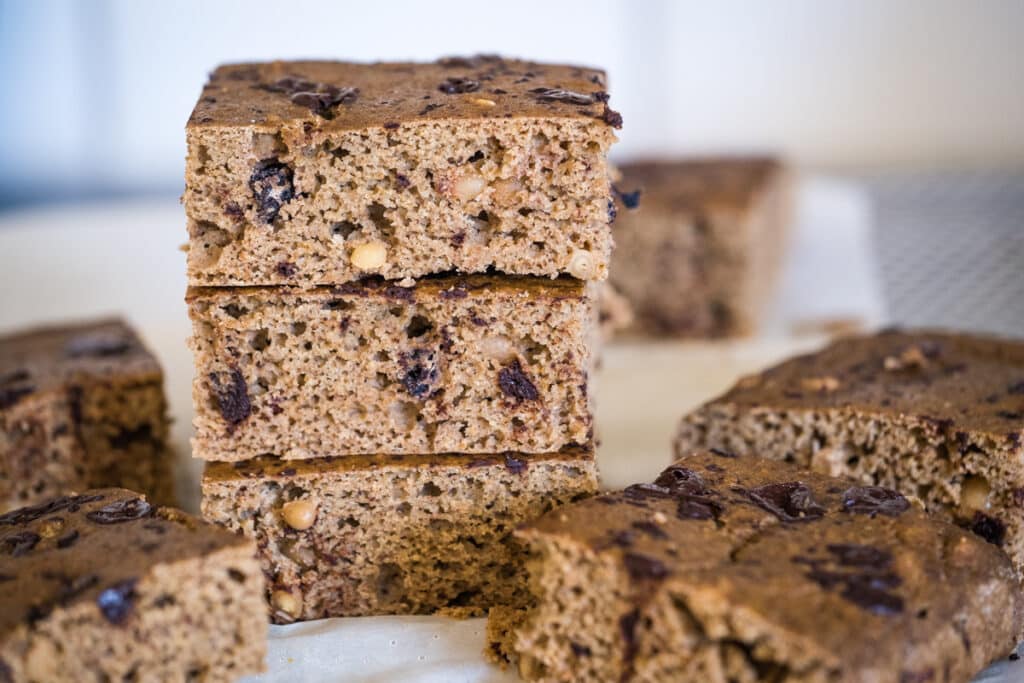 How to serve this green banana and chocolate cake
This is a fabulous coffee or tea cake. Non-pretentious, easy to make, this cake will satisfy that sweet craving in a nutritious way. It can be stored in the fridge for about three days or it can be frozen.
To make gluten-free and sugar-free tiramisu using this cake, check this post: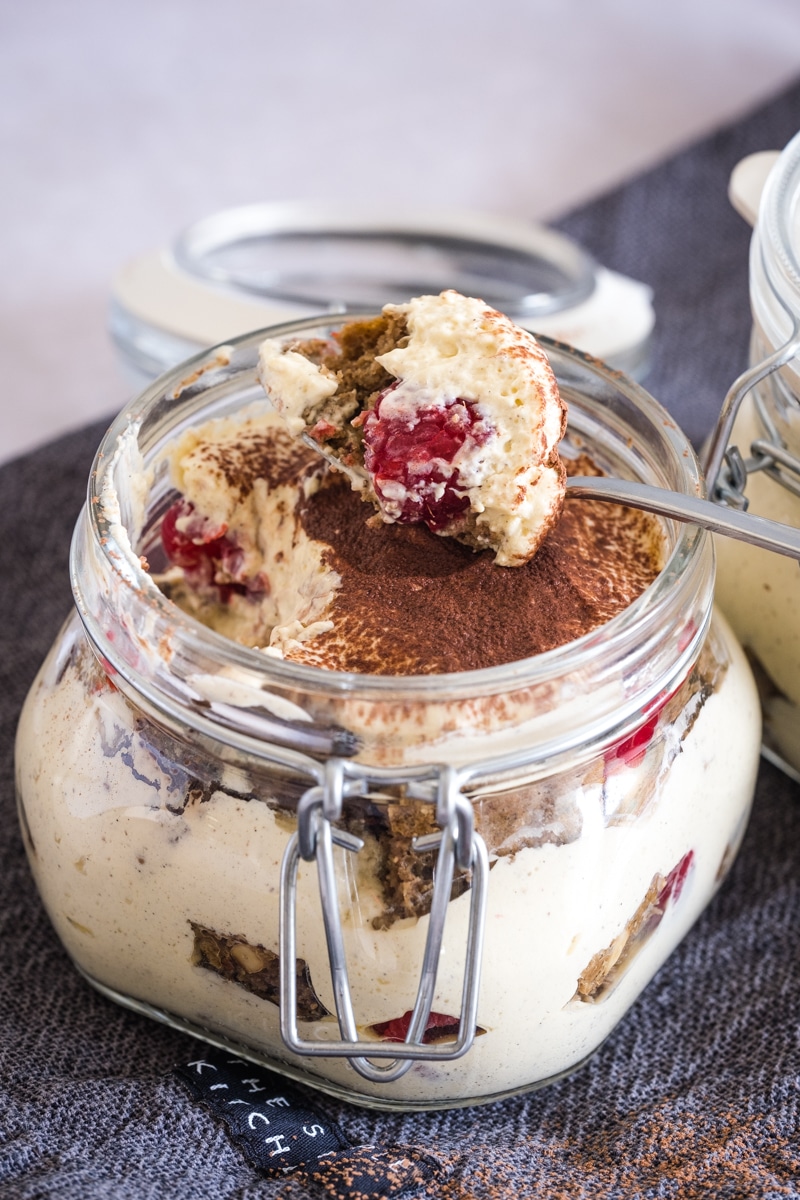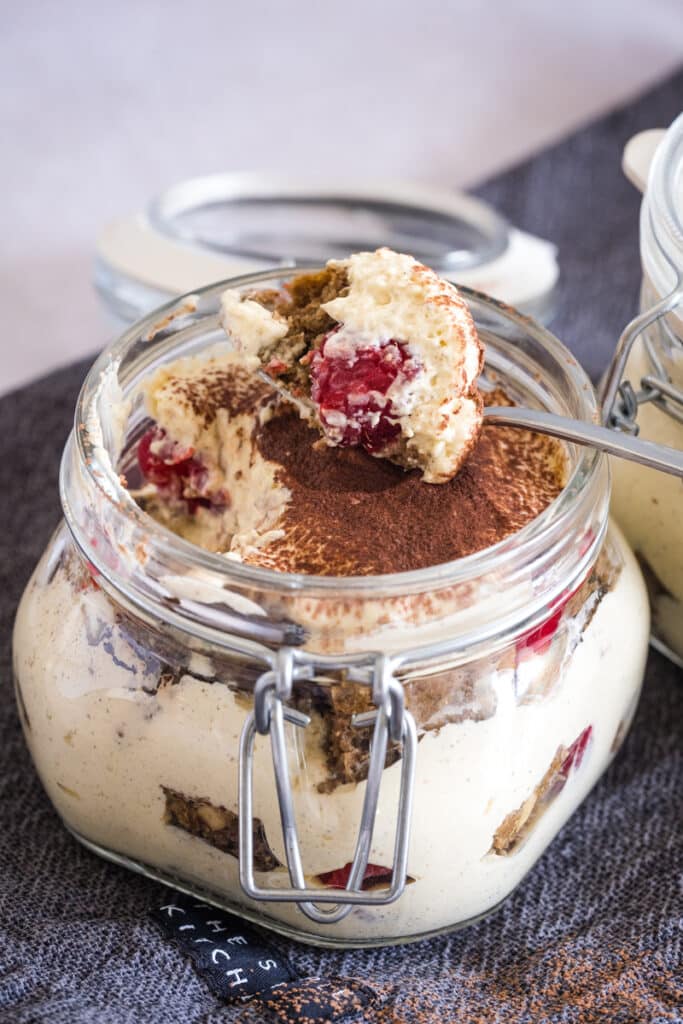 *This post contains affiliated links, which means I get a small commission if you choose to purchase something via one of my links, at no extra cost to you.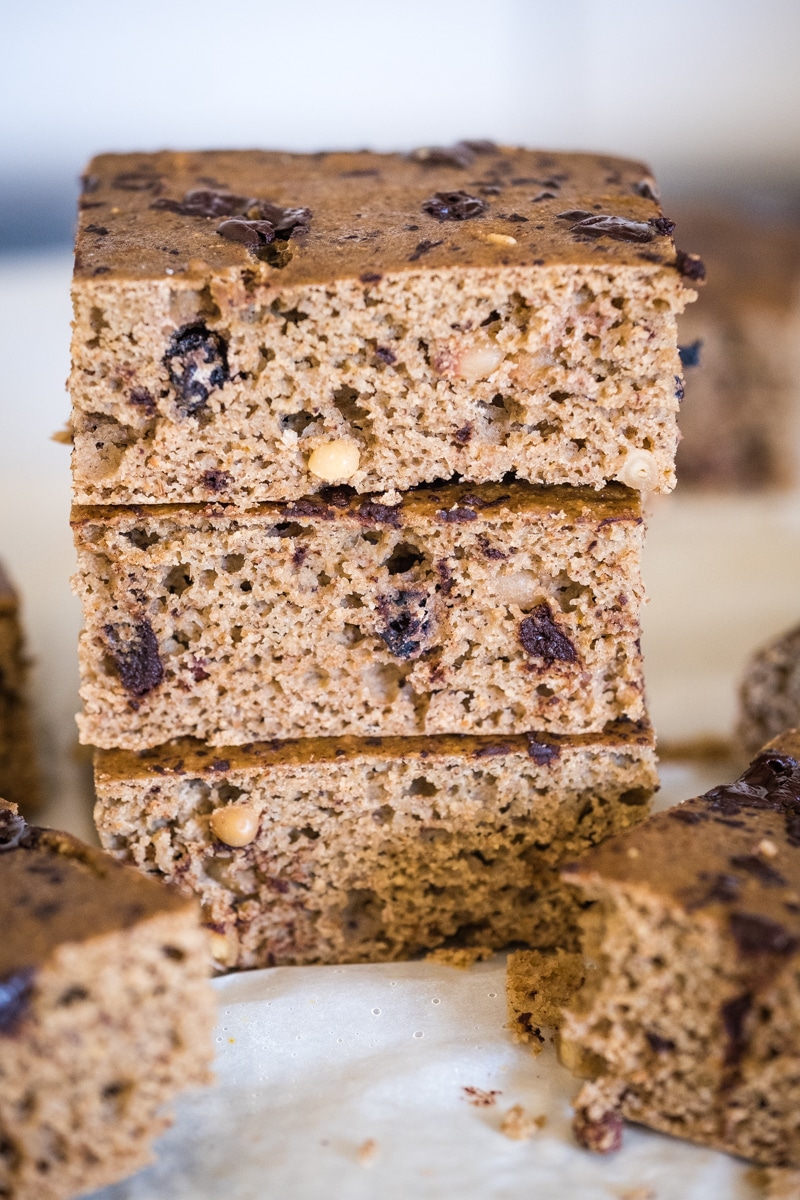 Print Recipe
Easy Green Banana and Chocolate Cake (Gluten-Free, Sugar-Free)
An easy-to-make green banana and chocolate cake that can also make a great replacement for ladyfingers if you want to make a gluten-free, sugar-free, and lectin-free tiramisu cake.
Ingredients
BLENDER MIX:
3 green bananas (medium size)
2 pasture-raised eggs
1 teaspoon vanilla extract or 1/2 teaspoon vanilla powder
1 teaspoon orange and lemon extract or zest (1 lemon & 1 orange)
Pinch of salt
2-3 tablespoons sweetener (I used inulin + erythritol)
1 tablespoon yacon syrup / monk fruit syrup
DRY INGREDIENTS:
3/4 cup tigernut flour
1/4 cup tapioca flour
1 teaspoon baking powder
1/2 teaspoon baking soda
ADD-ONS:
2 tablespoons dry berries (I used sugar-free aronia berries)
40 grams chopped dark chocolate (90%) plus a bit more for the top.
20 grams of toasted pine nuts (about 2 tablespoons)
2 tablespoons cacao nibs
Instructions
1

Preheat the oven to 350F / 170C. Line an 8x8'' (20x20cm) baking pan with parchment paper.

2

Blend the content of the blender until creamy and smooth.

3

Combine all the dry ingredients in a mixing bowl.

4

Add the blender content to the dry ingredients and incorporate it with a spatula.

5

Add all the add-on ingredients and combine them with a spatula so everything is distributed evenly.

6

Transfer the batter to the baking dish, sprinkle the remaining chopped chocolate on top, and level with a spatula.

7

Bake for 30 minutes. If you know your oven is running hot, check the cake after 25 minutes. The top should be set, the cake should not be soft to touch.

8

Remove the pan from the oven and let it rest for 5-10 minutes.

9

With the help of the parchment paper handles, remove the cake from the pan and place it on a cooling rack.

10

When it's cold, you can potion it into nine squares and serve or store in the fridge in a glass container with a lid.

11

If you are using this cake to make tiramisu, bake it one or two days in advance and store it in the fridge.
Notes
Use this cake to replace ladyfingers in a gluten-free, sugar-free and lectin-free tiramisu cake (see post above for link to recipe).