This carrot cake is nut-free for those who are taking a break from nuts or have a nut allergy. It's delicious, moist, fluffy, and super healthy. And even if you eat nuts, give this sugar-free carrot cake a try; you won't be disappointed. Serve with mascarpone or coconut cream, toasted pinenuts (which are not nuts, but seeds!), and seasonal fruits.
Carrot cake is one of my favorite cakes. I already have two delicious recipes on this website. They are both sugar-free, lectin-free, and gluten-free, but they both have nuts, lots of nuts: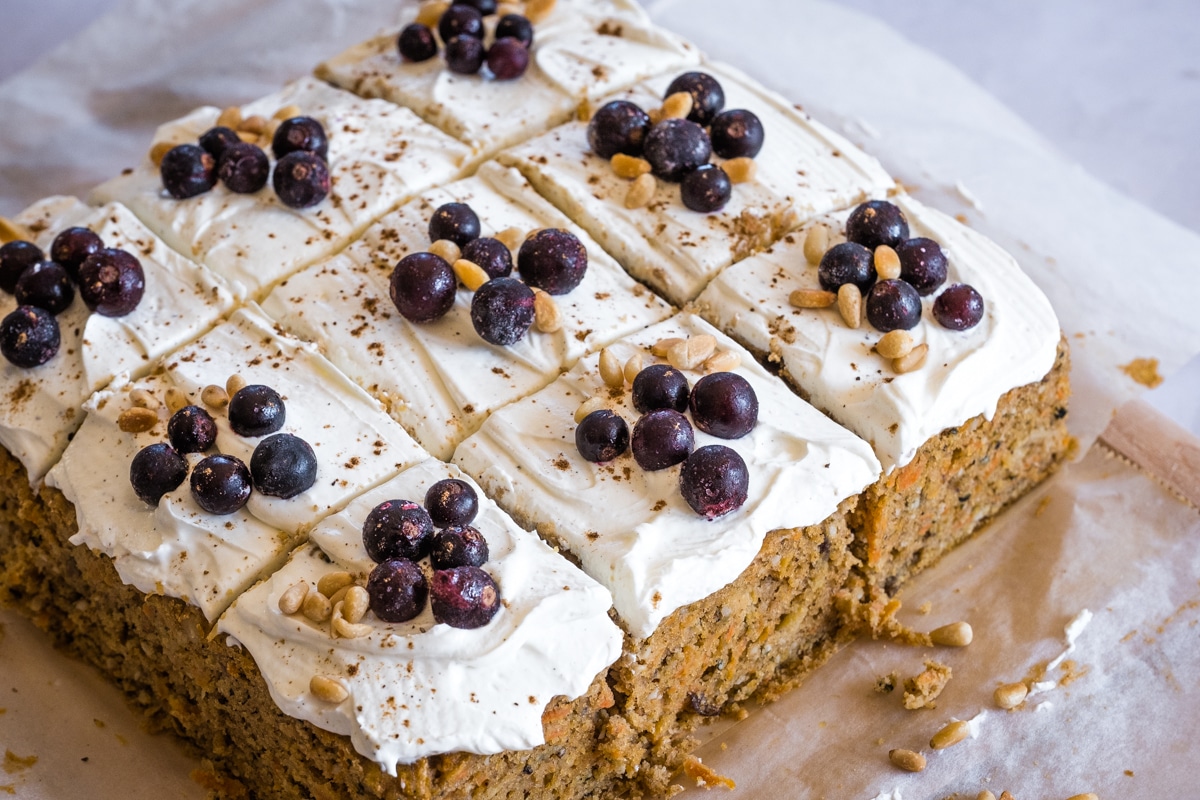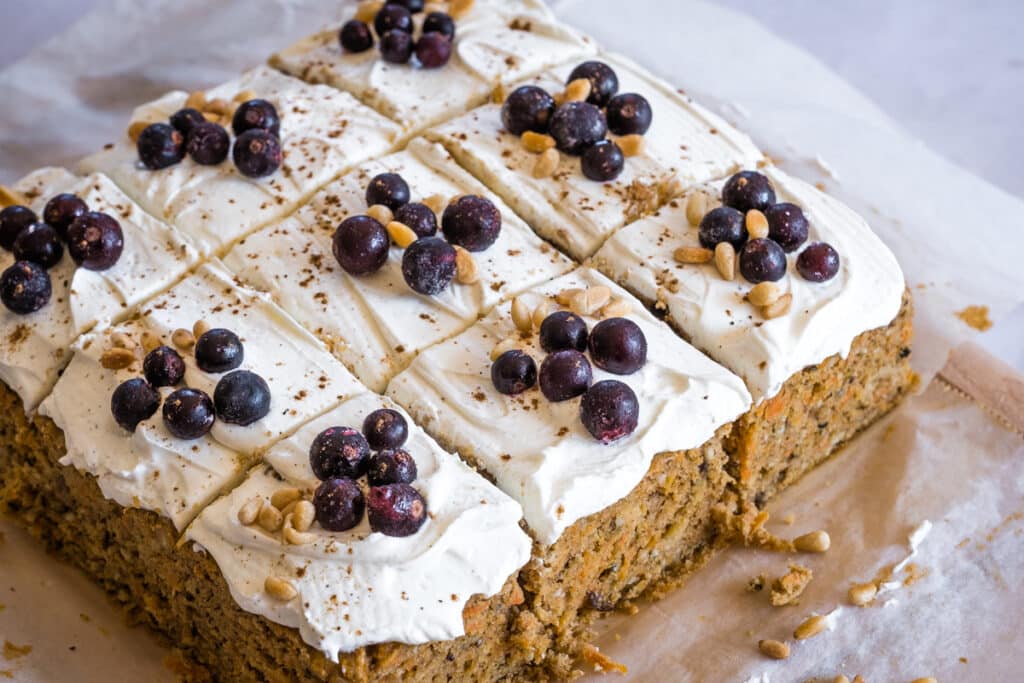 Can you make a gluten-free, lectin-free, and nut-free carrot cake?
We all know that when it comes to gluten-free and lectin-free baking, a lot of nut flour is used, especially almond flour and coconut flour. And a carrot cake pairs really well with nuts. While taking a break from nuts, I wondered how I could make a moist, delicious, fluffy carrot cake without using any nuts.
So I went with a mix of nut-free, lectin-free, and gluten-free flours:
sorghum flour
tigernut flour
millet flour
tapioca flour
Check out this post for a round-up of all the lectin-free and gluten-free flours I use in my baking:
For a little bit of a nutty flavor, I added the following:
hemp seeds
toasted pine nuts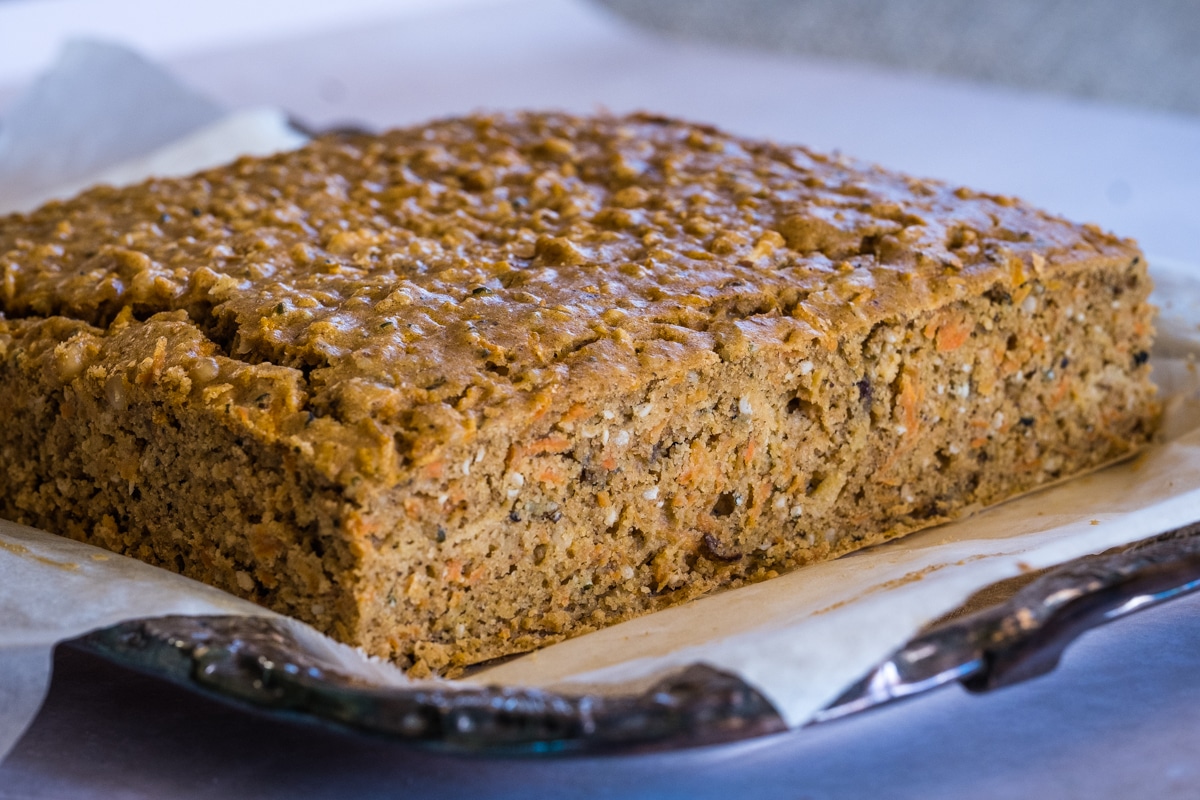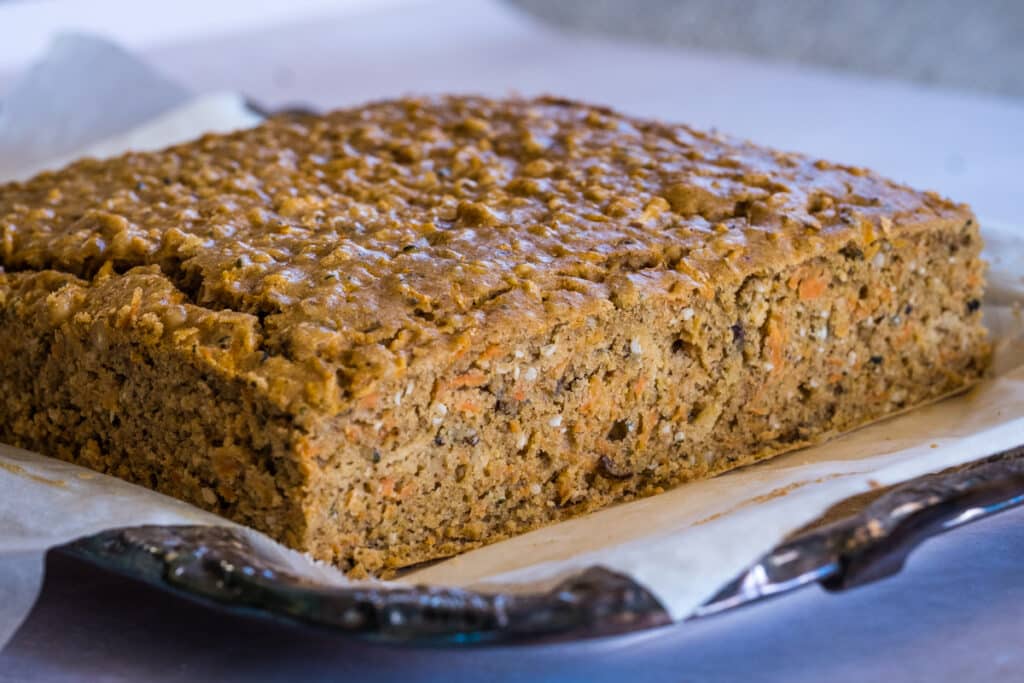 Are tiger nuts and pine nuts actually nuts?
Well, not exactly. Pine nuts and tiger nuts are not nuts, despite the name. Pine nuts are the seeds of pine trees, found in pine cones. Tigernuts are an ancient small root vegetable. If by any chance you are also allergic or have an intolerance to pine nuts, just replace the ground pine nuts with more tigernut flour.
This carrot cake is also coconut-free.
Sugar-free carrot cake
This carrot cake has another brownie point: is sugar-free (like all the desserts on this website). Tigernut flour, which has a pronounced natural sweetness, and the carrots provide some natural sweetness to this cake. I also used small quantities of the following natural sweeteners:
Inulin powder
Erythritol + Stevia
You can use any natural sweeteners (and plant paradox approved) you prefer: monk fruit, swerve, allulose, just like sugar.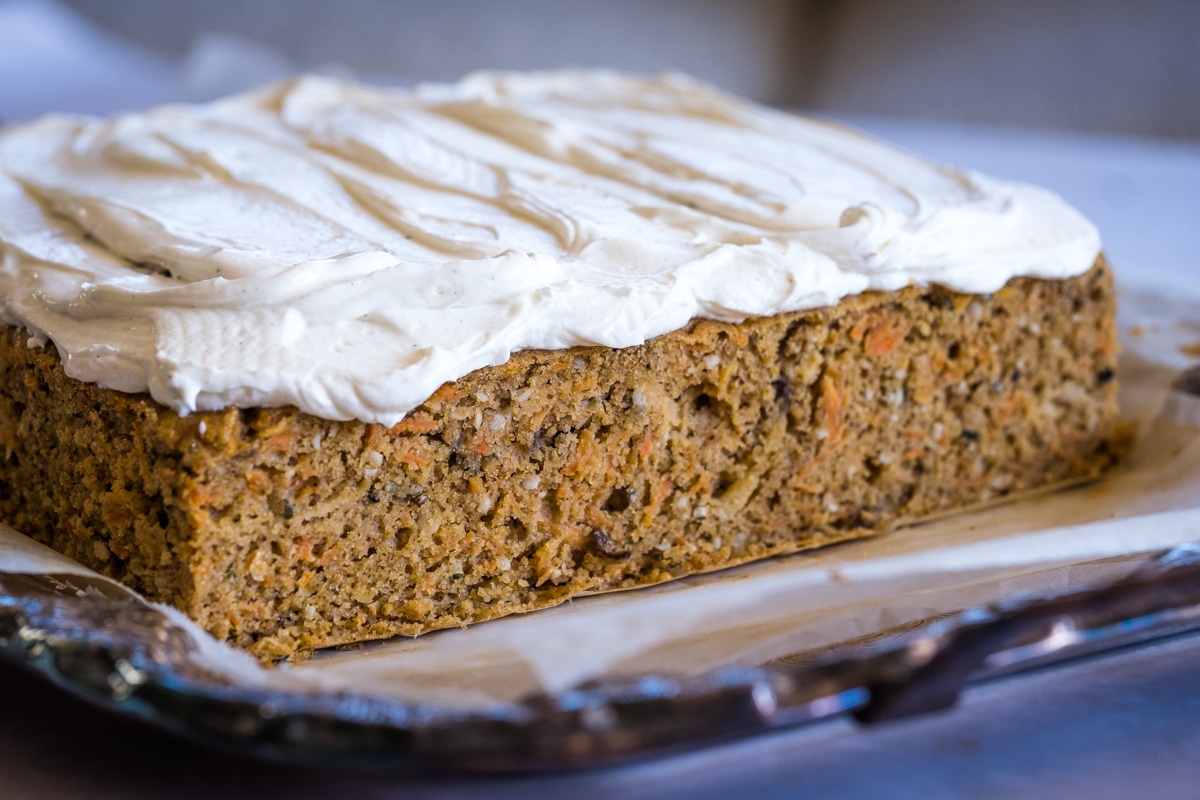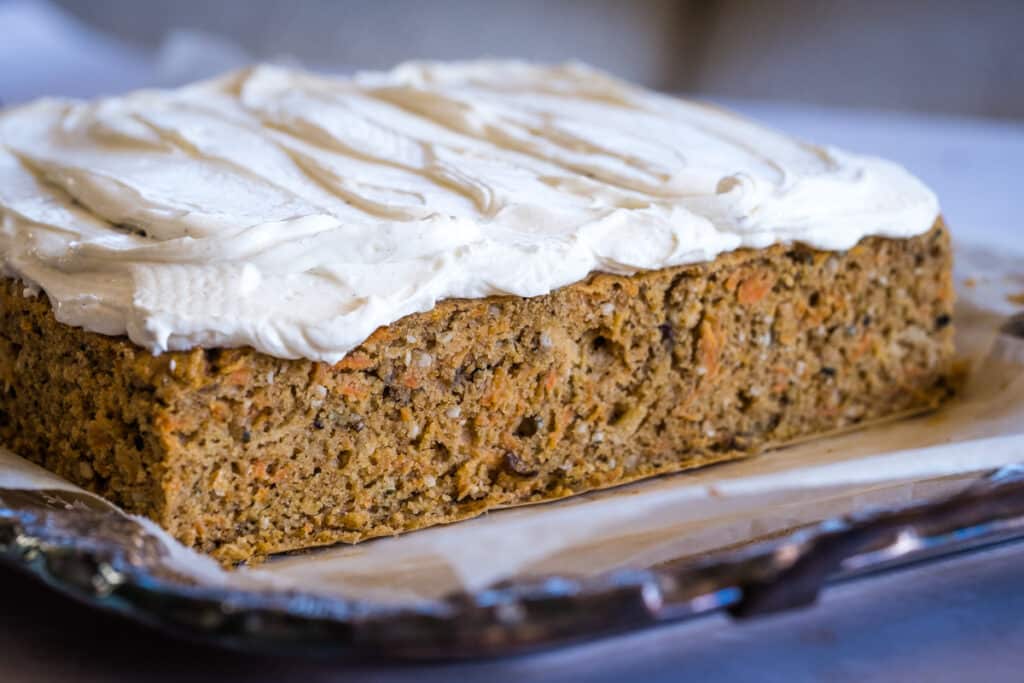 Spices and flavors for carrot cake
I think anyone can adapt the spice mix to suit their preferences, but this is what I use:
cinnamon
ginger
cloves
cardamom
nutmeg
vanilla extract
lemon and natural orange extract OR orange and lemon zest (these are optional, but they add a nice flavor)
Extra virgin olive oil and eggs
I love using extra virgin olive oil in my cakes, but avocado oil can also be used. If you are worried that you will feel the olive oil taste, you will not. I'm using the best quality, strong-flavored olive oils for cakes, and I never had this 'problem'.
It's important to use pasture-raised eggs for this cake (for anything, in fact). They provide the most amount of nutrients and more Omega-3s than regular eggs.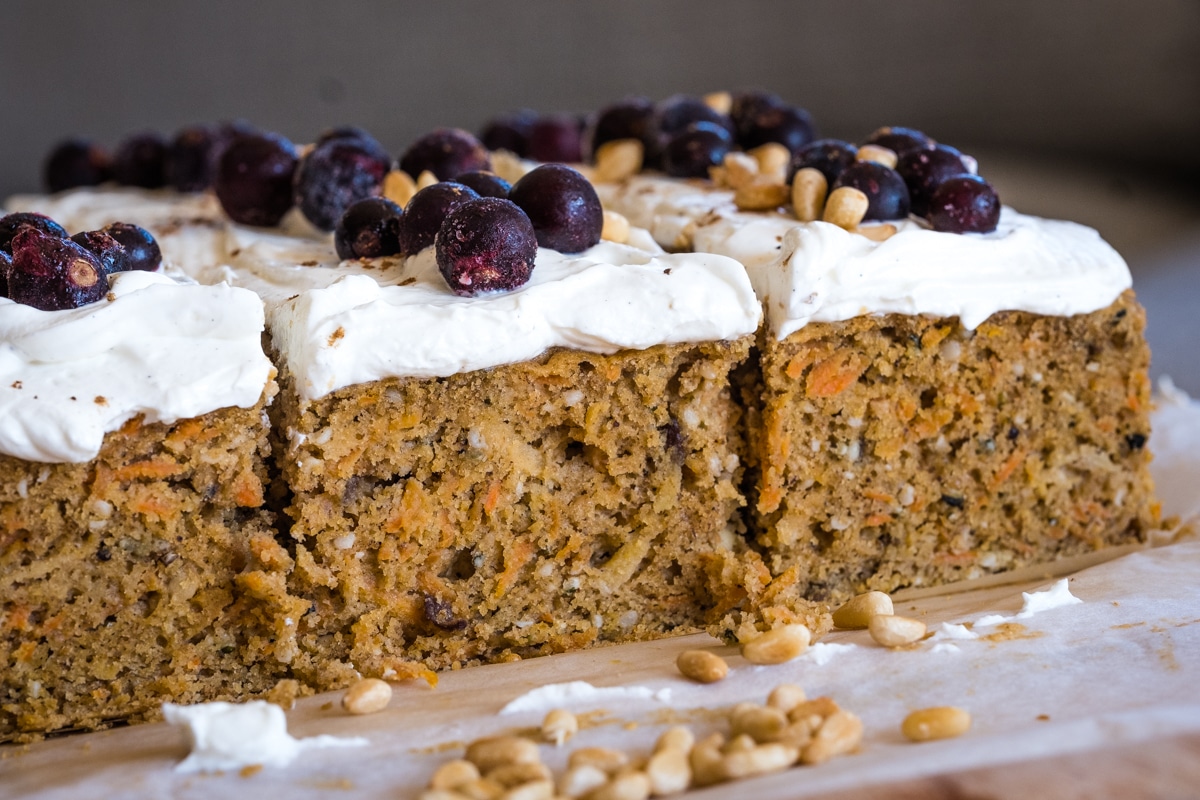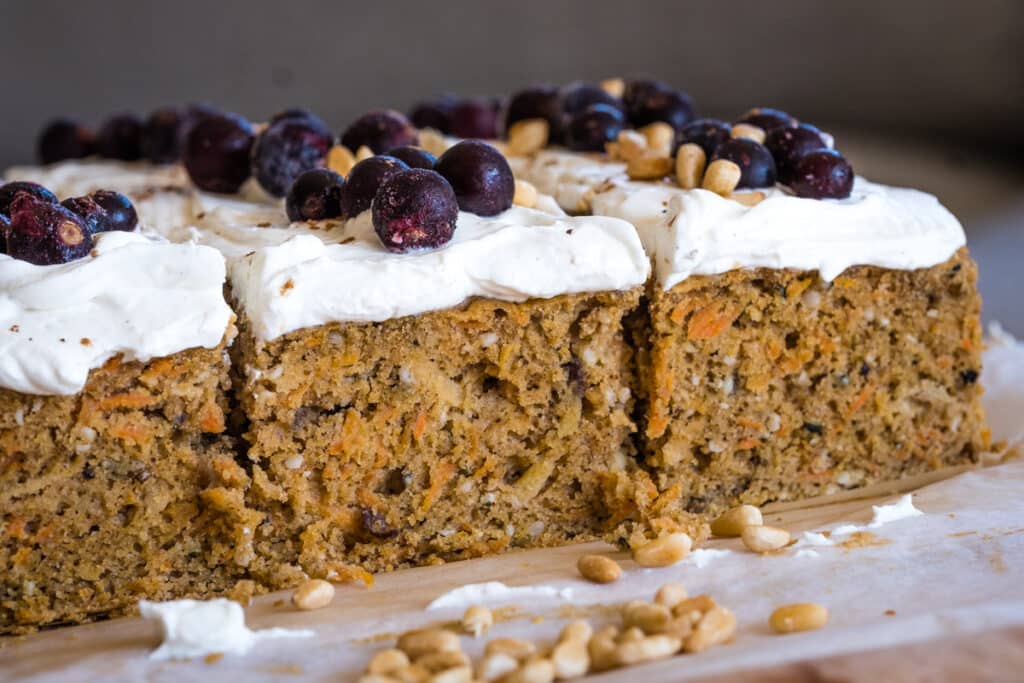 Carrots and apples to make carrot cake
I added more shredded carrots than I usually do for this carrot cake. While I grate them on the bigger grater, I believe the smaller, the better. So, if you have the patience, grate them on the smaller grater.
I also use one grated apple for this recipe (I buy organic apples, and I don't peel the apple). It provides more moisture and sweetness and improves the texture of the cake.
More pine nuts for texture
After pouring the cake batter into the baking dish, I sprinkled a small handful of toasted pine nuts on top and gently pushed them into the batter. They are not necessary but provide a little more texture in a bite.
Make this carrot cake a sheet cake
While you can make this cake any shape you want, including a layer cake, I made it super easy for you (and for me, really). This is a sheet carrot cake. Just pour the batter into a deep baking dish, bake, and top with the frosting you choose.
For this one, I used an All-Clad stainless steel square baking dish (20cm x 20cm / 8″ x 8″), lined with parchment paper. You can even use a slightly bigger dish if you don't have the exact one but don't use a smaller one, as the cake is already pretty tall.
For a big layer cake, you can double the quantity and bake two separate layers on two cake pans, or use this quantity to make a mini layer cake. I always recommend baking two separate layers, as sectioning a layer in half can be challenging.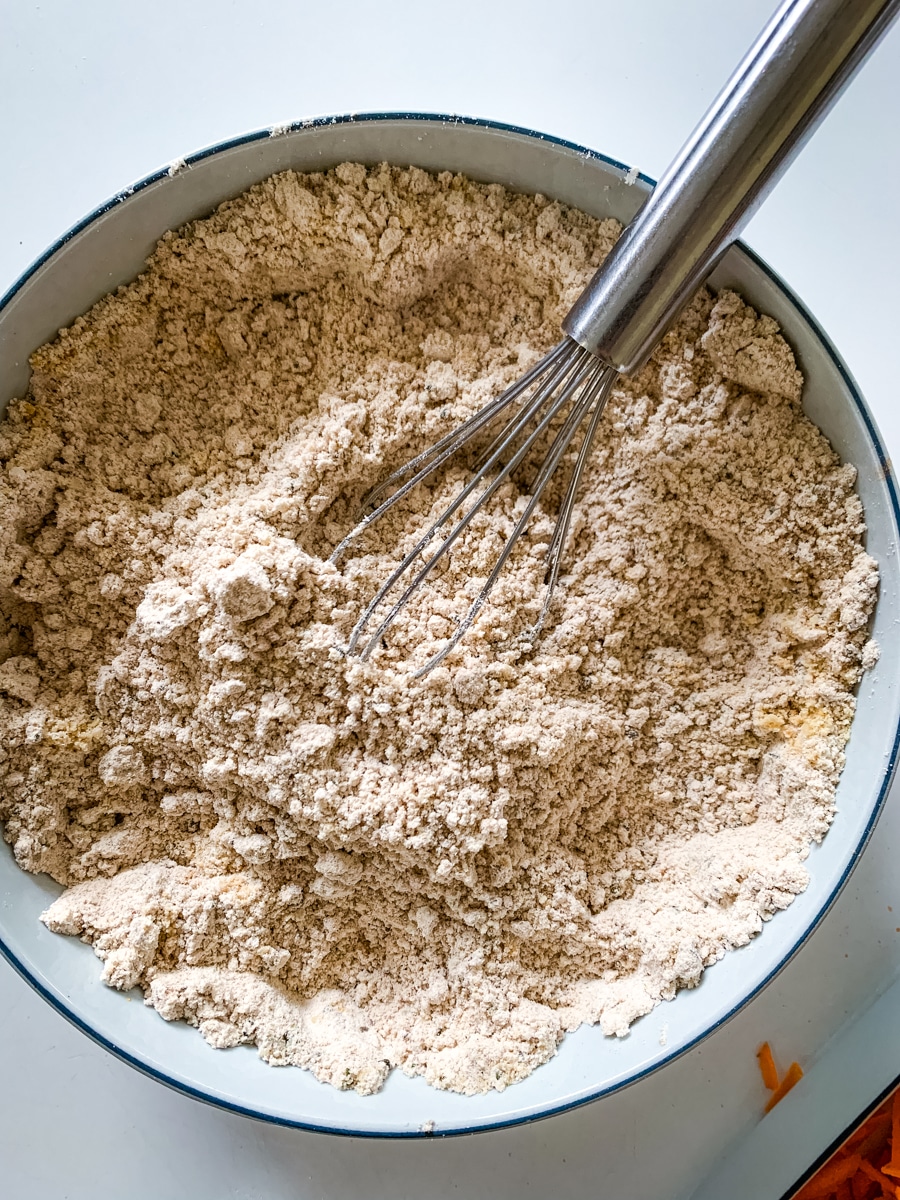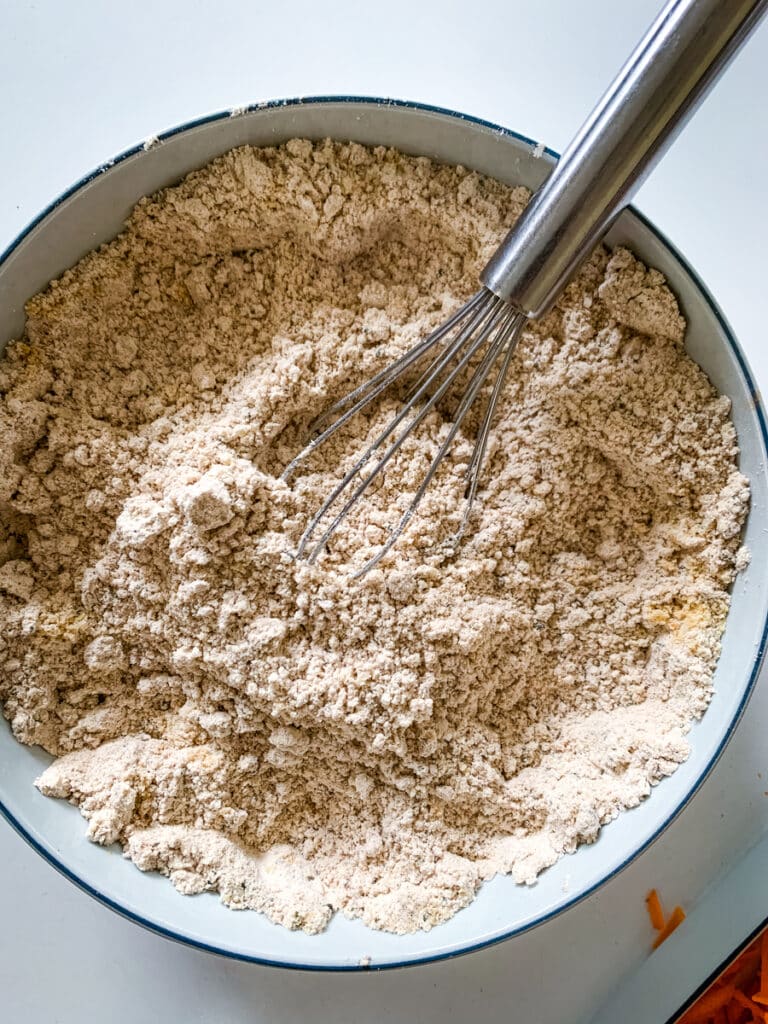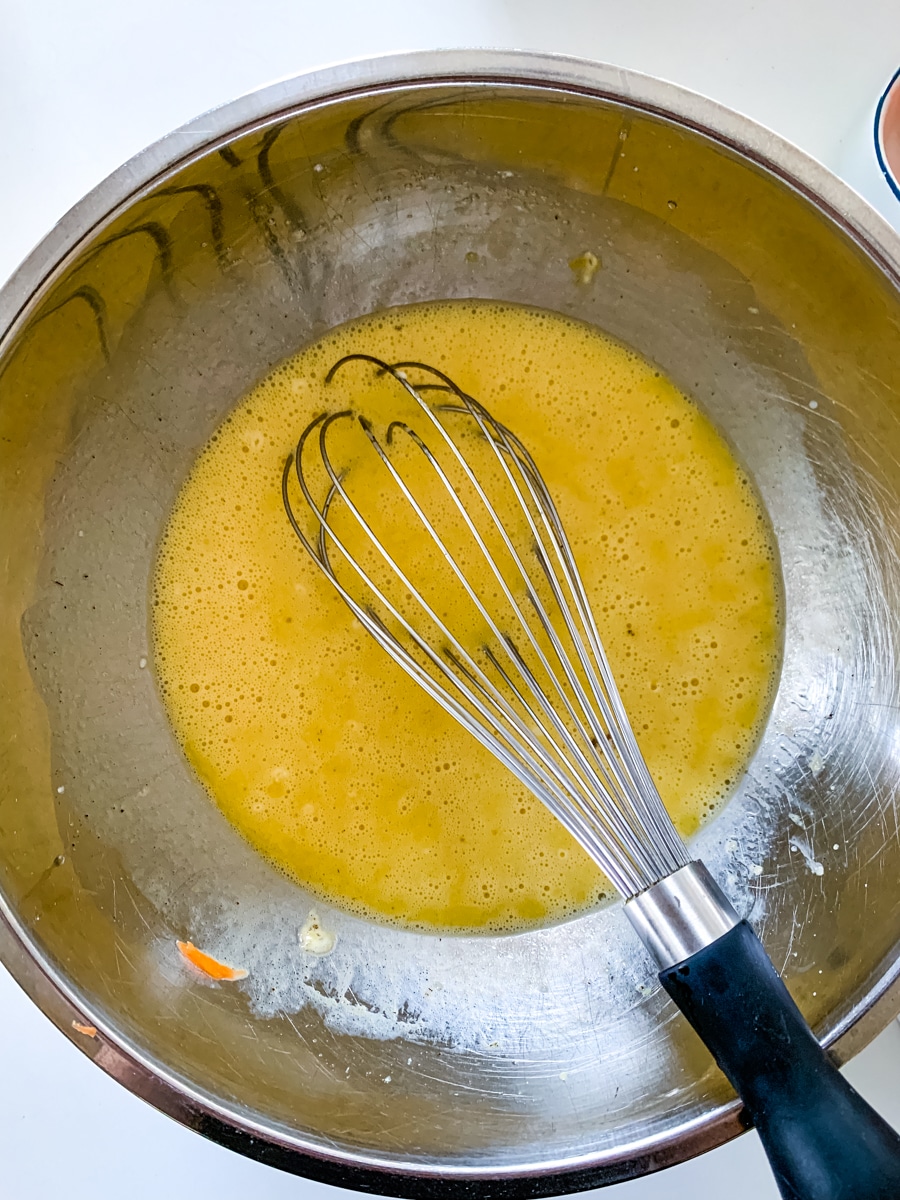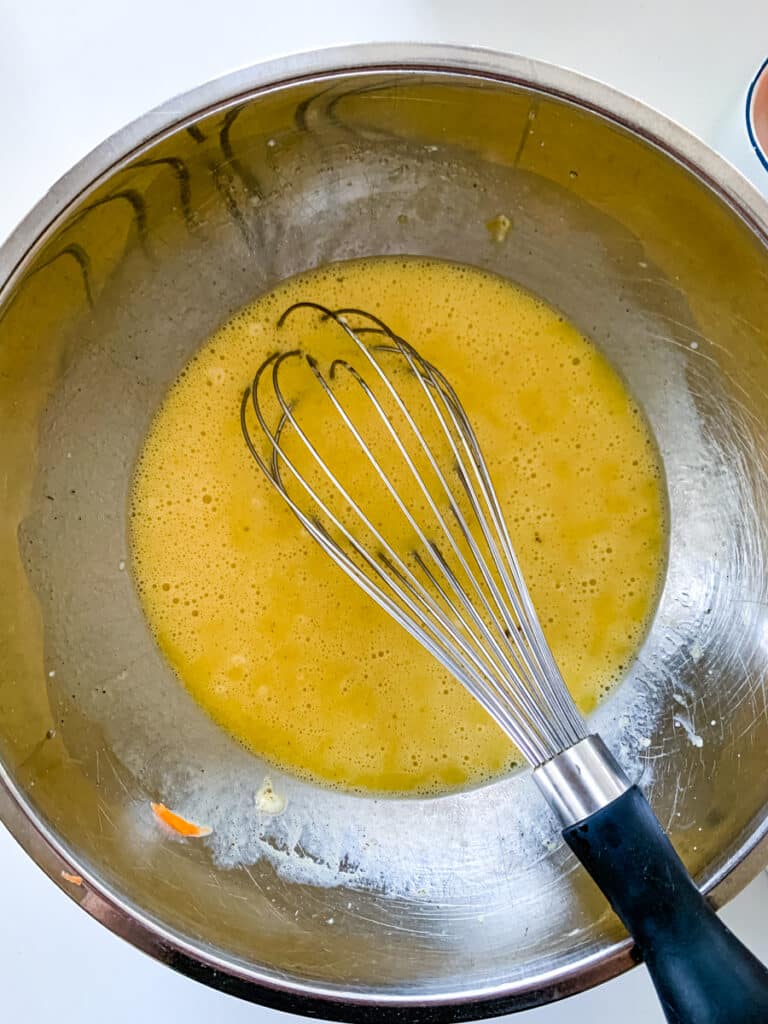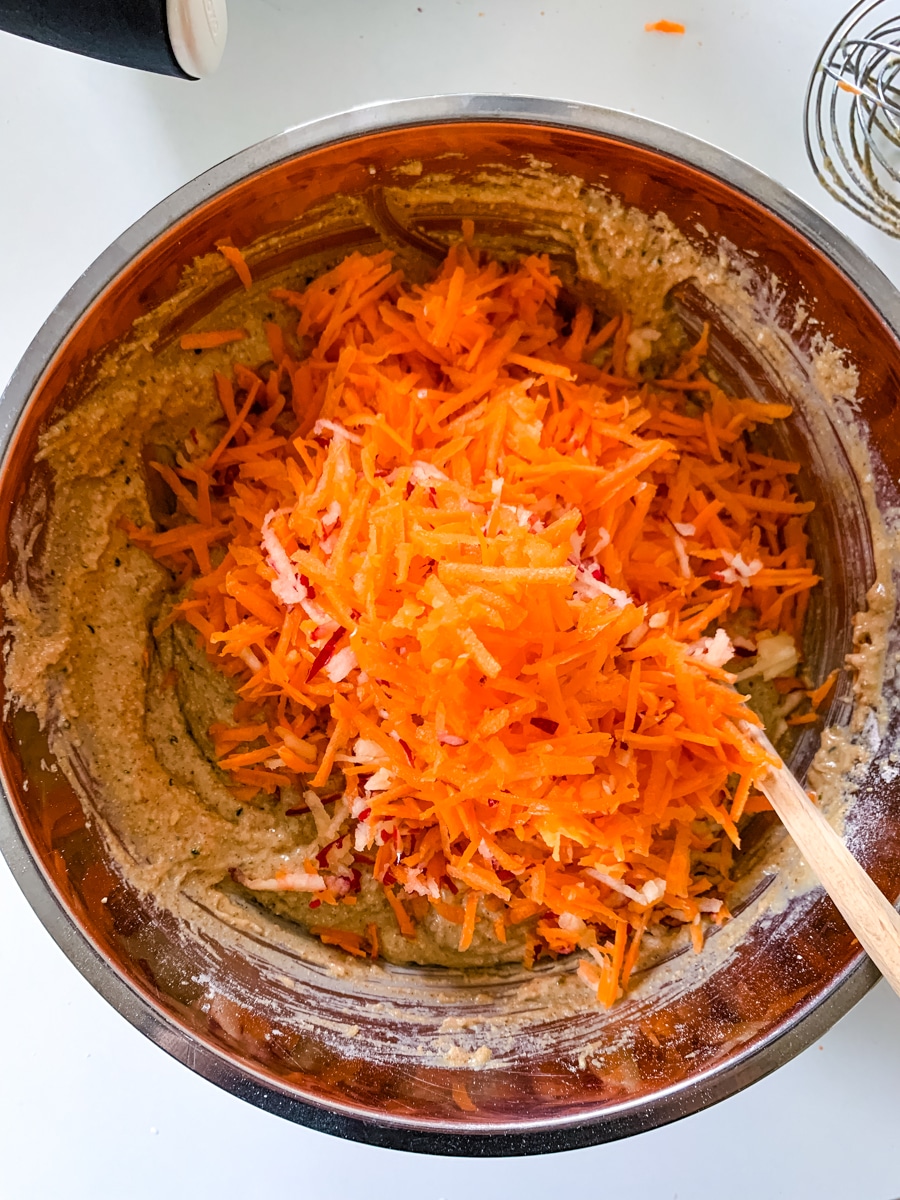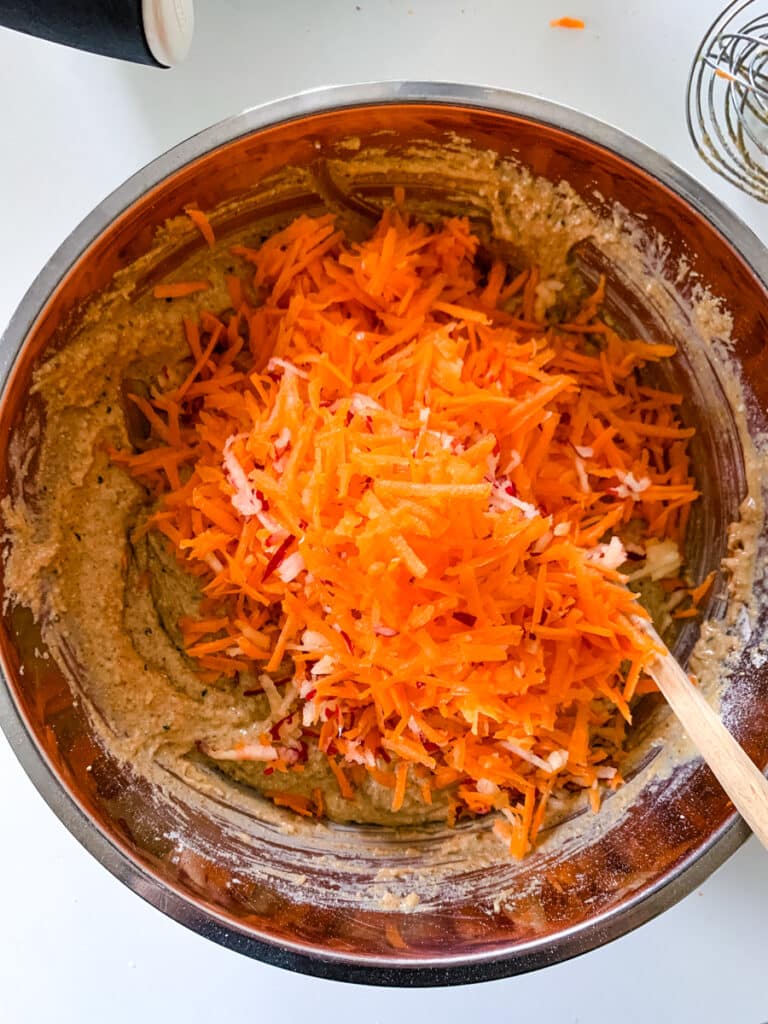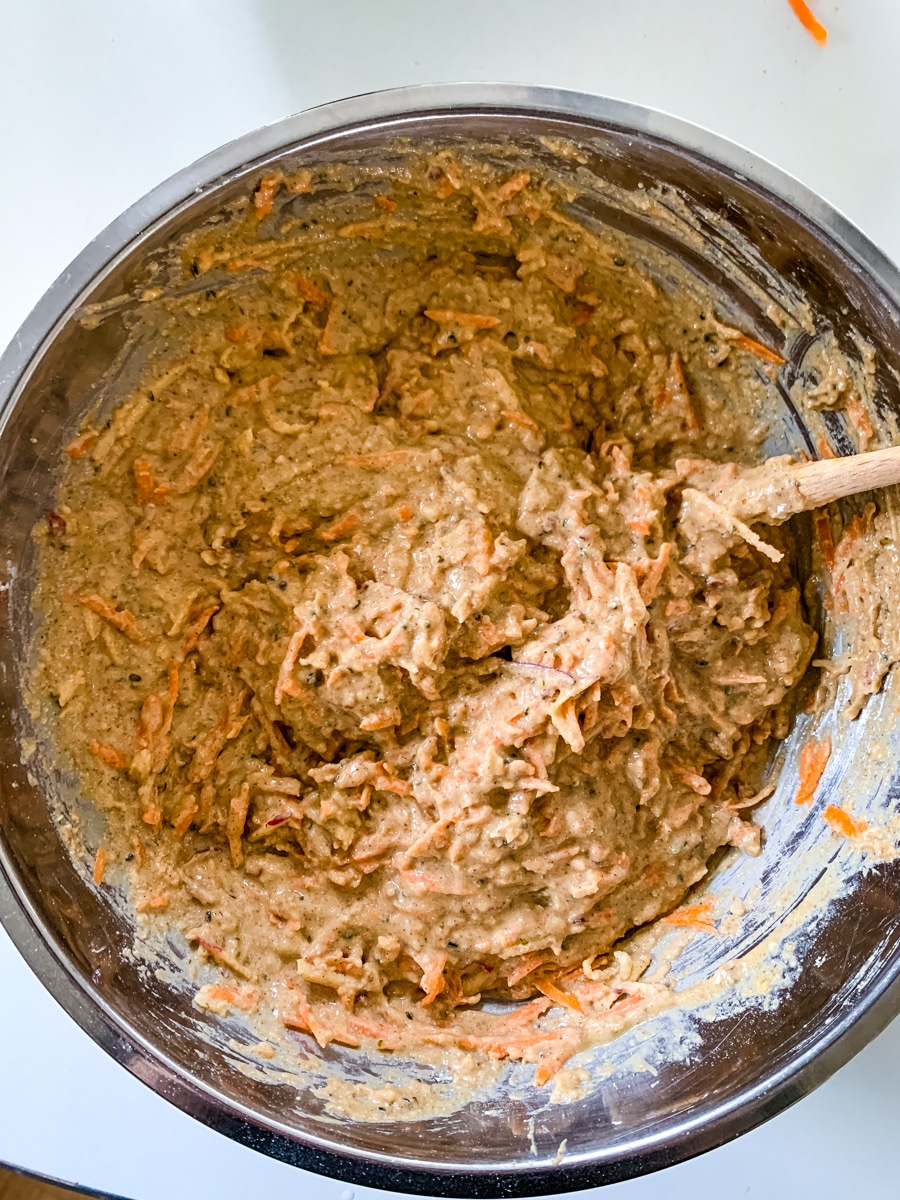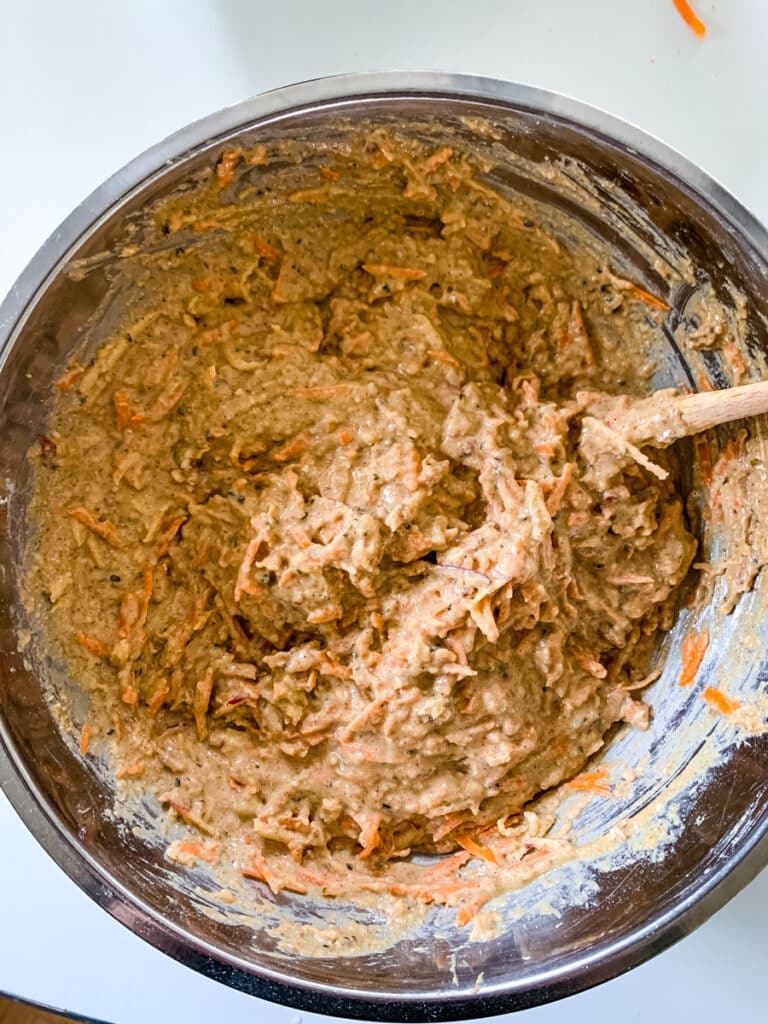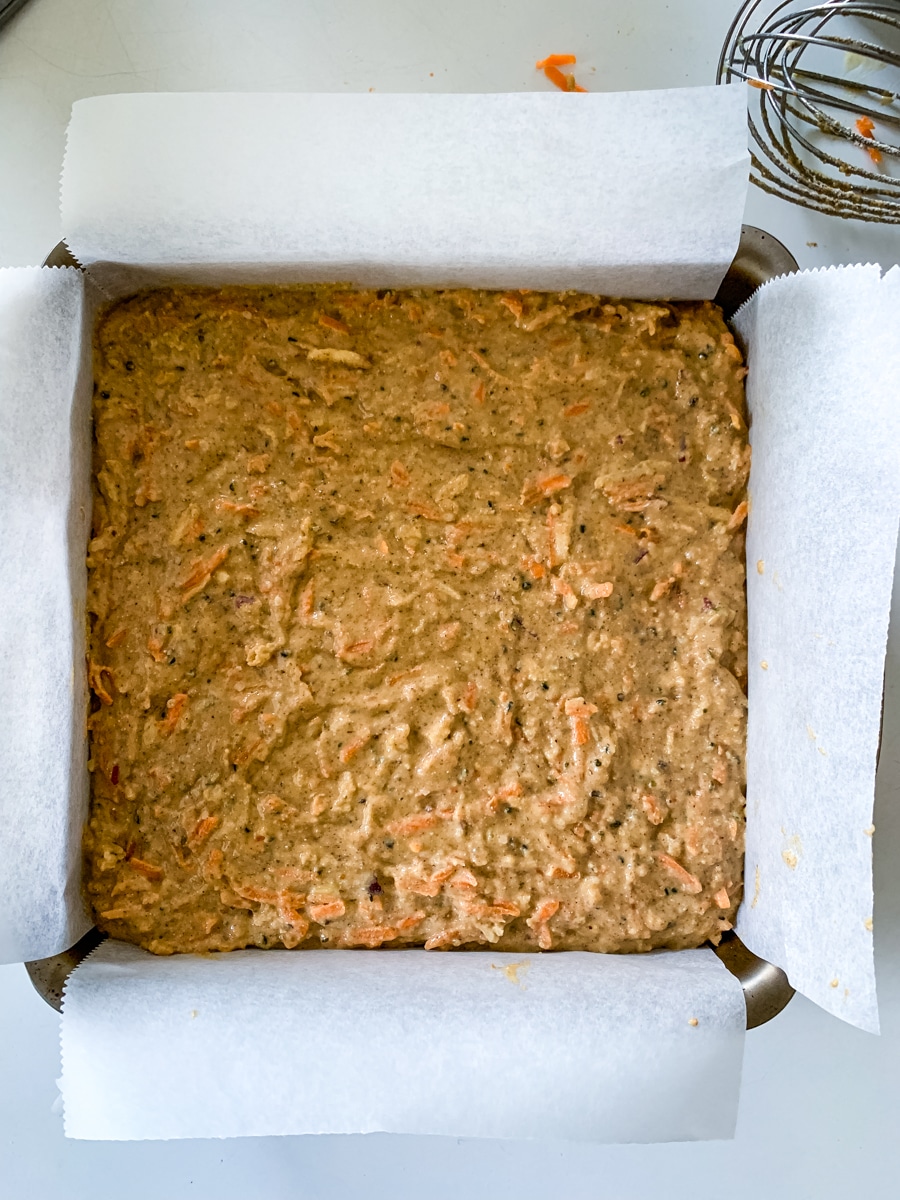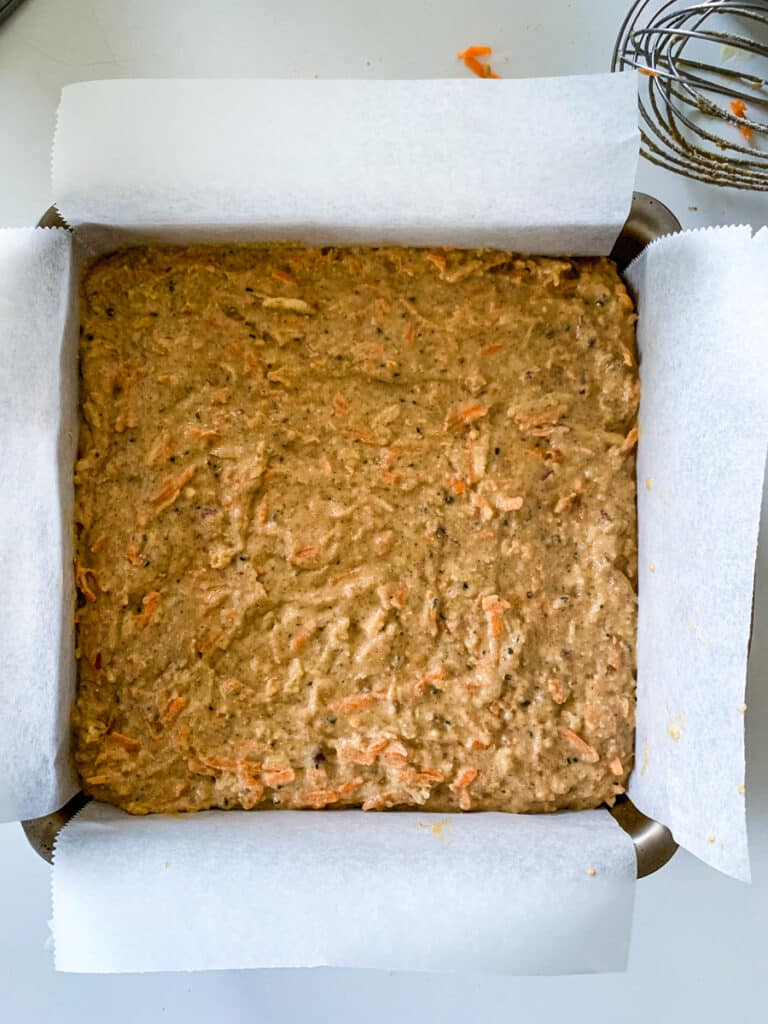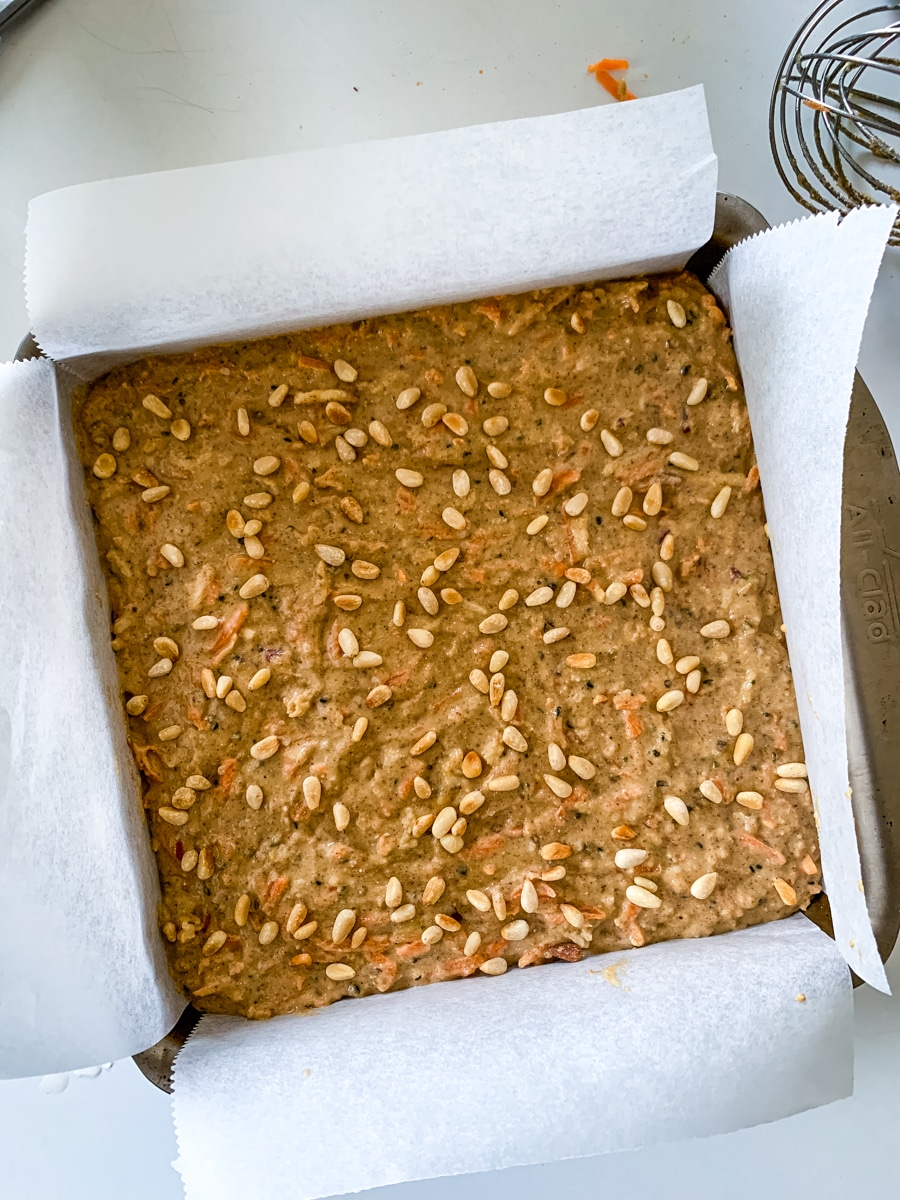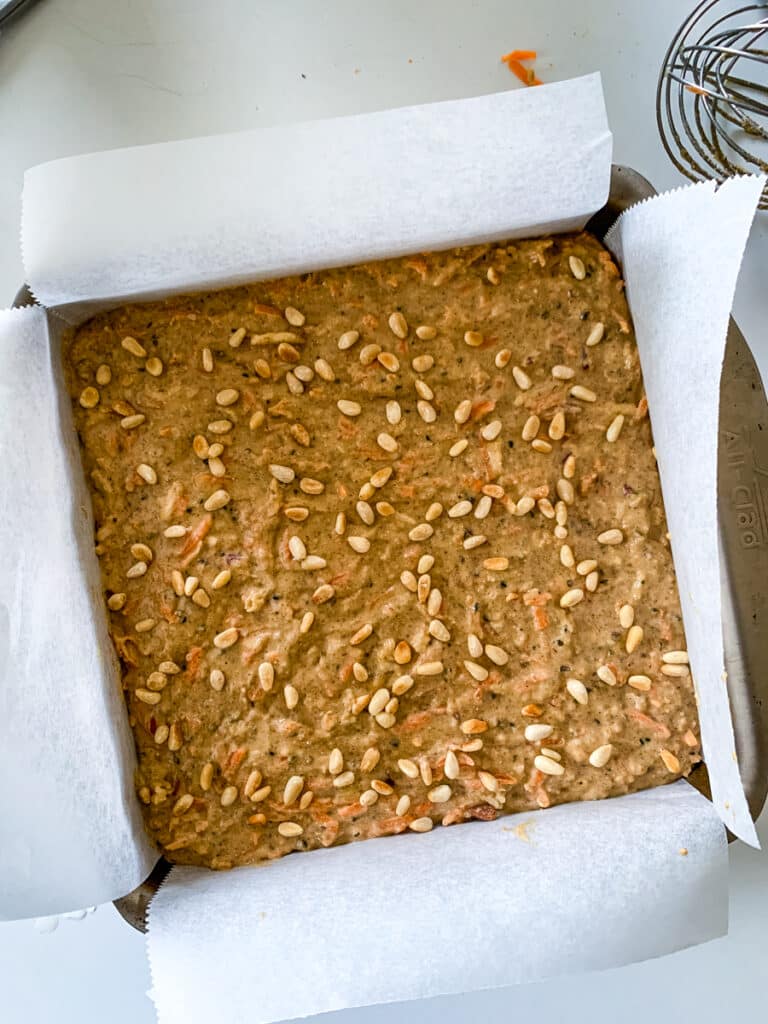 How to make a nut-free, sugar-free carrot cake
This is such an easy carrot cake to make.
Preheat the oven to 350 degrees Fahrenheit.
Mix the dry ingredients.
Mix the wet ingredients + sweetener + vanilla + lemon, and orange flavors in a large bowl.
Add the dry ingredients to the wet ingredients (I wouldn't use a food processor, this batter should not be overmixed).
Grate the carrots and apple and add them to the batter.
Pour the batter into the baking sheet.
Bake for 40 minutes.
Let it cool at room temperature, then store it in the refrigerator.
Make the frosting.
Add the frosting when the cake is cold.
Refrigerate for at least a few hours before eating, or even better, overnight.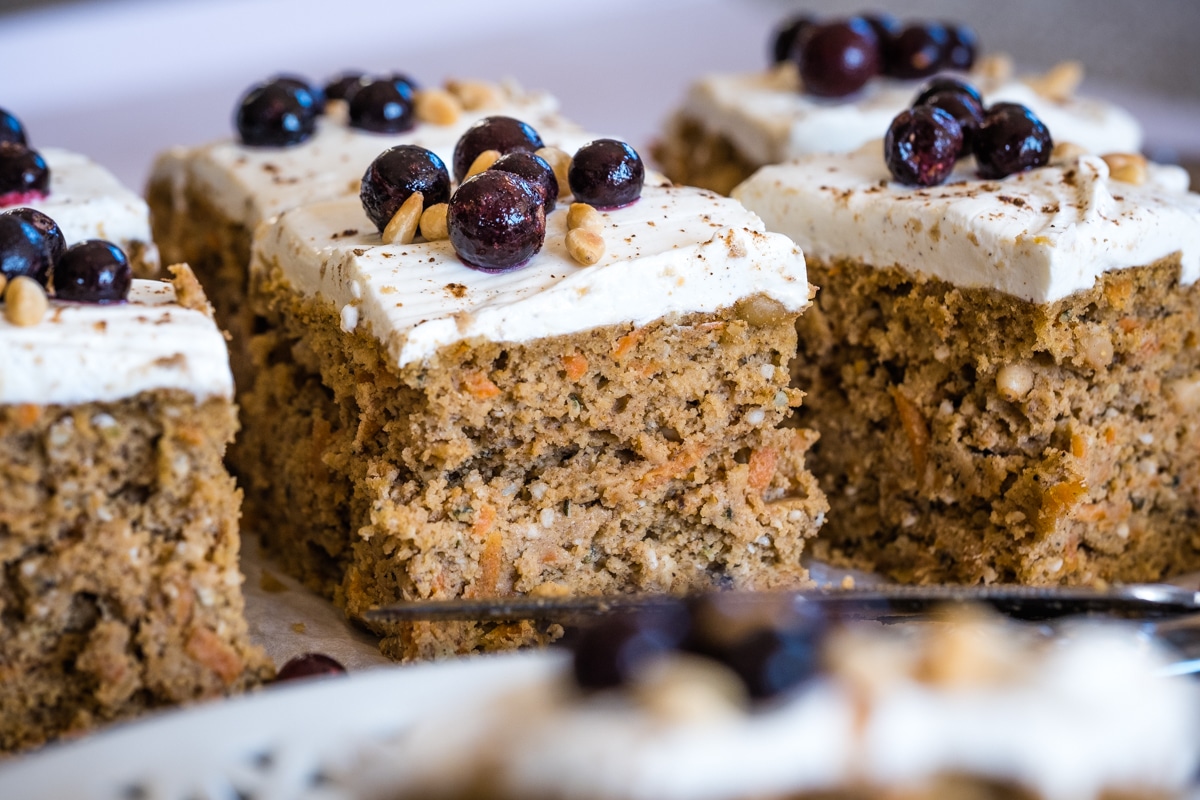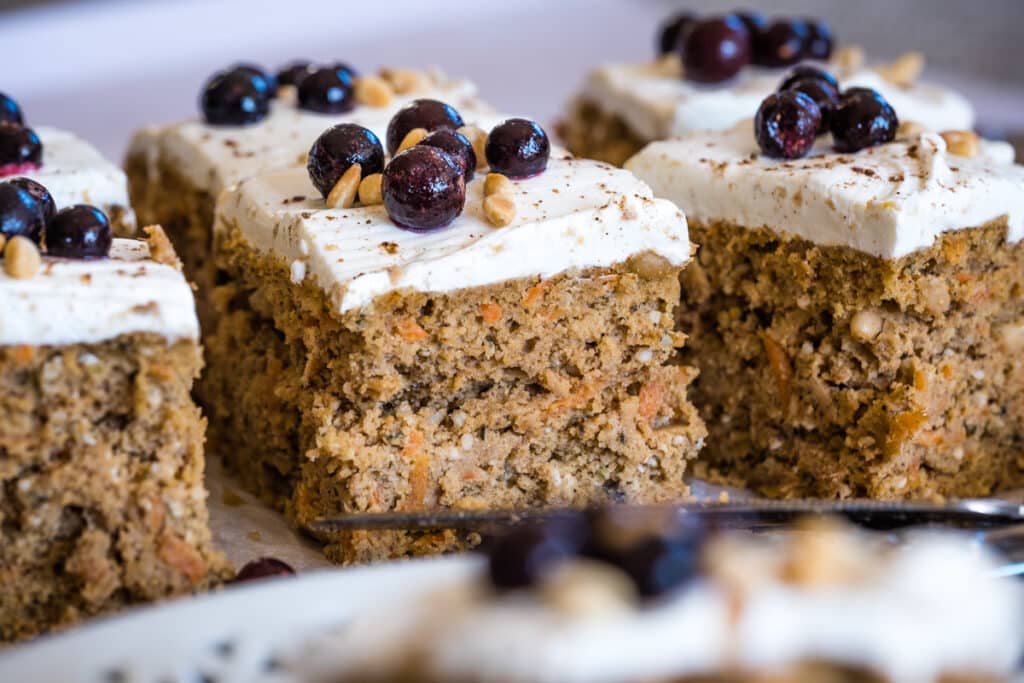 How to make frosting for sugar-free and nut-free carrot cake
My favorite frosting for carrot cake involves mascarpone cheese, even though I rarely eat dairy. For this one, I added a little bit of yogurt to cut the heaviness of the cheese. You just have to whip it for a few minutes until creamy and settled.
Choose an Italian mascarpone or use an organic heavy cream. If you don't find yogurt made with casein A2 milk, use goat or sheep yogurt or coconut yogurt.
Even though this carrot cake is coconut-free, if coconut is not on your elimination list and you want to avoid dairy, you can make a coconut frosting instead.
How to decorate the carrot cake
I don't have a talent for decorating cakes, so I like to keep things simple. For this one, I chose frozen blackcurrants, toasted pine nuts, and a sprinkle of cinnamon. When I make a carrot cake with nuts, I love to use toasted chopped pecans on top. If berries are in season, you can use fresh berries.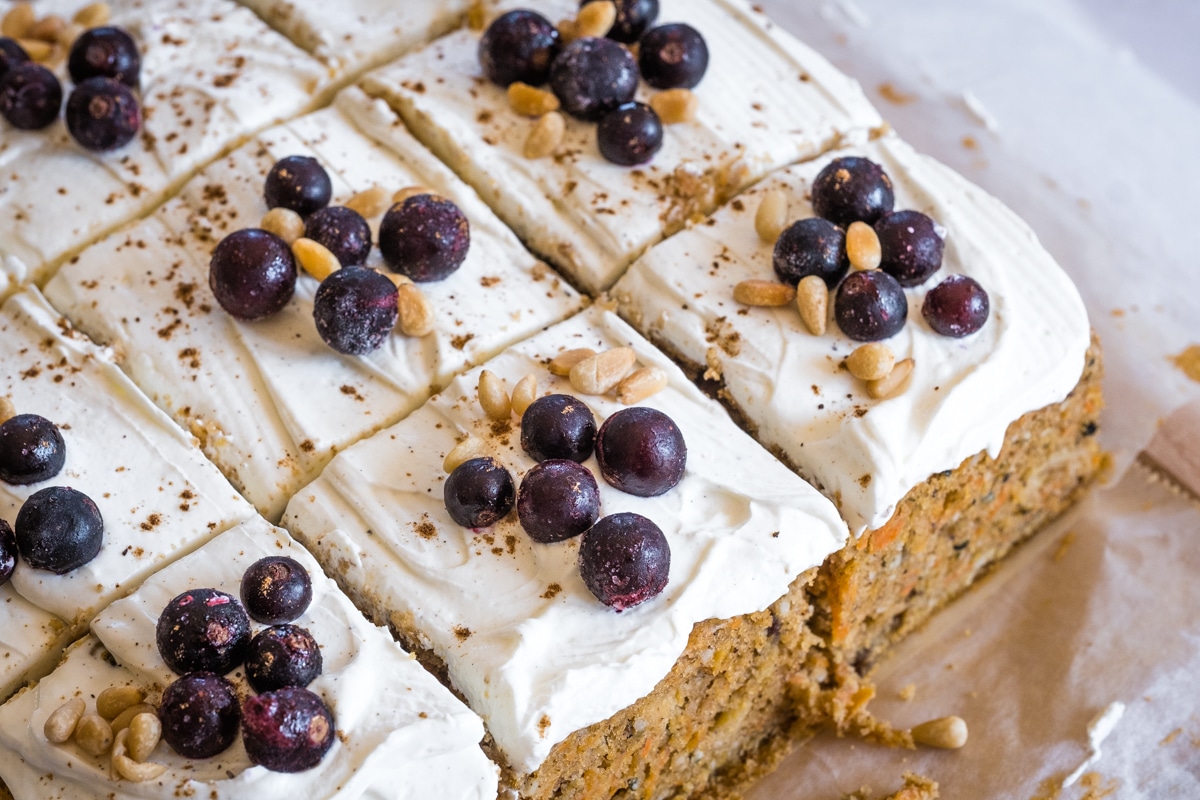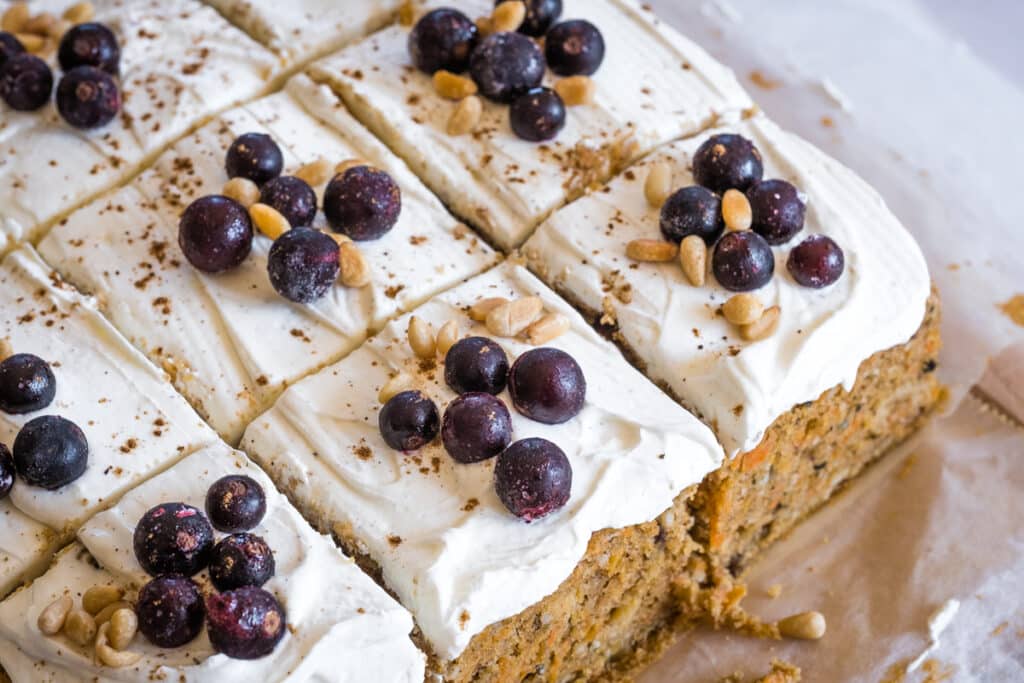 For another easy and healthy sweet treat recipe, try our Sugar-Free Apple Pie Bars recipe.
This recipe is part of our 10+ Sorghum Flour Recipe Round-Up.
*This post contains affiliated links, which means I get a small commission if you choose to purchase something via one of my links, at no extra cost to you.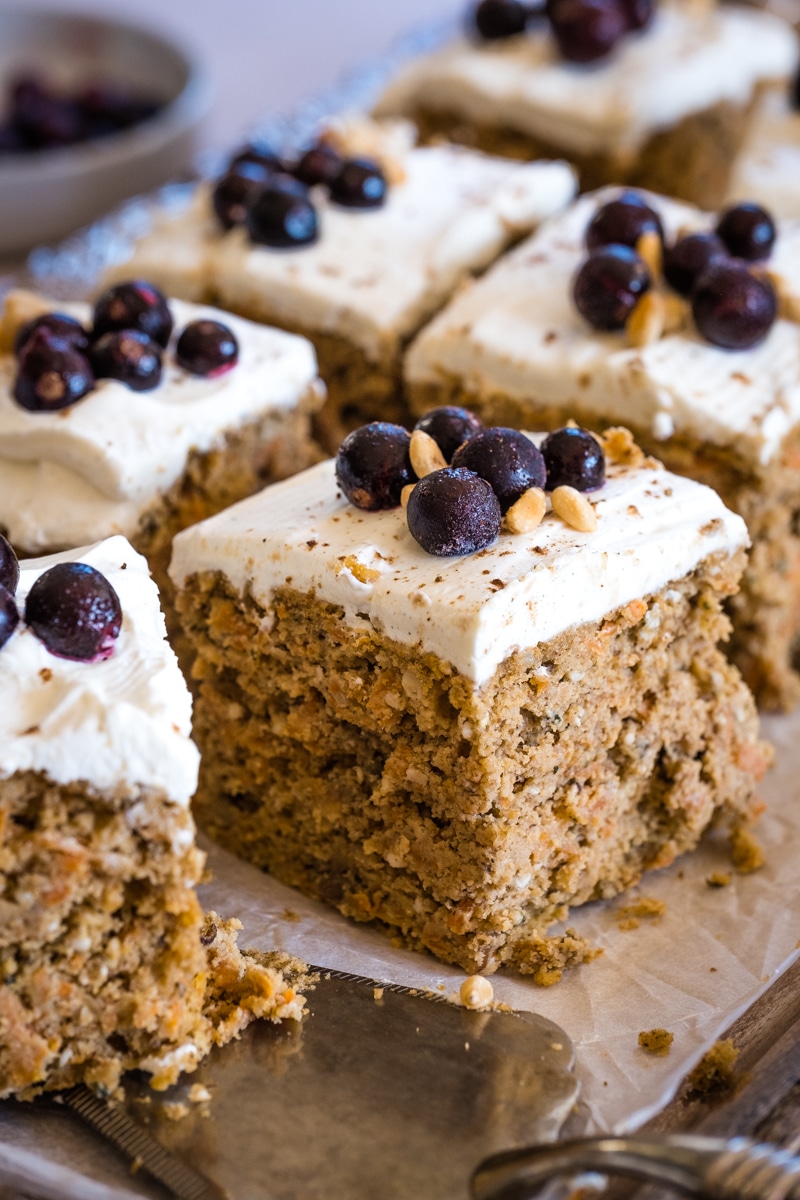 Print Recipe
Sugar-Free Carrot Cake (Nut-Free, Gluten-Free)
Sugar-free, gluten-free, lectin-free, and nut-free carrot cake, now we have it all in one easy-to-make, delicious, moist cake.
Ingredients
DRY INGREDIENTS:
1 cup sorghum flour
2/3 cup tigernut flour
1/2 cup millet flour
1/3 cup tapioca flour
1/4 cup hemp seeds
1/4 cup toasted pinenuts (ground)
2 teaspoons baking powder
1 teaspoon baking soda
1/8 teaspoon salt
Spices: 1 1/2 teaspoon cinnamon powder, 1 teaspoon ground ginger, a pinch of nutmeg, 1/4 teaspoon cloves, a pinch of cardamom
WET INGREDIENTS:
4 pastured eggs
4 tablespoons inulin powder (or another approved sweetener)
3/4 cup extra virgin olive oil
1/3 cup hemp milk
1 teaspoon vanilla
lemon and orange essence OR zest of 1 orange and 1 lemon zest (organic)
ADD-ONS:
2 cups grated carrots (about 3 big carrots)
1 apple, grated
Optional: a handful of toasted pinenuts (whole)
FOR THE FROSTING:
200 grams of Italian mascarpone cream or organic cream cheese
2-3 tablespoons A2 yogurt
2 tablespoons inulin powder OR another natural sweetener to taste
vanilla, orange and lemon essence or zest to taste
Instructions
1

Line a deep baking dish with parchment paper and preheat the oven to 350F/175C.

2

Toast about 70 grams of pinenuts (a handful) and grind 1/4 cup.

3

Mix all the dry ingredients in a bowl.

4

Mix all the wet ingredients in a large bowl.

5

Grate the carrots and the apple.

6

Add the dry ingredients to the wet ingredients bowl and incorporate with a spatula until everything is well combined (don't overmix).

7

Add the grated carrots and apple and fold them in with a spatula.

8

Pour the batter into the baking dish and sprinkle some toasted pine nuts on top, then gently push them in with a spatula. Bake for 35-40 minutes.

9

Do the toothpick test to make sure the cake is baked.

10

Make the frosting by whipping all the ingredients for a few minutes, until it's thickened. Only add the frosting on the cake when the cake is completely cold.

11

The best is to bake this cake one day before serving it. Any carrot cake is better after at least a few hours in the fridge.
Notes
Make this cake one day in advance and store it in the fridge. This cake is pretty tall, and you can make it on a larger baking sheet. But in this case, it will be baked faster, so keep an eye on it. Also, can be made as muffins or a loaf.