These millet flakes chocolate chip cookies are a perfect replacement for oatmeal cookies if you are avoiding lectins in your diet.
Thick, slightly sweet with a touch of dark chocolate and just a hint of salt, these cookies are a great accompaniment for a cup of coffee or tea.
They are also easy to freeze and thaw, in fact, the texture improves after freezing. Make a big batch and always have a healthy sweet treat ready when you feel like it.
Do oats have lectins?
According to Dr. Steven Gundry, the author of The Plant Paradox and the lectin-free movement, oats are loaded with lectins that can't even be destroyed by pressure cooking. And if this was not enough, oats, even the organic ones, have been tested as having high amounts of glyphosate, due to the use of glyphosate (RoundUp) as a desiccant to dry out the crops before harvesting.
While I did feel like making oatmeal cookies, oatmeal was out of the question, and that's when the idea of using millet flakes came. And even though I wouldn't make millet flakes a daily staple in any diet, as it happened with oatmeal, millet is good if eaten in moderation and to replace other lectin-heavy cereals.
What is millet?
Millet is a cereal and an ancient one for that matter. In Romania, my native country, it used to be a staple before the cultivation of corn. People in the area were eating millet polenta. Still very popular in Eastern Europe, millet is easier to find here in various forms, being a staple for gluten-free diets.
There are many cautionary remarks about eating millet (mainly related to how it affects hormones). If you don't make it something you eat every day, or in big quantities, it can be a delicious and nutritious addition to your diet.
Of course, it is a carb with a relatively high glycemic index, especially in the form of flakes (the more processed a grain is the higher the glycemic index), but again, use it smartly to keep you satisfied and away from junk when you are craving comfort food, especially in the cold season.
Where do I find millet flakes?
While millet flakes are popular in Europe and easy to find in health food stores, gluten-free sections in supermarkets and online, one year ago millet flakes almost did not exist in the US (in my experience, at least). Now, Amazon has many options to choose from. I like this organic brand.
How to make millet flakes chocolate chip cookies
Back to our lectin-free millet flakes chocolate chip cookies. The dry mix is made of almond flour, tigernut flour and millet flakes. The wet and fat mix is made of eggs, a combination of coconut butter, coconut oil and nut butter (I used hazelnut) and the flavors are cinnamon, nutmeg and vanilla.
And some dark chocolate chips, because… chocolate. A pinch of salt makes everything better. In fact, that's the first thing my husband noticed, the touch of salt and dark chocolate (he has a fine palate, right?).
My use of sweeteners these days is very rare. I learned how to combine ingredients that are naturally sweet to not need the much-added sweetness. I added just one tablespoon of inulin powder, but any compliant sweetener will work. Of course, you may have a sweeter tooth, in which case you might want to add a little more.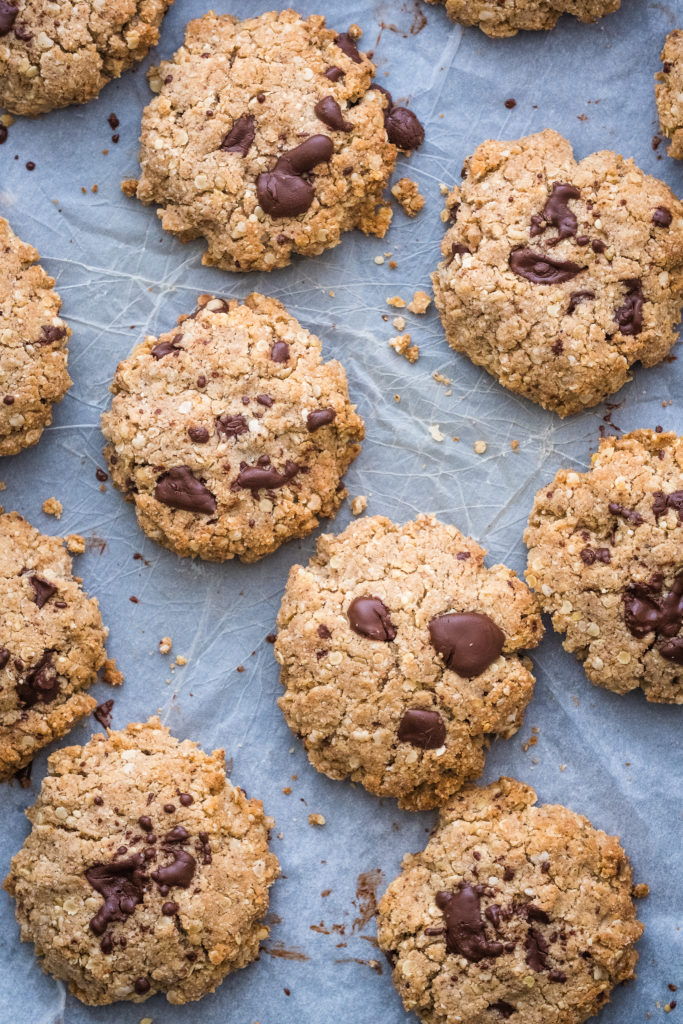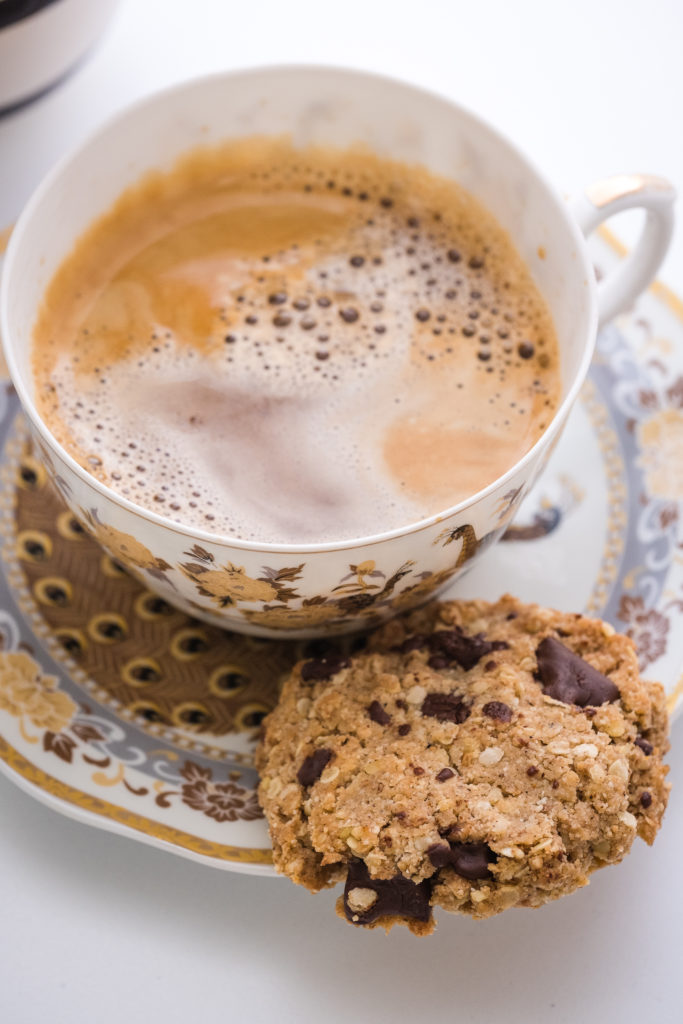 When I first thought about making them, I wanted to use French, organic butter. I even took it out on the counter, but then I changed my mind. I have been dairy-free for a while, with just occasionally adding this type of butter. Somehow I don't like that much the taste and smell of warm butter.
So I used the alternative fats I had around: a mix of coconut butter, coconut oil and hazelnut butter. They have to be melted, but not warm, as you will mix them with the eggs and you don't want scrambled eggs. You can use equal parts of each, but if you have more or less of something don't worry, it will work fine. Just don't make it only coconut butter because it tends to be a little dry.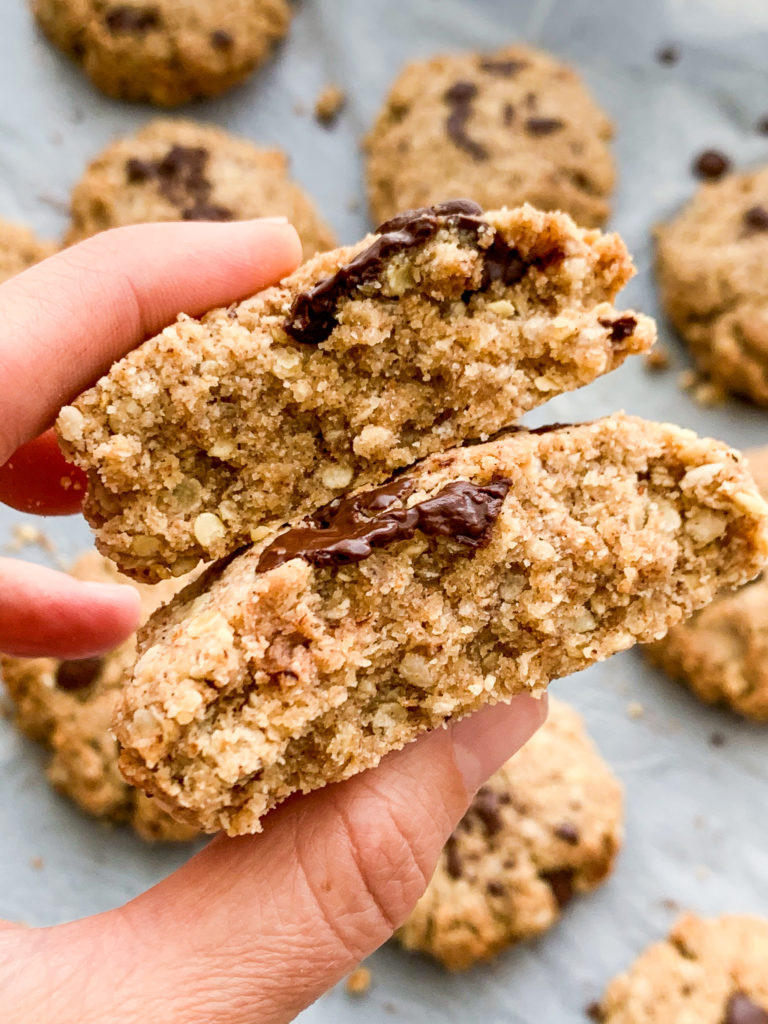 Cookies not too soft, not too crunchy
The texture of these lectin-free cookies is not too soft, and not too crunchy. It is just somewhere in the middle with a crunch factor from the millet flakes.
I thought they would be a little crumbly but they were not at all. They hold together well and have a good, almost soft bite, without being too floury. But try it for yourself and let me know. Enjoy!
More lectin-free cookie recipes
For more lectin-free and gluten-free cookies, try the:
*This post contains affiliated links, which means I get a small commission if you choose to purchase something via one of my links, at no extra cost to you.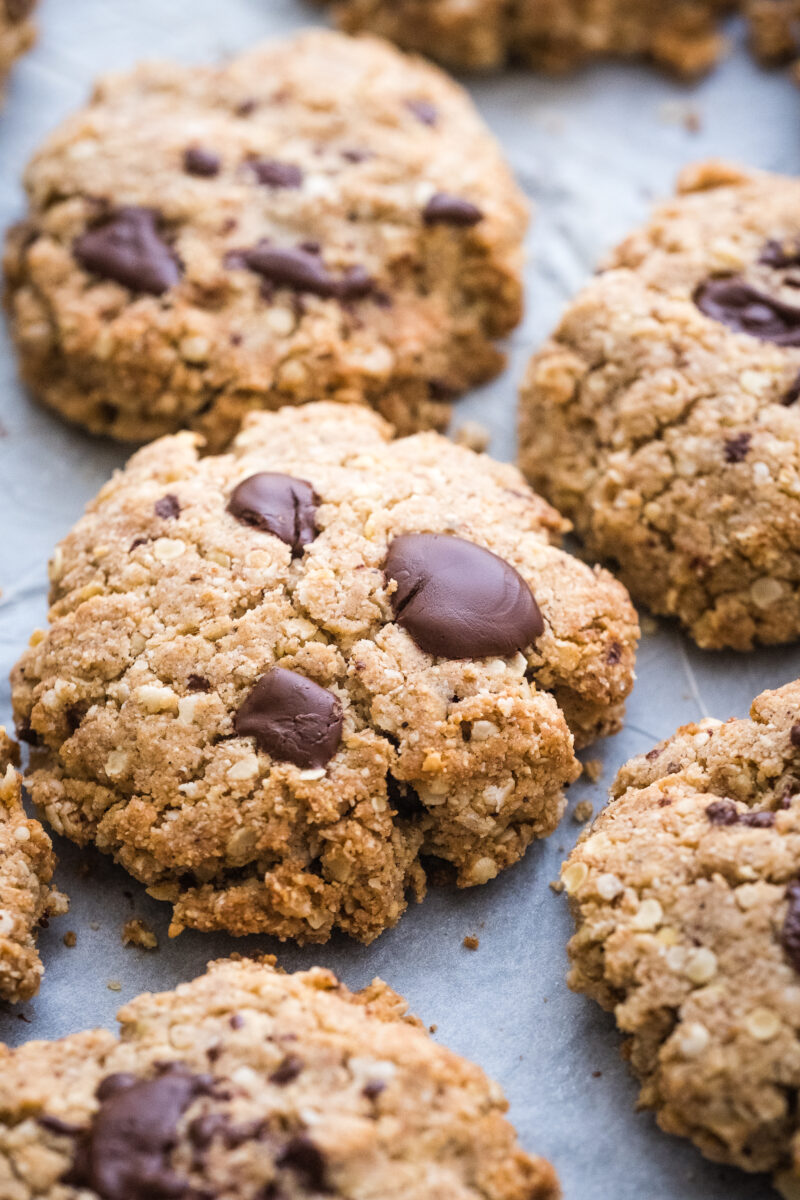 Print Recipe
Millet Flakes Chocolate Chip Cookies
Lectin-free chocolate chip cookies made of millet flakes, almond flour, and tigernut flour. Flavors of cinnamon, nutmeg and vanilla.
Ingredients
1 1/2 cup almond flour
1/2 cup tigernut flour
2/3 cup millet flakes
1 teaspoon baking powder
1 teaspoon cinnamon powder
1/4 teaspoon nutmeg powder
pinch of salt
1/3 cup coconut butter, melted but not warm
1/3 cup coconut oil, melted but not warm
1/3 cup nut butter (I used hazelnut butter)
1 teaspoon pure vanilla extract
1 tablespoon inulin powder or other compliant sweeteners, or more to your preference
2 pastured eggs, room temperature
70 grams dark chocolate, chopped or chocolate chips, minimum 75% cacao (add more if your heart desires)
Instructions
1

Preheat the oven to 350F (180C) and take the eggs out of the fridge. Prepare a baking sheet with parchment paper.

2

Put the oils and butter in warm water or melt them the way you want, making sure they won't be warm when you mix them with the eggs.

3

Combine all the flours, millet flakes, baking powder, cinnamon and nutmeg and salt in a bowl.

4

In a bigger bowl, combine the melted butter together, add the eggs, vanilla and sweetener and whisk.

5

Add the dry mix to the wet and mix the dough with the hands. The dough might look a little crumbly, but once you shape them in your warm hands they'll stick together.

6

Add most of the chocolate to the dough, combine and leave some chocolate to add on top.

7

Shape the dough into about 15 balls, add them to the baking sheet and gently press them down, without making them too thin (see the picture with the section cookie). Gently stick the sides back together if they split too much.

8

Bake them for about 12 minutes, take them out and let them cool. You can store them in an air-tight container, on the counter if it's not too hot in the kitchen, or in a cool place. You keep them for more than 24 hours store them in the fridge or you can even freeze them.