I had ordered hemp seed butter and kept it in the fridge for about a month before I decided to do something with it. Not that it wasn't good, but it was such a new thing to me. I was waiting for inspiration to use it in the best possible way. And the inspiration came the day I wanted brownies and to me, that's a match! So, that's how the hemp seed butter brownies were born.
But I have more good news. These hemp seed butter brownies are vegan, which means there is no dairy or eggs in them. And if anyone has nut sensitivity (I know a few of you that can't have any nuts), the 1/2 cup of almond flour I used can easily be replaced with another flour.
And, as you will notice, you won't find any sweetener in this recipe either. All the ingredients are naturally sweet and there is no need for anything else. Depending on the chocolate you will use, you might have a little bit there, but that's all. You know me, I'm not a fan of sweeteners of any kind so every time I find a way to not use one, I'm happy.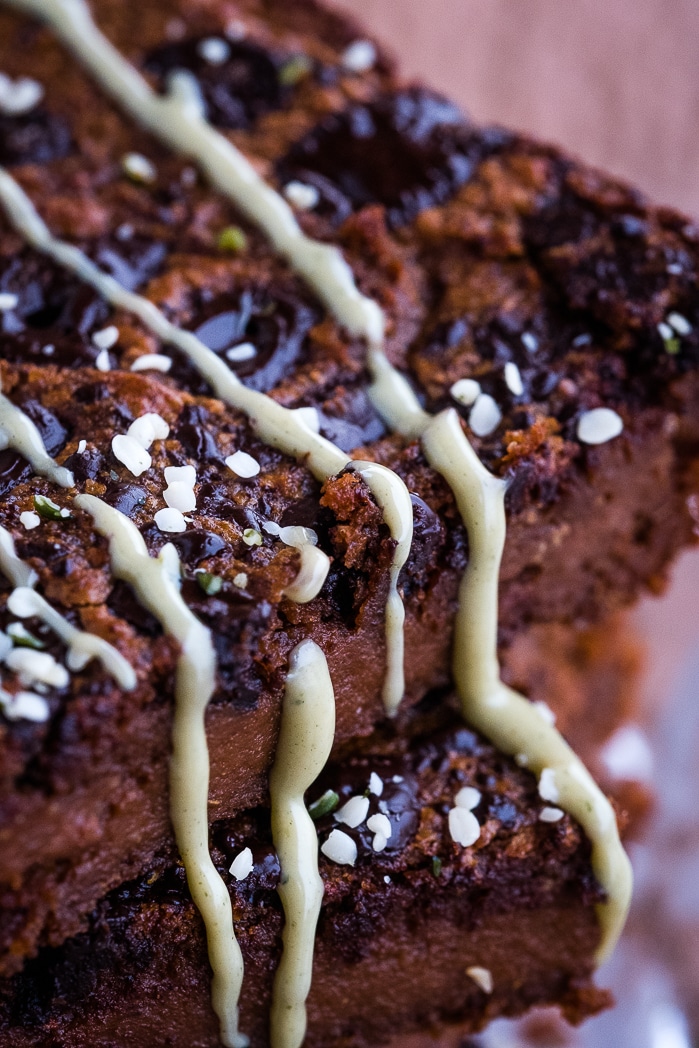 Hemp seed butter
Let's talk about hemp seed butter. It's new to me. A taste I've never experienced. It has a beautiful pale green color, it's gooey and sticky and tastes earthy, almost grassy, but sweet. In Romania, where I am now, hemp is very popular and I'm not surprised I managed to order the butter here. In other parts of the world, not so much, or not yet. Someone wrote me from Singapore and said hemp and poppy seeds are illegal there.
In the US, hemp seeds are popular, but hemp butter is not so much. Even so, there is nothing in the world that can't be found in the US, so there are a few options on Amazon. Be careful, there are more options but some of them are body lotions, so make sure that what you buy is food grade.
All the below three brands: Wilderness Poets, Sun and Seeds and Dastony are well known and make amazing nut and seeds butter. If you are curious where I bought the hemp seed butter in Romania, is from Papamigdal.ro.
Main ingredients for the hemp brownies
The main ingredient of these brownies, other than the hemp seed butter, is cooked sweet potato puree. I usually bake more sweet potatoes throughout the week and always have some ready to use for desserts.
For flour, I used 1/2 cup of tigernut flour and 1/2 cup organic almond flour, but if you want to make it without the nut flour you can use only tigernut. I did use a little bit of hazelnut butter too because I love how it combines with chocolate. Again, if you have to replace it, use other nut butter or more hemp seed butter.
TO CHECK ALL PLANT PARADOX BAKING PANTRY ITEMS IN ONE PLACE CHECK MY SHOP PAGE
How to serve hemp seed butter brownies
This might be the easier brownie recipe ever. And delicious. It passed all the tests in this house full of non-compliant people who can eat any cake they want. That's always a good sign.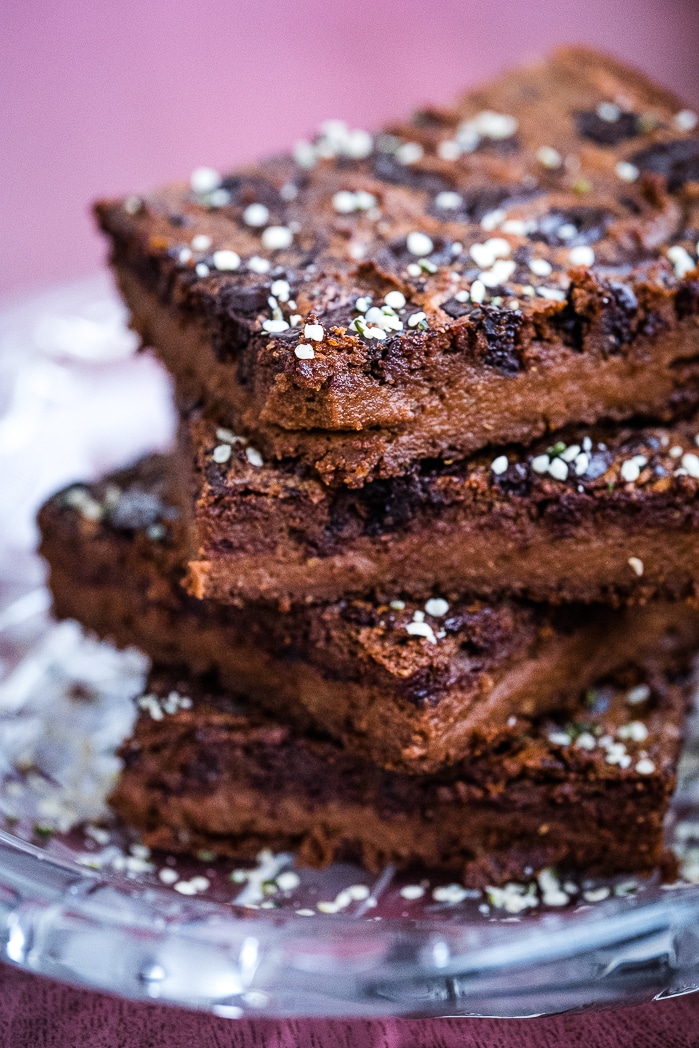 You can serve with nut butter, compliant ice cream, or as it is. But make sure it's cold. It needs a little bit of time for all the butter to cool down and set. I prefer it the second day, from the fridge.
And I'm just saying since all the ingredients can be eaten raw, the batter taste and texture are amazing, like a chocolate mousse. So feel free to clean your working bowls with your fingers :).
More brownie recipes
You may also like my other brownie recipes, try the:
Enjoy!
*This page contains affiliated links, which means I get a small commission if you choose to purchase something via one of my links, at no extra cost to you.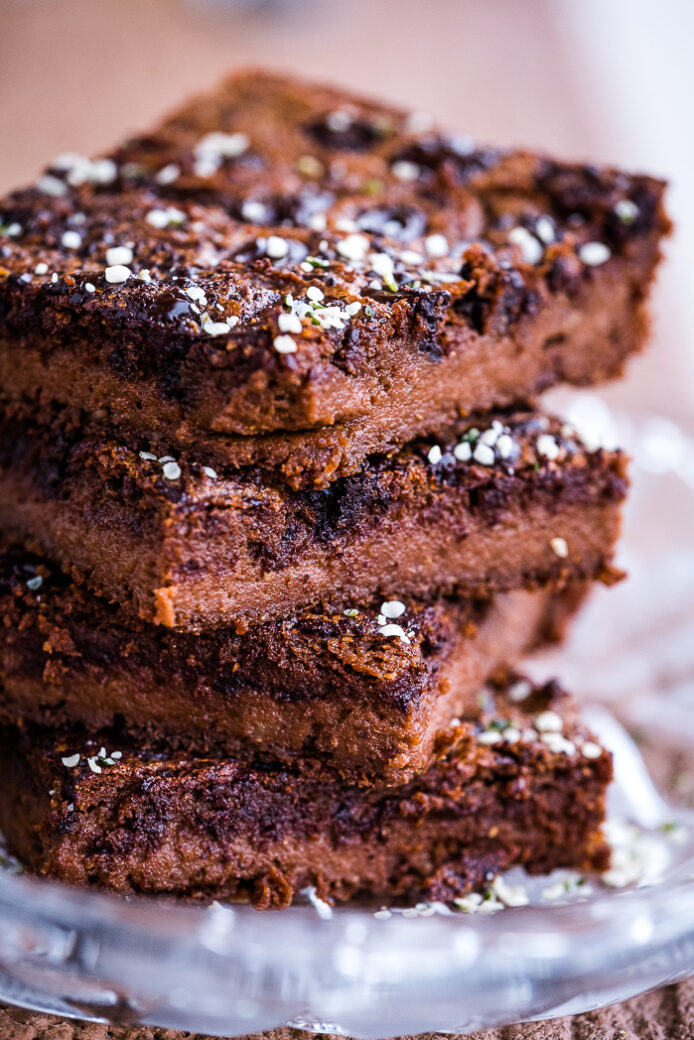 Print Recipe
Hemp Seed Butter Brownies (vegan, sugar-free)
A delicious, healthy and super easy healthy sweet treat with a surprise ingredient: hemp seed butter.
Ingredients
2 cups mashed, cooked sweet potato
1/2 cup tigernut flour
1/2 cup almond flour
90 grams hemp butter
4 teaspoons hazelnut butter
3 heaping tablespoons organic cacao powder
1/2 teaspoon Himalayan pink salt
2 heaping tablespoons coconut oil, softened but not melted
1 teaspoon baking powder
about 40 grams of dark chocolate, chopped
coconut oil for greasing the dish
optional: hemp seeds to sprinkle on top / more hemp seed butter to drizzle on top
Instructions
1

Preheat oven to 350F (180C).

2

Prepare a baking dish by greasing it generously with coconut oil. I like to use a pyrex, the one I have now is 9 inch x 5 inch. You can use a smaller one, and it will be thicker, but don't use a bigger one, as it will be too thin.

3

Add all the ingredients, except for the chopped chocolate, to a food processor and mix until all well combined and creamy.

4

Transfer the content of the food processor to the baking dish, level it up and sprinkle the chopped chocolate on top. With the back of the spoon or a spatula, gently push the chocolate into the batter.

5

Bake for about 35 minutes, until the cake is no longer softer to touch.

6

Take out and let cool completely before cutting into squares. If you cut it while still warm, it may look a little uncooked, but it's not. All the butter is super soft and needs to cool and the cake will settle.

7

Preferably let it cool in a cold place or fridge before eating (the second day is best).
Notes
You can serve with nut butter, compliant ice cream, or as it is. And I'm just saying since all the ingredients can be eaten raw, the batter taste and texture are amazing, like a chocolate mousse. So feel free to clean your working bowls with your fingers :).