Looking for a quick, on-the-go breakfast? Or maybe for a grounding and nourishing road snack when you travel? These breakfast sweet potato muffins are all you need. Made with whole ingredients, they are sugar-free, gluten-free, and lectin-free, and taste delicious without overwhelming you with sweetness.
You know what they say, better to avoid breaking your fast with something sweet. But these muffins are made with whole ingredients, have no sugar or sweetener, are rich in healthy fats and protein and only have a natural sweetness.
They are great with coffee, but also the perfect accompaniment to an egg breakfast or a salad. They can be stored at room temperature for 2 days, stored in the fridge for 3 to 4 days, or even frozen.
Ingredients for the breakfast sweet potato muffins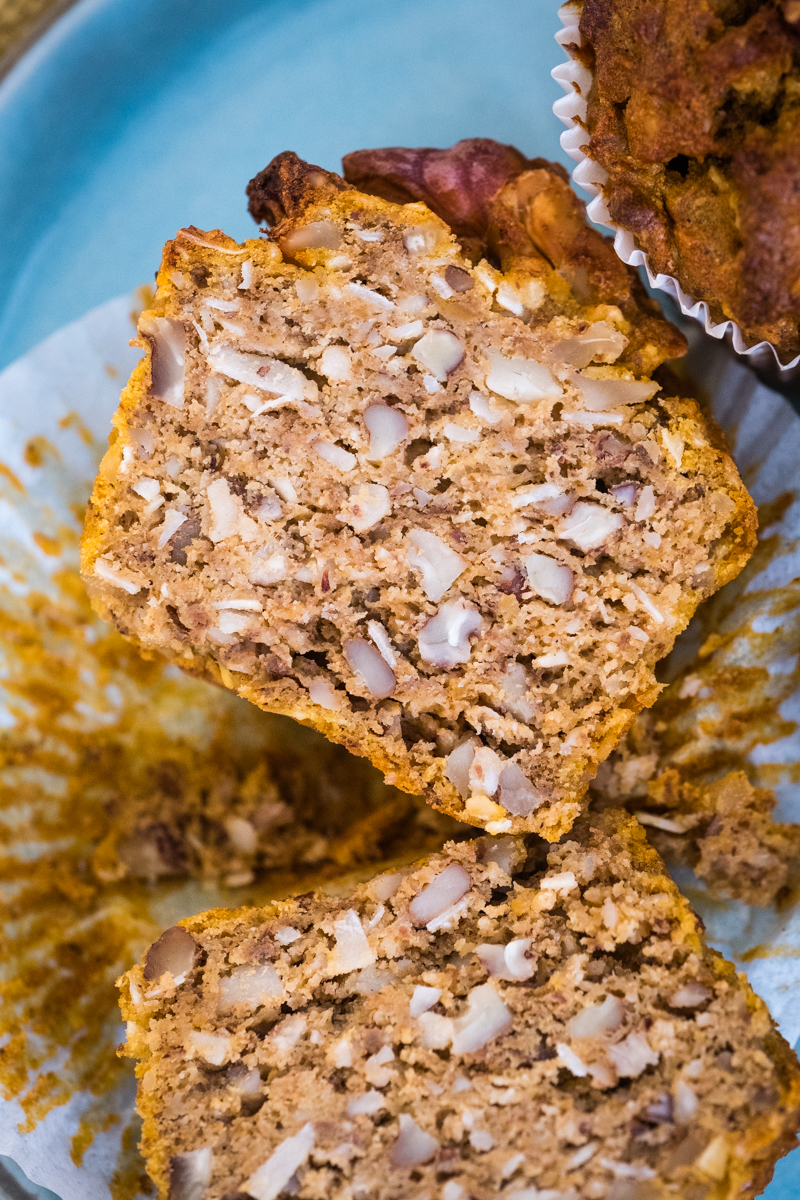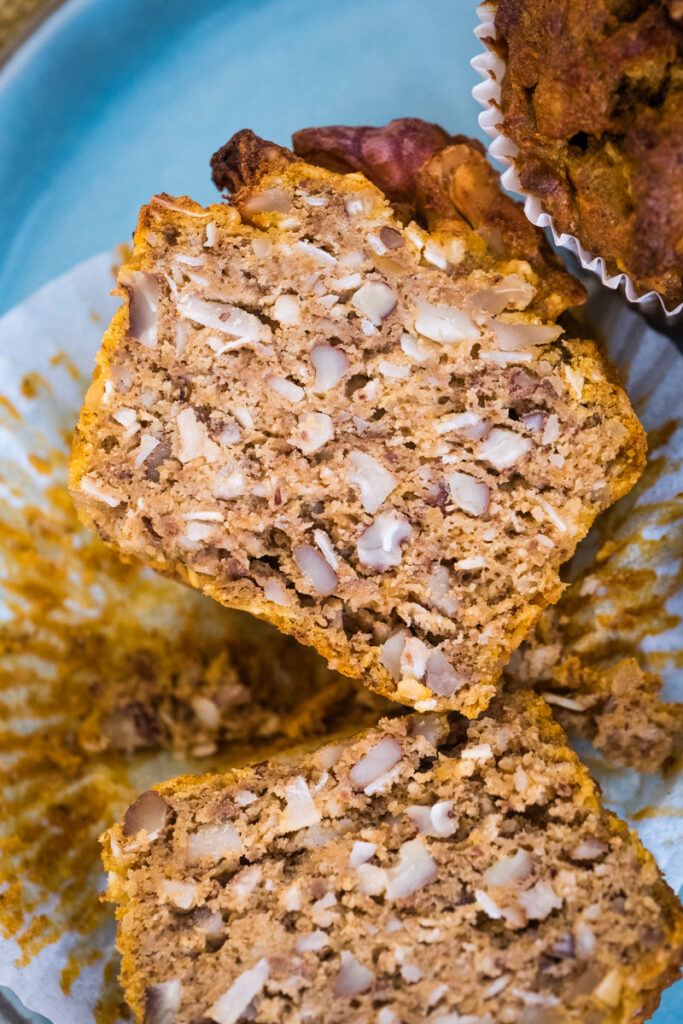 The dry ingredients
Wholesome, easy to find ingredients that are lectin-free and gluten-free, and not too carby:
GROUND NUTS: I like to use a mix of walnuts, pecans and pistachios. Or walnuts and pecans. Or only walnuts, or only pecans. For this recipe, I wouldn't go with another type of nuts or combinations.
FLOUR: I used a combination of tigernut and sorghum flour, plus shredded coconut, which in this case will act like flour.
The wet ingredients
SWEET POTATO: I prefer to bake sweet potato whenever I use it for cakes. It has more flavor and less moisture. Great to make these muffins when you have leftover sweet potatoes.
EGGS: Use pasture-raised and/or omega-3 eggs.
COCONUT CREAM: I like to use coconut cream for desserts, but full fat, canned coconut milk will work too.
EXTRA VIRGIN OLIVE OIL: Despite the stronger taste, I love using extra virgin olive oil in desserts. You can also use avocado oil.
The spices
Cinnamon, licorice, lemon zest, and a little bit of salt are the spices I used for this breakfast sweet potato muffin.
Zero sweeteners
There is no sweetener in this recipe, but there is so much natural sweetness from the sweet potatoes, tigernut flour, coconut, nuts, licorice powder and cinnamon.
If you don't have licorice powder in your pantry, you are missing out. Not only gives a great flavor to sweet and savory dishes, but it's also great for gut health. Don't worry, it doesn't taste like licorice candy, it adds a very subtle flavor profile.
More muffin recipes that smell and taste like holidays
I hope you like this sweet potato muffin recipe. For more delicious muffin recipes:
*This post contains affiliated links, which means I get a small commission if you choose to purchase something via one of my links, at no extra cost to you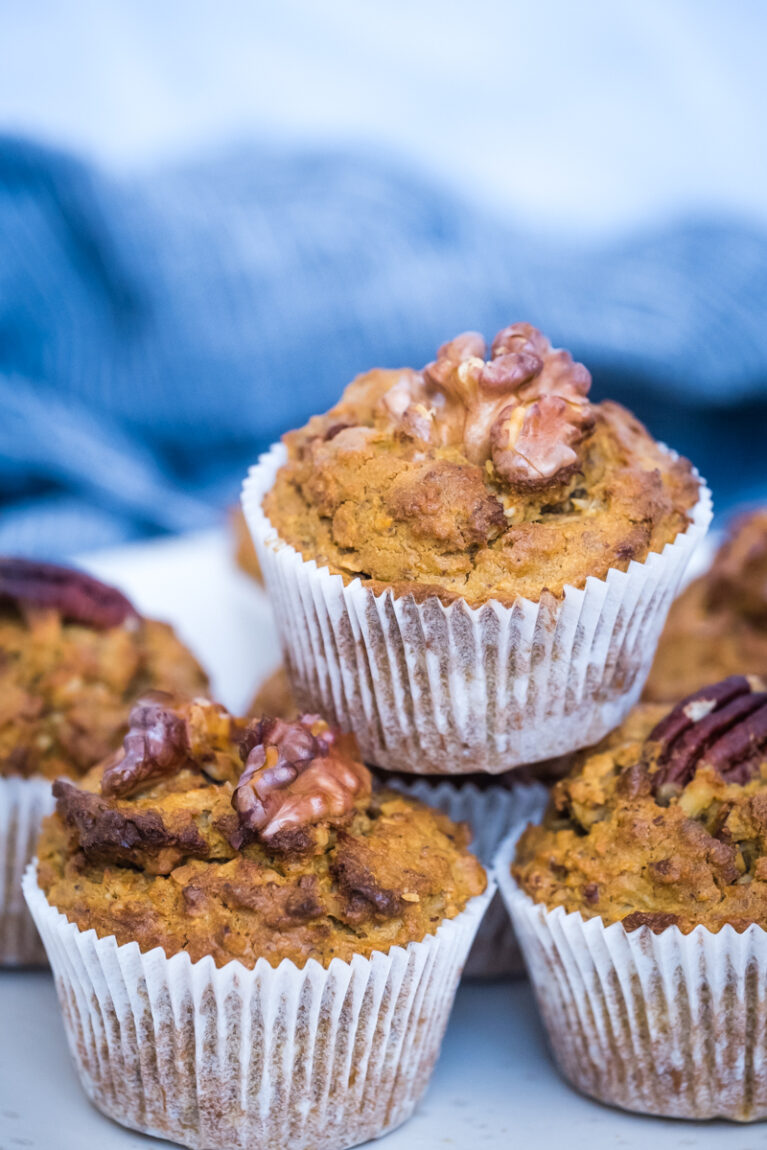 Print Recipe
Breakfast Sweet Potato Muffins (Sugar-Free)
Easy to make, gluten-free, and sugar-free, these sweet potato muffins are the perfect on-the-go breakfast and a grounding and nourishing travel snack.
Ingredients
1 cup mixed nuts (walnuts, pecans, pistachios) OR just walnuts, OR just pecans
1/2 cup shredded coconut
zest from one organic lemon
1/4 cup tigernut flour
1/4 cup sorghum flour
1 teaspoon baking powder
2/3 cup mashed sweet potato
1/4 cup coconut cream
1/4 cup extra virgin olive oil
2 pasture-raised eggs
1/8 teaspoon salt
1/2 teaspoon cinnamon
1/2 teaspoon licorice powder
More nuts for garnish
Instructions
1

Preheat the oven to 350F. Line a muffin tin with muffin paper liners (makes about 7 small muffins).

2

Grind the nuts in a food processor, until they resemble the cauliflower rice texture. It's ok if some pieces are bigger and some smaller, that's in fact what you are looking for.

3

Mix the ground nuts, lemon zest, tigernut flour, sorghum flour, shredded coconut and baking powder in a big bowl.

4

In a food processor or blender, combine the sweet potato, coconut cream, olive oil and eggs, until creamy.

5

Add the cream to the dry ingredients, add the spices and combine with a spatula.

6

Fill each muffin liner with the batter and add half a walnut or pecan on top, gently pushing it into the batter.

7

Bake for about 30 minutes. I used a cake setting which makes things bake faster, so it might take an extra 5 minutes if you use a normal baking setting. They are ready when golden brown on top and no longer soft to touch.

8

Let them cool for 10-15 minutes before eating.