This article is a continuation of my first lectin-free lunch box feature (Part 1), which is linked below. I started this feature because I always get requests from parents for ideas for meals for their children. I also know that is hard to come up with new meals every day and keep them healthy and nutritious at the same time.
These lunch boxes are lectin-free because that happens to be the lifestyle I follow, but beyond the labeling, they are just ideas of healthy food choices for your kids (and for you too).
Healthy kids, healthy adults
If you read my previous feature – 'Back To School. Six Lectin-Free Lunch Box Ideas' – you will see I'm not for preferential treatment when it comes to food, and in general adults and children should be able to eat the same foods, whether in a restaurant or at home. That's how I grew up and how I think we formed healthy eating habits and developed palates to appreciate a variety of healthy, real foods.
I always aim for colorful meals because a meal rich in different colors is a balanced meal (isn't nature amazing?). And my lunch boxes/lunches are most of the time leftovers from our dinner or baked goods that are prepared in advance and frozen so they don't add to the preparation time of the lunch box.
Vegetables are usually washed, dried and cut if necessary, and stored in Stasher bags or glass containers in the fridge so it's easy to pull some out when preparing the lunch box. Although I personally don't eat much fruit (not daily anyway), I think seasonal, local when possible fruits are a great addition to our children's lunch boxes.
And last but not least, there is always at least one bag of yummy crunchiness in my pantry, mostly green plantains from both Barnana and Terra brands, or homemade, and the coconut chips from The Real Coconut brand (I linked them all below, be careful, not all varieties are compliant).
A safe way to carry your lunch box
For demo purposes, I used the only stainless steel lunchbox I own, a LunchBots box with 5 compartments and 4 cups volume, named Bento Cinco. You can buy it here.
I would also recommend having a separate leakproof container or thermos for food that is runnier or soups (buy it HERE) and few leakproof small containers for dips or sauces. You can find them here.
And since we are here and you are just building your collection (by the way these are eco-friendly, safe and free of endocrine disruptors and will last you a lifetime), this Duplex Insulated Lunch Bag is perfect.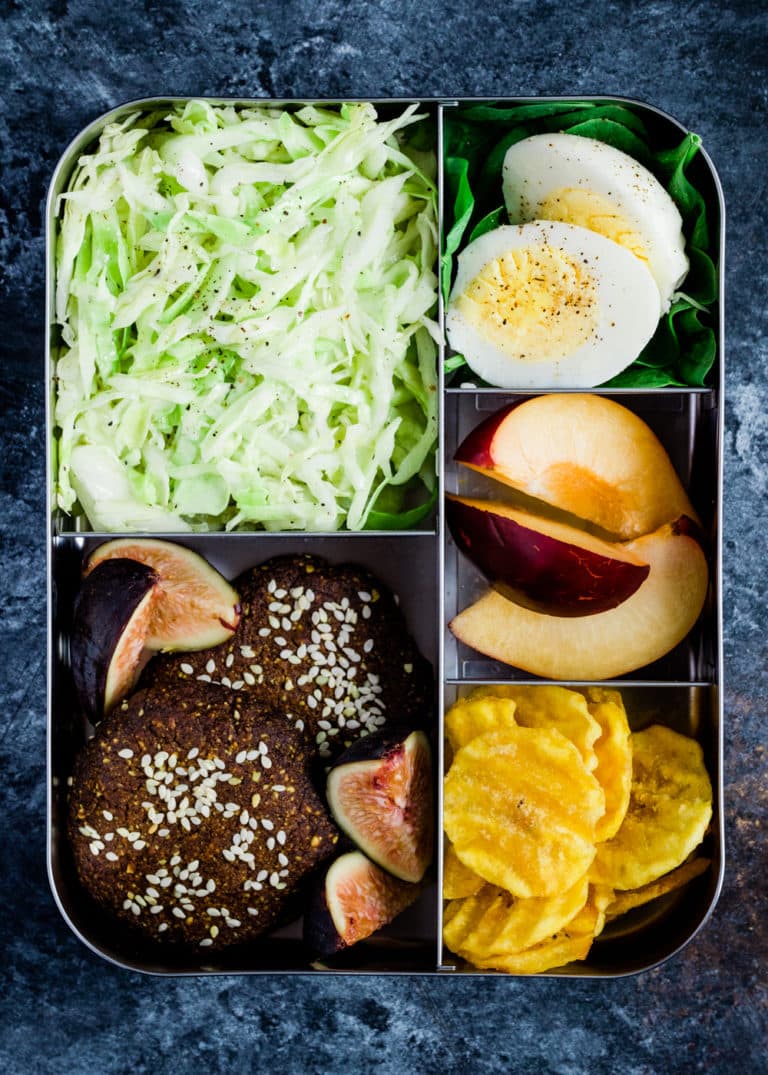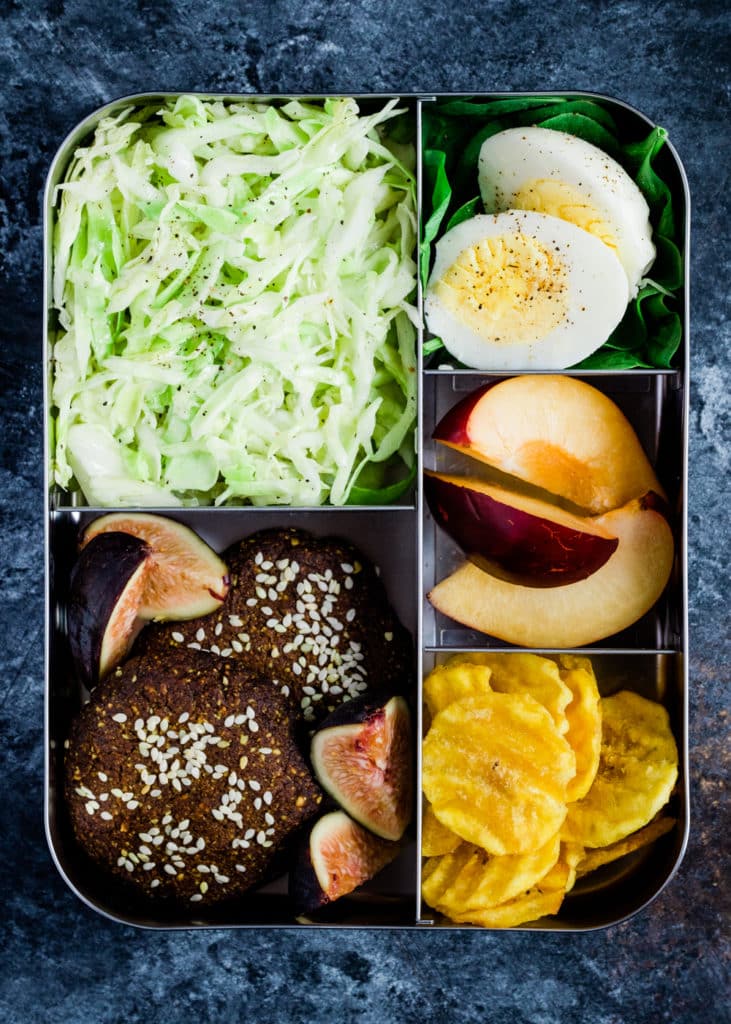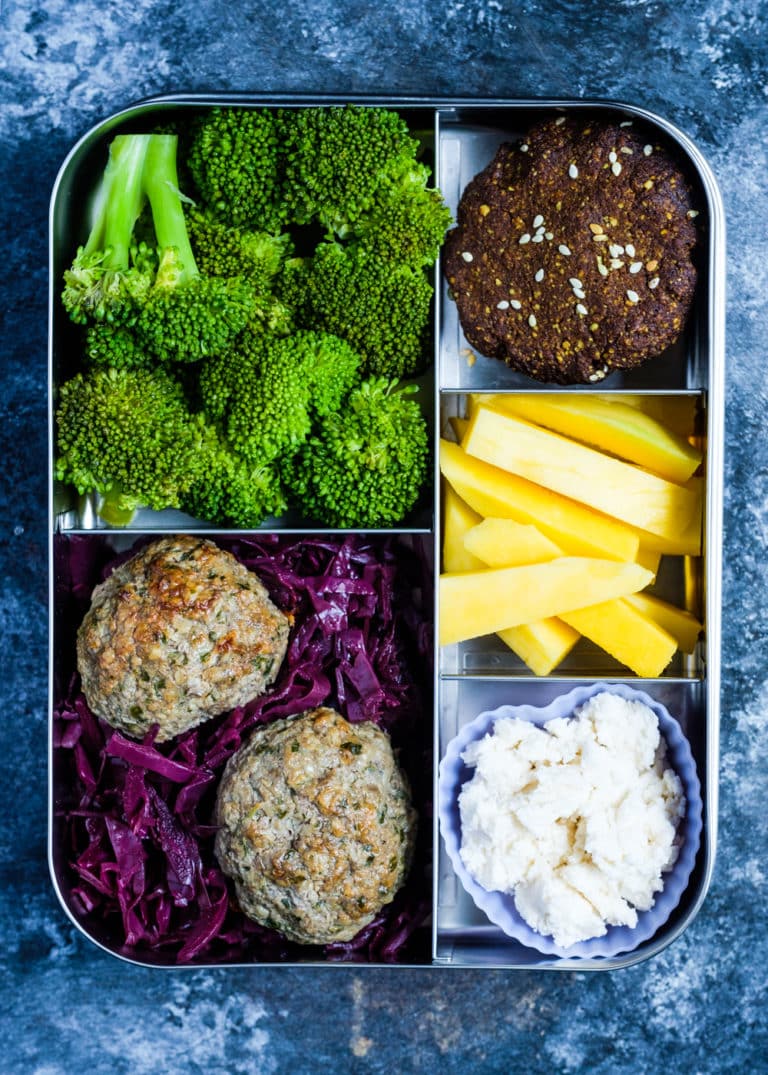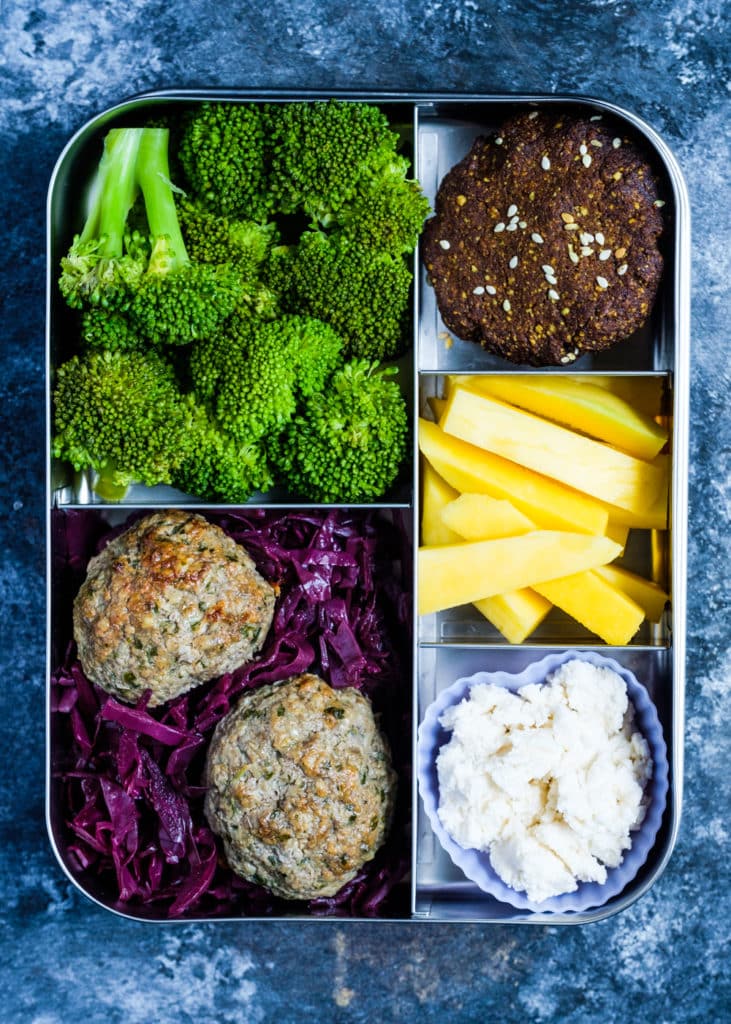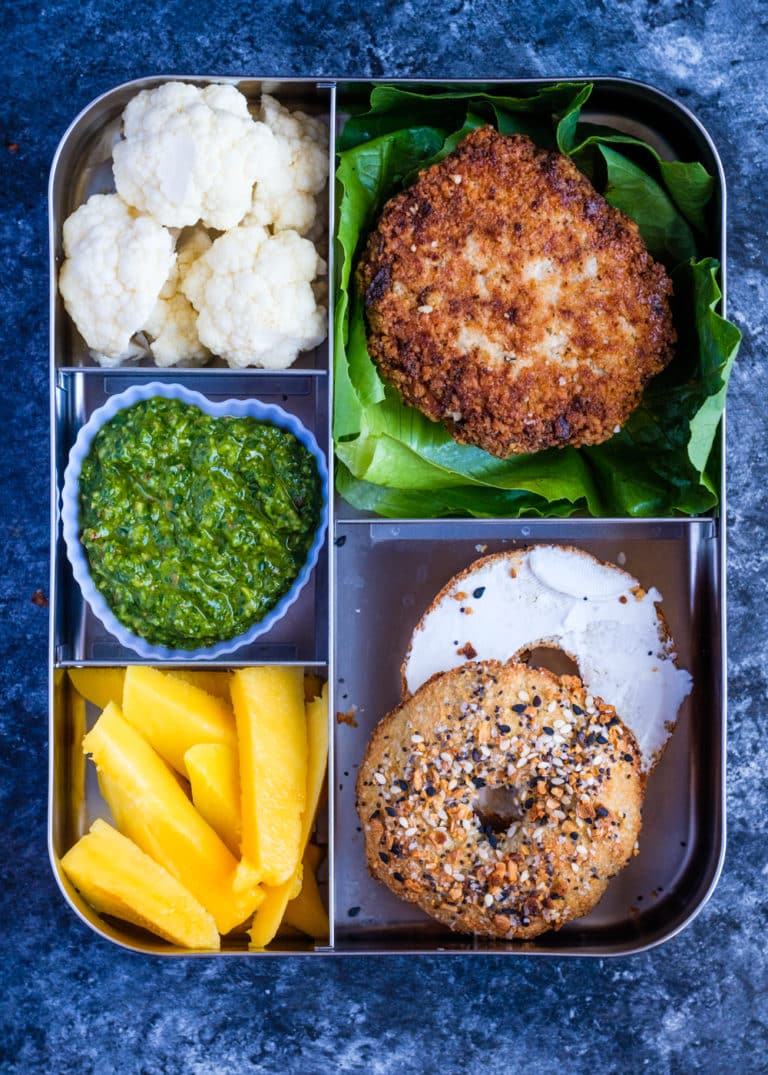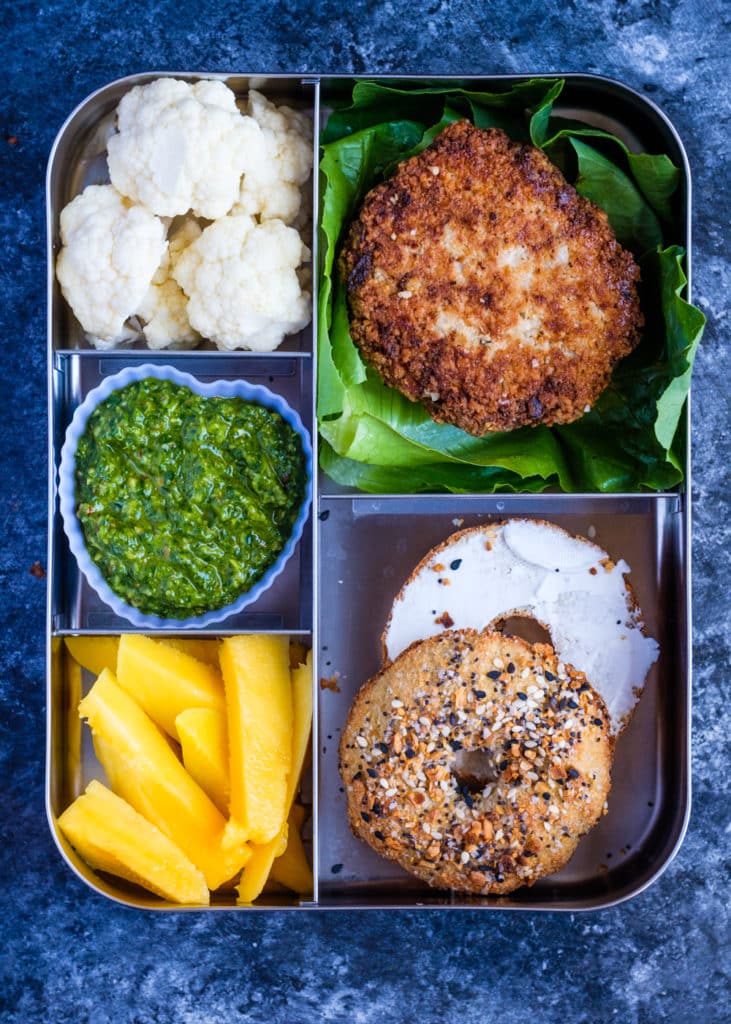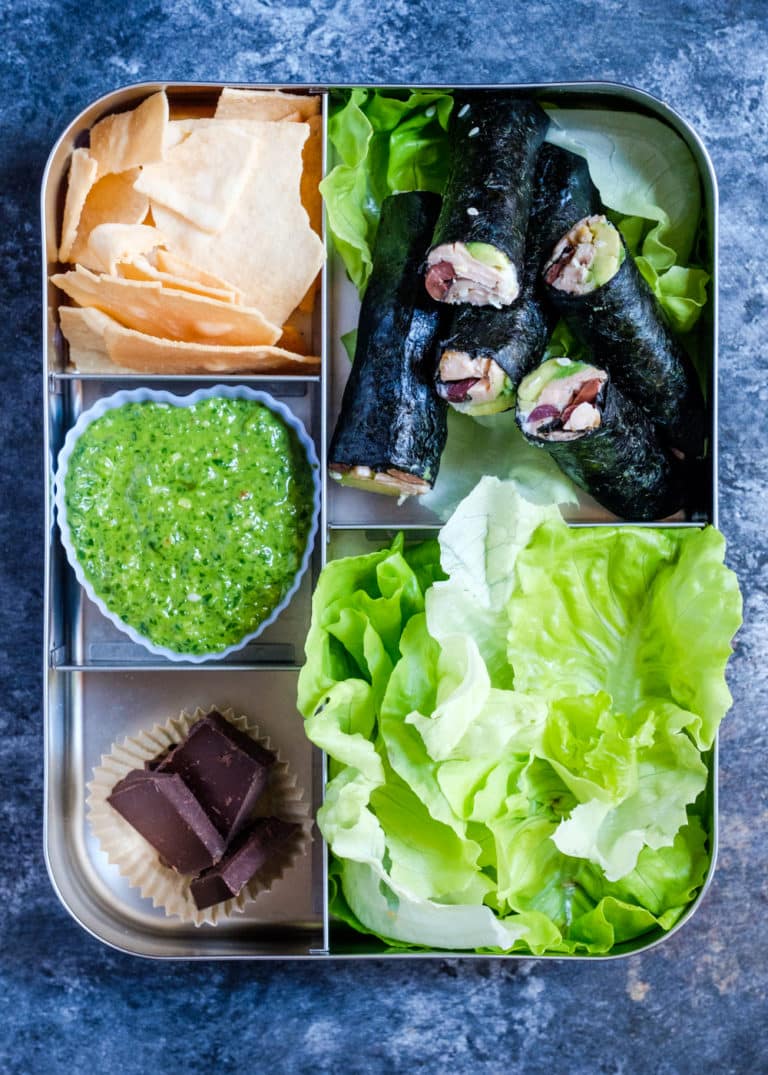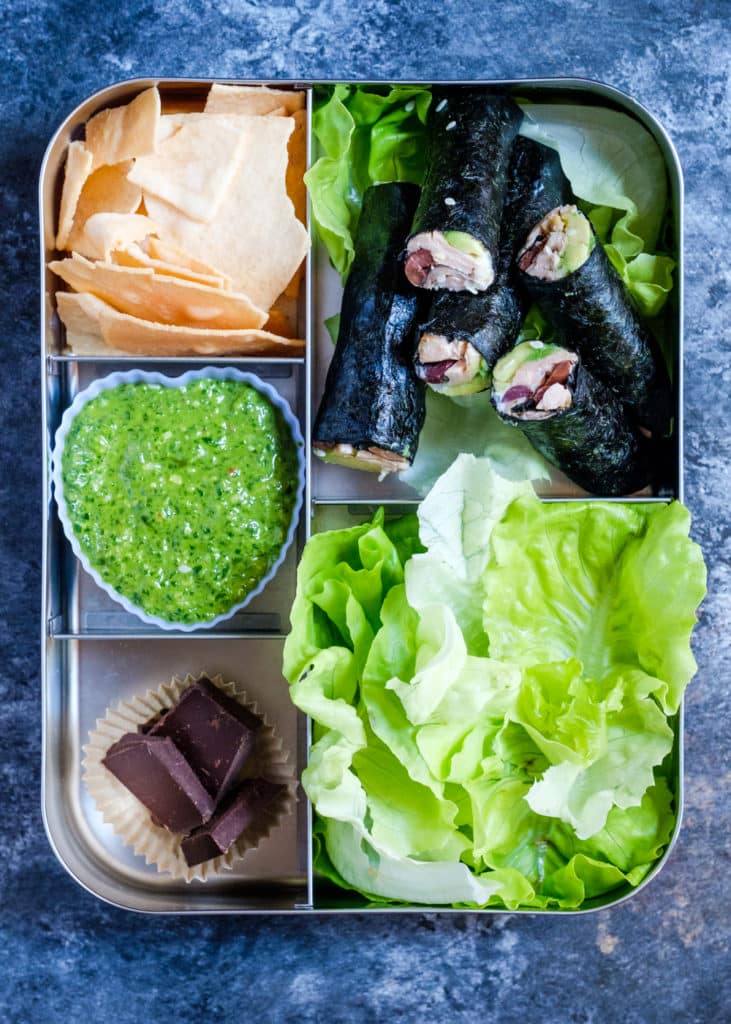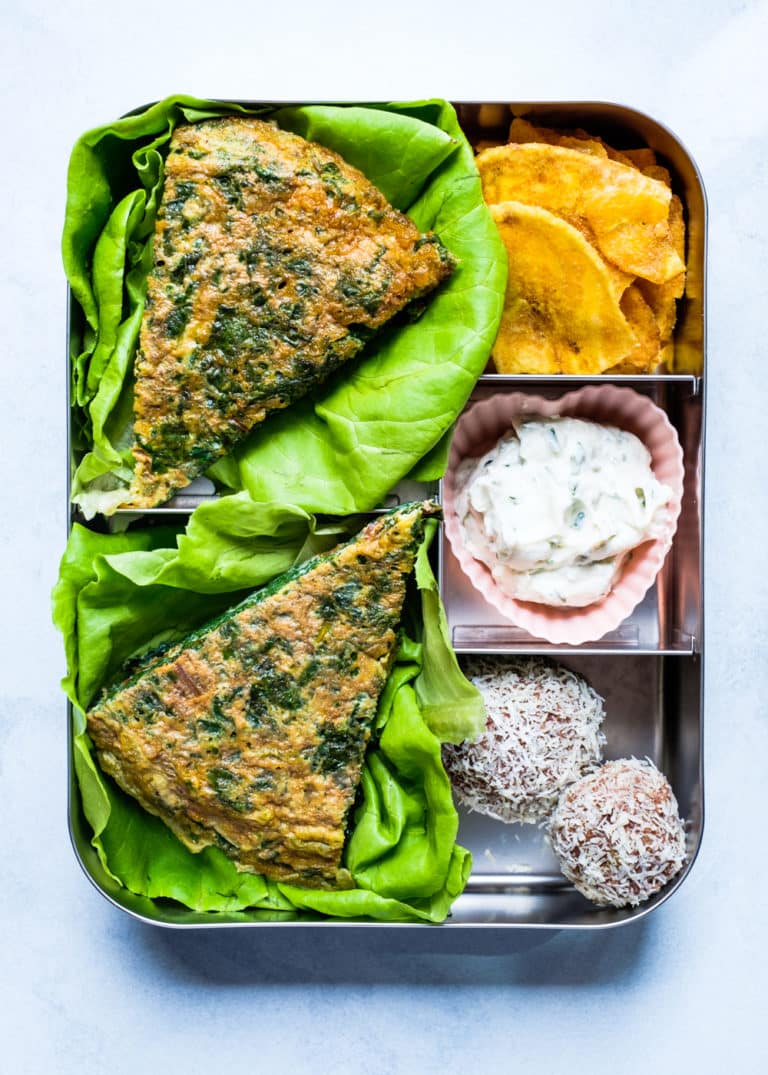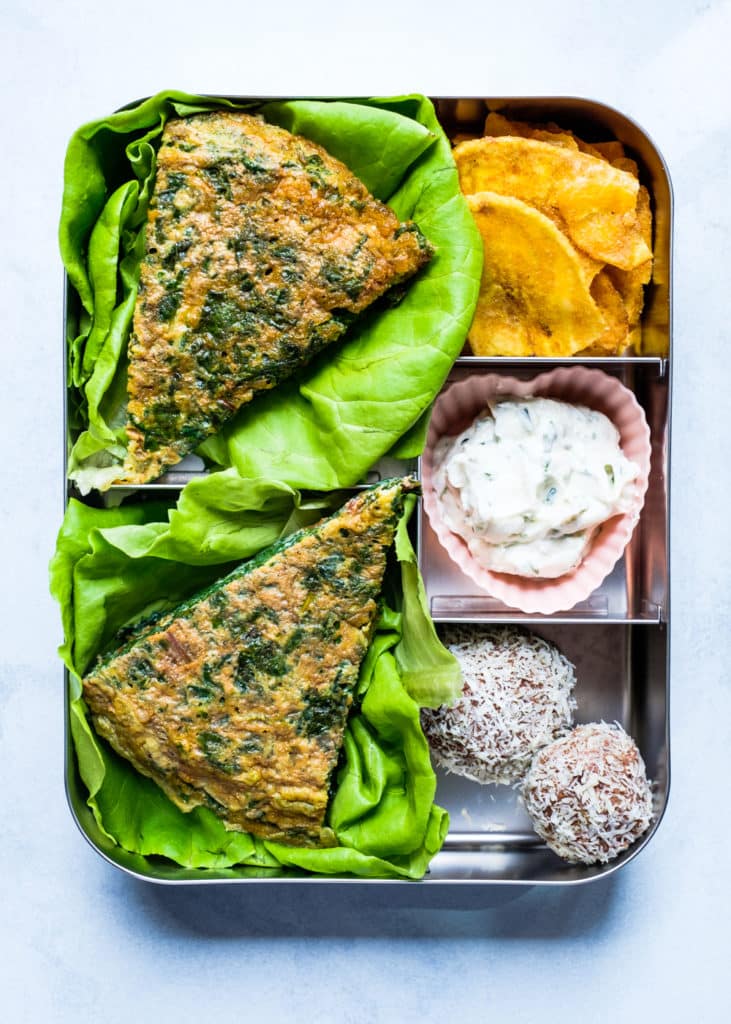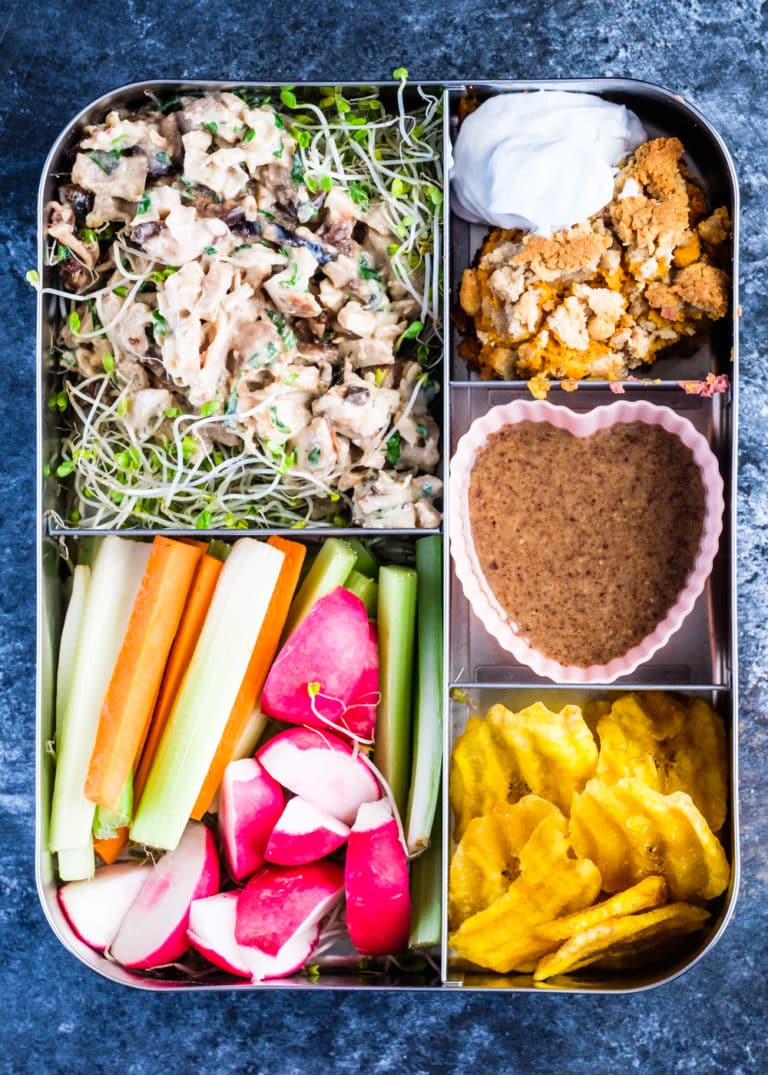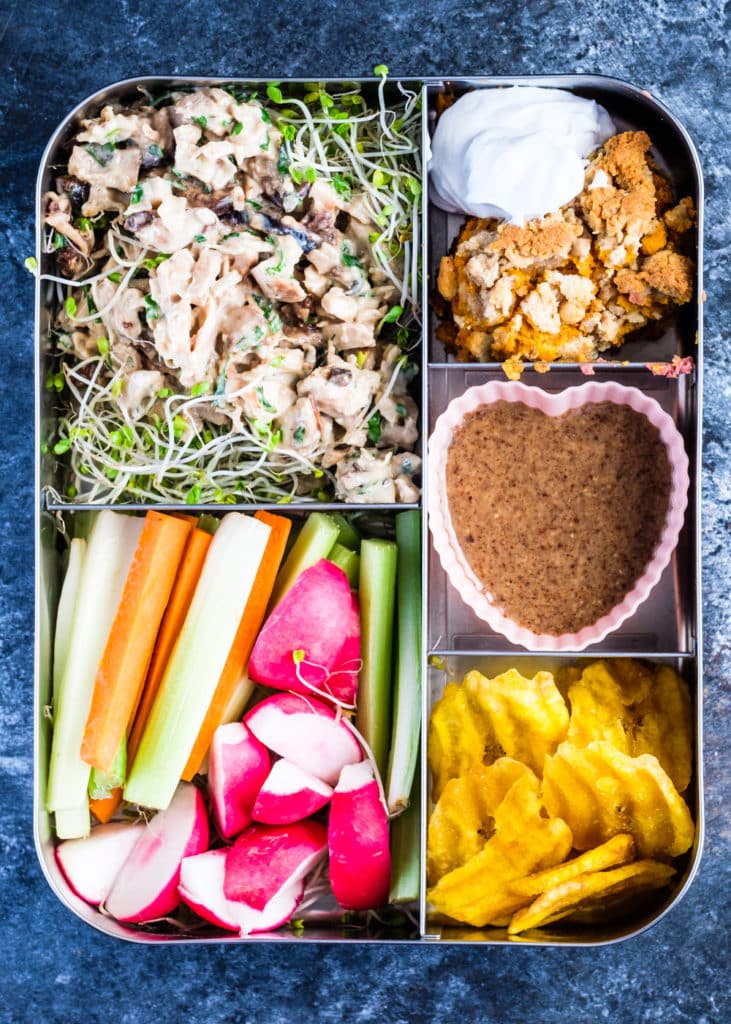 Six more creative lectin-free lunch box ideas
Lunch box No. 1 – Green Cabbage Salad + 1 fresh Fig + Boiled Pastured Egg on a bed of Spinach + half Plum + Barnana Green Plantain Chips
This is an easy one. The boiled egg and cabbage salad can be prepared in advance. Nevertheless, the combination of tastes is amazing and it makes for a nutritional and appetizing lunch.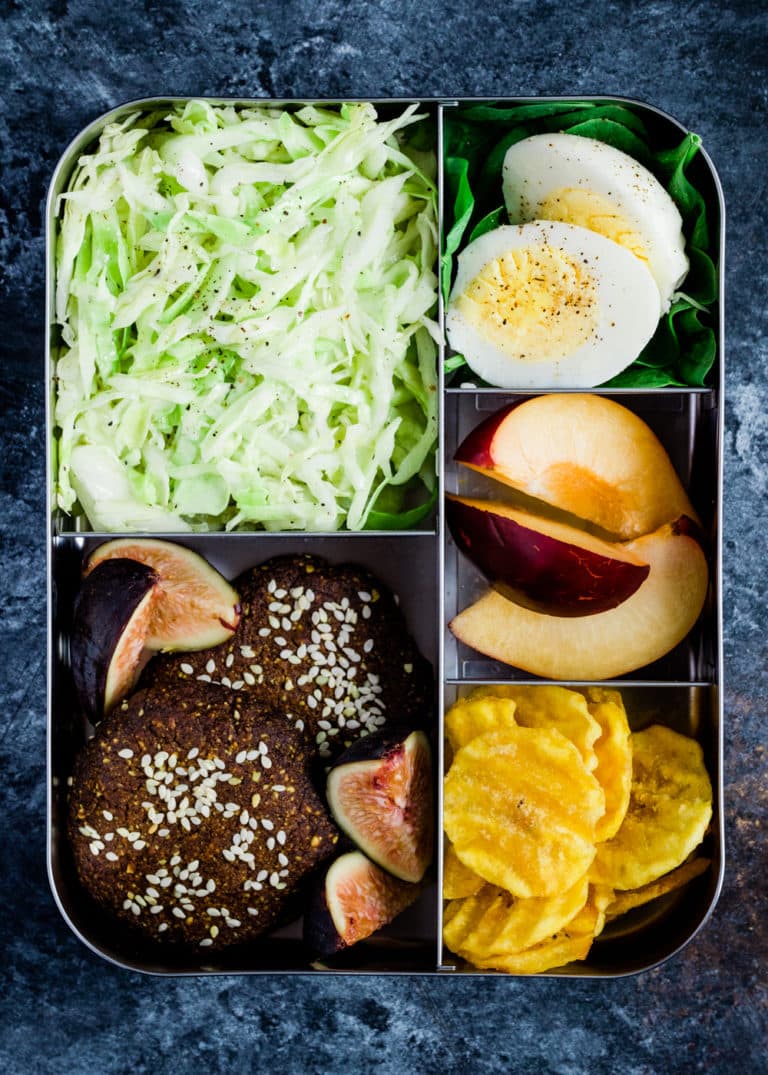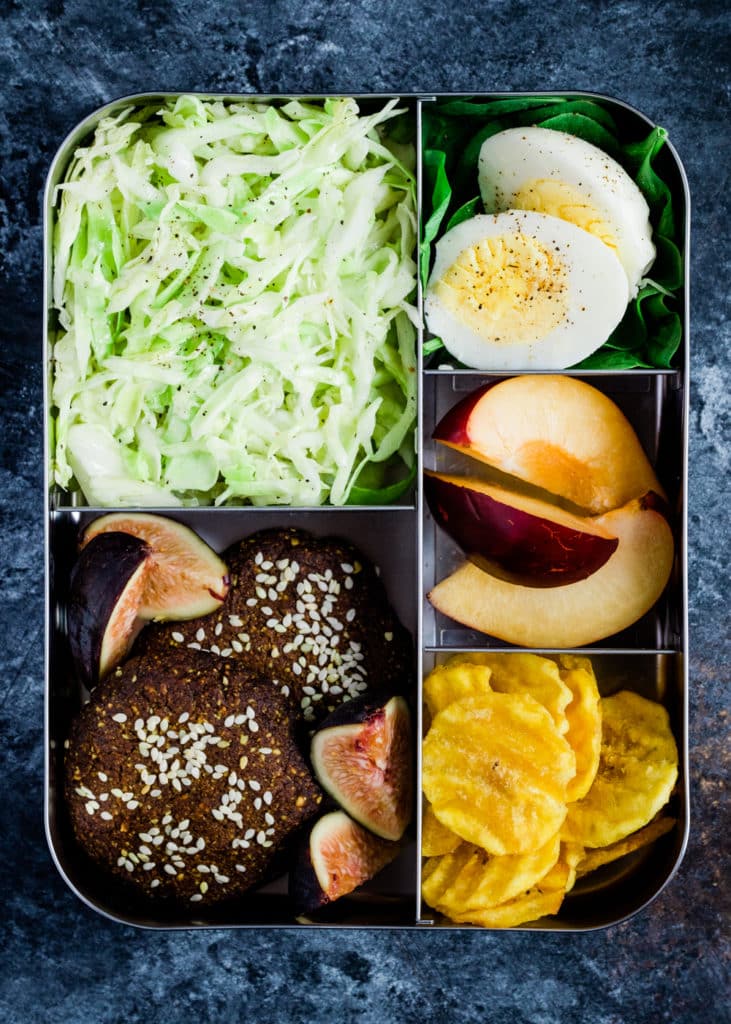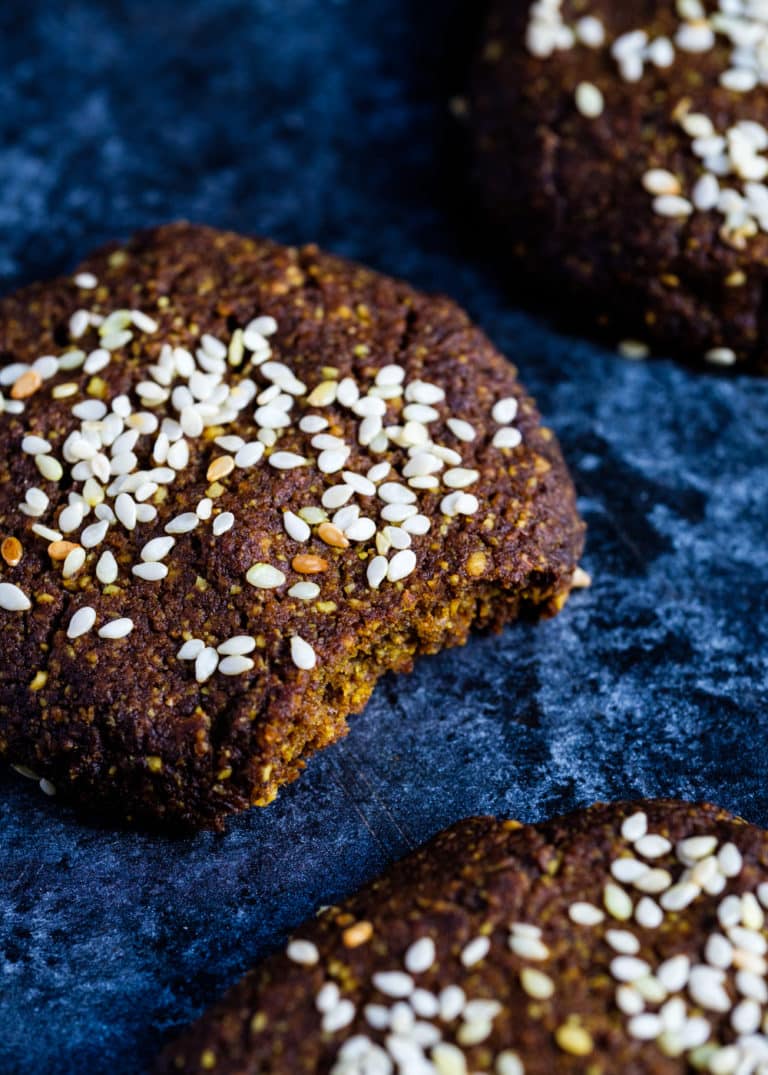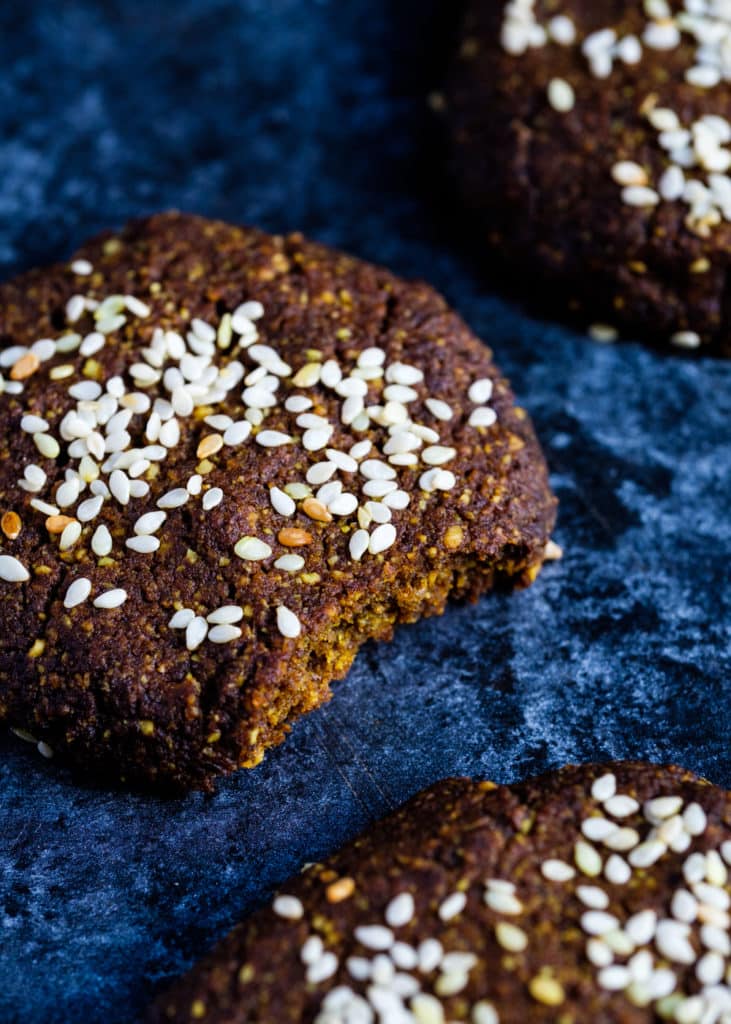 Lunch box No. 2 – Lectin-Free Scandinavian Meatballs + Sweet and Sour Braised Red Cabbage + Steamed Broccoli + Green Mango + Almond Ricotta
This is a leftover lunch box. If you make the Scandinavian meatballs with curry sauce and sweet and sour braised cabbage, you will certainly have leftover meatballs and red cabbage to use for at least one lunch box, and you can even freeze some meatballs. I haven't used curry in the lunch box because I don't think it makes for a good meal when cold, but if you have the option of warming your lunch, can be a great addition. Steamed broccoli is excellent, even cold, and easy to prepare. Green mangoes are great if you can find some, and Kite Hill ricotta has excellent taste. I usually buy it at Whole Foods, I don't know yet of an online store that sells it (perhaps because is a perishable item). These are all the recipes:
Lectin-Free Scandinavian Meatballs with Curry Sauce
Sweet and Sour Braised Red Cabbage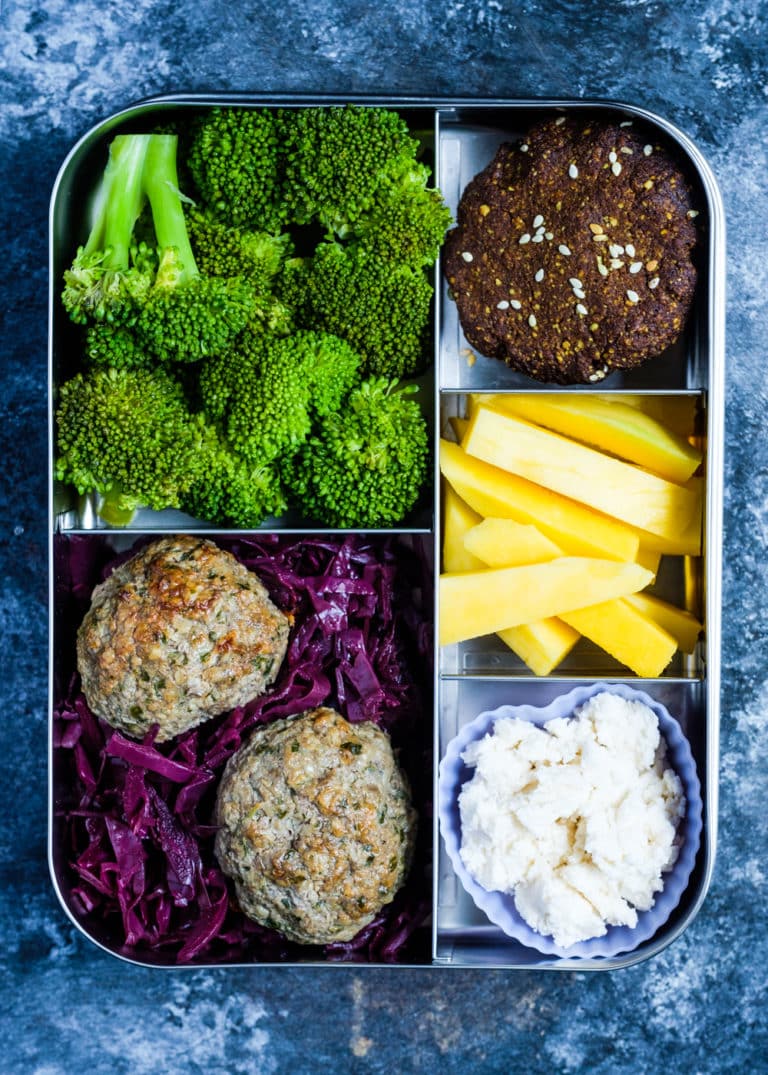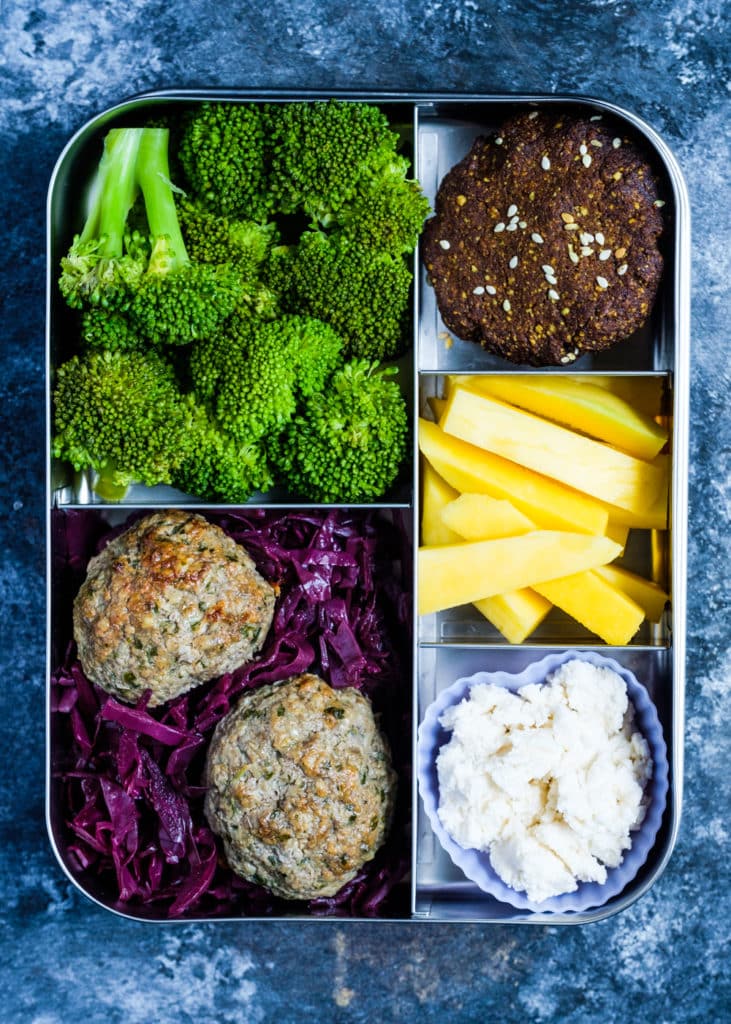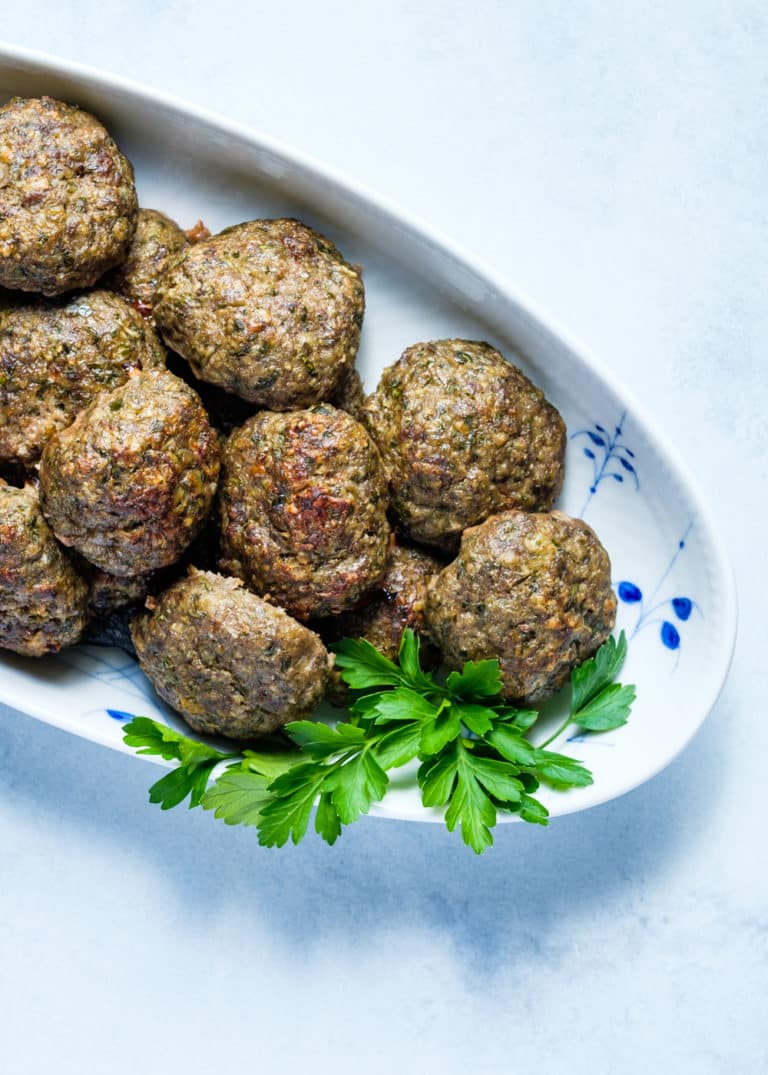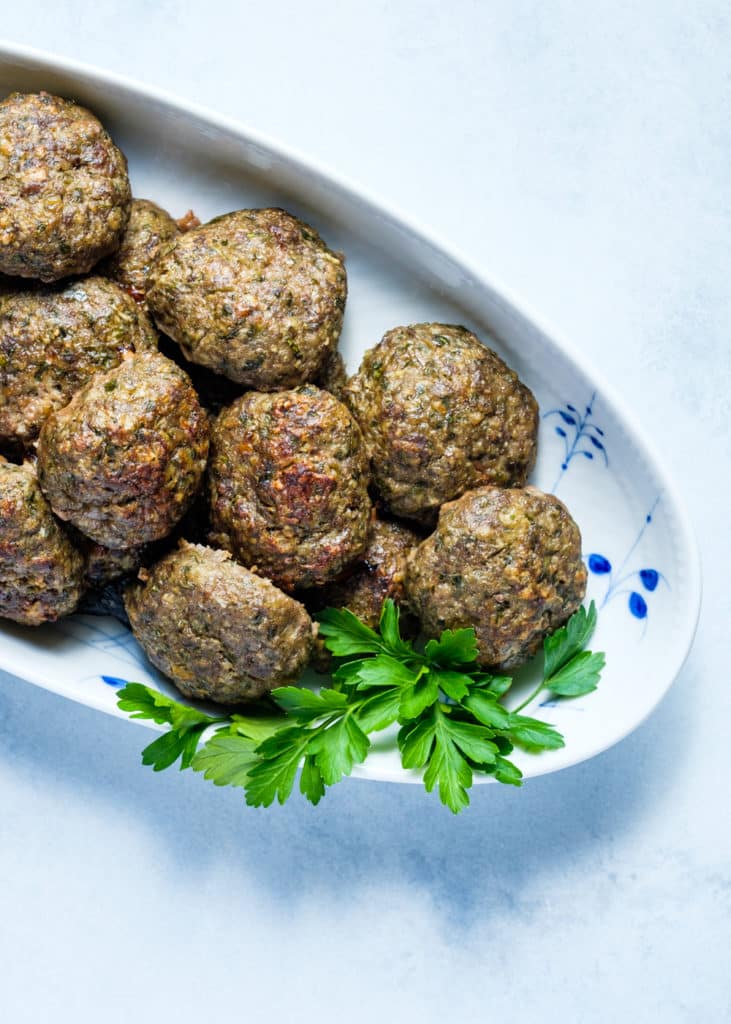 Lunch box No. 3 – Alaskan Salmon Cakes on a bed of Green Lettuce + Spinach Pesto + Raw Cauliflower + California Country Gal Bagels with Cream Cheese + Green Mango
These salmon cakes with spinach pesto were out of this world delicious as a dinner, and I love that they make a great cold lunch too. Bagels made with California Country Gal grain-free and lectin-free flour are also a great addition to lunch boxes – you find more details about how to make them at the link provided below. Add some green mango or any seasonal fruit and raw cauliflower florets for some extra crunch (if you never had raw cauliflower you are missing, and they make a great dipping vehicle for that spinach pesto).
Alaskan Salmon Cakes with Spinach Pesto and Avocado
California Country Gal Grain-Free, Lectin-Free Bagels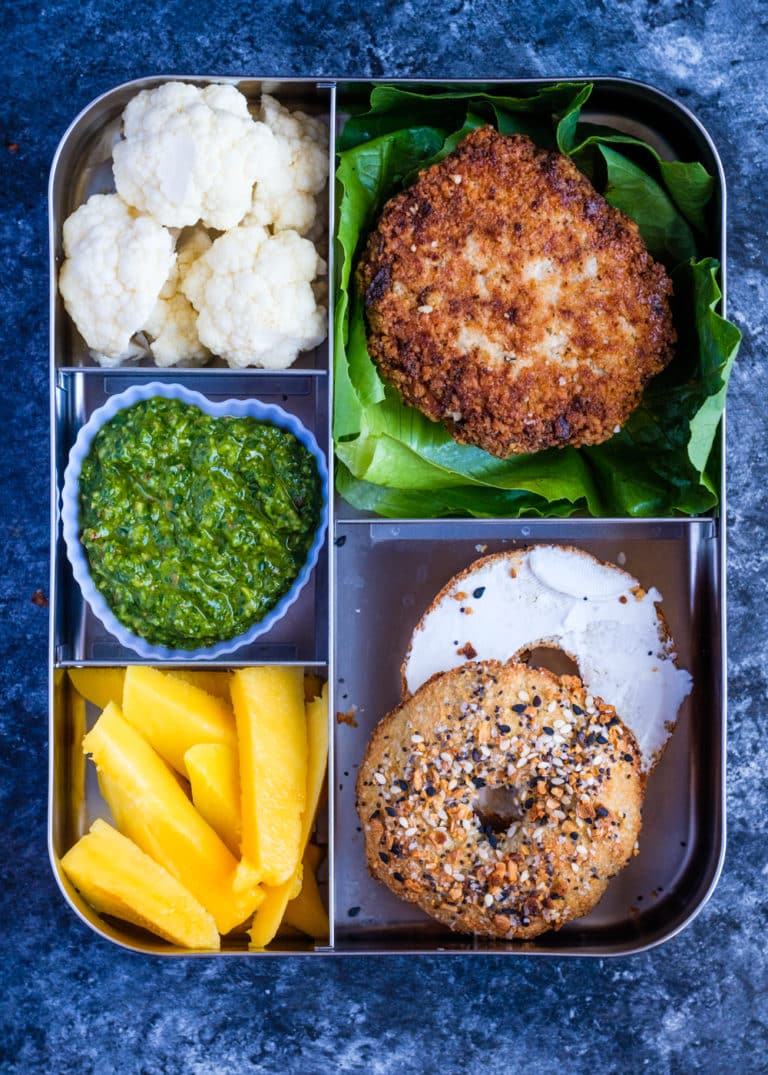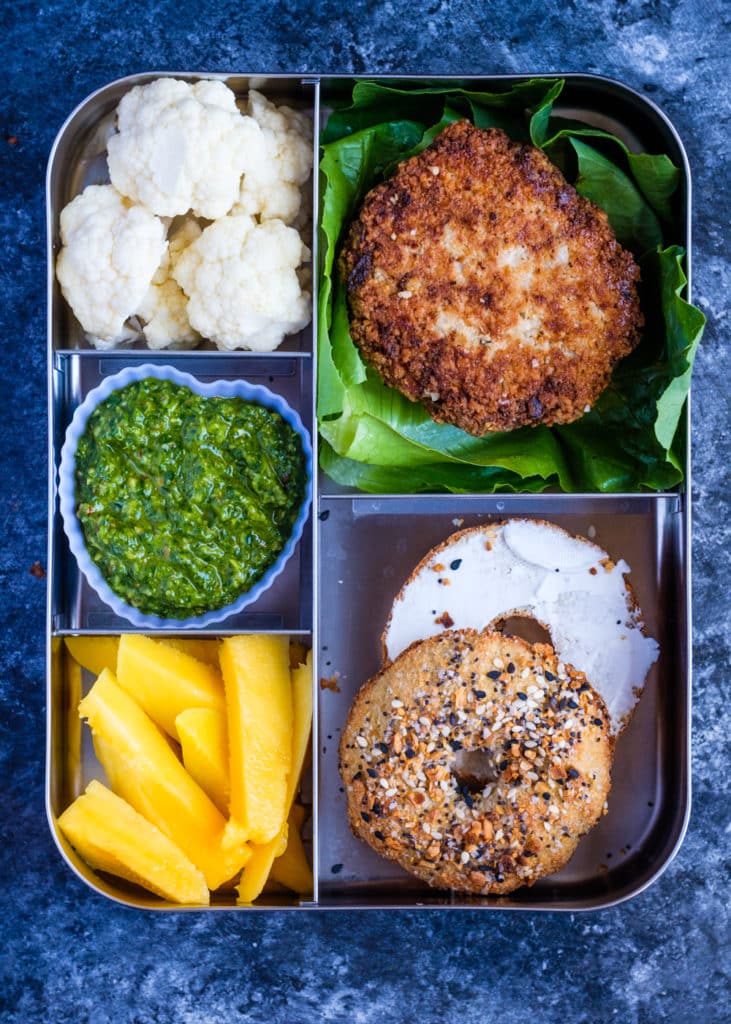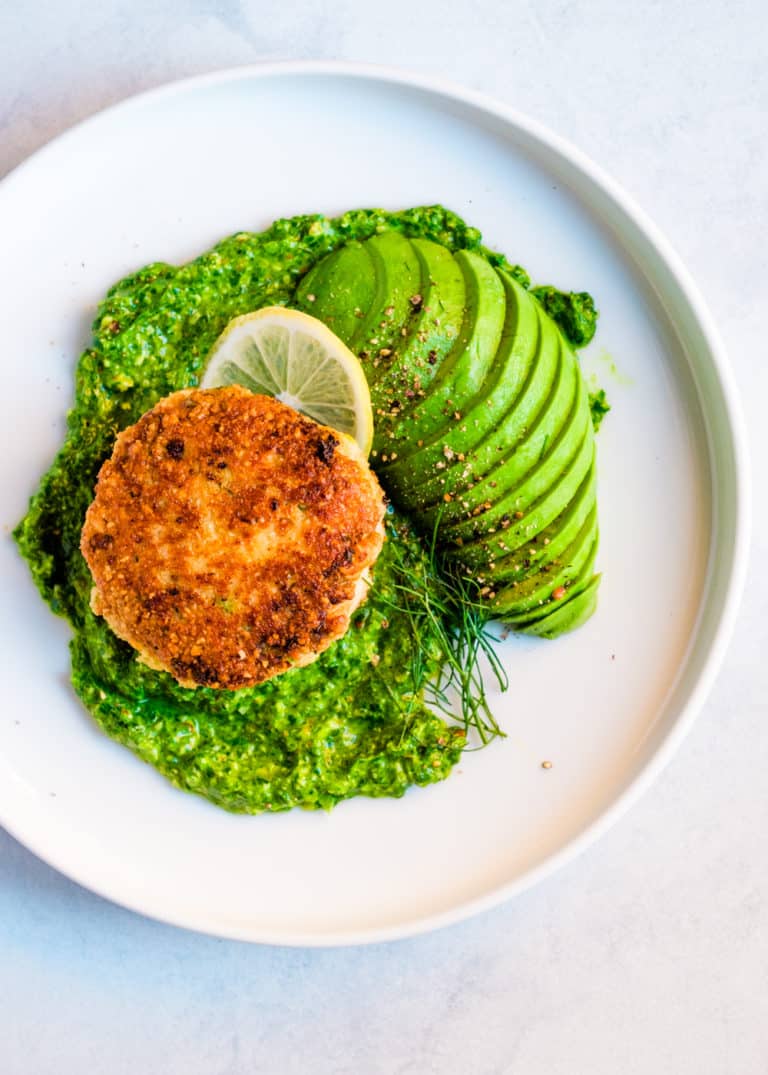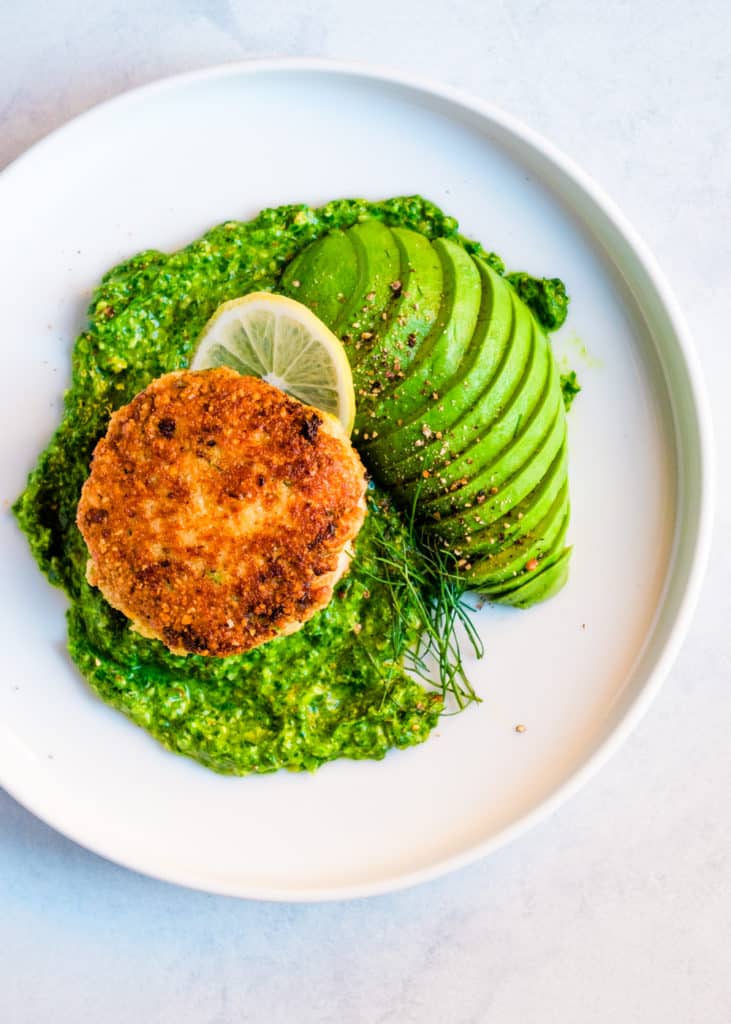 Lunch box No. 4 – Salmon Avocado Nori Rolls with Almond Cream Cheese + Green Lettuce + Spinach Pesto + The Real Coconut Tortilla Chips + Dark Chocolate
These rolls are delicious, and although they require a little experience with nori rolling, they are totally worth it. You can in fact use anything to fill nori rolls, but I find this combination of cooked salmon, avocado and olives super tasty. They work great with the spinach pesto. Any dark, compliant chocolate works, if you or your kids don't like the really dark chocolate you can go with a Stevia sweetened one. The coconut tortilla chips from The Real Coconut are perfect for dipping in the spinach pesto.
Salmon Avocado Nori Rolls with Almond Cream Cheese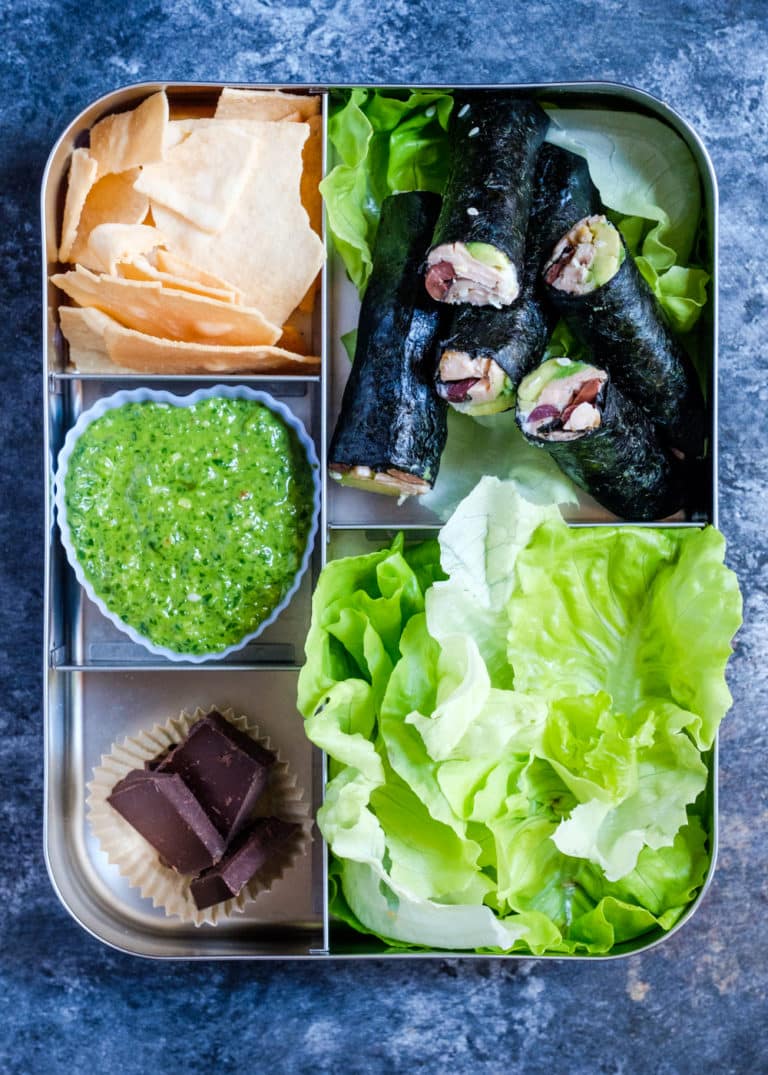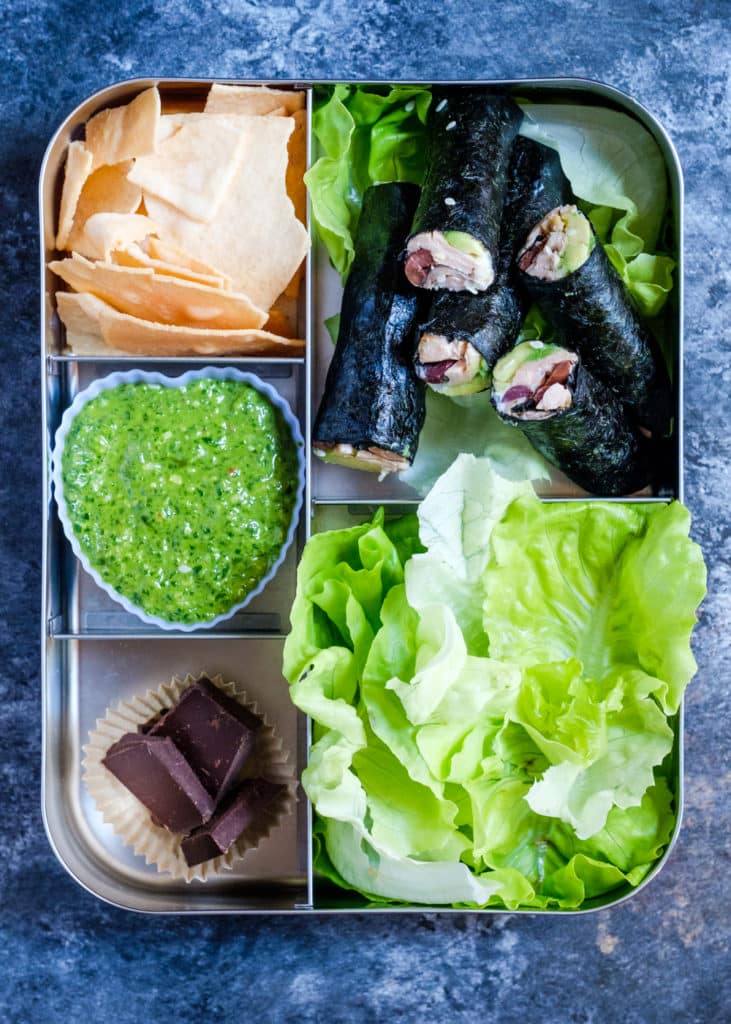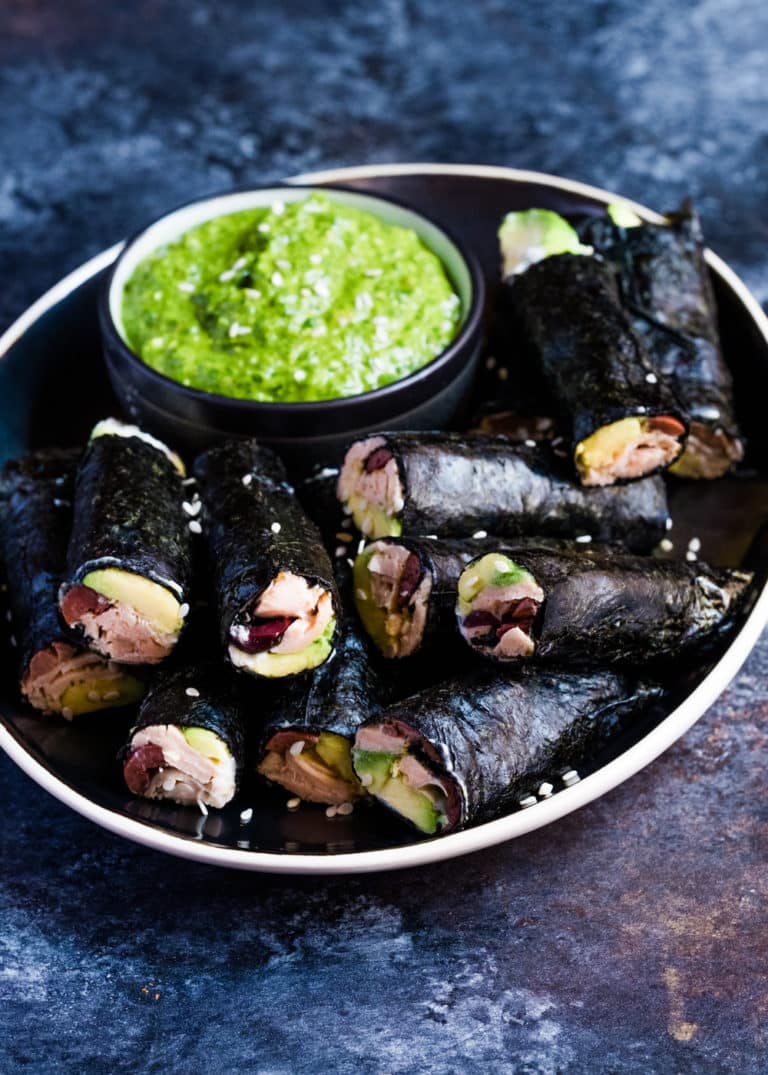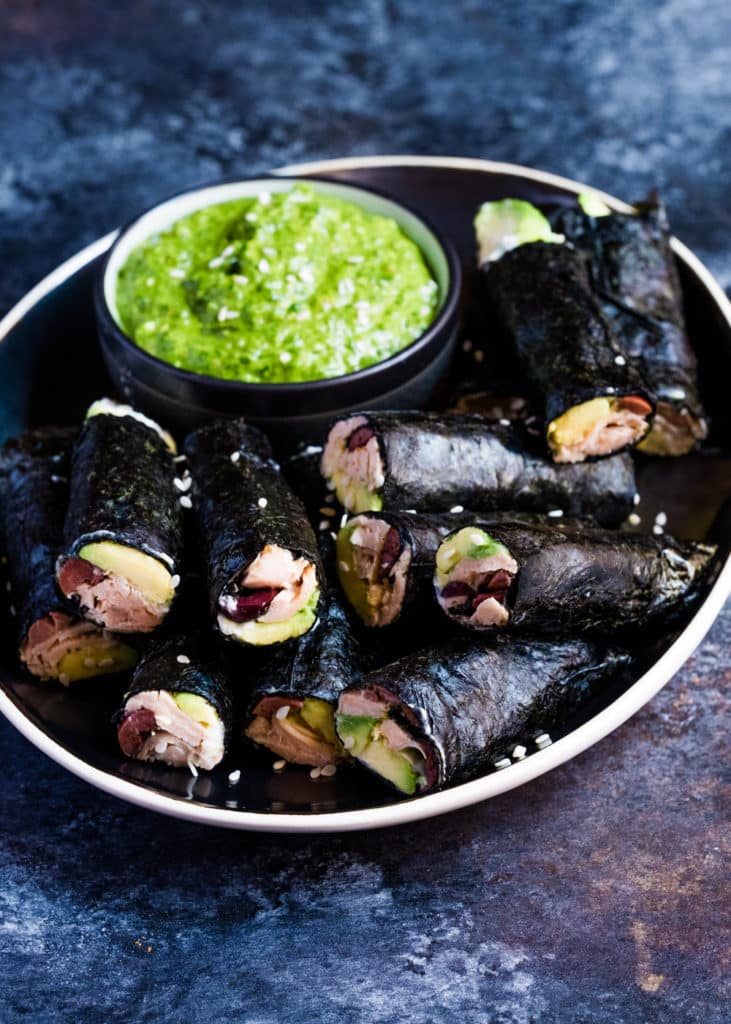 Lunch box No. 5 – Swiss Chard Omelette with Green Lettuce + Terra Green Plantain Chips + Goat Cream Cheese Dip + Rum Balls
Let's focus on making this omelette first since I don't have a recipe available on the website. You have to wash and blanch the Swiss chard, drain and squeeze as much liquid as possible, chop finely, mix with eggs, salt and pepper and cook in olive oil, preferably in a nonstick pan. Use low heat and a cover for your pan. Serve hot or cold with a fresh, green salad or sauerkraut. Leftovers of this omelette are perfect for a lunch box.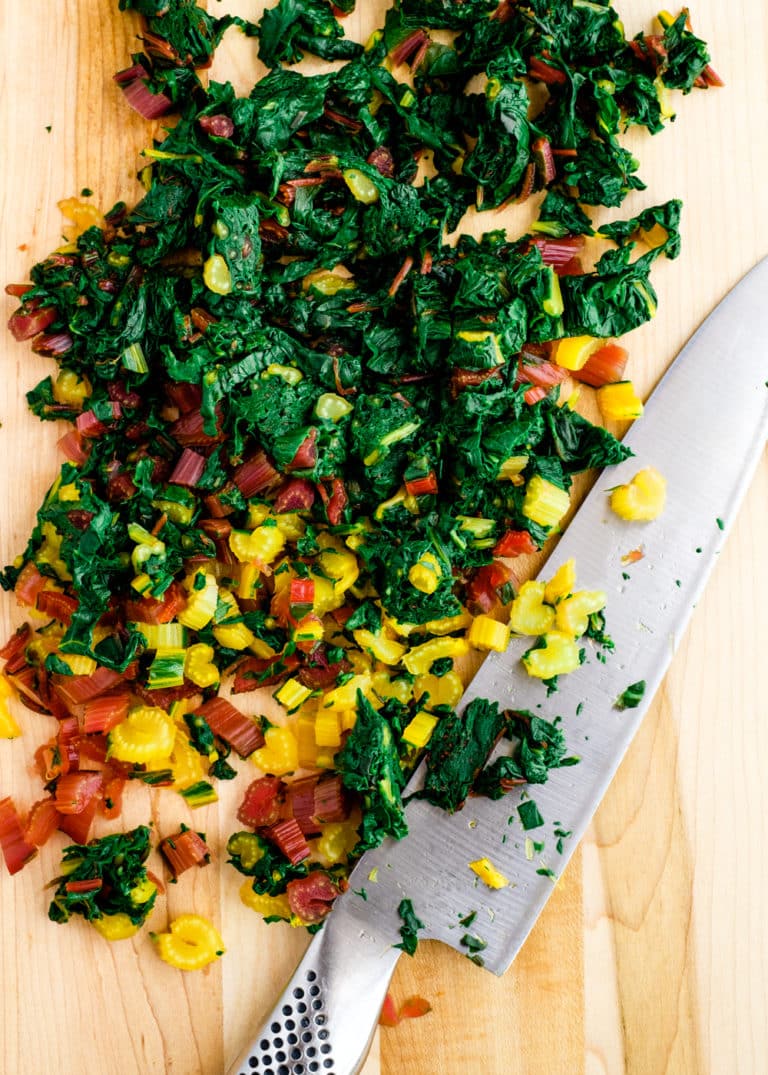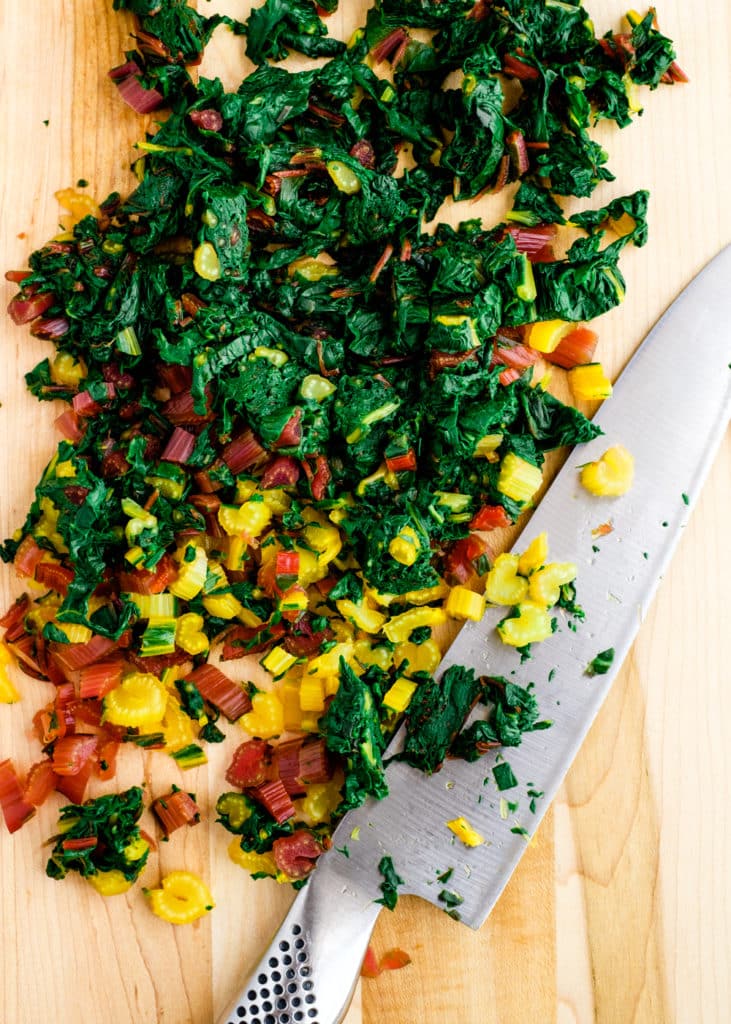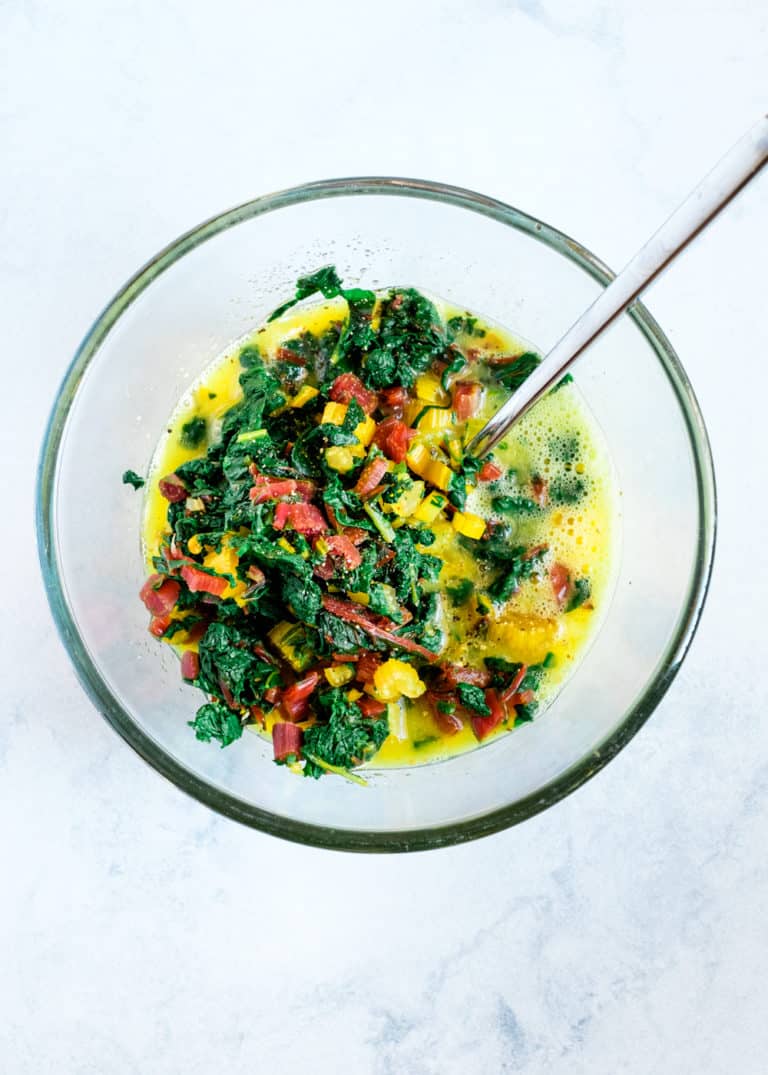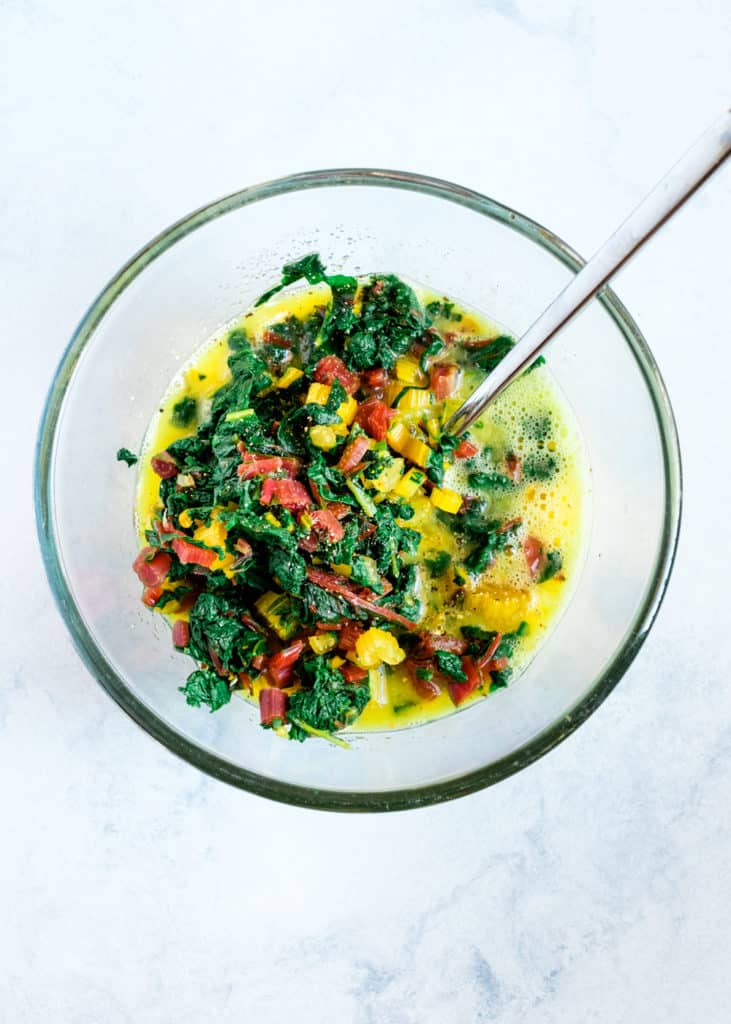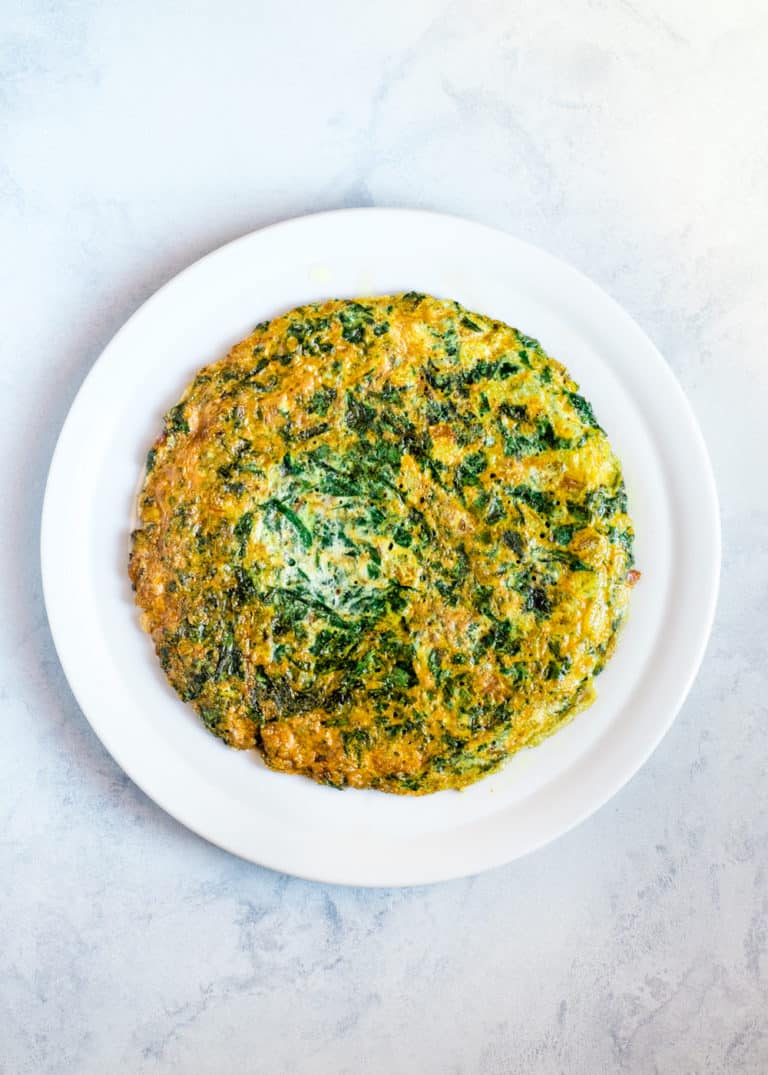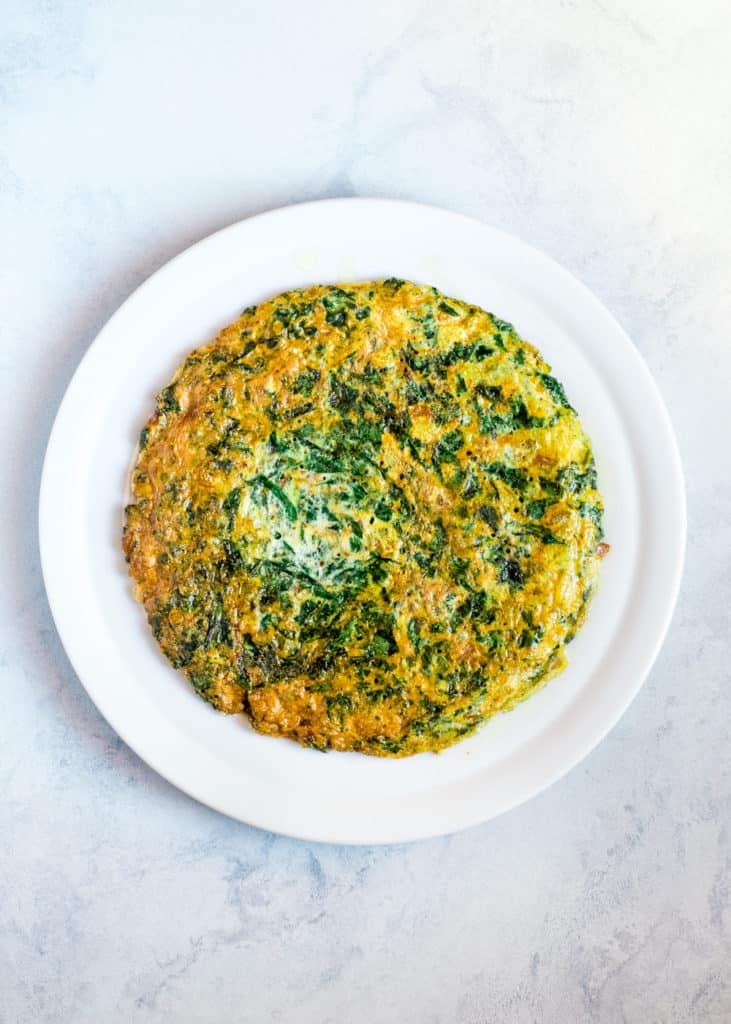 Rum balls are a special dessert that is super delicious. If you don't want to use rum just skip it and replace it with vanilla or almond essence. Both my husband and I grew up in countries where rum desserts are popular with kids (Denmark and Romania), so we are not concerned about feeding them to children (haha). Anyway, the quantity of rum is very small (see the recipe below). Add Terra Green Plantain Chips (this is a pack of 12) for a little crunch and a goat cream cheese dipping sauce (mix it with herbs and extra virgin olive oil). I buy my goat cream cheese from Trader Joe's.
Danish Rum Balls, The Plant Paradox Way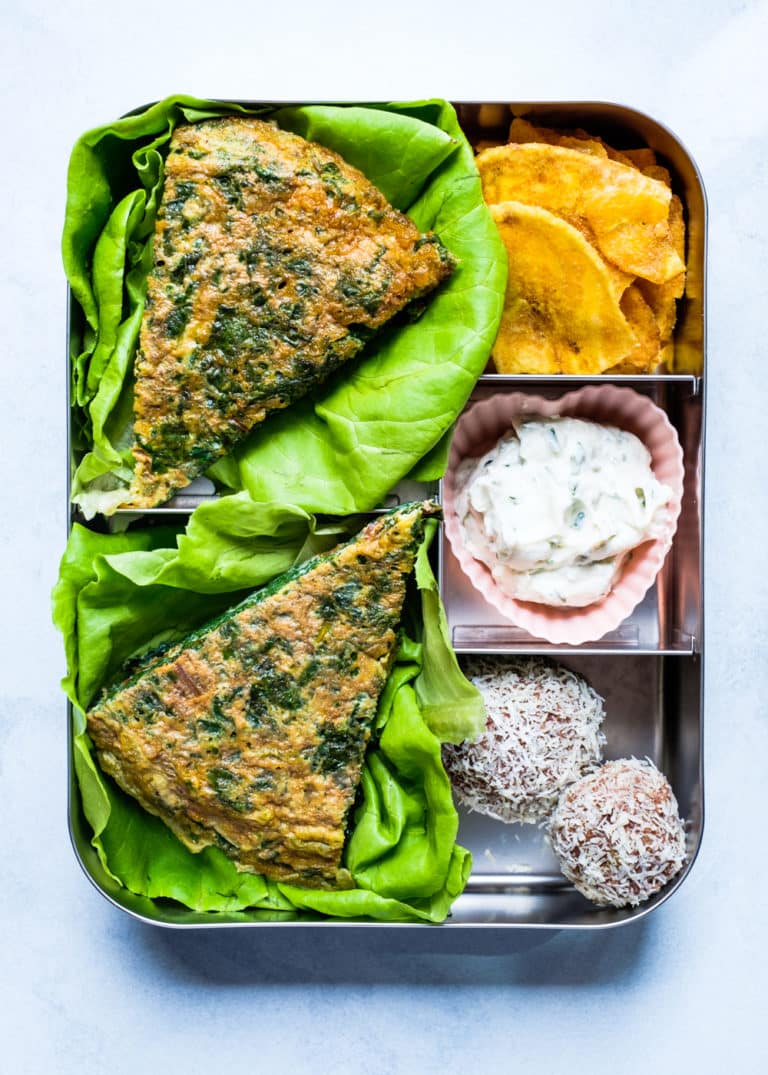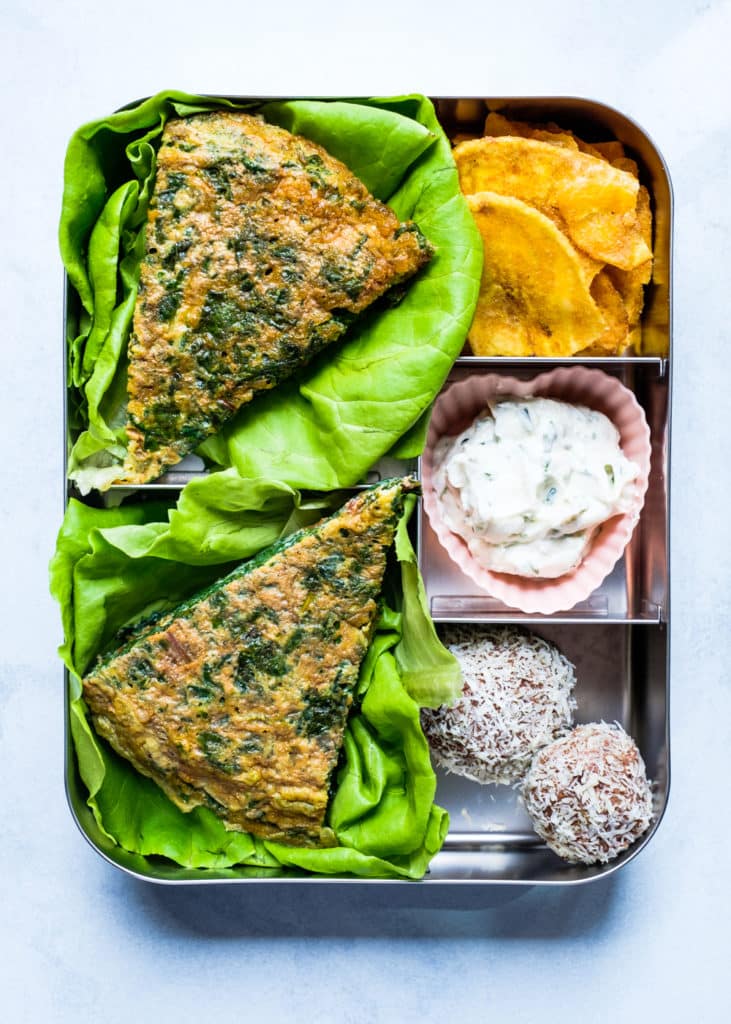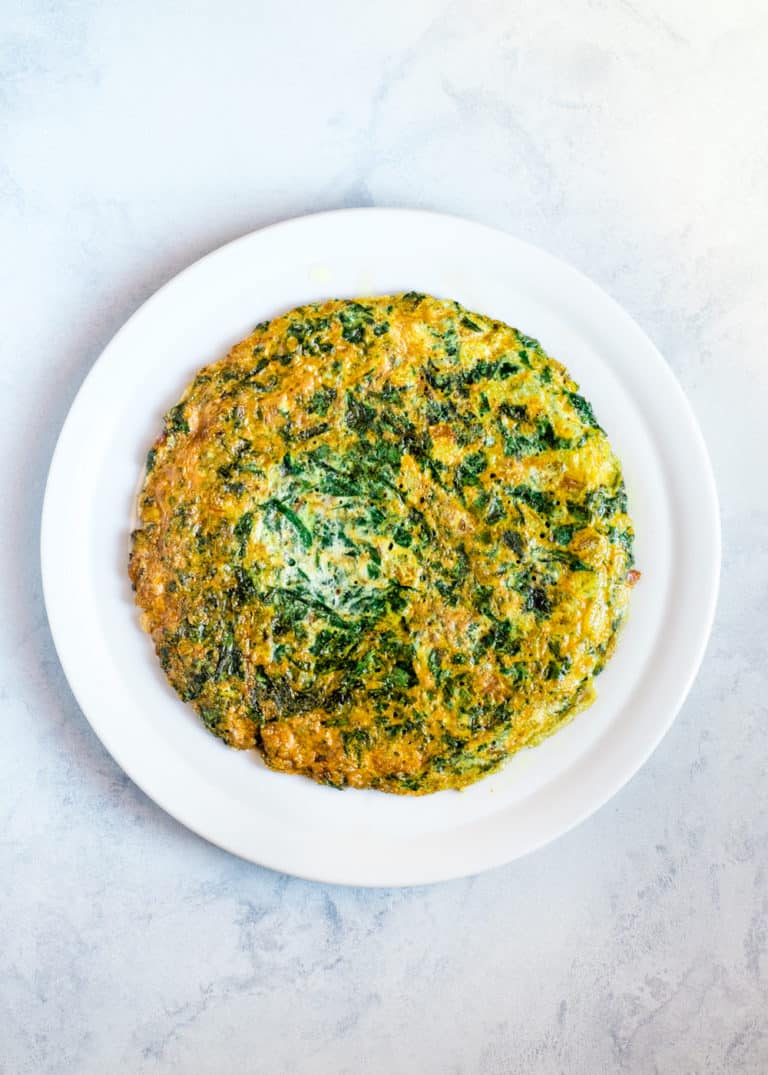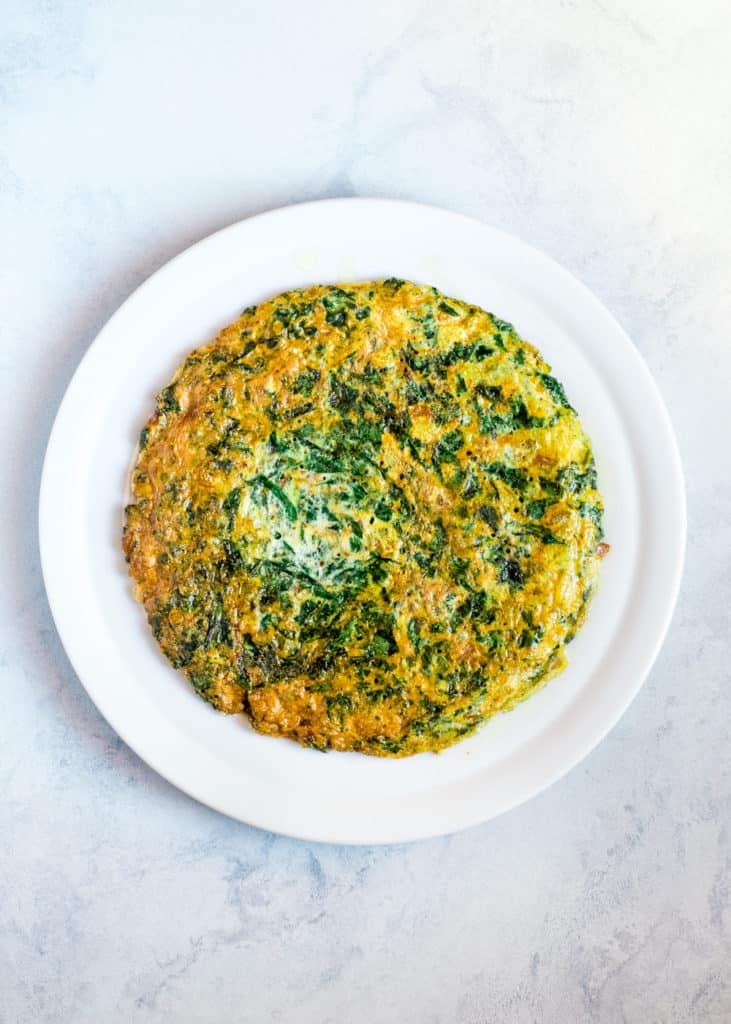 Lunch box No. 6 – Olive Chicken Salad with Broccoli Sprouts + Vegetable Sticks (Celery, Carrots, Red Radishes) + Barnana Green Plantain Chips + Homemade Pecan Butter + Pumpkin Spice Sweet Potato Pie
Firstly, how do I make the chicken salad? I mixed leftover boiled chicken from a chicken stock with chopped kalamata olives and a homemade ranch dressing. The ranch dressing is made with homemade mayonnaise (or you can use avocado mayonnaise from Primal Kitchen), goat or sheep yogurt, a little bit of almond cream cheese from Kite Hill, and a mix of fresh herbs (parsley, chives, oregano, dill) one garlic clove. Seasoned with salt and pepper.
The pecan butter is so delicious I'm obsessed with it, and you only need raw pecans, a few tsp of cinnamon, a pinch of salt, and a food processor to make it. Roast the pecans for about 7 minutes at 300F before processing them, adds extra flavors to this amazing nut butter. Add some more crunch to this lunch box with a handful of Barnana Green Plantain Chips.
Lectin-Free Sweet Potato Pie, Two Colors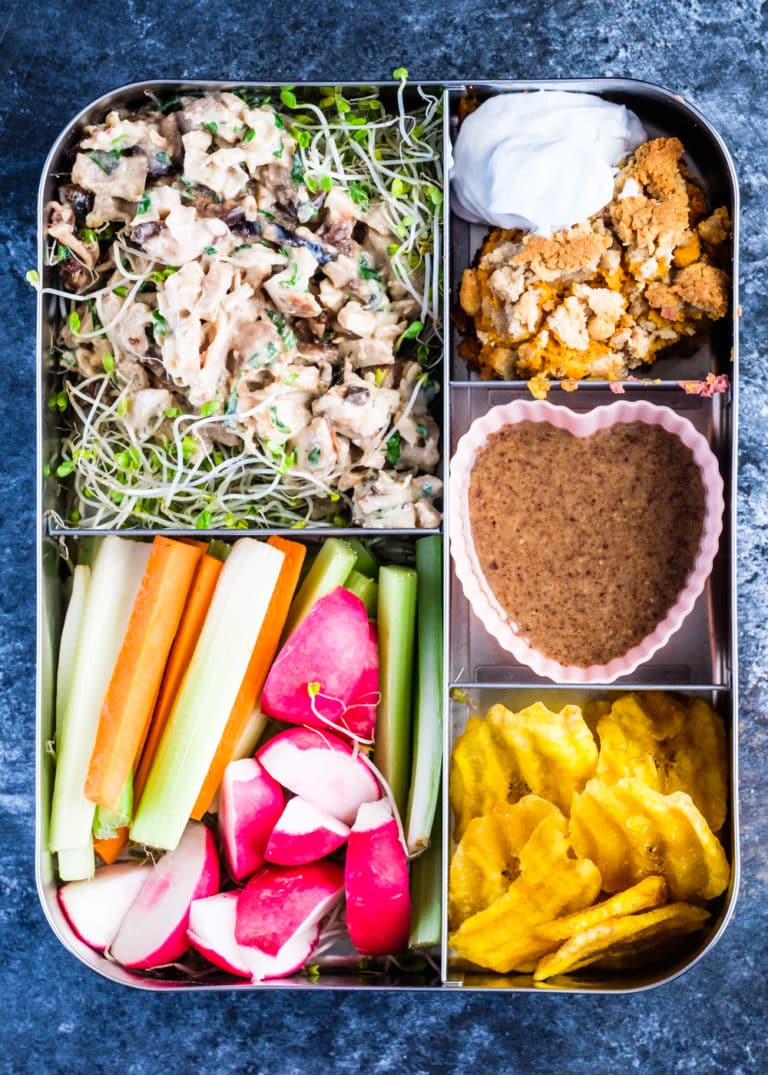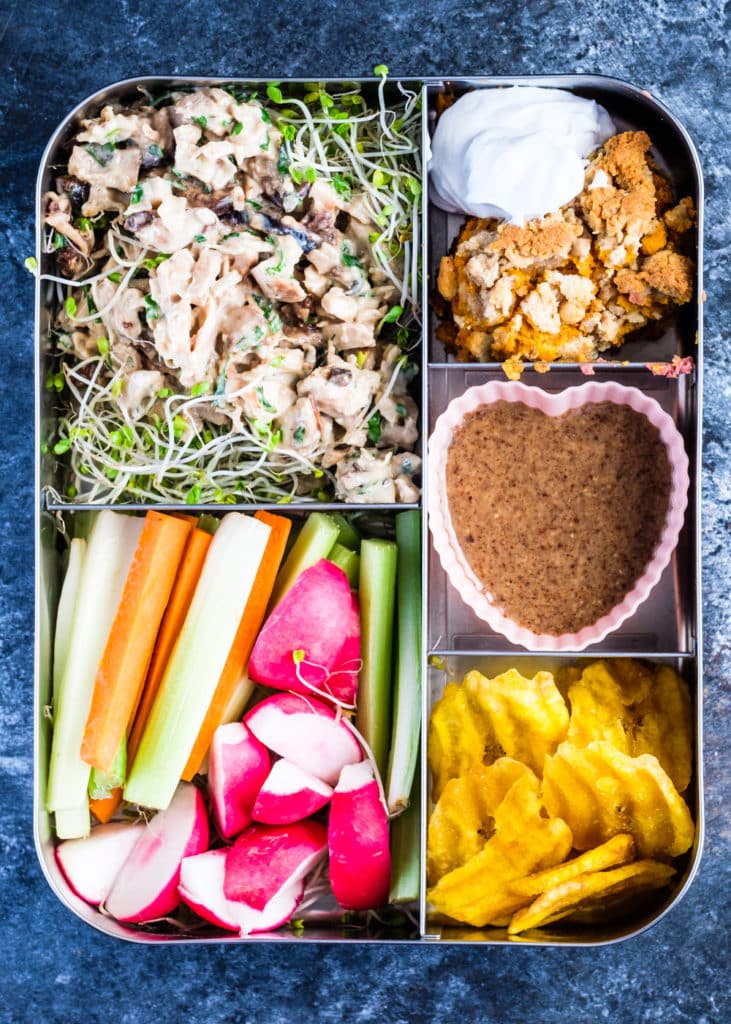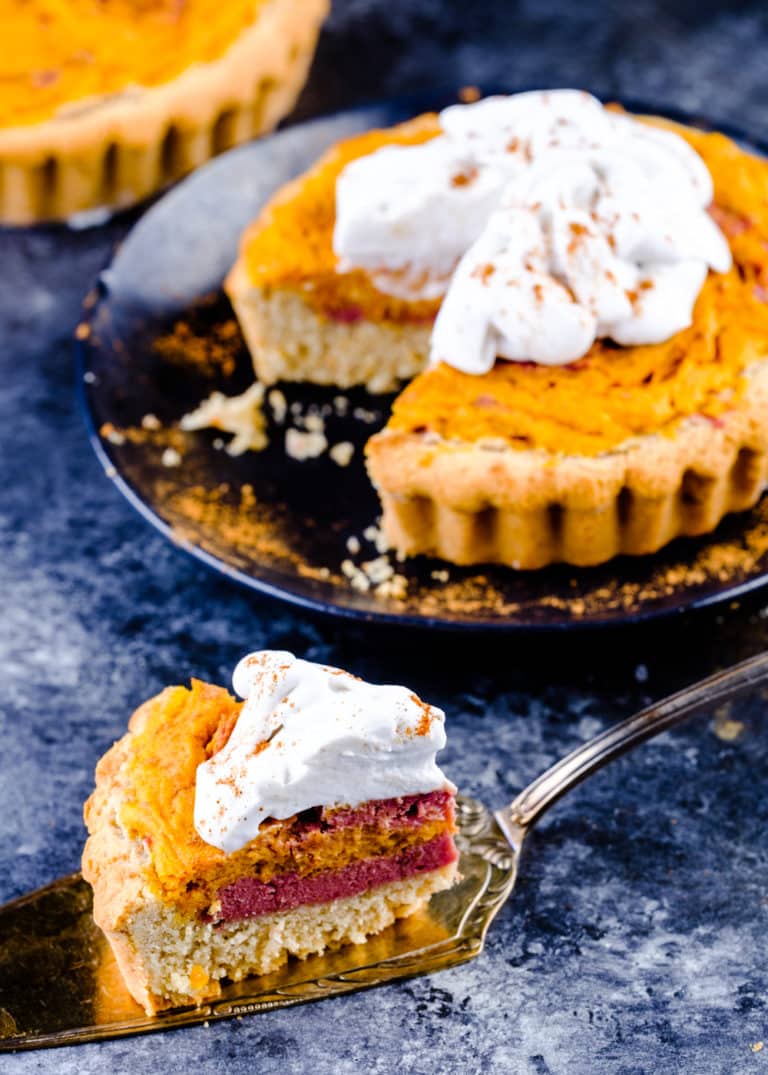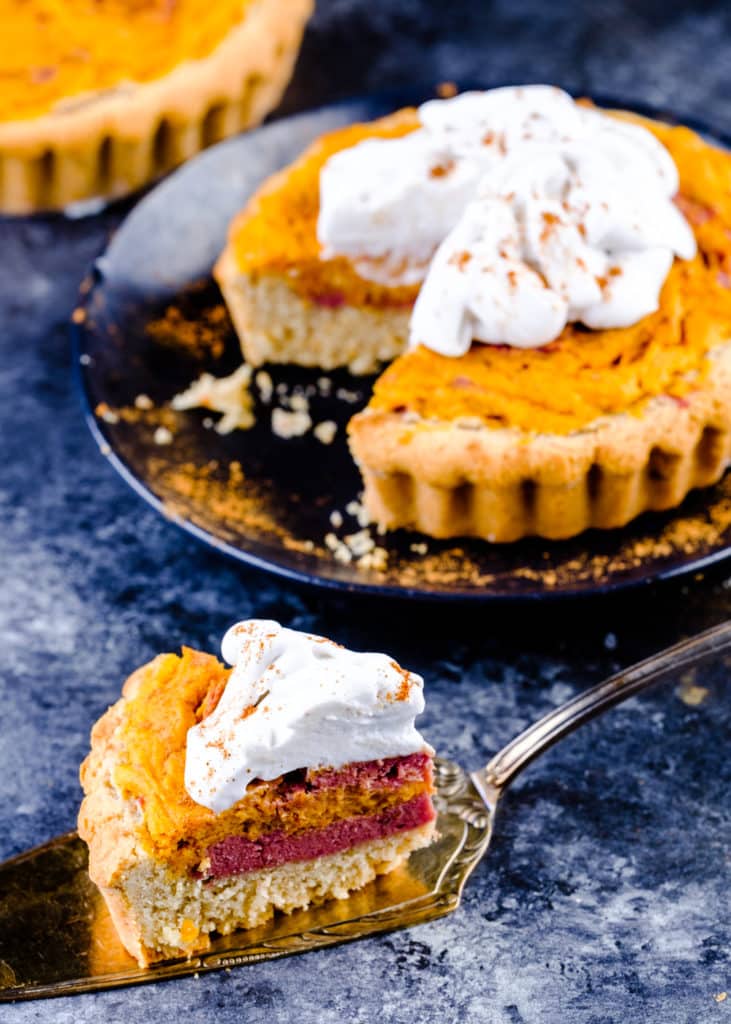 *This post contains affiliated links, which means I get a small commission if you choose to purchase something via one of my links, at no extra cost to you.