I don't remember when and how I discovered California Country Gal grain-free, lectin-free baking mixes. But I know I've used them so many times in so many shapes and forms that I started experimenting with making my recipes. Lectin-free bagels are one of them, even though it's not a new recipe, just a new way of using the mix and their recipes.
'Silly people, grains are for birds'
This statement always makes me giggle, and if you want to know who said that, check California Country Gal's website.
The ingredients in this baking mix are blanched almond flour, organic coconut flour, organic psyllium husk, dehydrated sweet potato, baking soda, and sea salt. Compared to Simple Mills artisan bread mix, which I used before I discovered California Country Gal, this to me has a better nutritional value and tastes better. However, when it comes to pizza crust, Simple Mills pizza dough mix remains my favorite.
Well, when I said I made my own recipes, that's saying too much. I follow her recipes, but I give the dough different shapes. That's how I discovered I could make bagels. Ok, purists will say these are not really bagels, and it's true, they are not. But all bread after grains is not the real bread we used to know. Making bagel-looking grain-free bread in a super-easy way and using it for regular meals like a cream cheese and salmon bagel is all worth it. In the end, we start eating with our eyes, and familiar-looking food will always taste good.
So what do you need to make these lectin-free bagels?
Obviously, the California Country Gal grain-free baking mix, and I would get the variety pack. This way, you have the four recipes, and remember, inside the four bags is the same mix, so it doesn't matter which one you use for what.
You need eggs, apple cider vinegar, water, one or two mini donut pans (mine can hold only six bagels, so if you have the same, you will need two or a bigger one; or, you can do what I do, use half of the dough for bagels and put the other half in a loaf pan and you have one mini loaf and six mini bagels.
You may wonder why I use a mini donut pan and not a normal one? Because to me, one big bagel would be too much of a portion (I consider one mini bagel one serving). If you don't have a donut pan, this one is similar to what I use, and it holds 12 mini bagels/donuts. (I hear you, not the safest baking pan out there, but I haven't found a better one, and I'm not using it every day). You also need some avocado oil for greasing the pan and Trader Joe's Everything but the Bagel mix. 
More baking ideas with California Country Gal baking mix
Besides the lectin-free bagels, I made the loafs, the burger buns, the cinnamon rolls, and flatbread. If you are wondering, you won't find the flatbread among her recipes. I made the mix as per the instructions on the bread pack, shaped it as a flatbread, added some olive oil and herbs on top, and baked it at 400F until golden brown (about 15 minutes).
TO CHECK ALL PLANT PARADOX BAKING PANTRY ITEMS IN ONE PLACE CHECK MY SHOP PAGE
PS, my friends, this post is not sponsored. I'm just trying to be helpful in case you are missing bread :D.
*This post contains affiliated links, which means I get a small commission if you choose to purchase something via one of my links, at no extra cost to you.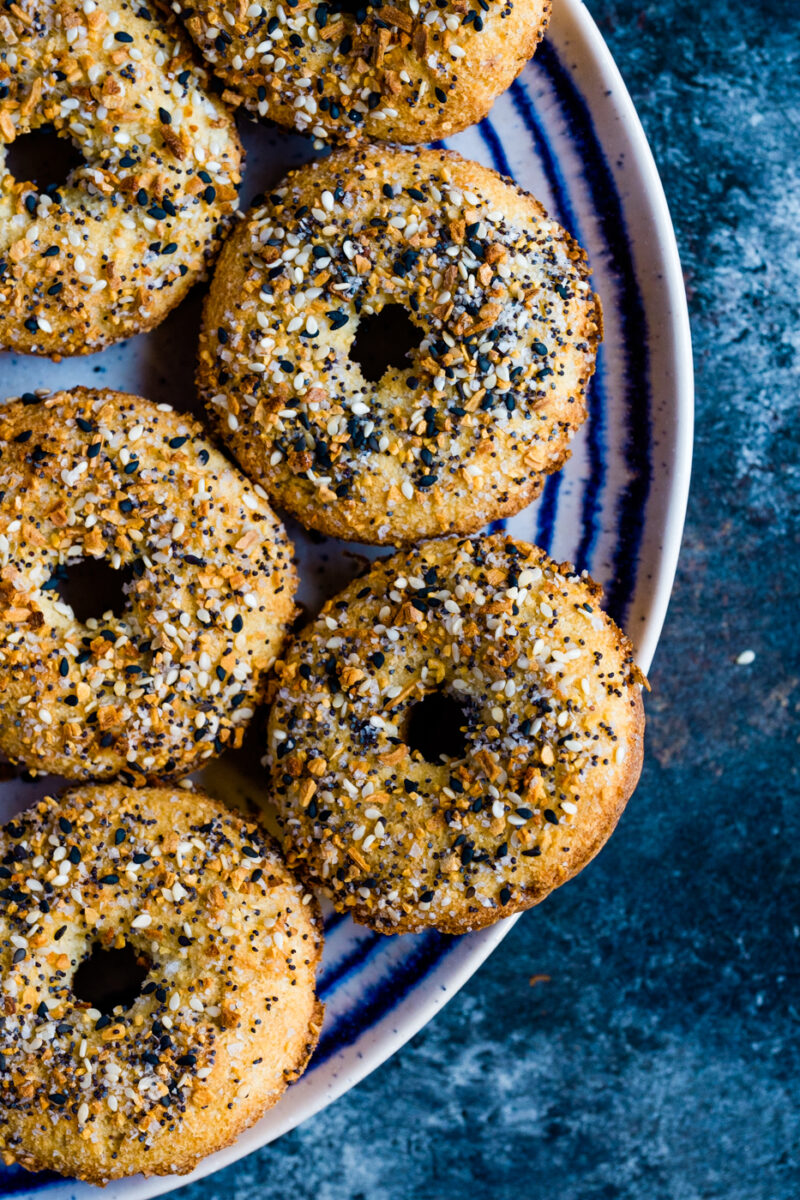 Print Recipe
California Country Gal Grain Free, Lectin-Free Bagels
Just a super easy way to make grain-free, lectin-free bagels.
Ingredients
1 bag California Country Gal baking mix (any of them is good because all the mixes inside the bag are the same)

1 cup + 2 tbsp water

1 cup egg whites or whole eggs for a denser bread

3 tbsp apple cider vinegar

Trader Joe's 'Everything but the Bagel' mix

avocado oil for greasing the pan
Instructions
2
Prepare one or two mini donuts pan, by greasing them with avocado oil (one bag makes about 12, and my donut pan only takes 6).
3
In a big bowl mix eggs, water and apple cider vinegar, then slowly add the baking mix and whisk slowly, then briskly as the batter thickens. Let it rest for 2 minutes. Take dough with your hands and start filling the donut moulds up to the level of the pan (They'll rise when baking). Sprinkle Everything but the Bagel on top of each bagel and bake for about 18-20 minutes. They should come out of the pan easily. Eat warm or cold. Store in the fridge, or freeze.