Preparing healthy lunches for your family all year round not only requires time and incredible dedication to keeping your family healthy, but it might put your creativity to the test. I remember my mom, who always cooked food at home, from scratch (and still does), asking us all the time: 'What do you want me to cook? I'm out of ideas.' Unfortunately, we were not of much help, we knew she will come up with something good. That's why I'm starting a regular feature where I'll share with you healthy, lectin-free lunch box ideas that will make our lives a little easier.
Lectin-free lunch box ideas for kids and adults alike
In our family kids were not treated specially when it came to food. Everyone sat at the table, if possible at the same time, and ate whatever mom was cooking.
My dad also liked to add his touch, usually by wanting to add more spices and herbs to foods, to which we were sometimes protesting. Especially dill. He loved it and we hated it, so it was always a battle. My mom never ate raw onions for some reason. Her salad bowl would be left without onions, but in general, we all ate pretty much anything.
My personal absolute NO NO was lovage (in Romanian 'leustean'). That is an aromatic herb often added in Romanian soups, which I could not stand. That being said, when I think of school lunches, work lunches, or kids food, I do not specifically think that adults and kids should have special treatment when it comes to food.
So my lectin-free lunch box ideas are for kids and adults alike, with maybe small touches like fruits and nuts which I would personally not have with every lunch, but they might be suitable for kids at school.
A safe way to carry your lunch box
For demo purposes, I used the only stainless steel lunchbox I won, a LunchBots box with 5 compartments and 4 cups volume, named Bento Cinco. You can buy it here.
I would also recommend having a separate leakproof container or thermos for food that is runnier or soups (buy it HERE) and few leakproof small containers for dips or sauces. You can find them here.
And if we are here and you are just building your collection (by the way these are eco-friendly, safe and free of endocrine disruptors and will last you a lifetime), this Duplex Insulated Lunch Bag is perfect.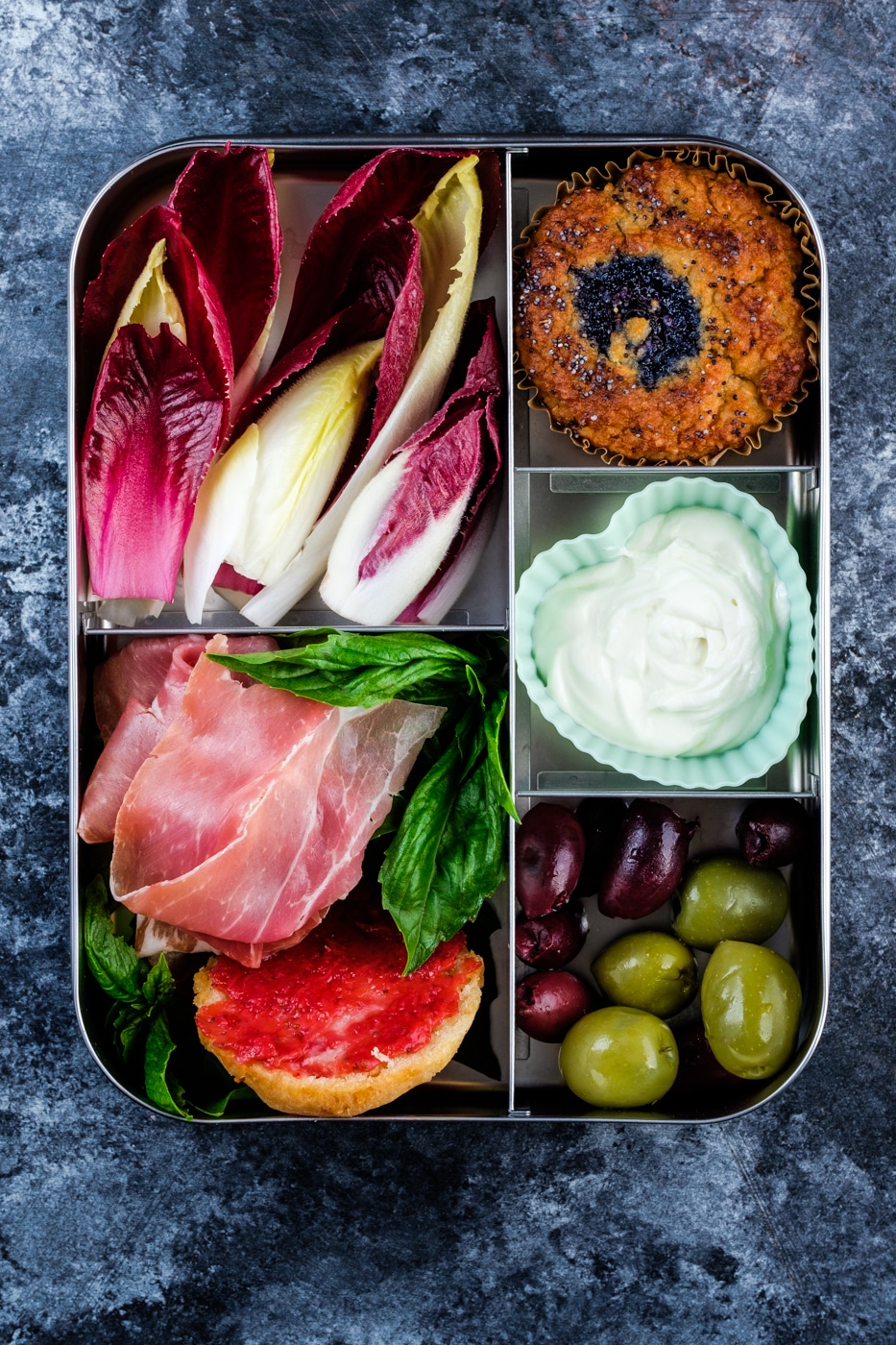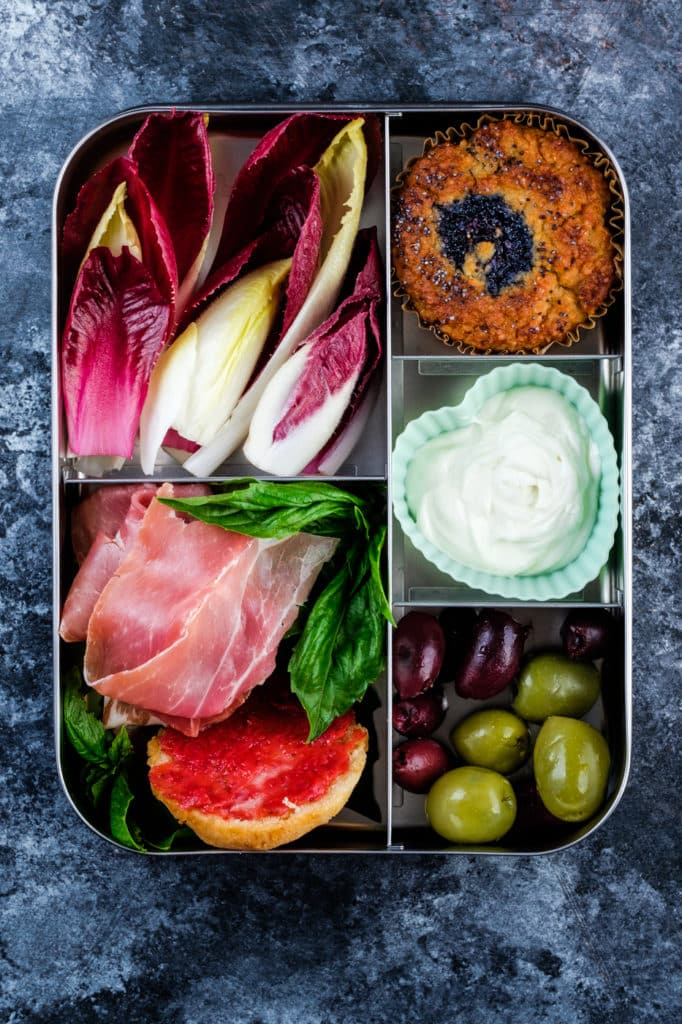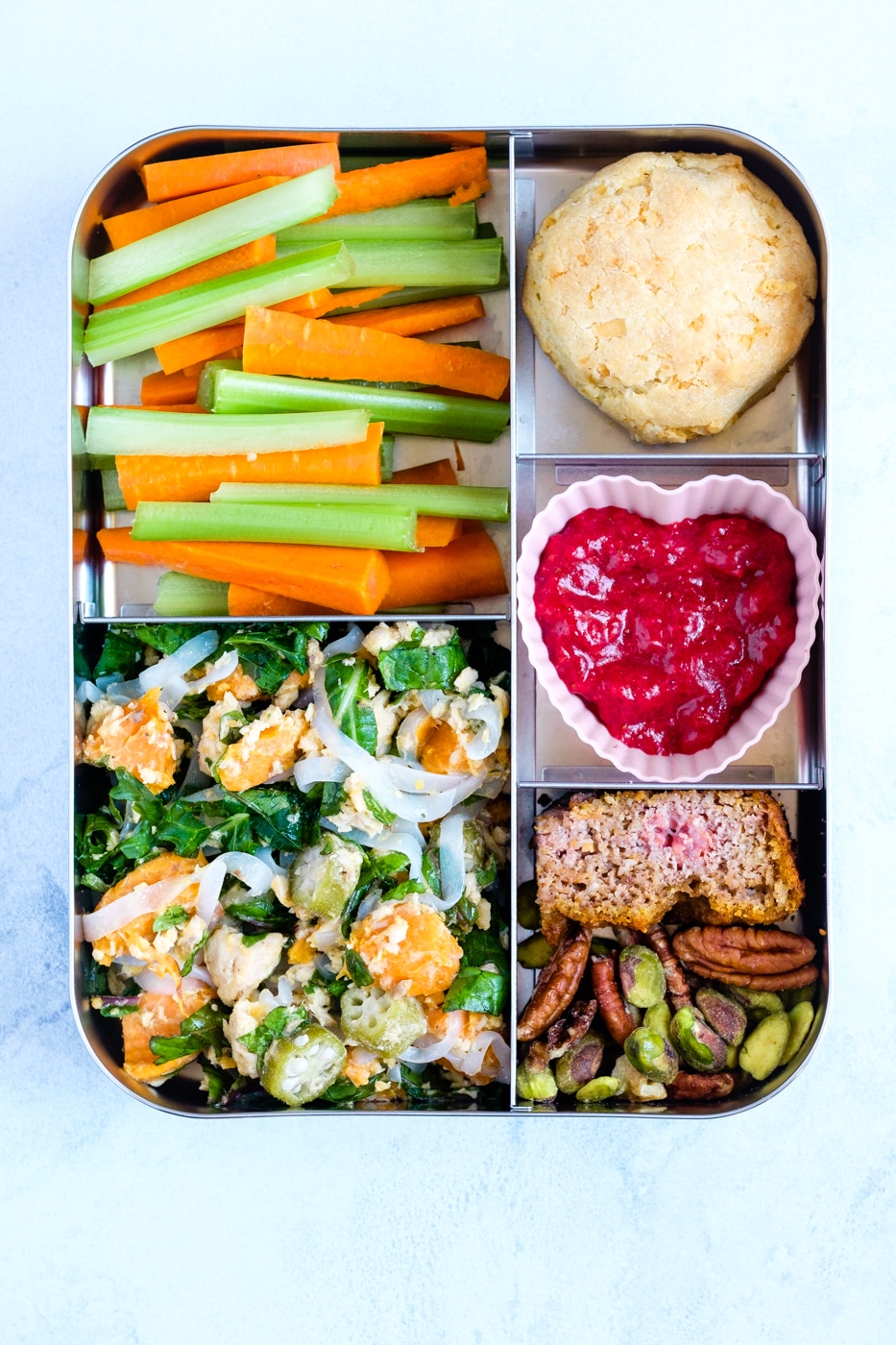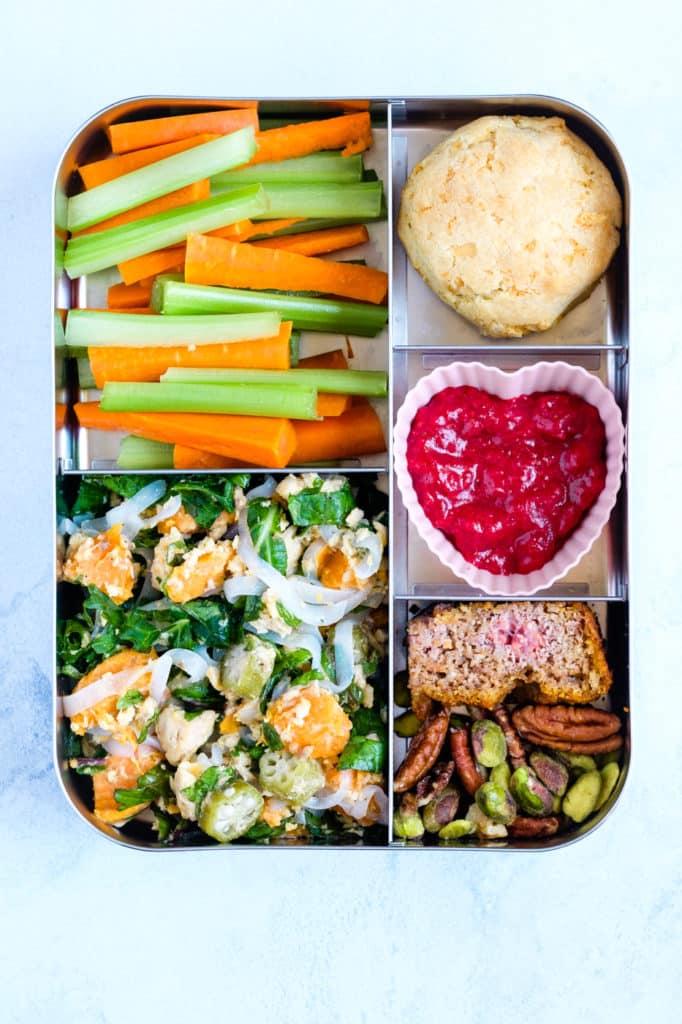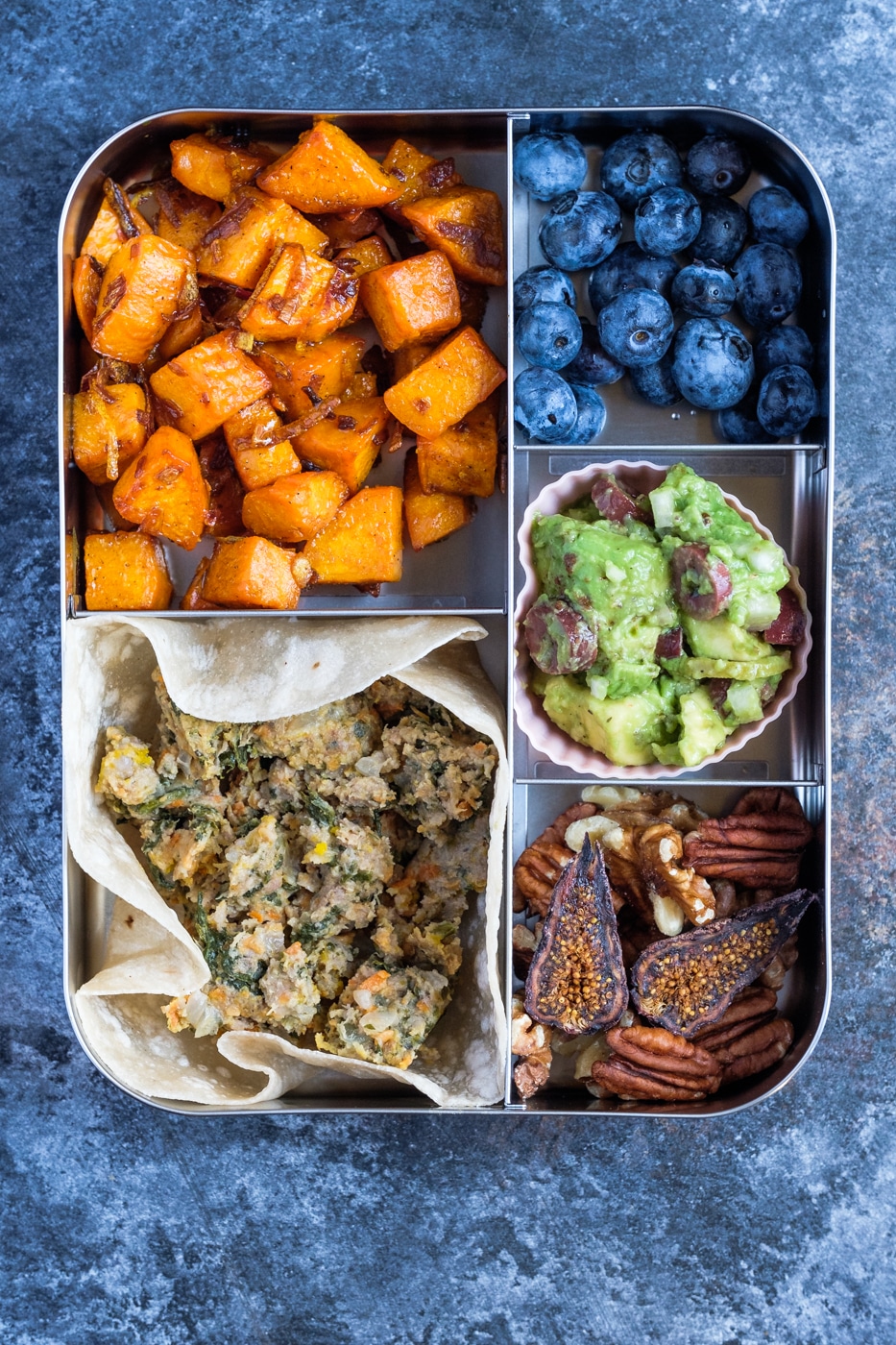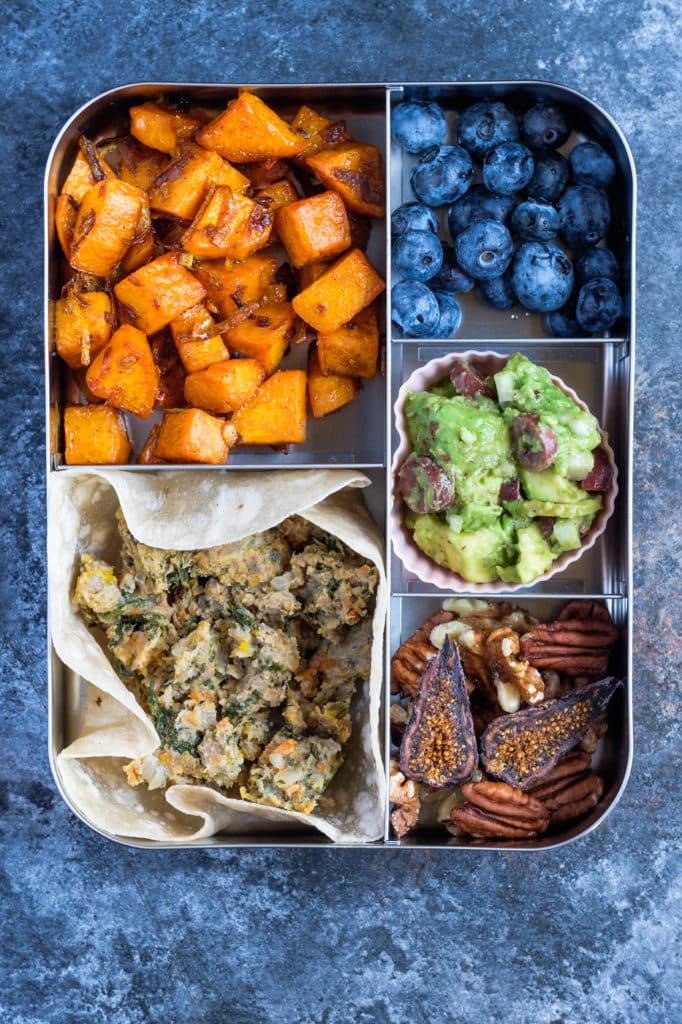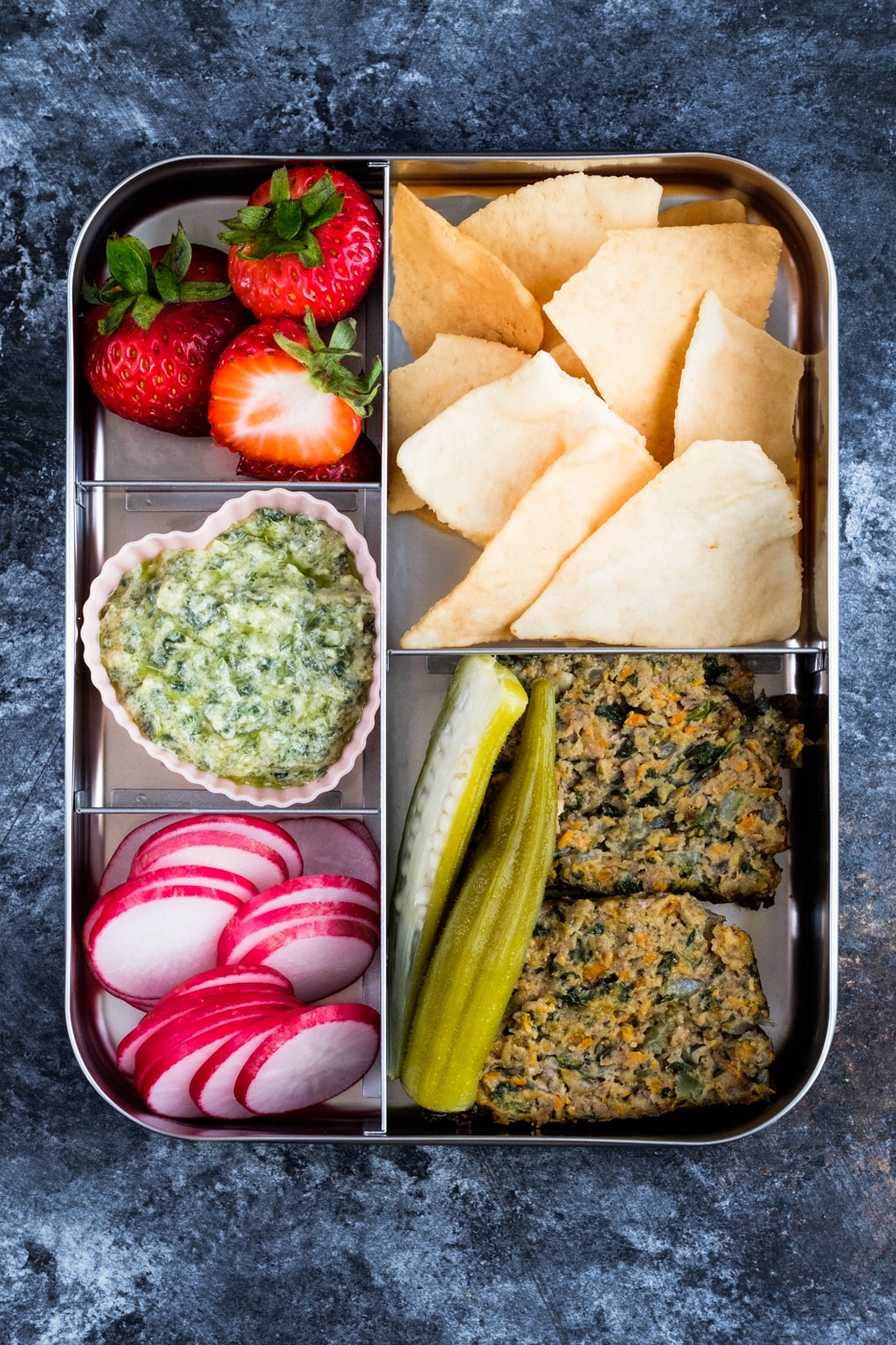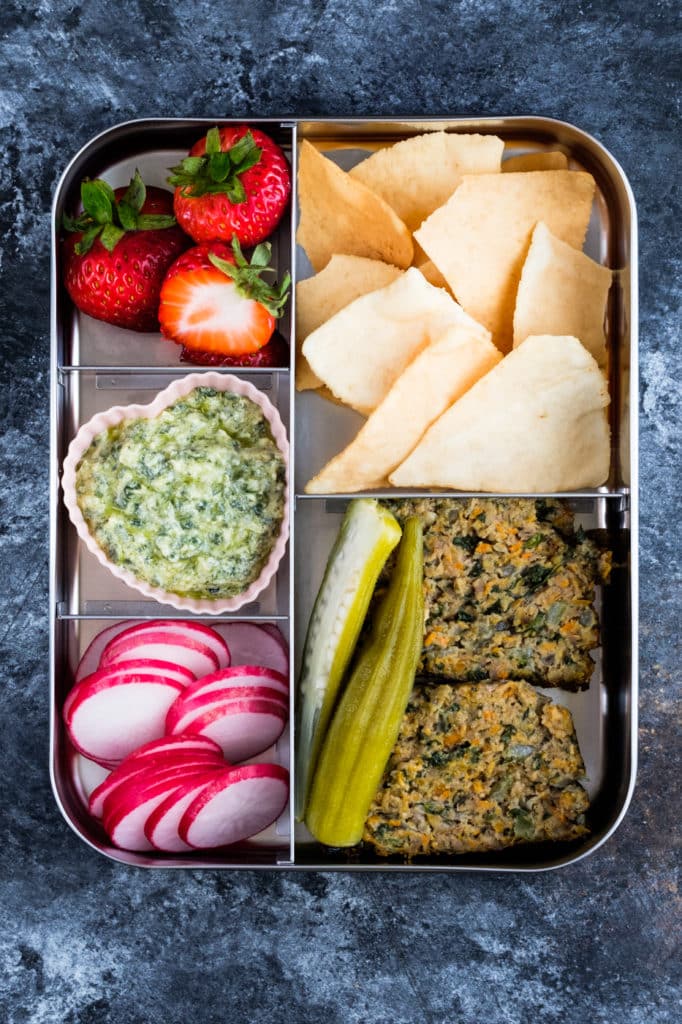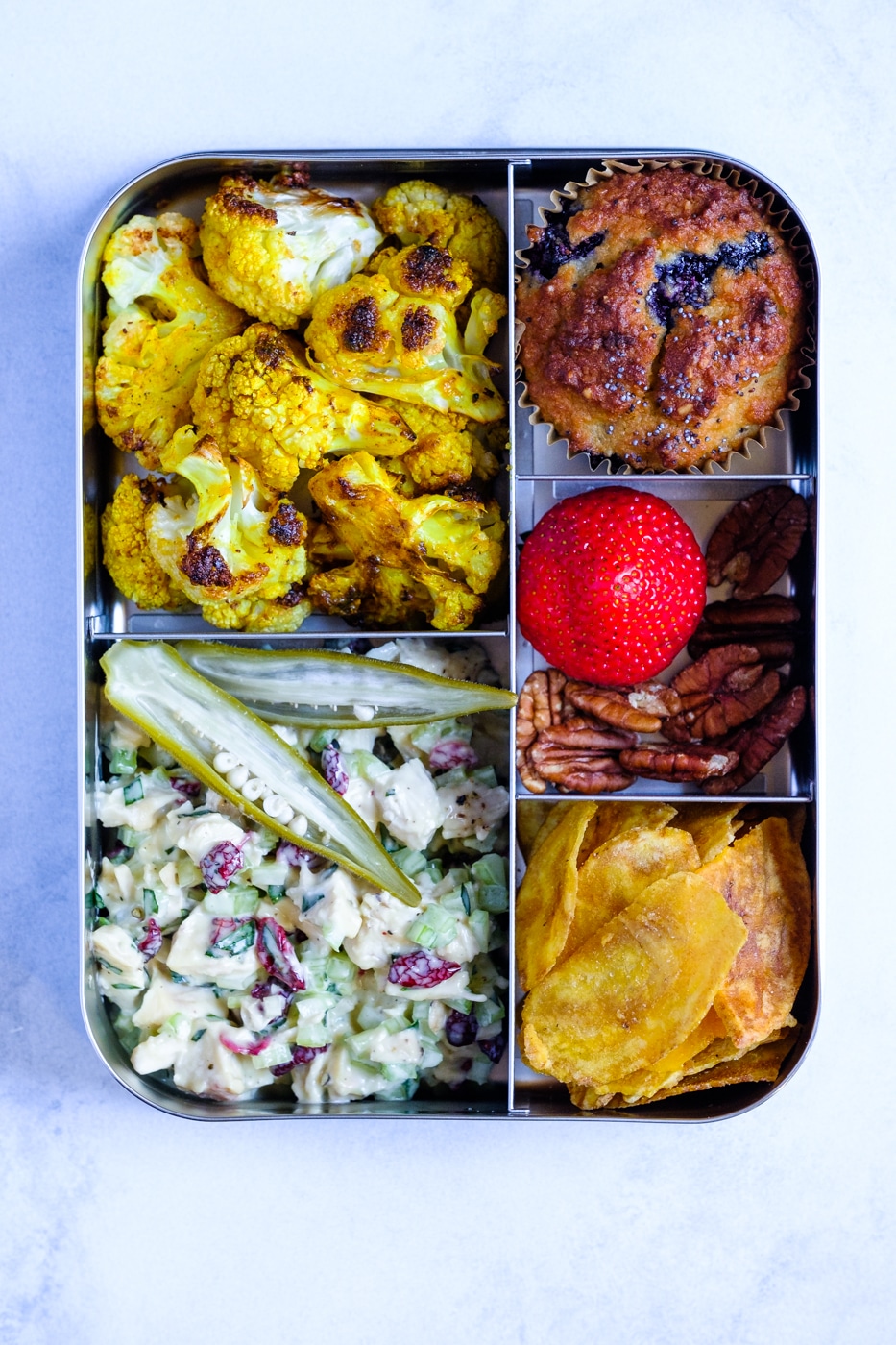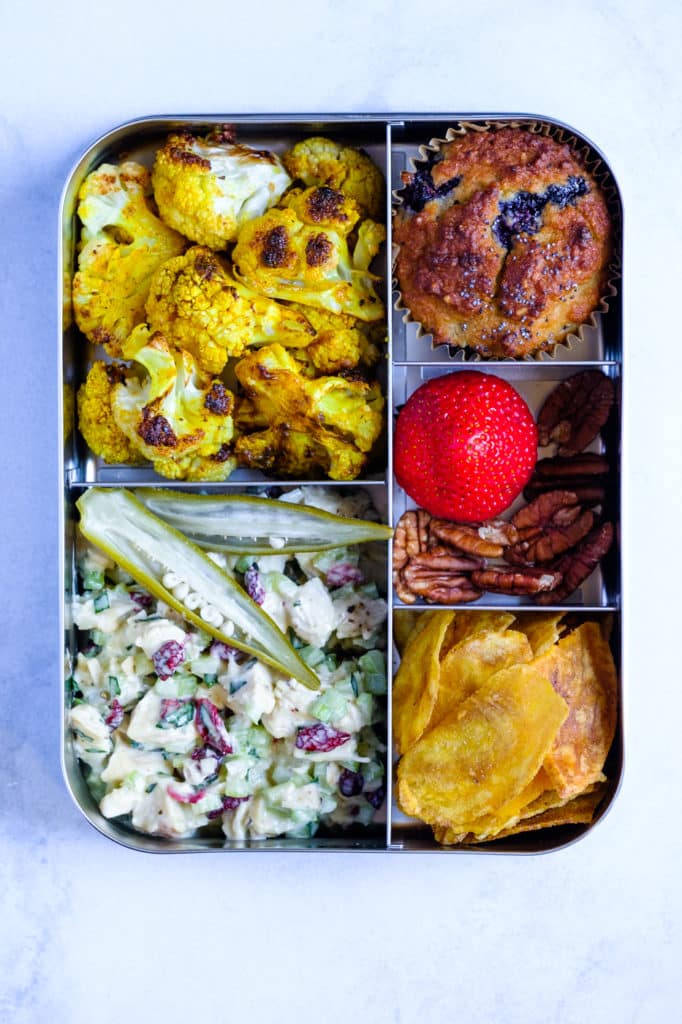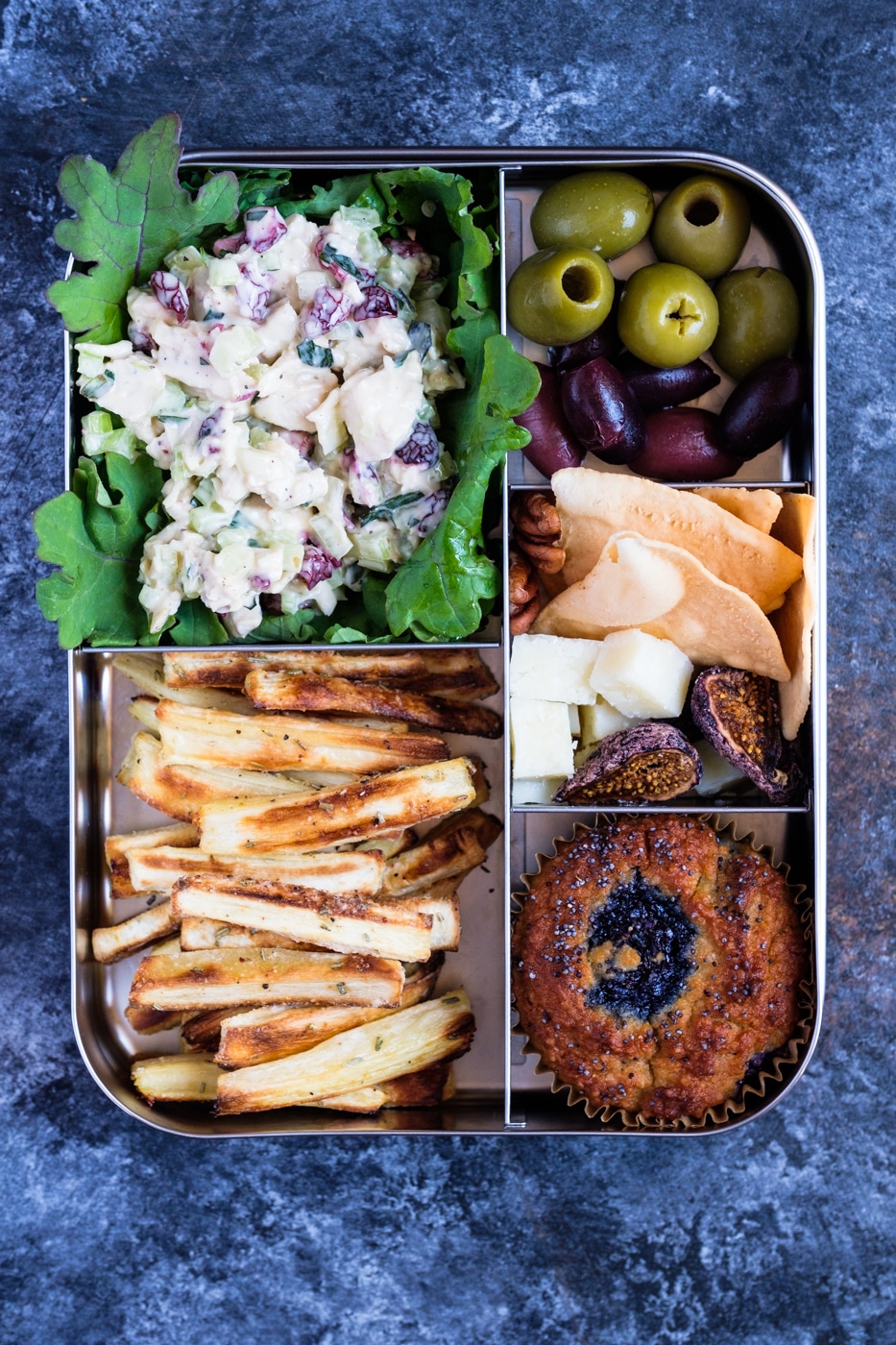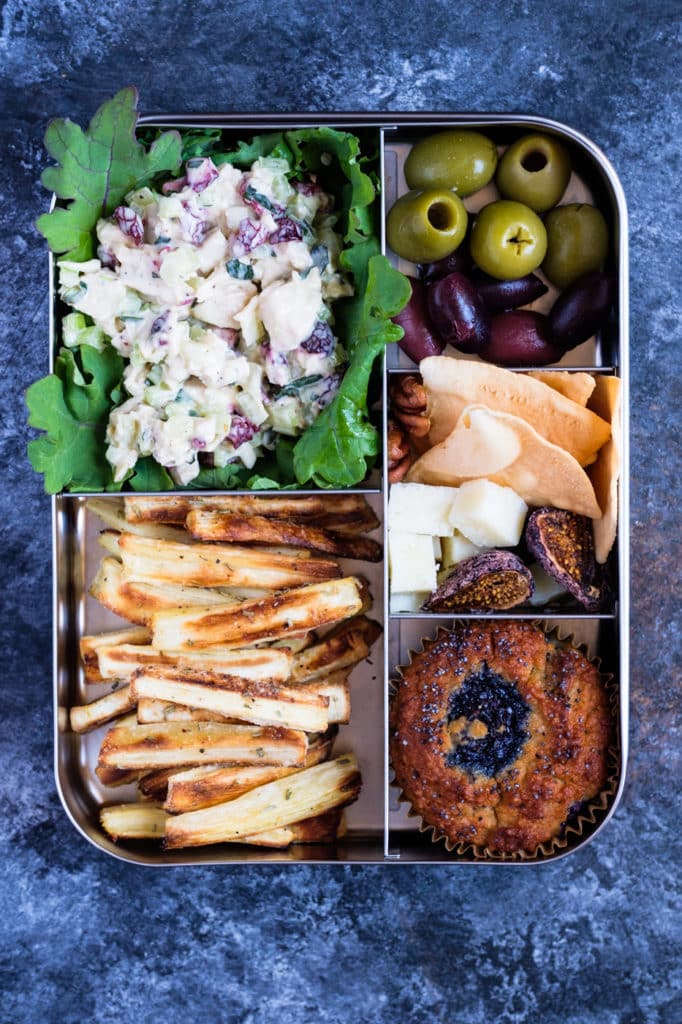 Six creative and lectin-free lunch box ideas
Lunch box No. 1 – Prosciutto Basil Sandwich with Brazilian Cheese Bread + Belgian Endives / Chicory + Goat Cream Cheese and Extra Virgin Olive Oil Dip + Olive Mix + Lemon Blueberry Muffins
This super tasty and easy sandwich is made with homemade strawberry jelly (see Lunchbox No. 2 for recipe), fresh basil leaves and Prosciutto di Parma, on an authentic and easy-to-make Brazilian cheese bread. The goat cream cheese I bought from Trader Joe's is mixed with 1 tsp of extra virgin olive oil and makes a great dip for the endives or chicory leaves.
Auntie Jovita's Brazilian Cheese Bread
Grain Free Lemon Blueberry Muffins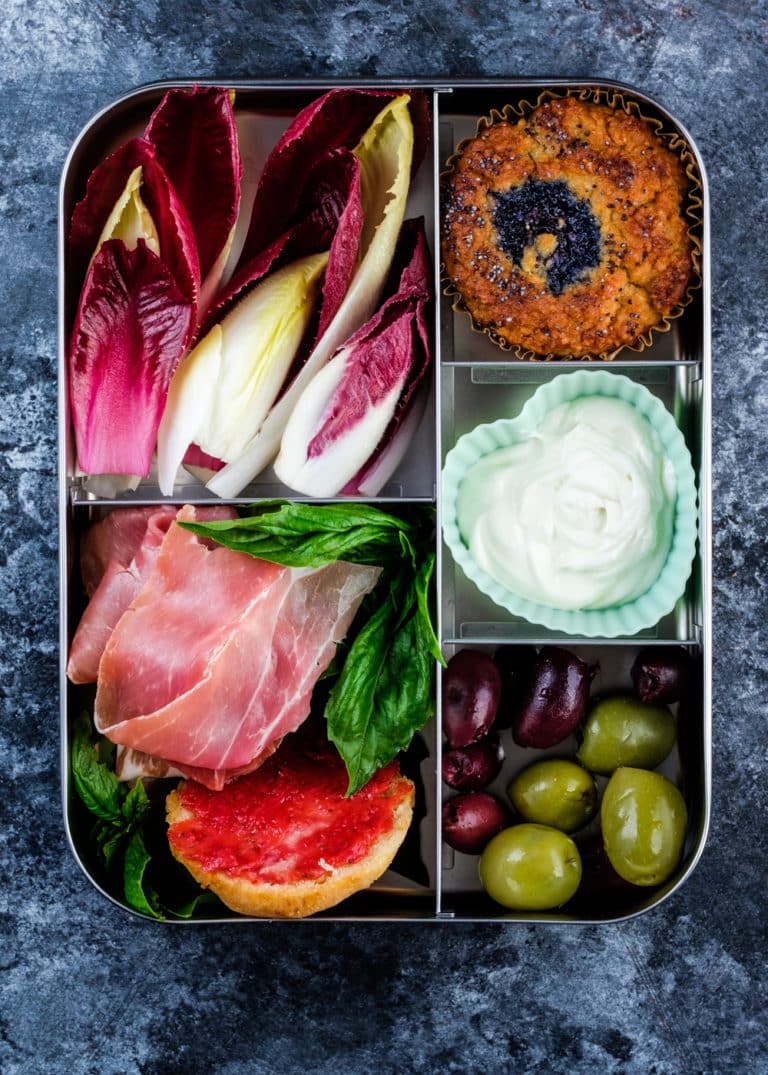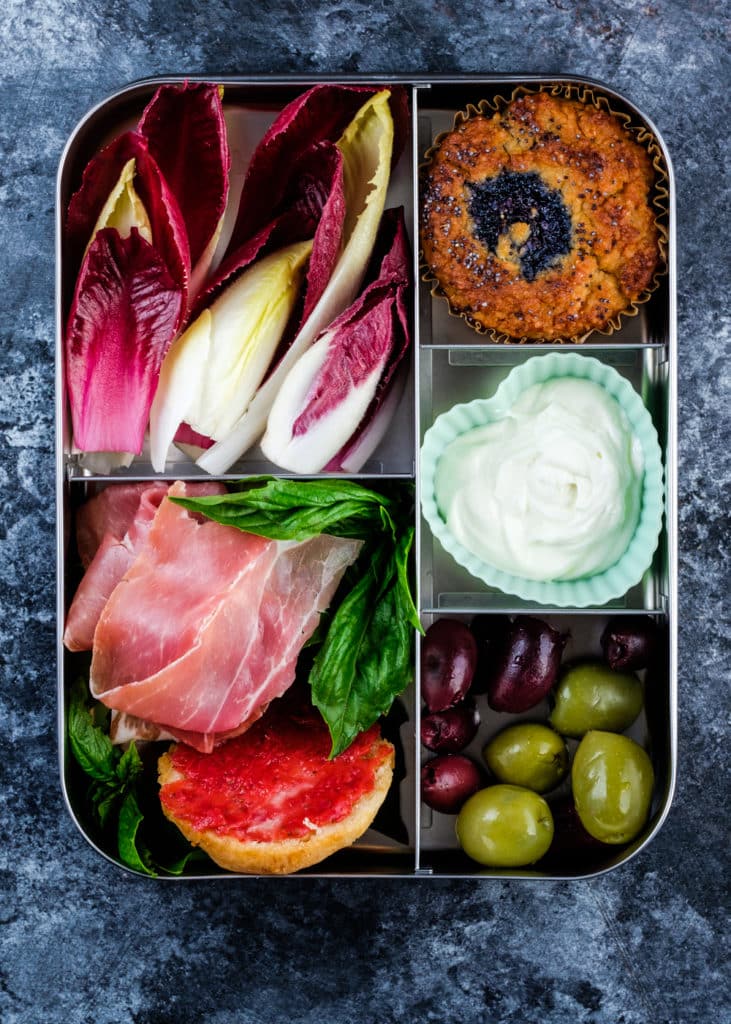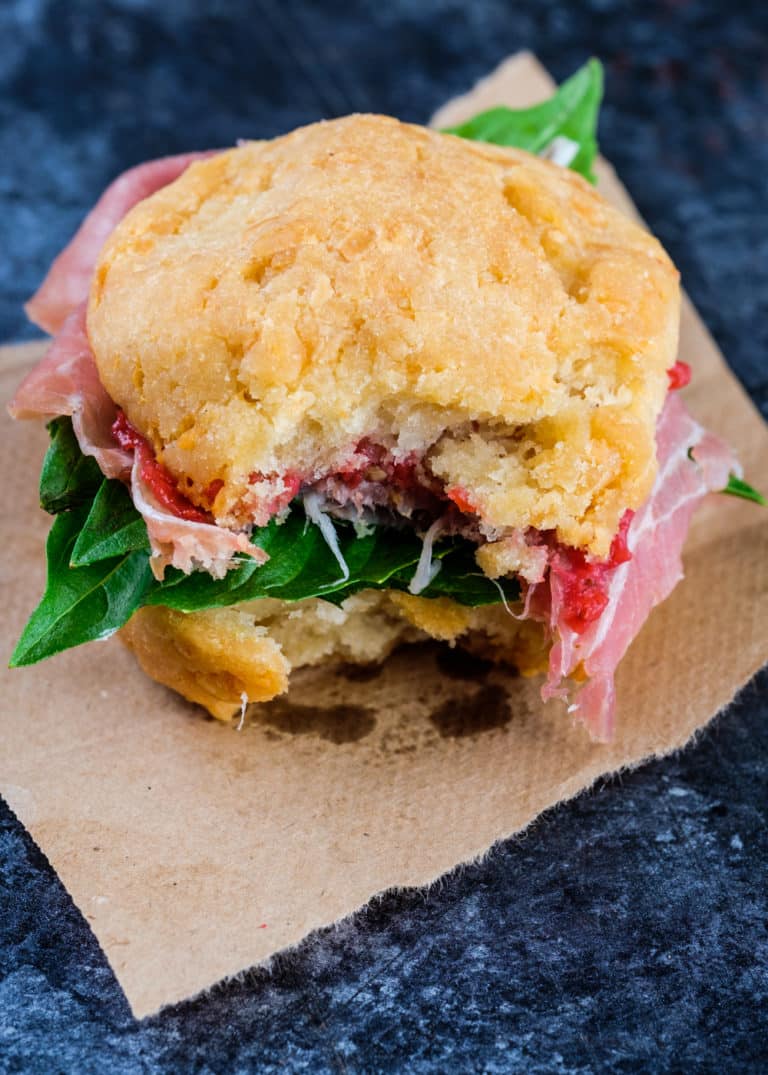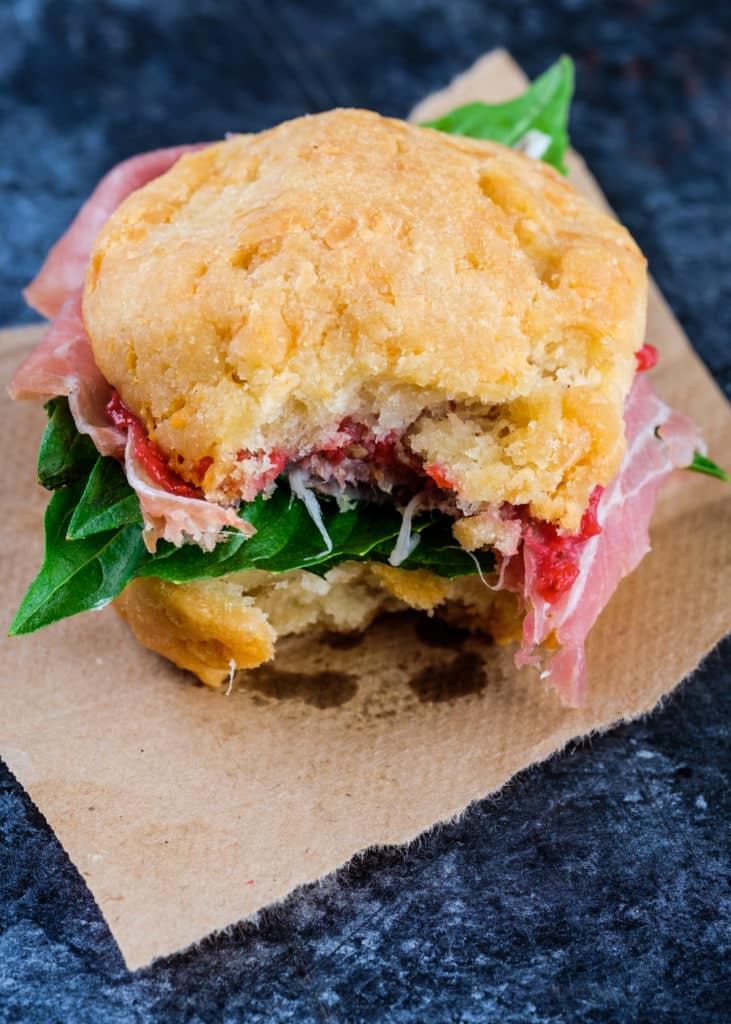 Lunch box No. 2 – Cold Salmon Kale Salad with Miracle Noodles + Celery and Carrot Sticks + Brazilian Cheese Bread, Homemade Strawberry Jelly + Mix of Nuts + Something Sweet / Baked
This salad is super easy to make in advance, using shirataki fettuccine from Miracle Noodle, canned Alaskan Pink Salmon, sustainably caught and in water in a BPA free can, chopped baby kale, baked sweet potato, and fermented (or pickled) okra (I use Barrel Creek Provisions), a touch of extra virgin olive oil, lemon juice, salt and pepper and if you want all the omega 3s you can get, use the liquid from the salmon can.
I used one bag of Miracle Noodle fettuccini (prepared as per the instructions on the pack: drained and rinsed, boiled for 2 mins and dried in a naked pan), half of sweet potato, baked, few okras, few handfuls of baby kale, which makes 2 generous portions. This salad dressing is not runny (the pasta and potatoes absorb all the liquid) so you don't need to worry about spilling, but if you do use a leakproof container for the salad.
Fruit jams and jellies are super easy to make at home, using fresh or frozen fruits (berries are the easiest), some monk fruit granular sweetener (I use 1 tbsp for 2 cups of fruit, you can taste and adjust), a slice of lemon (adds flavor and some preservation properties) and if you want it to get thick and jelly-ish, use Agar Agar (for very thick add 1 tbsp for 1 cup of jam, otherwise one tsp should be enough).
I process the strawberries to have smaller pieces but I don't puree them completely, mix them with the sweetener and the lemon and cook in a saucepan for about 30 minutes or until water has evaporated. At this point, I add Agar Agar and simmer for five more minutes. Agar Agar thickens when it cools down.
Auntie Jovita's Brazilian Cheese Bread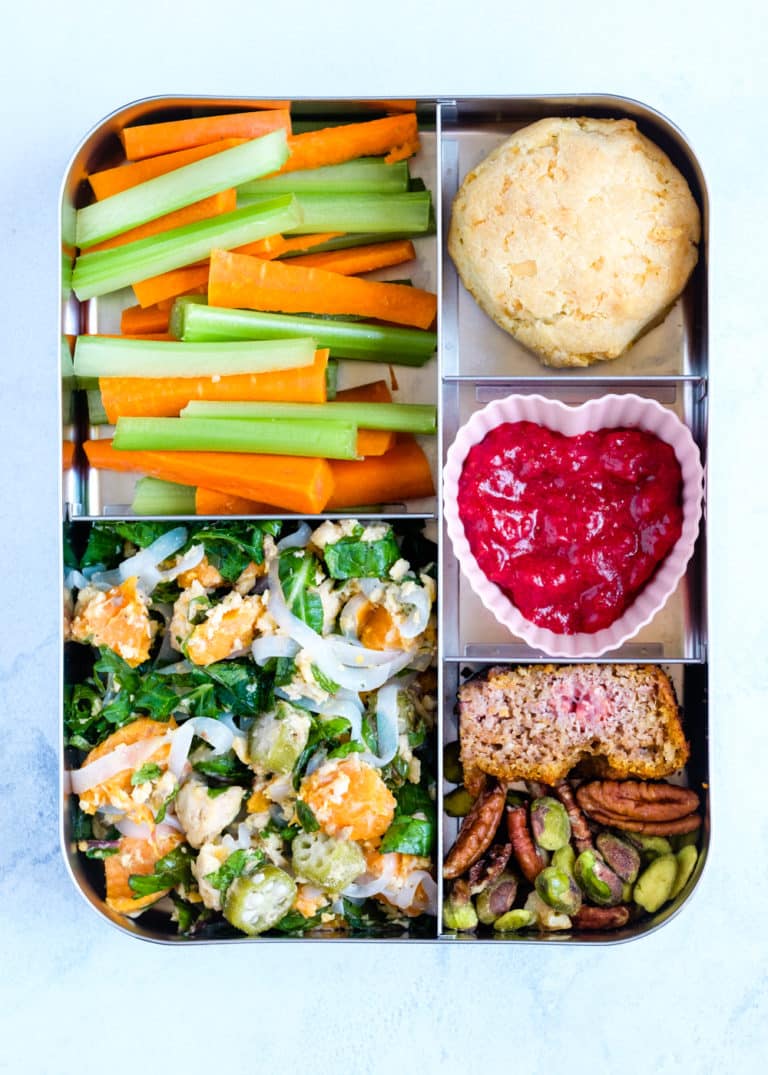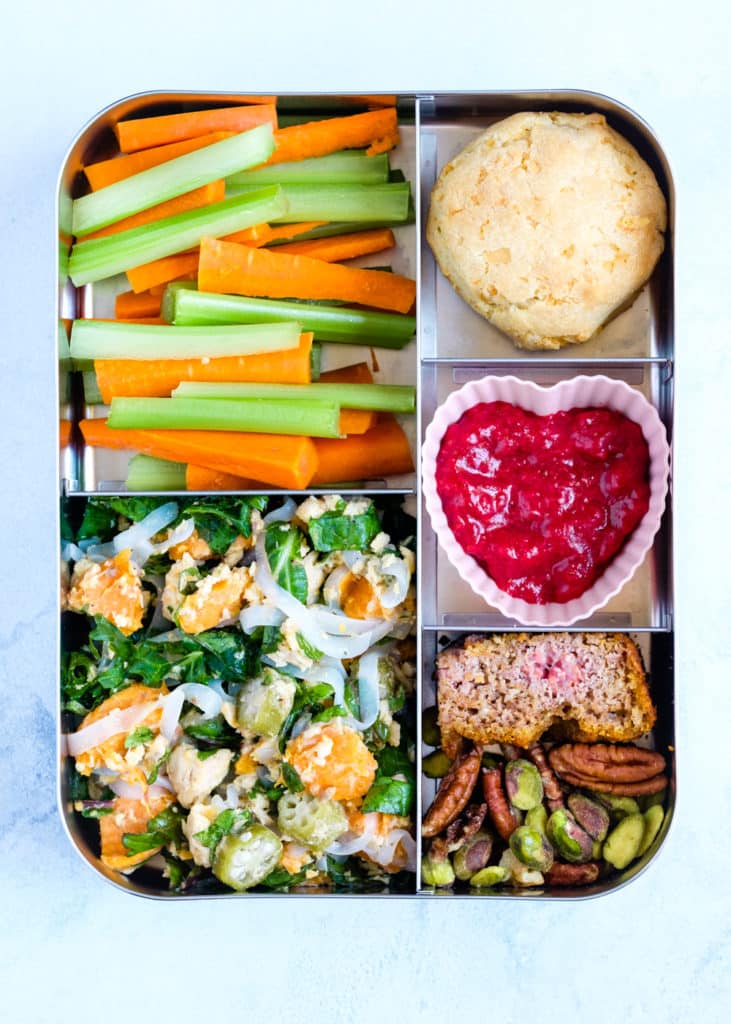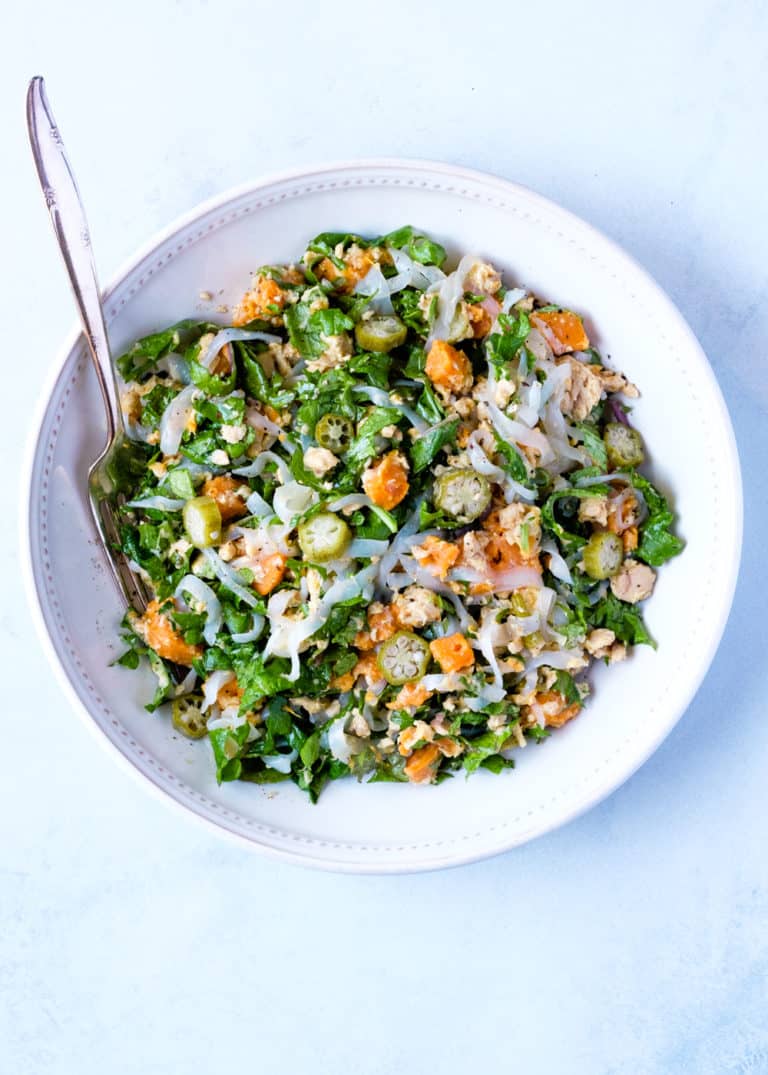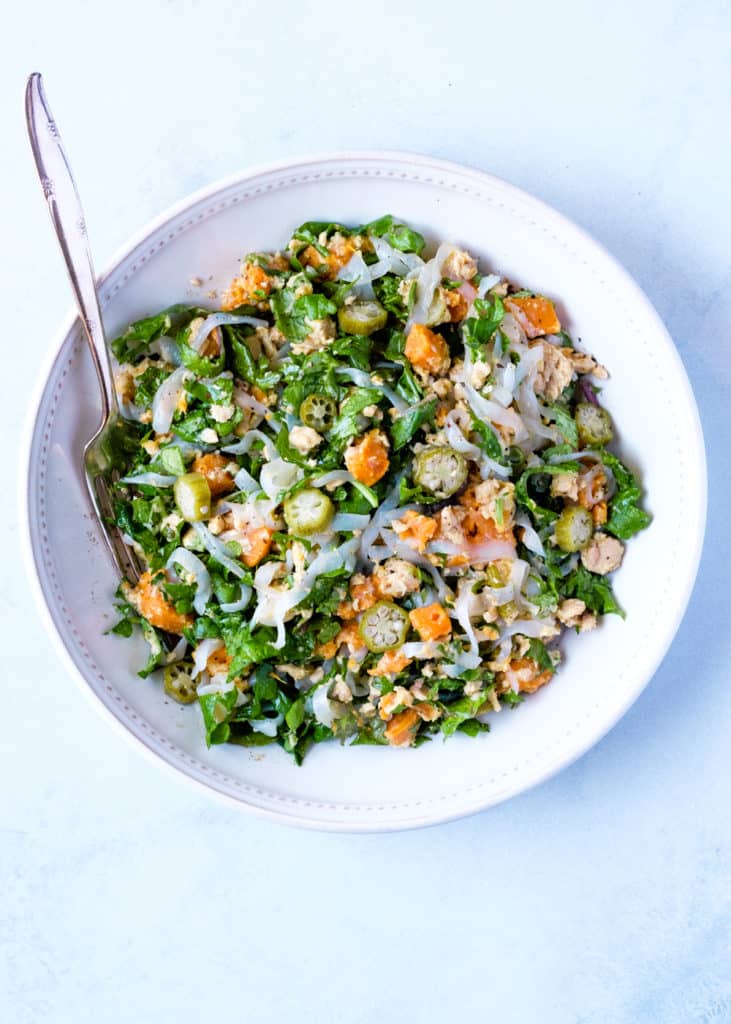 Lunch box No. 3 – Plant Paradox Meatloaf Wrapped in a Cassava Flour Tortilla + Turmeric Sweet Potatoes with Onions + Avocado Salsa + Mix of Nuts and Dry Figs + Fresh Blueberries (or any seasonal, low sugar fruits)
Everything can be cooked in advance or these dishes can be cooked for dinner and the leftovers used for next day's lunch box. I used Siete Cassava and Coconut Flour Tortillas, and below you find the rest of the recipes.
The Ultimate Plant Paradox Meatloaf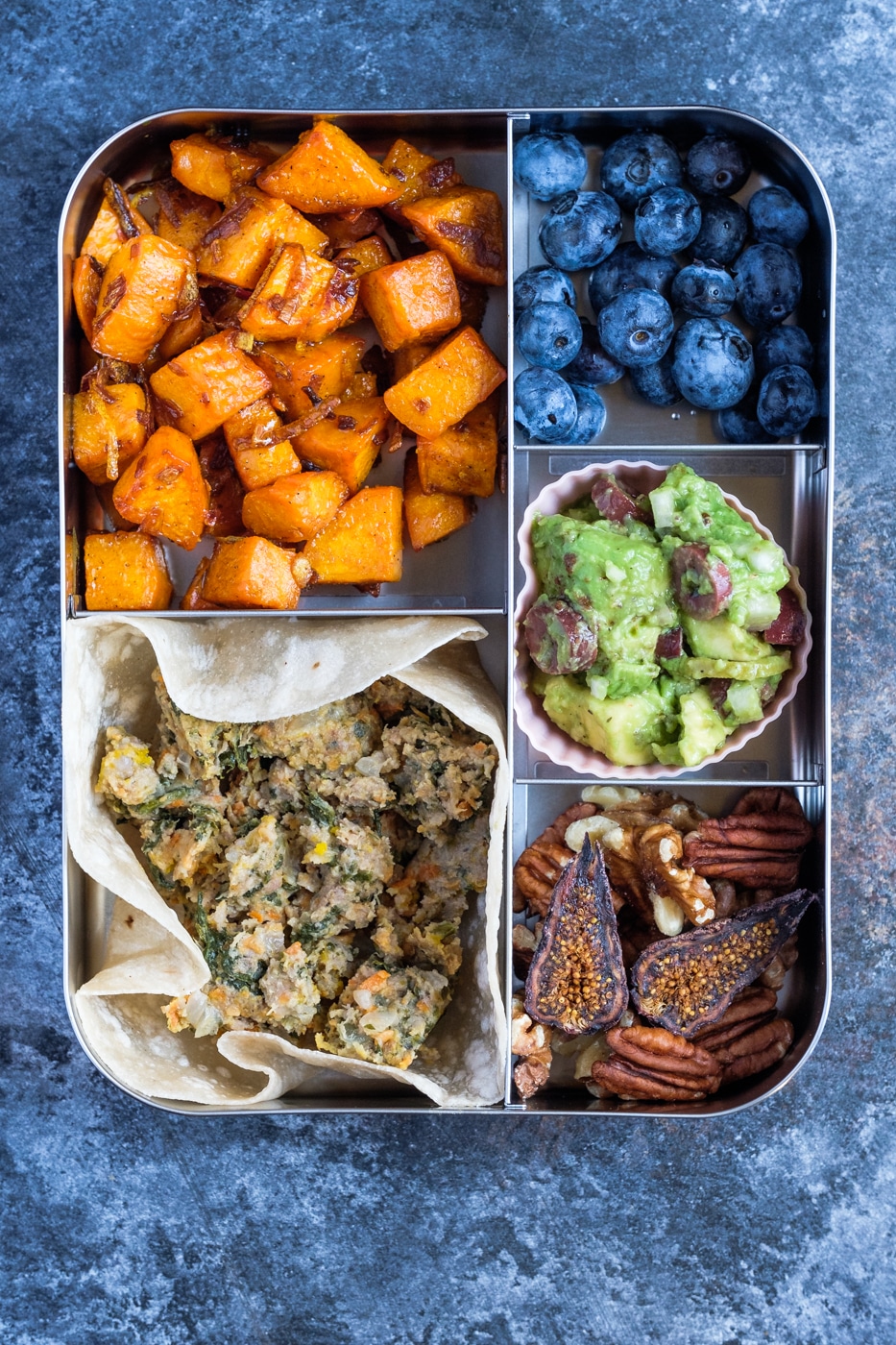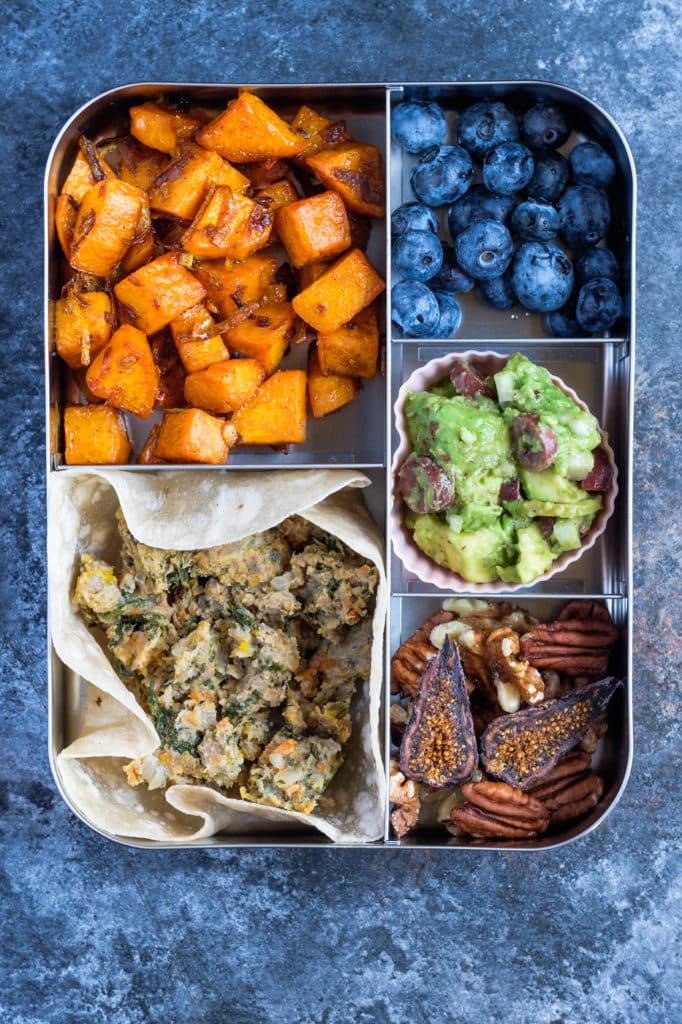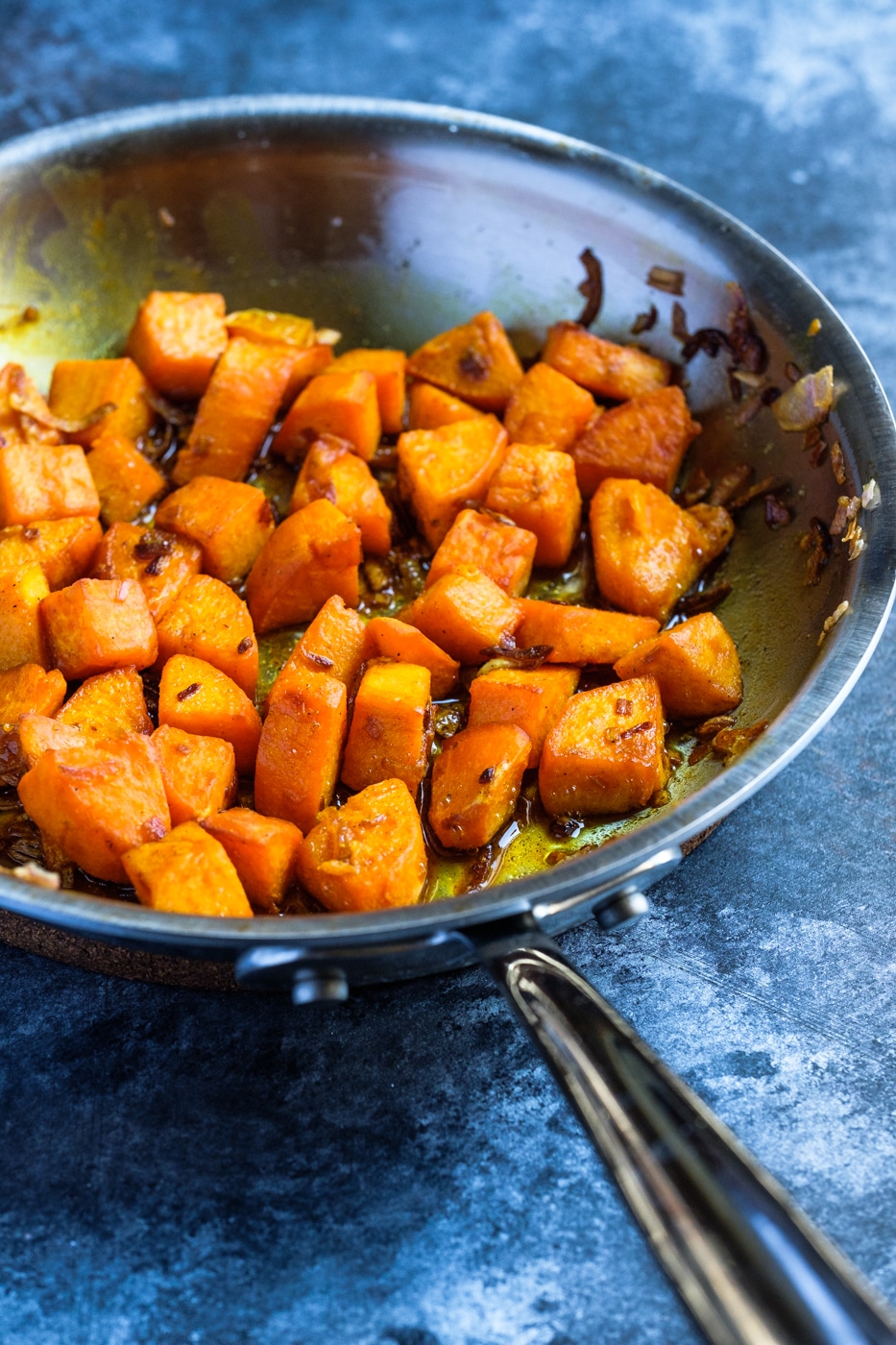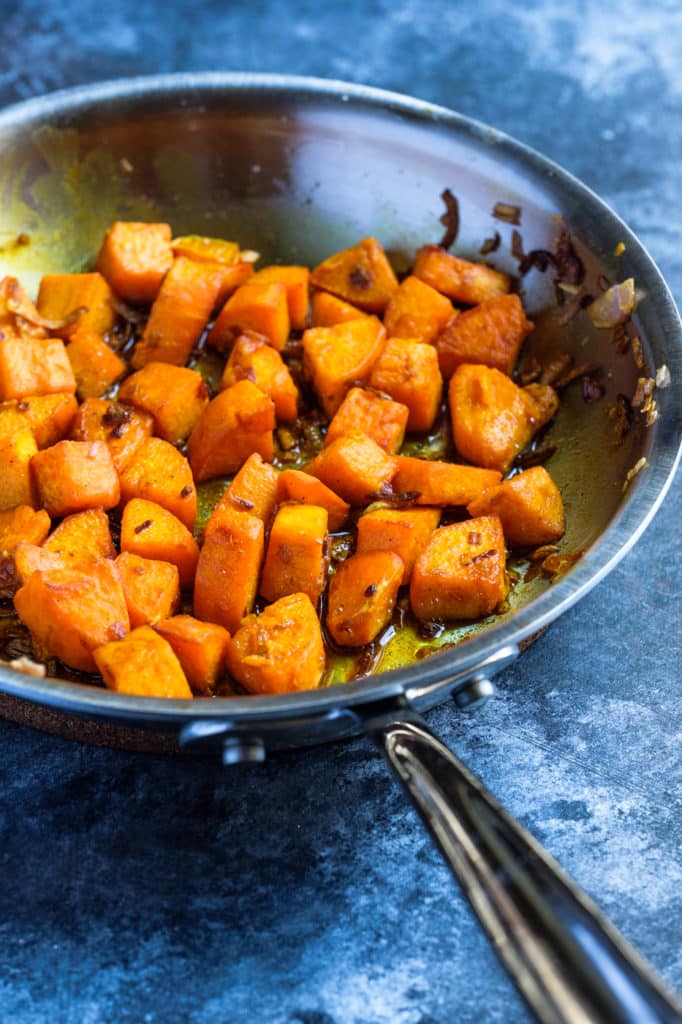 Lunch box No. 4 – The Ultimate Plant Paradox Meatloaf + Fermented Okra + Swiss Chard Tahini Dip + Coconut Tortilla Chips, Red Radishes + Strawberries
Let me start with this Swiss Chard Tahini Dip which is not posted on the website as a recipe because it was not my own recipe (I used a recipe from the September issue of Bon Apetit magazine). This is super delicious and a great way to eat some of the most nutritionally dense leaves on the planet.
What do you need: 1 bunch of green chard (if you use the red or rainbow one is fine, but beware, your dip will take on a weird color), stems and ribs removed and chopped finely. First, sautée the chopped ribs and stems in EVOO, about 6 mins until slightly soft but not browned. Add 3 small garlic cloves finely chopped, sauté for another 1 min, add the roughly chopped leaves, and sauté for about 5 more minutes until they are wilted. In the process add a few tsp of water to keep the chard steaming and not browning.
Add the chard to a food processor (the recipe says to drain all the juices except for 1 tbsp but I only had about one tbsp of juice so I added it all). Add 1/6 cup EVOO, 1/4 cup tahini, 1/8 cup fresh lemon juice, 1/4 tsp iodized sea salt. Process for few minutes until all creamy and smooth. Eat with compliant crackers or chips, I used The Real Coconut grain-free tortilla chips.
The Ultimate Plant Paradox Meatloaf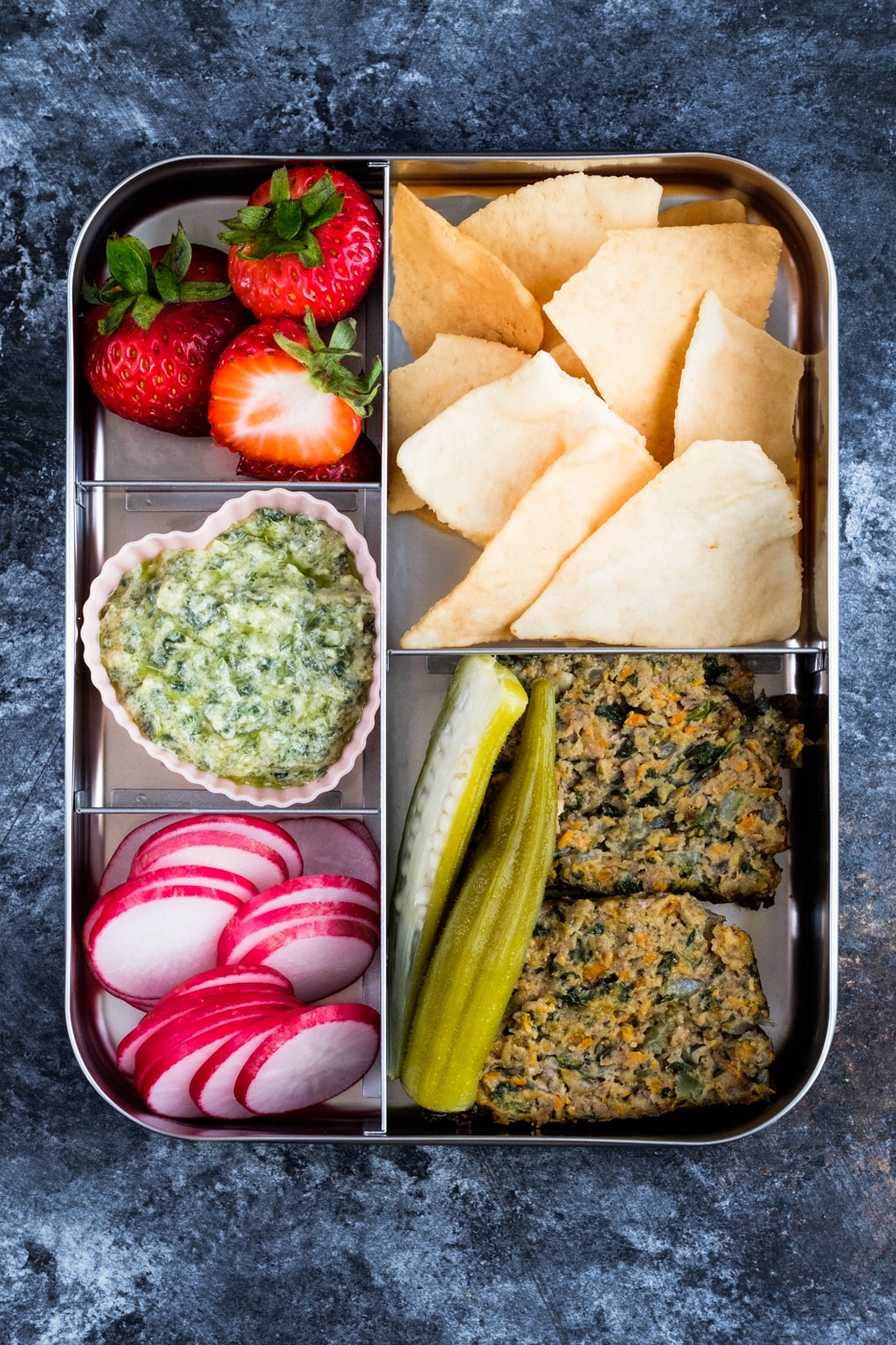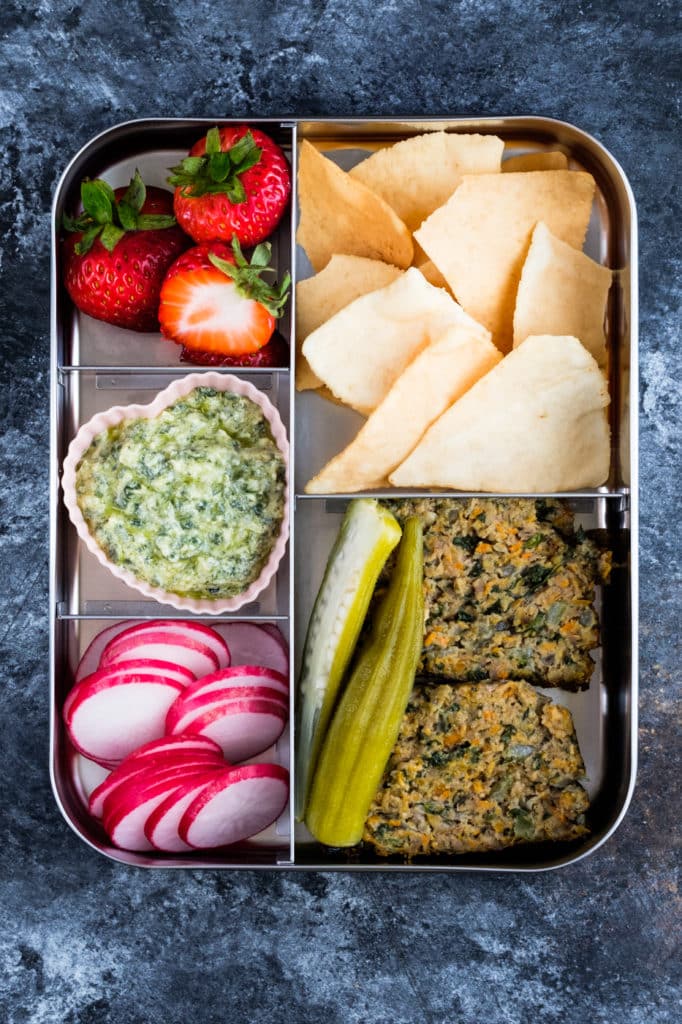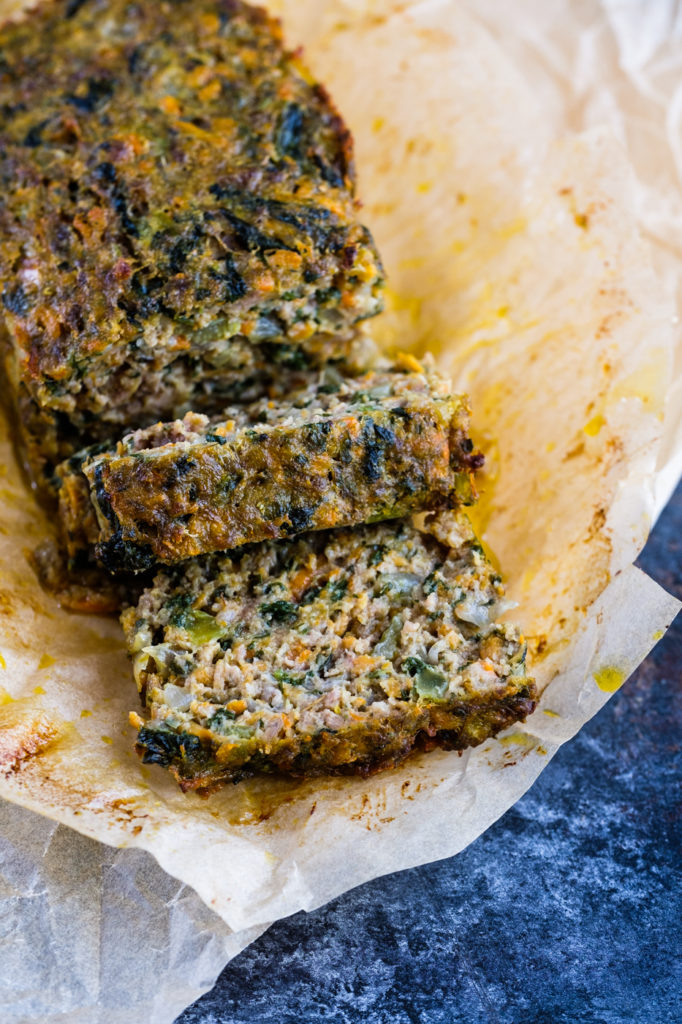 Lunch box No. 5 – Tarragon Chicken Salad With Cranberries and Avocado Mayonnaise + Turmeric Roasted Cauliflower + Lemon Blueberry Muffins + Terra Green Plantain Chips + Pecans and Strawberry
This chicken salad can be made in advance and last for 5, 6 days in the fridge, in a glass, air-tight container. The roasted cauliflower is sprinkled with nutritional yeast, salt and pepper and avocado oil and baked at 400F for 35 mins, flipped half time, finished with a paste made of Turmeric Tonic from Further Food and extra virgin olive oil (use code CREATIVEINMYKITCHEN10 for 10% off your entire order on the Further Food website). I used Terra Green Plantain Chips. Another compliant green plantain chips brand is Barnana.
Tarragon Chicken Salad With Cranberries and Avocado Mayonnaise
Grain Free Lemon Blueberry Muffins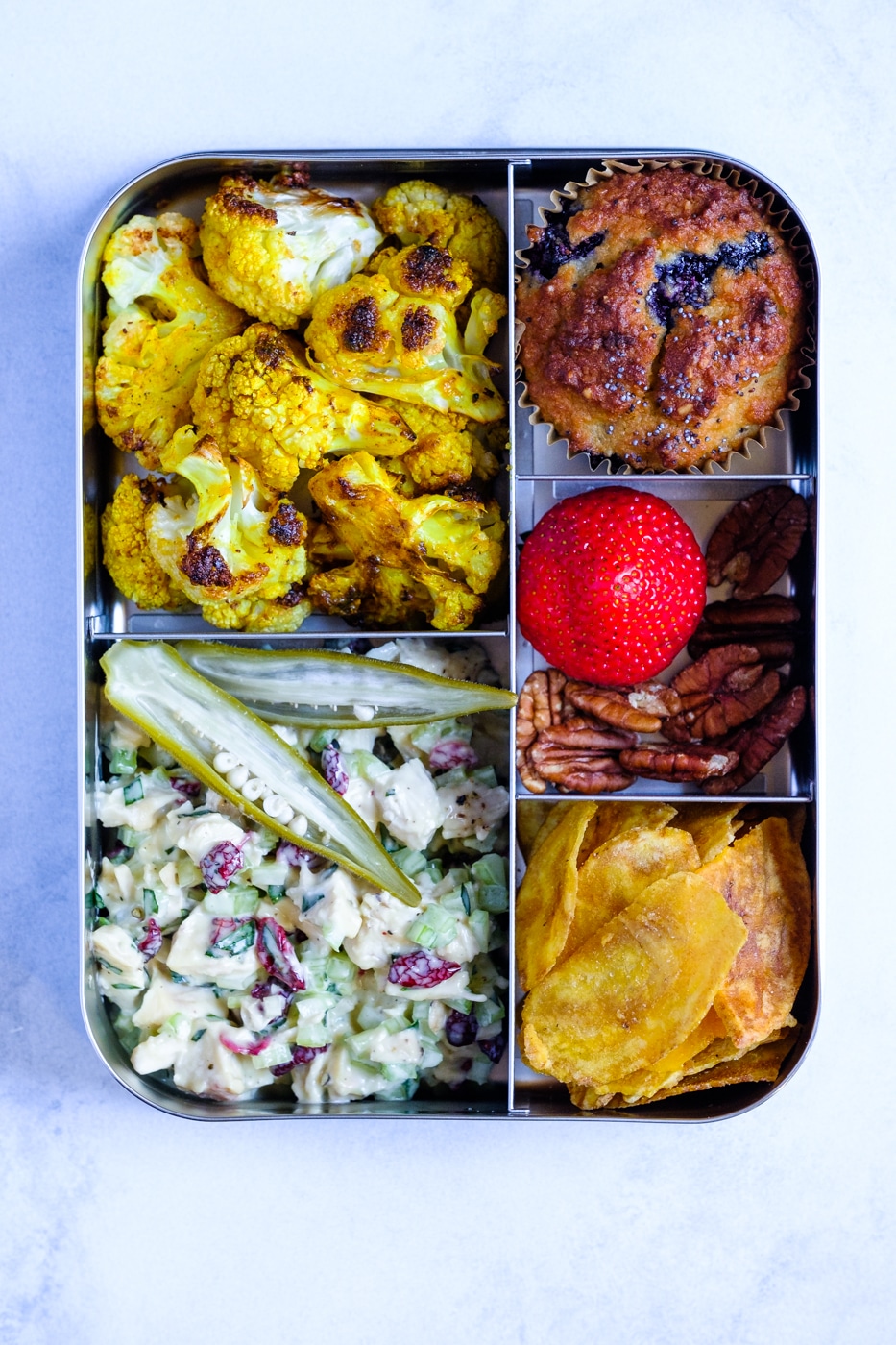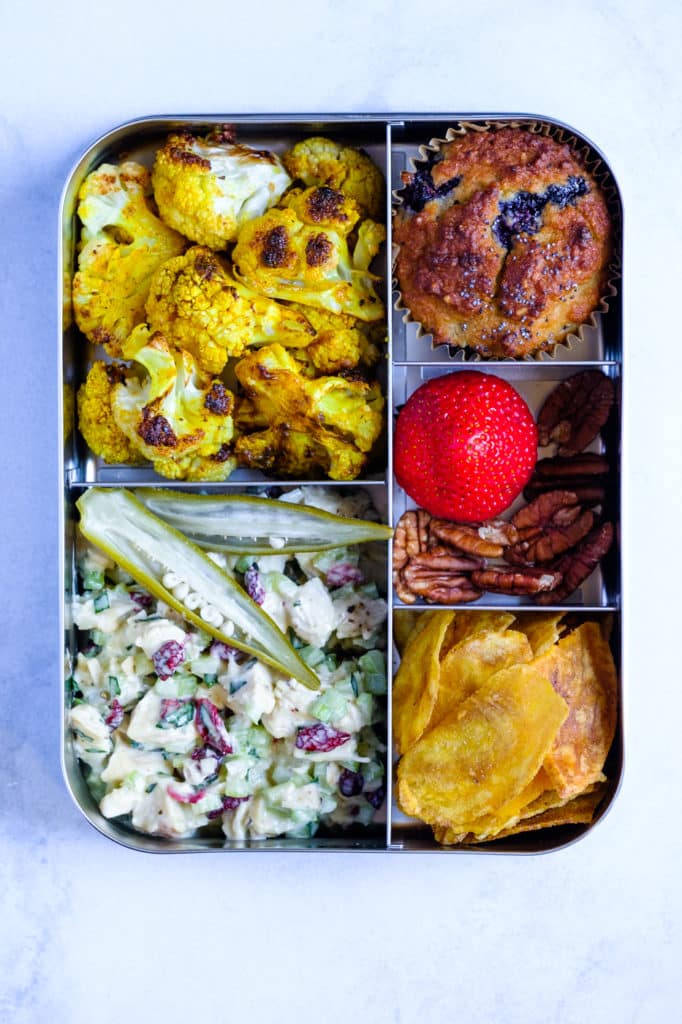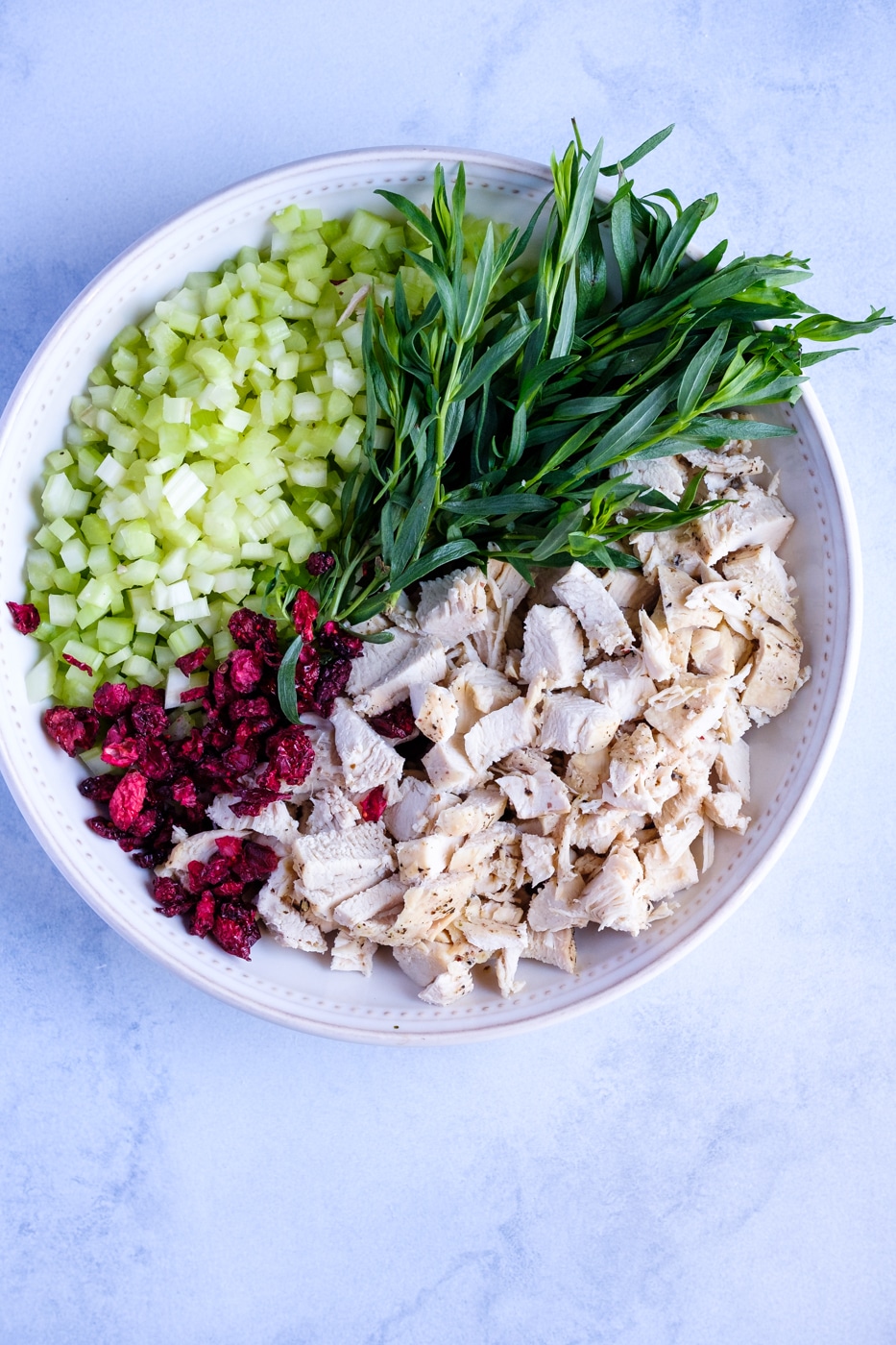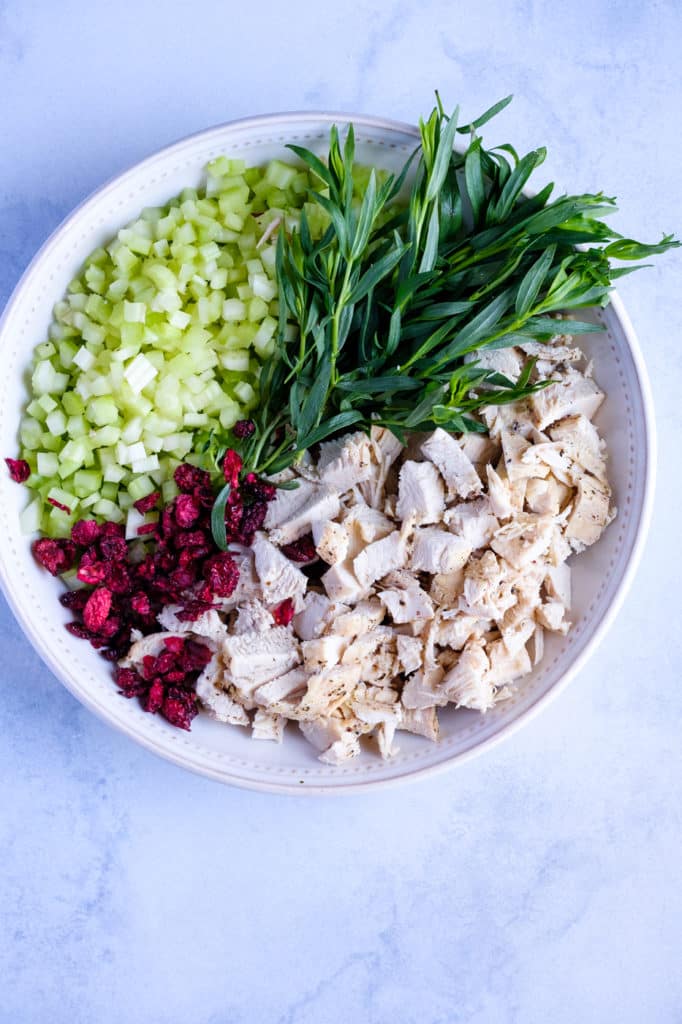 Lunch box No. 6 – Tarragon Chicken Salad with Cranberries and Avocado Mayonnaise on a bed of Baby Kale + Parsnip Baked Fries + Mix of Olives + Mix of Aged Italian Cheese (Pecorino Romano), Dry Figs, Nuts and Coconut Tortilla Chips + Lemon Blueberry Muffin
How to make the baked parsnip fries: Peel two big parsnips, dry them with a towel and cut them in the shape of fries, try to keep them as equal in size as possible. Sprinkle them with 1 tbsp arrowroot powder making sure they are all covered and clean the excess flour from the bowl or working surface. Drizzle with avocado oil and sprinkle with dry rosemary, salt and pepper. Mix well and arrange on parchment paper on a big baking sheet. It's better if they are not touching.
Bake at 425F for about 20-25 minutes (flip them half after about 10 – 15 minutes). I recommend keeping an eye on them as the ones that are thinner will burn before the bigger ones are ready. They are super tasty, especially if combined with something salty (like olives or aged cheese) – a personal preference. I used The Real Coconut grain-free tortilla chips.
Tarragon Chicken Salad With Cranberries and Avocado Mayonnaise
Grain-Free Lemon Blueberry Muffins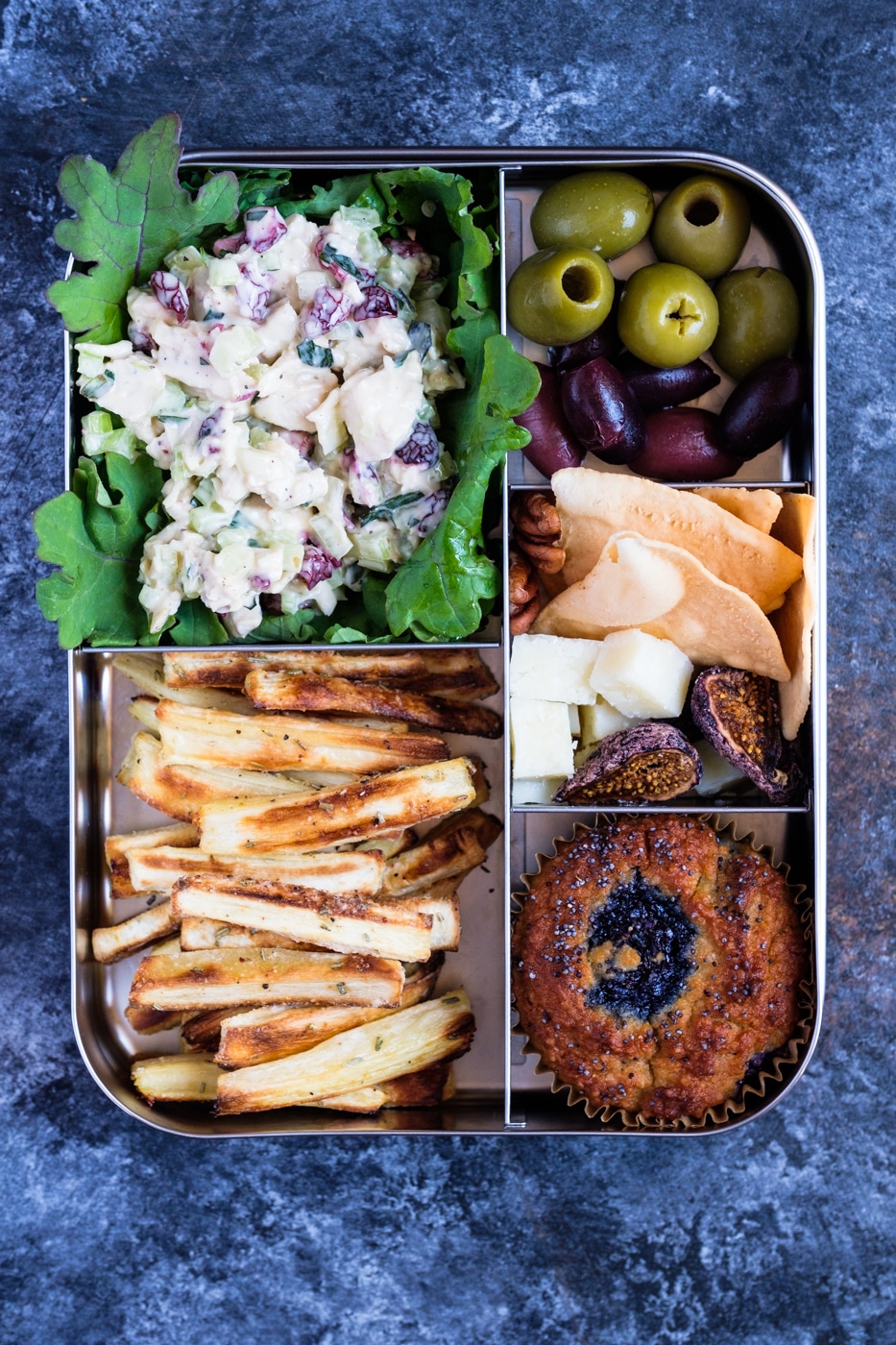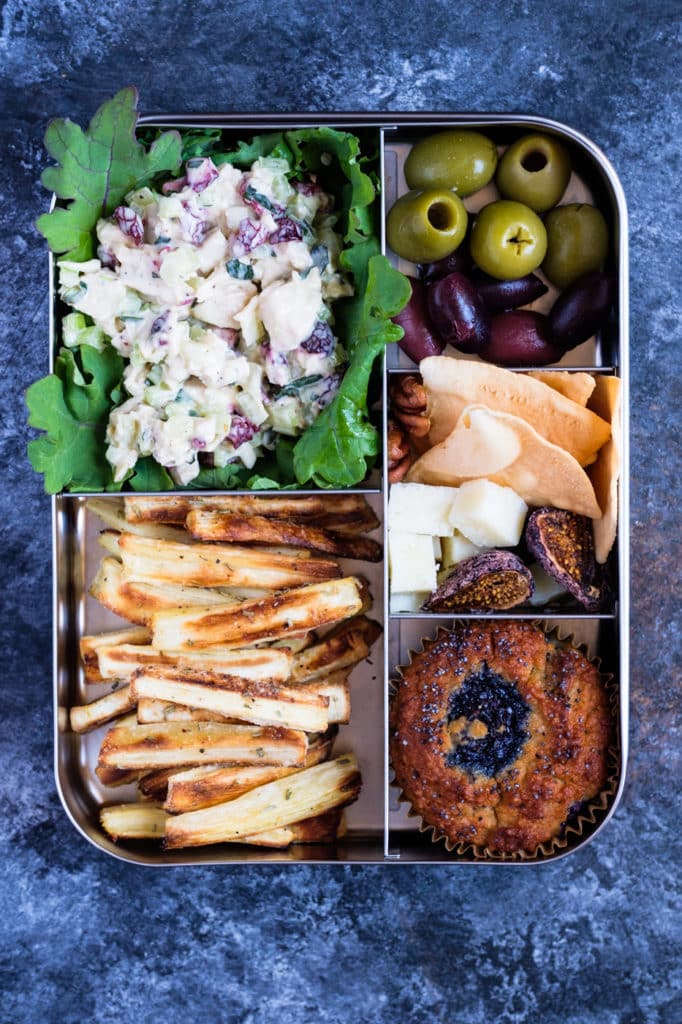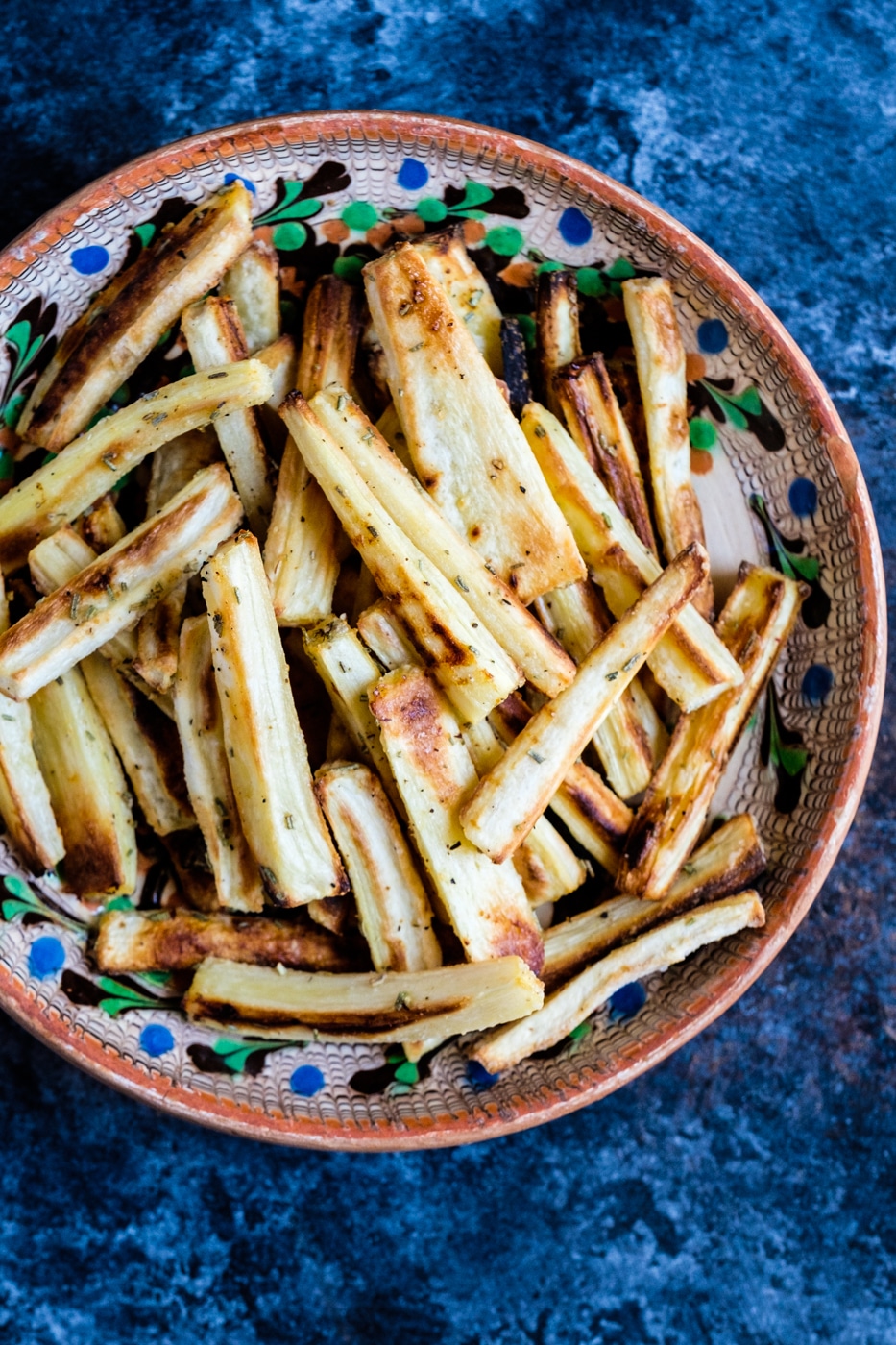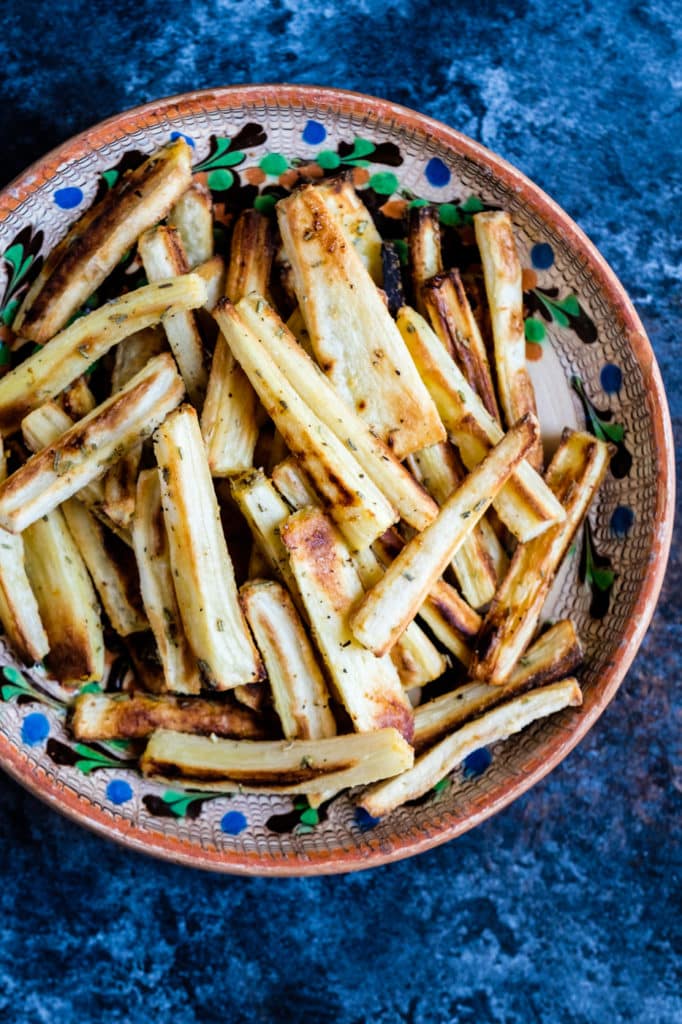 New lectin-free lunch box ideas coming soon! Let me know if you have specific questions you need help with or foods you want to make compliant.
*This post contains affiliated links, which means I get a small commission if you choose to purchase something via one of my links, at no extra cost to you